Some posts on this site contain affiliate links. If you book or buy something through these links, I earn a small commission (at no extra cost to you). Take a look at my privacy policy for more information.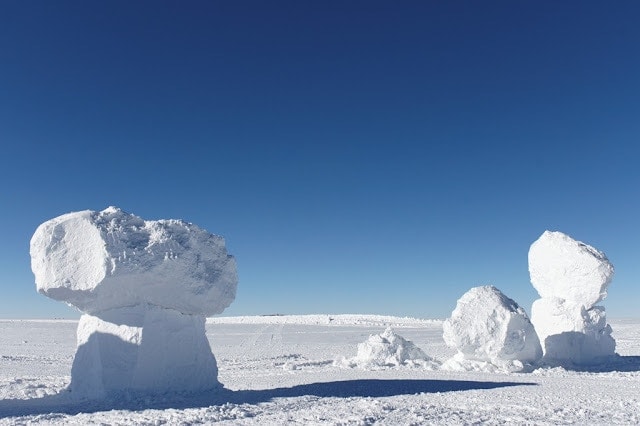 Wondering what it's like working in Antarctica for a season? I chatted to fellow blogger Kiell about her experiences.
If you're looking for the ultimate icy adventure – spending a summer in Antarctica could be for you.
Imagine being able to see you're one of the incredibly few people who've set foot on the world's most isolated continent – and the only one without any full-time residents.
You might be surprised to learn that it's not just scientists and engineers who can take a seasonal job working in Antarctica. The research centres need support staff, too, so anyone can apply. We'll go into the kinds of jobs you can expect to do later in this post.
This week's guest writer, Kiell Kosberg, spent two summers living and working in Antarctica on the Amundsen-Scott Station. Below, she shares her experiences of the job and what life on the base is like. If you're thinking of doing the same thing, this post should give you a good idea of what to expect.
Meet Kiell: a blogger who spent two summers in Antarctica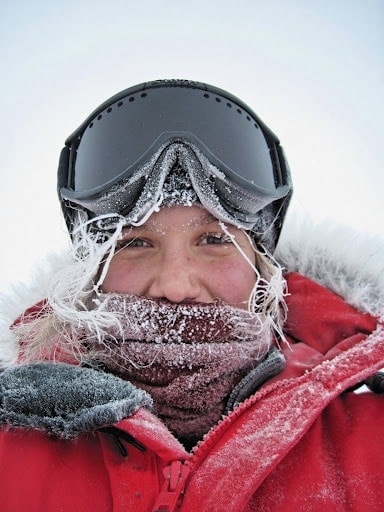 My guest writer this week is Kiell Kosberg – a blogger from from Minneapolis, Minnesota. She spent two summers working in Antarctica at a science base! 
A lover of reading, writing, travelling, bonfires, swimming, camping and exploring, Kiell is an adventurer at heart. She runs a fantastic blog over at brownpaperblueink.com.
What It's Like Working in Antarctica
I spent two summer seasons as a support person at the Amundsen-Scott South Pole Station, an Antarctic science base dedicated to astronomy, aeronomy, cosmology, and astrophysics.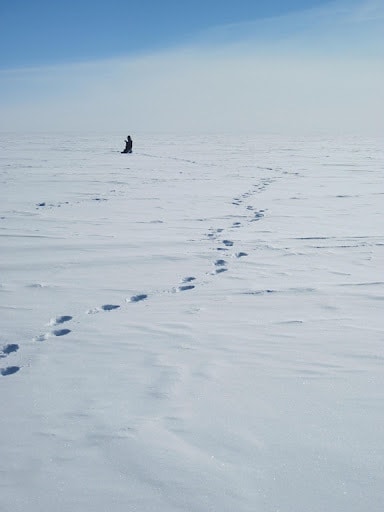 The South Pole is cold and bleak and tremendous and bright, with rippling crusty snowdrift formations, a stark blue sky, and few clouds. There is no landscape to speak of, no dirt or mountains or anything much to look at. Just a vast amount of ice and man-made buildings.
The sun is up 24 hours a day, rotating in the sky, and the wind always blows in the same direction. Some days are brilliant and lovely. On others, the wind blows so hard that the sun is obscured by a heavy mist of ice crystals. When that happens, you can't have any exposed skin because it just hurts too much.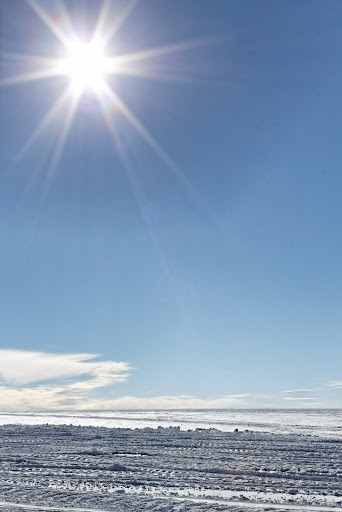 On the Amundsen-Scott South Pole Station, there are telescopes that take measurements of the cosmic microwave background to learn about the universe and the Big Bang, a neutrino detector that's encompassed in a cubic kilometre of ice, an NOAA laboratory that researches the cleanest air in the world, and a hydroponic growth chamber that is similar to the Lunar Greenhouse prototype.
Who Can Work in Antarctica?
I'm not a scientist. I have a liberal arts degree and worked as an administrative assistant and translator before getting my job in the US Antarctic Program.
But in order for all the science projects to exist in Antarctica, support staff are needed to maintain the station.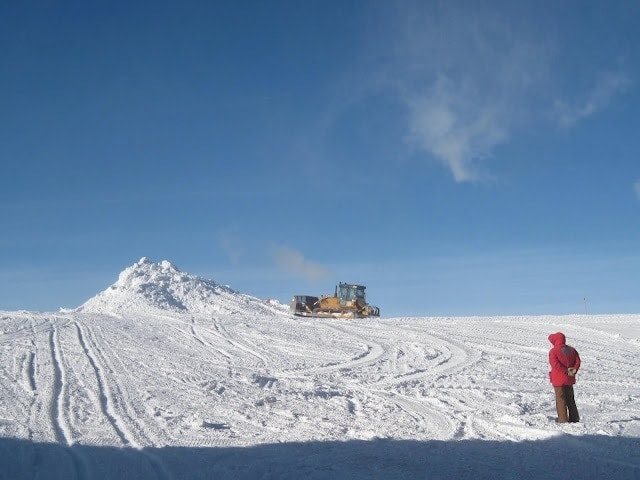 There are folks who cook and wash dishes, an IT department, and carpenters. There are people to land and de-fuel the aircraft, who help build up a fuel supply for the long winter.
The base also needs logistics personnel to receive and deal with incoming cargo, heavy equipment operators – and a heavy vehicle shop to maintain that equipment. There's a waste crew whose job is to sort, recycle, process, and package the station's collective waste.
And of course, there's a lot of drifting snow – so someone has to shovel everything. That's how I got started working in Antarctica! During my first season, I worked as a General Assistant, and I spent quite a lot of time shovelling!
We work a TON! The workday is 7:30 to 5:30 (New Zealand time) for most departments, six days a week. Many people work a lot of overtime, too.
Working as a General Assistant on the Antarctica Base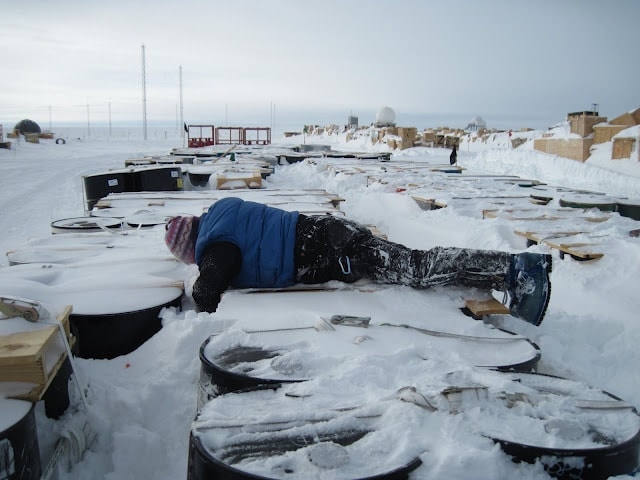 I spent my first season working in Antarctica as a General Assistant (GA). I was assigned to the Vehicle Maintenance Facility, where the mechanics who maintain the heavy machinery work.
A good portion of my job was simply chipping mucky ice up off the frozen metal floor and melting it. I also separated out the stuff that had to be shipped off the continent (glycol, motor oil, fuel).
I shovelled a lot of snow – and pushed around a lot of 55-gallon drums of dirty water. Being a GA was both the worst and the best job on the station. You got paid practically nothing, did all of the tasks no one else wanted to do, and worked what seemed like harder than anyone else on the station (at least that's how it felt).
But we would also get to do some really neat things – like lay dynamite to help blow up the buried original station. We also de-fuelled the military planes while their propellers spun dangerously close.
We did things that lots of other people never got the opportunity to do. So that was fun.
Working as a Materials Person on the Antarctica Base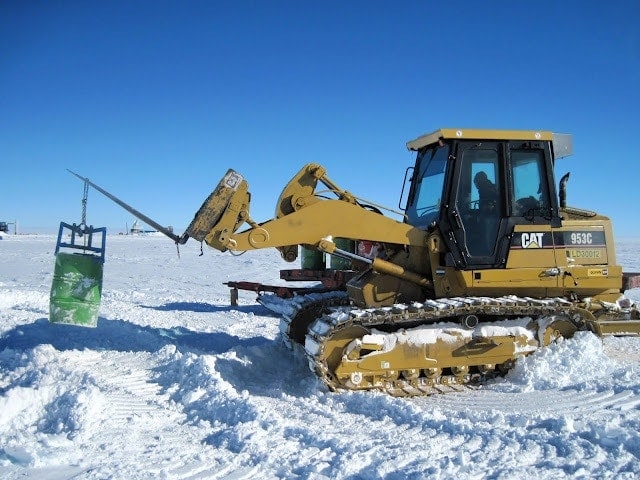 On my second season working in Antarctica, I was a Materials person. That meant keeping track of incoming cargo and doing inventory on stuff we already had.
I also got to learn how to drive heavy equipment as a part of my job training (mostly CAT-tracked loaders). I then used those machines to dismantle, inventory, and rebuild an outdoor storage berm.
Working outside in Antarctica can be pretty brutal. You have to take a lot of warm-up breaks and use hand warmers in your mittens. You also have to eat a lot just to get the calories your body needs to stay warm – and drink lots and lots of water because it's so dry and the altitude is so high. Getting dehydrated while working in Antarctica feels like hell, and it's easy to do.
Living in Antarctica
What is the Base Like?
There are about 150 small, individual rooms in the main elevated station. Any overflow staff working in Antarctica for the season lived in summer camp. This is a collection of tents about a 10-minute walk from the main station.
They are semi-cylindrical canvas and plywood structures called Jamesways from, I think, the Korean War. These stand on platforms a slightly above the ice and are heated with AN8 jet fuel.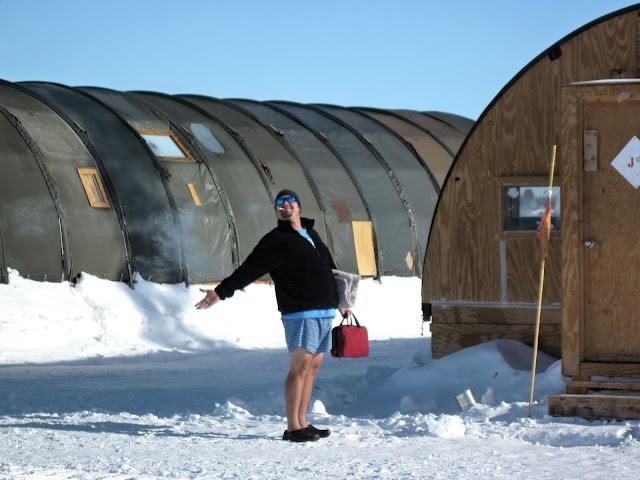 Jamesway living offers only visual privacy: you get your own room in the sense that you have a curtain (or a door, if you are lucky), but you can hear everyone coming and going. You can hear other people coughing and moving around, vomiting if they drank too much, peeing into their pee jars (some people use these in order to avoid going outside to get to the bathrooms), or sleeping with someone they brought back to their room!
You can also smell everyone, which is unfortunate because we only get to take two very short showers a week due to water restrictions.
What did you do for fun?
For fun, there are lots of different sports, like soccer, outdoor kickball, ultimate frisbee, and cross-country skiing. We also have dance parties, language classes, photography seminars, movie nights, open mic performances, and pub trivia in the galley.
There's a music room, a craft room, a gym, a library. You can also hang out in the greenhouse to get a dose of humidity! Every Sunday evening, there's a science lecture for the community hosted by a different project. Sometimes these were by the people who spend the whole season at the South Pole, other times by visiting scientists.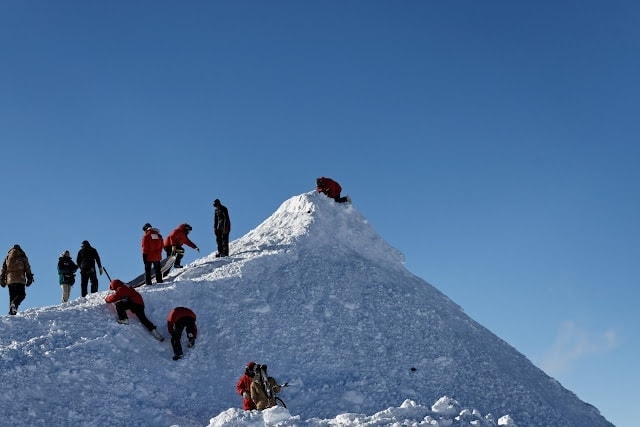 Everyone always asks, "What do you do? Don't you get bored?". But really there are so many activities happening that you could never make it to all of them.
Still, working in Antarctica can get pretty lonely sometimes. You have to make an effort to spend quality time with other people.
Let me set a general scene for you: a Saturday night at the summer camp Jamesway Lounge, a disco ball, loud music, a stripper pole, and people taking shots from an ice luge shaped like Roald Amundsen's head. I'll let you guess at the rest!
Life on the South Pole
What was your highlight?
There are a lot of wonderful things about working in Antarctica (and a lot of really awful things, too). But one of my favourite moments was a partial solar eclipse last season.
We went out to the ceremonial South Pole (the iconic barber shop pole with a shiny ball on top). From there, we looked at the eclipse through welding masks and CDs, and watched the shadows with pinhole cameras and sieves from the kitchen!
How was the weather in Antarctica?
The weather during the summer season ranged from -50F with -80 windchill (-46 C/ -62C) to +10F (-12C), which was a record-warm temperature that happened on Christmas last year. It felt so warm you could comfortably go outside in a t-shirt!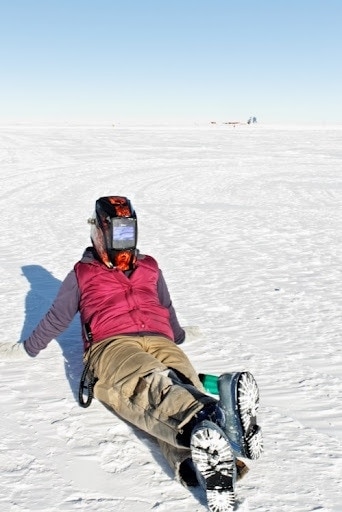 In the winter, when it's totally dark out, the ambient temperature gets down to -100F (-73C) with windchills at -125F (-87C)!
People working in Antarctica during winter take part in the 300 Club. This is where you sit in the sauna as hot as it goes, then run outside naked, around the Pole and back. You have to wear boots or you'd injure your feet on the ice!
What's the food like?
We eat a lot of meat and potatoes, but the galley staff does a pretty good job with vegetarian food, too. Most of the food has been on the station and stored out on the ice for probably five years or more, so the meat is usually pretty chewy. You definitely start to get tired of things like "Mediterranean vegetable blend."
The greenhouse produces some vegetables and edible flowers, though it is really more for the winter season. Every three weeks or so during summer, we get a delivery of "freshies": fresh fruits, vegetables and eggs.
This is a special cargo that can't be allowed to freeze. So it gets transported from the aeroplane right to the station staircase, and a line of people pass the boxes up the stairs to the galley.
It's kind of fun to do freshies pull, because you get a preview of the delicious things you'll see in the kitchen in the next few weeks! Also, we actually eat a lot of ice cream.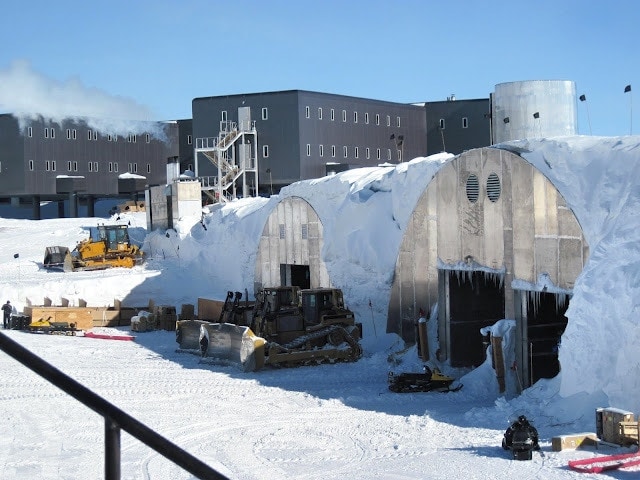 What's your Top tip for someone heading to Antarctica?
Bring lots of socks! Seriously… between the shower restrictions and wearing boots all the time, your feet will stink.
Did this incredible experience teach you any life lessons?
To be grateful for long hot showers, trees, lakes, good coffee, and quality beer. That you can build great friendships in inhospitable lands. And that you can make a life by patching together work and adventure!
NB – all photos above are owned by Kiell Kosberg.
Pin this Post: