Some posts on this site contain affiliate links. If you book or buy something through these links, I earn a small commission (at no extra cost to you). Take a look at my privacy policy for more information.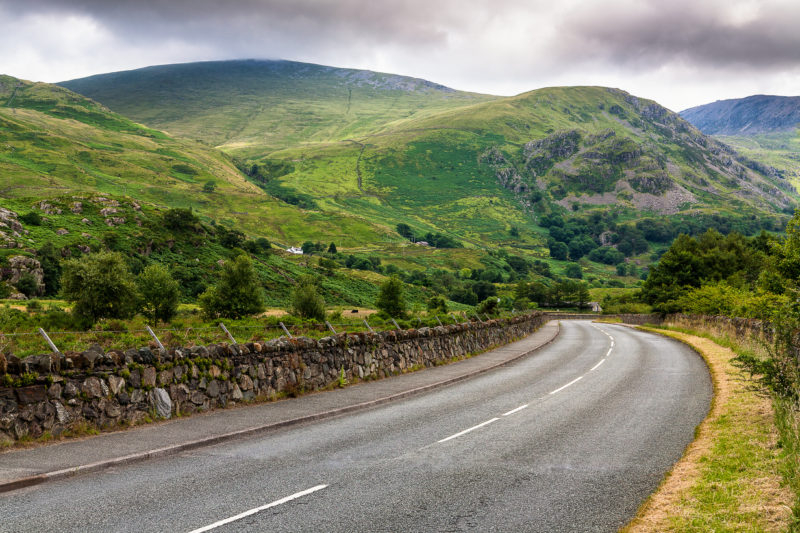 Discover the best of Britain's most adventurous country with these fantastic ideas for Wales road trips…
There is no better way to get to know the beautiful country of Wales than a road trip. The country has some of the best scenic drives in the UK, where you can find yourself winding through undulating country lanes between mountains, descending through lush green valleys and cruising along pristine coastlines.
For such a small country, Wales packs a punch in diverse landscapes, so each of these road trips allows you to explore many of its spectacular qualities.
Public transport in the Welsh countryside can be rather dire in comparison to other areas in the UK, so travelling by car is often the easiest (and most rewarding) option when visiting.
Much of the country is made up of single-track roads crisscrossing impressive stretches of unspoilt countryside. No matter your route, Wales is full of impressive pit stops, from stunning lakes to renowned cafes and spectacular viewpoints!
So with a full tank and a trusted navigation system in place, get exploring one of the incredibly scenic road trips below!
6 Best Wales Road Trips: Shortlist
Let's kick off with a short run-down of these fantastic Wales road trips, to help you choose which is right for you! We'll go into a lot more detail, and break down each route, in the next section…
Anglesey Circular Route: dramatic coastline, historic landmarks and quaint villages
Coastal Drive from Llŷn to St Davids: Wales' longest coastal road trip.
The Gower: beach-hopping in south Wales.
From Llanberis to Betws-Y-Coed: Exploring Eryri (Snowdonia) National Park.
Porthmadog To Lake Vyrnwy: easy short route in the south of Eyri (Snowdonia).
Pembrokeshire's Coastal Gems: fishing villages, coastal nature and beautiful beaches.
Best Wales Road Trips: Detailed Route Guides
1. The Ultimate Anglesey Circular Route
Start: Menai Bridge
End: Britania Bridge
Length of trip: Full Day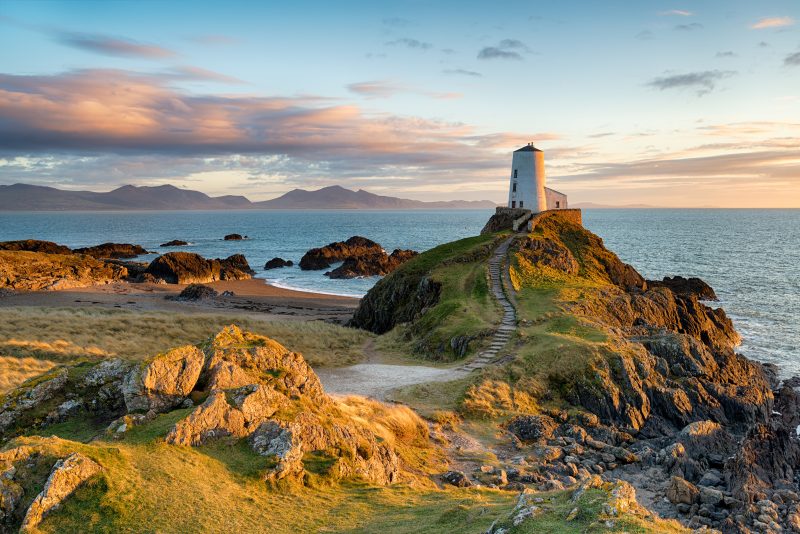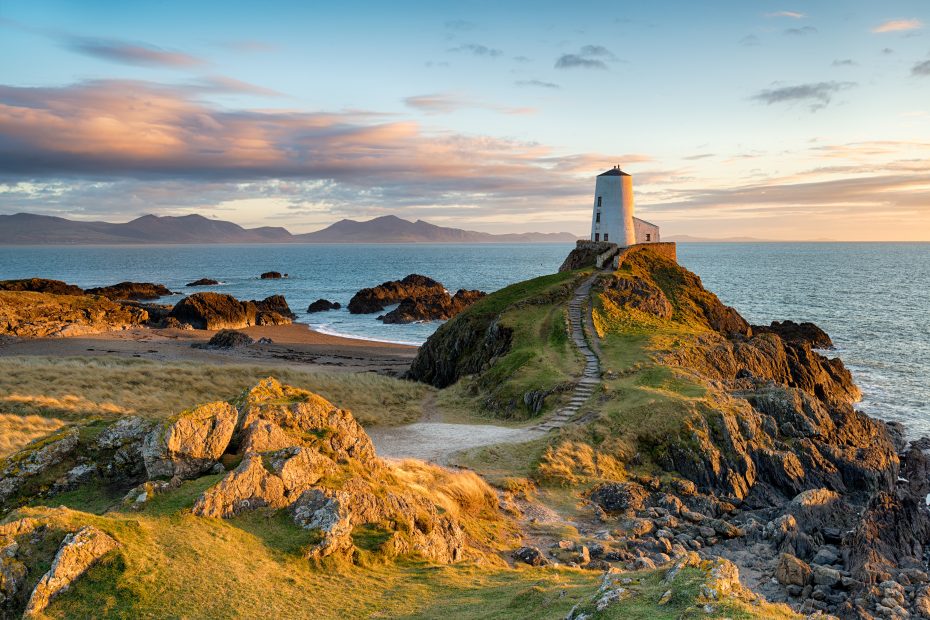 North Wales' small but mighty island of Anglesey is packed with some of the best beaches in Wales, as well as unmissable historical sights and outstanding countryside.
Whilst the A55 dual carriageway slices through the centre of the island up to Holyhead, the best way to get to know Anglesey's character is by driving a circular route along its outlier coastline.
This driving route covers the most popular spots on the island, passing through quaint villages, dramatic viewpoints and some of the best natural attractions in Wales!
Route Outline
Delight in some delicious seafood at the famous Dylan's restaurant in Menai Bridge after crossing over from the mainland. Then hit the road: heading east on a beautiful coastal road towards the seaside town of Beaumaris.
You cannot miss the mighty Beaumaris castle, a relic of Anglesey's Celtic history, followed by a brisk walk on Beaumaris pier! Continue north towards Penmon Point lighthouse. On clear days, views of Puffin Island await you. Next, head to the famous Red Wharf Bay for a refreshment break at The Ship pub.
Along the northern coast, the fishing village of Moelfre awaits with spectacular beaches and impressive coastal views. Then head on to Amlwch, the gateway to the otherworldly copper and gold landscapes of Parys Mountain.
Further north along the coast, towards Bull Bay, you'll find Porthwen Brickworks – a true hidden gem in Wales! Back in the driver's seat, make your way along the coast to Cemaes Bay, a lovely harbour village with unspoilt beaches and unmissable walkways along the dramatic cliffsides of the Wales Coastal Path.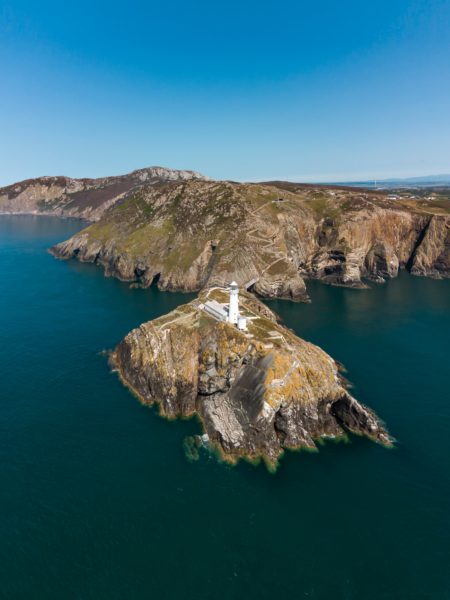 Take a break at Holyhead, Wales' gateway to Ireland. Refuel at the renowned Sea Shanty Cafe before continuing on to Treaddur Bay and the epic South Stack lighthouse for some spectacular views.
Driving south towards the west coast beaches, you're rewarded with unbeatable views over to the Eryri (Snowdon) mountain skyline on the mainland. Nearby, Rhosneigr is a soft-sand beach worthy of your attention. It's a popular surfing spot with locals and home to a great seaside restaurant, The Oyster Catcher.
For your last stop, follow the coast south to Newborough forest – a nature reserve that is one of the most important red squirrel conservation sites in the UK!
Here, you'll also find an impressive stretch of sandy beaches, including the incredible Ynys Llanddwyn. Known as one of Britain's finest beaches, it's famous for its relation to Santes Dwynwen, the Welsh Patron Saint of lovers!
Complete your circuit back in Menai Bridge, and reward yourself with a drink at one of its many cosy Welsh pubs.
2. An Unforgettable Coastal Drive From Llŷn o St Davids
Start: Llŷn Peninsula
End: St Davids
Length of trip: Full Day/Overnight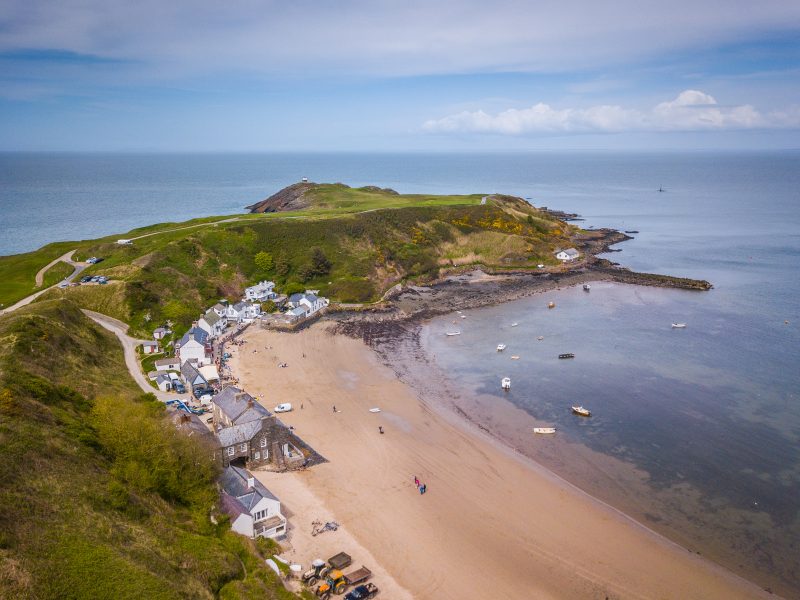 This driving route covers an expansive length of the country, heading from the beautiful shores of North Wales down along the coast, covering the entirety of Cardigan Bay, towards Pembrokeshire.
It is the longest – and most impressive – coastal road trip in Wales. Following the majestic Irish Sea, this route affords some truly incredible views of the shimmering blue sea on a sunny day.
Route Outline
Beginning on the tip of the Llŷn Peninsula, delight in the pristine beach of Aberdaron – a great spot for scouring fossils, shells and crabbing! Or hit the waves at one of Wales' best surfing beaches – Porth Neigwl (Hell's Mouth). Check out my Llyn Peninsula travel guide for more info.
With a winding drive through the bustling town of Pwllheli, make your way towards Porthmadog. Here, you can uncover the region's mining history and soak up some incredible views of Eryri's mountain peaks.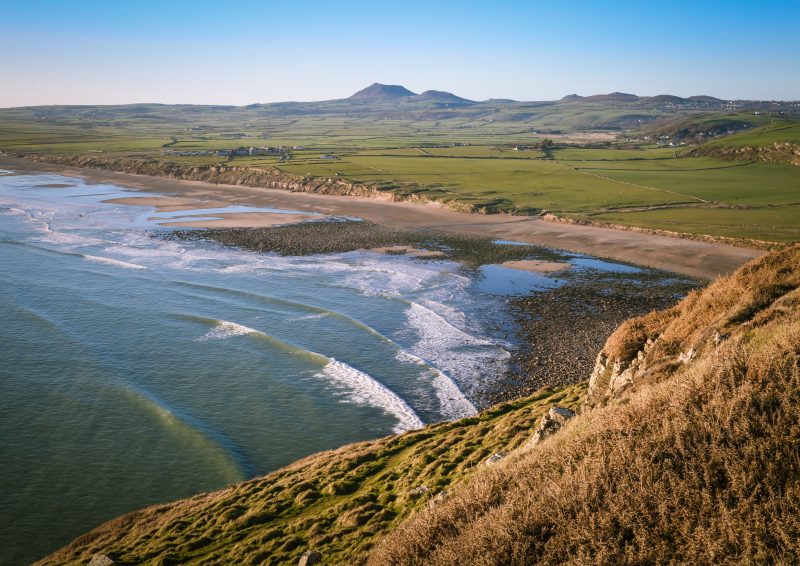 Heading south, take a stop to explore Harlech's UNESCO-listed castle. Or explore the stunning shores down towards Barmouth and Fairbourne where epic, expansive beaches await you. The bustling seaside town of Aberystwyth makes a great pit stop further south.
A scenic coastal stretch awaits as you head down towards Aberaeron. On a clear day, you can look out to the ocean and see the curves of North Wales in the distance. Aberaeron is another fine seaside town, known for its colourful ice cream, quaint harbour and famous honey ice cream at The Hive!
On your final stretch, head further along the coast towards the outer edges of Pembrokeshire National Park. There's a wide selection of outstanding beaches, outdoor activities and remarkable Welsh coastline to enjoy at the end of your journey!
3. Beach Hopping On The Gower, South Wales
Start: Swansea
End: Mumbles
Length of trip: Full Day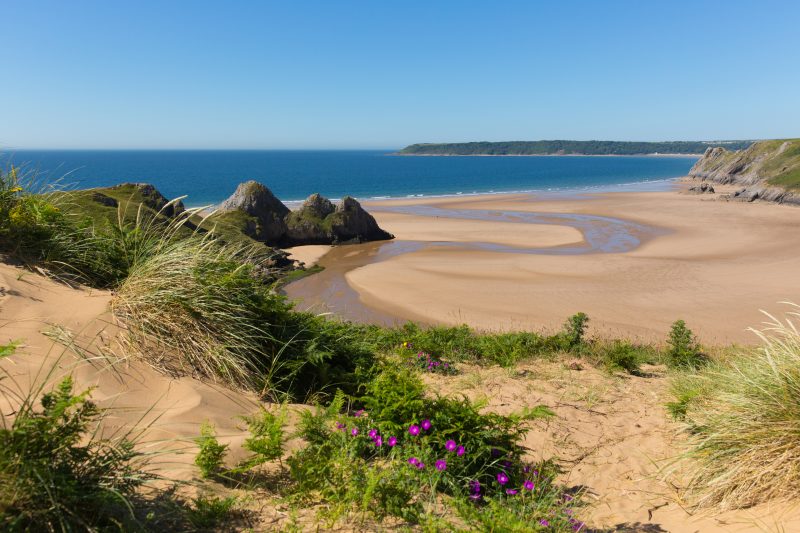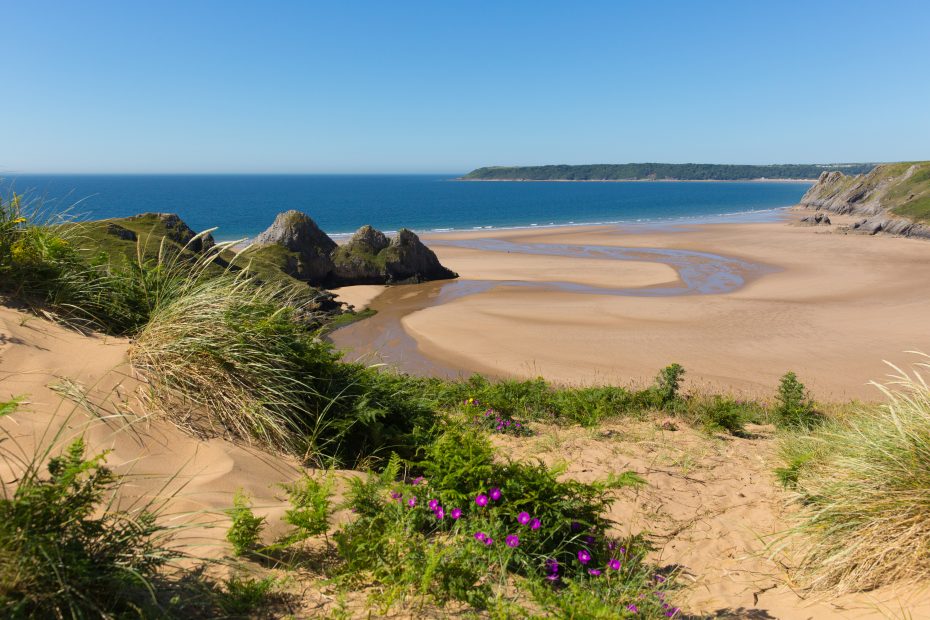 One of the best places to visit in south Wales is the Gower Peninsula, just a short drive from Swansea. The Gower was the UK's first-ever Area of Outstanding Natural Beauty, with over 30 incredible beaches and coves dotted along 46 miles of rugged coast.
This peninsula is certainly best explored with a one-day coastal road trip. Visit some of the best natural areas in south Wales and witness the spectacular scenery along the Wales Coastal Path.
Route Outline
Begin your journey from Swansea, before heading straight over to Three Cliffs Bay. This magnificent stretch of sandy beach against three limestone cliffs has some great sand dunes to explore!
From here, take a short drive to the neighbouring village of Oxwich. Stroll along Bay Beach and try your hand at surfing! Head over to the delightful village of Port Eynon for a break at the seafront Smugglers Beach Bar, accompanied by a visit to the award-winning Gower Gin Company Distillery.
The most popular place to visit on the Gower is Rhossili, one of the best seafronts in the UK! Rhossili is a large stretch of soft, sandy beach – great for relaxing and swimming when the waves are calm.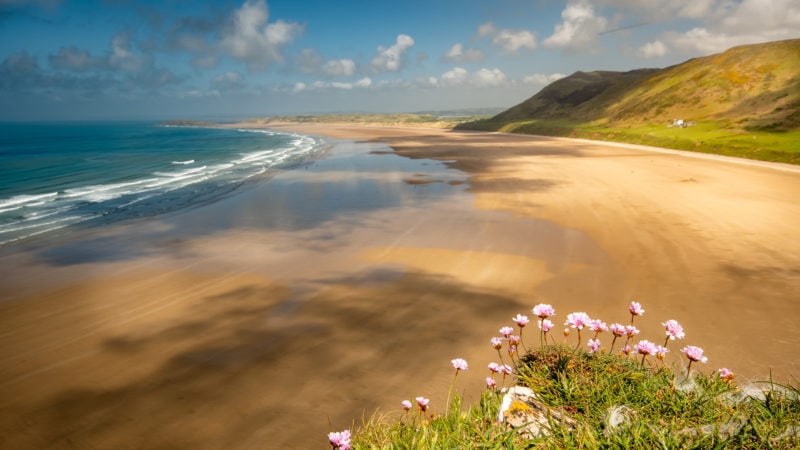 Visitors here also delight in the Worm's Head walk along the cliffs that tower above the beach for dramatic, panoramic views over the Welsh coast. In summer, this area is transformed into a heaven of sunflowers, with thousands of yellow petals covering eight acres on the cliffside.
The Gower's coastline is known for a range of outdoor pursuits. Nearby Llangenith is a great place for surfing, paddleboarding and coasteering!
Enjoy some countryside delights as you complete your circuit back towards Swansea along winding, narrow lanes and passing ancient castle grounds and rolling, lush green hills.
End your journey back at the Mumbles, on the western edge of Swansea Bay. This quaint fishing village has a medieval castle, excellent dining locations, and a Victorian pier over a cobbled beachfront.
4. An Epic Venture Over Pen Y Pass (From Llanberis to Betws-Y-Coed)
Start: Llanberis
End: Betws-Y-Coed
Length of trip: Half a Day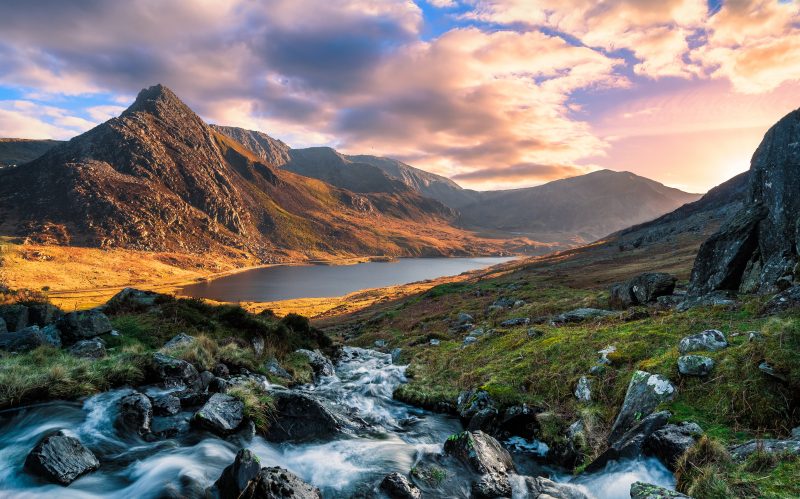 This driving route starting in Llanberis and ending in Betws-y-Coed is one of the most popular road trips in Wales. This will give you a taste of what Eryri (Snowdonia) National Park has to offer. It also allows you to see the magnitude of the North Wales mountain landscape up close!
Begin your journey at Llanberis. This popular lakeside village at the foot of Yr Wyddfa (Snowdon) has colourful buildings and heaps of fun things to do.
Route Outline
Follow the winding road and rugged landscape as you leave Llanberis in the direction of Nant Peris, along Llyn Peris as you begin your ascent up Pen Y Pass.
Meander between lunar-like boulders and imposing mountains as you venture up the narrow, winding lane. A stop at the layby on this pass is a must. You may spot some brave hikers taking on the spine-chilling Crib Goch ridge!
The top of the pass is an incredible place for views of Wales' best mountains on a clear day. But the steep drops on the edges of the pass are not for the faint-hearted!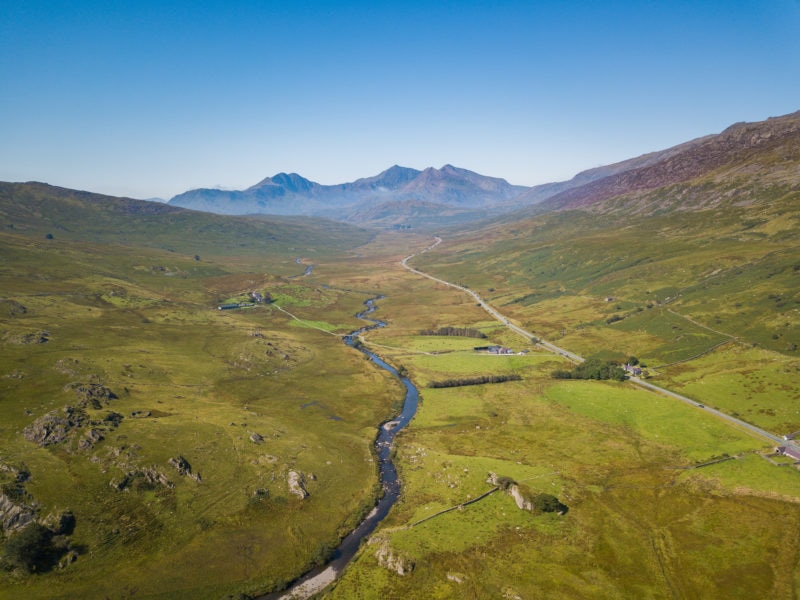 Heading down the winding pass, turn left towards Capel Curig. Follow the A4806 through scenic Dyffryn Mymbyr, with the epic Snowdon peaks in your rearview.
This road is a glorious flat stretch, passing lakes and rolling hills towards the quaint slate cottages in the small village of Capel Curig. From here, take the narrow and winding A5 towards Betws-y-Coed. Approaching the town of Betws, lush green trees will tower above you as you descend along the river into the bustling town.
Betws-y-Coed is a beautiful alpine town that is a very popular destination with tourists. Here you can browse several independent outdoor gear shops, delight in some great food, and explore nature along the river and Swallow Falls waterfalls.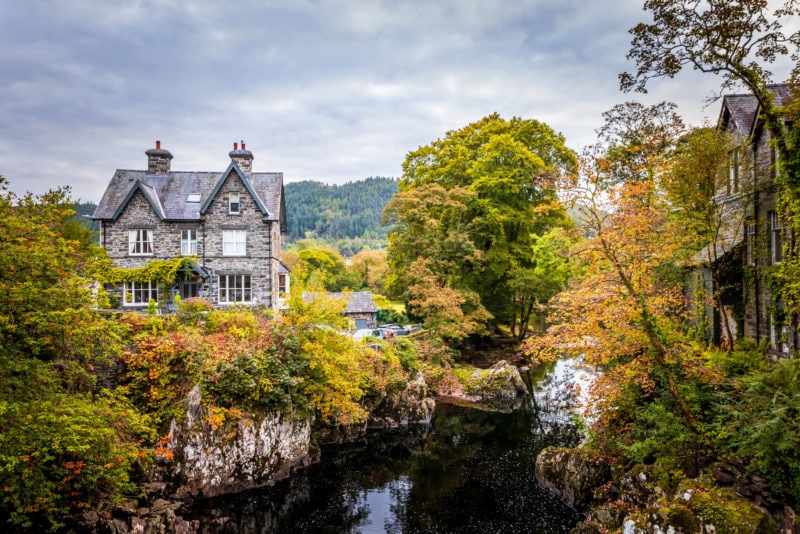 5. Porthmadog To Lake Vyrnwy
Start: Porthmadog
End: Lake Vyrnwy
Length of trip: Half a Day
This short route tours some of the best regions of the southern parts of Eryri National Park. It begins in the harbour town of Porthmadog. This is the final stop on the famous Welsh Highland railway, so it's a great gateway for exploring the surrounding area.
A 5-minute drive from Porthmadog lies the enchanting Italianate-inspired village of Portmeirion. This highly popular destination boasts romantic aesthetics and impressive architecture. You won't believe this exists in Wales until you've seen it!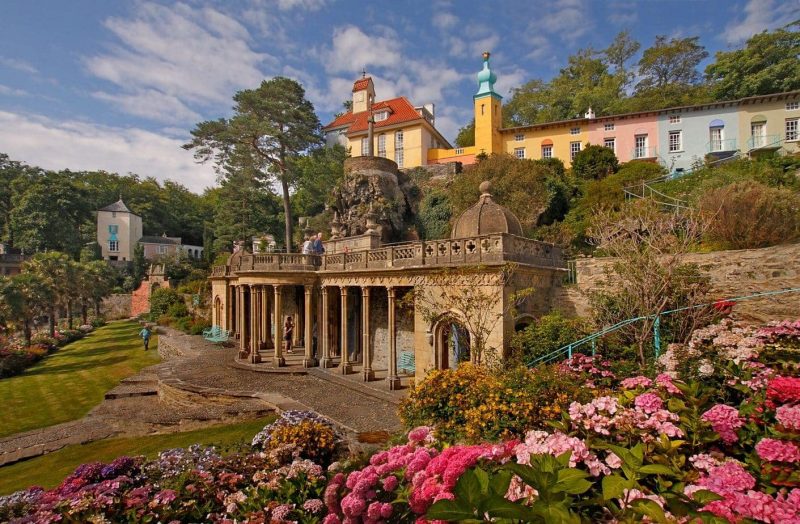 Route Outline
Continue on towards the village of Trawsfynydd on winding roads, passing impressive green valleys and towering trees. Take a detour to explore neighbouring Blaenau Festiniog, the historic Welsh mining town that nestles between the impressive Moelwynion mountains.
In Trawsfynydd, stop to visit the memorial statue for the famous Welsh poet Hedd Wyn. Continuing your journey, take a signposted left turn after Trawsfynydd village towards Y Bala.
Brace yourself for a 25-minute stretch over one of the most incredible countryside passes in the UK. This road was featured as a favoured route in Wales by the Top Gear team – and it's easy to see why! The meandering road winds along spectacular valleys, with epic mountain landscapes in every direction.
The pass leads to the historical landmark of Llyn Celyn, before descending into the popular town of Y Bala.
Here you can delight in many activities, such as paddleboarding or kayaking on the infamous Llyn Tegid, as well as relishing in some local food from the high street. This town is nestled between two majestic mountains – Yr Aran and Arennig Fawr. These are more than worthy of a hike if you can spare the time!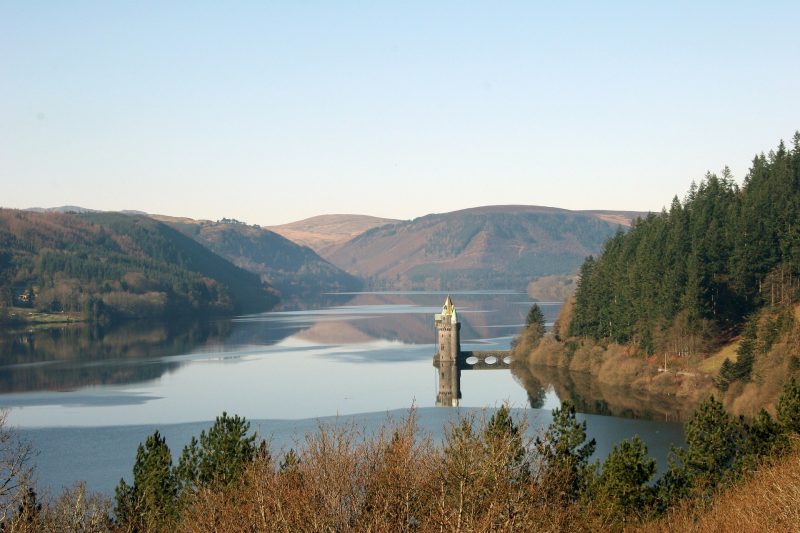 Out of Y Bala, head towards the B4391 where you'll find a narrow, steep road that begins your ascent up towards Lake Vyrnwy. This drive is not for the faint-hearted! There's a challenging climb up a large valley with deep drops to your right.
Once at the top of the valley, you are rewarded with incredible views over the mid-Wales countryside, before descending back down towards Lake Vyrnwy.
At the bottom, be sure to add a circuit around the lake to your route. It's the best way to take in the magnitude of one of Wales' best lakes! Finally, end your trip with a meal at the award-winning Lake Vyrwnwy Hotel.
6. Pembrokeshire's Coastal Gems
Start: Tenby
End: Abereiddi
Duration: Full Day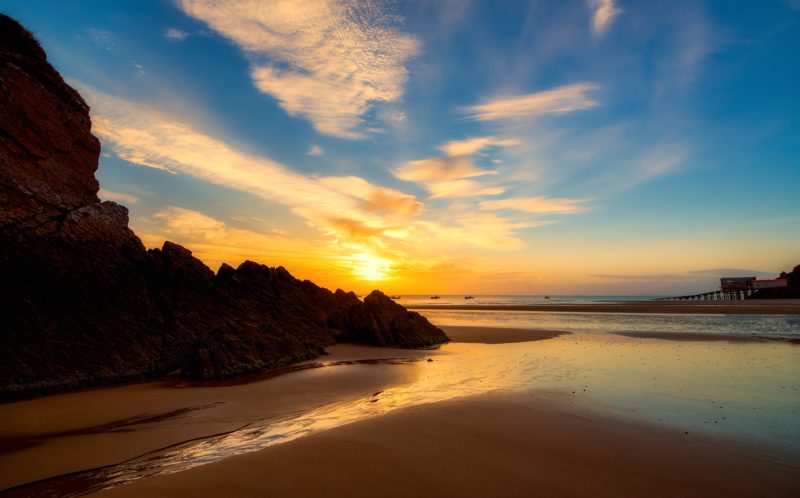 Considered the most beautiful stretch of coastline in the UK, a drive along the Pembrokeshire coast is easily one of the best road trips in Wales! This coastline is packed with places to visit and things to do, so it's a great road trip for families!
Begin your trip in one of Wales' best seaside towns, Tenby. The fishing village is known in Welsh as Dinbych Y Pysgod – "little town of fishes". Tenby is a historical landmark known for its unspoilt sandy beaches, Victorian architecture, and charming shops and cafes dotted along narrow cobbled streets.
From Tenby, you can also take a short boat trip to the famous Caldey Island. This beautiful conservation area is home to puffin colonies so is a must-visit for nature lovers!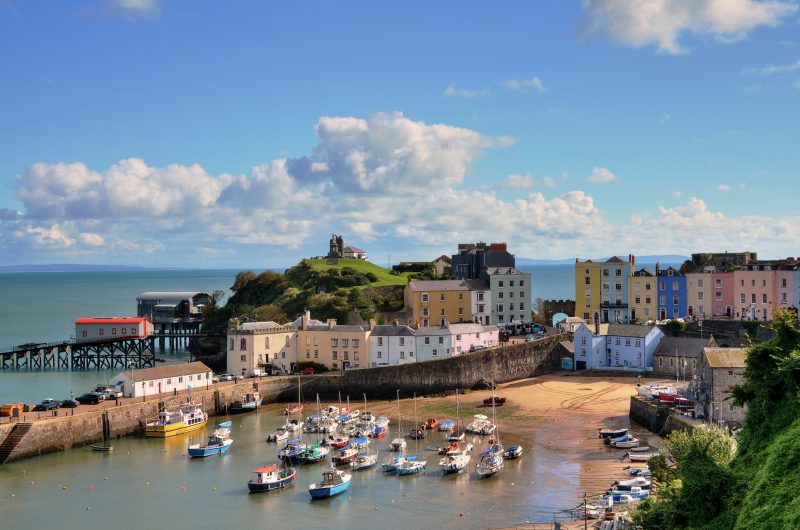 Route Outline
Passing the coastal delights of Barafundle Bay, you'll next come to the famed St Govans Chapel. This 6th-century chapel is built into the side of a limestone cliff and accessed by tiny, steep steps. From here, head to another landmark – The Green Bridge of Wales. This impressive, arch-shaped rock formation affords some impressive views over the shoreline.
For the second leg of the trip, head over to the northern region of Pembrokeshire. Stop off at bustling Haverfordwest for a variety of food options!
Take the road towards St Davids. Stop along the way at the tiny harbour village of Solva, a true hidden gem in the area! The coastal road will then lead you into the heart of St Davids, the UK's smallest city.
A visit to the Cathedral here is unmissable, accompanied by a wander among the narrow streets. From here, you can also explore Whitesands Bay for watersports and swimming. Or, take a stroll along the St David's Head Peninsula for stunning views and potential sightings of seals and dolphins!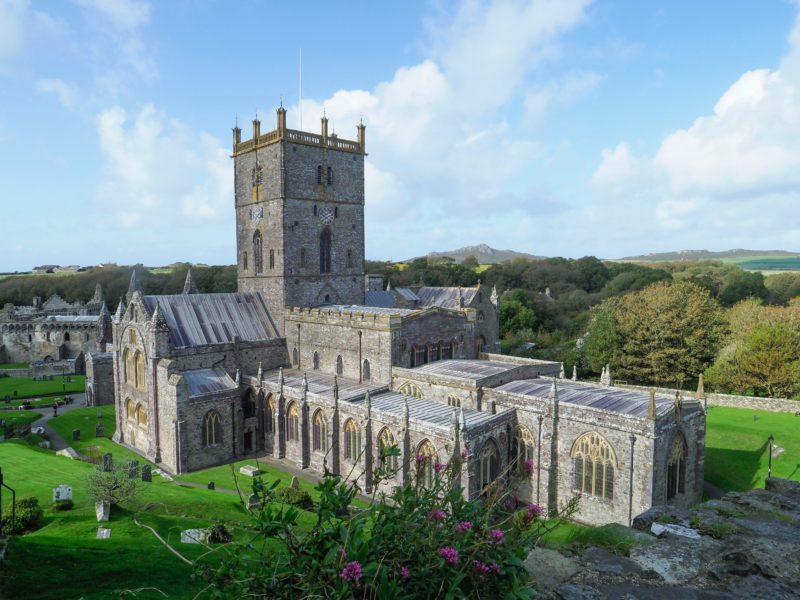 To complete your trip along the northern coast, a stop at Abereiddi Bay is a must. Home to the infamous Blue Lagoon, a popular spot for coasteering and cliff jumping.
End your journey at delightful Fishguard, a coastal town where visitors can relish mouthwatering seafood and top-notch live music!
More on Wales and Road Trips…
If these awesome Wales road trips have you feeling inspired, check out these similar posts…
An Epic Road Trip Itinerary for the Cambrian Way in Wales
Bucket List Adventures in the UK
19 of the Best Places to Visit in North Wales
Things to do in Neath Port Talbot, South Wales
About the Author
This guide to the best things to do in Llanberis was written by local travel writer Megan Tomas.
I'm a travel writer and content creator from a small village outside Caernarfon in North Wales. After graduating with a journalism degree from Cardiff University, I worked for 4 years as a digital producer at a Welsh production company. Last year I left my 9-5 to pursue freelancing writing full-time, and am now slow-travelling the world (currently in Bali) as a digital nomad.