Some posts on this site contain affiliate links. If you book or buy something through these links, I earn a small commission (at no extra cost to you). Take a look at my privacy policy for more information.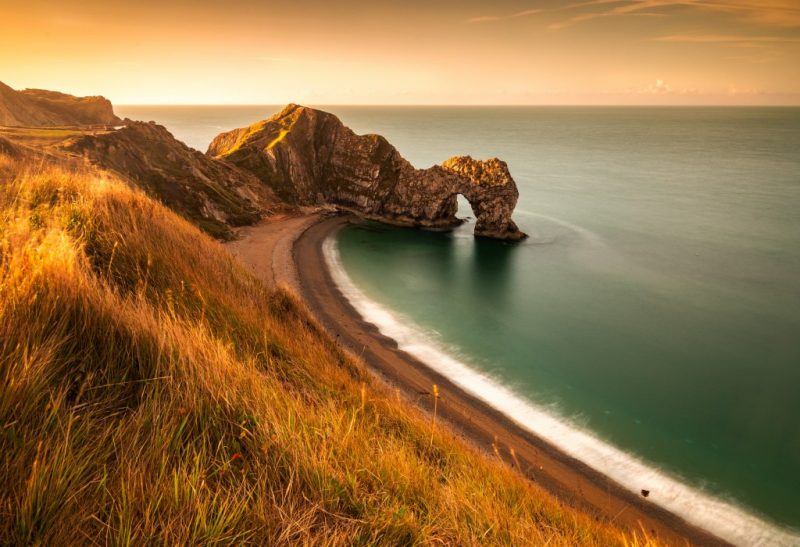 If you're planning a staycation in my favourite part of the UK, you've come to the right place. My guide to the best places to stay in Dorset covers everything from luxury hotels, to camping and glamping.
I'm a born and bred Dorset local, so I love spreading the word about my beautiful home county!
I've rounded up recommendations from friends and travel bloggers – as well as my own experiences – to put together this list of all the very best places to stay in Dorset. There's a contents list and map below, so skip ahead if you want. Or just browse through for some inspiration.
The Best Places to Stay in Dorset
Use the interactive map below to browse, or keep scrolling to read more about the best places to stay in Dorset.
Best Hotels in Dorset – Luxury
First of all, we have some incredible luxury hotels in Dorset – the best places to stay if you want an indulgent getaway. Some of these properties are so beautiful that you might never want to leave. But you really should, because they're all in some stunning areas of the county!
The PIG on the Beach, Studland
Recommended by: Twins that Travel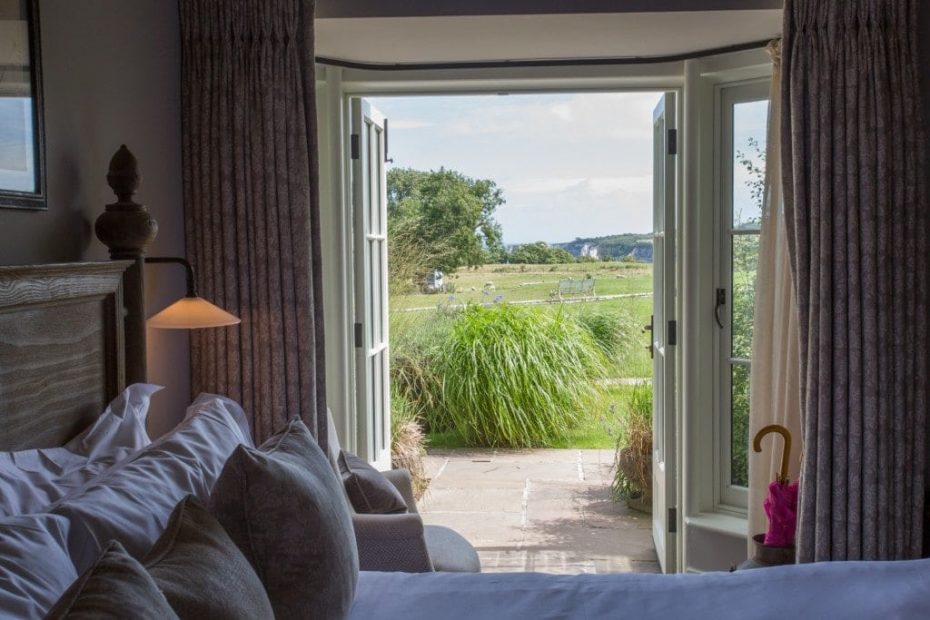 The PIG on the Beach in Studland is probably one of the best hotels on the Dorset coast. Housed in a pastel yellow country house overlooking Studland Bay, the property has gorgeous views!
The design is eclectic and very British, as Laura (Twins that Travel) explained. "There are Hunter wellie boots waiting for you when you walk in, big armchairs, and the Sunday lunches are amazing! The restaurant is in a huge conservatory filled with different plants, and it's incredibly luxurious – but in a really welcoming way."
Food always comes front and centre at The PIG hotels, and the PIG on the Beach is no exception. With a 25 mile menu and an on-site Kitchen Garden, your meal is as local as can be. And it's all absolutely delicious.
RELATED POST: 19 of the Best Beaches in Dorset
Moonfleet Manor, Weymouth
Recommended by: Me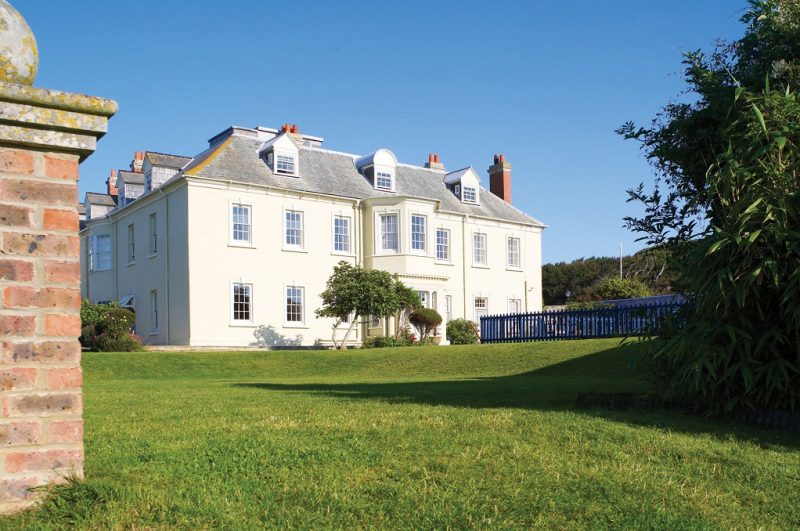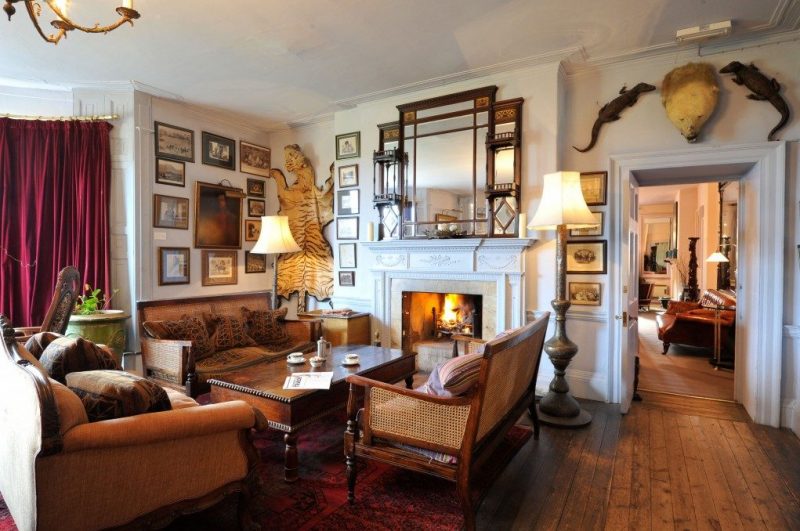 If you're looking for one of the more unique places to stay in Dorset, Moonfleet Manor is perfect! A stunning Georgian manor on the coast just outside of Weymouth, the hotel overlooks The Fleet – a lagoon tucked between the mainland and Chesil Beach.
Aside from the unique geography of the area, there's also some fascinating history to discover. The Mohune family, who originally owned the manor, were immortalised in the classic swashbuckling novel Moonfleet by Faulkner.
The story is fiction, but the village, the family, and the smuggling history of the area are very real. Today, Moonfleet Manor is a beautiful, luxurious hotel known for its eclectic decor and tasty afternoon teas!
CHECK PRICES: Book Direct | Booking.com | Hotels.com
Summer Lodge Hotel, Evershot
Recommended by: my dad!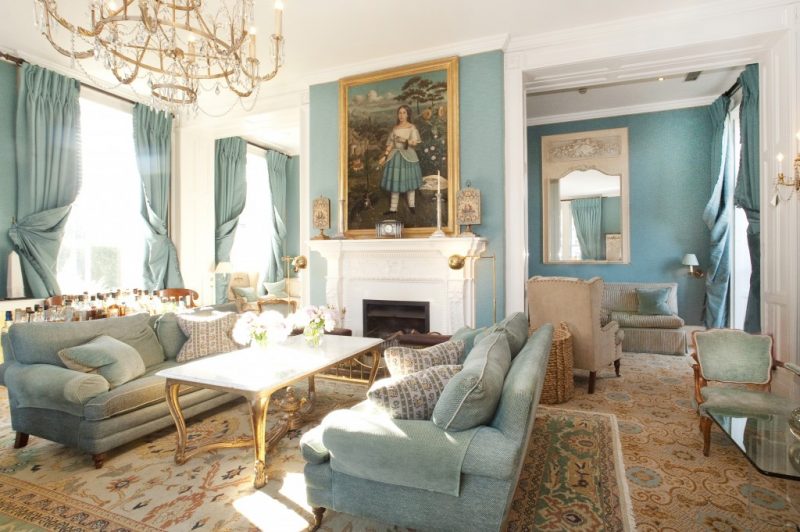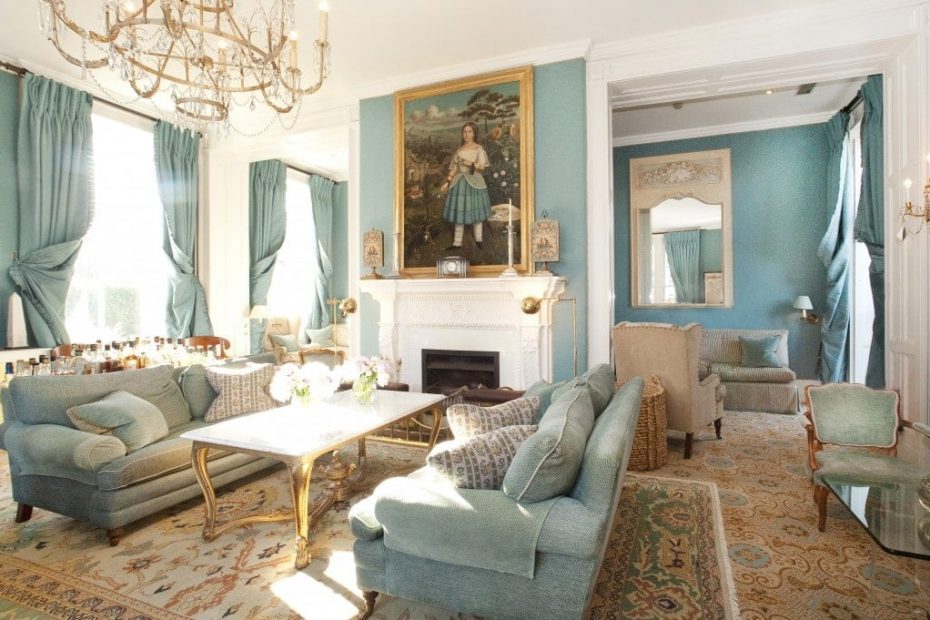 My dad (bless him) can always be relied upon for a recommendation when I'm writing a Dorset post. Our county's proudest resident, he tells me that the Summer Lodge Hotel is absolutely lovely. And, he says, the grounds are stunning.
Housed in a beautiful country house in the pretty village of Evershot – which has strong ties to Thomas Hardy – the Summer Lodge Hotel has won numerous awards and was voted No. 2 Top Hotel in the UK in Condé Nast Traveler Readers' Choice Awards 2017. It's also one of the top-rated places to stay in Dorset. There's also a gorgeous spa, complete with a pool housed in a beautiful glasshouse surrounded by pretty gardens.
CHECK PRICES: Booking.com | Hotels.com
Christchurch Harbour Hotel
Recommended by: Kylie, Our World of Adventure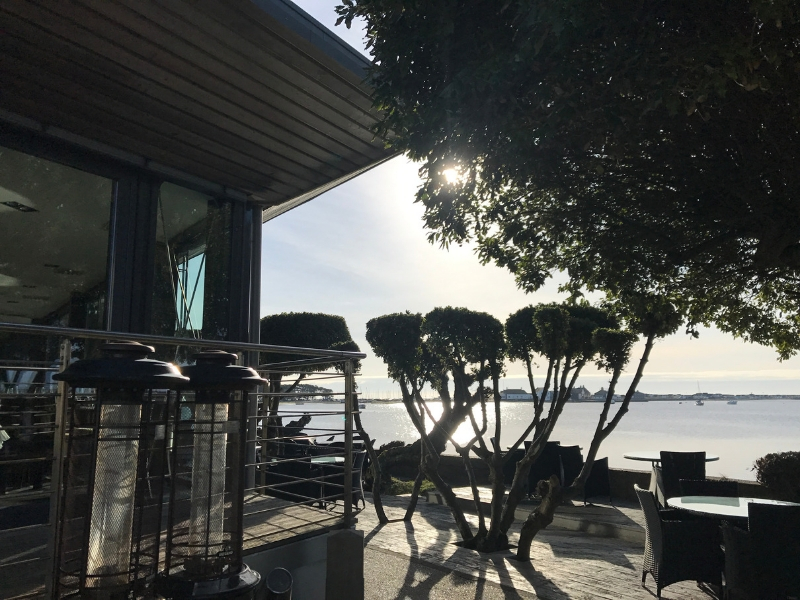 If you're looking for a coastal hotel in Dorset with the wow factor, then Christchurch Harbour Hotel is the place for you. Tucked away on the water's edge, Christchurch Harbour Hotel offers guests luxury accommodation, spa facilities, extensive pamper treatments, and gourmet dining options.
The hotel boasts two fantastic eateries which champion local, fresh, seasonal produce. The Jetty is an award-winning eco-friendly restaurant, providing unspoilt panoramic harbour views. The Upper Deck's alfresco
terrace is the perfect spot for post-spa cocktails whilst marvelling at the far-stretching views over the harbour.
There's plenty to see and explore locally too. The historic Mudeford Quay – famous for crabbing – is only a short walk away. From here you can take the foot ferry across to the golden sands of the Mudeford sandbank, or explore Hengistbury Head Nature Reserve.
CHECK PRICES: Booking.com | Hotels.com
The Green House Hotel, Bournemouth
Recommended by: Glyn, on Twitter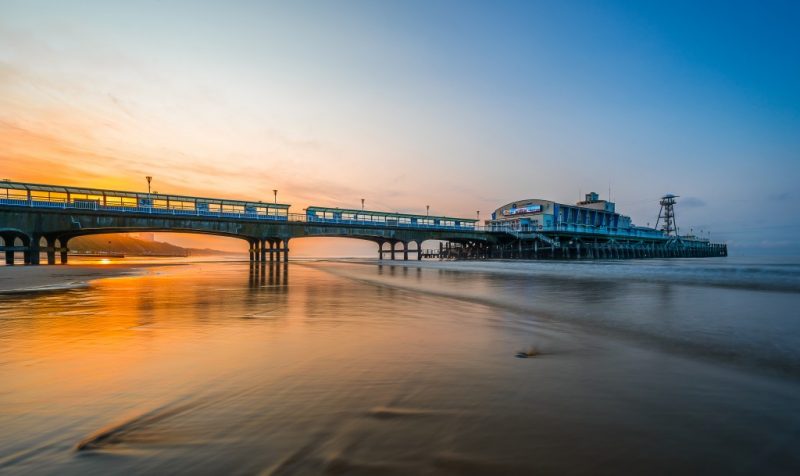 Glyn reached out on Twitter to tell me about The Green House Hotel in Bournemouth. It's a luxury, boutique eco-hotel which looks absolutely gorgeous. Everything about the hotel is green, from the usual things like energy-efficient lighting, to the big things, like generating their own electricity.
There's also a big focus on sourcing local products. Not just the ingredients in the lovely on-site restaurant, but decor, too. All the rooms are fitted with locally made 100% wool carpets, and the solid wood furniture is all made in the UK, using trees felled by storms or tree surgeons. If you're trying to be more sustainable, this is probably one of the best places to stay in Dorset!
CHECK PRICES: Booking.com | Hotels.com
Best Hotels in Dorset – Midrange
If you don't want to break the bank, or you simply don't fancy a luxurious stay, then these midrange hotels in Dorset could be the perfect places to stay. We have historic inns, beautiful B&Bs, and some really unique hotels to discover. Below are some of my top picks, as well as recommendations from fellow travel bloggers…
Smugglers Inn, Osmington Mills
Recommended by: Me!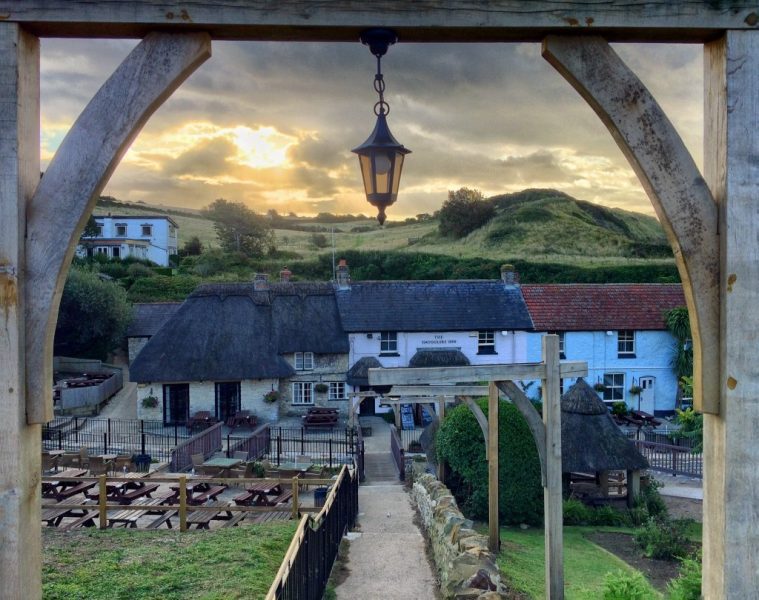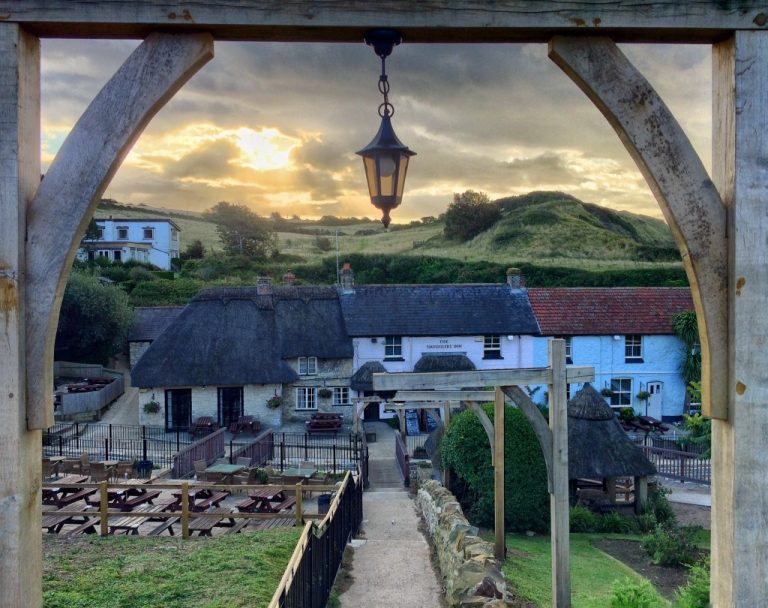 I've chatted about Smugglers Inn before, because it's a gorgeous hotel and one of my favourite pubs in Dorset. There's a fab cliff walk from Weymouth to Osmington Mills that takes around an hour, so I've been to the pub for many a summery lunch in their lovely beer garden!
I've also stayed at the hotel once before, and it's everything you want from a place with a name like Smugglers Inn. Cosy and oddly shaped rooms, exposed wooden beams, log fires in the pub, cute vintage furnishings, and lots of original features that just ooze history. The inn dates back to the 13th century, and was once a hangout for some of the infamous smuggling gangs who worked the local coastline. Emmanuel Charles, leader of the ruthless Charles Gang, was landlord during the 1820s, and French smuggler Pierre Latour, aka 'French Peter', took shelter at the inn for a while.
CHECK PRICES: Booking.com
The Bull Hotel, Bridport
Recommended by: Claire from Weekend Candy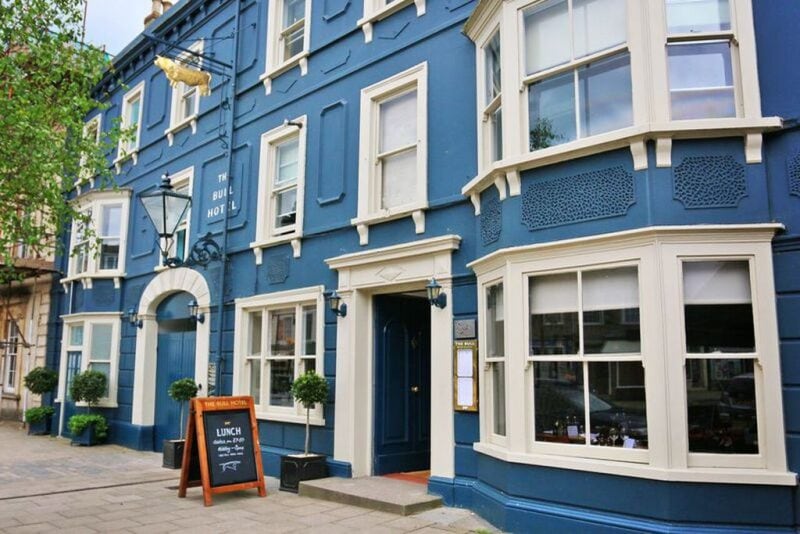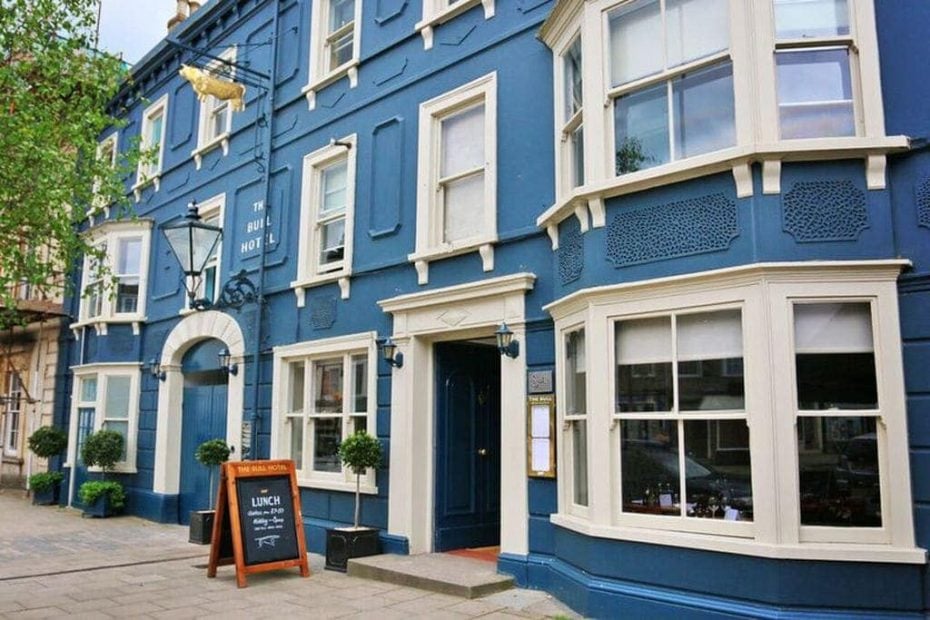 With its handsome deep military blue exterior, the Bull Hotel in Bridport is hard to miss. It stands in the heart of Bridport's hustle and bustle, providing a welcoming country pad for those visiting this quaint market town on the Jurassic Coast. In the 1850s, the Bull Hotel was a coaching inn. 300 years before that, it similarly took in weary travellers journeying from London to the South Coast. Today, it's a gorgeous hotel with stripped-wood interiors, free-standing baths, 19 elegant English bedrooms, and some of Dorset's finest food on offer. Historical and charming – prepare to fall for it, just like I did.
CHECK PRICES: Booking.com | Hotels.com
Lulworth Cove Inn, Lulworth
Recommended by: Me!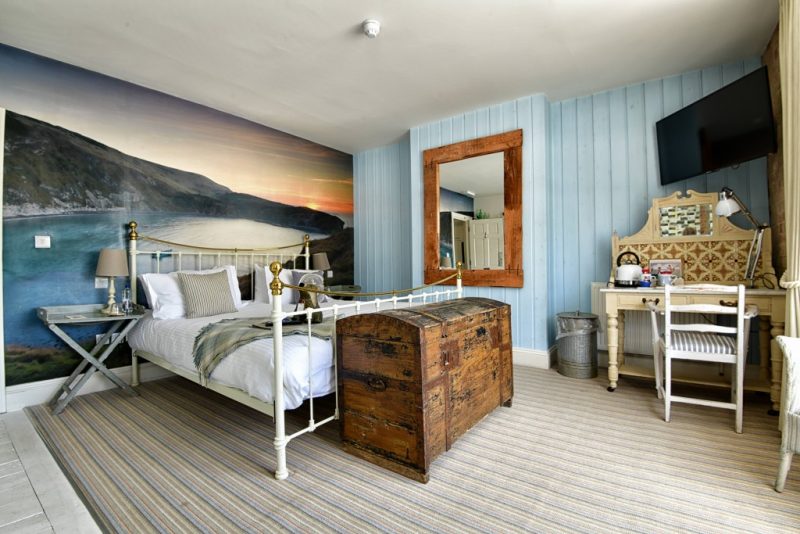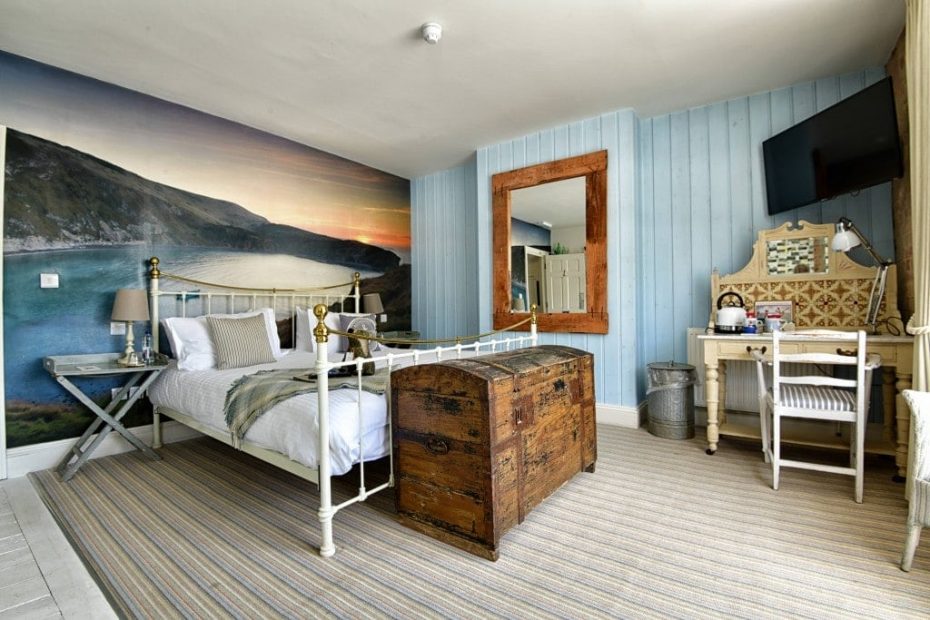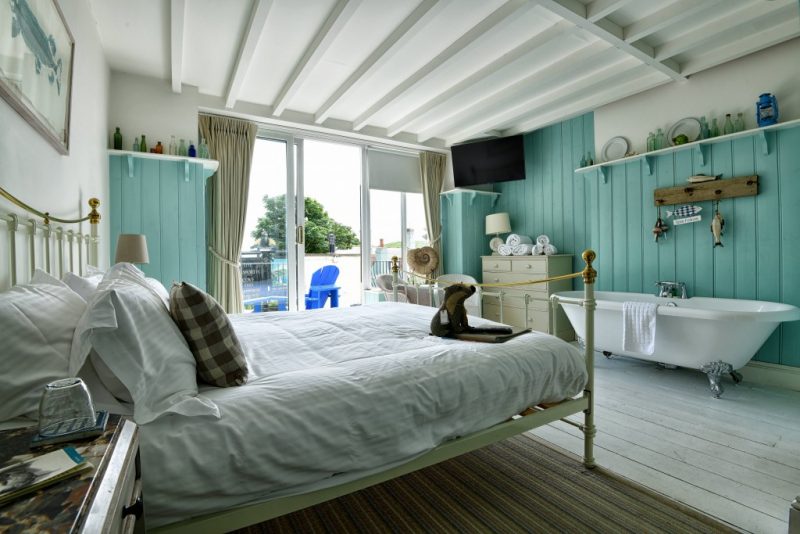 I stayed at Lulworth Cove Inn a couple of years ago and genuinely think it's one of the best hotels in Dorset. That might have a lot to do with the inn's location, in one of my favourite spots along the coast. The property is right in the centre of Lulworth village, a couple of minute's from the beach.
The historic inn retains many of its original features, but it's had a complete overhaul and has a fresh, contemporary feel – especially in the bedrooms. Rooms have white-washed wooden floors, vintage furnishings, and lots of beach and fossil themed decor, so there's a lovely seaside feel throughout. Perhaps most noteworthy is the pub itself, which is a local favourite. I've often stopped by for a meal after a long walk on the beach. Alongside typical pub grub, there are always some super-fresh, super-local seafood dishes on the menu!
CHECK PRICES: Booking.com
Stoneleigh Barn, Sherborne
Recommended by: Ruth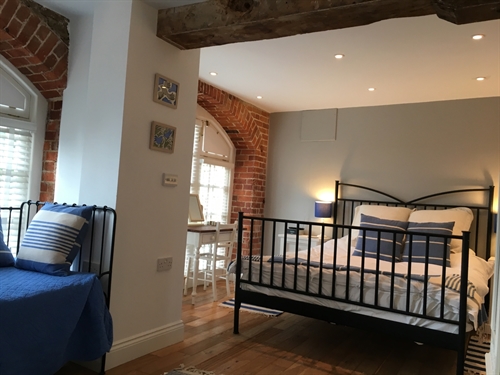 One of my best friends spent her wedding night at Stoneleigh Barn and she said it was absolutely dreamy. It's also in the most gorgeous location! With its beautiful Abbey and two castles, Sherborne is probably one of the most attractive towns in Dorset.
Stoneleigh Barn is a pretty B&B housed in a converted 19th century hay barn, just outside of Sherborne. So it's great if you want to get away from it all! There are just two guest rooms, so a stay here will feel pretty exclusive. This picturesque barn is perfect if you want some serious peace and quiet!
CHECK PRICES: Booking.com | Hotels.com
The Crown Hotel, Blandford Forum
Recommended by: Me!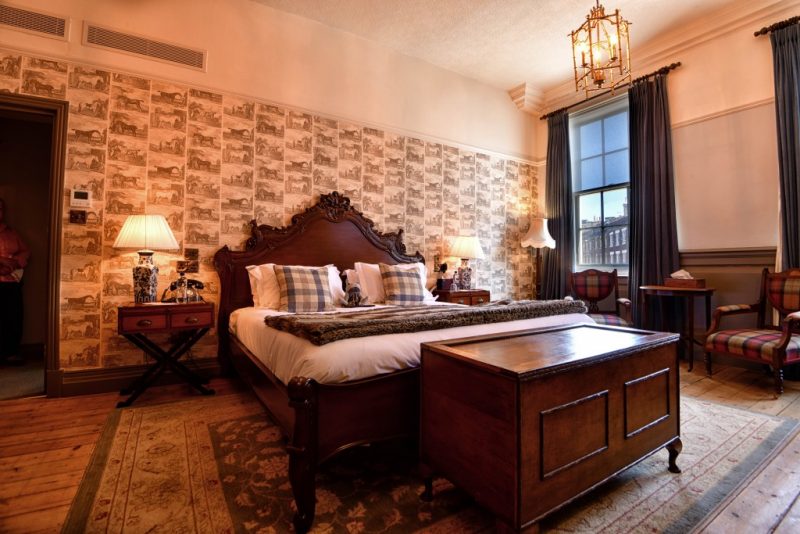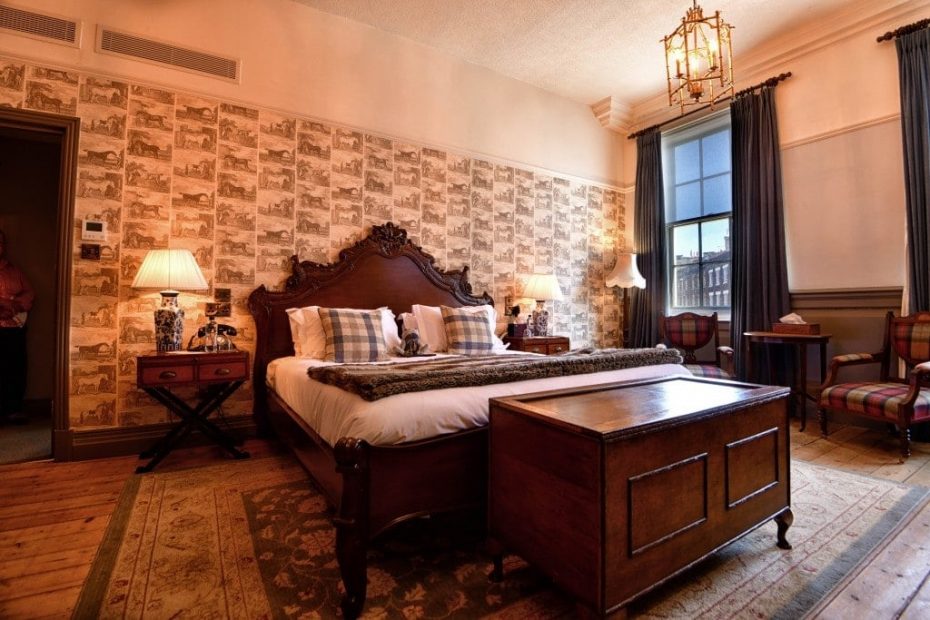 I stayed at The Crown Hotel in Blandford Forum a couple of years ago, when I was lucky enough to be reviewing some of the best hotels in Dorset for the Telegraph. It's part of the local Hall and Woodhouse chain, who founded their brewery in Blandford Forum in 1777 and now make the well-known Badger Beer range.
The Crown Hotel, housed in a converted Georgian coaching inn, is a stone's throw from the brewery – which you can visit for a tour and a tasting! Rooms are spacious, with polished oak floors, ornate ceilings, and statement antique furnishings. And like all Hall and Woodhouse properties, the food at the downstairs pub is quintessentially British, and absolutely delicious.
CHECK PRICES: Booking.com
1777. Bedrooms at The Albion, Wimborne Minster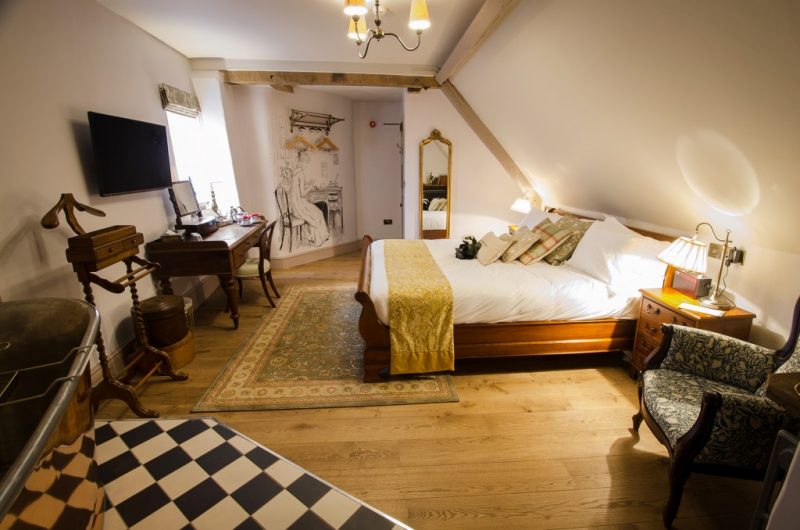 Of all the hotels in Dorset that I've stayed in, 1777. Bedrooms at The Albion was the most unique. Another Hall and Woodhouse property, this one is a tiny boutique inn dating from the 17th century. The property is steeped in local history, and the decor echoes that, with rooms bursting with period character.
Each one of the ten bedrooms has its own personality, inspired by one of three significant Georgian figures, so every room is unique. There's Jane Austen and Vice-Admiral Sir Thomas Masterman Hardy, as well as the Hall & Woodhouse founder Charles Hall.
I loved the Jane Austen room, with its sloping attic walls, standalone copper bathtub, and quirky vintage furnishings. There's no on-site restaurant, but breakfast is served at the Albion's sister hotel, The Olive Branch, which is just "152 paces" away. It's also a great local spot for dinner!
CHECK PRICES: Booking.com
RNLI College, Pool
Recommended by: Vagabond Vicky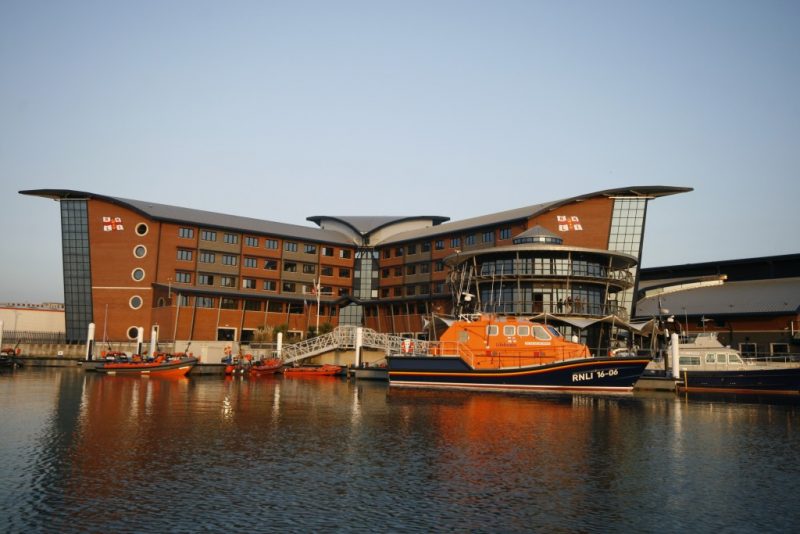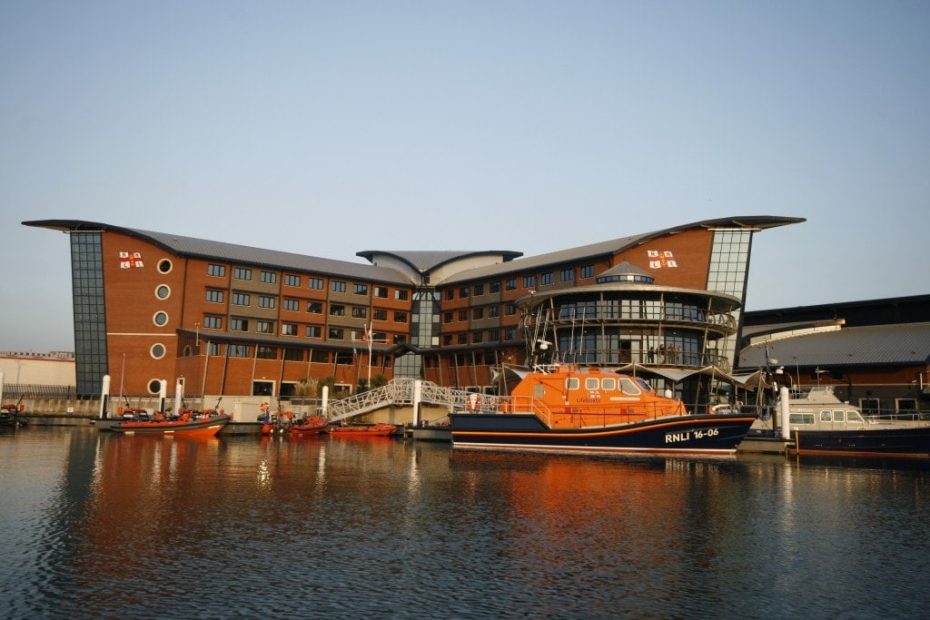 Another unique accommodation recommendation, I love the look of the RNLI College in Poole. This is a hotel and restaurant inside the college of the Royal National Lifeboat Institution, overlooking Poole Harbour. Each of the stunningly appointed rooms has a fabulous harbour view, as does the restaurant – which has floor-to-ceiling windows to give a glorious panorama. 
Better still, all the money from the hotel goes towards funding the lifeboats and their crew. So you'll be supporting a great cause at the same time.
CHECK PRICES: Booking.com
Best Dorset Airbnb's to Stay In
Airbnb can be an amazing way to take a staycation, and it's often more cost-effective than a hotel. You can stay in some beautiful properties and feel right at home. Plus there are some really unique and interesting places to stay in Dorset on the Airbnb site. If it's your first time, use my link to sign up and you'll get £25 off your first booking!
READ MORE: 50 Unique Things to do in Dorset
Cabin, Winterbourne Steepleton
Recommended by: Laura, Two Stay Wild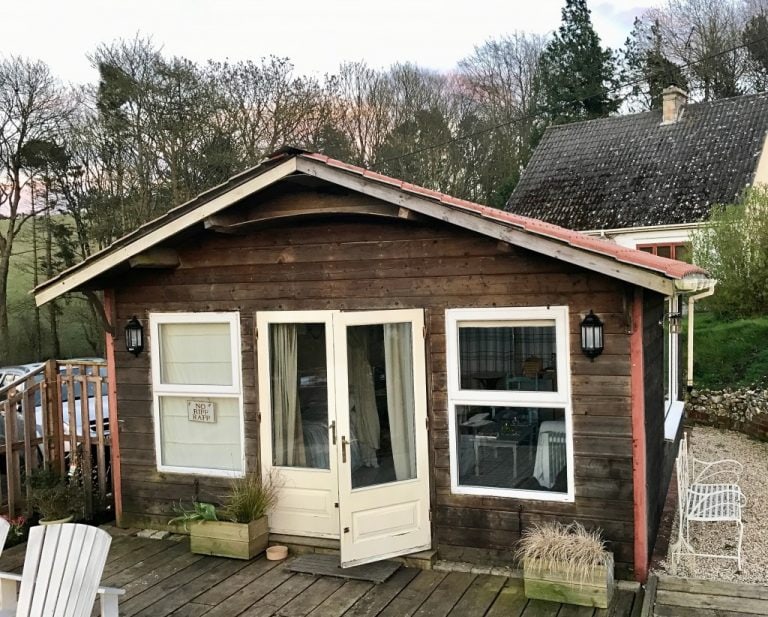 Located just outside the sleepy coastal town of Winterbourne Steepleton, this cute little cabin is the perfect weekend getaway. Nestled into the corner of a working farm, the cabin is surrounded by fields and farm animals. You'll also have regular visits from the friendly farm dog.
The host provides a locally sourced breakfast basket each morning, so you can taste all the treats that Dorset has to offer. For outdoor lovers there are heaps of day trips, hikes, and cycle trails to keep you busy. There's also a small stretch of stony beach, which would be perfect for an afternoon picnic or stroll.
The cabin is only a half-hour drive to the famous Durdle Door and Lulworth Cove on the Jurassic Coast. There are also plenty of options for coastal walks nearby – our favourite was Golden Cap.
Don't forget – use my link to sign up and get £25 off your first Airbnb booking!
Laundry Room – Netherbury
Recommended by: Anisa from Two Travelling Texans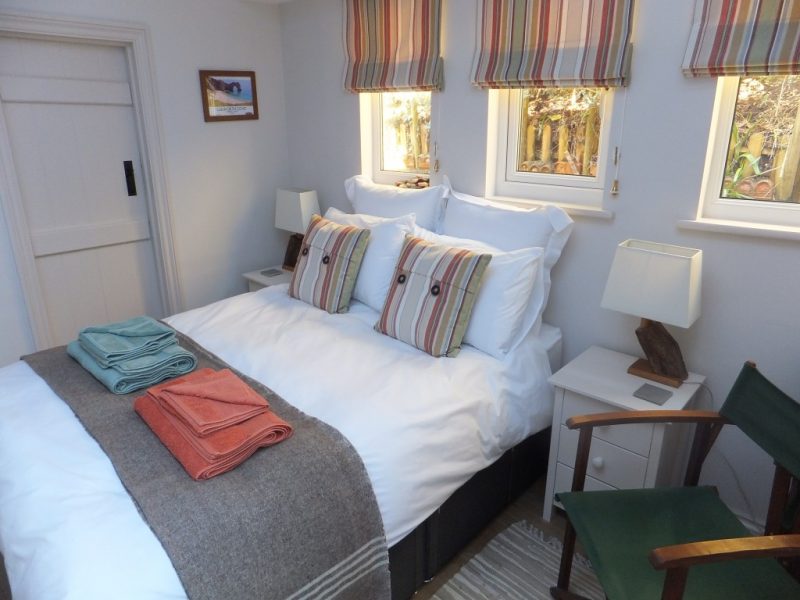 When we visited Dorset, we stayed in the what is affectionately known as the Laundry Room in Netherbury and loved it.
We found it on Airbnb. The Laundry Room is a small self-contained annexe adjoining a 200-year-old cottage. The place sleeps two people comfortably and has its own private entrance. The kitchen had everything we needed to make our own meals. Everything was so clean that we felt like we were the first guests to stay there. Diana was a great host and did a lovely job with the laundry room themed decor. It's a very affordable place to stay and we plan on returning next time we're in the area.
Best Dorset Glamping Sites
Glamping is becoming ever more popular in the UK, and Dorset is no exception. If you fancy staying in a cute cabin or a fancy Mongolian yurt, there are plenty to choose from. These are my top picks for the best Dorset glamping spots and rustic cabins…
Mudeford Beach Huts
Recommended by: me!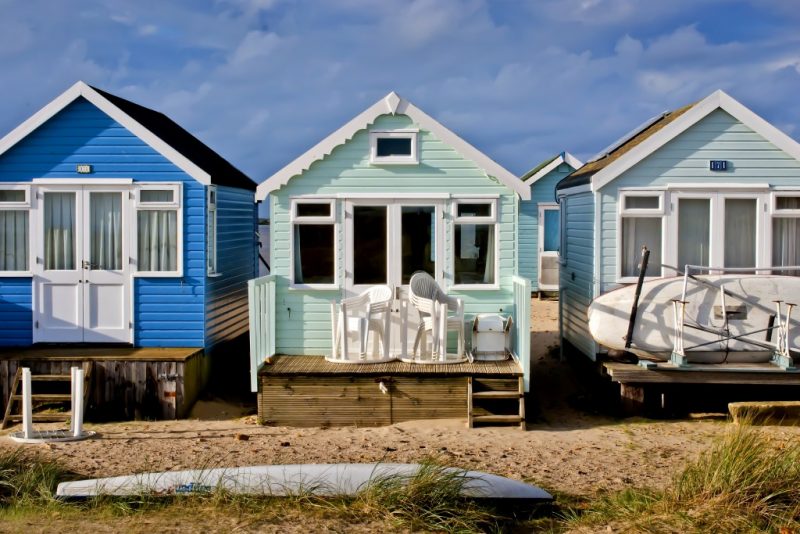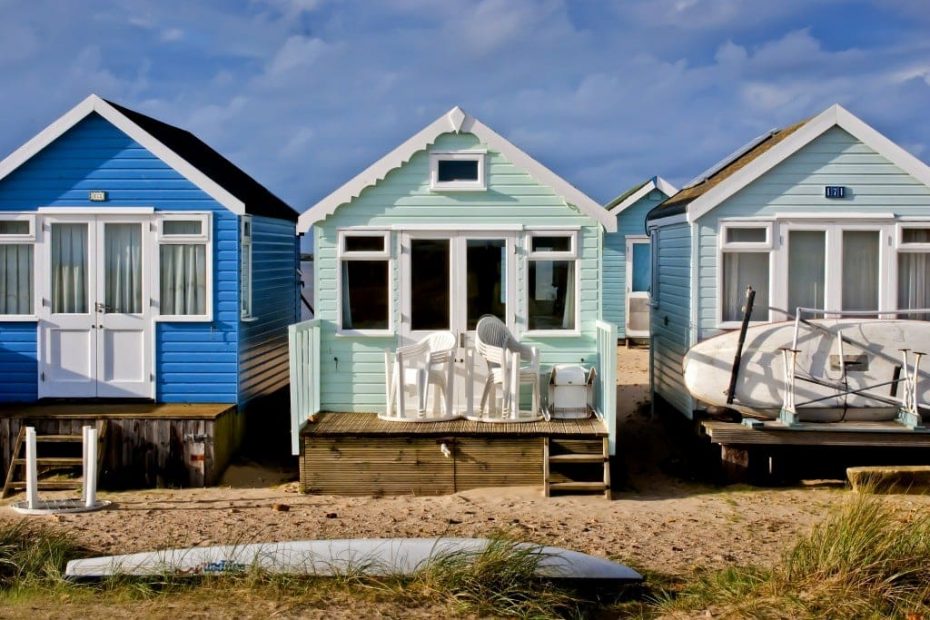 If you're looking for the most stylish Dorset glamping, try the beach huts at Mudeford Spit. Just outside of Christchurch, and overlooked by Hengistbury Head, this beach is ideally located for a seaside getaway. And it's home to a strip of the most expensive beach huts in the UK. One recently went on sale for £280,000!
Only a small number of the huts are available for hire, so it's a pretty exclusive experience. They're all brightly painted in different colours, and many are super chic. Some have ladders leading to a tiny upstairs area, and most have little kitchens with some kind of cooker. Some run on solar power, some on gas, some have no electricity at all – and there are separate loo and shower blocks along the beach. It's definitely a back-to-basics experience, but one with a toy-town feel and cute vintage furniture!
How to Book: many of the Mudeford beach huts available for hire are listed on Cool Camping, or check out this 5-star rated beach hut on Airbnb!
Loose Reins, Blandford Forum
Recommended by: Hayley, Frock Me I'm Famous (and my friend Sam, who has also stayed there!)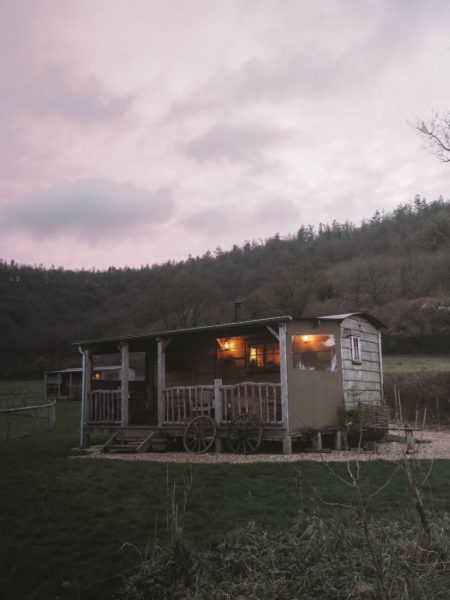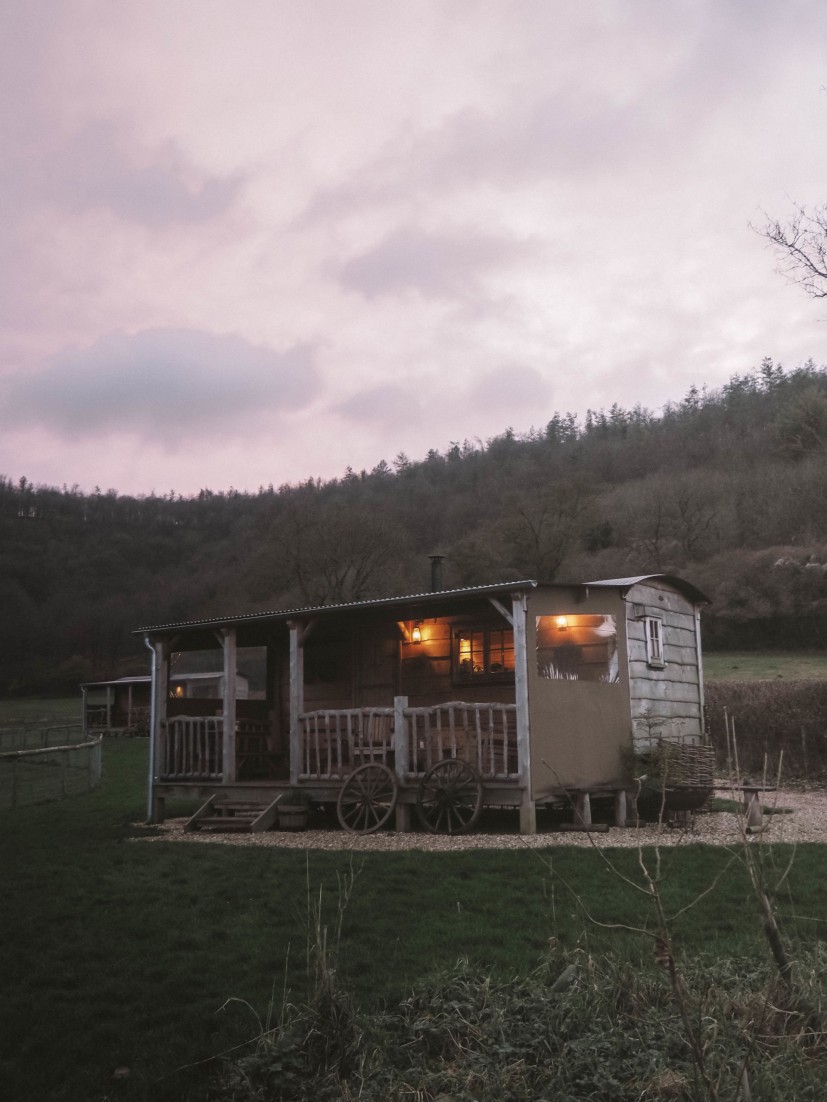 Loose Reins is one of the best Dorset glamping sites – set on an American-style ranch. In her post about her Dorset staycation, Hayley writes: "we spent two nights at Loose Reins, an intimate setting with 3 standalone log cabins, complete with horse riding and the most welcoming staff. Our cabin was super cosy but had everything we needed, from instant hot water, to a super comfy bed and a log fire burner – it was Instagram dreams!"
My friend Sam, who has also stayed at Loose Reins, adds: "it was incredible. We just cooked amazing food and played games by the fire – and drank wine on the porch in the rocking chairs." Sounds like my kind of trip!
Check prices: book direct
Caalm Camp, Shaftesbury
Recommended by: Deeptha from The Globetrotter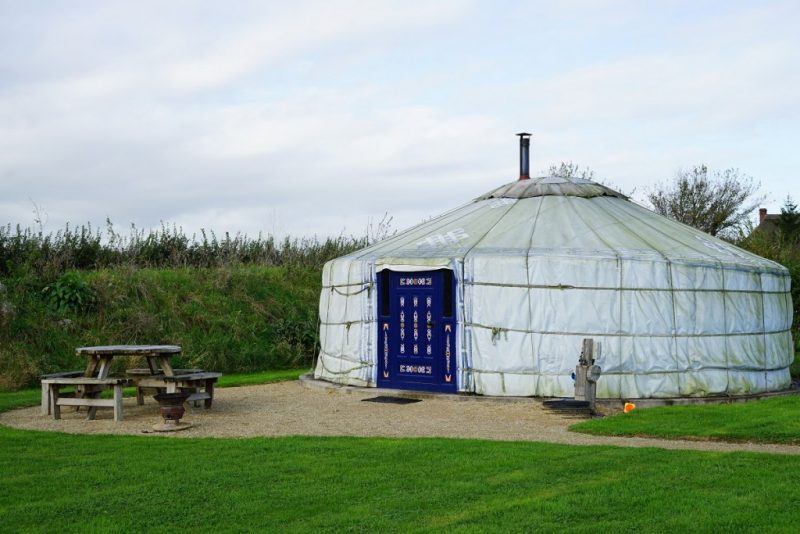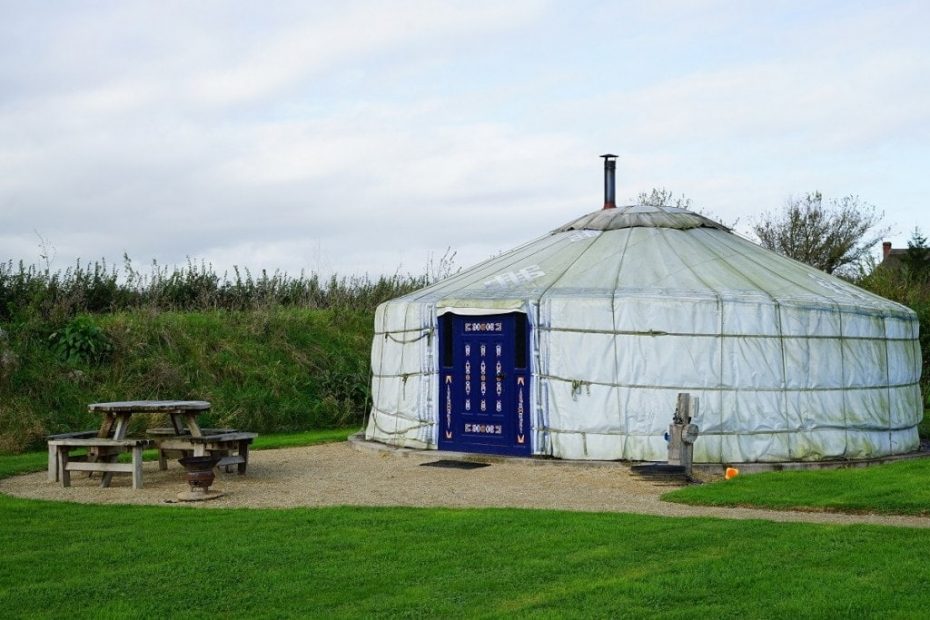 If you're looking for a peaceful, countryside getaway in Dorset, then the traditional Mongolian yurts at Caalm Camp should be right up your street. Set in a peaceful field in beautiful Dorset countryside, the site has 6 cosy yurts all furnished very nicely.
Each has a wrought iron double bed, two-day beds, fresh linen, a small kitchenette, and a wood burner. A short walk away from the yurts is the Old Haybarn, which houses a well-equipped communal kitchen, dining area, and a lounge. Each yurt also comes with its own dedicated wet room.
Besides all the nature around you, the yurt site is also close to many attractions; Longleat Safari Park, Stonehenge, Wookey Hole and Stourhead. The Jurassic Coast is also not far. Caalm Camp is the perfect place for an outdoorsy holiday experience, blending the comforts of home with the joys of the great outdoors.
The Shack, West Bay
Recommended by: Claire from Weekend Candy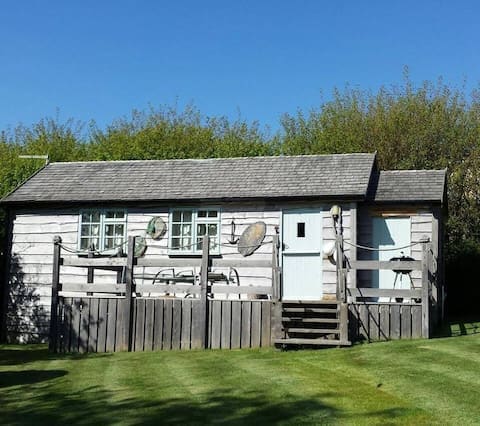 The Shack is a two-person timber den which proves romance can come in any shape or form. Modest on the outside, simple on the inside, it is as cosy and comfortable as a log cabin in the woods, without being in the woods! Instead, it's tucked away in a corner of the owner's neatly manicured garden.
The Shack comes with sweet views, and is only a short walk away from the Broadchurch Riviera (aka: West Bay). We stayed here last year, and loved its homespun character and fuss-free charm so much that we've booked an open slot so that we can return for a weekend soon. Definitely a match made in heaven.
Glamping Pods, Durdle Door
Recommended by: Me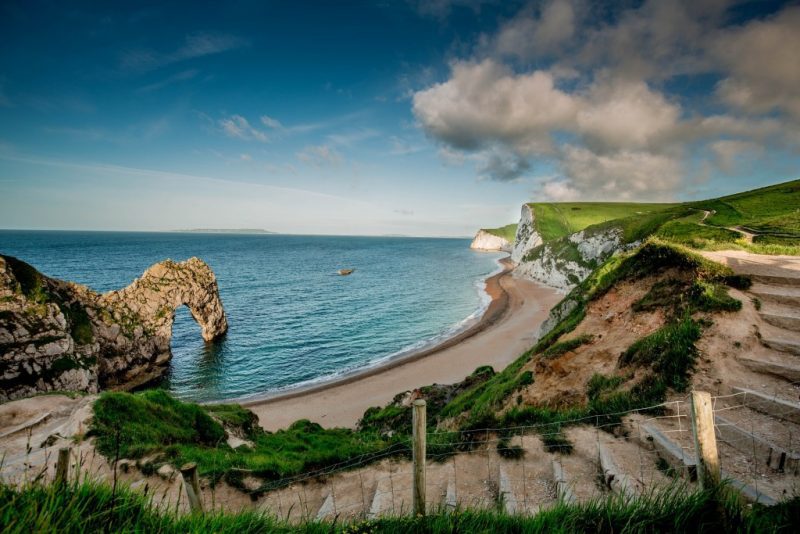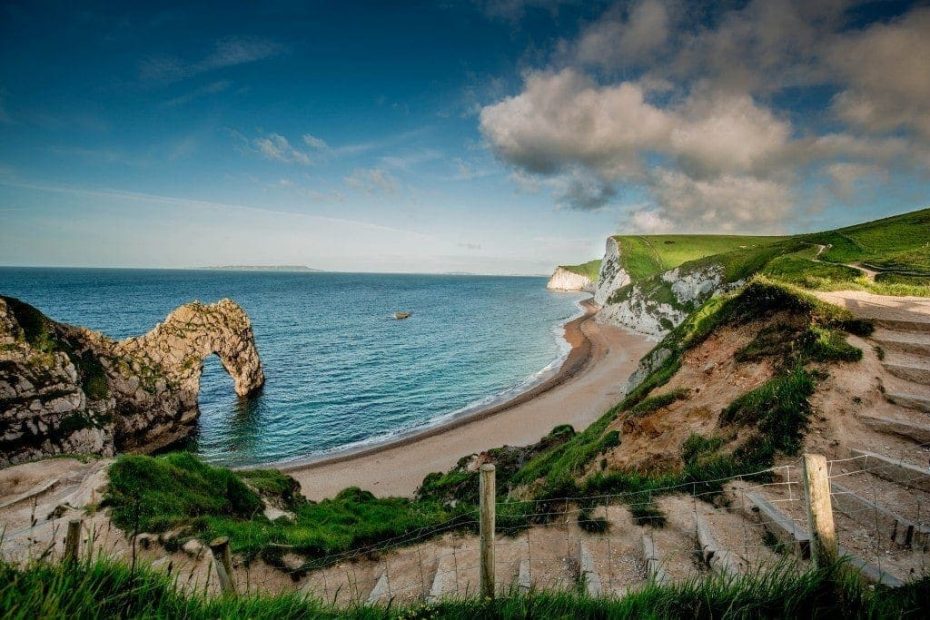 Finally, there's an amazing Dorset glamping site at one of my favourite spots in England. I camped at Durdle Door Holiday Park when I was doing my Duke of Edinburgh way back when, and I can confirm that location-wise it's one of the best campsites in Dorset. Durdle Door is my favourite spot on the south coast; it's a stunning location and the surrounding cliffs are perfect for hiking.
These wooden glamping pods look absolutely dreamy, and I've been dying to stay in them for years. They're super simple little pods, but they look so cute! With real beds, electric sockets, lights, and a heater, it's definitely a step up from camping. But there's still a lovely back-to-basics feel, so you can be at one with nature!
Best Caravans and Campsites in Dorset
Finally, it's back to basics with camping and caravanning. Whether you're looking for places to stay in Dorset on a budget, or you simply want to be as close to nature as possible, camping is a perfect option for exploring the county. I've listed some of the best caravan parks and campsites in Dorset below….
READ MORE: 5 Dorset Gin Brands You Need to Try!
Eweleaze Campsite, Weymouth
Recommended by: friends in Dorset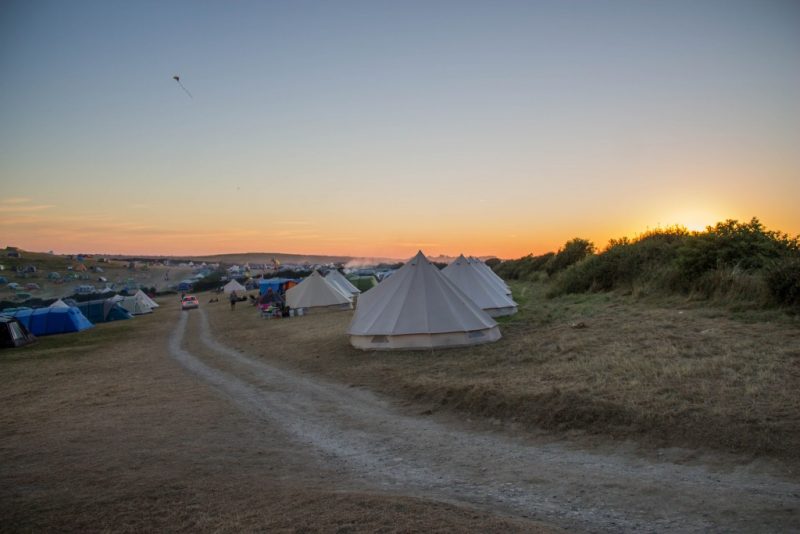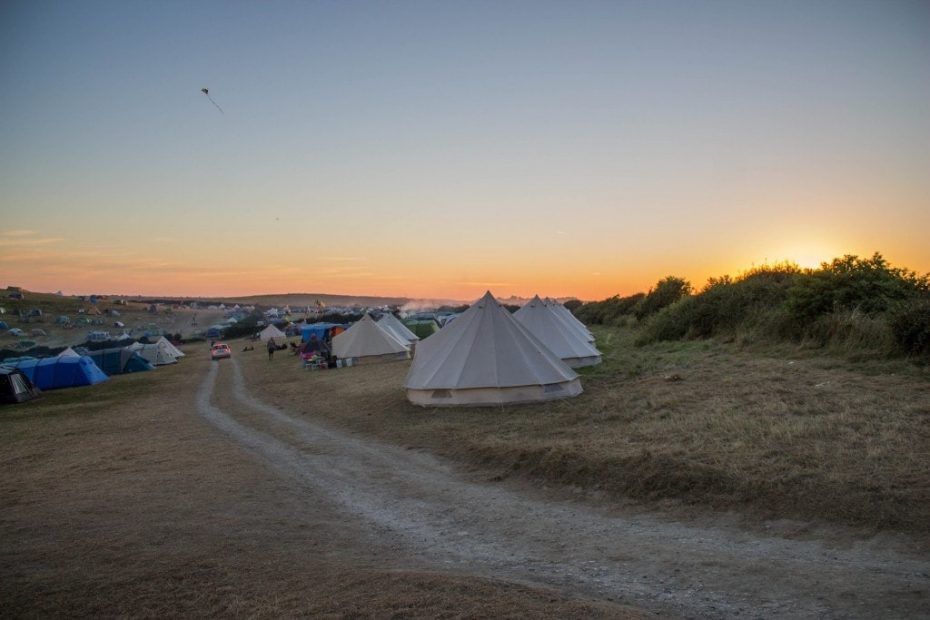 One of the most popular Dorset campsites I know of is the popup campsite at Eweleaze Farm, just outside of Weymouth. It's only open for 4 weeks of the year, in summer. The 2019 season will run from 29th July to 26th August.
The campsite is perched on the cliffs above a quiet shingle cove, so it has amazing sea views and is easily one of the best places to stay in Dorset for campers! Because the campsite is on a farm, there are sessions to pet, feed, and groom the animals. Perfect for families with young kids! There's also an on-site massage spa, a Turkish Bath House, and a Shepherd's Hut Sauna.
READ MORE: Best things to do in Weymouth if you only have one day
Hook Farm Camping, Lyme Regis
Recommended by: Anna, Would Be Traveller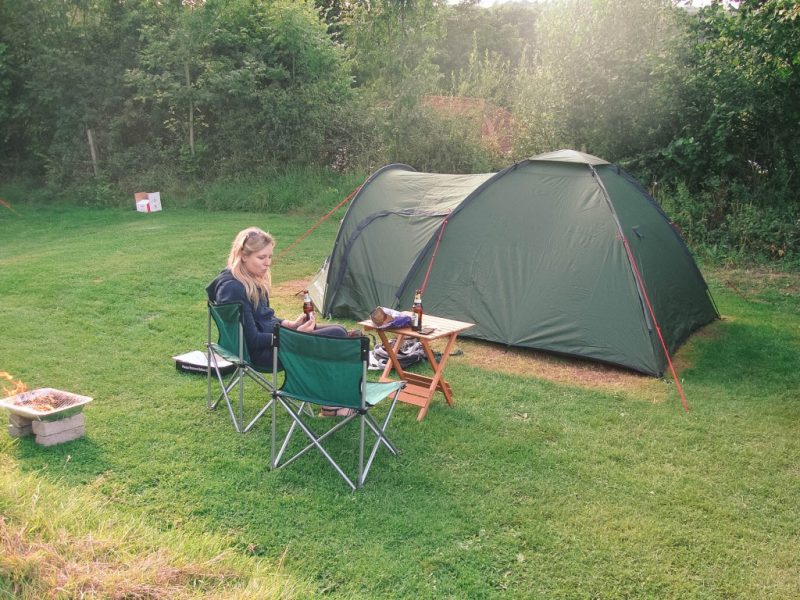 Similarly, camping lovers will enjoy Hook Farm in Lyme Regis. The campsite is located in an area of outstanding natural beauty, making it a great place to get closer to nature and spot wildlife.
There's also a stunning walk from basecamp into Lyme Regis itself through woodland, so hikers and walkers will have plenty to keep them occupied. The campsite is perfectly equipped, with an on-site shop and modern shower/toilet facilities. The hosts have also recently introduced a Shepherd's Hut, for added luxury and comfort.
Hoburne Holiday Park, Bashley
Recommended by: Fiona, London Unattached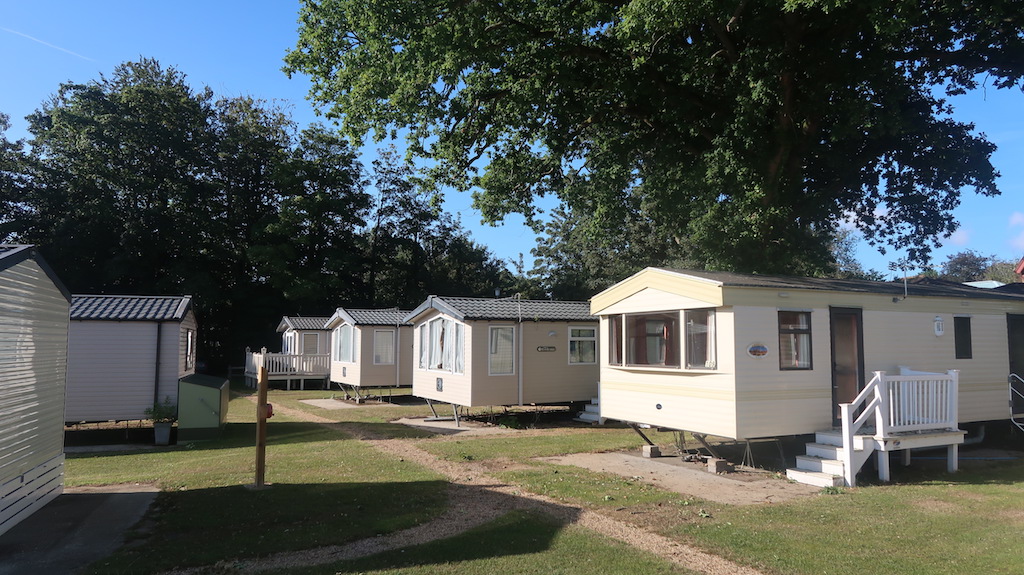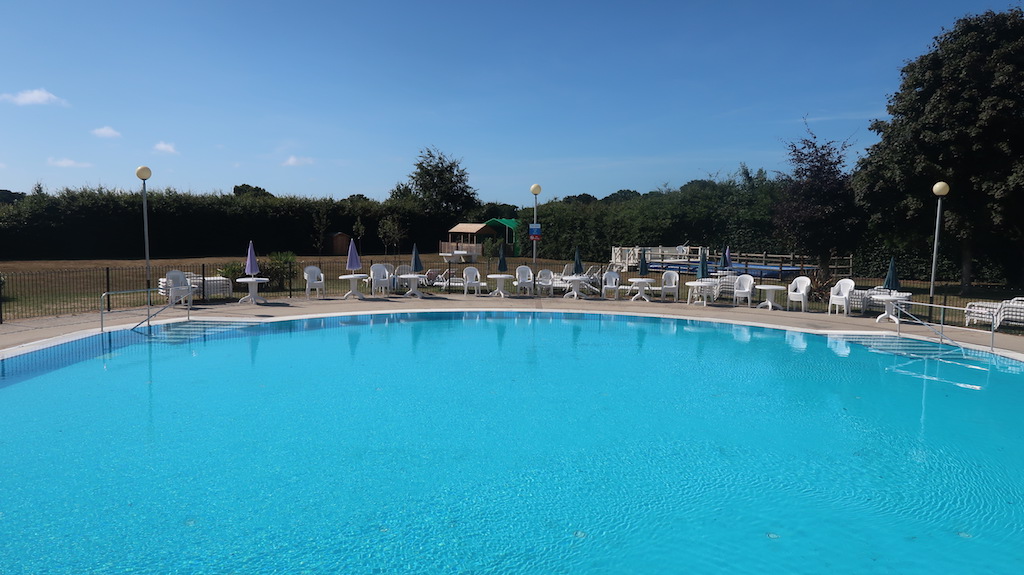 Right on the edge of the New Forest, Hoburne Bashley is about 3 miles from the nearest beach in Dorset, and is considered one of the best places to stay in the area. A really well-equipped Holiday Park, there's an indoor and outdoor pool, fitness suite, steam room and sauna. There's a woodland centre – and even a luxurious spa! The kids club, adventure playground, soft play area, and games areas mean no-one is going to get bored.
London-Unattached stayed in a 3-bedroom static caravan with one en-suite and a family shower room. The well-equipped caravan had its own kitchen with cooker, fridge freezer and microwave. But we also enjoyed the Hoburne Bashley restaurants. Holiday parks have certainly moved on from when I was a kid; this was a luxurious and comfortable experience for all the family.
Editor's Note: Bashley is actually in Hampshire, on the edge of the New Forest. But it's right on the border and close enough to count for this list of the best places to stay in Dorset.
Swanage Coastal Park
Recommended by: Helen on her Holidays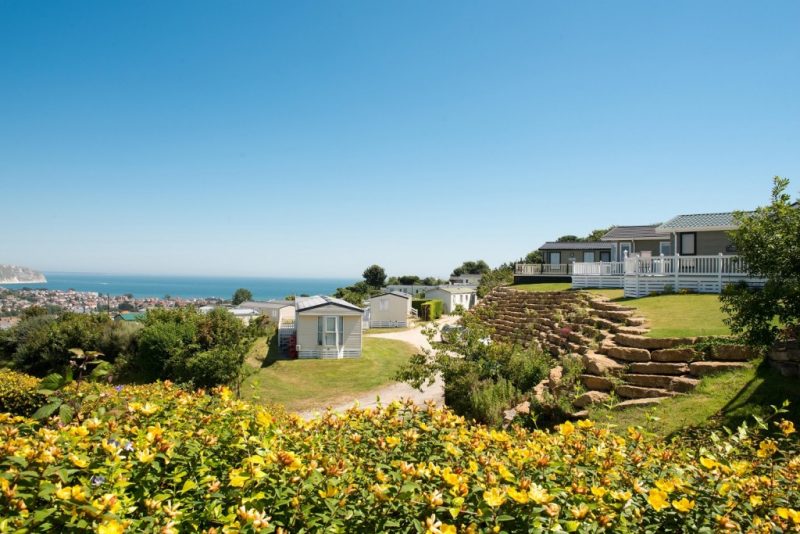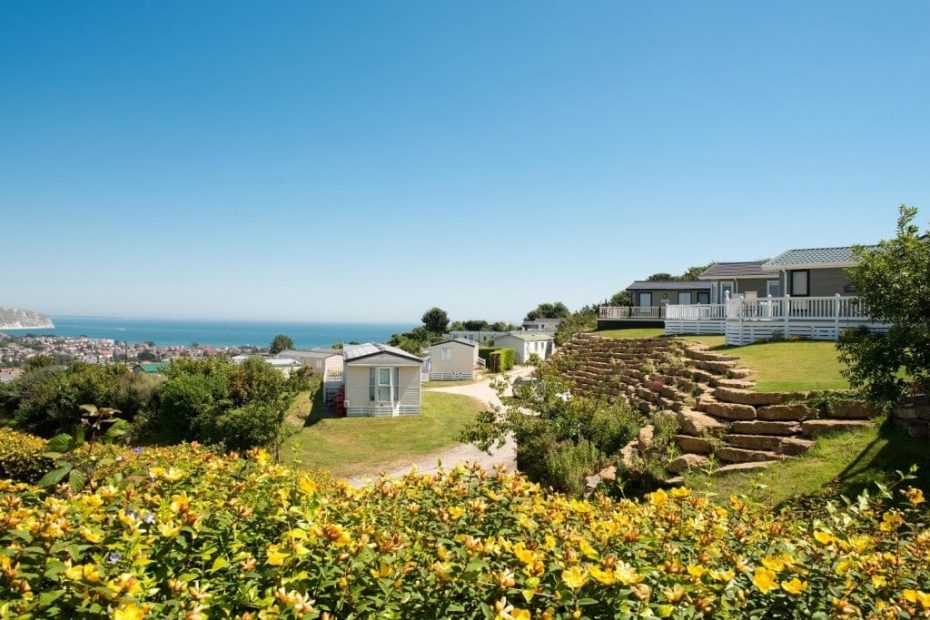 When we visited the Isle of Purbeck and the Jurassic Coast we stayed at Swanage Caravan Park. Located on the edge of the town of Swanage, it was the perfect choice for a budget holiday where we spent most of our time driving around the area. Definitely one of the best places to stay in Dorset. We had a static caravan with its own bathroom, heating, and a fully equipped kitchen.
We could park our car right outside the caravan door, which was really convenient. A static caravan might not be as charming as a cute cottage or characterful apartment, but it was a great self-catering option for us.
CHECK PRICES: Shorefield Holidays
Rowlands Wait Campsite, Bere Regis
Recommended by: Jamie, on Twitter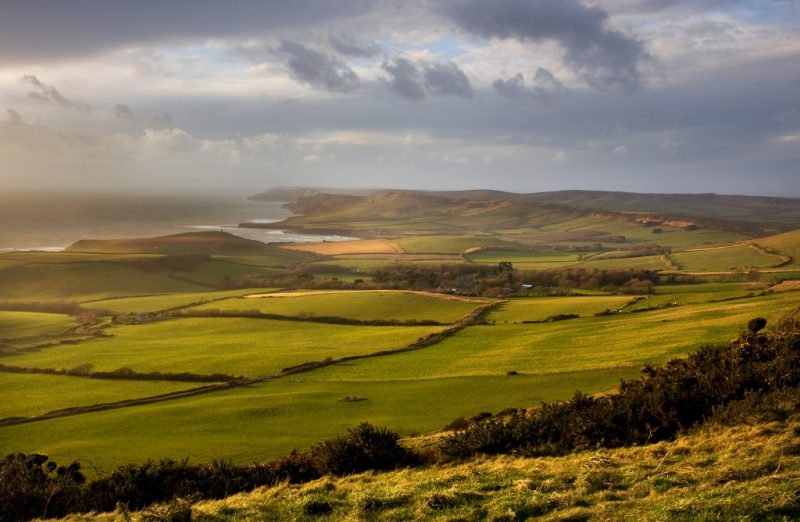 When I tweeted looking for recommendations for this post, Jamie replied to tell me about this campsite. "We always take our camper van to Rowlands Wait campsite at Bere Regis. Brilliant site and ideally placed to visit Tolpuddle and Lulworth Cove."
Overlooking the Purbeck Hills and the picturesque village of Bere Regis, this campsite is in the perfect location for exploring Dorset. There are pitches for caravans, motor homes, tents, trailer tents and camper vans. It's a simple, but well-maintained and attractive campsite in a fabulous location – what more could you ask for?
Are there any amazing places to stay in Dorset missing? Scroll down to leave a comment and share your own recommendations!