Some posts on this site contain affiliate links. If you book or buy something through these links, I earn a small commission (at no extra cost to you). Take a look at my privacy policy for more information.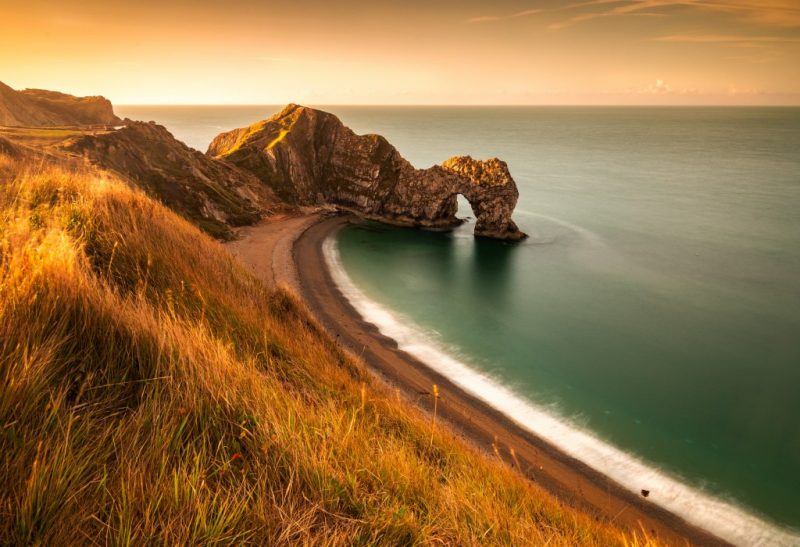 Looking for the best Dorset Beaches? You need to ask a local! Lucky for you, I was born-and-raised in Weymouth, and grew up spending every summer traipsing around the Dorset coast looking for the best beaches. My dad is the world's biggest Dorset fan, so he really knew the best spots. And I reckon I've hit them all!
So, I've popped together this post listing all the best beaches in Dorset – with a little help from some friends and family! Grab your buckets and spades and get ready to enjoy the best of the south coast…
RELATED POST: 50 Unique Things to do in Dorset
19 Best Dorset Beaches
Below, I've rounded up all the best beaches in Dorset – for any kind of day out. There are lovely seaside beaches, perfect for swimming, buckets and spades, and chilling out. Then there are more adventurous beaches – ones that are a bit further afield or feature some epic coastline. Although that's not to say you can't have the quintessential seaside experience at those Dorset beaches too! Finally, I've got a handful of "secret beaches"; spots that are a little quieter or "off the beaten path". Use the links to skip ahead, or just browse the whole post.
Best Dorset Beaches for Seaside Days Out
Beaches for Epic Coastline and Adventure
Secret Beaches in Dorset
Best Dorset Beaches for Seaside Days Out
Weymouth Beach
Ok, I'm a little biased given that Weymouth is my home town. But I honestly think this is one of the best beaches in England, let alone Dorset! Luckily, you don't have to simply take my word for it, as Weymouth Beach just won a Blue Flag and a Seaside Award.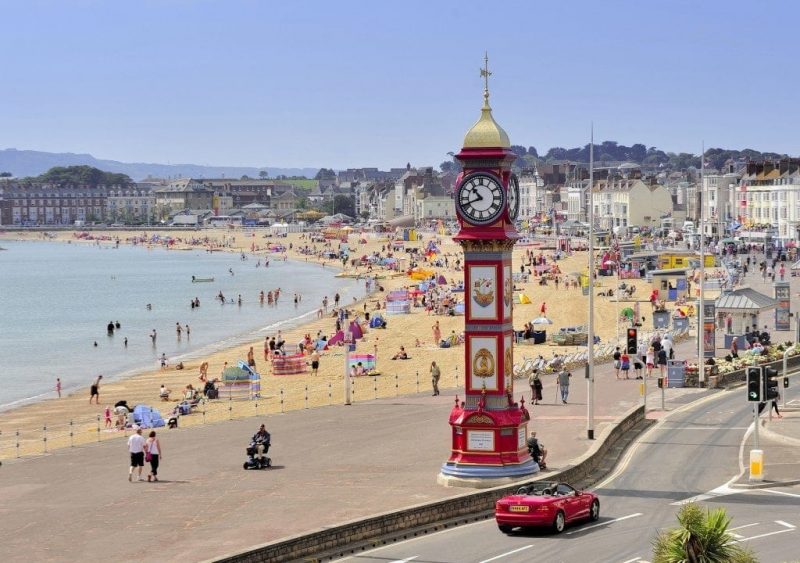 This is the quintessential British seaside experience. Think golden sands, donkey rides, and one of the last remaining Punch and Judy shows in the country. The esplanade is lined with beautiful Georgian buildings, and the sheltered bay is skirted by distant white cliffs. Gorgeous!
READ MORE: 50 Unique Things to do in Weymouth
Bournemouth Beach
Another of my favourite beaches in Dorset has to be Bournemouth Beach. But be warned – it's seriously popular and can get pretty busy in summer!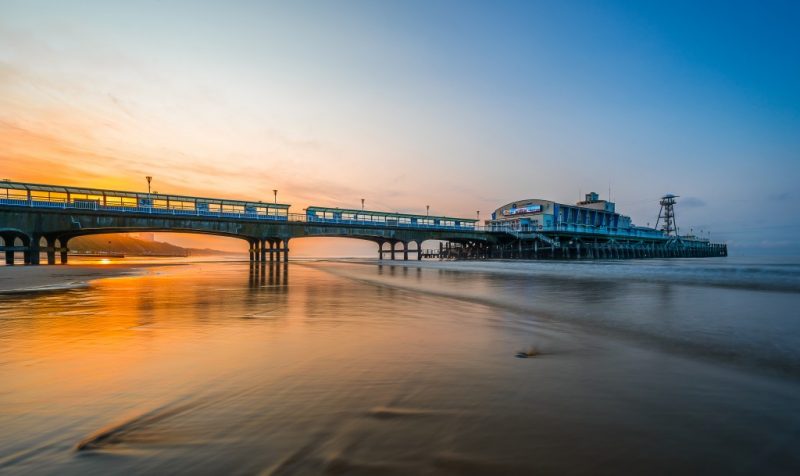 This is a seven-mile-long sweep of white sand, which is apparently blessed with some of the warmest sea temperatures in the UK! To complete the idyllic seaside picture, the beach boasts a bustling pier with arcade games, a series of brightly painted beach huts, and a pastel blue Land Train running up and down the promenade!
Sandbanks Beach, Poole
Running along a small peninsula between Poole and Bournemouth, Sandbanks Beach is considered by many to be one of the best beaches on the South Coast of England. It's also home to the most expensive seaside properties in the world, with some pretty amazing real estate facing a pretty spectacular sea view.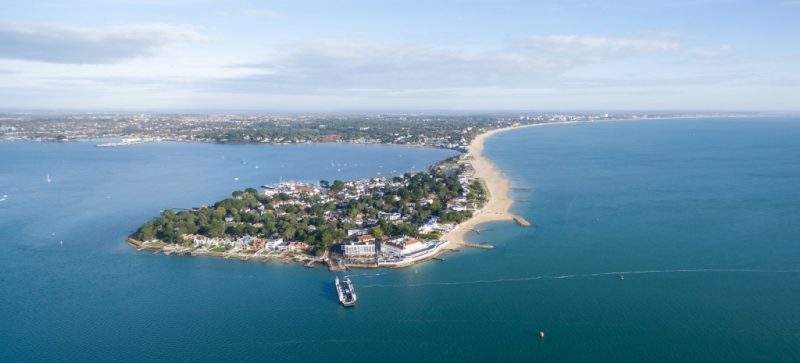 The beach itself is glorious – no surprise that it recently won it's 32nd Blue Flag award in a row! The water is clean, safe, and generally very calm. On the other side of the Penisula, Poole Harbour is the largest natural harbour in the world – home to over a dozen yacht clubs and marinas. There are also some amazing restaurants to be found here – don't miss a trip to Rick Stein's for sublime views and fab seafood.
Lyme Regis
Lyme Regis is fast becoming one of the trendiest spots in Dorset. On either side of a picturesque 13th-century harbour known as the Cobb, you'll find a mixture of sand and shingle beaches, with Town Beach being the most popular.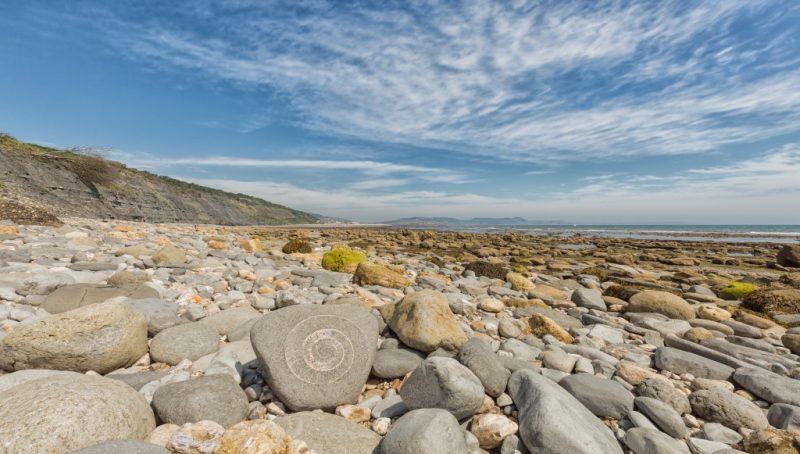 Although well known as a tourist destination, Lyme Regis is also one of the most significant spots along the Jurassic Coast for fossil hunting. This was the birthplace of Mary Anning, the renowned palaeontologist, and the area is rich with the fossils of sea creatures from 180 million years ago. Don't miss a trip to Lyme Regis Museum to learn more, and keep a sharp eye out for fossils while you're exploring the beaches!
Swanage Beach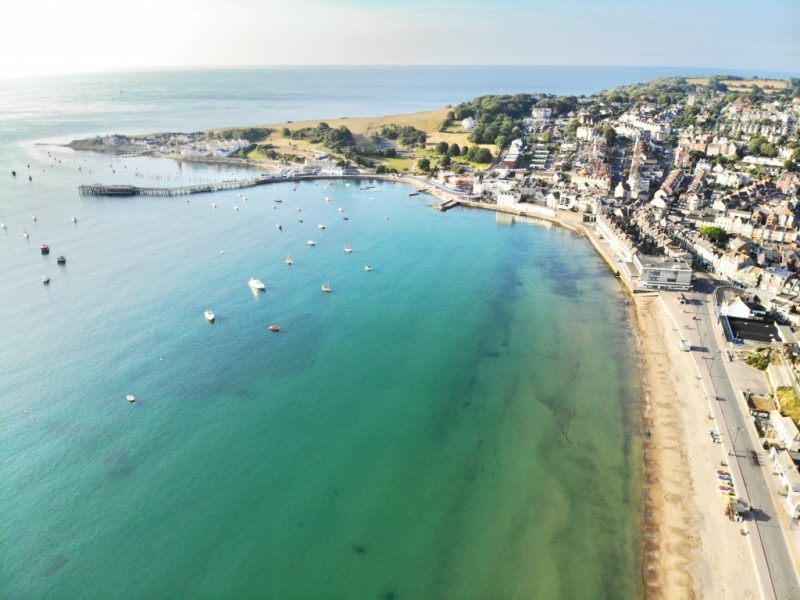 Colourful beach huts, white sands, and a sheltered bay that's perfect for swimming and SUP, Swanage is a brilliant seaside day out. The town itself is really lovely, with lots of boutique shops and independent cafes. For a truly traditional seaside day out, park at nearby Norden and ride the Swanage Railway steam train into town, before hitting the beach.
Charmouth Beach
Just down the road from Lyme Regis, Charmouth is another great location for fossil hunting. The charming seaside village is tucked into an Area of Outstanding Natural Beauty, and the shingle beach is overlooked by the striking cliffs of the Jurassic Coast. Most impressive is the Golden Cap, the highest point on the south coast, which stands about a mile from Charmouth beach.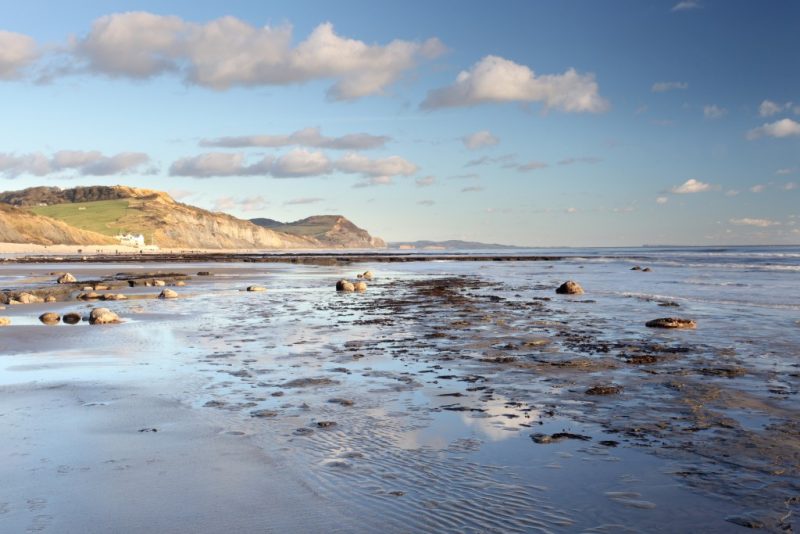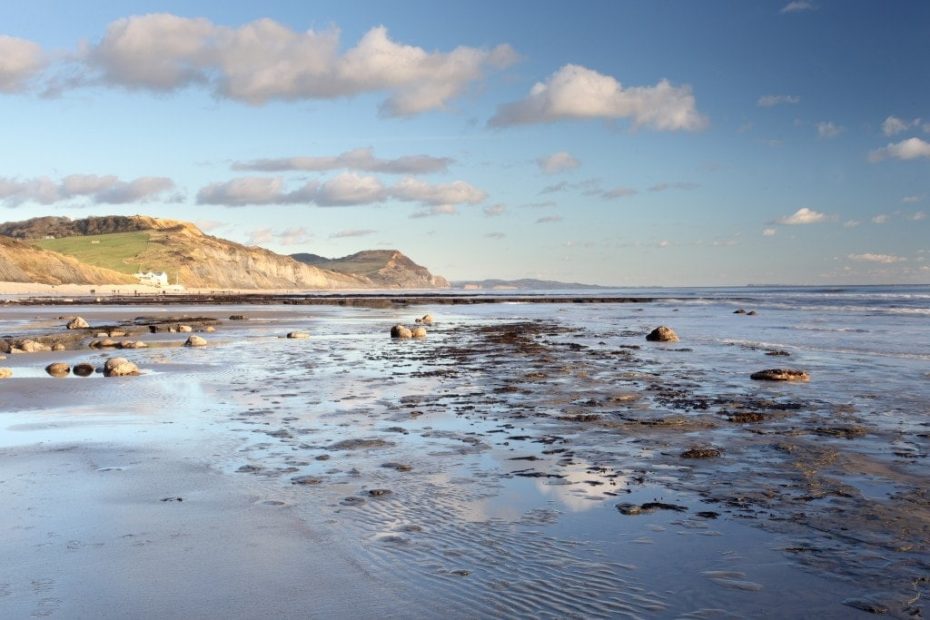 The beach is split into two by the mouth of the River Char. Fun fact – I once almost drowned my little brother in the river when he was a toddler! Despite sisterly negligence, though, it's a really popular spot for families given the calm seas and the abundance of fossils.
Mudeford Sandbank
Mudeford Sandbank sits on a spit of land stretching across from Hengistbury Head towards Christchurch, forming a small inland harbour. It's a narrow strip of white sandy beach, which faces the bay on one side and Christchurch Harbour on the other, and is absolutely one of my favourite beaches in Dorset!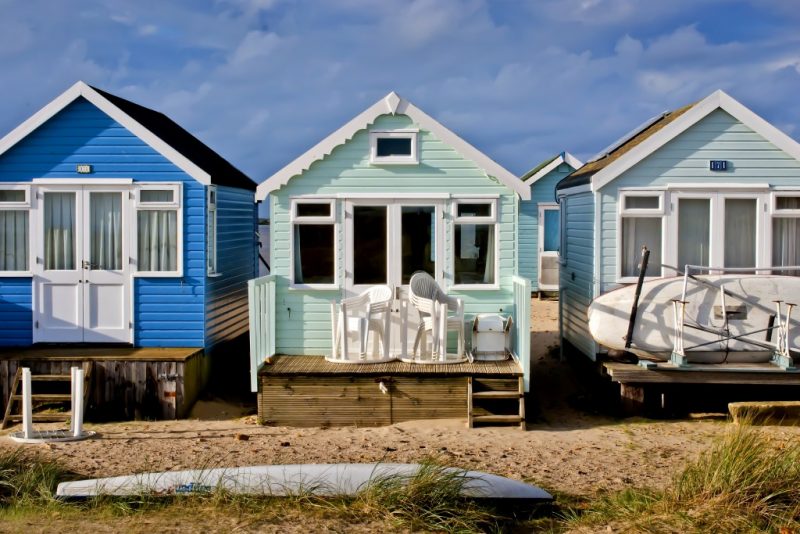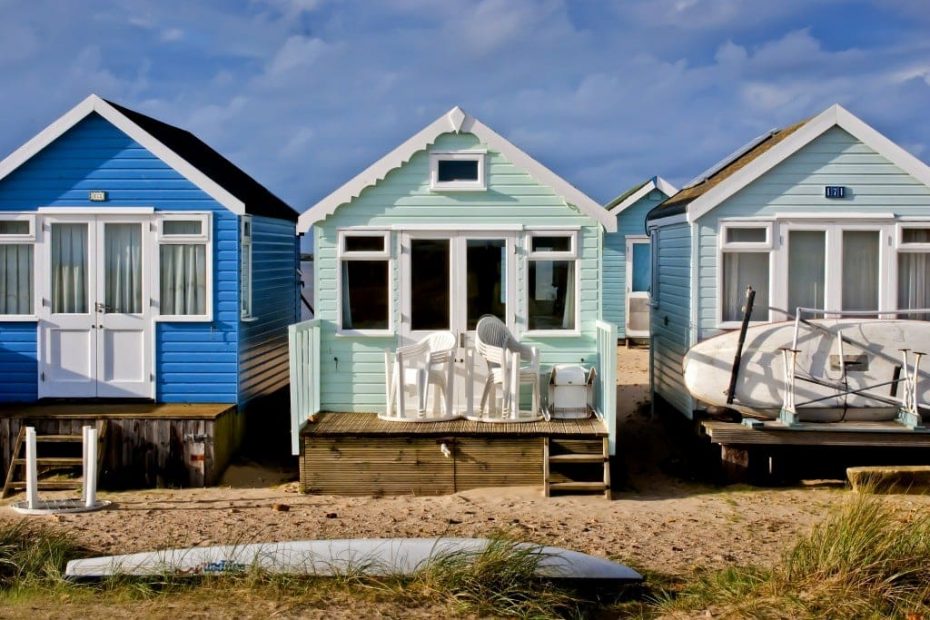 Mudeford is famous for its stretch of pretty, pastel-coloured beach huts which might be among the most expensive in the UK – one sold for £295,000 recently! But posh beach huts aside, this is such a beautiful spot – and it lies at the end of a lovely walk around (or over) Hengistbury Head.
Beaches for Epic Coastline and Adventure
Durdle Door and Man O War Bay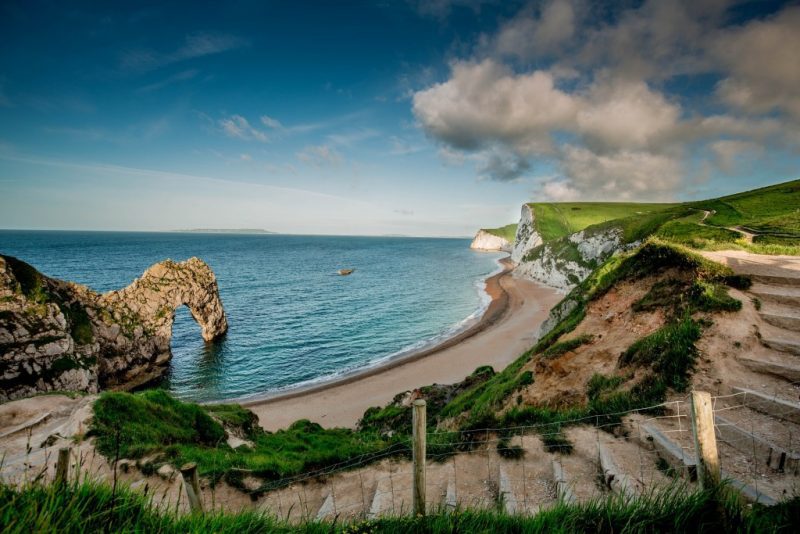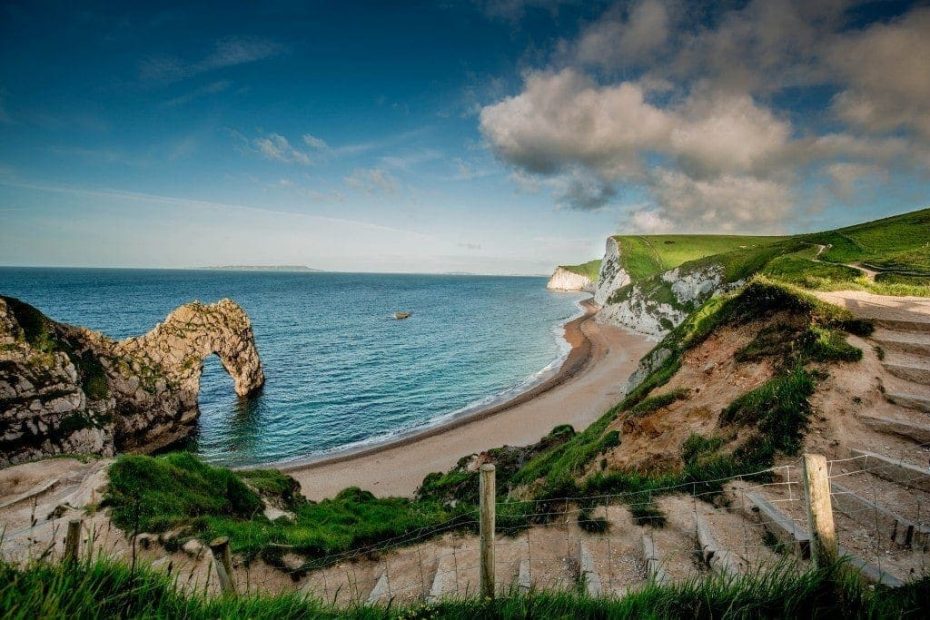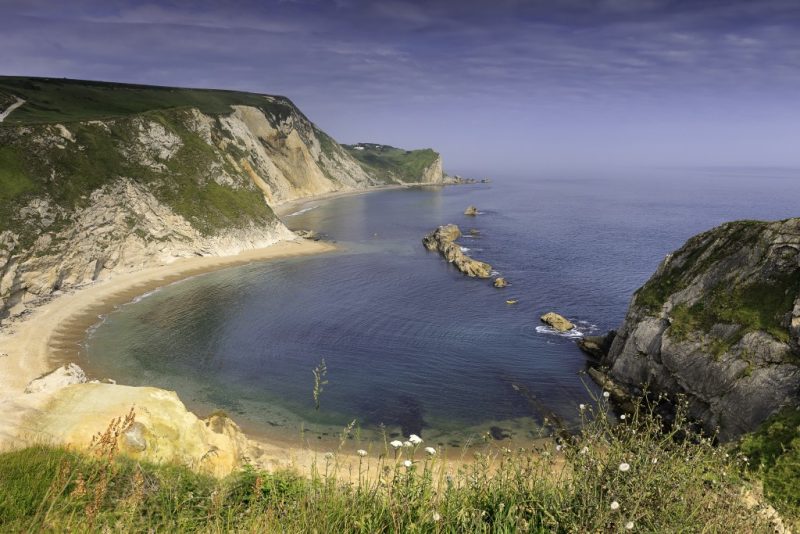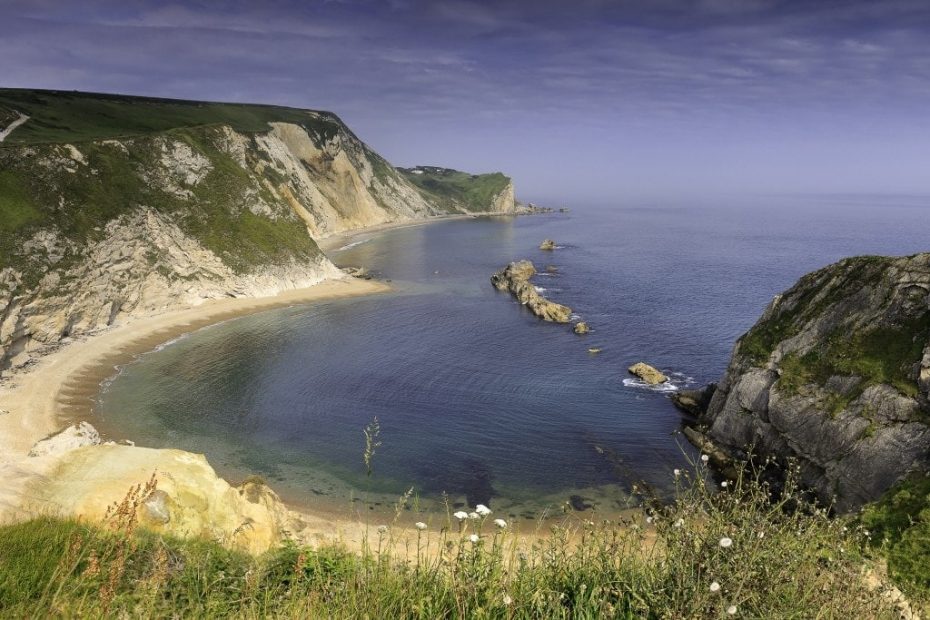 Durdle Door is an icon of the Jurassic Coast, and its home to two of the best beaches in Dorset. On the right-hand side as you look at the sea is Durdle Door Beach, which is the more popular one as you can actually see the rocky arch from here. But on the left side, Man O War Bay is probably the nicer beach. The beautiful semi-circular cove is protected by a string of rocks, which help to shelter the water. So this is the better beach for swimming, especially with small children.
Lulworth Cove
Another iconic spot on the Jurassic Coast is Lulworth Cove, a picturesque fishing village nestled beside a gorgeous circular cove. The water is sheltered, and the long stretch of shingle beach is backed by white chalk cliffs which give the area a really rugged, dramatic feel. It's the perfect spot for a chilled beach day, or something more adventurous like a cliff walk (head to the nearby Fossil Forest) or watersports.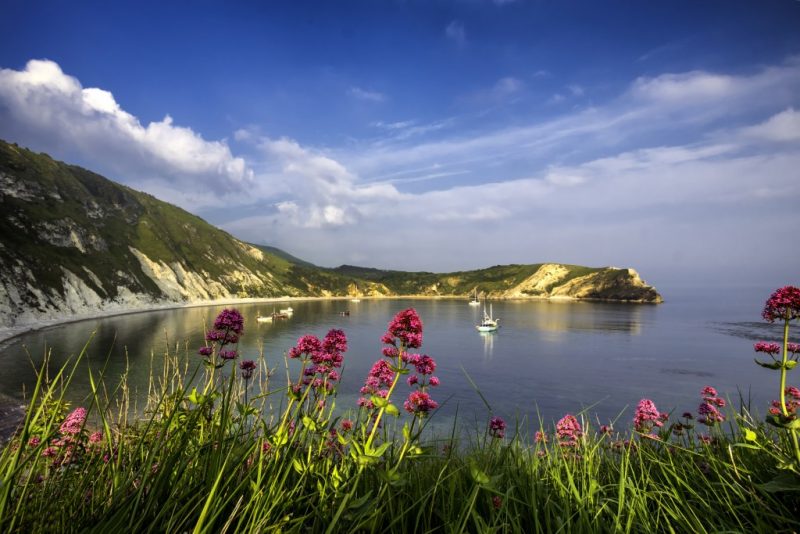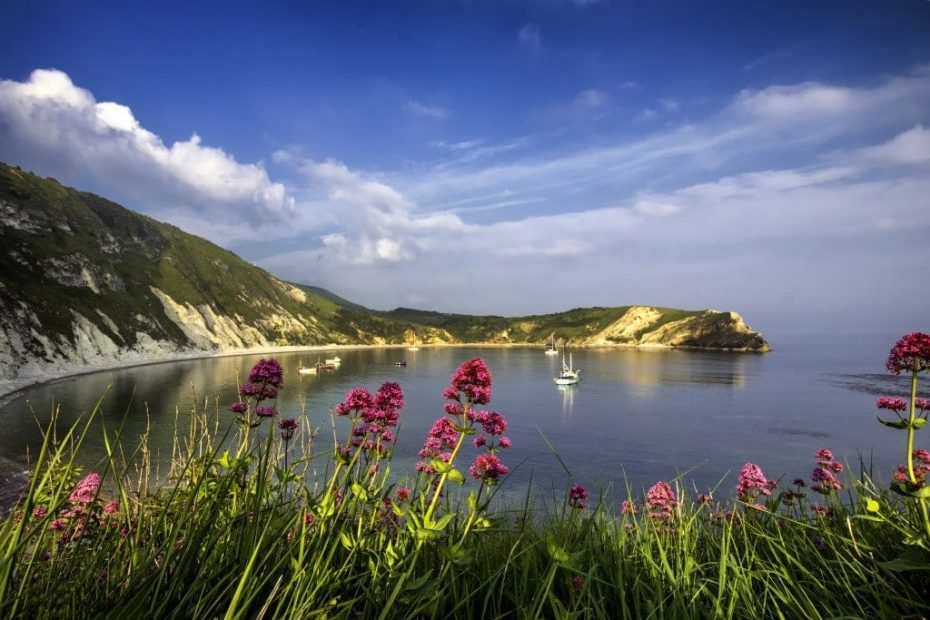 If you're really looking for adventure, Lulworth Cove is one of the best places along the south coast to try your hand at Coasteering. I did this with Lulworth Outdoors and absolutely loved it. Get up close and personal with the Jurassic Coast as you climb cliffs, jump into the sea, and swim through caves and tunnels! So much fun!
Kimmeridge Bay
An Area of Outstanding Natural Beauty, Kimmeridge Bay is also one of the most important geological sites in the world. So it's definitely one of the best beaches in Dorset if you want epic coastline! Although there's no sand, the rocky beach is a breath-taking setting. Fossils are common here, and the many rock pools that form along the bay are ideal for discovering the abundant marine life of this area of Purbeck. In fact, the whole place feels more like a vast rock pool than a beach!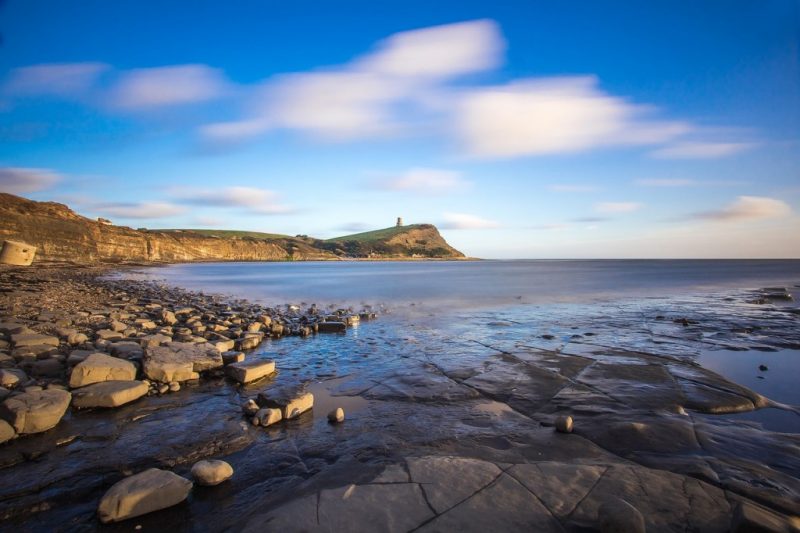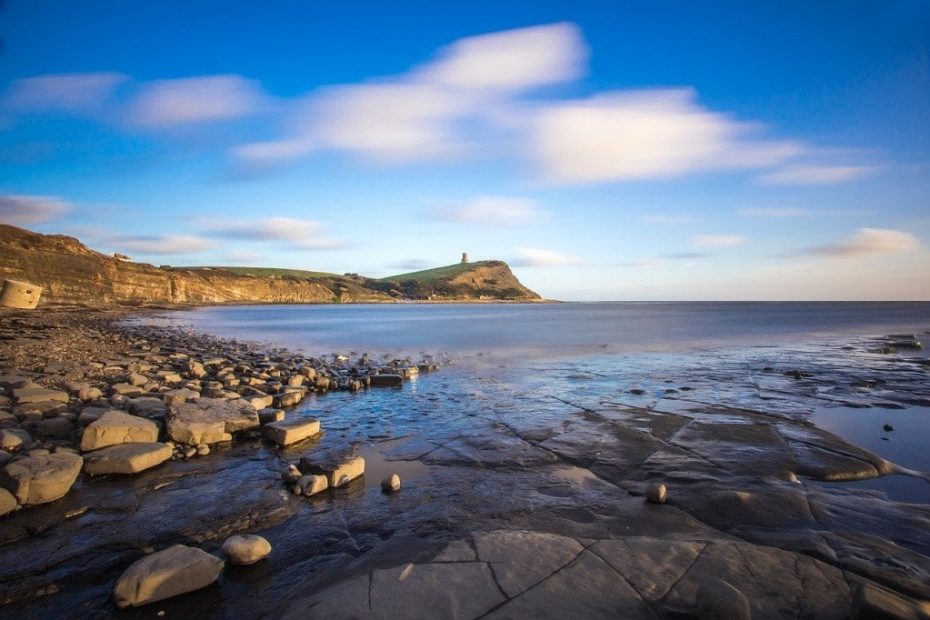 The bay is overlooked by Clavell Tower, a Grade II listed Tuscan style tower which was built in 1830. If you're looking for the best places to stay in Dorset, this certainly wins points for uniqueness, as the circular tower is now a self-catering clifftop retreat!
Hengistbury Head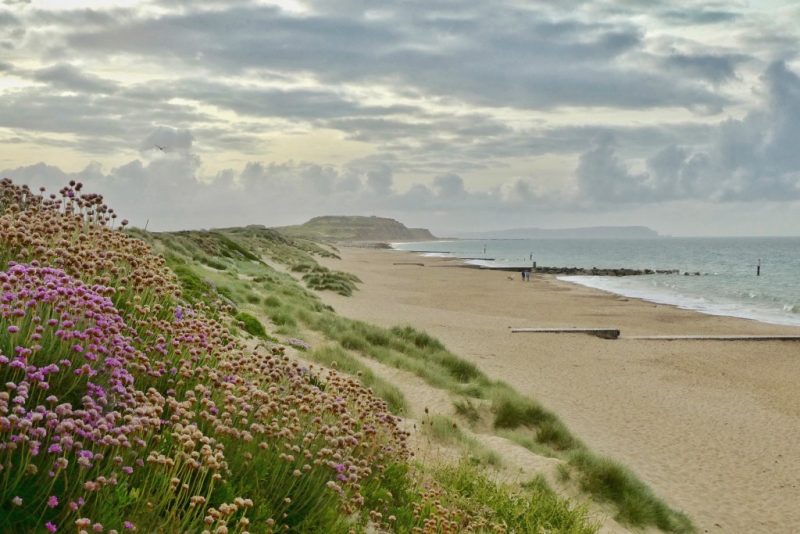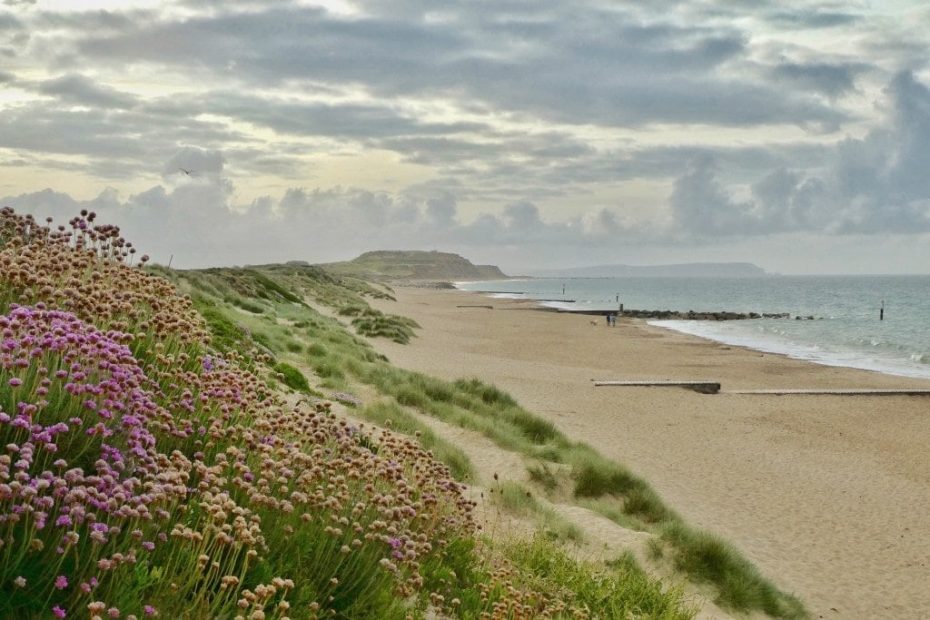 Hengistbury Head is one of my favourite spots in Dorset for a beach or cliff walk. It's a headland jutting out into the English Channel between Bournemouth and Mudeford. A gorgeous walk leads you over the cliff to Mudeford Sandbank, then back through heathland and freshwater wetland. On the other side of the cliff, Hengistbury Head Beach is a long stretch of sand and shingle, dotted with beachgrass. It's relatively unspoilt and wonderfully wild, making it just as perfect for adventure as it is for a quiet beach day!
Chesil Beach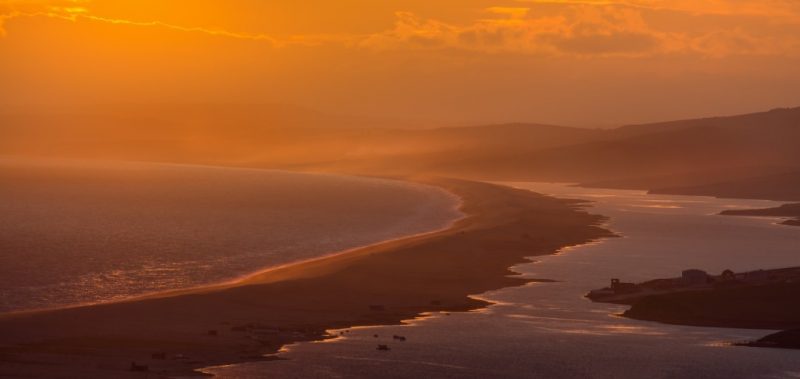 Chesil Beach is a barrier beach, and is one of only three major shingle structures in Britain. The 29km long stretch of shingle connects the Isle of Portland with the mainland at Abbotsbury. Along the way, it forms The Fleet, a brackish water lagoon which was once a popular area for smugglers. Tales of swashbuckling abound on this stretch of coast. Legend has it that smugglers could tell where they'd landed at night by the size of the shingle, because it varies uniformly along the beach!
At its southern end, Chesil Beach overlooks Portland Harbour. This is the world's 3rd largest manmade harbour, so the water is usually pretty calm, making it a prime location for SUP or kayaking!
Studland Bay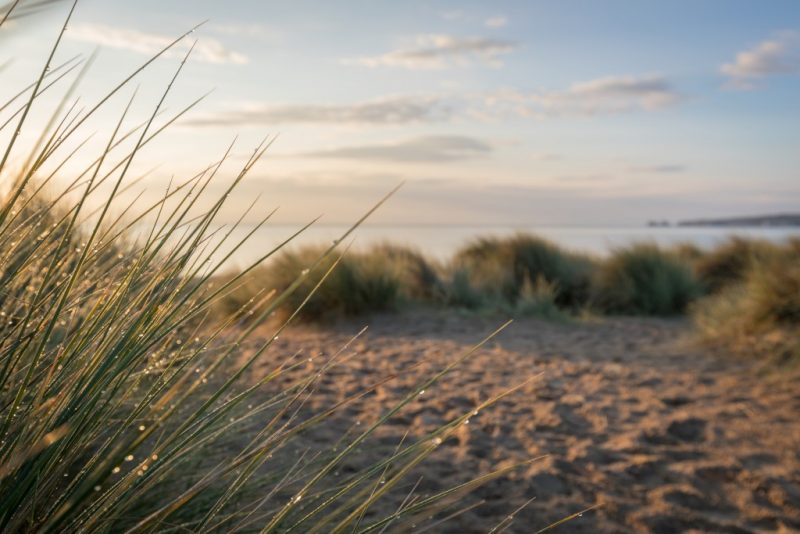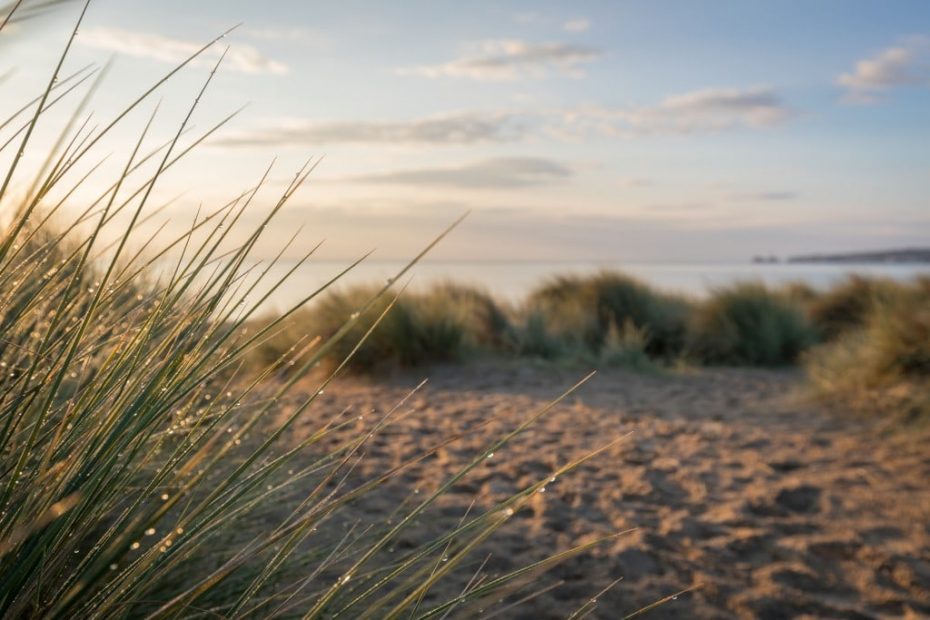 With rolling white sand dunes and swaying beach grass, the beaches around Studland are some of the wildest and most enticing in Dorset! Studland Bay is a National Trust nature reserve home to a vast lowland heath, so it really does feel like a true wilderness. In summer, with the heathland covered in purple heather and bright yellow gorse, they form a stunning backdrop to the rugged beaches.
West Bay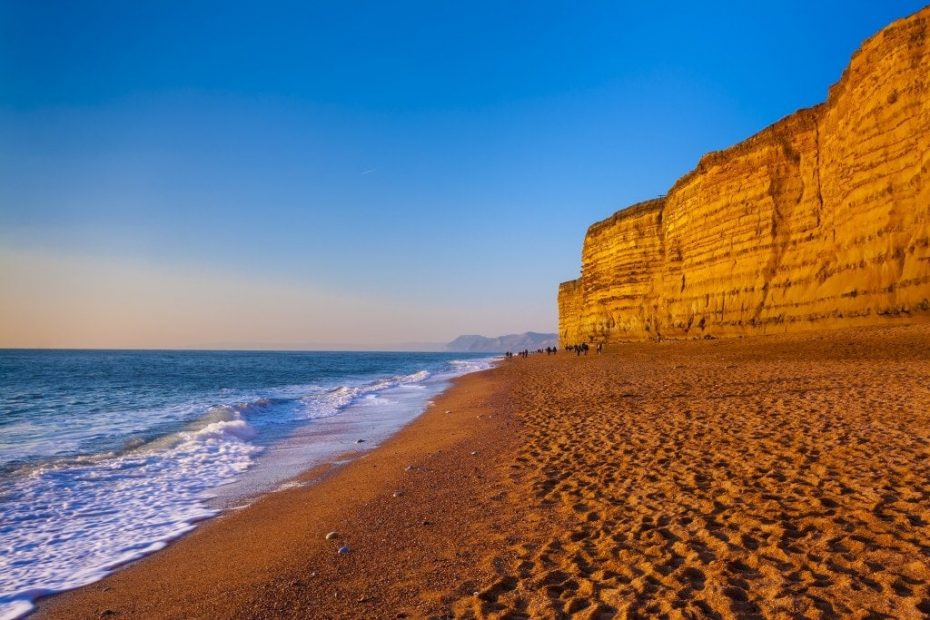 West Bay was the filming location for the popular TV series Broadchurch, so it's one of the more famous Dorset beaches. It's also a stunning beach in its own right. Towering above the rocky shingle beach is a dramatic golden sandstone cliff – one which featured prominently in the drama. It's a gorgeously wild and rugged setting, while the nearby fishing village and harbour are lovely to explore.
Worbarrow Bay
One of the best Dorset beaches for enjoying the Jurassic Coast is Worbarrow Bay. Just east of Lulworth Cove, this is a broad and shallow bay with calm waters and a stunning backdrop of dramatic cliffs. Better still, the nearest carpark is a mile walk away, so it's relatively quiet. You might even have the place all to yourself! This beach is a prime spot for fossil hunting and rock pooling, and the walk from the historic village of Tyneham nearby is a gorgeous one!
Secret Beaches in Dorset
Shh, don't tell anyone! These are a few of my favourite "secret" beaches in Dorset. The ones that only locals know about, or don't get as much attention as the big names. Some of these aren't really all that secret, but in my experience, they're certainly much quieter than the better-known beaches…
Church Ope Cove, Portland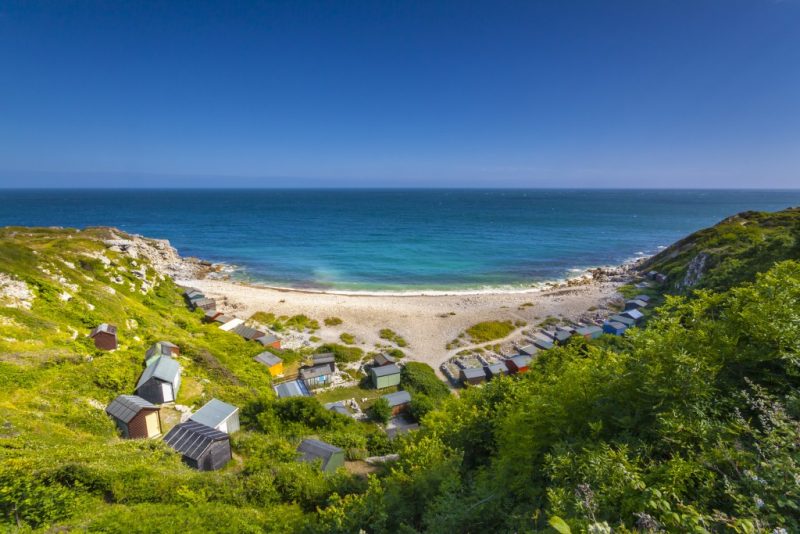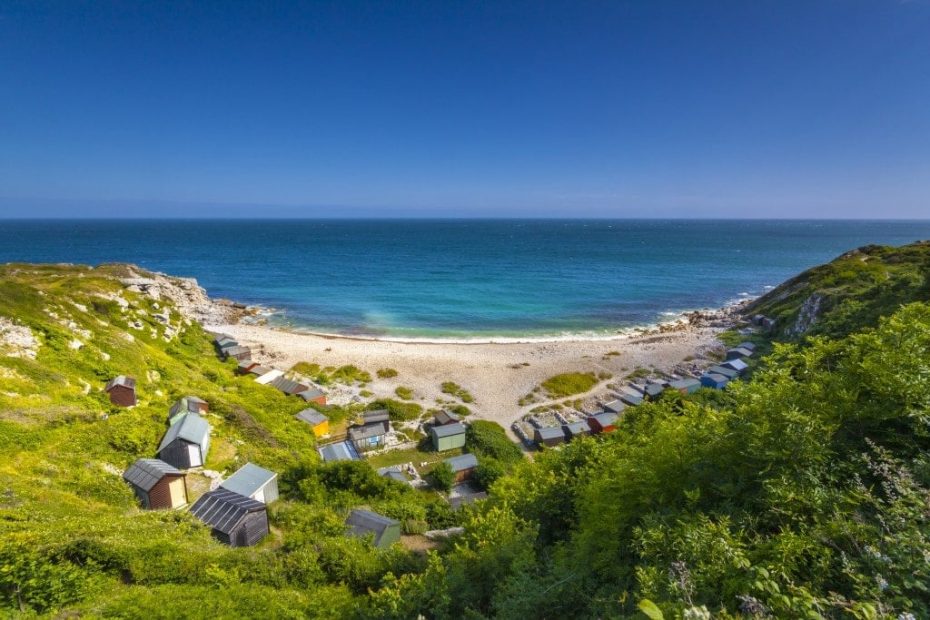 Tucked into the side of Portland and surrounded by soft, grass-covered cliffs on three sides, Church Ope Cove is a pretty little pebble beach that's far quieter than most others in the area. The beach is overlooked by the ruins of Rufus Castle, and there are some lovely viewpoints from the top of the cliffs.
Don't miss a visit to the nearby "Pirate's Graveyard" in the ruins of St Andrew's Church. Many of the headstones in the churchyard feature skull and crossbones symbols, so locals have long called this the Pirate's Graveyard. I can't promise you that these really are the graves of pirates, but it's a fun legend to believe!
Castle Cove Beach, Weymouth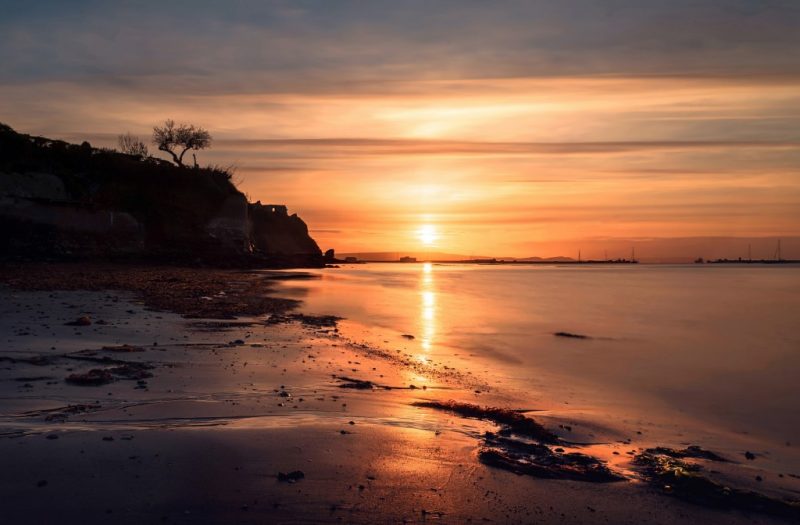 This is one of my favourite beaches in Weymouth. Over the other side of the harbour, facing the Isle of Portland, this little beach is almost always super quiet when I visit. The bay enjoys some of Portland Harbour's natural protection, so it's usually very calm. Perfect conditions for SUP or kayaking! Plus you can always find loads of marine life in the shallows – including crabs, shrimps, and anemones. At the top of the cliff above the beach, you can visit the majestic ruins of Sandsfoot Castle – an artillery fort constructed by Henry VIII!
Chapman's Pool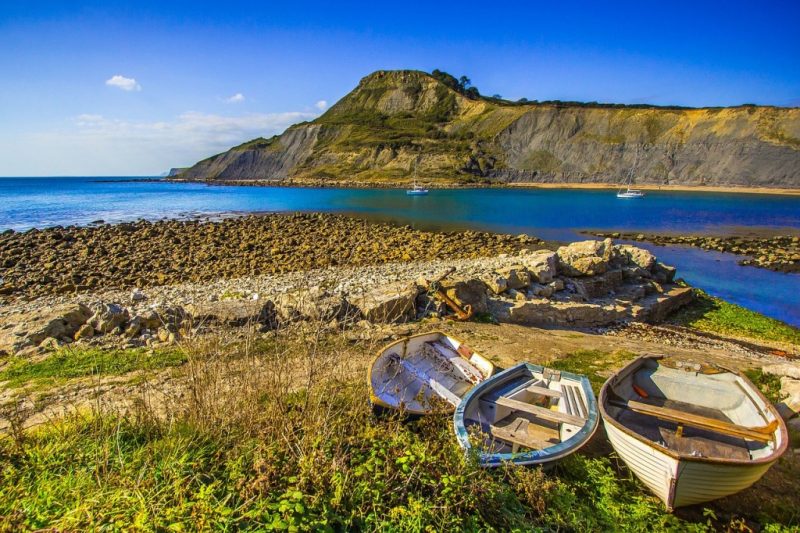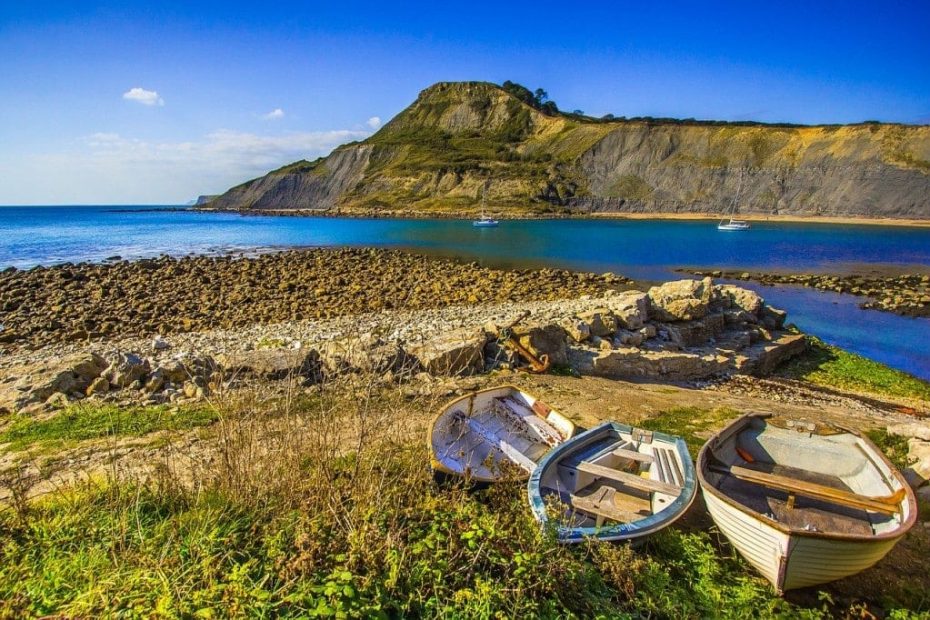 Chapman's Pool is a small cove on the Isle of Purbeck – one of the most stunning areas along the Jurassic Coast. It's one of the best Dorset beaches if you want to get away from it all. Especially because the nearest carpark is about a mile away, and the walk can be slightly challenging. The reward is a wonderfully wild and secluded little beach – so it's definitely worth the journey!
Ringstead Bay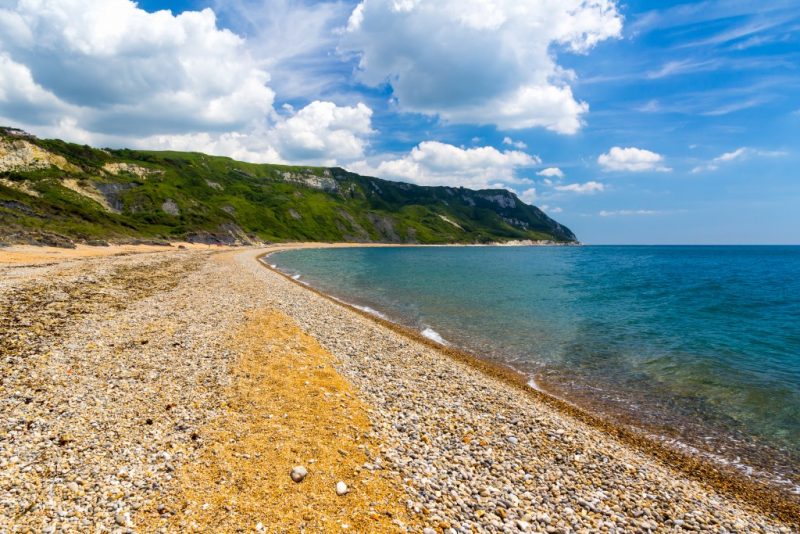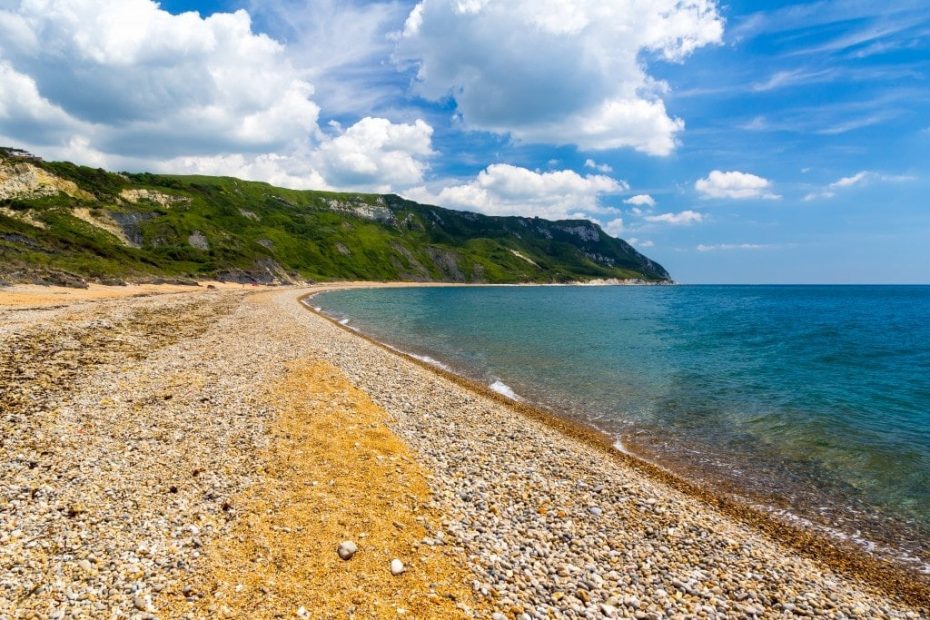 The unspoilt beach at Ringstead Bay is one of my favourite beaches in Dorset. Surrounded by the golden cliffs of the Jurassic Coast, this long stretch of shingle beach has great views across the water towards Weymouth Bay and Portland. It's also relatively quiet most days, as most people stick to the area's better-known beaches.
If you want a fab clifftop walk, start at Bowleaze in Weymouth and follow the cliff paths over to Ringstead via Osmington Mills. Don't forget to swing by the Smuggler's Inn for a meal at a centuries-old pub that was once the hangout of local smuggling gangs!
Gundimore and Avon Beaches, Mudeford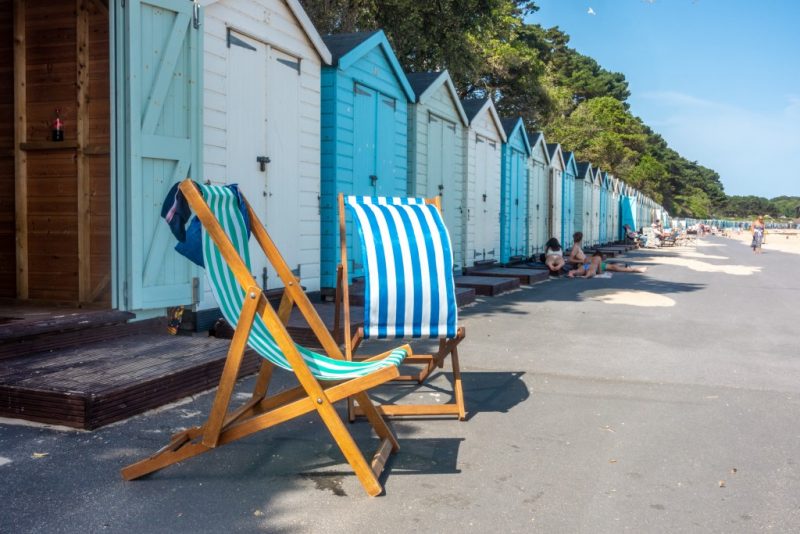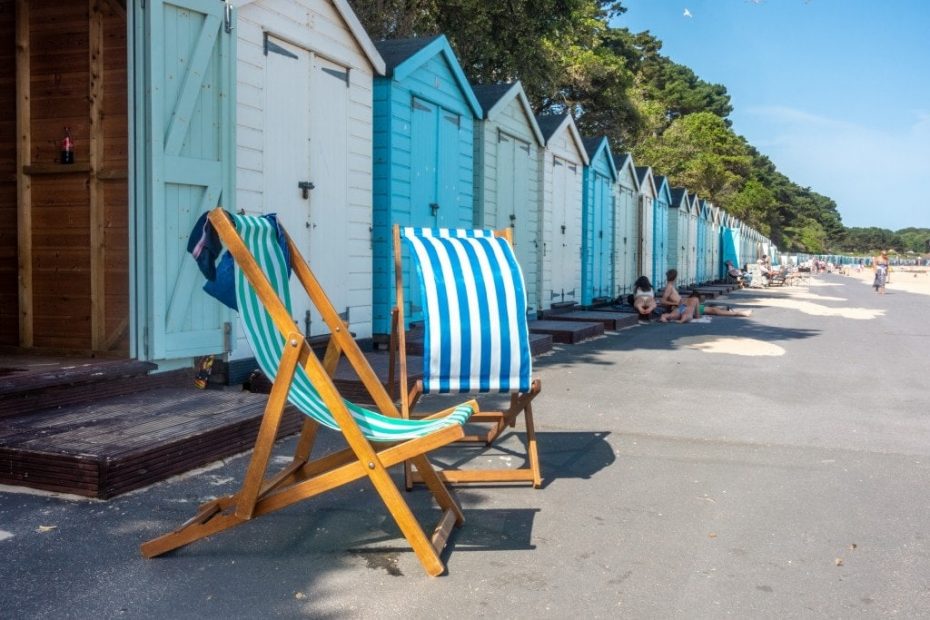 Across the water from the more popular Mudeford Sandbank, the beaches of Gundimore and Avon are much quieter Dorset beaches.
With great views of the sandbank – and the Isle of Wight in the distance – the small sand and shingle beach at Gundimore is a local favourite. Like Mudeford Sandbank, there's also a strip of pastel-painted beach huts. Although these ones are far less pricey than their famous neighbours! 
What do you think – have I missed any of the best Dorset beaches? Scroll down to leave a comment so I can update the list with the best suggestions!