Some posts on this site contain affiliate links. If you book or buy something through these links, I earn a small commission (at no extra cost to you). Take a look at my privacy policy for more information.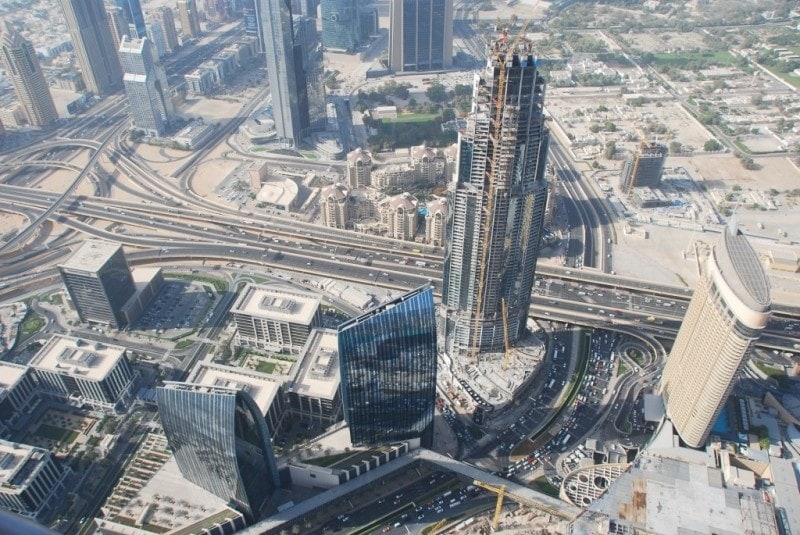 Wondering what to eat in Dubai? I've gathered recommendations from travellers and ex-pats to put together the perfect Dubai food guide!
Over 200 nationalities call Dubai home, so this city is a true melting pot of cultures. And nowhere is that more apparent than in the food scene!
Traditional Emirati cuisine is influenced heavily by Middle Eastern and Asian flavours, so many of the following dishes are recognisable.
But the city's dazzling modernity and international status mean a slew of influences from around the globe – as well as plenty of high-end experiences catering to Dubai's luxury-loving residents and visitors.
What to Eat in Dubai
1. Camel Meat
Recommended by: Kathryn Burrington from Travel With Kat. Find out more about the Dubai Food Festival in Kat's post Best Things to Eat in Dubai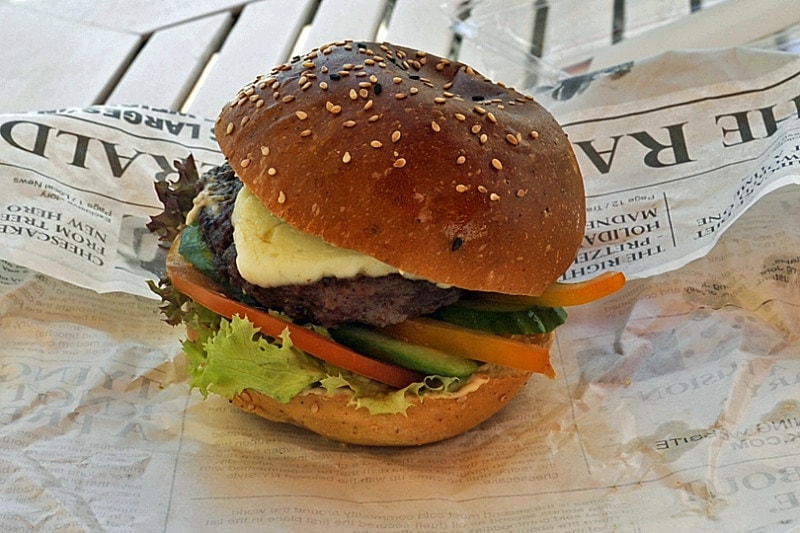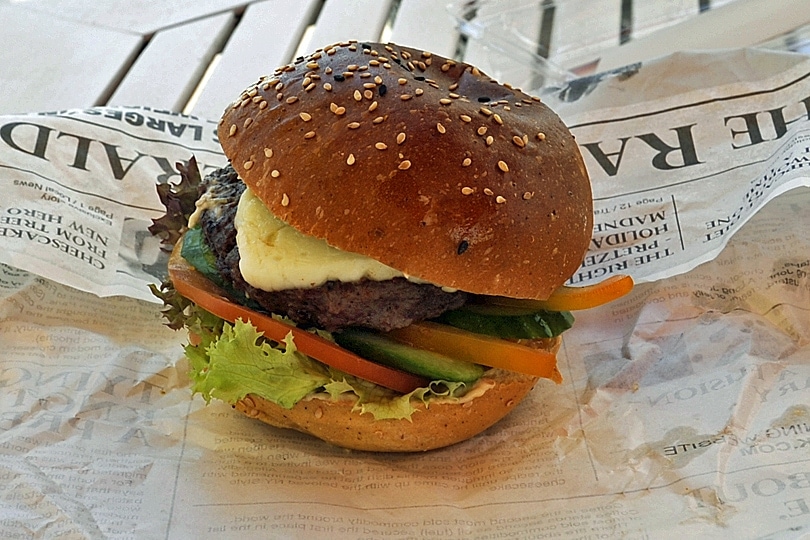 I knew camel was a meat traditionally eaten in UAE, but I had heard it could be tough and rather gamey. However, when I saw camel burger on the menu I couldn't resist finding out for myself.
It was served with halloumi cheese and a delicious date and lime jam in a sesame seed bun – a wonderfully modern take on an authentic meal. I was pleasantly surprised that the burger itself was actually very tasty and tender. I'd definitely recommend it.
Where to Try: Beach Canteen street food market during Dubai's Food Festival, Kite Beach.
2. Fattoush
Recommended by: Roma Small from Roaming Required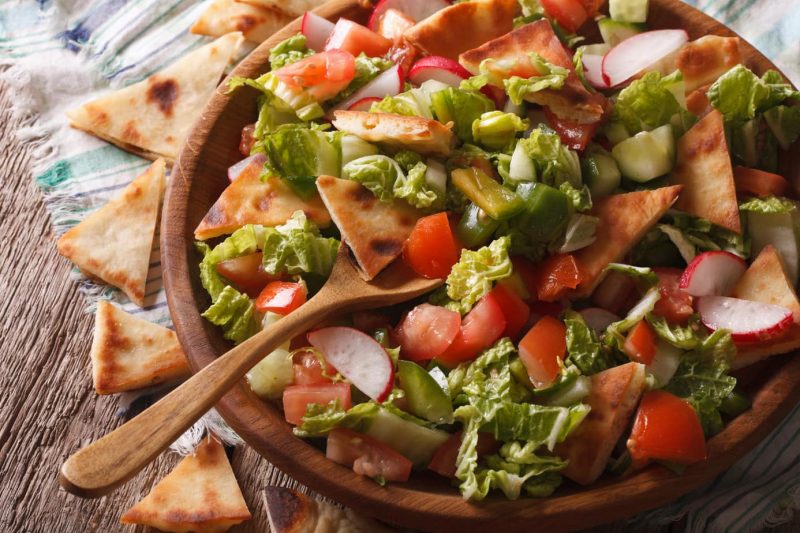 "When we went to Dubai we ate loads of fattoush salad" says Roma. Fattoush is a classic Middle Eastern salad. Although perhaps more associated with Lebanese cuisine, it's also very popular in Dubai.
This crunchy salad varies from place to place, but the core ingredients include tomatoes, cucumber, romaine lettuce, and fried pieces of khubz (a kind of flatbread).
3. Tabbouleh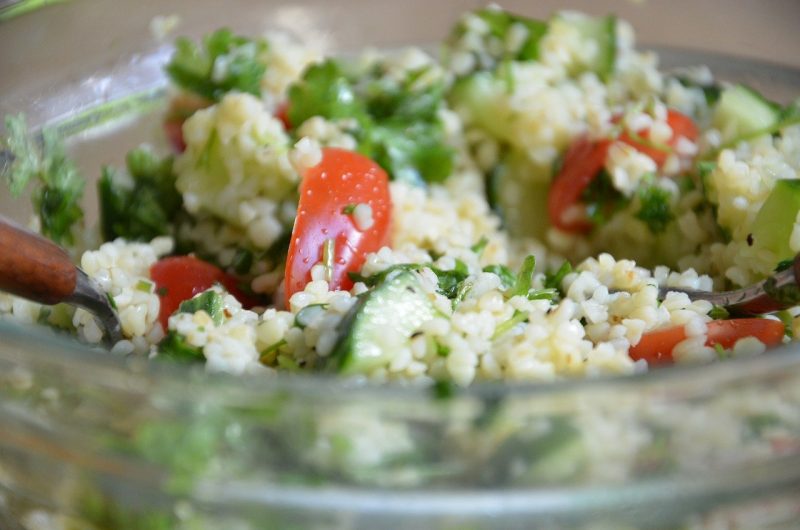 Another Middle Eastern salad that you'll find all over Dubai is tabbouleh. This is a super fresh, herby salad made with bulgar and parsley. Most recipes also call for mint, green onion, cucumber and tomato, with a simple dressing of olive oil, lemon juice and garlic.
4. Mutabbal
Recommended by: Tiffany Schureman from A Girl and her Passport
Mutabbal is usually served as an Arabic Mezze. It's an eggplant dish where the eggplant is grilled, then mashed and mixed with garlic, tahini and topped with olive oil. My favourite is when it is served with pomegranate seeds.
5. Margoogat / Margoog
Emirati cuisine features several hearty, meaty dishes such as magoogat. Also known as marrgoog, this dish is a rich, slightly spicy tomato-based stew usually made with chicken or lamb.
6. Machboos (Majboos)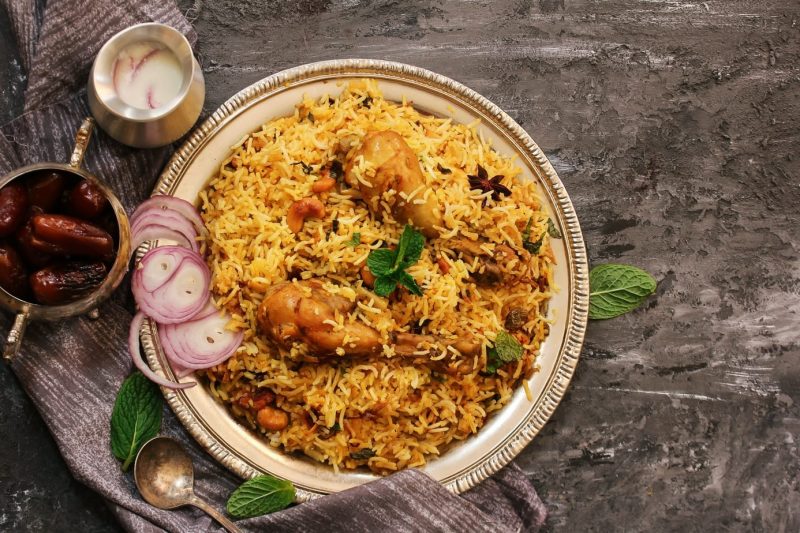 Machboos is a traditional rice dish which is one of the top things to eat in Dubai. It's made with an aromatic mix of spices, including cardamom and cinnamon, and mixed with dried limes. Typically, machboos (aka majboos) is made with chicken, but you can also find lamb or seafood versions too.
7. Shawarma Roll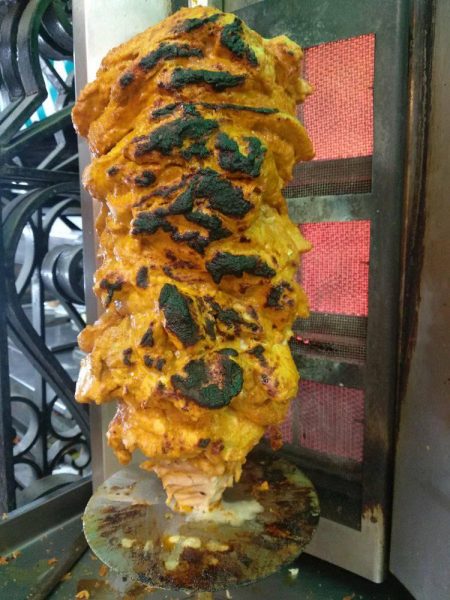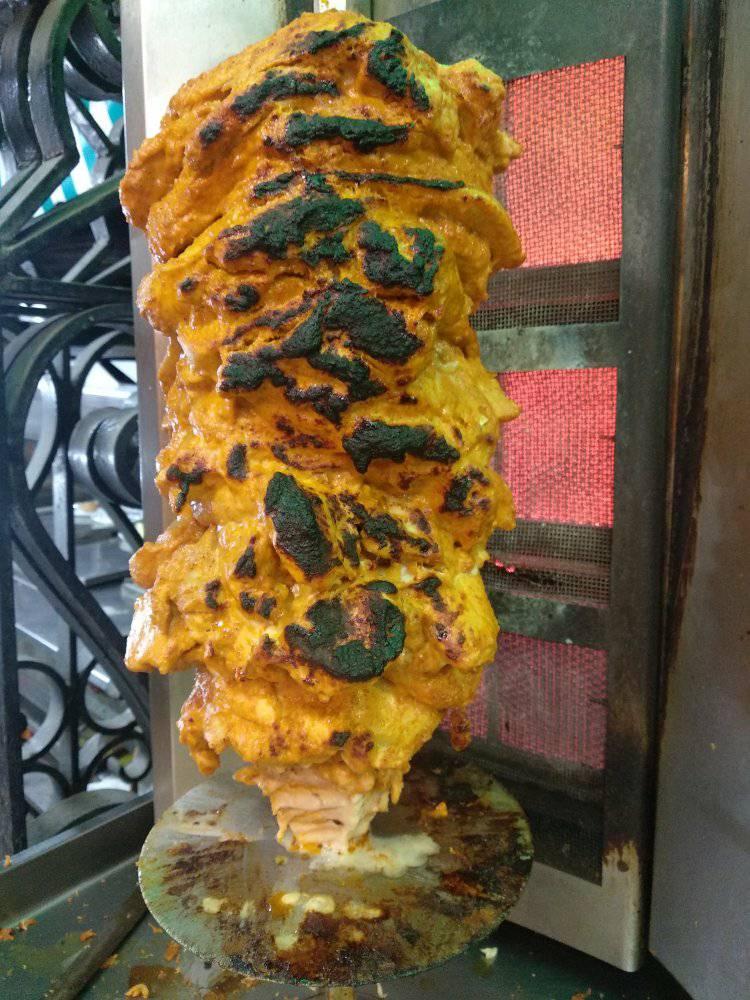 Recommended by: Trijit from Budget Travel Buff
Your food tour in Dubai is incomplete without a shawarma roll! It's a traditional Arabian food made with chicken, lamb, beef or turkey. The recipe of shawarma is very unique but simple.
The block of meat is grilled and shredded slowly while the spit rotates. The meat is served on pita bread with tahini sauce and vegetables which make it very yummy.
Where to Try: I have come across several restaurants serving this delicious dish in Dubai, but I found the best shawarma roll in the popular Lebanese restaurant Al Safadi.
8. Samboosa (Samosa)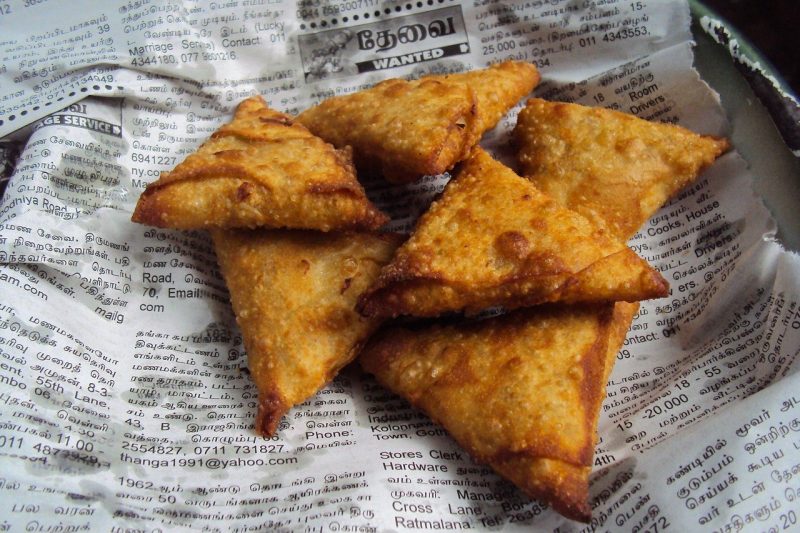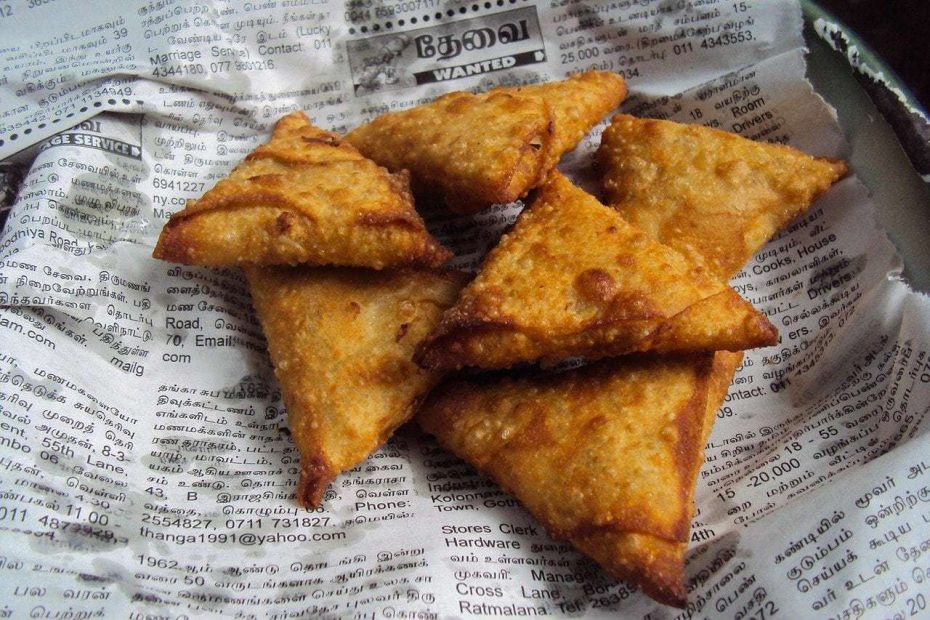 Much of the food scene in Dubai is influenced by the other cultures which call this city home. Originating in India, samboosas (aka samosas) are also popular in Dubai.
As in India, these crispy-fried pastries can be filled with a variety of meats, veggies, and spices. In Dubai, a cheese-stuffed version is also very popular.
9. Al Harees
Al harees is a traditional Arabic dish commonly eaten during Ramadan. However, you can usually find it in many ethnic restaurants around Dubai all year round. Made from ground wheat and meat, al harees is a savoury, porridge-like dish served topped with ghee.
10. Manousheh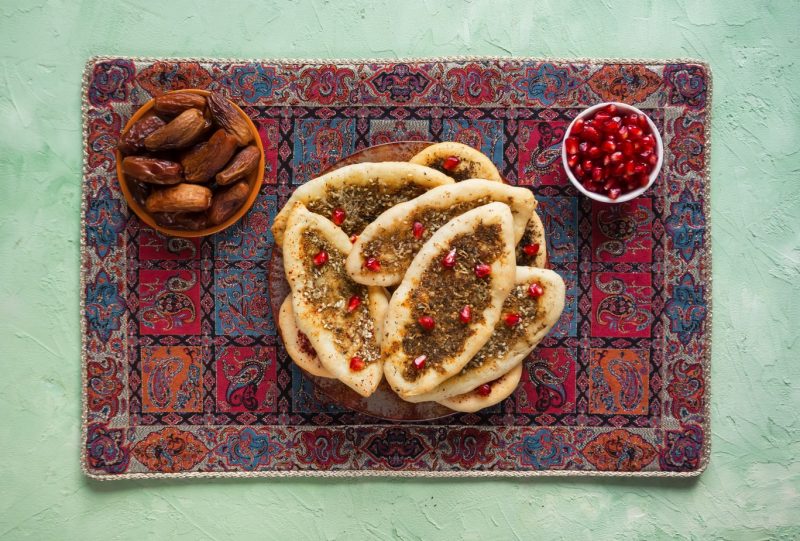 Manousheh is another Lebanese classic which is popular in Dubai, where it's often eaten for breakfast. This is a simple dish made from a crispy flatbread topped with cheese, herbs, and olive oil. Many of the more contemporary restaurants are putting their own twist on the classic, so you'll also find plenty of variations.
11. Seafood from Bu Qtair
Recommended by: Anne Mugnier from What Doesn't Suck
My favourite thing to eat in Dubai is seafood from Bu Qtair. This small restaurant is right next to Jumeirah, so it's the perfect place to eat freshly caught fish from the Jumeirah fishermen.
Diners sit on plastic chairs and eat with their hands, so this is a far cry from the fancy restaurants people associate with Dubai! But this awesome local restaurant is a must-try for seafood lovers – especially if you want a more local dining experience in Dubai.
12. Chebab
Usually served at breakfast time, chebabs are Emirati-style pancakes, so they're a more authentic local breakfast. They are made from lightly spiced yellow flatbreads. Typically, these are stuffed with date syrup and cream cheese, then heated, for a sticky, sweet-and-savoury breakfast treat.
13. Flatbreads – Khubz, Khameer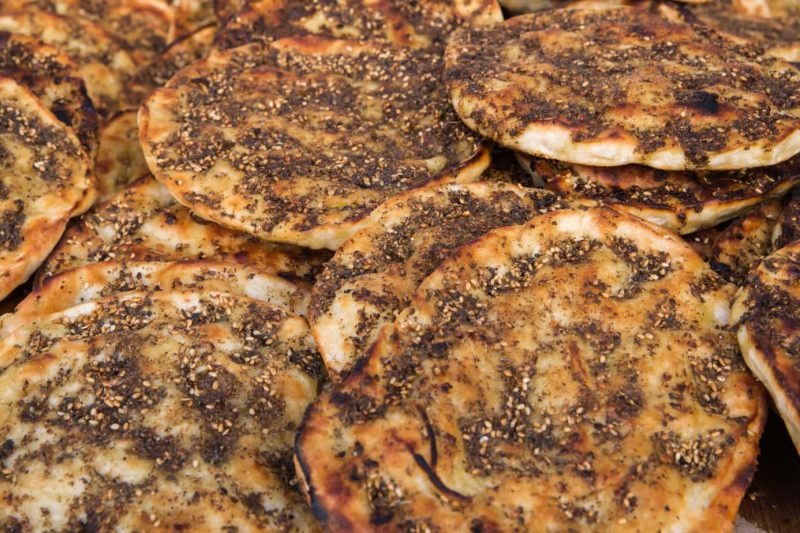 You can't write a guide to what to eat in Dubai without including flatbreads! As with most Middle Eastern cuisine, flatbreads are popular in Emirati cuisine, and there are several varieties.
Khubz is a round, leavened bread which forms a staple part of the diet across the Middle East. It features in several Emirati dishes – but it's also popular on its own or with fresh hummus or aubergine dip.
Khameer, on the other hand, is a bread sweetened with dates. Again, it can be eaten on its own, but khameer is also popular stuffed with fillings such as cheese, chicken, or meatballs.
Dubai Food Guide: Desserts and Drinks
14. Arabic Coffee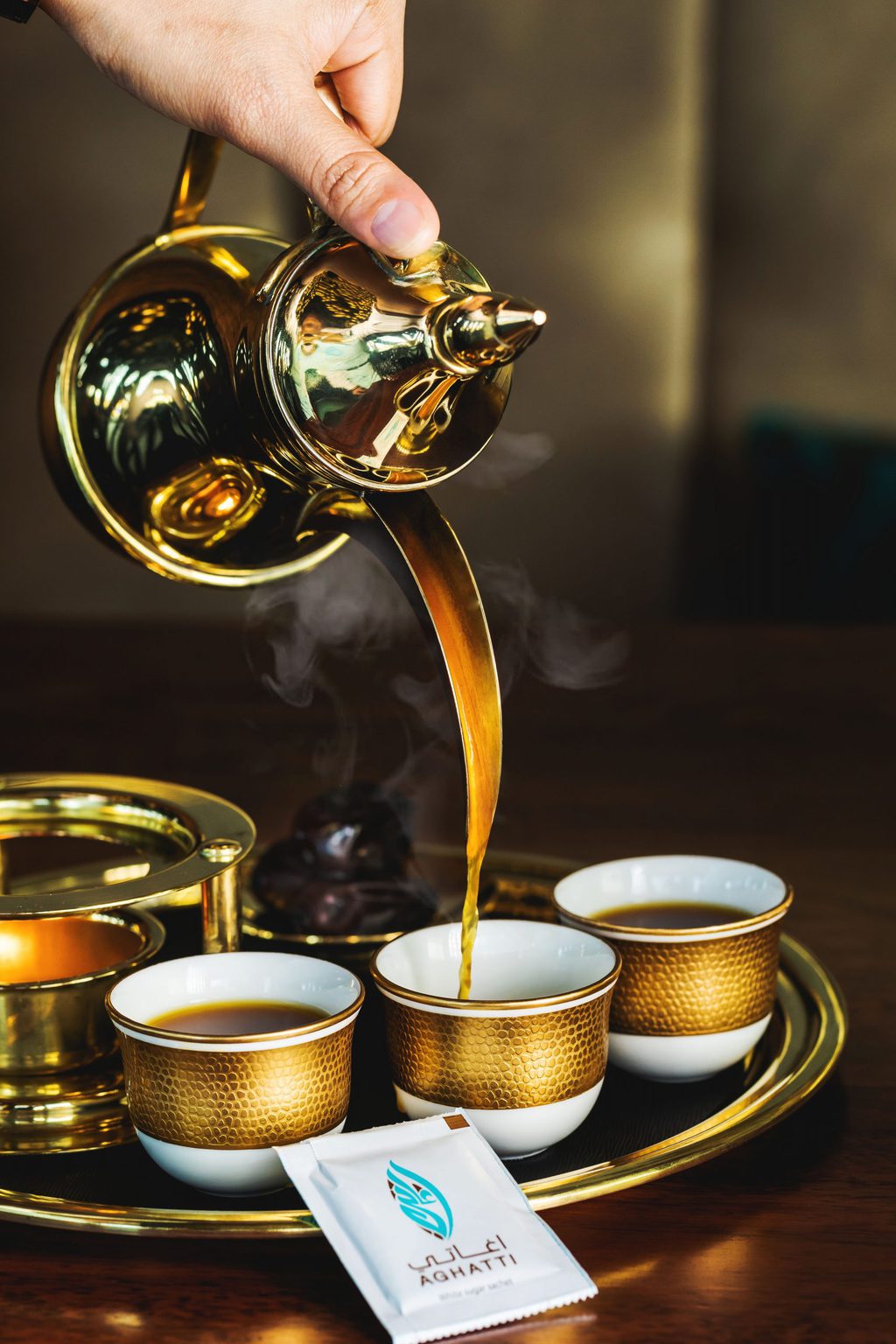 This isn't quite what to eat in Dubai! But coffee is such an important part of the local cuisine that it has to be mentioned. Arabic coffee is also known as gahwa or qahwa, and is often made with cardamon. Typically, coffee is served from ornate Arabic coffee pots, and there's an air of ritual to the whole affair.
Where to Try: The Coffee Museum, the Arabian Teahouse, and Cafe Bateel are all popular coffee spots in Dubai.
15. Umm Ali
Recommended by: Tiffany Schureman from A Girl and her Passport
Umm Ali is a popular dessert in Dubai, although it originated in Egypt. It's a bit like bread pudding served with pistachios on top.
16. Kanafeh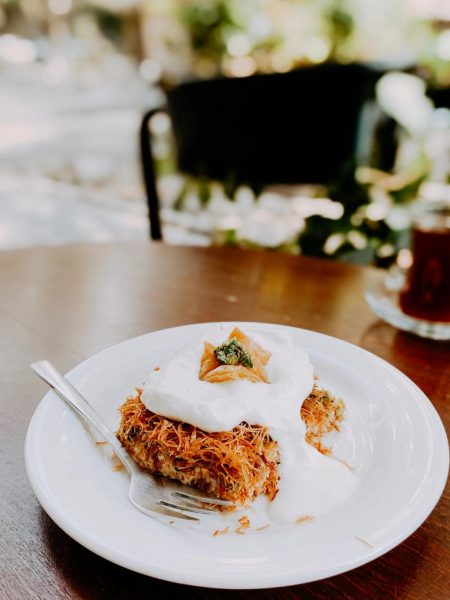 Although it originated in Palestine, kanafeh (aka knafeh) is another popular dish in the UAE. It may look like noodles, but this dessert is actually a pastry! The crispy dough is soaked in sugar syrup and layered with sour cheese, then sprinkled with pistachios.
17. Luqaimat
Luqaimat are hot dumplings which are similar to doughnuts. Usually, they're topped with a sticky date sauce and sesame seeds, although more modern establishments are introducing all kinds of quirky twists. Loqmato in the Dubai Mall offers unique toppings such as coconut and even Oreos!
High-End Dubai Food Experiences
18. Bottomless Brunch
Recommended by: Annika Ziehen from Midnight Blue Elephant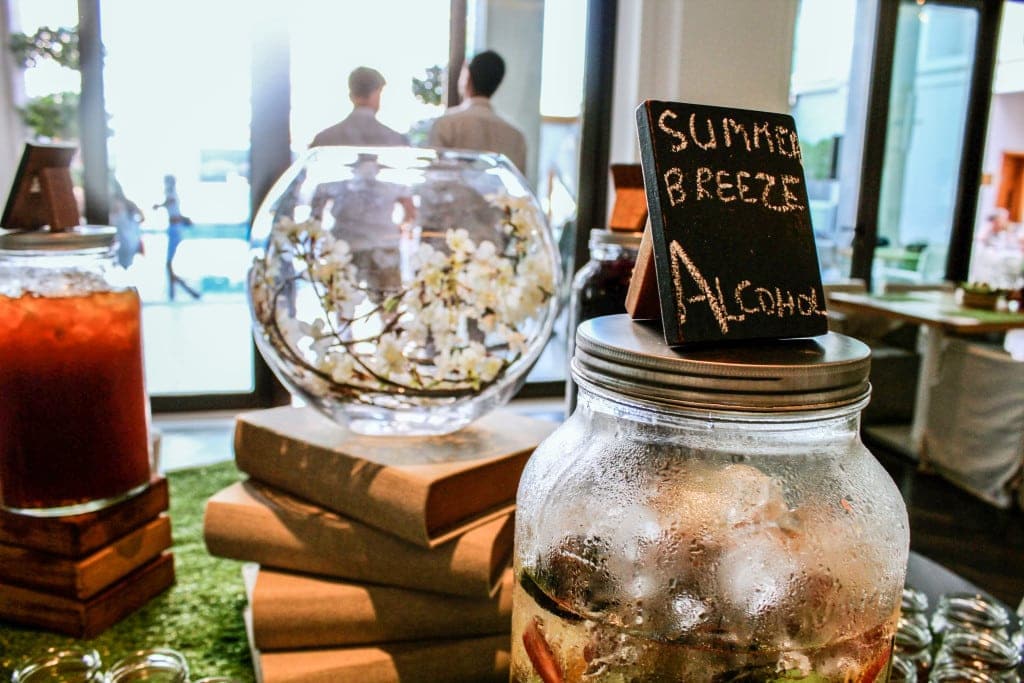 People in Dubai love their brunch, so what could be better than brunch and picnic in one? Head to the Vida Downtown Hotel for their Urban Picnic brunch on Fridays and Saturdays. Get a basket and fill it with mason jars full of salads or mueslis, fresh pizza and quiches, sandwiches and, of course, bottomless bubbly.
To stay nourished while you fill your basket, dip fruit in the chocolate fountain or take a nibble from the giant parmesan wheel. But don't fill up too much yet, because this is just the beginning. There's still a feast of grilled seafood and meats to come, as well as an array of dessert options. Luckily, you can always sleep off your "food baby" on their lovely daybeds around the pool!
19. High tea at the Burj Al Arab
Recommended by: Jennifer Melroy from Made all the Difference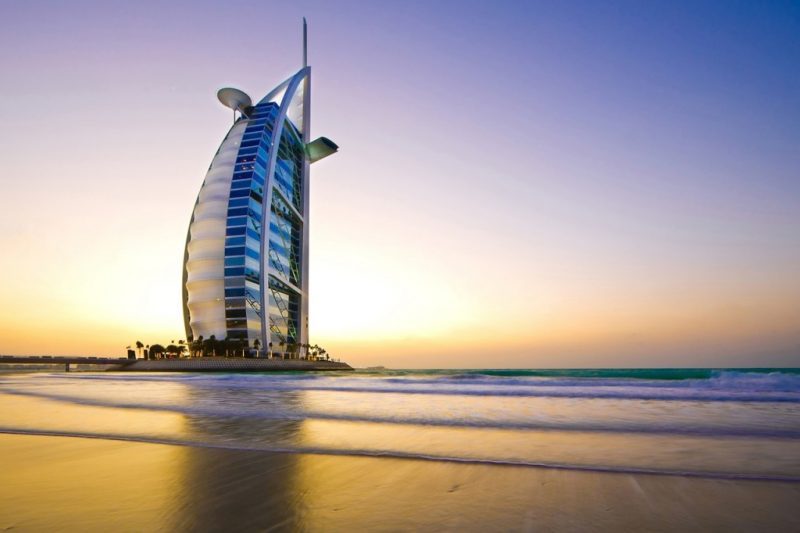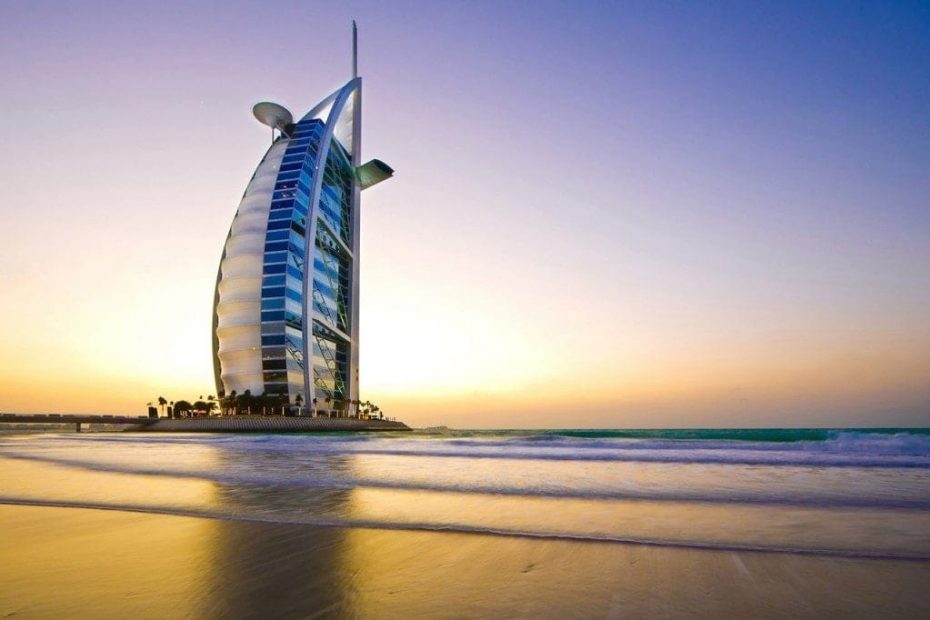 You can't compile a list of what to eat Dubai without mentioning the famous seven-star Burj Al Arab. This iconic hotel sums up much that Dubai has come to be known for, such as bling, excess, and extreme luxury. So their seven-course high tea, with its book-like tea menu and sumptuous cakes, is the perfect experience to celebrate all that.
Dubai Food Tours
There's really no better way to discover where and what to eat in Dubai than with a local guide, so a food tour is always a good idea. This is always my favourite way to discover a new destination! So, I've rounded up some of the best tour options from my trusted partners…
Is there anything you'd add to this list of what to eat in Dubai? Scroll down to leave a comment!
Pin this Post