Some posts on this site contain affiliate links. If you book or buy something through these links, I earn a small commission (at no extra cost to you). Take a look at my privacy policy for more information.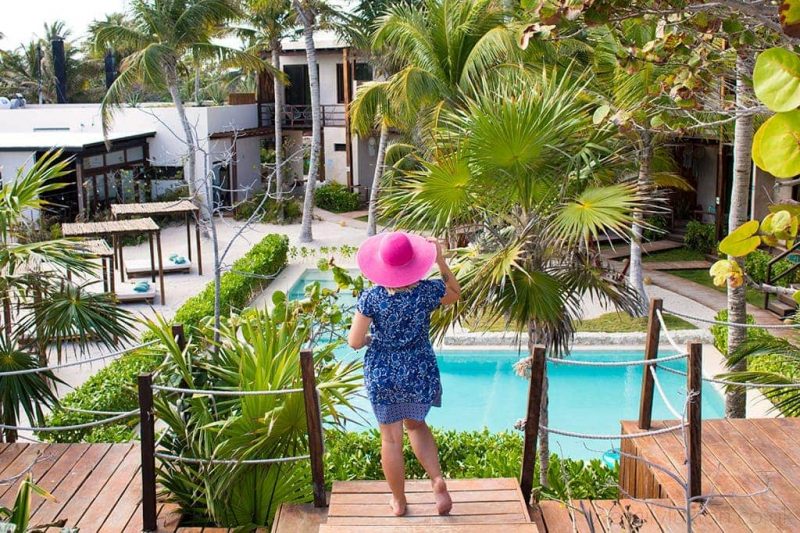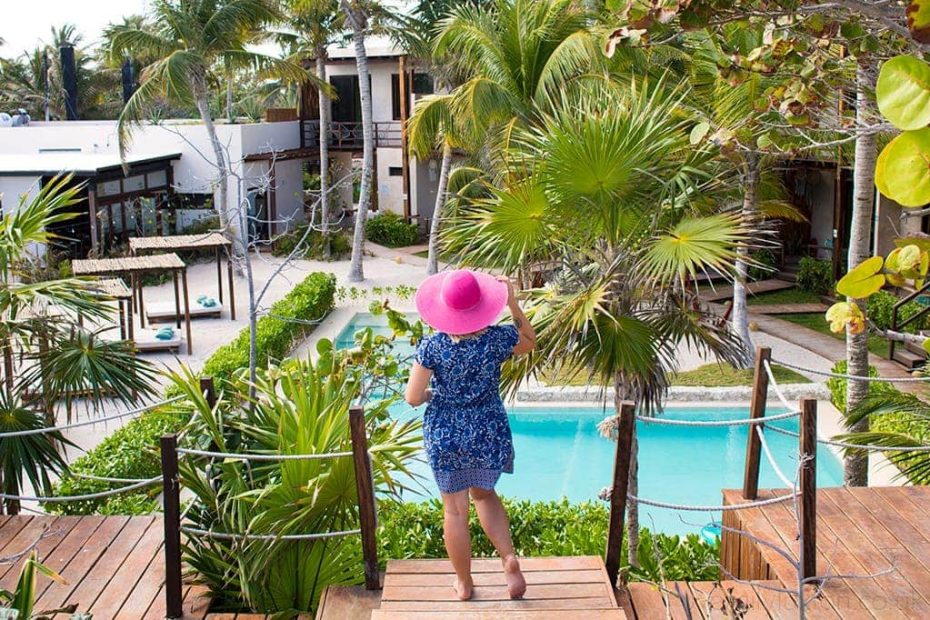 A review of the gorgeous Hotel Maria del Mar in Tulum, Mexico – a boutique, adults-only hotel on the beachfront!
Hotel Maria del Mar was the reason I went back to Tulum. When I saw it the week before, a drop-dead gorgeous hotel at the edge of a rocky little cove, it was love at first site. We had to come back, we had to stay here. And so we did.
Maria del Mar is marketed towards a "trending generation". And it's true that every vista and every interior space seems to have been specifically designed with Instagram in mind.
It was impossible for me not to fall in love with the simple colour scheme of muted natural tones, trimmed out in my favourite shade of turquoise, or with that perfect little pool, surrounded by jungle greens and lazy hammocks. It looked like a hotel straight out of a movie set in a romantic boutique hotel – something too good to be true.
Hotel Maria del Mar Tulum Review
A touch of Yucatecan History
I wrote this post from Isla Holbox. A sleepy Caribbean island on the cusp of modernity, riding the new waves of tourism into a flurry of development. All over the island, new concrete buildings are going up. And as they go up, the old wooden fishermen's homes are torn down.
When Maria del Mar's owner discovered this, he bought up the wood from these old properties and re-purposed it in the hotel. The simple installations of patchworked boards lend new life to old wood, and at the same time, breathe a sense of the Yucatan's history into this contemporary hotel.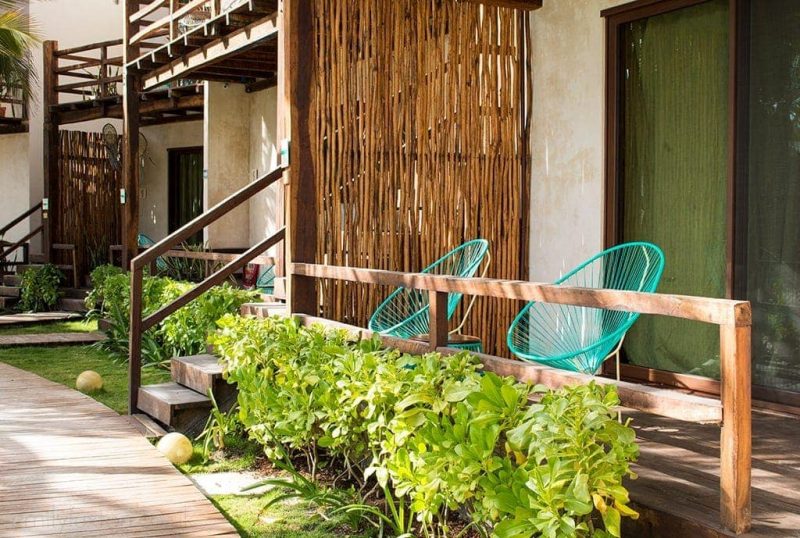 And while everything about this stylish, Instagram-ready hotel might seem ulta-modern and chic, local history and architecture form a huge part of the design. Especially in the soft, natural colour of the smooth stucco walls, achieved using the ancient Mayan technique known as Chukum. Created from the resin of the chukum tree, this is a natural, creamed-butter colour finish which lends a real local flavour to the hotel's interior.
Maria del Mar is iconically Tulum
For me, Maria del Mar was Tulum. It was contemporary and stylish, but also fiercely local and beautifully historic. That peaceful little town of hippies and yoga retreats, trendy bars and ancient Mayan ruins, meditation and boutique artisan stores.
Where a unique balance between nature, history, and trendy modernity has been struck. And at the heart of it was Maria del Mar, somehow striking that same, delicate balance. This is truly one of the best beach hotels in Tulum!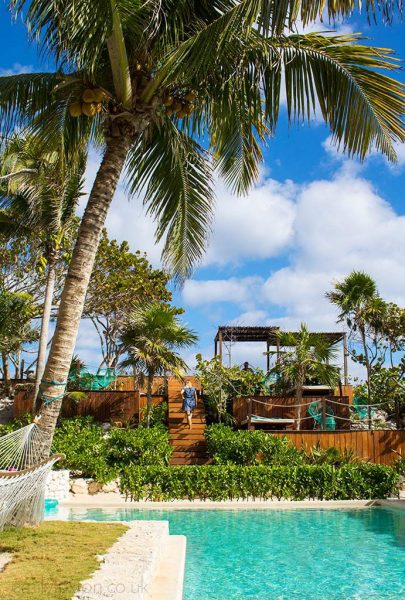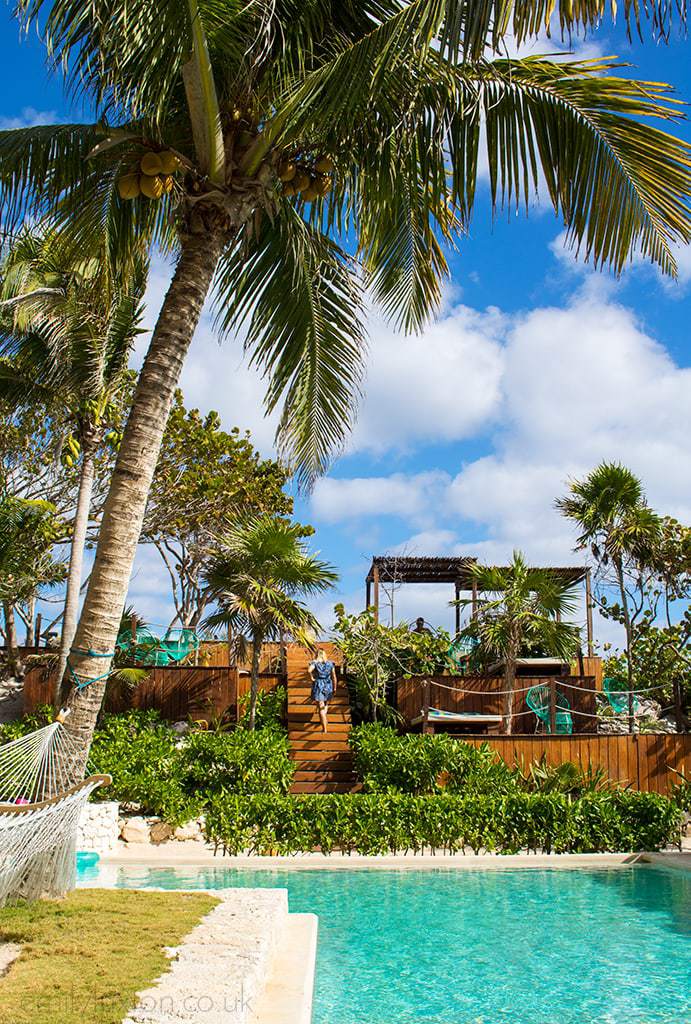 Ground Luxury Suite at the Maria del Mar Hotel Tulum
In our room, everything was soft, muted, natural, with smooth stone floors and natural details. Bamboo wood light fittings, driftwood towel hangers, and the lacquered wooden installations of Holboxeño wood create a tentative sense of being in tune with nature. Everything appeared to have been locally sourced, from the building materials to the organic and eco-friendly bath products. We had a Ground Luxury Suite, with a secluded terrace just steps from the small, bright turquoise pool, and more space than we knew what to do with.
Outside it was green and leafy, with the turquoise trim that made me fall instantly and irrevocably in love with Maria del Mar the first time I clapped eyes on it.
Maria del Mar's Private Beach and Pool
The hotel shares a small private beach with one other small resort, cut off from their neighbours by tumbling rock piles. Some of the best Tulum beach clubs are nearby.
At the top sits a wooden deck overlooking the ocean, with hammocks, beds, and Acapulco chairs tucked into different layers or hidden behind trees. Privacy is front and centre at this adults-only hotel, where there are just eighteen rooms (of which four are penthouse suites).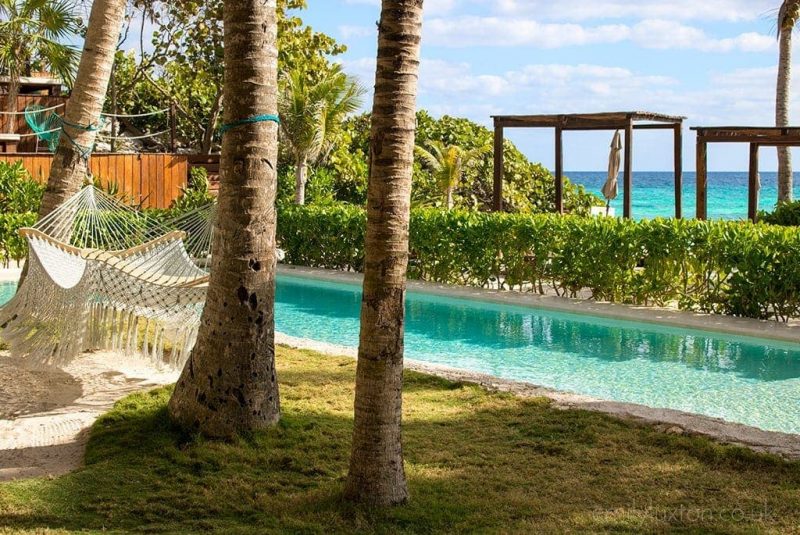 Having never stayed at an adults-only hotel before, and coming in from the road, it was easy to fall in love with the solitude, with the sensation that we had the entire place to ourselves. I never shared the pool! There was no shortage of sunbeds and hammocks.
Instead of feeling sandwiched into a row of toasting tourists, all facing the pool, I found an almost limitless number of hidden spaces to relax in. For two nights, we lived in the blissful, suspended reality of tourists completely cut off from it all, a clever illusion given Tulum's crowded seafront and the hotel's proximity to a lively strip of bars and restaurants.
I went back to Tulum, because I wanted to experience the city from a hotel like Maria del Mar, which I'd seen on my first trip there. And I was lucky enough to experience Hotel Maria del Mar itself. It was the perfect base from which to experience Tulum.
CHECK PRICES: Booking.com | Hotels.com
Our stay at Maria del Mar was provided on a complimentary basis. As always, all words and opinions are entirely my own.