Some posts on this site contain affiliate links. If you book or buy something through these links, I earn a small commission (at no extra cost to you). Take a look at my privacy policy for more information.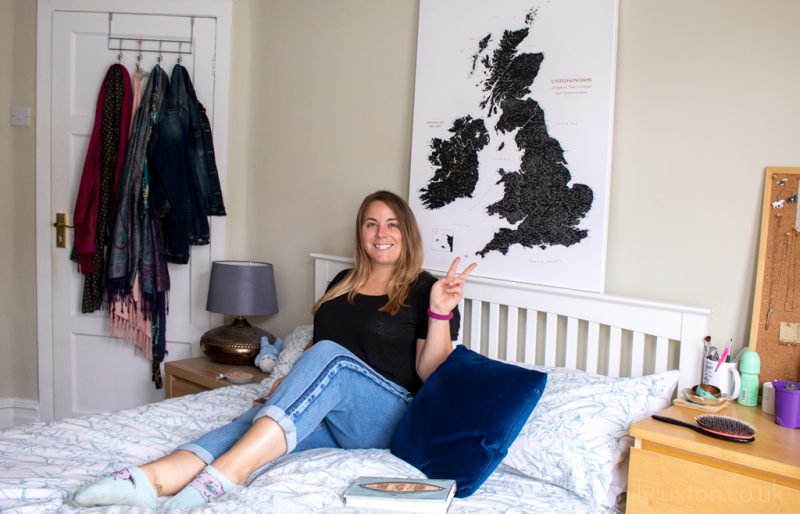 If you love travel themed decorations, a push pin travel map is the perfect way to incorporate your travel memories into your home. So when Trip Map asked me to review their brand new range of UK and Ireland maps, I couldn't wait to get my hands on one!
These handmade push pin maps of the UK and Ireland are the perfect way to celebrate your travels of these countries! You can customise it by using the pins to mark where you've been (or where you want to go). You could also add photos, or even doodles, to get your map looking just how you want it.
Travel themed decor is my favourite, whether it's making prints of my best travel photos, creating scrapbooks, or dotting my best souvenirs around my room. I've always wanted a big statement map to complete the look, and this one is PERFECT!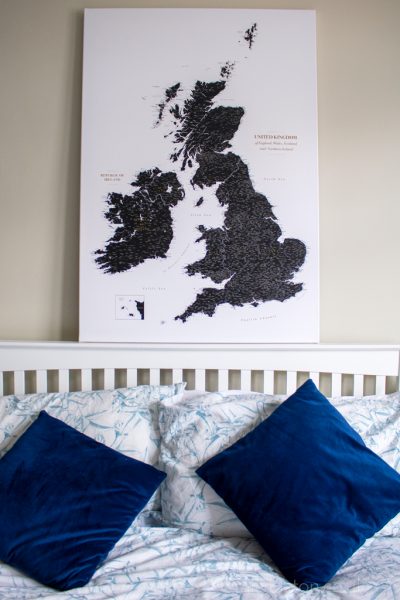 This push pin travel map review was sponsored by Trip Map. But all words and opinions are absolutely my own and 100% honest. Promise!
Who is Trip Map?
Trip Map is a small, family-run business in Lithuania. They handmake superior quality push pin travel maps on canvas, so you can track places you've visited.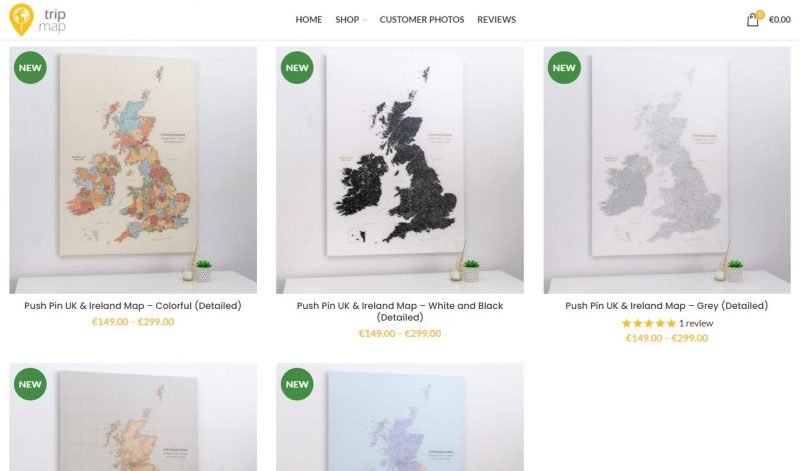 We put a lot of heart to make our customers happy with their travel map, which will be with them all their life.

Trip Map
All the unique designs are made by Trip Map's designer Lukas, while the maps are made by artisans Mantvydas and Mantas. The maps come in a variety of styles, colours, and sizes – and there are a number of different maps to choose from – so there's something to suit all tastes.
UK Push Pin Travel Map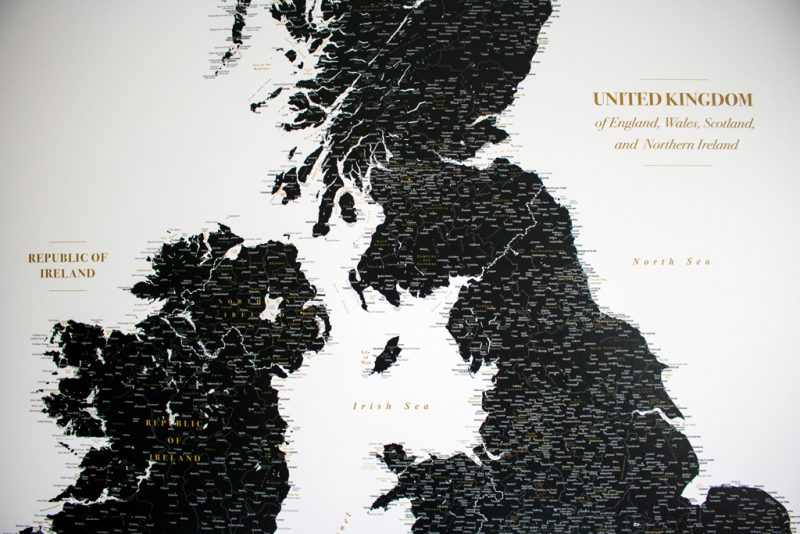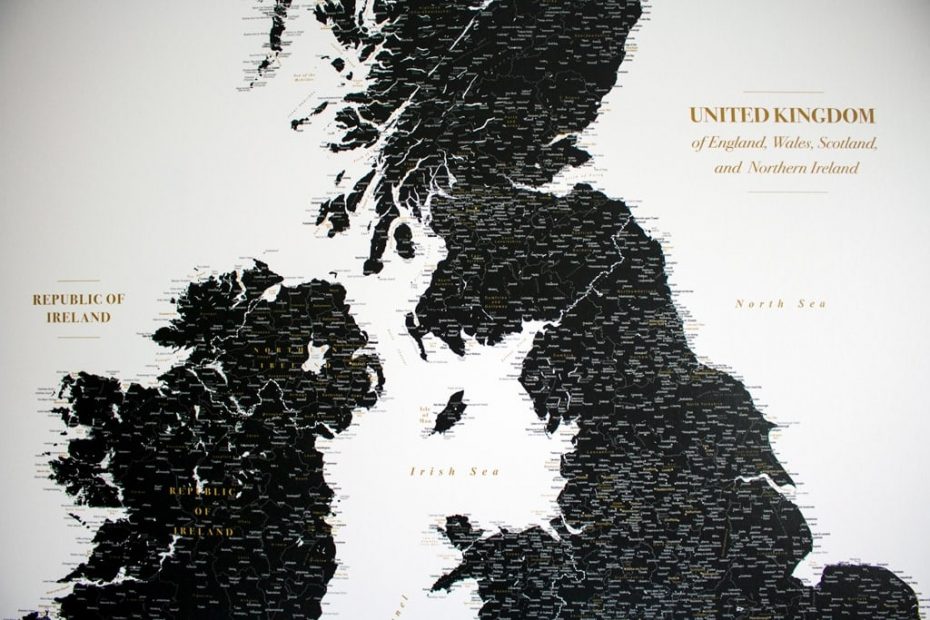 The newest range of push pin travel maps from Trip Map are these stunning UK & Ireland maps. They come in five different colour/style options, from minimalistic black and white to more detailed colour maps.
There are also three different size options. The smallest option is medium (100x70cm), while the extra-large comes in at 150x100cm. So these are pretty large travel maps, designed to dominate your decor. They make a brilliant statement piece!
You can add some personalisation text in a range of different styles, or stick with the original map, like I did. And with 16 different colours of pins to choose from, you can really design the perfect push pin travel map for you.
As well as the UK and Ireland maps, Trip Map also offer world maps, Europe maps, and USA maps. So there's definitely something for everyone.
My Push Pin Travel Map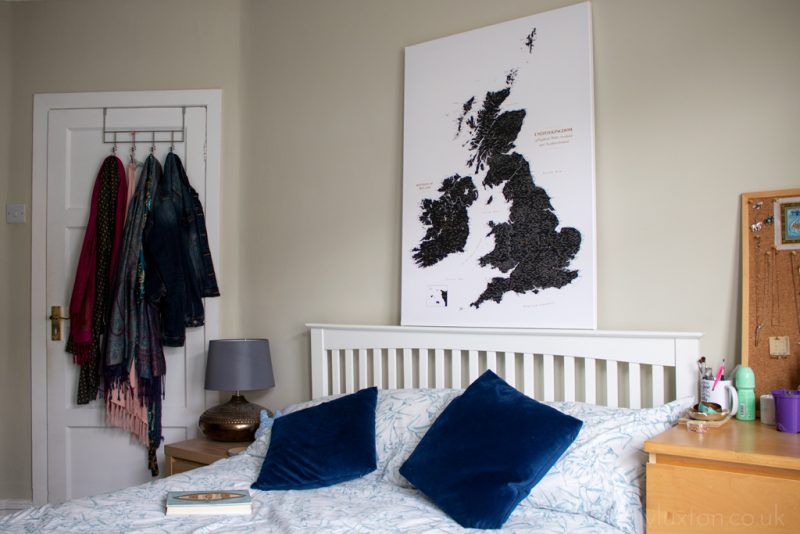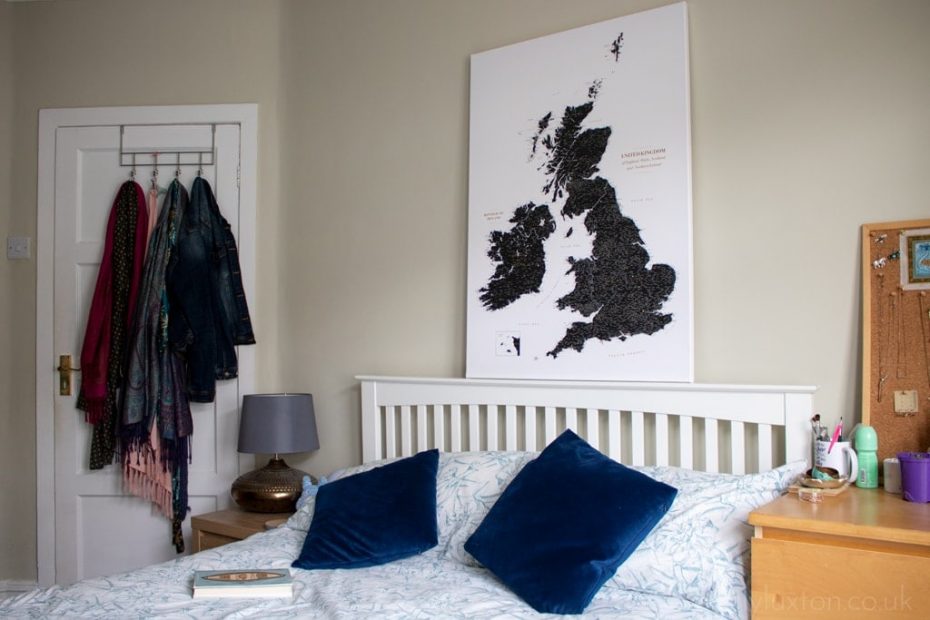 I absolutely LOVE this UK and Ireland push pin travel map from Trip Map. I opted for the black and white map in medium for a bold, statement piece. The lettering is in gold, and I've opted for rose gold pins. The overall effect is really impressive, I really like the simplistic style of it all.
The quality is really high; all the materials feel really sturdy and the printing of the map is fab. I started pinning it today, and love the satisfying "pop" as the pin goes in. You can really tell the quality of the material as you push the pin in!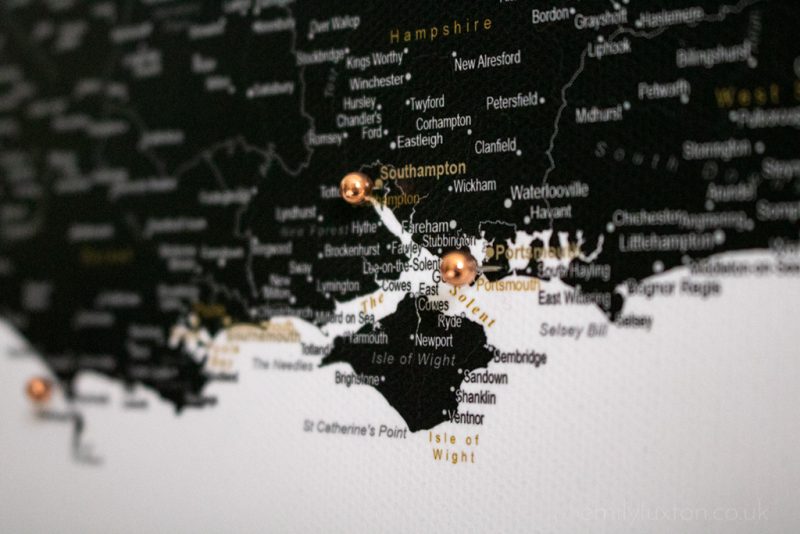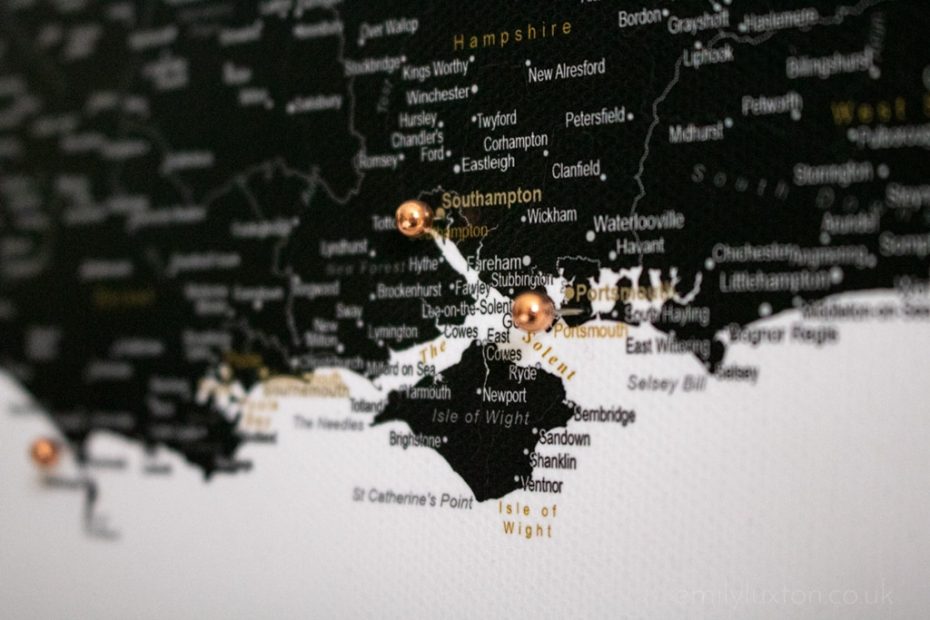 Obviously, I'd burn through my 100 pins pretty fast if I decided to pin everywhere I've visited in the UK – and the whole country of Dorset would be chock-full of gold! Instead, I've decided to add a pin to every place I've ever spent a night or more.
I'm (hopefully) going to be moving into my own place soon, so I'm starting to gather together lots of awesome new decorative bits and pieces now. Which means I'm not quite ready to hang my push pin map yet. Instead, I've been trying it out in a few different places in my room so I'll know where to hang it once I'm in the new place.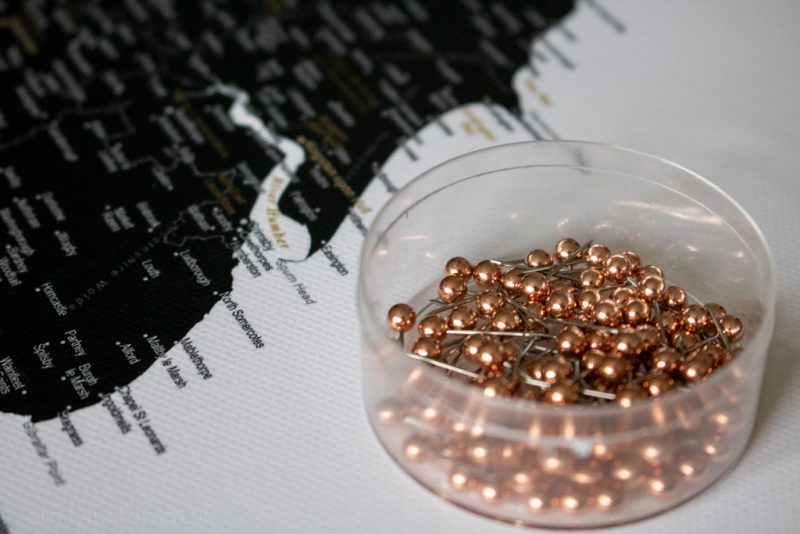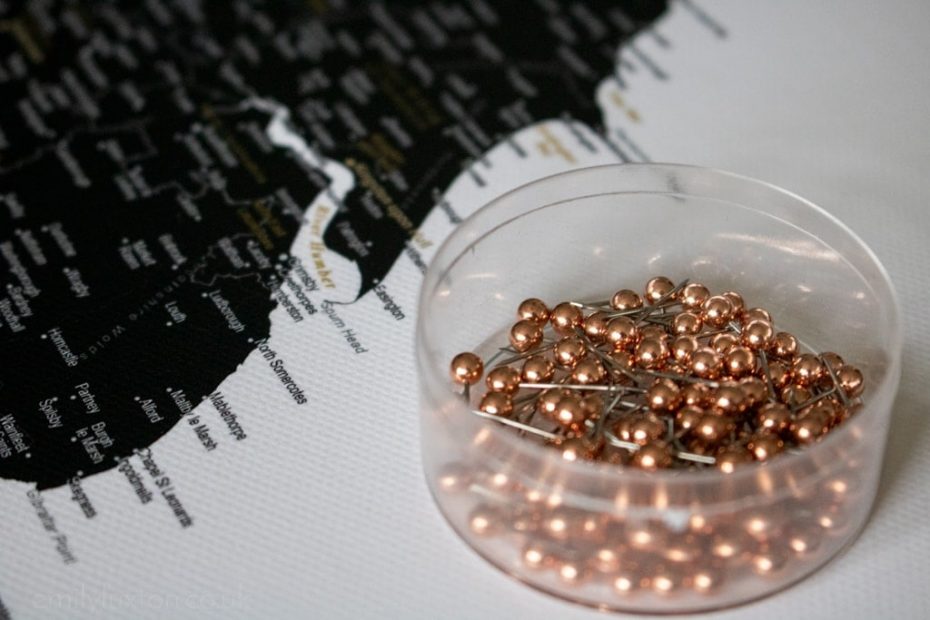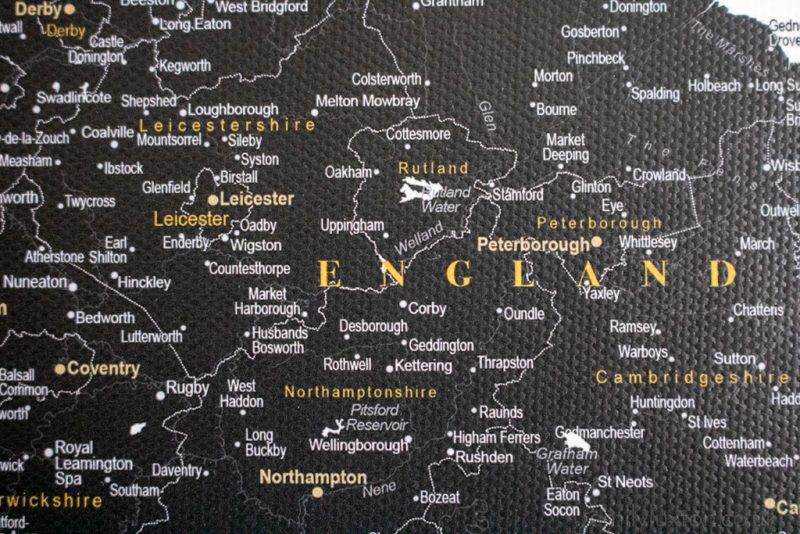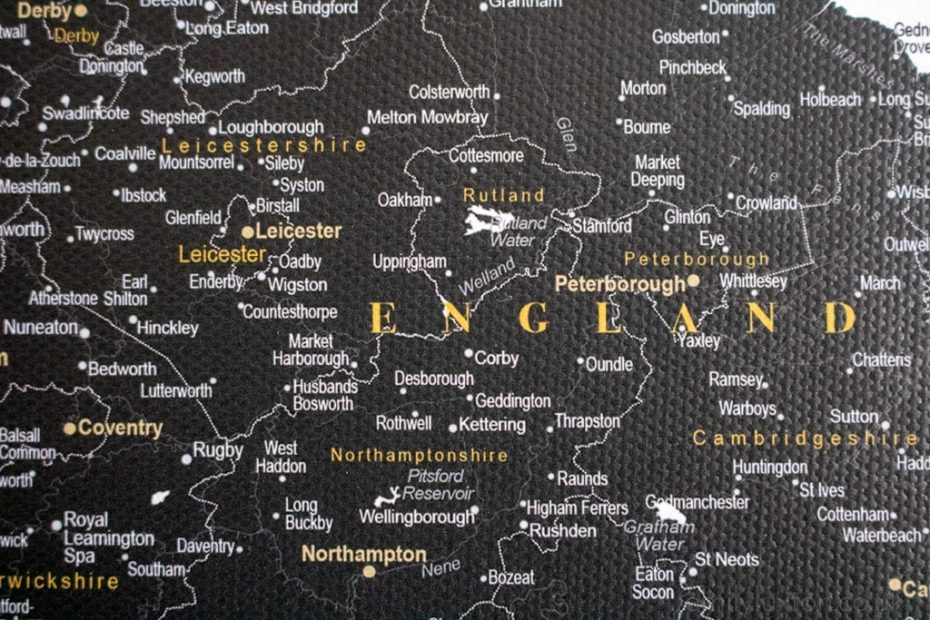 Would I Buy it Again?
I really love this map and would 100% buy another (maybe a world map next time). My only slight reservation is that the price feels a little steep; the UK push pin travel map range starts at €149 so it's not exactly cheap.
But when you consider that you're getting a handmade, top-quality map that's going to last a lifetime (unlike cheaper corkboard maps which can break so easily), the price feels more like a justifiable investment. Especially considering the size of the canvas – and the fact that the price includes free delivery in Europe and also in the UK and Ireland. 
Generally, I'd happily recommend Trip Map to anyone looking for a beautiful push pin map to document their travels. I'm so happy with mine!
If you found this Trip Map push pin travel map review helpful, don't forget to leave a comment! I'd love to hear what you bought!