Some posts on this site contain affiliate links. If you book or buy something through these links, I earn a small commission (at no extra cost to you). Take a look at my privacy policy for more information.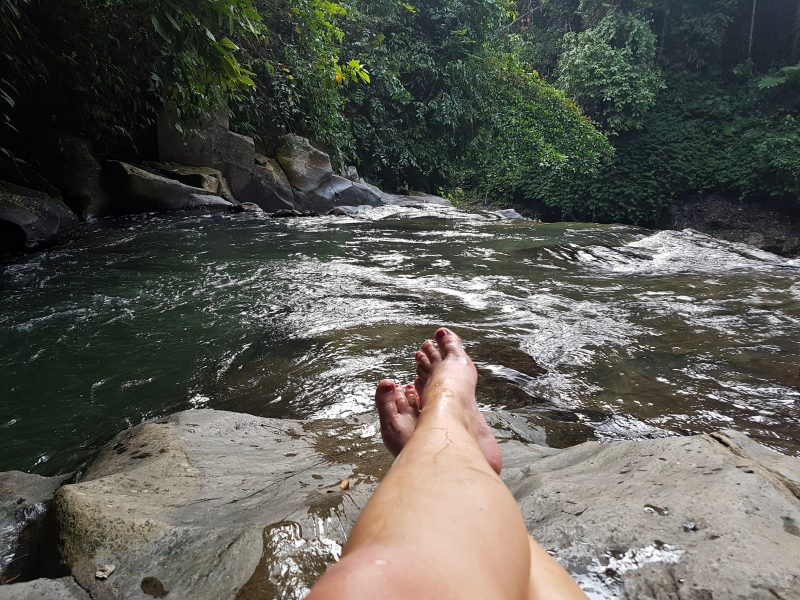 Hair removal is the bane of my life – especially when I'm travelling! Shaving in poky hotel bathrooms or trying to find a decent place to get a wax in a foreign country can be a nightmare. Since I can't afford laser hair removal, I always thought that preventing body hair regrowth was an impossible dream – until I discovered that home IPL treatments exist. So, I decided to give the Philips Lumea Prestige a try – to see if it really works, and how well.
Disclaimer – Philips provided me with the Lumea Prestige free of charge. But the below review is 100% honest and accurate, based on my real-life experiences.
What Is Philips Lumea?
Philips Lumea is a home IPL (Intense Pulsed Light) system which can be used to help prevent hair regrowth. Gentle flashes of light are applied at the root of the hairs, breaking the cycle of regrowth.
My Philips Lumea Prestige Review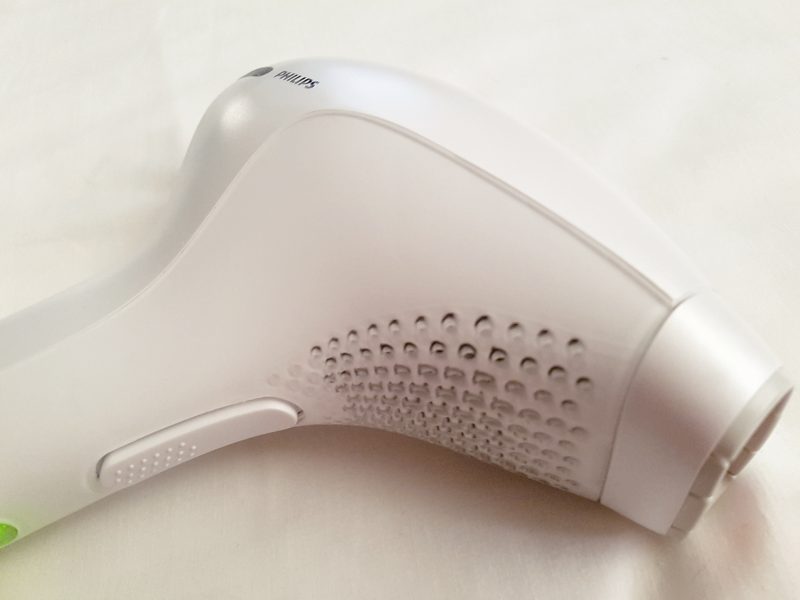 The Philips Lumea Prestige is small, and lightweight enough to be held with one hand. I like the sleek design and found it comfortable to hold. Using it is very straightforward; you switch it on, set the intensity (one to five), point it at your skin, and press a button.
At £400-500*, the Prestige is the most expensive of the Philips Lumea IPL range. This is because it comes with several added extras.
It's wireless, which means that you can easily use it anywhere – for example in a bathroom – without needing to find a plug socket. Its lamp is the longest-lasting, too, with more than 250,000 flashes before you'll need to replace it. And the full set comes with attachments for body, face, and bikini hair removal, so you can safely use it all over.
Before you start: Make sure you read the instruction booklet carefully, and carry out a 24-hour skin test on a small area before going ahead with the treatment.
Over the summer, I tested the Philips Lumea Prestige out. You start out with an initial run of four fortnightly treatments, then switch to once every 4-8 weeks. Below, I've laid out my experiences…
*The price varies depending on sales etc, so click here to check the latest prices.
How Long Does Philips Lumea Take?
I timed myself using my Philips Lumea, and here's exactly how long it took. Bear in mind that the first time I used it, it probably took about double the time because I was still figuring things out.
Underarms – 1.5 minutes.
Bikini Line – 7 minutes. (Although this will depend on how much area you cover).
Calves – 14 minutes.
Top tip: if you hold the button down and drag the Lumea Prestige up your leg, it will flash automatically along the way. This speeds things up considerably.
Does IPL Hurt?
Not really, although in some patches it did a little bit. Especially the back of my knees, and my bikini line region. I've seen it described somewhere as feeling "like a hot elastic band" hitting you, and I'd say that's about accurate. A tiny, hot, and very fleeting pain.
Does the Philips Lumea Work? My Results!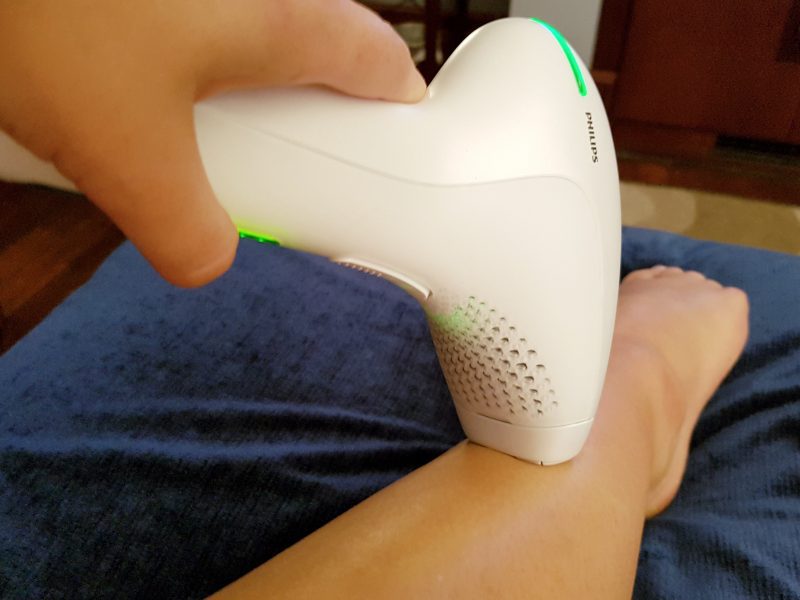 Let's face it, this is the only bit you care about. How long does Philips Lumea last? Are the results worth the cost of the contraption?
Personally, my results were mixed. It all depends on things like your skin tone, hair thickness, and hair colour – so it's tricky to predict how well it's going to work for you. Here's how it worked out for me…
Legs
The results of the Philips Lumea on my calves were a tad disappointing. I had dreams of completely hair-free legs lasting weeks at a time. But, the hairs on my legs are mostly quite fine and light. This isn't ideal for IPL treatment, which works best on thicker and darker hairs. However, by the end of the initial eight week treatment period, my legs were staying smoother for longer. Before IPL, I used to get faint stubble by the end of the day if I'd shaved in the morning, and visible re-growth the next morning (curse my quick-growing hair!).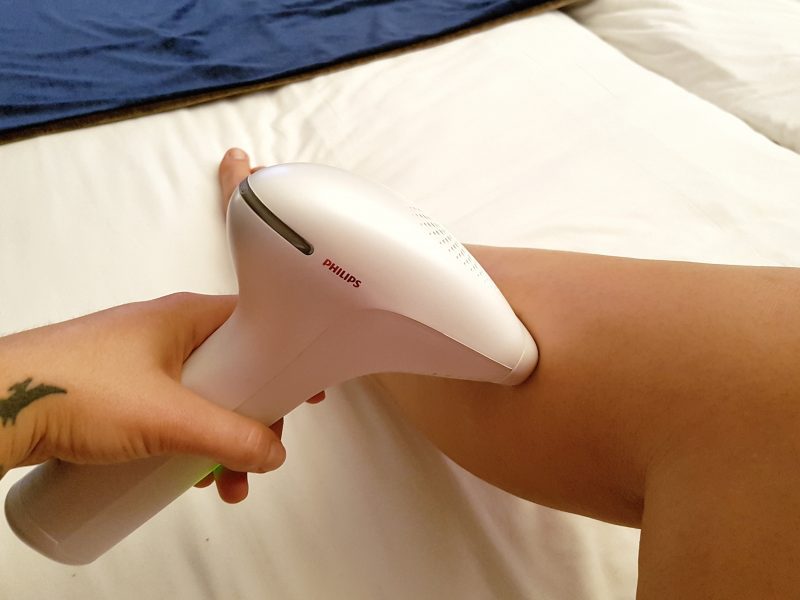 Now, the faint stubble doesn't appear until towards the end of the second day. It's also a lot less visible. My theory is that the IPL has worked really well on the darker hairs which lurked amongst my fine blonde hairs, so that the remaining hair is the stuff that's slower to grow and less visible. I'm happy enough with those results, and I'll definitely keep on using the Lumea on my legs every four weeks or so!
Bikini Line
This was the whole reason I wanted IPL, so this is what was most important to me. In an effort to be upfront about my experiences, allow me to overshare for a second (I'm cringing so much right now!). My hair in this region is thick, dark, fast-growing, and not just confined to the neat little triangle I wish it would stick to. It's this section, the bit that's clearly visible outside of a bikini, that I wanted to tackle.
And yes, after several treatments, the Philips Lumea treatment really did work. The hairs from that region haven't gone completely, but the area is more or less hair-free. But the best results were across the top, which barely grew back at all. I wasn't able to do a session for six week period I was travelling Indonesia. But by the time I got home, the section of hair where I used the Lumea was still much less dense than the rest of the area.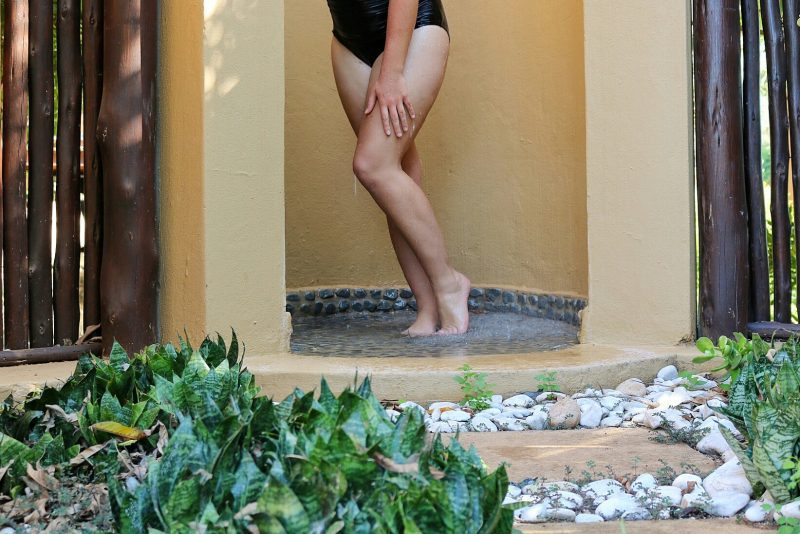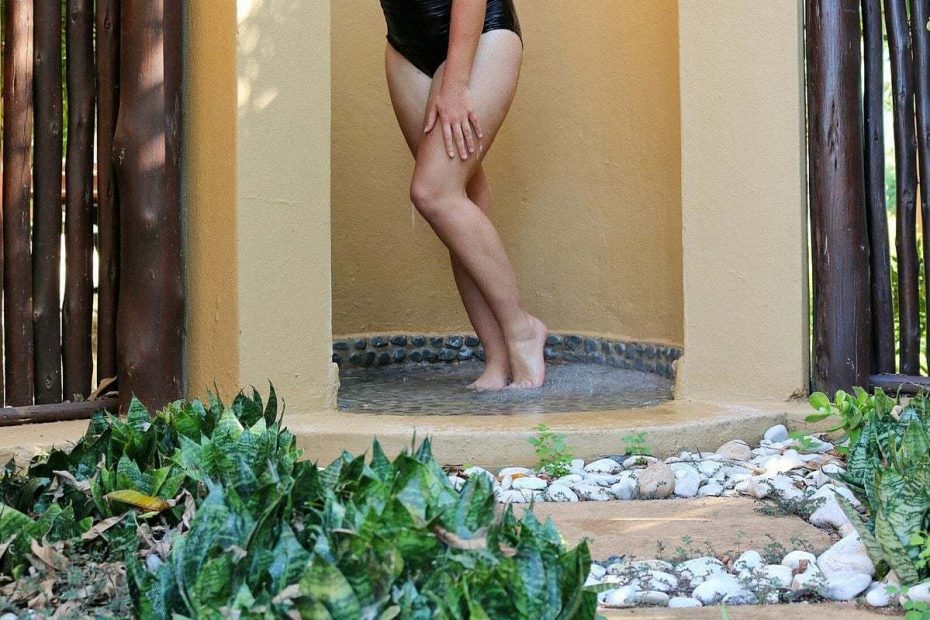 Underarms
I haven't been able to fully test this out yet, because I only started working on my underarms quite recently. But after the first two sessions, the hairs were already growing back noticeably slower and less thick. I'll update this post after I've been treating my underarms for a while longer.
Is IPL Safe?
This was my biggest concern before getting started, so I made sure to do some research first. And yes, it seems that home IPL treatment systems, in general, are perfectly safe. IPL has been around for 25 years and there have been no reports of side effects or long term damage. (You'll find a few sources below).
The Lumea was developed with dermatologists over 14 years of research, and meets EU safety regulations for home-use appliances. And of course, Philips is a very trustworthy household name – so I feel totally confident using the Lumea Prestige. Check their FAQ's and instructions for more information before using, though. And if you're still not sure, here are a couple of sources that may come in handy:
Have you tried a home IPL system like the Philips Lumea Prestige? I would love to hear about your experiences and tips. Scroll down to leave a comment.