Some posts on this site contain affiliate links. If you book or buy something through these links, I earn a small commission (at no extra cost to you). Take a look at my privacy policy for more information.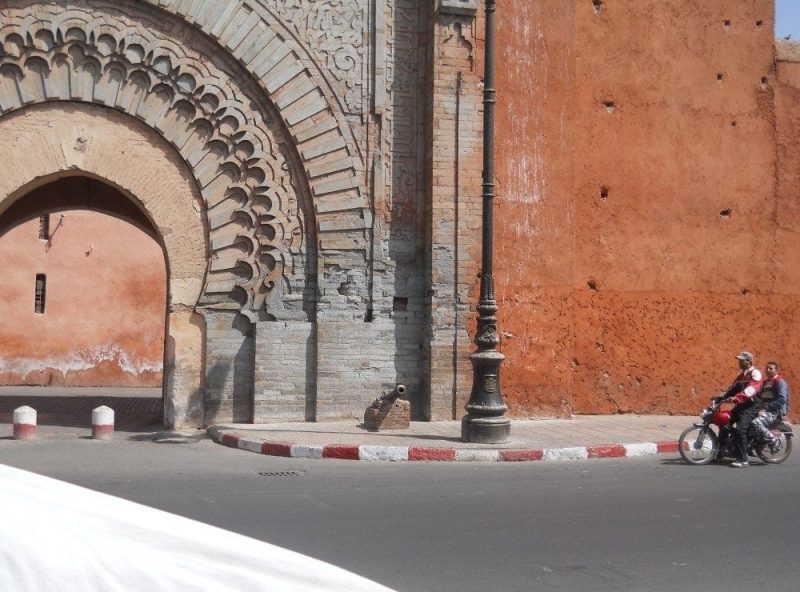 Lately I've been missing Moroccan breakfasts, which are essentially my perfect meal. On the first morning, we sat at mosaic-tiled patio furniture in the peaceful courtyard of our Riad, and stuffed our faces with freshly squeezed orange juice, sweet mint tea, and a selection of breads and cakes. Moroccan bread, which is a large flat circle and resembles a thick, doughy pizza base, is served with every meal. It's crusty, with a soft and sweet middle, like French bread, and great for dipping in olive oil as the locals do. We also had pancakes with honey, and a cake a little like brioche with chocolate and walnut.  Lots of goodies for my sweet tooth, and delicious tangy juice, all served outdoors amongst leafy plants, fragrant orange trees, and tiny little chirruping birds. What a way to start the day; so much better than shovelling bran flakes at my desk at work!
All those carbs for breakfast are perfect to keep you going in Marrakech. After breakfast, we plunged straight into the souqs, which are a five minute walk away from Riad Dar Nabila, at the bottom of the Rue El Gza. At the end of the road, as we contemplated the fork which wasn't present on the guidebook map, our two second pause invited about five different shouts of "Big Square, that way!" In Marrakech, every local wants to send tourists to the square, no matter which direction they're headed. Not wanting to disappoint, we turned right and ploughed bravely into the souqs.
The souqs are a pretty overwhelming experience, which gets only slightly easier with practice. The map in our guidebook made the them look small and simple, and although it described the area as a labyrinth, I assumed that was an artistic exaggeration. Labyrinth, however, is the only word I can think of. The souqs are an intricate network of covered streets and alleys lined with stalls and shops – some of which are just a shop front, while others are deep caverns filled with piles of silver teapots or handmade copper lanterns. Many of the streets are unnamed, several double back on themselves, and the best guesses at the number of roads in this maze range from hundreds to thousands. Confusing is a shameless understatement.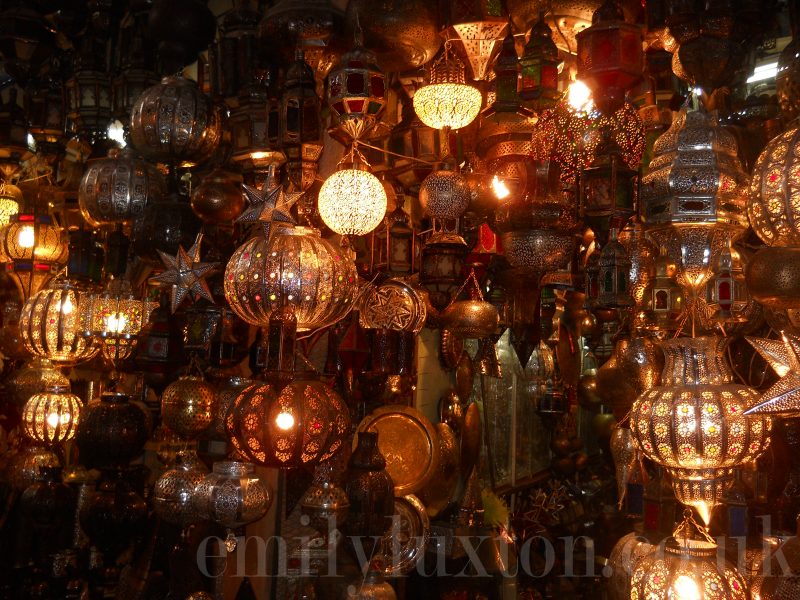 So, we ditched the map and just wandered. In my opinion this is the only way to "do" the souqs, although if you want to take your shopping experience very seriously you could take an expert guidebook with you, like Susan Simon's Shopping Marrakech. With the dim light filtering through the slatted wood covering, and the winding stone alleys packed from floor to ceiling with Moroccan crafts and glittering treasures, the souqs are like an Arabian Nights fantasy. We ducked through a doorway into a courtyard surrounded by artisans' workshops, a sudden calm amongst the bustle of the markets. Next door we were summoned into a real-life apothecary by the owner, a lively salesman. Huge glass jars filled with brightly coloured dyes – magenta, scarlet, indigo – or rich yellow and red spices, lined three walls from top to bottom. We walked away with a bottle of bright orange, nutty smelling argan oil and a bag of Ras El Hanout tagine spices. The name means "head of the shop" in Arabic and is a selection of the seller's best spices – I'm assured that I've brought home the finest blend of forty five spices!
Eventually, we emerged blinking into bright sunlight and found ourselves confronted by the insanity of the Djemma El Fna. The huge square at the centre of the city is filled with carts lined with oranges and selling fresh juice, or stalls heaped with dates of more varieties than I knew existed. Men led Barbary apes on leads, and drummers in elaborate traditional costumes played for tips. We passed women in berkers (and one man in drag) offering henna tattoos, and one old man sat in front of a tray of teeth offering al fresco dental work. The non-stop soundtrack is of the shouts of hawkers and the high-pitched whine of oboe music from snake charmers, who squat by coiled black cobras waiting for tourists to stray too near. We were accosted immediately and before we knew it, found ourselves posing for photos with water snakes entwined around our necks. After the charmer blessed us for "good luck and good sex" with a kiss from the snake (and promised Sam six children), he began pressuring us for 300 dirhams – we settled on 100 (about £8-9).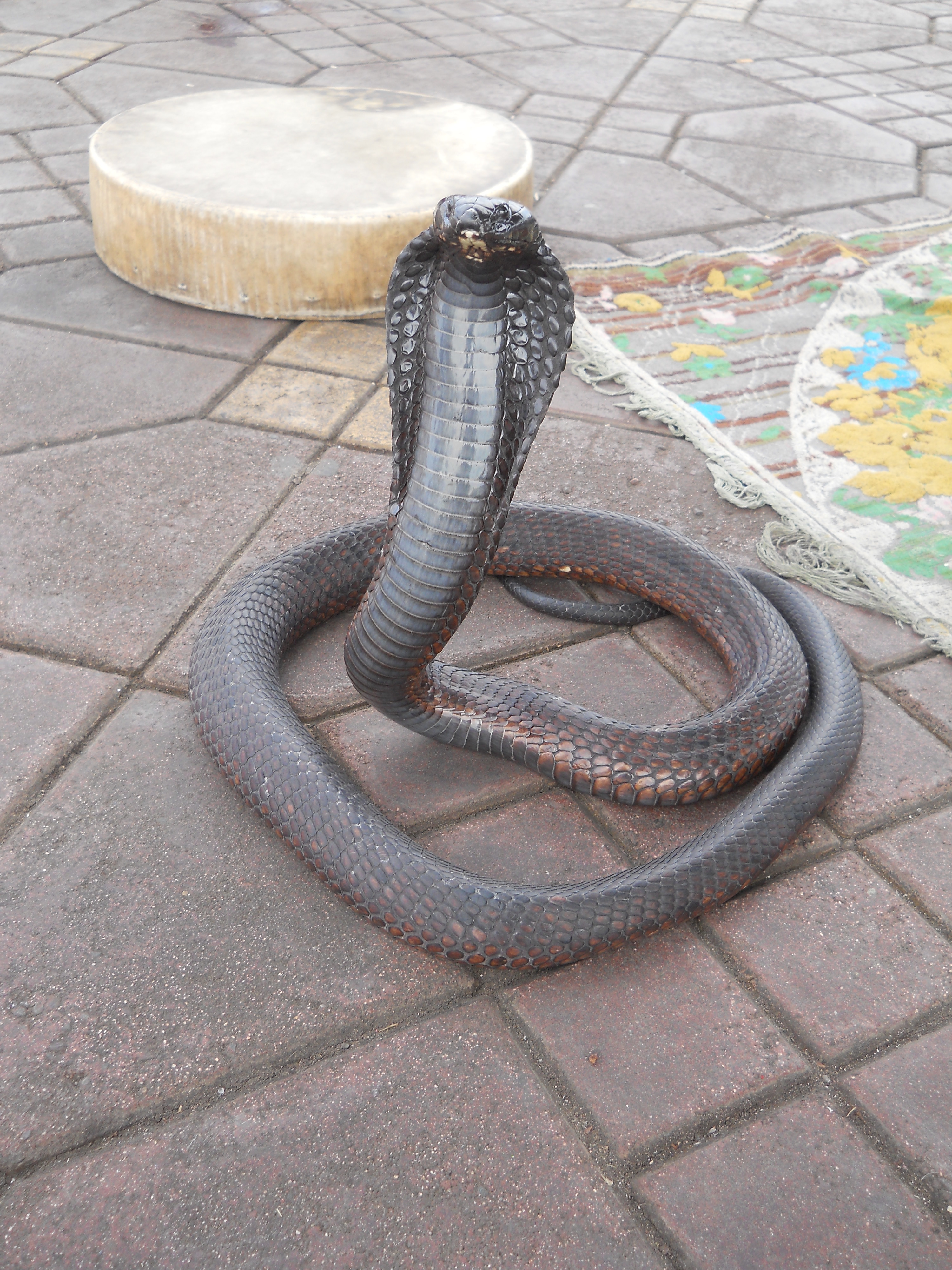 Any article or guidebook I read before coming to Marrakech failed to mention one important fact when describing the Djemma El Fna; that it's full of salesmen. Tourists will not be left alone; at one point we stood still and took bets on how long before we were approached: I was right on the money with 30 seconds. What I learnt quickly was never to ask "c'est combien?" and to just give coins. Apart from the gentle harassment, though, the Djemma El Fna is a fantastic experience; like a bizarre, over-crowded movie set.
As our first day was a bit of a sight-seeing binge, I think I'll stop at the half-way point and pick this up again later!