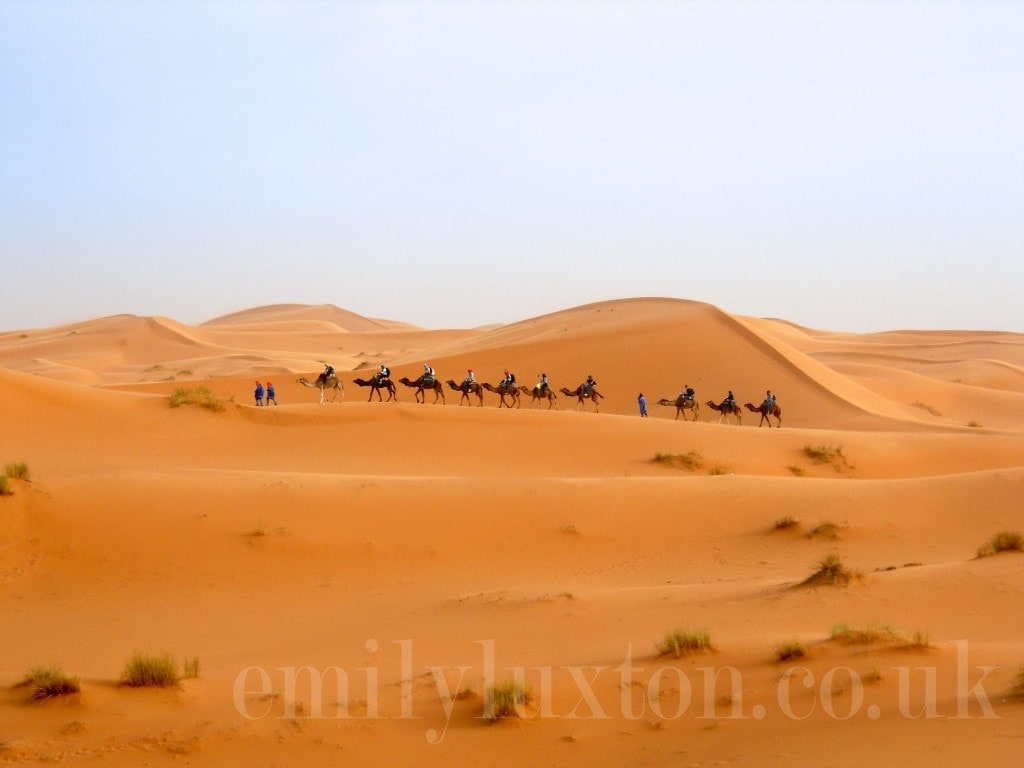 Want to visit the Sahara desert in Morocco, but prefer to avoid organised tours? This how-to guide may help. It's based entirely on my own experiences and the research I did for my own trip in March 2012. Although the prices may have changed slightly since then, I believe most other details remain the same.
There are lots of package holidays and tours available to take tourists from Marrakech or Fes to the desert, which can be a great way to get to the desert with an experienced guide and without the need to organise too much yourself. However, if you want to visit the Sahara on a budget, or you simply prefer the freedom of independent travel to the organised structure of a tour, then a DIY trip to the desert is entirely possible, even if the internet seems to suggest it isn't. It is also a cheaper option and offers a great deal more choice.
I travelled to Erg Chebbi from Marrakech in March 2012; in this post I've tried to put together in one place all the information I had to trawl the web for while I was planning my independent desert trip, along with everything I wish someone had told me before I left, in the hope that it will assist others in making similar plans.
Update July 2017 – Most of the information contained below should still be correct. Bus times may have changed, and prices have probably increased slightly. If anyone has any more info please leave a comment to update us!
Which Dunes Should I Visit in Morocco?
There are two Saharan Ergs (areas of shifting dunes) in Morocco, Erg Chebbi and Erg Chigaga. They are both situated in the remote south/south eastern desert region of Saharan Morocco beyond the Atlas mountain range. As I have first-hand experience of organising a DIY tour to Erg Chebbi, the remainder of this article will focus on those dunes, particularly as it appears that the more remote Erg Chigaga is best seen through an organised tour. However, I've included a quick summary of both dunes below. You can also see this Lonely Planet forum thread debating the two options.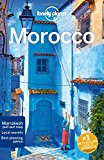 Erg Chebbi
Home to nomad Berbers, these are the smaller of the two ergs, at 22km long and 5-10km wide, but reach a greater height of up to 150 meters. Although further from Marrakech, the nearest town of Merzouga is right on the edge of the dunes, just 1km away, meaning that you can stay in a hotel in town and still walk to the dunes in a few minutes. This makes Erg Chebbi far more accessible, and much easier for a DIY trip. This easy access makes the dunes very popular with tourists, which means more guides and souvenir touts, but also that locals are used to tourists and don't care about things like unmarried couples travelling together – which can be a problem in some rural areas.
Erg Chigaga
These larger dunes, historically occupied by Bedouin Arabs, are around 40km long and 10-15km wide, reaching a height of up to 120 meters. Erg Chigaga is 60km from the nearest town of M'Hamid and can only be reached by 4×4, which takes a few hours, or by a 2-3 day camel trek. There are hotels in M'Hamid, and campsites nearer the dunes. Although M'Hamid is nearer to Marrakech than Merzouga, Supratours bus company don't yet travel there. According to Wikitravel, the CTM bus company do travel to M'Hamid, but as they don't have a website I can't confirm this. This inaccessibility, and the need for an off-road vehicle, means that a trip to these dunes is probably better organised through a tour, except for the more intrepid explorers.
Before you read on, watch this ad to donate some money to charity (and help my blog out). More info here.
Where to Visit the Desert in Morocco
When I was researching my trip, I was led to believe at first that the best place to see the desert was Ouarzazate. This is in the huge flat landscape of dusty grey rubble which constitutes the majority of Morocco's desert region and which in no way resembles the kind of desert tourists are expecting when they think of the Sahara. To see a real desert of undulating golden sand dunes you have to head to Erg Chebbi. The nearest towns to Erg Chebbi are:
Erfoud (biggest nearby town) – 60km away
Rissani – 40km away
Merzouga– 1km away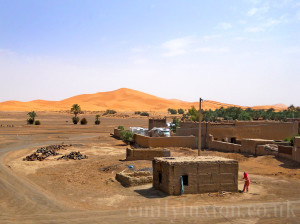 The larger towns of Rissani and Erfoud make a good base to explore other sites in Saharan Morocco as well as the dunes – which are still a couple hours' drive away – and would be good places to stay if your schedule isn't as tight as mine was, and you have five or six nights in the area. If your only goal is to head to the desert, the best place to stay is in the tiny town of Merzouga or its surrounding villages like Hassilabied, as I did. There are a number of hotels and campsites in these towns, and local guides can be hired quite cheaply to lead a hike or camel trek into the dunes.
Timing
Unfortunately, a trip to the Sahara is not something that can be done in a day or two. The drive to the dunes from Marrakech takes up a whole day, and with the return journey leaving early in the morning one night wouldn't allow enough time to actually see the dunes. I'd recommend three nights, particularly if you're getting the bus there and wanting to spend a night in the dunes. If you're driving down, and don't want to camp in the dunes, you could squeeze it into two nights. Our itinerary looked like this:
DAY ONE
08:30 Depart Marrakech
21:00 Arrive Merzouga.Check in Hotel Mamouche
DAY TWO
Morning and afternoon in Hotel /exploring Hassilabied
16:00 Depart for camel trekCamping in the desert
DAY THREE
07:00 Camel trek back to hotel.
Afternoon and evening in hotel/exploring Hassilabied.
DAY FOUR
08:00 Depart Merzouga
20:30 Arrive Marrakech
How to Get to the Desert
You can fly into Marrakech, Fes or Ourazazate; Merzouga and the surrounding region can be easily accessed from all three (Ouarzazate is closest). There is no railway in this part of Morocco, so the town can only be accessed by road. You can take a bus, or hire a car and drive yourself there.
Taking the Bus to Merzouga
As far as I know, the only bus company that goes all the way to Merzouga is Supratours (www.supratours.ma). Other companies, such as CTM, travel to the nearby towns of Rissani and Erfoud, but don't go all the way to the dunes. The journey from Marrakech to Merzouga is twelve and a half hours, from Fes to Merzouga (overnight) about ten hours forty five minutes. Supratours are a relatively new company and boast new, comfortable, clean buses, with decent air con. Tickets cost Dh200 per person each way, and can be bought on the day at the bus station or in advance at the Supratours office, and can also be reserved on the phone. It's worth noting that you can only buy tickets for the 'to' journey; the return tickets need to be booked at the return station. The bus is fairly uncomfortable, particularly as it is such a long journey. However, the scenery is amazing, and this is definitely the cheapest way to get down to the desert.
Some things that it is worth knowing about the bus journey:
There are no toilets on the Supratours buses. There are two twenty minute stops, the first at two hours in and the second about seven hours in. When the bus stops to let people on and off, most of the passengers will get out to have a cigarette – you can jump out here and use a toilet in a nearby café but the bus may not wait for you, so it's risky. I've also seen online that the Fes – Merzouga journey only stops once.
The shops at the bus stops only sell things like crisps, biscuits and sweets. You should buy sandwiches or fruit before leaving Marrakech if you want a proper lunch.
Supratours Marrakech – Avenue Hassan II, Nouvelle Ville – behind the train station. 0524 42 17 69 or 0524 43 55 25.
Supratours Fes – BC Almohad. 0535 65 26 22
Supratours Merzouga – Merzouga Charkia. 0535 57 63 43.
Self-Driving to Merzouga
The other option is to hire a car in Marrakech or Fes, or drive your own car or caravan down through Spain, and drive yourself down to the desert. The journey largely follows the same road all the way down, so with the help of a map and Google directions it shouldn't be too difficult to make your own way. You can rent a small car with aircon for around £130 for four days (I don't recommend going without aircon on this journey).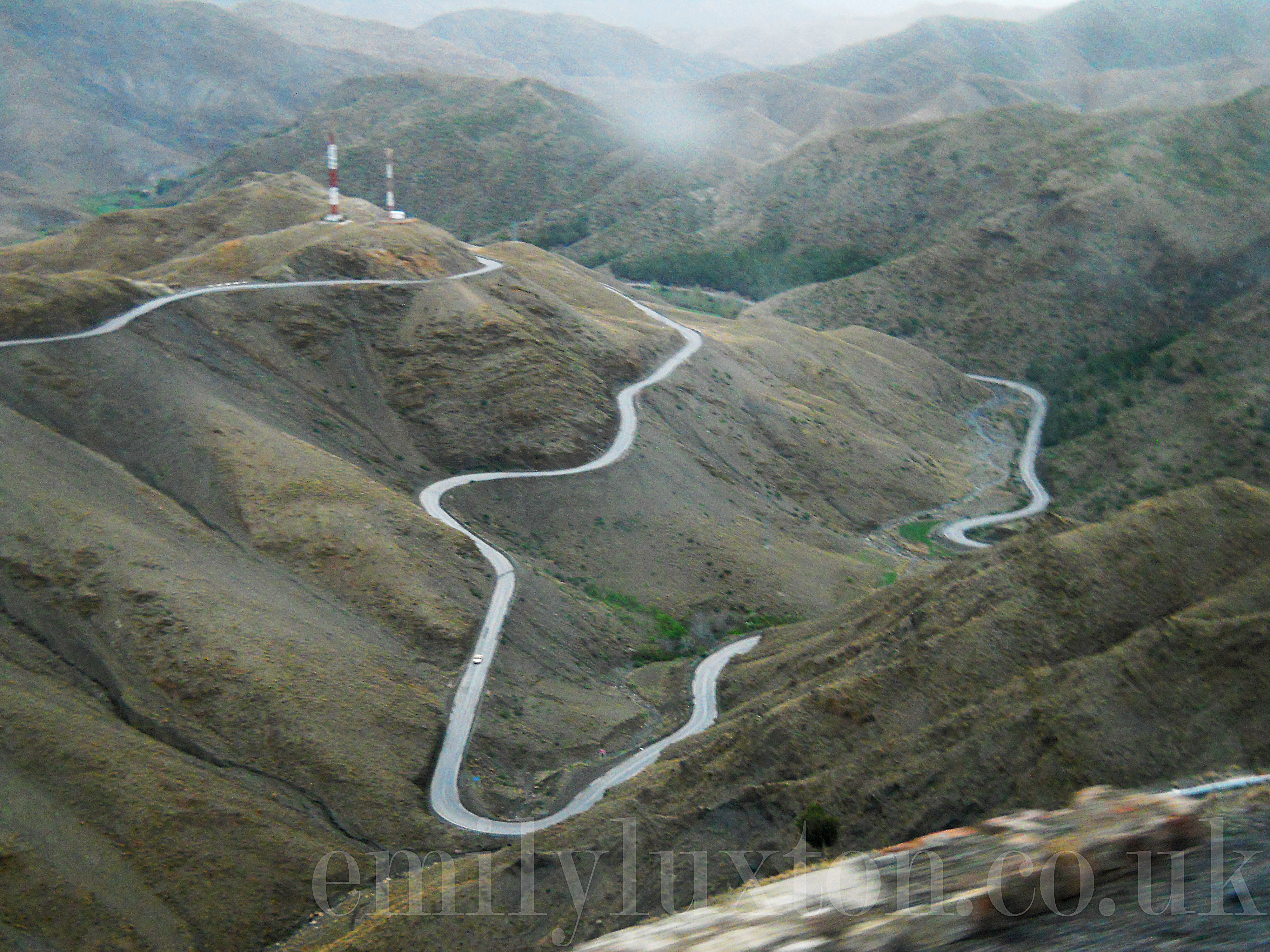 With most companies, you'll need to have held a driving license for more than two years. You'll also need a credit card in the driver's name with at least £500 available for pre-authorisation; you won't be charged this amount but need to show that you can cover the excess should anything go wrong.
Although more expensive than taking the bus, the journey without all the stops takes around eight hours (according to Google maps) as opposed to the twelve hours on the bus. Renting a car obviously offers more freedom, too, to stop when you like. You can also make detours to take in some of the sites of the region, including the spectacular Todra Gorge or Dayet Srji, an enormous salt water lake near Rissani, which is home to a large number of flamingos.
It's worth noting that although the drive is fairly straightforward, it does involve crossing the High Atlas Mountains using precarious, winding roads with sharp corners and no barriers between the road and the sheer drops alongside. Other drivers are prone to speeding, and to overtaking on blind corners: even our bus driver happily overtook two or three cars at a time on a narrow road, seemingly un-fased by the huge drop falling away on our left. I'd say that only very confident drivers should be undertaking this trip alone. That being said, the views are incredible and there is a lot to enjoy on the drive through the mountains.
If you fancy doing a self-drive trip to the desert in Morocco, use a comparison site like Rentalcars.com to find the best deal.
Where to Sleep
This is the most straightforward part of planning the desert trip. There are lots of hotels in Merzouga and the surrounding area offering a range of services and prices for all tastes and budgets. Just do a search on one of the hotel comparison sites and pick your favourite – I used Booking.com, which had tons of great options. There is also at least one caravan park in the nearby village of Hassilabied, and some hotels also offer campsites close to the dunes as a budget option.
I'd be very happy to recommend the hotel we stayed at, Riad Mamouche. See my earlier review for more information. The staff were lovely, the food was great, and we were even able to arrange our dune tour through the hotel.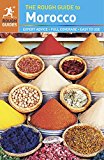 How to See the Dunes in Merzouga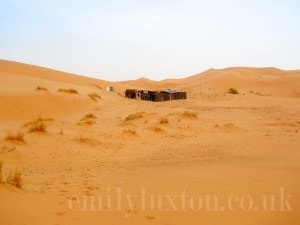 Erg Chebbi is relatively small, so you could hike into the dunes alone without risking getting lost as long, although a compass would be handy to find the direction of home. Most people organise a camel trek – fairly uncomfortable but really fun – which can be booked locally in Merzouga or organised through your hotel. The best time to see the dunes is at sunrise; there are lots of Berber camps in the heart of the dunes so you can organise to camp in one and wake up early to catch this incredible site. We organised the whole thing in advance through our Hotel, Riad Mamouche, by emailing the manager. A guide led us on a camel trek to the camp, we had dinner and then woke up around six am to watch the sunrise, before another camel trek back to the hotel.
How Much Will it Cost?
The following is based on what I paid for during my four day trip in March 2012. Conversions were correct at the time of printing and rounded up to the nearest pound.
Bus journey from Marrakech – Merzouga and back – Dh400 per person (£29)
Hotel double room for two nights, two people sharing – €80 (£65)
Camel trek and one night camping in the dunes, including dinner (organised through Hotel Mamouche) – €35 per person (£29)
A total of £90.50 per person for a three night trip, plus spending money for food, souvenirs and a tip for your desert guide.
What to Pack
Because Merzouga and the surrounding area is a relatively small town, it's polite to respect the local custom of dressing modestly, even if the locals are used to tourists. Keep arms and shoulders covered, and wear shorts or skirts that cover the knee. I wore vest tops with a light cotton scarf over my upper arms and shoulders, and I didn't feel at all uncomfortable walking around the hotel or the town. We went in March and it was baking hot, and very dry. Loose clothes and sun cream are vital.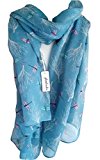 Also, take an Arabic phrasebook. English isn't as widely spoken in this area as it is in the cities, and certainly isn't as strong. A French phrasebook will certainly come in handy in Merzouga, and it wouldn't hurt to learn a few Arabic phrases just to be polite and make a good impression. The only one I managed to learn was shukran, meaning thank you, which it is always nice to know.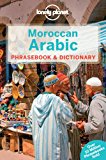 Desert Packing List for Morocco
A scarf to protect your hair and face is incredibly useful, as sand gets blown everywhere if the wind picks up. I'd also recommend keeping arms covered with another scarf, or long sleeved top, as when it is windy the sand has a tendency to sting bare skin. A skirt or dress is highly impractical, especially on camels. Loose shorts, or a pair of baggy 'harem' trousers (I swore by these on my trip) are ideal, and you can pick up some really cool designs for around £8 on Amazon
: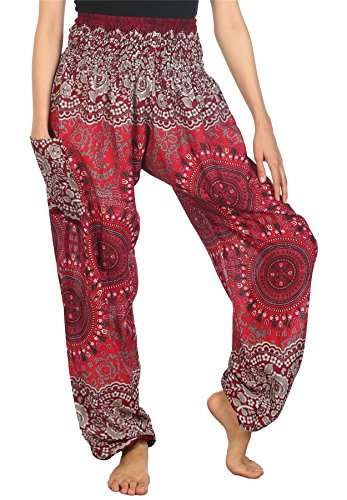 On your feet, wear sandals with straps, or a pair of lightweight trainer pumps like Converse
. Avoid pumps or flip-flops as they might fall off while you're riding the camels, and there's no need to waste suitcase space on bulky trainers or walking boots unless you're planning a long hike through the dunes.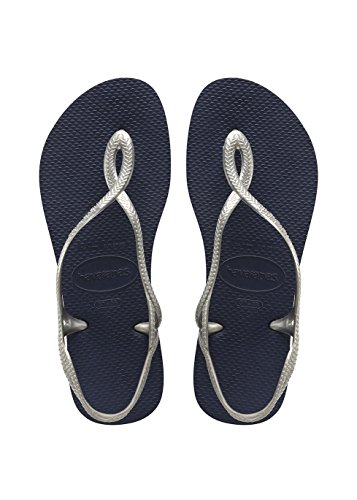 At night, it was really windy and terribly cold. Plenty of blankets were provided at the camp, but I also wore a long sleeved top, jumper and leggings under my pyjama bottoms.
I'd also recommend a rucksack, torch, bottled water, antibacterial hand gel, and tissues (the camp had a toilet but only one roll of precious toilet paper). And of course, take a camera!
See also
My travelogue posts about my own Morocco desert trip:
Booking and information websites:
So, there you have it! However you reach the desert in Morocco, enjoy it – and please get in touch to let me know about your experiences.
Help me keep this post current to assist other travellers planning a DIY desert trip. Please comment here or contact me if any facts/prices need updating. If you found this post helpful – why not pin it to share with others?