Some posts on this site contain affiliate links. If you book or buy something through these links, I earn a small commission (at no extra cost to you). Take a look at my privacy policy for more information.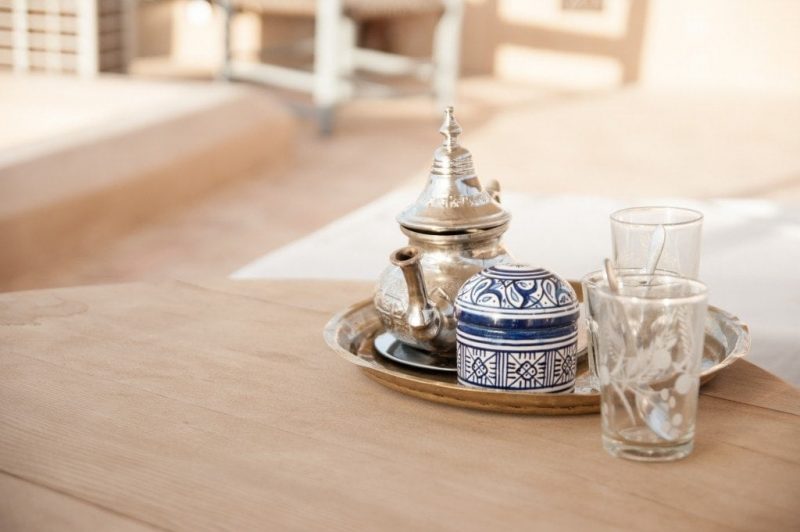 There are a few options when it comes to where to stay in Marrakech. I stayed in two different hotels while I was there, which were at either end of the spectrum, so can provide a bit of insight. On the far left are riads, very centrally located and usually run like intimate guest houses. In the middle ground are the large modern hotels of the Nouvelle Ville; within walking distance of the city centre and run the way hotels are the world over. On the far right are resorts in the Palmerie; usually a twenty minute taxi ride from the city centre and offering a more exclusive, high-end experience. There are, of course, pros and cons for all three options, so I've produced this little guide to break down all the information. Hopefully it will be of use to anyone planning a holiday in Marrakech.
Where to Stay in Marrakech
Riad
There are hundreds of riads in Marrakech. Traditional mansions built around central courtyards, often dating from the seventeenth century, these are being converted in the hundreds into spectacular guest houses. Meter-thick mud walls, with no external windows, block out the noise of the city and keep the interior cool. Brass-studded wooden doors lead into tranquil courtyards with trickling fountains, orange trees, archways and cosy seating nooks. These beautiful buildings often contain some fantastic examples of Moorish architecture and Marrakeshi craftsmanship. Riads in Marrakech are clustered around the Medina, the historic city centre, which is right where the action is; where donkeys and mopeds race up winding alleys, the wares of over-stuffed shops spill out into the road, and where all roads lead to the Djemma el Fna.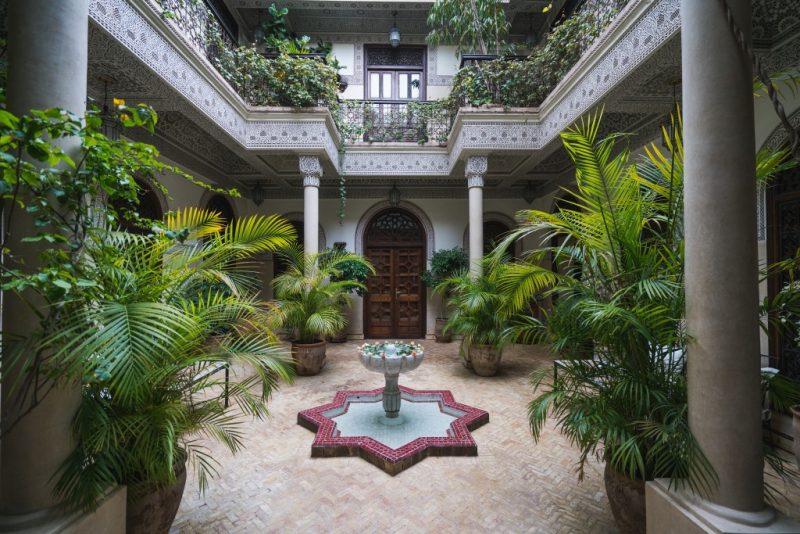 Prices vary across the board, depending on size, décor, and the services offered. A double room at a basic riad can start at around £25 a night, but can leap up as high as £300 for some of the high-end places. There's always a little special touch or 'unique selling point': beauty or massage services, candlelit dinners, or palace inspired décor. Many riads offer additional services like guides for the souqs, private drivers, Moroccan cooking lessons, or a relaxing hammam.
Of course, a riad isn't always suitable. Many of them are far from the main roads or difficult to get to. The small buildings and lack of lifts tend to make them unsuitable for families or wheelchair users. But most of the inconveniences are part of the charm of Marrakech; this is a city where nowhere is easy to find, where most of the roads are difficult to traverse, and where everything is small, cluttered, and cosy. A riad lets you stay right in the heart of the city, live like a local, and enjoy some genuine Moroccan hospitality, which is by far friendlier and more genuine than the glossy customer service of some of the larger hotels.
Nouvelle Ville Hotel
Marrakech's new town, a tidy neighbourhood added by the French colonial government between 1912 and 1956, is filled with wide boulevards, pretty little gardens, shopping malls, boutiques and luxury stores. French bistros and patisseries vie with antiques shops and art galleries for space on the tree-lined avenues, and although the traffic can be just as crazy as in the old town, roads do become more peaceful the further out you go. Fancy hotels, blending colonial architecture with the traditional Marrakeshi pink, can be found on every street.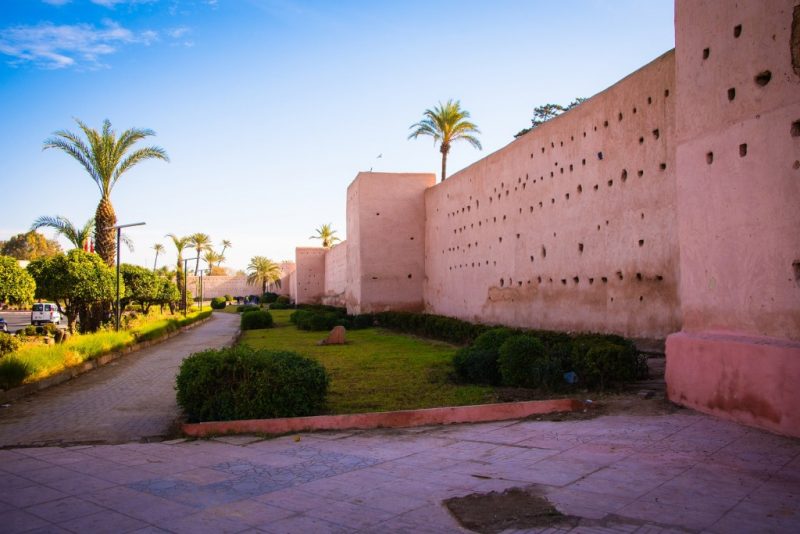 The Nouvelle Ville is around a twenty to thirty minute walk from the Djemma el Fna (heart of the old town). This means a hotel here can still make a good base for exploring the city, and would be especially great anyone too daunted by the unnavigable roads of the city centre. These large hotels have more space to offer pools, bars, hammams, and restaurants. Because they're generally out of sight of a mosque, hotels in the Nouvelle Ville can serve alcohol – something you'll struggle to find in the Medina. Menus here will generally be less repetitive than in riads, too; often a hotel will boast more than one restaurant for a lot more choice. Rooms tend to be furnished in the simple, modern style offered by most hotels, and the spaciousness, marble floors and lifts are obviously going to be better for wheelchair users or families with young children.
Although I didn't stay in the Nouvelle Ville, I did visit a couple of the hotels for drinks, and used the hammam at the Ryad Mogador Menara. Service I experienced was polite and efficient, but not at all personal; generally I found these hotels lacked the intimacy I experienced in my riad. In the bars, prices are high and courteous table service is a standard. Décor varies depending on the personality of the hotel, from ultramodern white with neon trim, to grand and colonial, with pink marble and chandeliers. Prices vary, but start at around £45 per night – although this can increase dramatically depending on the season.
Update 2018 – I've since revisited Marrakech and stayed at the Sofitel in the Nouveau Ville. It's perfect if you want a more luxurious holiday.
Palmerie Hotel
There are some amazing resorts in the Palmerie area outside Marrakech, with an exclusive club vibe and generally spectacular grounds. The Palmerie is a 5260 hectare oasis outside Marrakech, home to groves of date palms in the thousands, golf courses, and incredible luxury hammams. Hotels are large and grandly decorated; four poster beds and Arabian Nights themes are commonplace. Resort grounds often house large pools, tennis courts, and stunning gardens.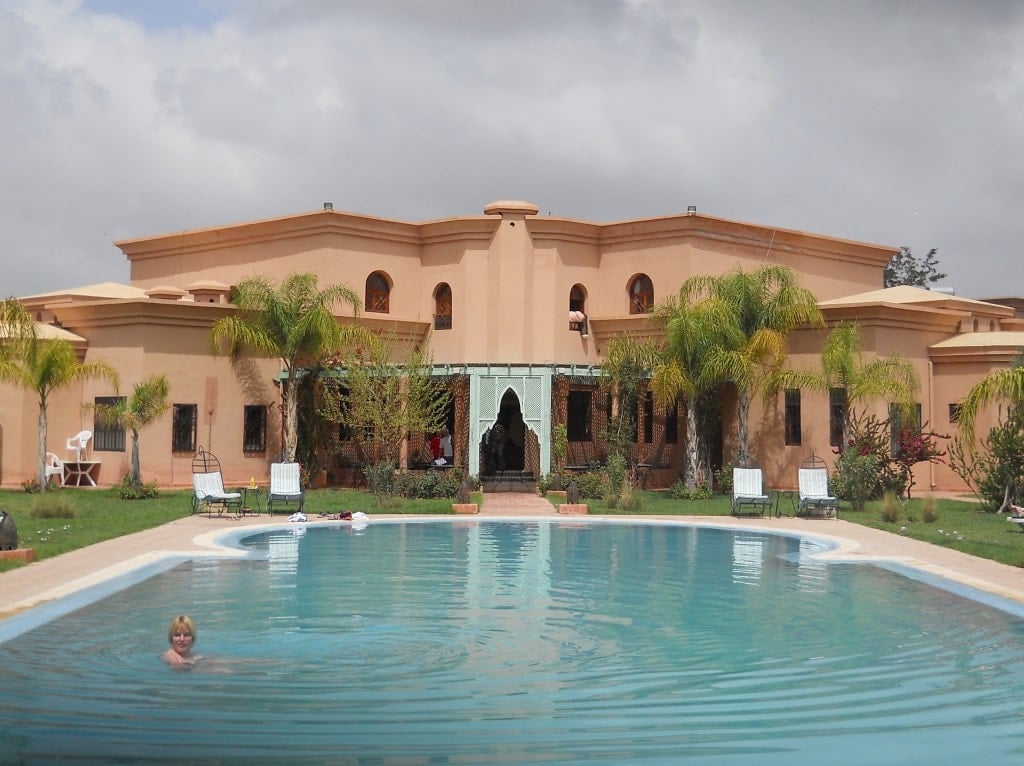 Prices for these hotels are all over the place; we paid £40 a night for a lovely double room in a small resort, but you can pay £300 a night for a poolside room or £450 for a master suite at Palais Rhoul, as an example.
The Palmerie boasts some seriously luxurious resorts, and the surrounding greenery and wide open spaces make for a truly relaxing holiday. But these resorts are well and truly outside Marrakech; a twenty minute taxi ride to the major attractions doesn't really give you a chance to get to know the city around them. Although these resorts are wonderful, I think holidaying here can neglect the real Marrakech and really keep you away from getting to know the locals and the way of life. That being said, a little taste of luxury and relaxation is never a bad thing; if you're flexible you could always mix a holiday here with a few nights in the city, like I did.
Of course, these are just my experiences and opinions. I know that everyone wants something different. Hopefully this little guide will make it easier for you to plan a trip to Marrakech and figure out where you want to stay.
Information:
Medina – Riad Dar Nabila – 212 (5) 24384343
Nouvelle Ville – Ryad Mogador Menara – 1-888-790-5264
Palmerie – Palais Rhoul – 212 (0) 524329494
Palmerie – Hotel Las Palmeras – 212 (0) 524328387