Some posts on this site contain affiliate links. If you book or buy something through these links, I earn a small commission (at no extra cost to you). Take a look at my privacy policy for more information.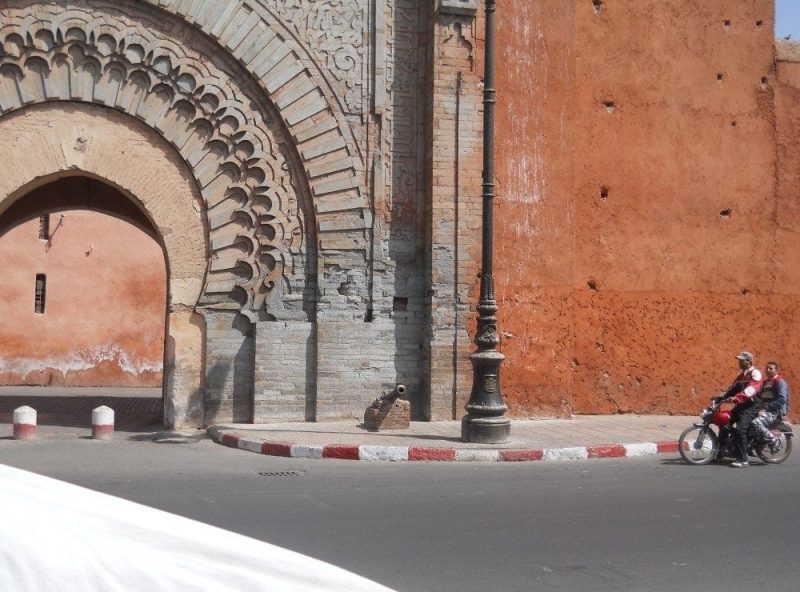 In general, the first afternoon wasn't our best in Morocco. After an incredible morning of discovery, we wanted to keep going, and packed so much into the day that it all became a tad overwhelming.
It started out great. After grabbing a light lunch of pastries from a shop near the Djemma El Fna – an extra sweet, spongy croissant for me and a something unnamed and stuffed with almond paste for Sam – we hired a caléche to take us on a tour of the city. These are bright green wooden carriages, drawn by two horses, which gather at the entrance to the Djemma El Fna by the Avenue Mohammed V. You can't miss them – for one thing a line of horse-and-carts is difficult to miss and for another, you won't slip past without the hawkers noticing you. We had more negotiating to do to get the driver down from 400 dirhams to 200 for one hour.
The caléche ride was a lovely, relaxing way to see the city after the chaos of the souqs and the square. We passed the Koutoubia Minaret, the three golden balls on the top glinting against the clear sky. The driver pointed out a few sights – the Kasbah Mosque and the King's Palace (no photos allowed) – but mostly I enjoyed watching Marrakech unfold itself like a fairy-tale city before me. Old men dozed out the front of their shops, people sold paintings and photographs by the side of the road, and outside one café a barbecue related disaster had veiled all the diners in a fog of smoke. Locals on mopeds zipped past performing incredible feats of bravery, weaving in and out of traffic, or arguing with the passenger behind them. We saw one man steering his moped whilst holding a sheep on his lap!
The caléche was a little stuffy; the red velvet seating, hot from baking under the midday sun, smelled musty and historic, like a museum interior. The stuffiness and the heat got the better of us, and we were both feeling dozy by the end of the hour. Out of the city centre, we clip-clopped past the ramparts – ancient city walls, pink and hugely thick – and into the Nouvelle Ville district, where traffic was calmer, roads were wider, and a little greenery adorned the salmon coloured walls. The colonial architecture and big, fancy hotels were a far cry from the narrow, dusty streets we'd been getting used to.
After the caléche ride, we wandered down to the Kasbah district in search of the Badi Palace. We never actually found it. Marrakech is confusing and once again, my guidebook map proved itself useless! What we did find were the Saadian Tombs, built by Sultan Ahmed el-Mansour el-Dahbi in the 16th century. You enter through an incredibly narrow passage – single file, please – between high walls. Apparently, the tombs were walled up by one of the successors of el-Mansour, in a bid to forget his predecessor, and were 're-discovered' by aerial photography in 1917.
A pretty interesting history, but I'm sorry to say the Saadian Tombs were a little bit of a disappointment for me. I'd seen pictures before going and thought this was going to be a huge complex of tombs with breath-taking architecture. That's not to say the tombs aren't beautiful, because the intricate carvings, mosaic tiled walls, and pink-brown marble pillars are lovely. It's just a little underwhelming; the complex is quite small, the rooms you can see into generally look the same, and beautiful carvings only excite me for a short amount of time!
After a short walk looking for the Badi Palace, we somehow ended up at the Bahia Palace instead. One palace is as good as another, we decided, so we headed on into La Bahia for a look. The rooms of this large, one-story mansion, spread around a central courtyard, are completely bare. The palace was looted after the Grand Vizier died, leaving the rooms starkly empty but still opulently decorated, an interesting contrast. The gilded, inlaid woodwork ceilings are pretty impressive, as are the latticed, woven and carved surfaces on every wall and archway, with turquoise and gold embellishments. The halls look sadly empty without furnishings, and it's hard to conjure up any real sense of grandeur in spite of La Bahia's décor.
Worn out from sightseeing, we decided to head back to the riad. The quickest way on the map was through the souqs. I can't tell you why logic didn't kick in and overrule that decision based on the experiences earlier that morning. Sadly, it didn't, and we strolled foolishly into one of the alleys leading away from the Djemma El Fna. Then into another alley, and then another, and we chose left, then right, then left again, trying to follow our increasingly diminished sense of direction. Before we knew it we were lost; not charmingly lost in an exciting country, but utterly, couldn't re-trace our footsteps if we wanted to, possibly never getting out of the souqs, lost. The multiple times we asked the way to Rue El Gza we were led or pointed in completely different directions. Even when we did finally find ourselves back on the main road, we somehow took another wrong turning and got ourselves lost again.
A kid claiming to know exactly where our riad was offered to guide us, even after our insistence that we had no money (only slightly true). I would have given him a bit of cash, but just like the night before he didn't really know the way and led us in circles until two of his friends (who we'd already passed twice) laughingly agreed to lead us. When we finally arrived back at the riad, taking what I now know to be a much longer route, I refused to give them any money. We didn't ask for their help and we told them we had no money. They got a bit cross, but thank goodness for Khalila – the riad manager – who chased them away with an aggression much bigger than her tiny frame.
We'd left the main square (about 20 minutes from our riad) around four o'clock. We arrived at the riad at twenty past six. So not the best end to a long, hot and tiring first day!
After showers, we had a good dinner at Restaurant Amalay in the Nouvelle Ville. I'll do separate reviews for all the food. The cool evening air relaxed us a bit, as did the food, but generally the first day in my memory is a heady blend of excitement, stress, and confusion.
Information
Caleche Ride –Dh 200 for one hour (negotiation required). Caleches are available on the Rue Moulay Ismail, near the Djemma El Fna.
Saadian Tombs – Dh10 per person. Rue de la Kasbah, near Kasbah Mosque.
Bahia Palace – Dh10 per person. Rue Riad Zitoun el-Jedid.