Some posts on this site contain affiliate links. If you book or buy something through these links, I earn a small commission (at no extra cost to you). Take a look at my privacy policy for more information.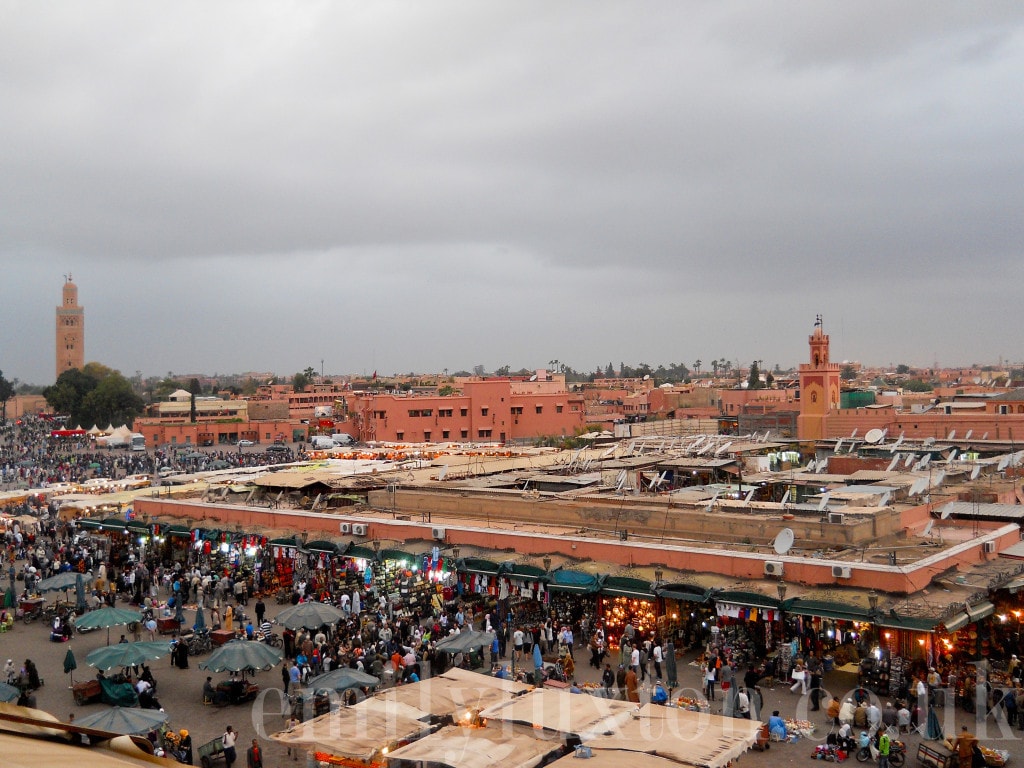 For our final day in Morocco, we took a taxi into Marrakech from our hotel in the La Palmerie (around Dh180) to revisit the city centre. Dodging snake charmers and henna artists in the Djemma el Fna like pros, we plunged into the souqs for one last shopping frenzy.
Even in bright daylight, the narrow alleys of the souqs are always atmospherically dim thanks to high walls and slatted wooden covers over the roads. I have talked about the souqs before, but they are a part of Marrakech that just keeps drawing you back and I can't resist revisiting them.
Centuries seem to have collected here to sit stagnant in these winding streets; meat hangs from hooks outside a hole-in-the-wall butchers shop opposite a store jam-packed with electrical items. Scooters whizz past crowds with no thought for pedestrians, while at the same time donkeys are trotting along with heavily laden carts.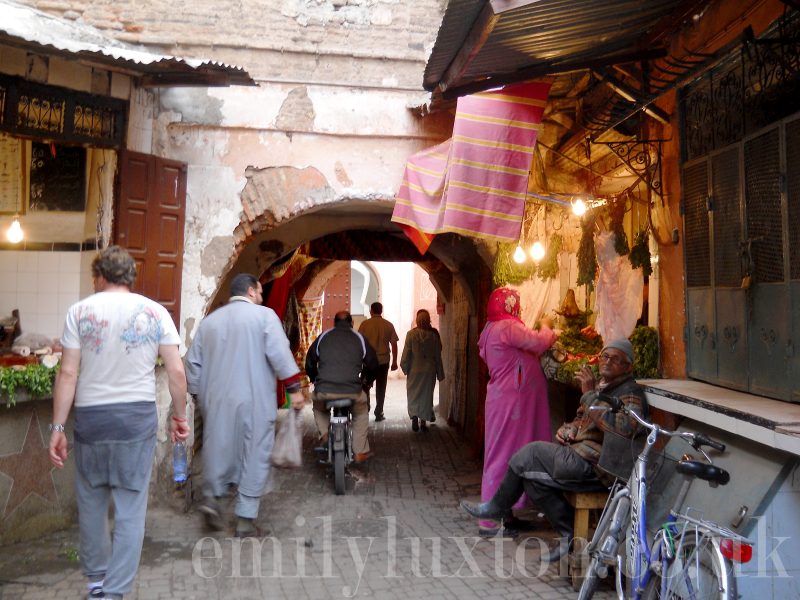 You can find everything for sale in the souqs. Just don't try to actually find anything. Streets you just walked down will vanish when you retrace your footsteps, a shop you saw earlier disappears without a trace.
There's something very Diagon Alley about this intricate maze where apothecaries stuffed with mysterious potions emerge from the darkness, and storefronts twinkle like Aladdin's caves, bursting with glittering brass lanterns and teetering stacks of silver tea sets.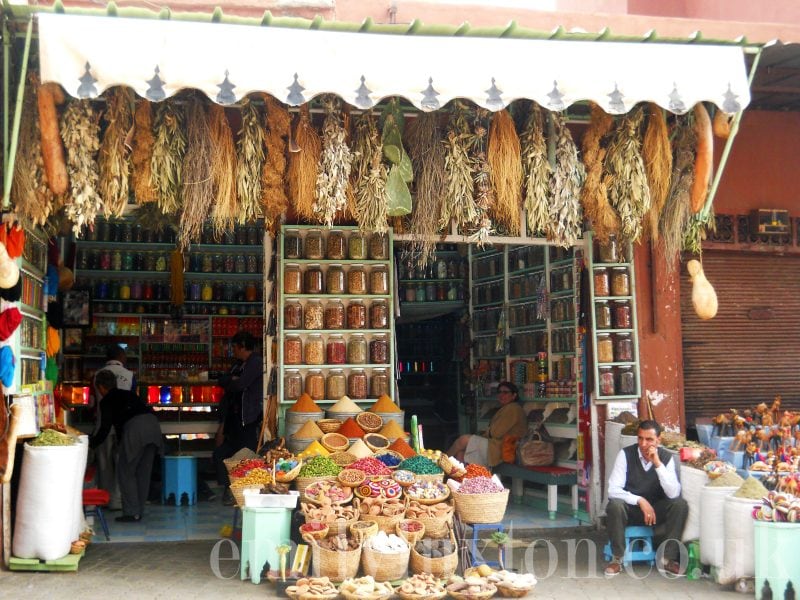 It's all so jaw-droppingly fascinating that you won't even notice the smells of raw meat, sweat, and decay. Besides, all that is overpowered by the white musk or amber that an eager salesman has rubbed on your clothes ("Berber Chanel Number Five") or the mouth-watering flavours of tagine spices hanging in the air around a little cafe .
The souqs operate at a hectic pace. Cries of balek! (watch out!) pelt over the din of donkeys, hawkers, children, scooters and tourists as men nimbly weave round shoppers, dragging carts loaded with goods. Locals who seem born with an in-built souq navigation system race and jostle down the poky side streets, and even tourists don't seem to want to stand still.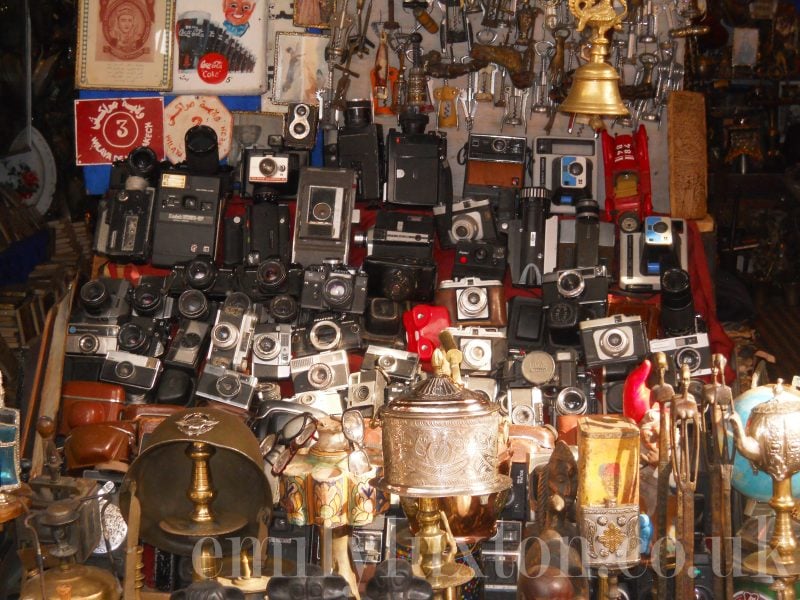 Funnily enough, though, actually buying something can be quite time-consuming. The process is dragged out like this…
You stop to look at something and a shopkeeper pounces out of the shadows, blocking off the entrance and cornering you in his shop. He asks if you like it, tells you how good it is, tells you why you need it in your life. You ask how much and he gives you a value three or more times the item's worth.
You shake your head and give the price you'd like to pay. He laughs at your ridiculous offer, or shakes his head with an act of offence. He offers you a slightly lower price than his original, saying it's a special price because he likes you. You stick to your guns and give the price you want to pay.
He says no, he couldn't possibly, it's far too low. You put the item down and start to walk away. He chases after you, asks for your best price. You give the price again. He offers something a little higher. You walk away again, he chases after you, grabs your hand and says ok, yes, you can have it at the price you want – but only because he likes you, it is far too low and he won't make any profit now. You pay, he wraps the item, and you shake hands and walk away.
Now, the whole experience is fun, but I can't help but wonder if maybe just having fixed prices would speed things up. And who knows, maybe they'd sell more.
READ MORE: Get some top haggling tips in this post!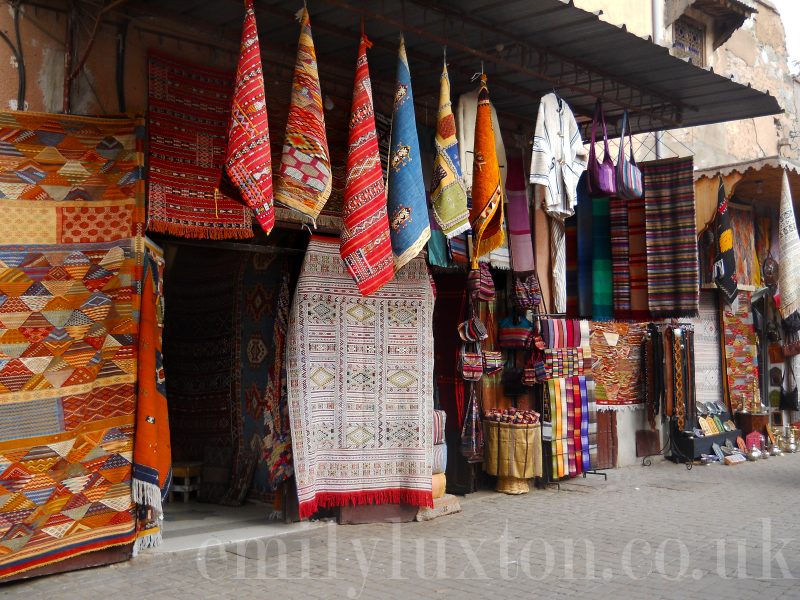 Clutching the souvenirs I'd bargained hard for, we headed back across the square to the roof terrace of Cafe Glacier, where we filled up on a late lunch and people-watched from the balcony.
Afterwards, we sat in the neat Cyberpark gardens – a favourite haunt of bored-looking Moroccan teenagers – and chilled out after a hard day's haggling. After a man with a whistle kicked us out at closing time, we headed back to the roof terrace overlooking the Djemma el Fna and watched as night fell and the square came to life.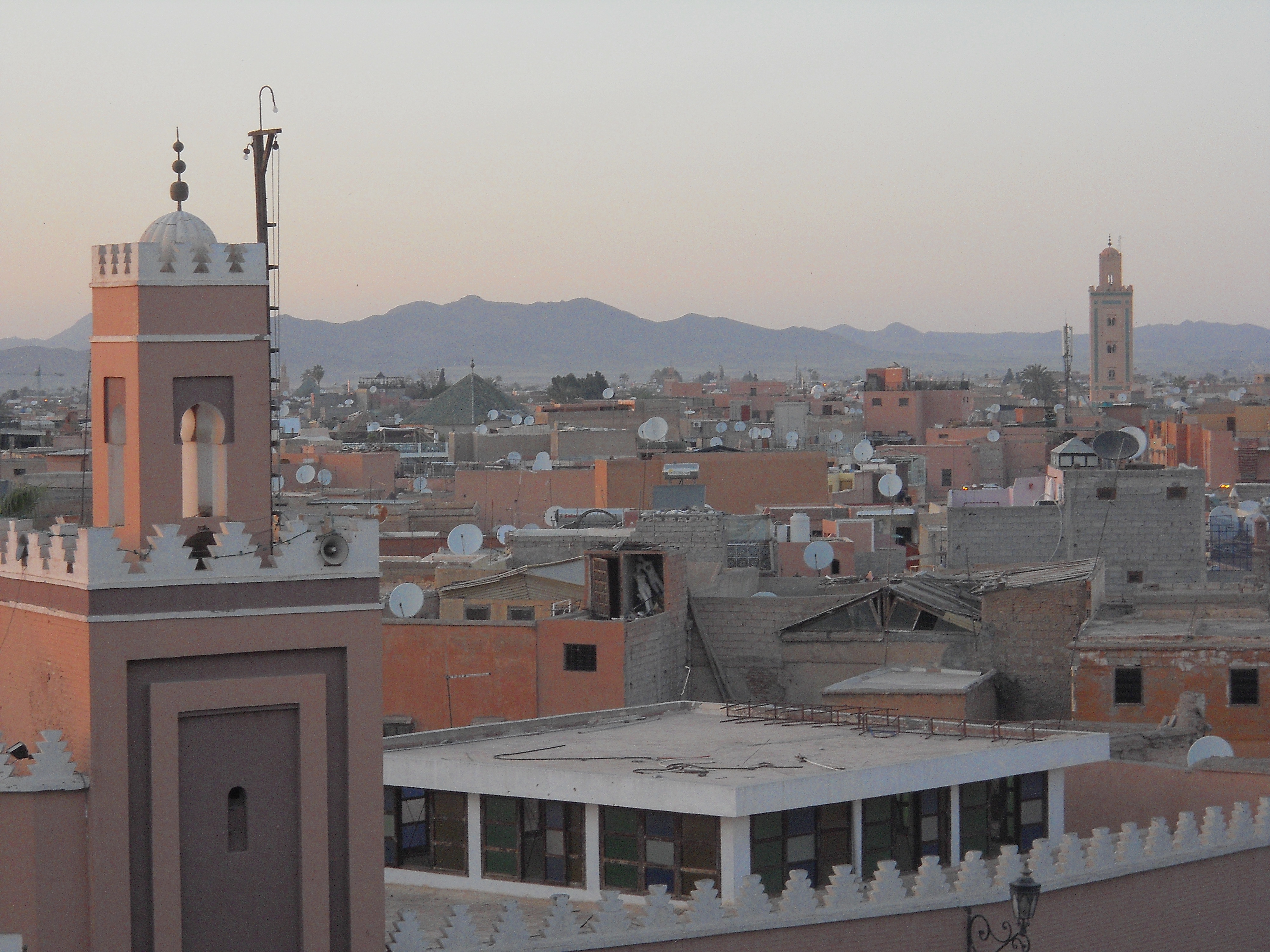 With nightfall, the wind picked up and the air got a lot colder, so we headed down to eat before we were actually hungry. As soon as we stepped into the cluster of stalls in the square, eagle-eyed touts spotted tourists and pulled us to the nearest stall.
Even if eating on a full stomach was a bit of a chore, I couldn't help but enjoy the delectably soft lamb with couscous, or the barbequed skewers which came hot off the grill in a cloud of smoke.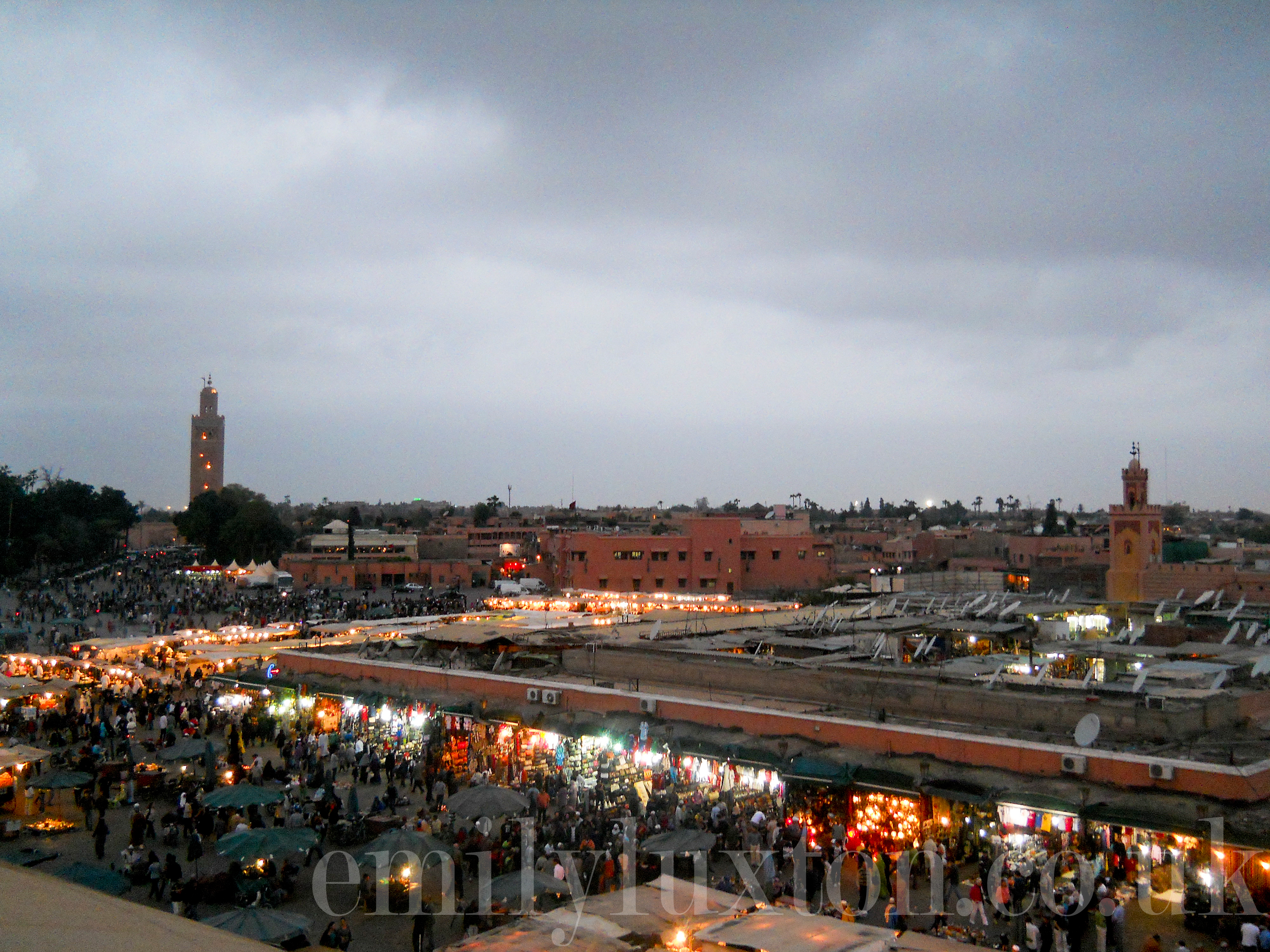 This is street food at its best; traditional, cheap and delicious. I don't know how the chefs here can work such wonders with meat over nothing but an open flame. But then, dinner has been cooked in the same way in this square every night for centuries, so I guess it's yet another innate ability the Marrekeshis have.
One early night and one very early start later, we were headed back to drizzly London and the whole trip had come to an end.
Those ten days had been a whirlwind of extremes; from hectic Marrakech to the Sahara and back, from mountains and waterfalls to great flat plains, from the ancient to the modern, from camping in the desert to a four-poster bed… the list goes on.
It was one of the most amazing experiences I've ever had and I hope you've enjoyed reading about my adventures.