Some posts on this site contain affiliate links. If you book or buy something through these links, I earn a small commission (at no extra cost to you). Take a look at my privacy policy for more information.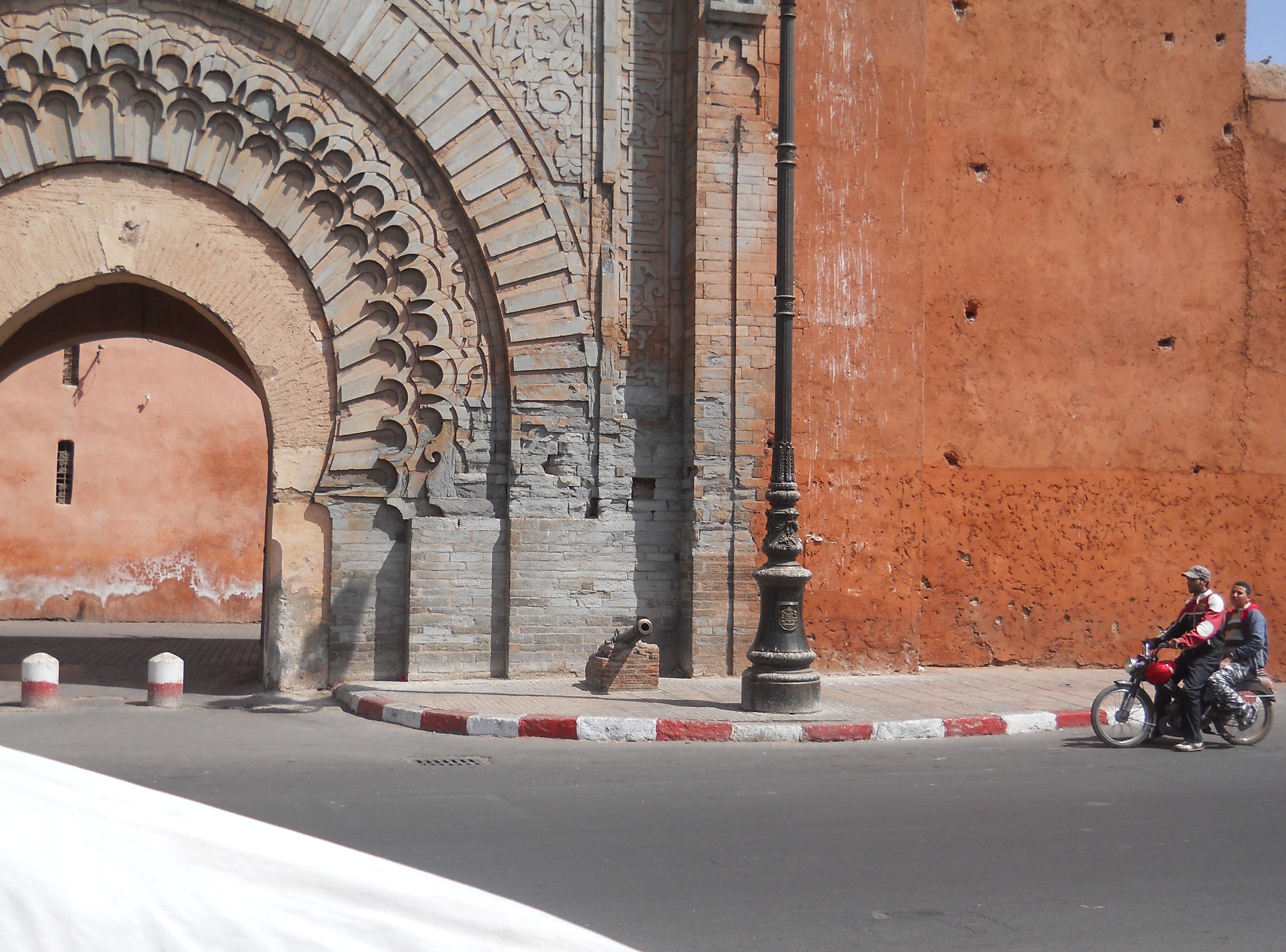 A collection of a few posts I wrote about my 2012 trip to Marrakech in Morocco – recounting our first few days in the city.
Marrakech was the first time I ever set foot on the African continent, and my first trip abroad after starting this blog. At the time, I'd barely travelled at all. Marrakech was a culture shock, a sensory overload, a true adventure.
These stories hold a special place in my heart because they are some of my earliest blog posts. My writing (and travel) styles have changed a lot since then, but one thing remains the same: my love of adventure, the thrill of the new, the excitement of strange flavours and smells.
Arriving in Marrakech
Pink, dusty, and loud. That's how I'd summarise Marrakech, a city that bewitched and exasperated me in equal measure. It was beautiful, it was chaotic, it was frequently frustrating… it intoxicated me. 
Our arrival in Marrakech was like a beautiful, surreal nightmare. We touched down just after sunset, and immediately got caught in a web of taxi drivers. I wasn't prepared for negotiation and was caught off guard by the 300 dirham fee, which the driver said would be necessary because our Riad was in a difficult place to get to.
This turned out to mean that Riad Dar Nabila wasn't actually on a road. It stood deep within a small network of alleys near the main bus station and just off the Rue El Gza. Our five nights at this Riad taught us that the taxi driver could have gotten us as near as the main road and pointed us down the alley.
Instead, he stopped on the side of a road "somewhere" in the city, called over a random boy and conversed with him in Moroccan, a language which sounded strange and impenetrable on that first bizarre night. Before we knew it, we were following this boy on foot down a series of side streets, dodging speeding mopeds and passing hole-in-the-wall shop fronts where huge cuts of meat hung from metal hooks. In patchy English, our 'guide' assured us he knew where the Riad was and that the journey was a five-minute walk. As we ventured deeper into a mesh of alleys which became gradually darker and less populated, it became clear that this was untrue.
Our guide did not know the way. Gradually, as he asked more kids for directions who inevitably joined the party, we built up an entourage. Eventually – and seemingly by luck rather than any knowledge amongst our party of guides – we arrived at the Riad. We parted with another 50 dirhams as a tip for the original guide; we refused to give him the 100 he demanded as he hadn't known the way, but even 50 was far too much.
It seems to be a popular sport among young Moroccans to insist on offering uninvited directions to foreigners, often leading them to their destination (guessing most of the way) and to then demand money. My tip; tell them you have no money when they approach you. Often, they walk away then and there.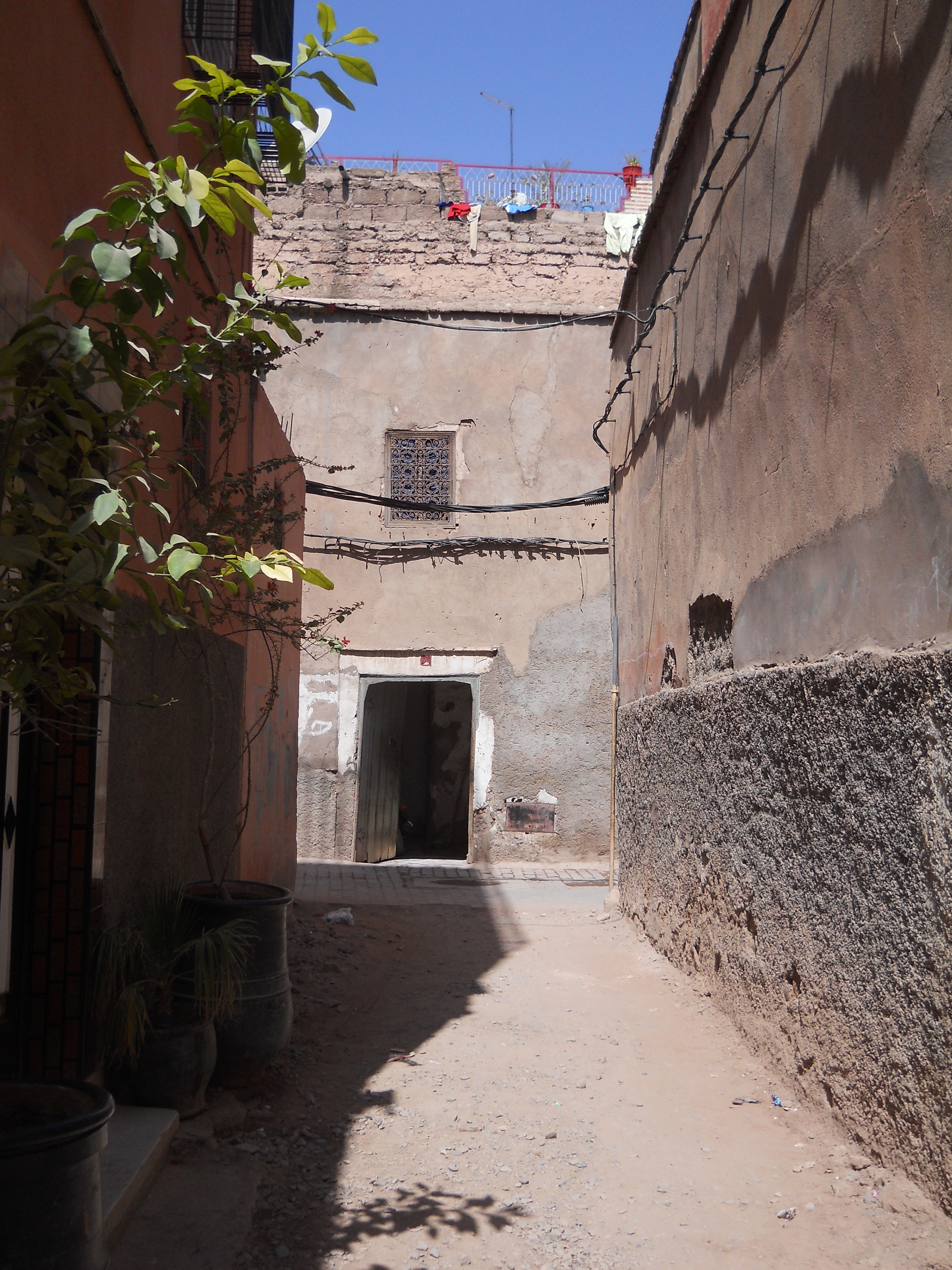 The unassuming street where Riad Dar Nabila can be found – a shabby, narrow alleyway like many in Marrakech.
Riad Dar Nabila was lovely. It stood down an unnamed alleyway, behind a large wooden door in a completely plain wall which opened onto an oasis of calm. As the door closed on our noisy group of guides, we found ourselves in a little envelope of silence. Khalila, the tiny and overpoweringly warm owner, made us feel immediately welcome. Riads are two-storey houses, built around a central courtyard overlooked by a balcony. These courtyards are a way for Marrakechis to bring a splash of nature into the heart of the city. We relaxed on the patio amongst orange trees and creeping trellises to enjoy our first taste of deliciously sweet mint tea, a Moroccan staple.
After a very informal check-in, Khalila brought us dinner. Three courses each for just 30 euros. It was an expensive meal in comparison to many places in Marrakech but still very reasonable, especially given how delicious the food was.
With our bellies full of tagine and our nerves still a little shot from the confusing arrival, we went to sleep with our first adventure in Morocco safely behind us.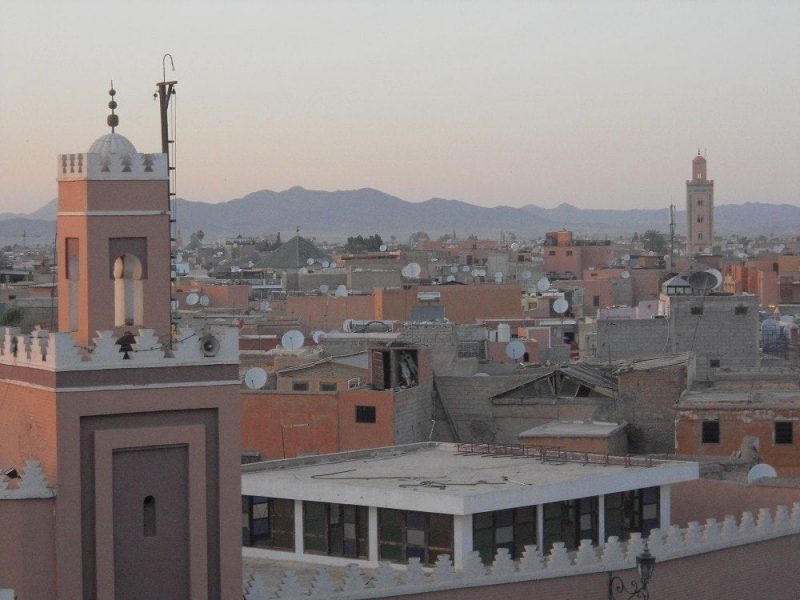 First Day in Marrakech: Exploring the Souqs and Djemma El Fna in Marrakech
Lately I've been missing Moroccan breakfasts, which are essentially my perfect meal. On the first morning, we sat at mosaic-tiled patio furniture in the peaceful courtyard of our Riad, and stuffed our faces with freshly squeezed orange juice, sweet mint tea, and a selection of breads and cakes. Moroccan bread, which is a large flat circle and resembles a thick, doughy pizza base, is served with every meal. It's crusty, with a soft and sweet middle, like French bread, and great for dipping in olive oil as the locals do. We also had pancakes with honey, and a cake a little like brioche with chocolate and walnut.  Lots of goodies for my sweet tooth, and delicious tangy juice, all served outdoors amongst leafy plants, fragrant orange trees, and tiny little chirruping birds. What a way to start the day; so much better than shovelling bran flakes at my desk at work!
All those carbs for breakfast are perfect to keep you going in Marrakech. After breakfast, we plunged straight into the souqs, which are a five minute walk away from Riad Dar Nabila, at the bottom of the Rue El Gza. At the end of the road, as we contemplated the fork which wasn't present on the guidebook map, our two second pause invited about five different shouts of "Big Square, that way!" In Marrakech, every local wants to send tourists to the square, no matter which direction they're headed. Not wanting to disappoint, we turned right and ploughed bravely into the souqs.
The souqs are a pretty overwhelming experience, which gets only slightly easier with practice. The map in our guidebook made the them look small and simple, and although it described the area as a labyrinth, I assumed that was an artistic exaggeration. Labyrinth, however, is the only word I can think of. The souqs are an intricate network of covered streets and alleys lined with stalls and shops – some of which are just a shop front, while others are deep caverns filled with piles of silver teapots or handmade copper lanterns. Many of the streets are unnamed, several double back on themselves, and the best guesses at the number of roads in this maze range from hundreds to thousands. Confusing is a shameless understatement.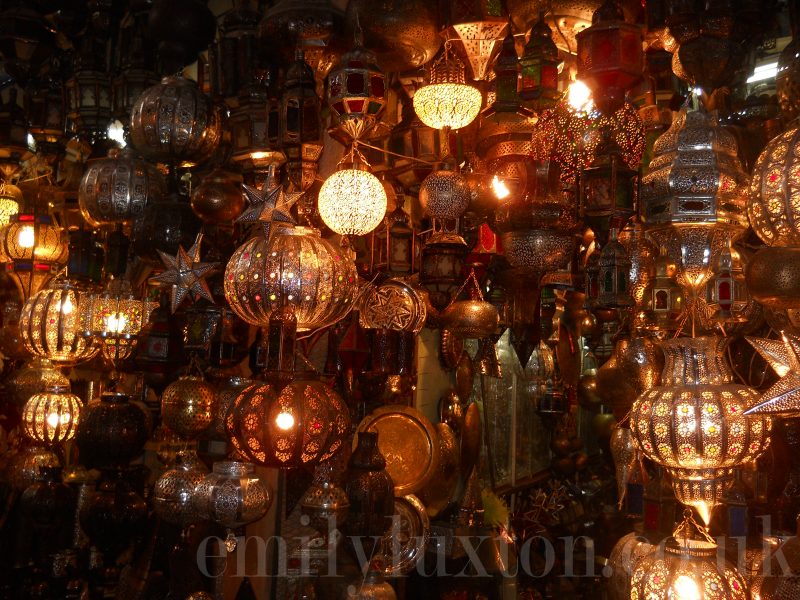 So, we ditched the map and just wandered. In my opinion this is the only way to "do" the souqs, although if you want to take your shopping experience very seriously you could take an expert guidebook with you, like Susan Simon's Shopping Marrakech. With the dim light filtering through the slatted wood covering, and the winding stone alleys packed from floor to ceiling with Moroccan crafts and glittering treasures, the souqs are like an Arabian Nights fantasy. We ducked through a doorway into a courtyard surrounded by artisans' workshops, a sudden calm amongst the bustle of the markets. Next door we were summoned into a real-life apothecary by the owner, a lively salesman. Huge glass jars filled with brightly coloured dyes – magenta, scarlet, indigo – or rich yellow and red spices, lined three walls from top to bottom. We walked away with a bottle of bright orange, nutty smelling argan oil and a bag of Ras El Hanout tagine spices. The name means "head of the shop" in Arabic and is a selection of the seller's best spices – I'm assured that I've brought home the finest blend of forty five spices!
Eventually, we emerged blinking into bright sunlight and found ourselves confronted by the insanity of the Djemma El Fna. The huge square at the centre of the city is filled with carts lined with oranges and selling fresh juice, or stalls heaped with dates of more varieties than I knew existed. Men led Barbary apes on leads, and drummers in elaborate traditional costumes played for tips. We passed women in berkers (and one man in drag) offering henna tattoos, and one old man sat in front of a tray of teeth offering al fresco dental work. The non-stop soundtrack is of the shouts of hawkers and the high-pitched whine of oboe music from snake charmers, who squat by coiled black cobras waiting for tourists to stray too near. We were accosted immediately and before we knew it, found ourselves posing for photos with water snakes entwined around our necks. After the charmer blessed us for "good luck and good sex" with a kiss from the snake (and promised Sam six children), he began pressuring us for 300 dirhams – we settled on 100 (about £8-9).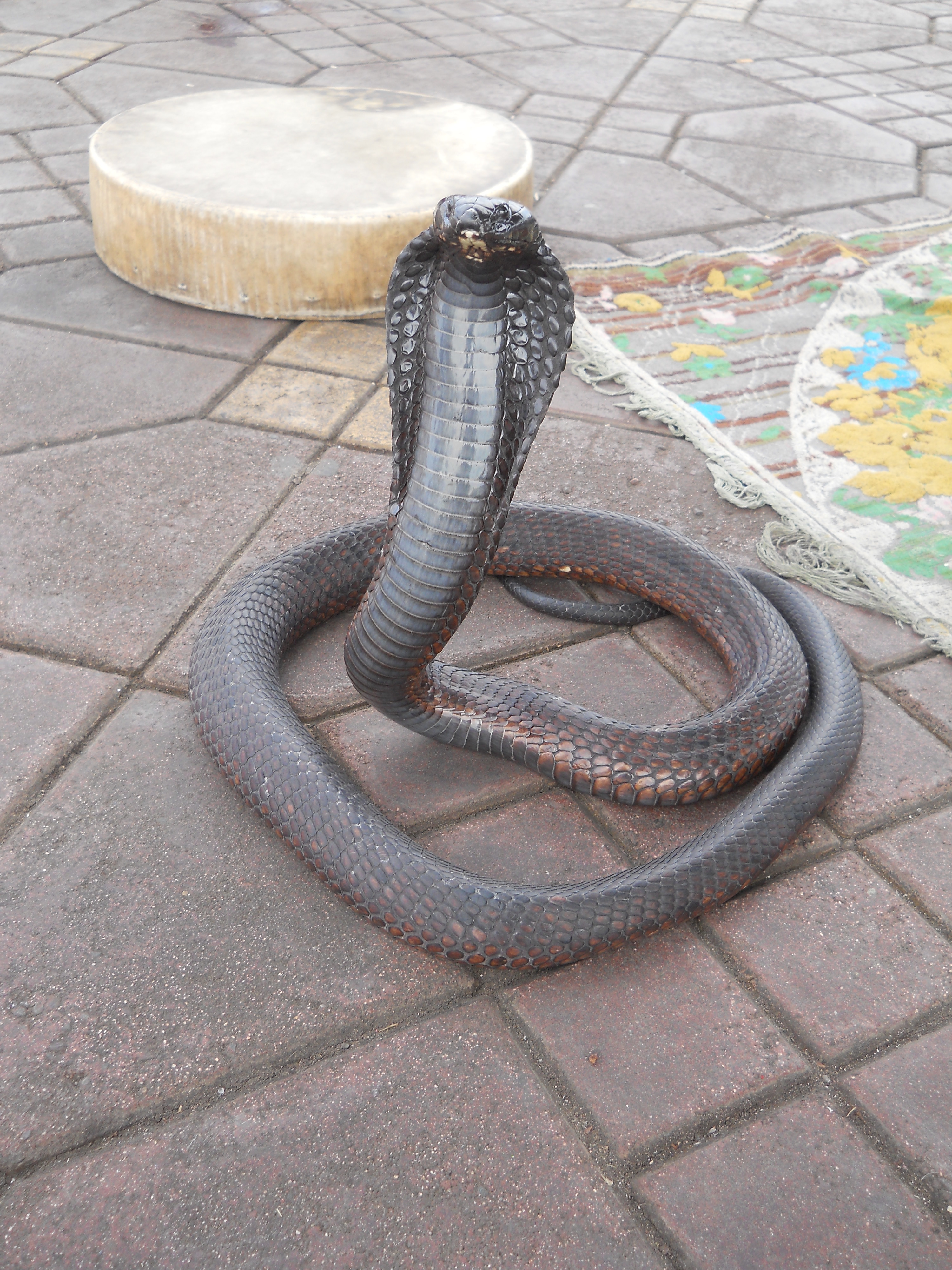 Any article or guidebook I read before coming to Marrakech failed to mention one important fact when describing the Djemma El Fna; that it's full of salesmen. Tourists will not be left alone; at one point we stood still and took bets on how long before we were approached: I was right on the money with 30 seconds. What I learnt quickly was never to ask "c'est combien?" and to just give coins. Apart from the gentle harassment, though, the Djemma El Fna is a fantastic experience; like a bizarre, overcrowded movie set.
Getting Lost in Marrakech: Saadian Tombs and Bahia Palace
In general, the first afternoon wasn't our best in Morocco. After an incredible morning of discovery, we wanted to keep going, and packed so much into the day that it all became a tad overwhelming.
It started out great. After grabbing a light lunch of pastries from a shop near the Djemma El Fna – an extra sweet, spongy croissant for me and a something unnamed and stuffed with almond paste for Sam – we hired a caléche to take us on a tour of the city. These are bright green wooden carriages, drawn by two horses, which gather at the entrance to the Djemma El Fna by the Avenue Mohammed V. You can't miss them – for one thing a line of horse-and-carts is difficult to miss and for another, you won't slip past without the hawkers noticing you. We had more negotiating to do to get the driver down from 400 dirhams to 200 for one hour.
The caléche ride was a lovely, relaxing way to see the city after the chaos of the souqs and the square. We passed the Koutoubia Minaret, the three golden balls on the top glinting against the clear sky. The driver pointed out a few sights – the Kasbah Mosque and the King's Palace (no photos allowed) – but mostly I enjoyed watching Marrakech unfold itself like a fairy-tale city before me. Old men dozed out the front of their shops, people sold paintings and photographs by the side of the road, and outside one café a barbecue related disaster had veiled all the diners in a fog of smoke. Locals on mopeds zipped past performing incredible feats of bravery, weaving in and out of traffic, or arguing with the passenger behind them. We saw one man steering his moped whilst holding a sheep on his lap!
The caléche was a little stuffy; the red velvet seating, hot from baking under the midday sun, smelled musty and historic, like a museum interior. The stuffiness and the heat got the better of us, and we were both feeling dozy by the end of the hour. Out of the city centre, we clip-clopped past the ramparts – ancient city walls, pink and hugely thick – and into the Nouvelle Ville district, where traffic was calmer, roads were wider, and a little greenery adorned the salmon coloured walls. The colonial architecture and big, fancy hotels were a far cry from the narrow, dusty streets we'd been getting used to.
After the caléche ride, we wandered down to the Kasbah district in search of the Badi Palace. We never actually found it. Marrakech is confusing and once again, my guidebook map proved itself useless! What we did find were the Saadian Tombs, built by Sultan Ahmed el-Mansour el-Dahbi in the 16th century. You enter through an incredibly narrow passage – single file, please – between high walls. Apparently, the tombs were walled up by one of the successors of el-Mansour, in a bid to forget his predecessor, and were 're-discovered' by aerial photography in 1917.
A pretty interesting history, but I'm sorry to say the Saadian Tombs were a little bit of a disappointment for me. I'd seen pictures before going and thought this was going to be a huge complex of tombs with breath-taking architecture. That's not to say the tombs aren't beautiful, because the intricate carvings, mosaic tiled walls, and pink-brown marble pillars are lovely. It's just a little underwhelming; the complex is quite small, the rooms you can see into generally look the same, and beautiful carvings only excite me for a short amount of time!
After a short walk looking for the Badi Palace, we somehow ended up at the Bahia Palace instead. One palace is as good as another, we decided, so we headed on into La Bahia for a look. The rooms of this large, one-story mansion, spread around a central courtyard, are completely bare. The palace was looted after the Grand Vizier died, leaving the rooms starkly empty but still opulently decorated, an interesting contrast. The gilded, inlaid woodwork ceilings are pretty impressive, as are the latticed, woven and carved surfaces on every wall and archway, with turquoise and gold embellishments. The halls look sadly empty without furnishings, and it's hard to conjure up any real sense of grandeur in spite of La Bahia's décor.
Worn out from sightseeing, we decided to head back to the riad. The quickest way on the map was through the souqs. I can't tell you why logic didn't kick in and overrule that decision based on the experiences earlier that morning. Sadly, it didn't, and we strolled foolishly into one of the alleys leading away from the Djemma El Fna. Then into another alley, and then another, and we chose left, then right, then left again, trying to follow our increasingly diminished sense of direction. Before we knew it we were lost; not charmingly lost in an exciting country, but utterly, couldn't re-trace our footsteps if we wanted to, possibly never getting out of the souqs, lost. The multiple times we asked the way to Rue El Gza we were led or pointed in completely different directions. Even when we did finally find ourselves back on the main road, we somehow took another wrong turning and got ourselves lost again.
A kid claiming to know exactly where our riad was offered to guide us, even after our insistence that we had no money (only slightly true). I would have given him a bit of cash, but just like the night before he didn't really know the way and led us in circles until two of his friends (who we'd already passed twice) laughingly agreed to lead us. When we finally arrived back at the riad, taking what I now know to be a much longer route, I refused to give them any money. We didn't ask for their help and we told them we had no money. They got a bit cross, but thank goodness for Khalila – the riad manager – who chased them away with an aggression much bigger than her tiny frame.
We'd left the main square (about 20 minutes from our riad) around four o'clock. We arrived at the riad at twenty past six. So not the best end to a long, hot and tiring first day!
After showers, we had a good dinner at Restaurant Amalay in the Nouvelle Ville. I'll do separate reviews for all the food. The cool evening air relaxed us a bit, as did the food, but generally the first day in my memory is a heady blend of excitement, stress, and confusion.
Information
Caleche Ride –Dh 200 for one hour (negotiation required). Caleches are available on the Rue Moulay Ismail, near the Djemma El Fna.
Saadian Tombs – Dh10 per person. Rue de la Kasbah, near Kasbah Mosque.
Bahia Palace – Dh10 per person. Rue Riad Zitoun el-Jedid.
Day Two in Marrakech: Jardins Majorelle, l'Ensemble Artisanal, Cyber Park, and Dinner at Djemma El Fna
We decided to take the second day easy, after the stress of the day before. After a late breakfast, we walked to the Nouvelle Ville of Marrakech, where we spent the day. The wider roads have the unexpected effect of making the traffic seem more intense; four lanes of cars, mopeds and donkeys squeeze into two lanes, overtaking, undertaking, and endlessly honking. It's the presence of pavements that makes the Nouvelle Ville a truly relaxing experience; a welcome break from constantly leaping out the way of mopeds which will speed down any alley, however small or far from a real road it may be.
Les Jardins Majorelle
After the errands were all run, we hopped into a taxi to Les Jardins Majorelle. These were barely a ten-minute walk from the train station, but we paid Dh10 for the journey all the same (and had to push for that price). Tourists will always pay more for a taxi in Marrakech!
As soon as we were out of the taxi, we were approached by a man who seemed to be offering excursions (from a roadside trestle table and a board pinned with place names). He told us the gardens were closed until three, but that we were lucky because a market was on at a nearby mosque, a chance for non-Muslims to view the mosque which only comes around once a month.  He began to lead us there, chatting about the various handicrafts which would be available. As soon as we said we didn't want to buy anything, he stopped leading us and suddenly remembered that the gardens were open after all. Mysterious.
Les Jardins Majorelle were a perfect way to unwind; cool, shady paths winding alongside huge pools filled with fish and turtles. It cost Dh50 each to enter (less than £5) and we spent a good hour there hiding from the scorching midday sun and enjoying the intense colour scheme. Everywhere you look, the green of the plantlife and cacti is punctuated by a vivid blue wall or a fluorescent yellow flowerpot, interrupting the calm of the fauna like a crazy mirage. Please pop back to my previous post for a bit more detail on the gardens and some of my photos.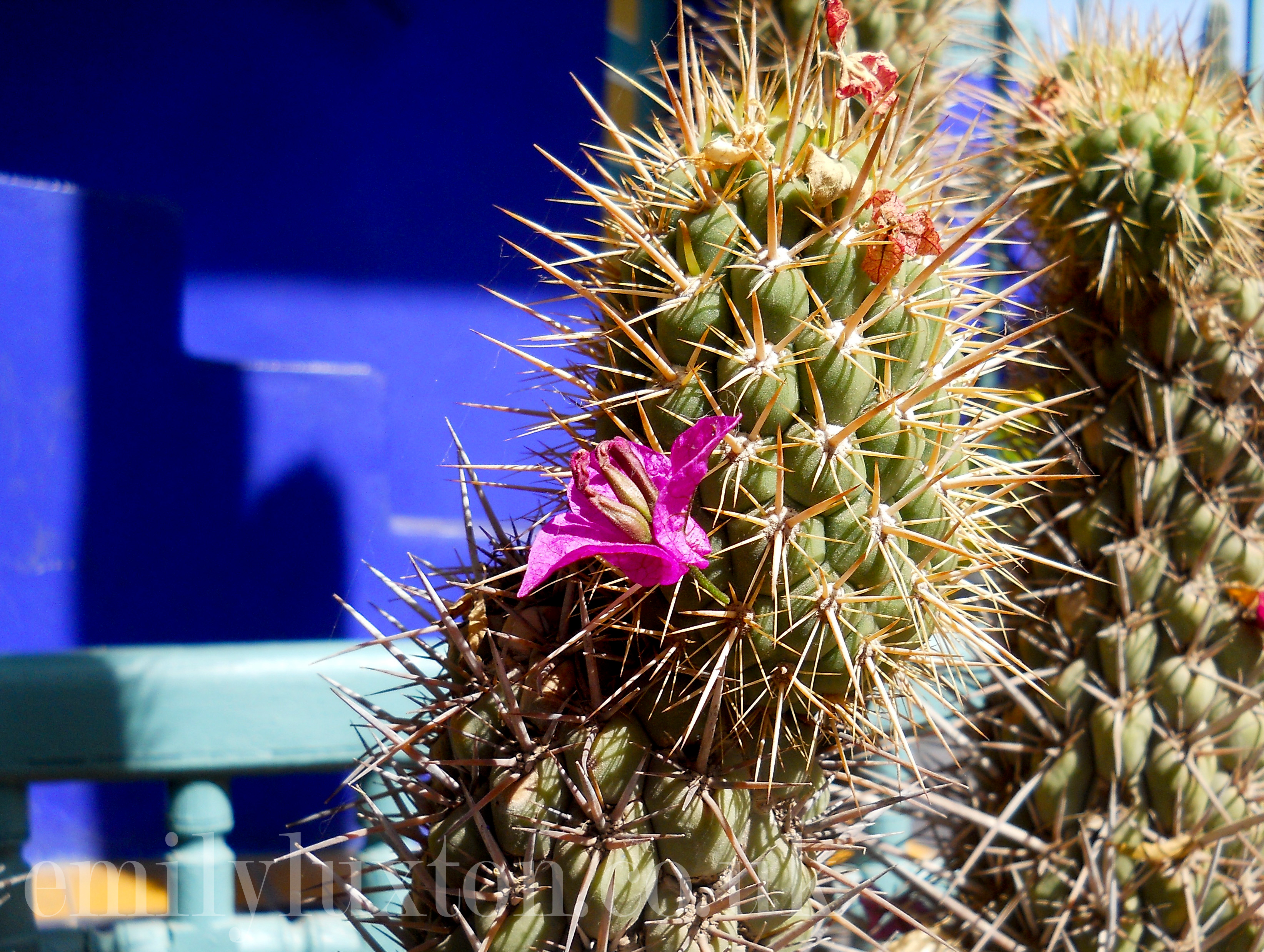 Exploring Marrakech New Town
After that, we took a slow walk down to Rue de la Liberté, a quiet road in the heart of the new town, which looked more like a cosmopolitan corner of Paris than a street in Marrakech. This little road is home to a fantastic array of art galleries, antique stores with kooky window displays, and tiny little boutiques selling jewellery, fashion, or Moroccan handicrafts (a tad pricier than the souqs but with all the comforts of air-con and fixed prices).
In amongst the trendy art scene is the super chic Kechmara, where we stopped for lunch on the roof terrace. We found ourselves surrounded by more greenery; leafy climbing plants and blossoming trees block out any view of the city outside and create a lovely sense of seclusion. I will do a full review of Kechmara separately – as with all the food – but this was a perfect stop for lunch and one of my favourite places we ate in Marrakech.
Wanting to relax in the sun and rest our feet, we ordered cocktails (Dh80 each), but these were absurdly strong. Sam's 'Marrakech Iced Tea – a minty take on the Long Island classic – tasted like spiked Listerine and although the fruity flavour of mine was delicious, I still couldn't finish it. Cocktails here are definitely for getting drunk rather than relaxing during the afternoon! This is actually a pretty cheap place to get lunch; there are light snacks or a discounted menu of the day option for a lot less than the meals we went for. The friendly, English speaking staff and English menus make it perfect for tourists, too.
l'Ensemble Artisanal
After lunch, we walked down to l'Ensemble Artisanal. This is a complex of stores and workshops where you can watch Moroccan handicrafts being made. Entrance is free, prices are fixed, and I found I could browse without any of the sales pressure I'd experienced in the souqs. We visited in late afternoon, and even though there were quite a few visitors around it was so quiet that I felt like I was disturbing the peace every time I laughed. The shops are cool and dark, and after walking in out of the bright sunlight I found myself squinting at treasure troves piled high with silverware, or shoes, or leatherwork.
We watched women making huge rugs by hand, an incredibly laborious process which can apparently take around a month to complete. Individual pieces of wool, around an inch in length, are looped over and around the taught strings of a loom, with the ends poking out on one side so that on the other side a solid wall of colour begins to build up. Other colours can be introduced to make intricate patterns. I had a go at knotting a few pieces of wool and really struggled with it. The lady I 'helped' was unbelievably fast, but I could see that it would still take weeks to finish. I should mention that we did have pay Dh10 each for the privilege of having a go, something I wasn't expecting, but I didn't mind as the ladies were very friendly.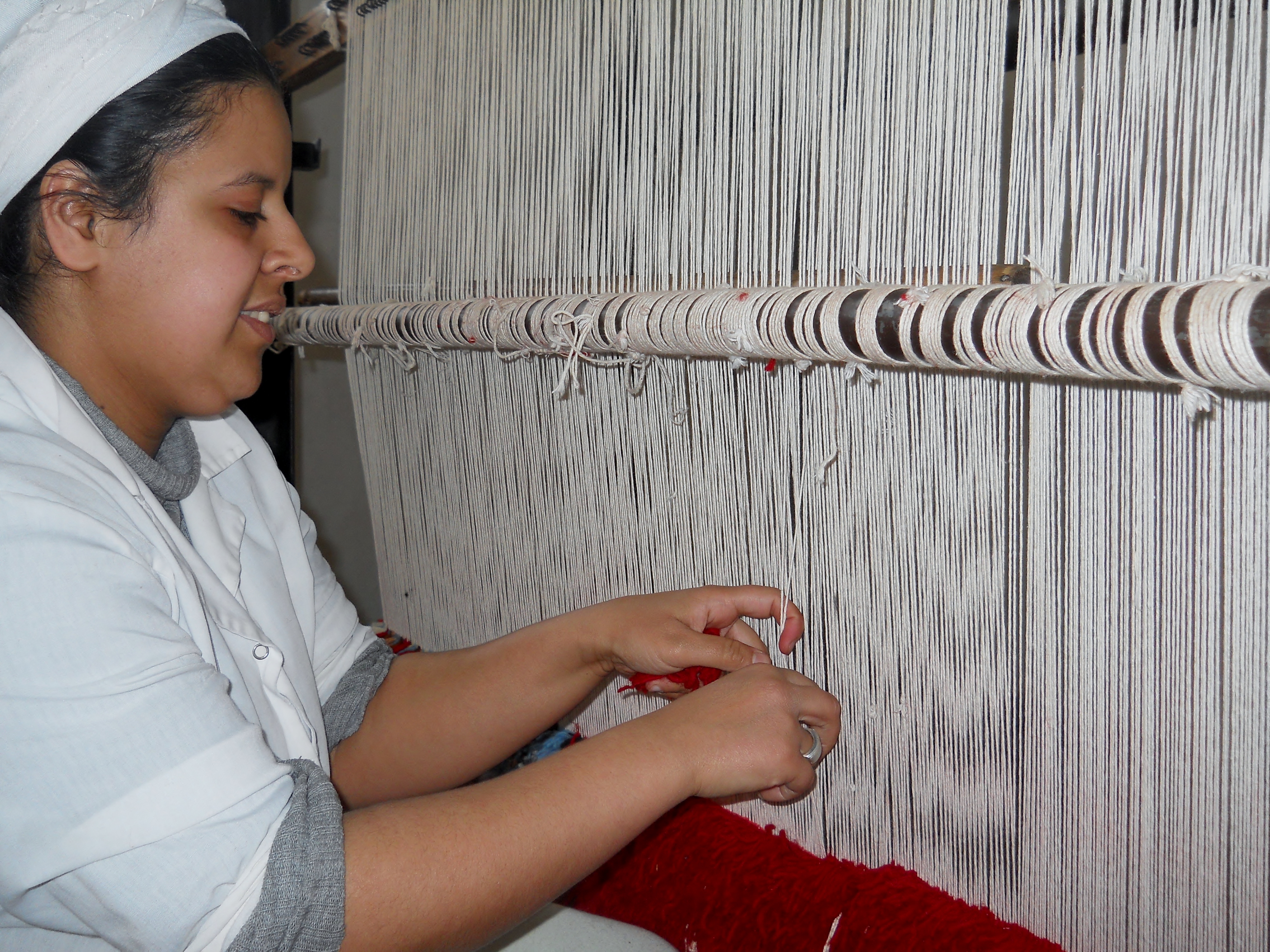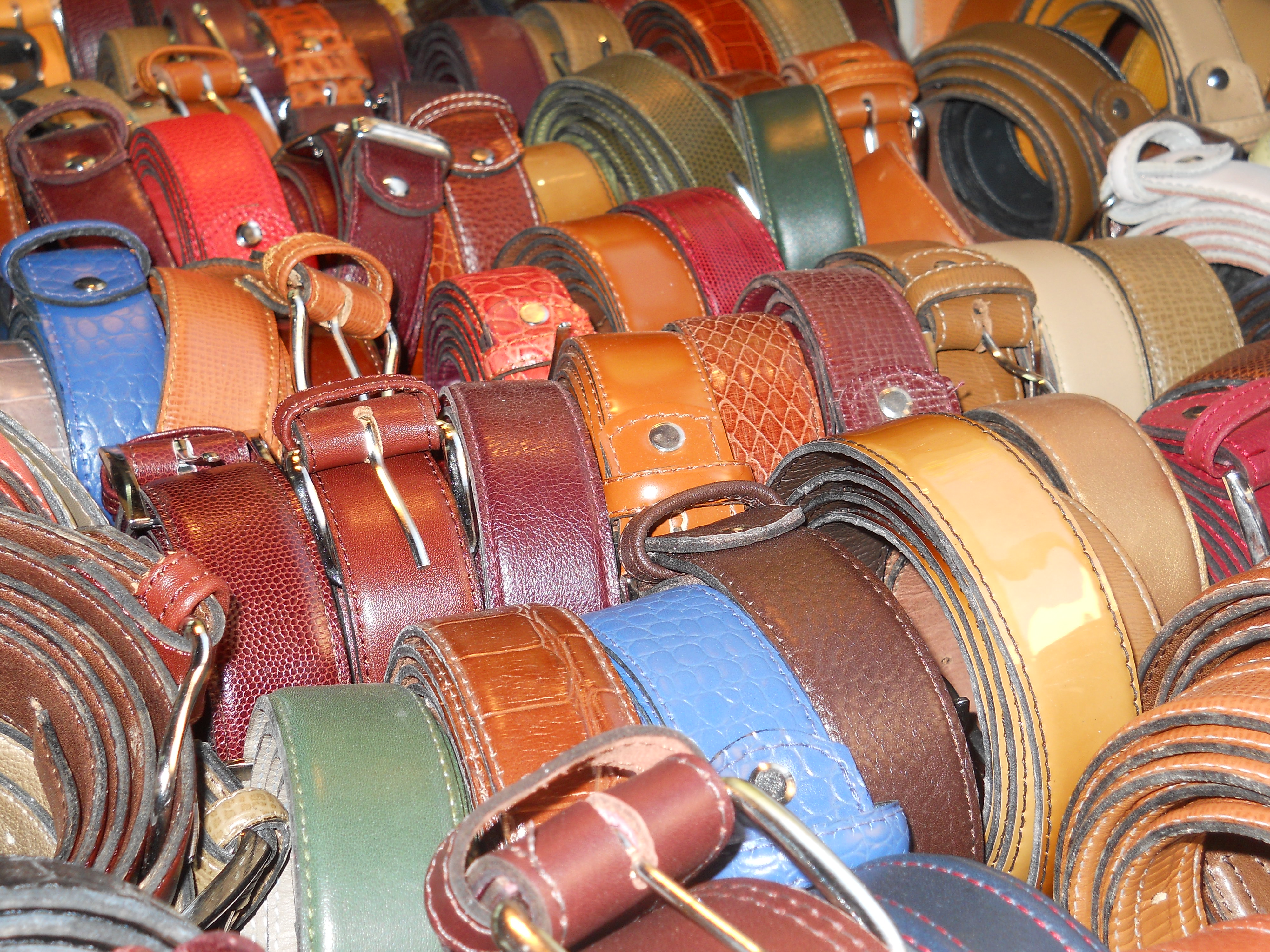 Cyberpark
We sat in the Cyberpark across the road for a while and enjoyed some more greenery. The cybercafé and free Wi-Fi seem to have made this park a bit of a social hub for Moroccan teenagers, but it's still a pretty peaceful place to relax and unwind. We chatted to an old man for a while who said he wanted to practice his English.
He marked the best places to visit on our map, told Sam he should marry me as I'd make a good wife (we got that a lot), took a few photos and eventually harassed us for money. White people seem to have an unfortunate reputation as walking wallets in Marrakech, and lots of industrious locals will try their hand at offering a service or some knowledge (such as directions) and then requesting payment. It's a bit of a culture shock; in England we're a bit old fashioned and stick with the time-tested method of agreeing on a price before we give away the thing we're selling!
Djemma El Fna
As the day began to slip away, we walked across to the Djemma El Fna and sat on one of the roof terraces overlooking the square and watched the sunset behind the Koutoubia Minaret and the lights come on around the square, which was now full of food stalls.
The Djemma El Fna is so atmospheric at dusk, smoke rolling over the white canvas food tents, storefronts bursting with glowing lanterns, people squatting by small fires on the floor, and kids chucking light-up toys four stories into the air. The air was heavy with the smells of spices and barbecued meat. It was a clear day, so we had incredible views across the rooftops and to the Atlas Mountains, and heard the minarets across the city strike up the scratchy whine of the call to prayer.
Dinner at Djemma El Fna
We wandered into the stalls and immediately got grabbed by the staff of Rachida Majid's. It's very hard to say no to a round of applause! The techniques to get passers-by to stop and eat at one particular stall range from offers of free mint tea, to jokes of "air-conditioned seating", to one shout of "come and have a butchers" in an absolutely spot-on cockney accent!
We sat down to bread with olives and tomato and chilli sauces, Moroccan salad, calamari, and mixed barbecued skewers with pepper and onion, beef, lamb and chicken. Bucketloads of delicious al fresco food, right in the heart of everything; surrounded by thick smoke and the sizzle and spit of roasting meat, mingled with cries of "hello, hello, excuse me, good eats, good price". Eating in the Djemma El Fna is a real buzz and my only regret was that I wasn't hungrier; I longed to stroll through sampling food from every stall but I was full to bursting by the time we'd finished at one! Our whole meal, including bottled water and free mint tea, came to Dh215 between us – the cheapest we ate while we were away.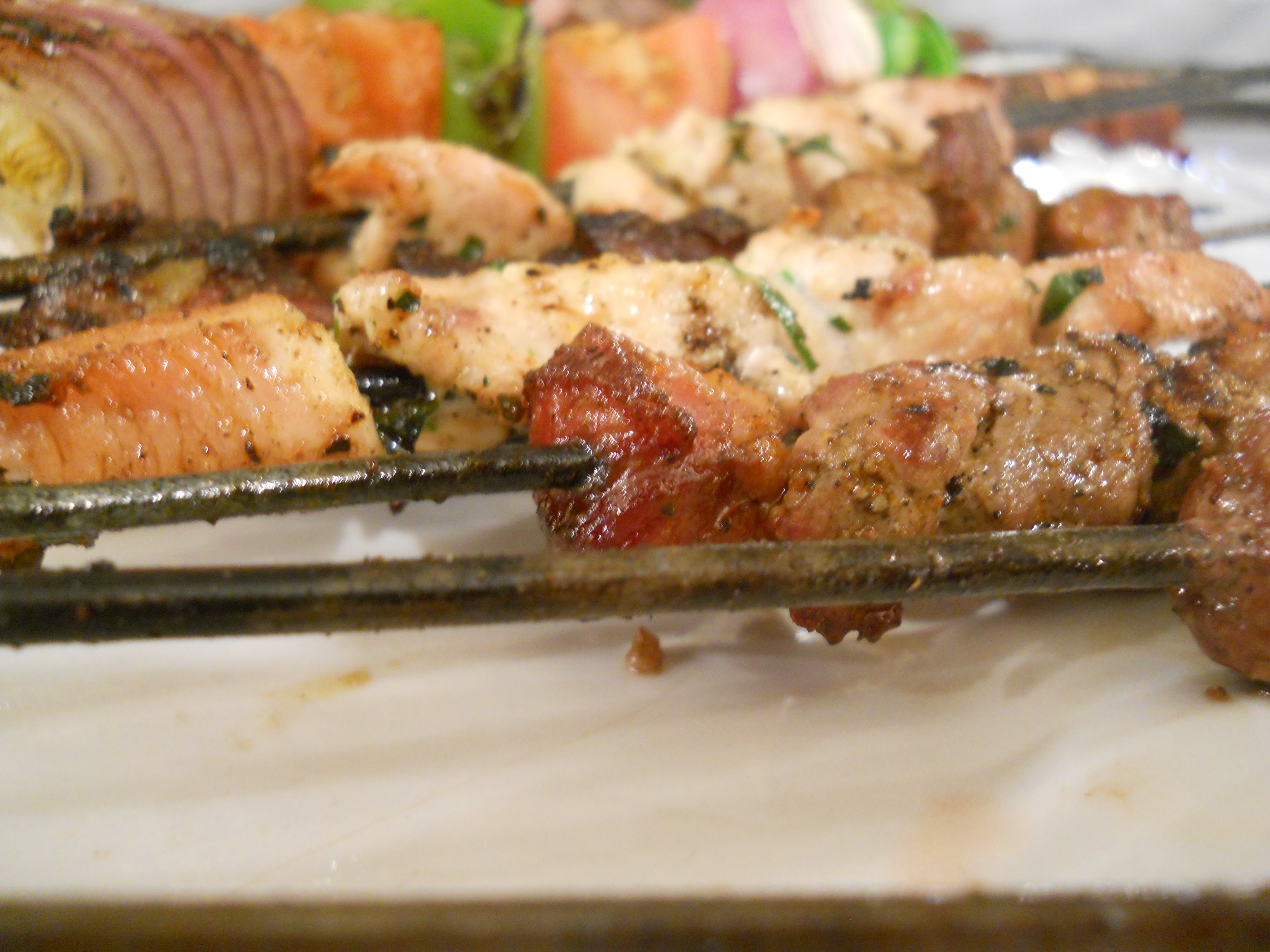 This was easily my favourite day in the city, so much relaxation followed by delicious food in a real party atmosphere.
Information
Les Jardins Majorelle – 8am – 7pm, admission Dh50 (museum Dh20). Rue Yves Saint Laurent, off Avenue Yacoud Al Mansour.
Kechmara – noon – 11pm, 3 Rue de la Liberté.
Ensemble Artisanal – 9:30-12:30 and 3-7 Mon-Fri, admission free. Avenue Mohammed V, opposite Cyberpark.
Cyberpark – 9am – 7pm, admission free. Ave Mohammed V.
Last Day in Marrakech: Ali Ben Youssef Medersa, re-visiting the souqs, and Jardins Harti
Our last day in Marrakech was cooler and a little overcast, which was welcome as we were still feeling a little overheated from the day before (see my previous post about the Cascades d'Ouzoud). We left our riad around half eleven and headed straight down the Rue el Gza to the souqs, dodging donkeys, carts, mopeds, sheep and whatever else decided to use the narrow, covered road as a freeway. Having found our bearings, we were more confident than the day before and found that the souqs are far less stressful when you're not trying to get somewhere specific.
By accident, we came across the Ali Ben Youssef Medersa (I don't think we'd ever have found it if we'd been trying). This Islamic college, no longer in use, is the largest of its kind in Morocco and a fascinating historical site. We paid Dh50 each for entry and had a look around. Built in the fourteenth century, the religious school has survived the years incredibly well. Inside are narrow white-washed corridors with tiled floors, and panelling in a heavy, dark wood. The interior is cool and dimly lit, with still, stifled air that had the historic smell found in museums and churches. We poked our heads into the dormitories and shuddered at the thought of seven people crammed into the tiny, cell-like rooms, with bare walls and floors, and often no window. Some had a ladder build into the wall which led to an overhead sleeping area in the ceiling – just a few feet high – which was utterly black. I read that up to nine hundred students would have shared the one hundred and thirty rooms and a single bathroom; I tried to picture them bent quietly over the Koran by candlelight, and wondered what they would make of today's tourists posing for funny photos in their cells.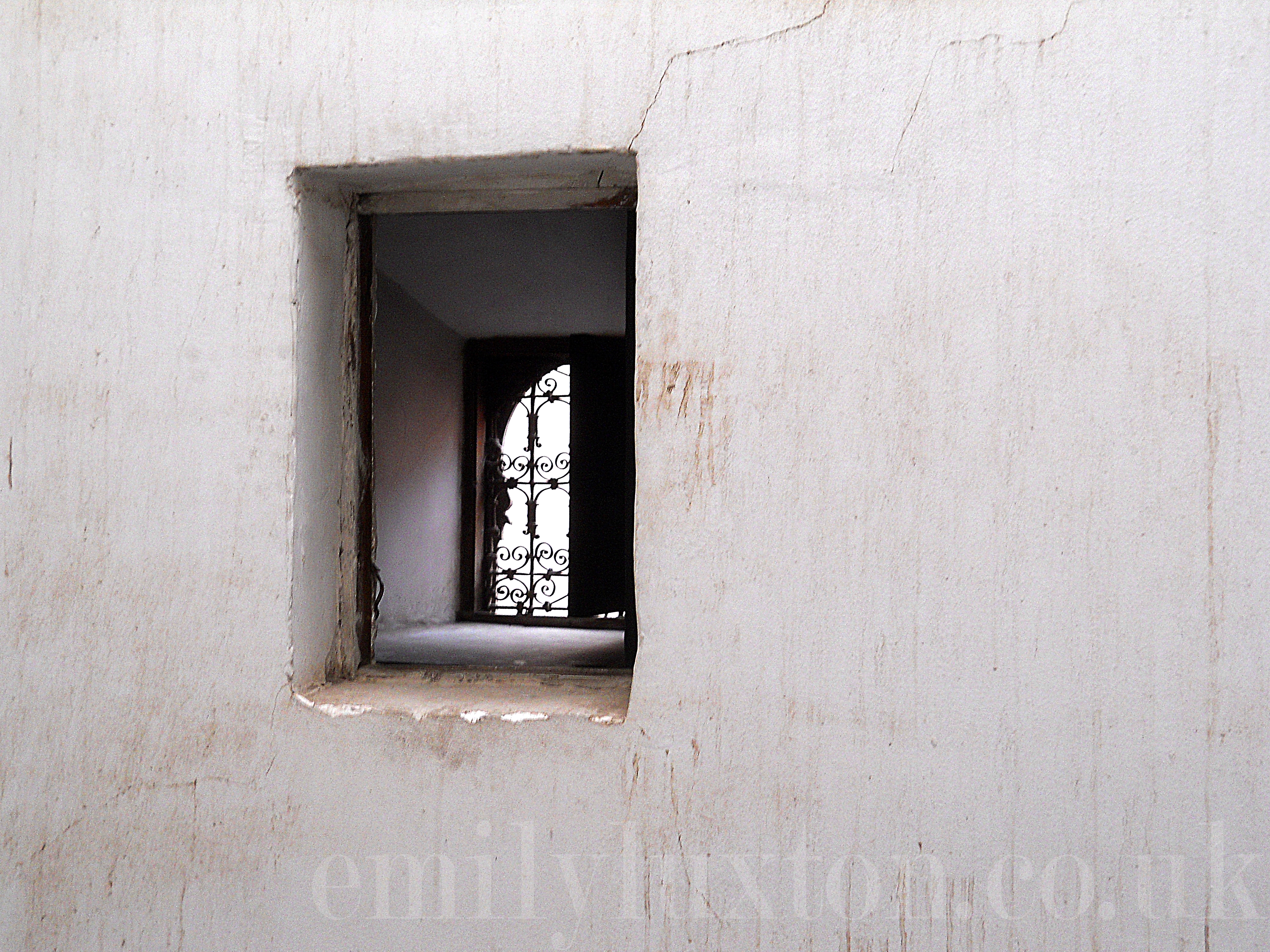 The outdoor courtyard is the most impressive aspect of the Medersa, a large, clear space with a rectangular central pool. The surrounding walls, in a pale terracotta shade, are richly carved with geometric patterns and Arabic inscriptions, with pink marble pillars and intricately carved cedar panelling around the top. Turquoise mosaic tiling circles the walls around the bottom, matching the blue-greens of the pool and creating a lovely, cooling effect.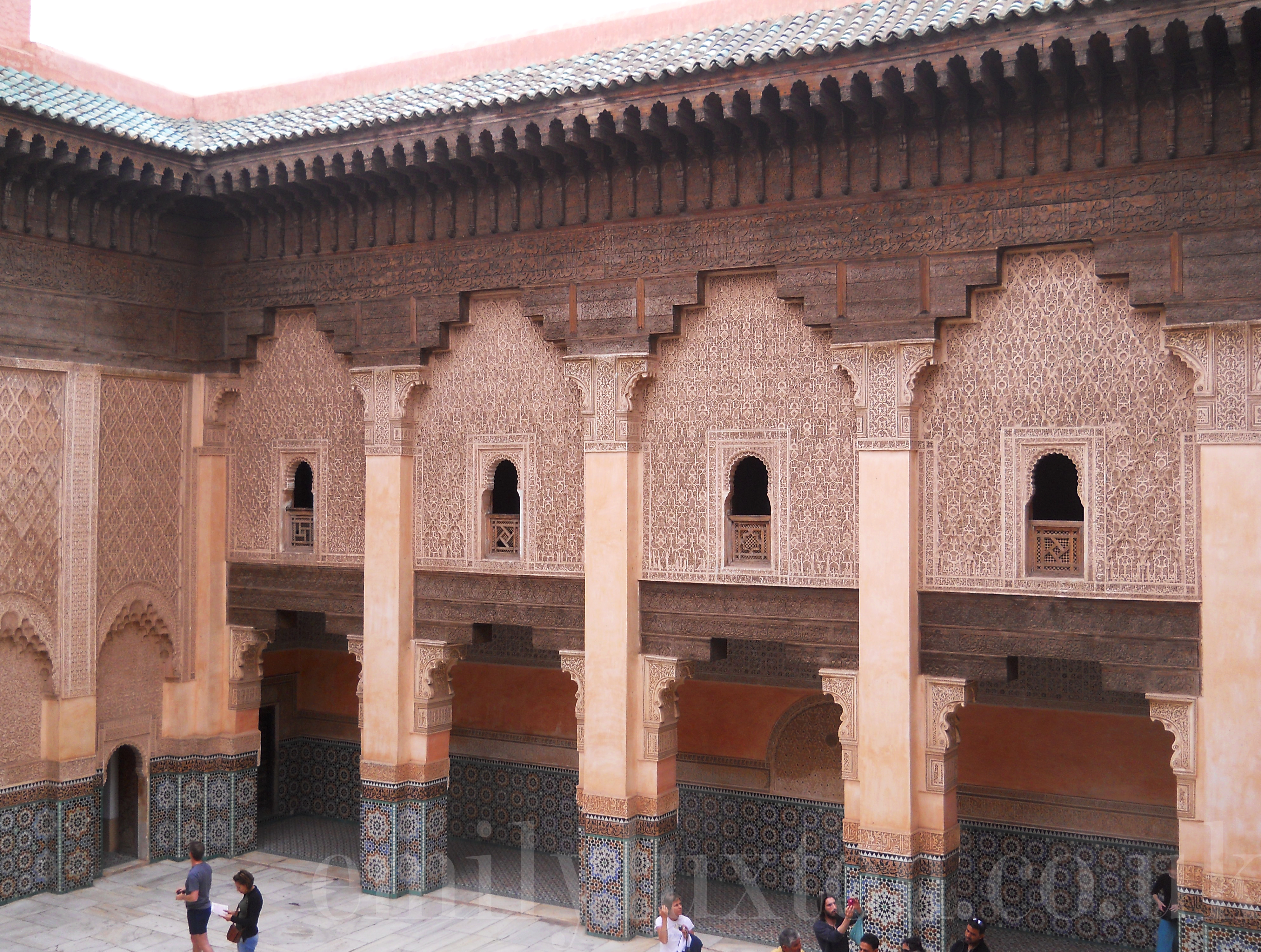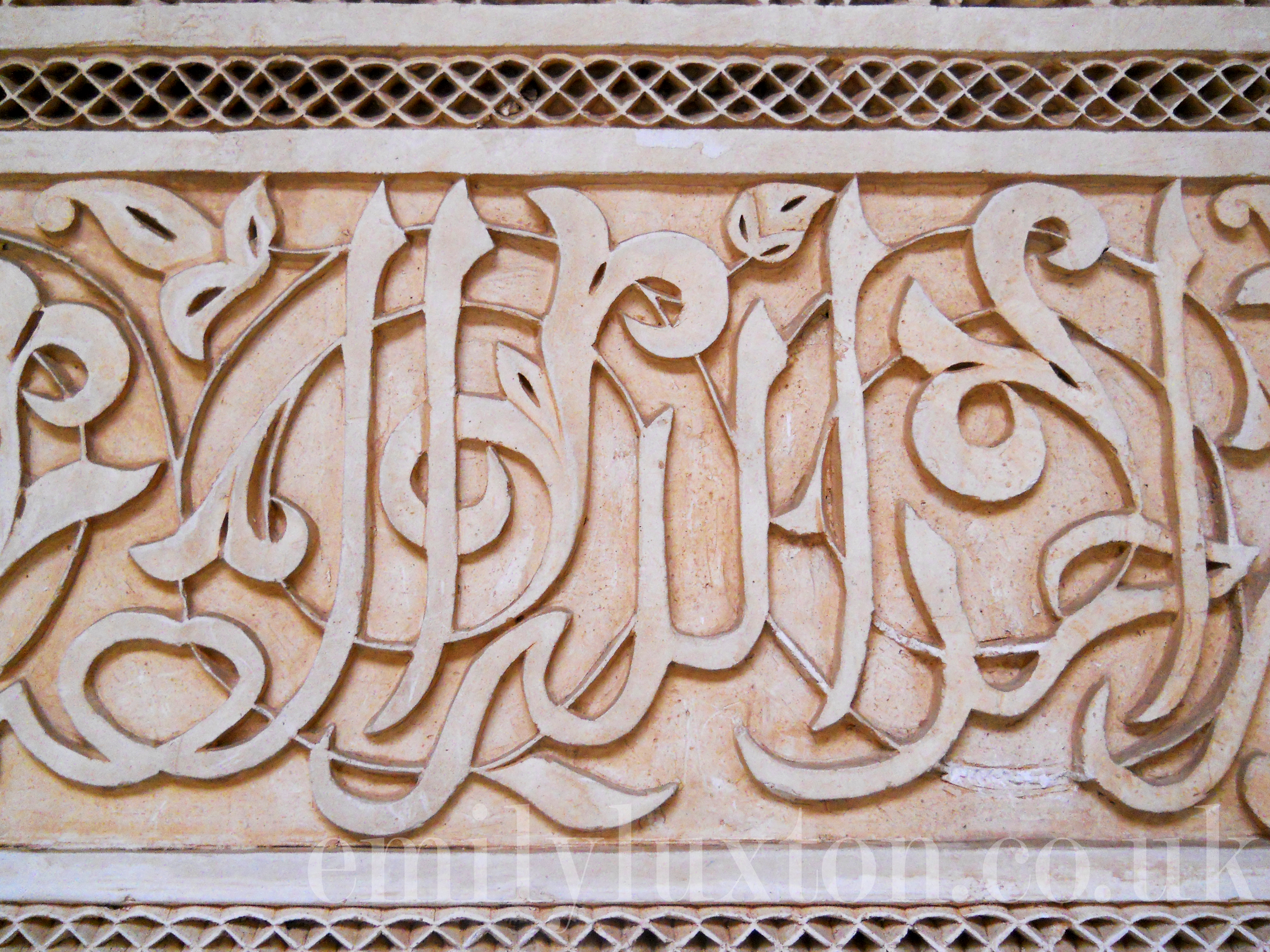 After leaving we walked slowly around the souqs, looking for souvenirs and gifts. I bought some amber – a sweet-smelling perfume sold in crumbly soap-like bars – from an apothecary which was lined from floor to ceiling on three walls with huge glass jars. The store owner switched on a light behind the jars of dye and sent a dazzling display of colour across the dusty shop floor; vibrant magentas, yellows, and indigos which come as a surprise in the darkness of the souqs. The smells of the spices were amazing; so rich and warm that my mouth watered for tagine.
We wandered into an Aladdin's cave of wonders, where piles of silver tea sets, decorated treasure chests, sparkling bejewelled jewellery boxes and hookah pipes created a genuine maze in of the shops interior. Dazling stained glass and carved bronze lanterns bobbed overhead, meaning that we had to stoop to move around. Sam haggled relentlessly for a shisha pipe, getting the price down to Dh450 from Dh900.
Emerging into the clear space of the Djemma el Fna, I felt that we were finally on top of Marrakech, having fully mastered the arts of haggling, navigating the souqs, and keeping hold of our money in the face of opportunistic 'guides'. Dodging musicians and henna ladies, we headed for the terrace of the Cafe Glacier on the far side; our favourite place to watch the comings and goings of the square without the frequent harassment. Over a cheap lunch of pizza and coke (Dh80 each) we watched a nearby group of snake charmers hustling, and tried to work out if the ape-handlers were cruel. Most of the apes seemed happy enough in spite of the chains and small rabbit-sized cages, and cuddled and played with their handlers affectionately.
In the afternoon, it rained for about an hour; thick, heavy drops which felt alien in the warm air. Ignoring the distant rumble of thunder we walked to the Jardins Harti in the Nouvelle Ville. After the stunning Marjorelle Gardens, these were a little disappointing. The Harti gardens are somewhat lacklustre and seem to contain more pathways and empty spaces than plants. Luckily, they were free, and I imagine that on a sunny day this might be a pleasant place for a walk.
With the darkening sky threatening another downpour, we called it a day a little early and jumped into a taxi back to the riad. All in all, a fairly gentle, easy-going final day in Marrakech.
Information
Ali Ben Youssef Medersa – 9am – 6pm, Dh50. Just off Rue Souk el Khemis. 212 (0)44 39 09 11
Grand Balcon Café Glacier – 8am – late. Djemaa El Fna
Jardins Harti – 8am – 7pm, free entrance. Place du 16 Novembre, Nouvelle Ville.