Some posts on this site contain affiliate links. If you book or buy something through these links, I earn a small commission (at no extra cost to you). Take a look at my privacy policy for more information.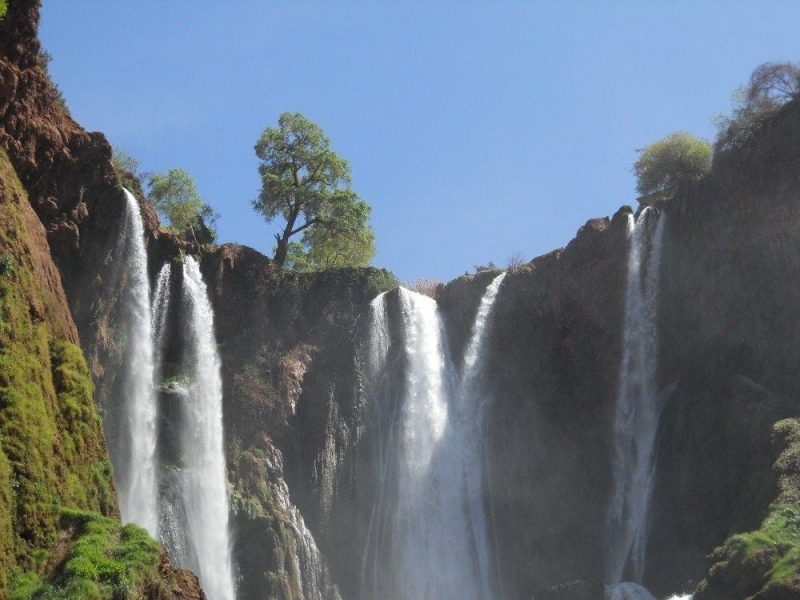 The Ouzoud Falls are located in the Azilal district in the Atlas mountains around 150km northeast of Marrakech.
These beautiful falls are over 120m high, with several jets of water merging into one larger stream towards the base. At the bottom, rainbows can almost constantly be seen playing in the mist. Ouzoud is a berber name referring to the many nearby olive trees.
This post was first published in 2012, but remains largely relevant. The Cascades d'Ouzoud are still one of the best day trips from Marrakech.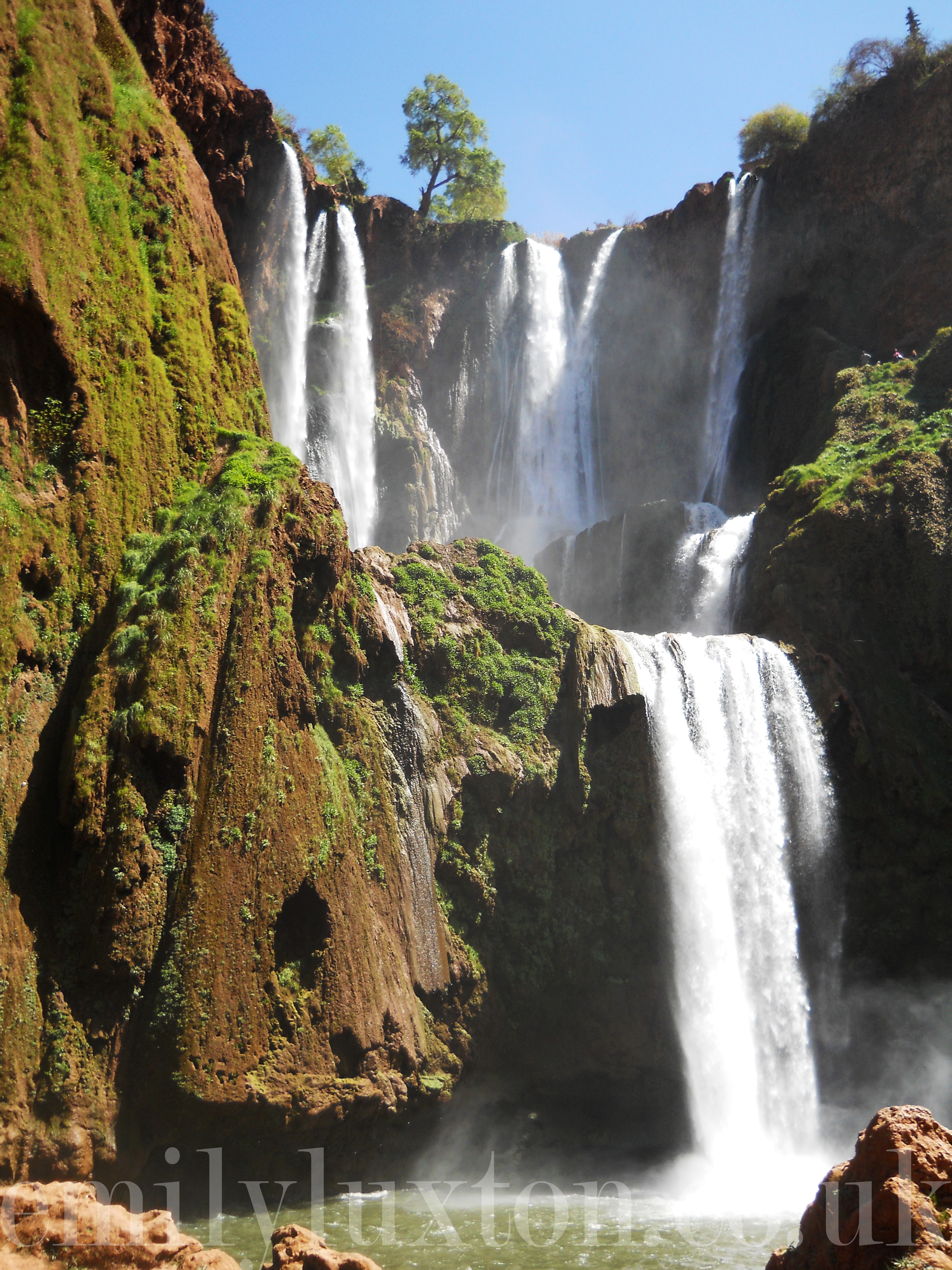 Escaping Marrakech with a Day Trip to Ouzoud Falls
When it comes to getting out of Marrakech, there are a host of excursions and day trips to choose from. Morocco is an enormous country with a rich and diverse topography, so it seems a shame to stay in just one place.
Everywhere we looked in Marrakech, someone was offering excursions, and not all of these looked too genuine. I was pretty glad we booked ours in advance, through Expedia, so that I knew the company, Sahara Tours International, could be trusted. I also get the impression that, surprisingly, we got a cheaper deal by booking in advance, so in general I'd recommend it.
We had a fairly early start, meeting the minibus at 7:30am at the Djemma El Fna. Our small group was made up of nine British tourists, plus the driver and Youssef, our guide. It was nice to spend a bit of time with other English speakers, and swap stories about our experiences so far. Youssef was very friendly and spoke perfect English – far better than anyone else we met in Morocco – and gave us a  very informative tour as we left Marrakech.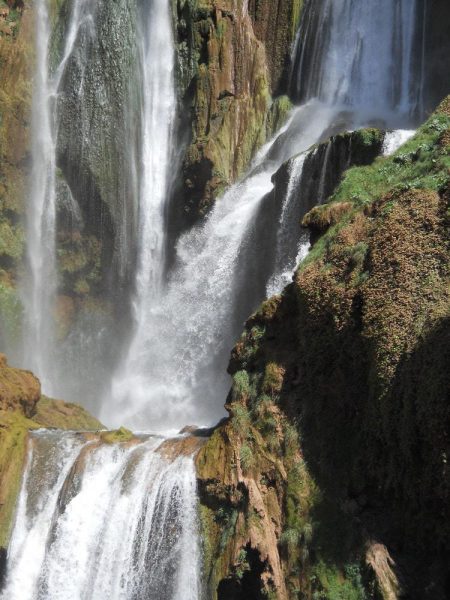 Climbing into the Atlas Mountains
We had a long drive – about 150km – with some amazing views. At first, there were long, flat plains on either side between two rows of distant mountains; on the left low and earthy, on the right higher, more jagged and snow-capped (these forming the High Atlas mountain range). We passed huge expanses of farmland, which was on the whole still being farmed in traditional ways.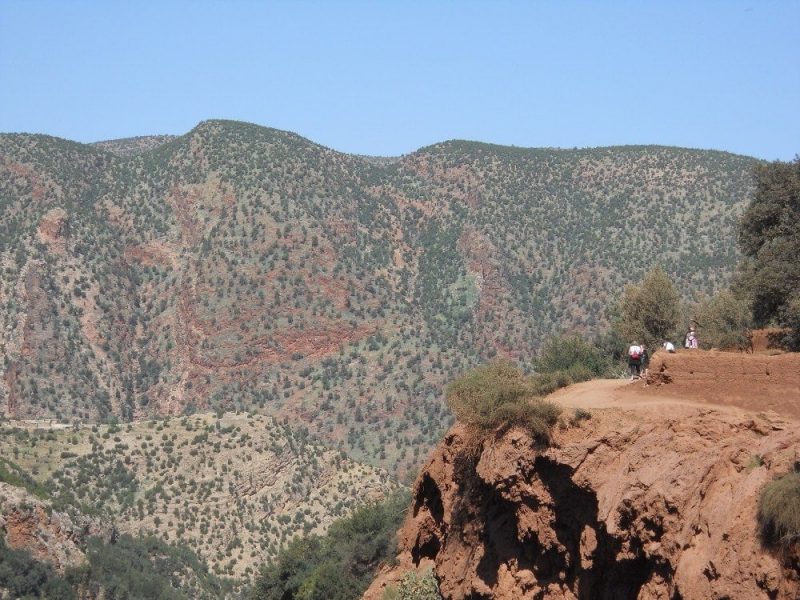 Boys rode on donkeys loaded either side with huge wicker baskets stuffed with hay. Men in wide-brimmed straw hats tied under the chin worked the land with hoes, or bent right over weeding or harvesting so that they disappeared into the long grass. I never saw any machinery in action, although in one field I watched a man tilling the land by hand directly opposite a showroom of shiny new tractors.
As we began to climb higher into the mountains, the landscape around us changed. Winding mountain roads were bordered on the one side by sheer drops, on the other by steep cliffs of red clay or slopes covered in dark green forest. All the while the snowy peaks of the High Atlas loomed like blue ghosts in the background.
The Walk to Ouzoud Falls
Around three hours after leaving Marrakech we arrived at a small cluster of shops and riads which have sprung up at the start of the trail to the Ouzoud Falls.
We walked down a few steps, round a corner and suddenly there were the falls, much bigger and more thunderous than I'd expected; several jets of water ploughing their frothy way over the edge and down over one hundred and twenty meters.
The stark edge and sheer drop made my knees weak, but the view was incredible. Clear blue skies, rolling green and brown hills, and glittering white water tumbling down in overlapping streams. I stood still, enjoying the hot sun and the light relief of the breeze on my skin, and stared out at this scene of stunning natural beauty, listening to the gentle chirruping of birds and the whisper of trees in the wind.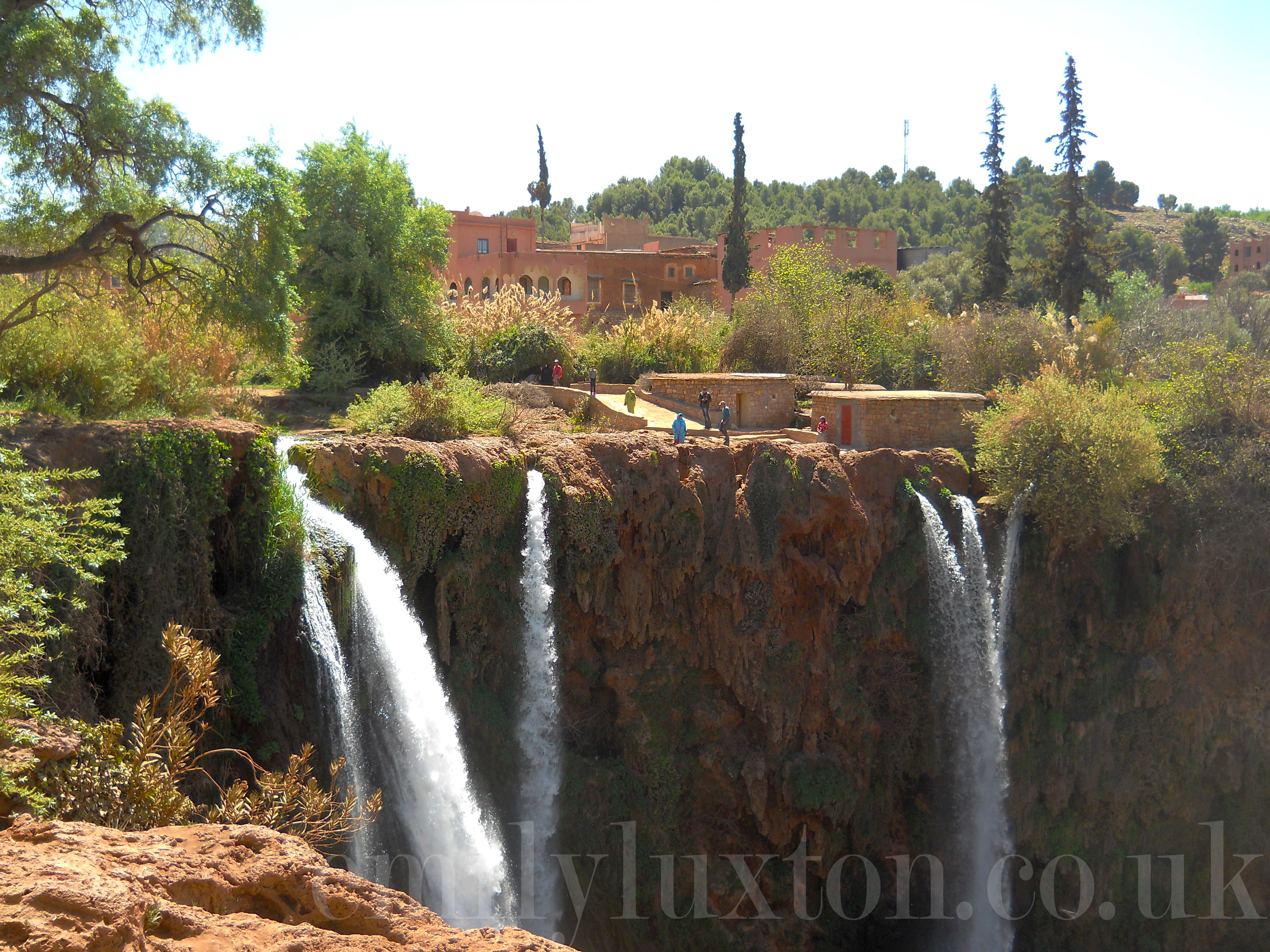 We walked back the way we'd come to go upriver a bit and cross a bridge, stopping in the shade for a lesson in irrigation, with Youssef drifting frequently into often obscure tangents.
He interwove his speech with details of how land and property is split between a family once the father dies – with one eighth going to the wife and one son receiving a share equal to two daughters – or about the rules for taking second wives.
Visiting an Argan Oil Collective
Youssef showed us a female Argan Oil co-operative to see how the oil is made. The women crack open the argan seeds using a rock, then grind the almonds in a manually powered stone mill.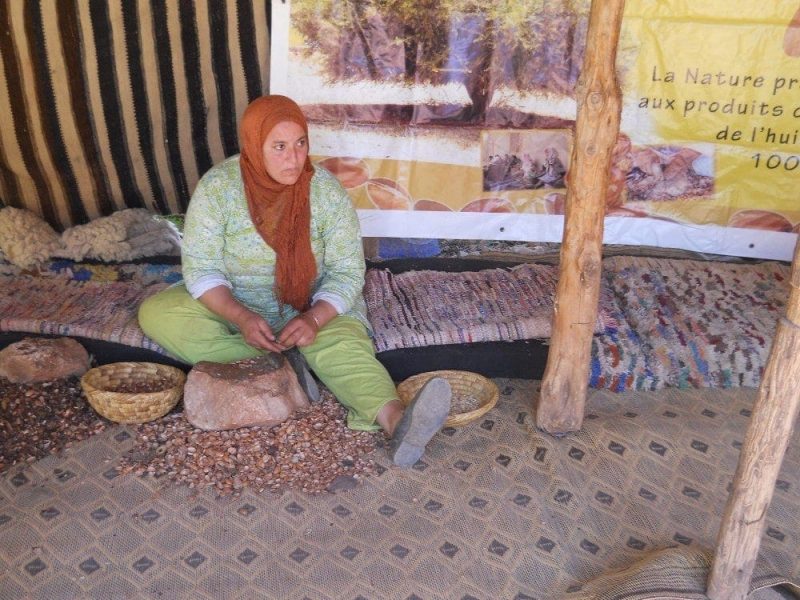 I had a go on this, it's extremely tough work and my arm ached after a few minutes. The whole process is incredibly long and laborious; it takes around thirty kilograms of argan fruit and eight hours of hard work to produce one litre of pure oil.
After the demonstration, we tasted some of the oil with bread. My favourite was a sticky, crunchy paste made with argan oil, honey and almonds, which tasted like peanut butter. I also bought some argan oil lip balm for Dh60, which worked wonders for my sunburnt lips.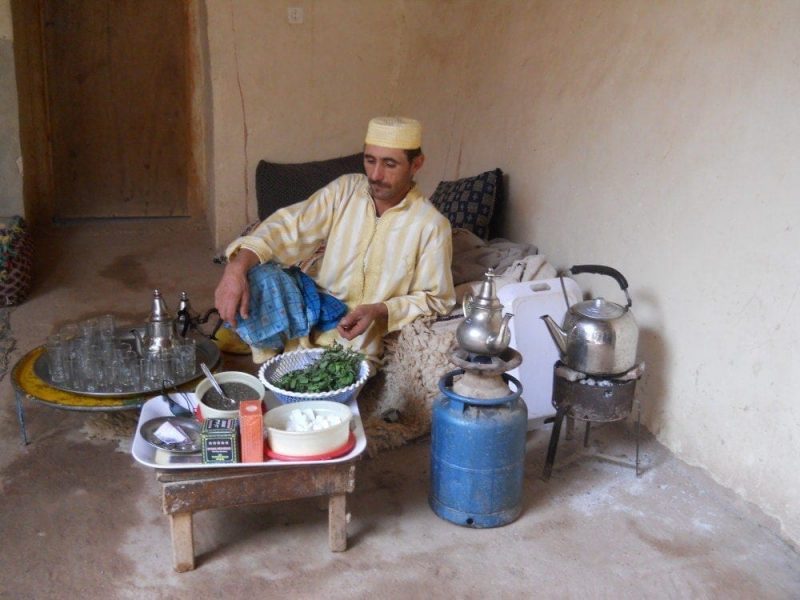 We also went inside a traditional Berber house. The temperature outside was around thirty degrees but inside the house, it was dark and very cool. This is down to the hugely thick clay walls of the house, which apparently also keep the interior warm during the very cold winters.
The layout was similar to a riad but with no garden in the small central courtyard: Youssef explained that the presence of a garden in a riad is to bring nature into the city, but that this isn't needed in houses in the country which are surrounded by natural beauty. That is especially true of the houses here!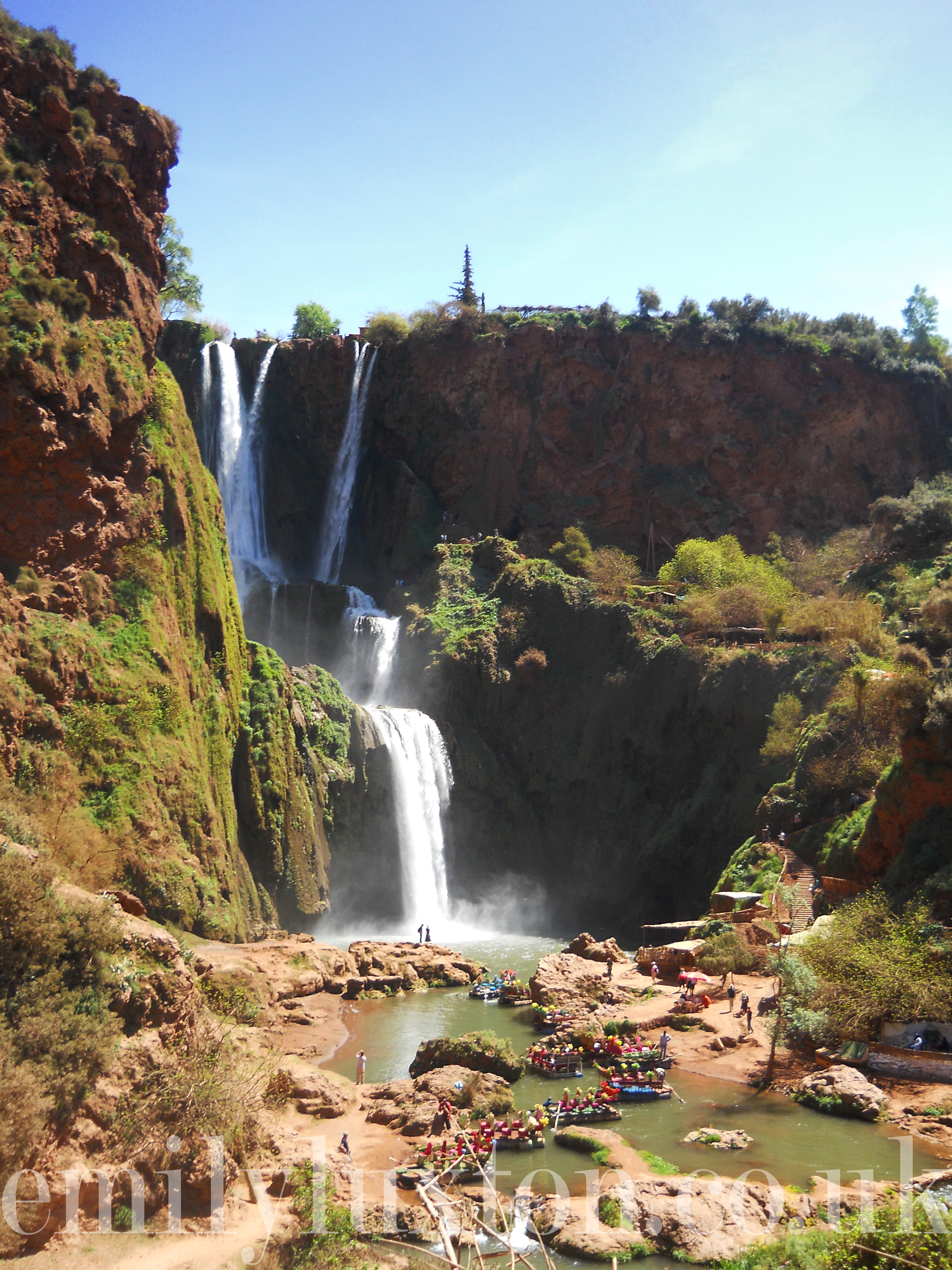 Down to Ouzoud Falls
We walked along the river where frogs, basking in the muddy shallows, struck up a loud chorus of ribbiting. We were then able to view the falls from the other side, definitely an even better view than before. The beautiful mountain scenery has simply been hacked in two, leaving a huge gorge with sparsely forested red slopes. The roar of the churning water drowned out all other sounds.
After that, we took a long walk down a twisting path of dried mud, which was fortunately shaded by many trees. It was very dusty and slippery, and every few minutes from somewhere in the front we heard Youssef call back "mind your feet".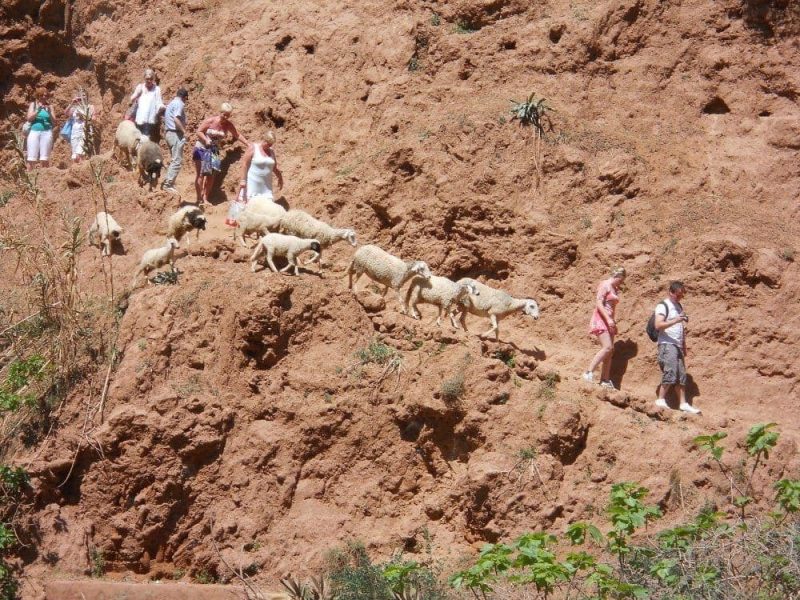 At the bottom, more shops and cafes have sprung up along the river in the shade of the Cliffside. Lots of boats – rafts of plastic barrels and wooden seats with extravagant floral decorations – gathered at the shore to take tourists to the very bottom of the falls.
We didn't bother with a ride as you can get close enough on foot. We crossed the river again over stepping stones and some fairly rickety improvised bridges, stopping repeatedly to take photos. Behind us, a herd of sheep had come down to the river by the same path we had, and were leaping effortlessly over rocks and around other tourists to get down to the shore.
Lunch with a View
We stopped for lunch about halfway up the opposite side of the gorge. The 'café' was more of a pit stop where several tagines smoked away on a huge grill by the side of the path, and a small patio with some shabby plastic garden furniture faced the falls directly.
The light wind brought the occasional misty spray of water to our faces, and from our fantastic vantage point, we could see the pale rainbows which are an ever-present fixture at the bottom of the falls.
The friendly owner brought us bottled water, plates of small salads, chicken tagine with carrots, potatoes and onions, oranges for dessert and mint tea, all for Dh110 each.
Although it was slightly strange to be eating such hot, hearty meals in the baking sun, the flavours of the tagine were somehow summery, with the sweetest and softest carrots I've ever tasted. This was the nicest place I've ever eaten lunch, the food was delicious, the view was stunning, and the constant rushing sound of the water seemed to cool my senses.
As we climbed the remaining steps – difficult now with our full bellies- we encountered a family of Barbary Apes. Many were just sitting in the shade of the trees, but the younger ones were racing about and play fighting, and a few ran up and patted my bum, looking for food. They seemed very used to human company and were so cute to watch as they tumbled about together.
In spite of the long, uncomfortable drive home, this was a fantastic trip with a friendly and professional tour company. This was definitely one of the highlights of my time in Morocco. I'd very strongly recommend a day trip away from Marrakech to anyone visiting, as the city can be a bit overwhelming and a trip to the great outdoors can be so invigorating. I'm also very happy to recommend Sahara Tours International, who organised a brilliant tour and were a pleasure to deal with.
Tips for Visting Ouzoud Falls
Check the weather for Azilal, the surrounding region of the Ouzoud Falls, before leaving so you have an idea of what to wear. This area is not high up in the mountains, so isn't cold. When we went in March the temperature was around thirty degrees, very clear and very hot.
Take lots of suncream, a hat, a bottle of water, and a light jacket if there is a forecast for rain. Try not to take too much else with you as you don't want to be carrying a big bag around in the heat. I believe that in summer you can swim in the river, so take swimwear if you want to.
You won't need much money with you, just enough to cover lunch. There are souvenirs on offer from shops along the river's edge and also the shop at the argan oil co-operative we stopped at had a lot of really nice products. If you want to buy argan oil in Morocco, this is a better place than the souqs as you ensure the producers get paid directly.
Wear trainers. This isn't a serious trek, so you don't need fancy footwear, but some steep slopes – which do get a little muddy – are involved so you'll wants shoes with grip and no flip-flops. I wore an old pair of converse (threw them away afterwards to save suitcase space!) but I think I would have been fine in a pair of those cheap plimsoll-type pumps.
Cover up. The villagers around the Ouzoud falls are used to tourists, but it's still respectful to keep your arms and knees covered if you're a girl. I wore long shorts and a loose cotton t-shirt and didn't feel at all conspicuous, plus my shoulders were protected from the sun.