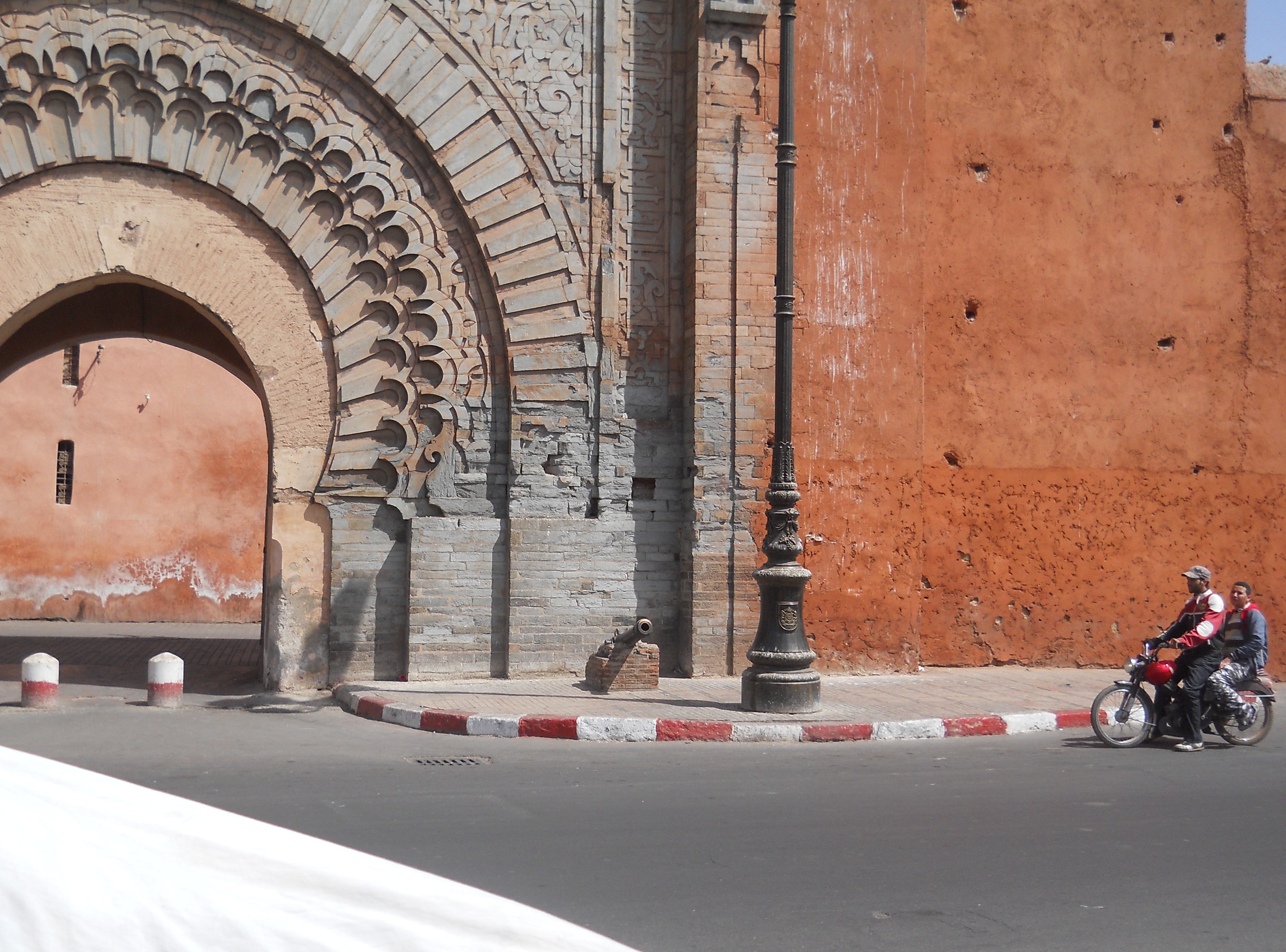 If you asked me to sum up Marrakech in three words, I'd go with Pink, Dusty, and Loud. But I've been travelling all day so I'm probably a little grumpy right now. In truth, the city has been amazing, and the last ten days has been one of the biggest adventures of my life! I've got so many stories, and pages of notes, so hopefully over the next few days I'll share my adventures.
Our arrival in Marrakech was like a beautiful, surreal nightmare. We touched down just after sunset, and immediately got caught in a web of taxi drivers. I wasn't prepared for negotiation, and was caught off guard by the 300 dirham fee, which the driver said would be necessary because our Riad was in a difficult place to get to.
This turned out to mean that Riad Dar Nabila wasn't actually on a road (it's in a small network of alleys near the main bus station and just off the Rue El Gza). Our five nights at this Riad taught us that the taxi driver could have gotten us as near as the main road and pointed us down the alley. As it was, he stopped on the side of a road "somewhere" in the city, called over a random boy and conversed with him in Moroccan, a strange, guttural language with lots of hacking sounds. Before we knew it, we were following this boy down a series of side streets, dodging speeding mopeds and passing hole-in-the-wall shop fronts where huge cuts of meat hung from metal hooks. In patchy English, our 'guide' assured us he knew where the Riad was and that the journey was a five-minute walk. As we ventured deeper into a mesh of alleys which became gradually darker and less populated, and which – bizarrely – reminded me of the first Assassin's Creed game, it became clear that this was untrue.
Our guide didn't know the way! Gradually, as he asked more kids for directions who inevitably joined the party, we built up an entourage. Eventually and seemingly by luck rather than any knowledge amongst our party of guides, we arrived at the Riad. We parted with another 50 dirhams as a tip for the original guide; we refused to give him the 100 he demanded as he hadn't known the way, but even 50 was far too much. It's a popular sport among young Moroccans to insist on offering uninvited directions to foreigners, often leading them to their destination (guessing most of the way) and to then demand money. My tip; tell them you have no money when they approach you. Often, they walk away then and there, if not it's their own fault when they waste their time for no pay.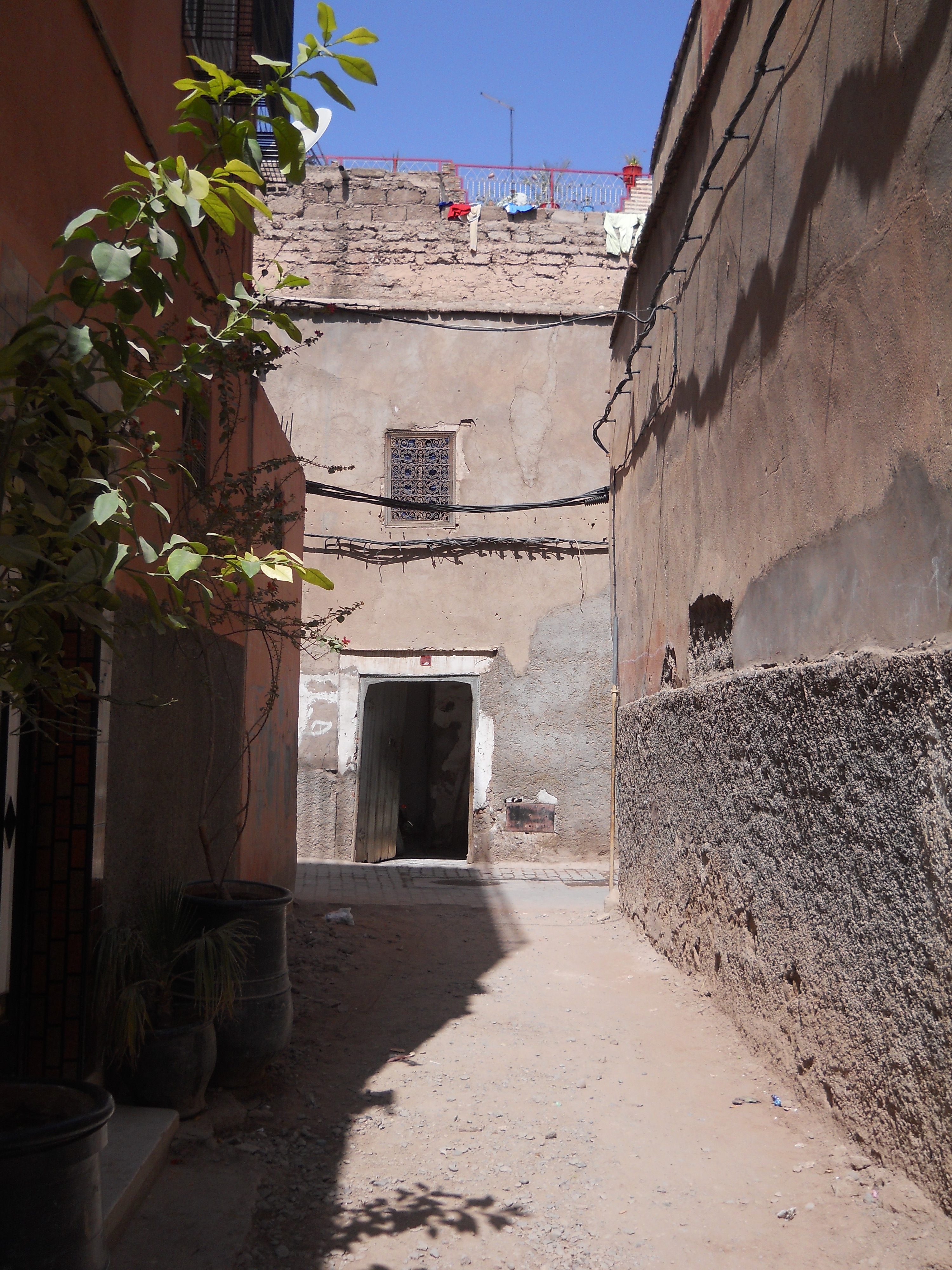 The unassuming street where Riad Dar Nabila can be found – a shabby, narrow alleyway like many in Marrakech.
On first impressions, Riad Dar Nabila was lovely. A big wooden door in a completely plain wall down an unnamed alleyway opened onto an oasis of calm. As the door closed on our noisy group of guides, we found ourselves in a little envelope of silence. The owner, a tiny woman named Khalila, made us feel immediately welcome. Riads are two-storey houses built around a central courtyard overlooked by a balcony, very traditional in Marrakech and a perfect place to relax. The courtyards are a way for Marrakechis to bring a splash of nature into the heart of the city. We relaxed on the patio amongst orange trees and creeping trellises and enjoyed our first taste of mint tea, a Moroccan staple, which is deliciously sweet and pepperminty.
After a very informal check-in, Khalila brought us dinner. Three courses each with a bottle of water, for just 30 euros. This is an expensive meal in comparison to many places in Marrakech but still very reasonable, especially given how delicious the food was.
With our bellies full of tagine and our nerves still a little shot from the confusing arrival, we went to sleep with our first adventure in Morocco safely behind us.
My tips for arrival in Marrakech:
Know exactly where you want to go before you leave the airport. If your Riad is central, it will likely be difficult for a taxi driver to get to. Choose a nearby landmark to be dropped at and walk. If you can get the contact details for your Riad, email them for directions, or do what I did and print off a map from the booking website.
Don't tell taxi drivers it's your first time in the country, and try not to look lost. They will take advantage!
Find out how much a taxi should cost before you go. Tell the driver you know it costs that much and it's your last price. If he tries to say no, just start to walk away and say you'll take the bus (which is across the road). This usually works, and if it doesn't another taxi driver will spring out of nowhere!
Try not to take help from strangers. Just smile and say no thank you. If you do need help, a few coins is enough of a tip regardless of what you're asked for. Be friendly and firm! These kids are out to take whatever they can get but they won't harass you or get rude.