Some posts on this site contain affiliate links. If you book or buy something through these links, I earn a small commission (at no extra cost to you). Take a look at my privacy policy for more information.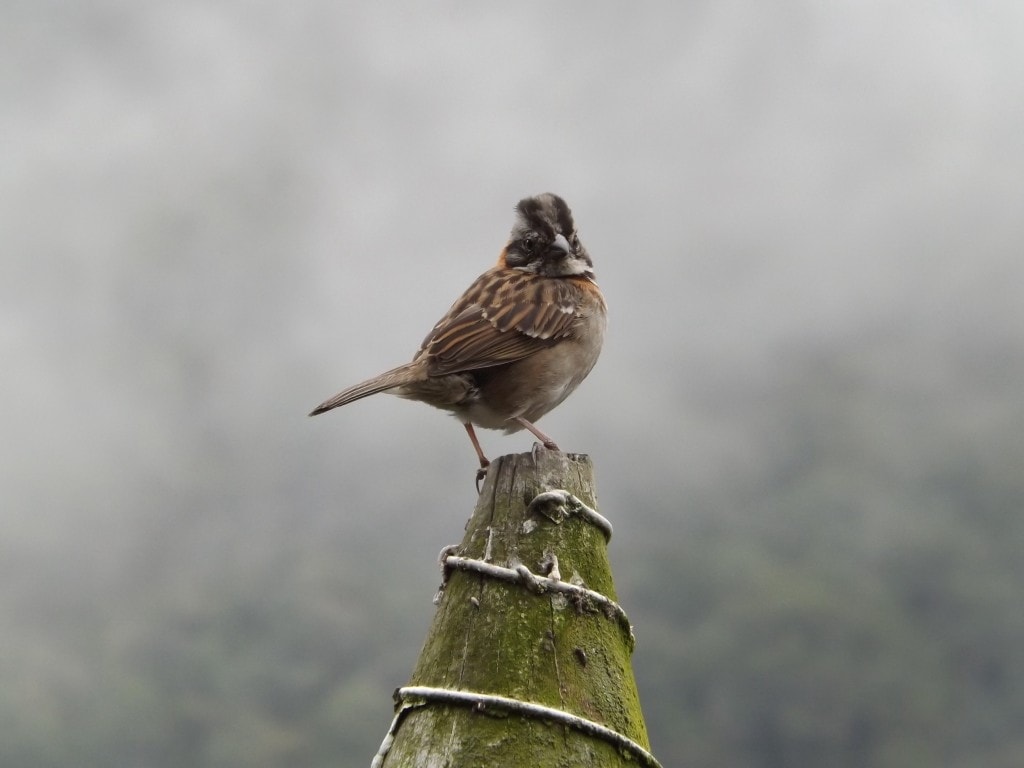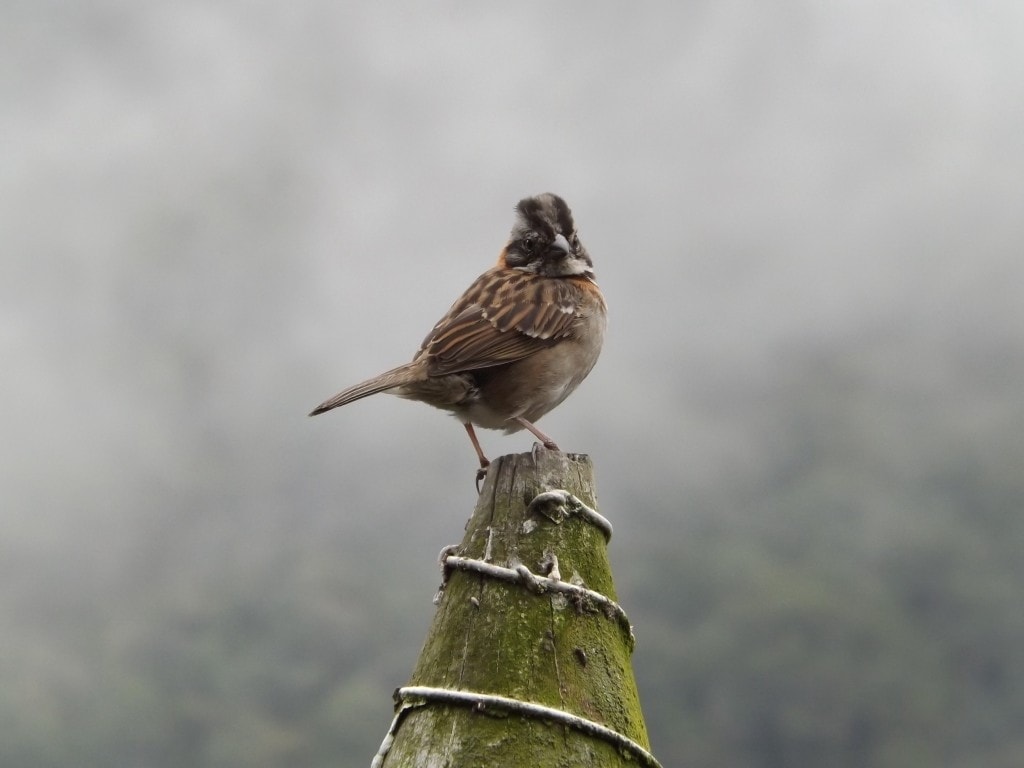 The penultimate chapter of our Colombian adventure was such a contrast to the cities, beaches, colour and vibrancy that we'd experienced so far that it was like being in an entirely different country. In fact, with it's cloudy, rainy weather, cool air, greenery and farmyards, Salento did seem slightly more like European countryside than a part of South America – if it wasn't for the lush coffee plantations, towering mountains, palm trees and multiple waterfalls, that is!
Salento was my favourite part of Colombia – or one of them – and I've been putting off writing about it out of fear that I might not do the place justice.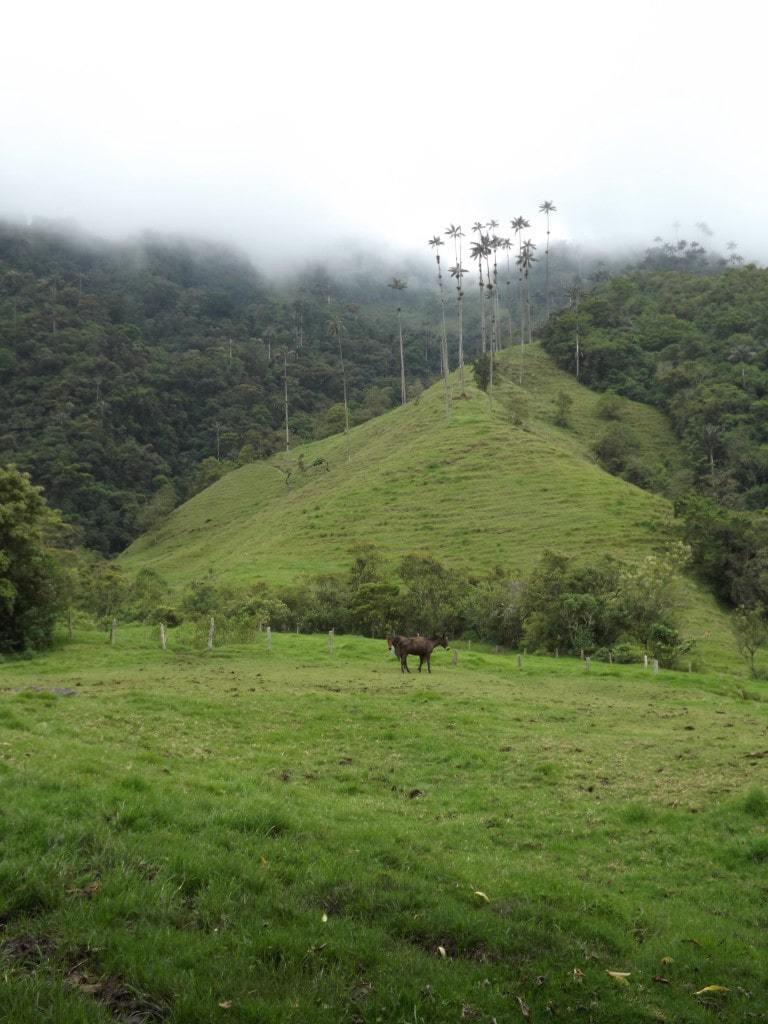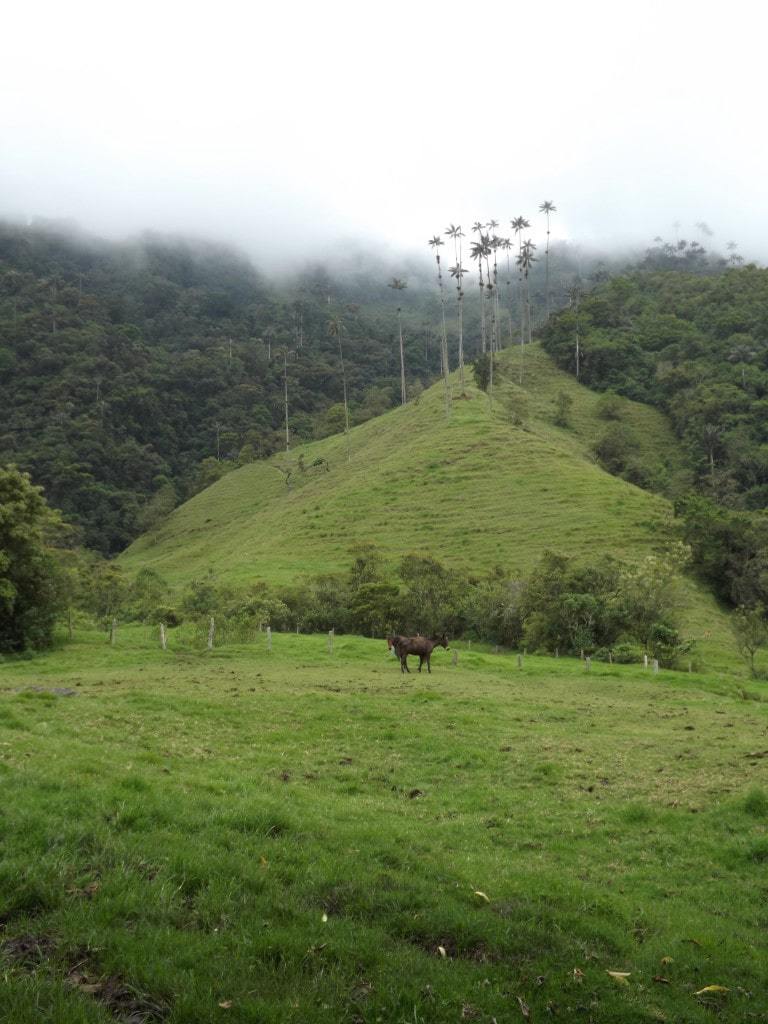 Valle de Cocora Hike in Salento
Our second day, after a fantastic first evening at Yambolombia hostel, took us into the Valle de Cocora for a five-hour hike through some of the most dramatic and beautiful landscapes I've ever seen. There's a reason this is one of the best things to do in Colombia.
After a ridiculously filling, but delicious, breakfast (Gabriel seems very intent on fattening his guests up) we donned our hiking boots and headed up the road to Salento's main plaza, where we hopped into a jeep headed for the valley. Actually, we didn't exactly hop in since all the jeeps were full: we had to stand on the back plate of the jeep and hold onto the bar as we sped along winding roads through a valley lined with thickly forested cliffs, glimpsing two thundering waterfalls amongst the trees – feeling the thrill of adventure and the wind in my hair as we sped along.
Starting the Hike
We reached the main entrance to the Valle de Cocora, a national park, and started the hike along with Nathan – one of the French guys from Yambolombia – and Sandra, a retired maths teacher from New York. Nathan – a well practised hiker who had earlier mentioned that the five day Lost City trek had been too tame for him – quickly left us behind, while Sandra, who was going it slow and seemed happy to make her own way, soon fell behind, leaving the two of us to hike alone.
There are loads of routes through the valley, but we'd chosen one of the shortest because Salento was due yet more heavy rain that afternoon, and we didn't want to be caught out in it for too long. The circuit took us through farmland, first of all, along an easy dirt path that just barely sloped upwards, past fields of cows and flat empty plains studded with occasional spindly palm trees. All around us were tall, silent hills laced with smoky clouds, and with the overcast sky it was beginning to feel that the only colour left in the world was green.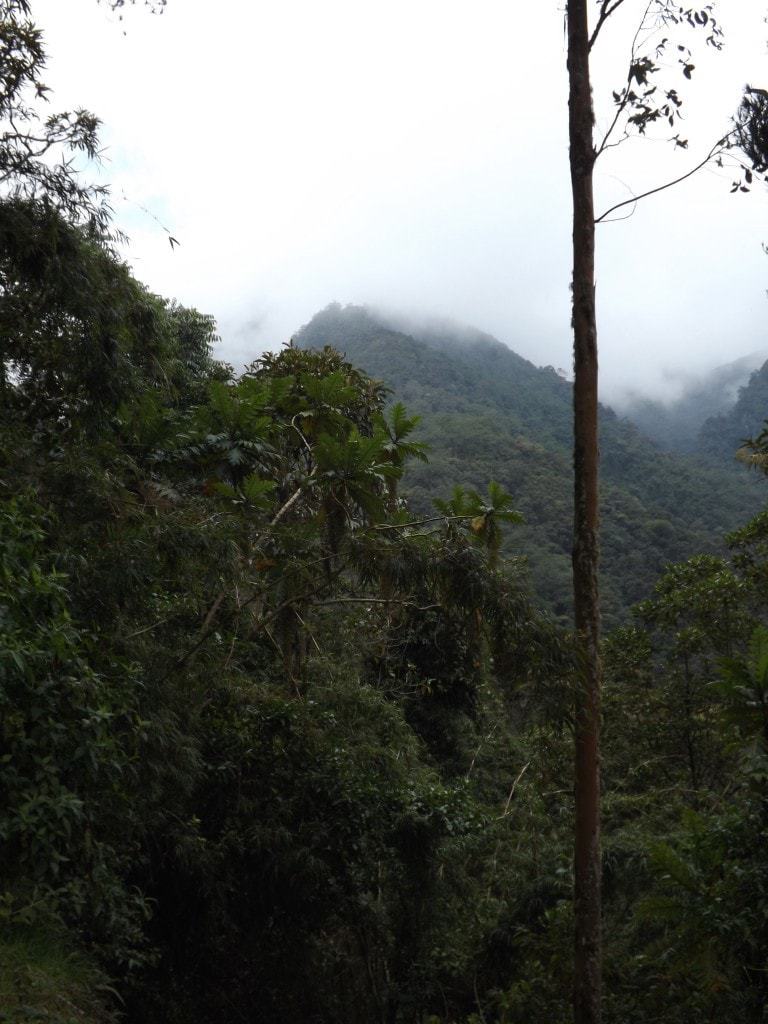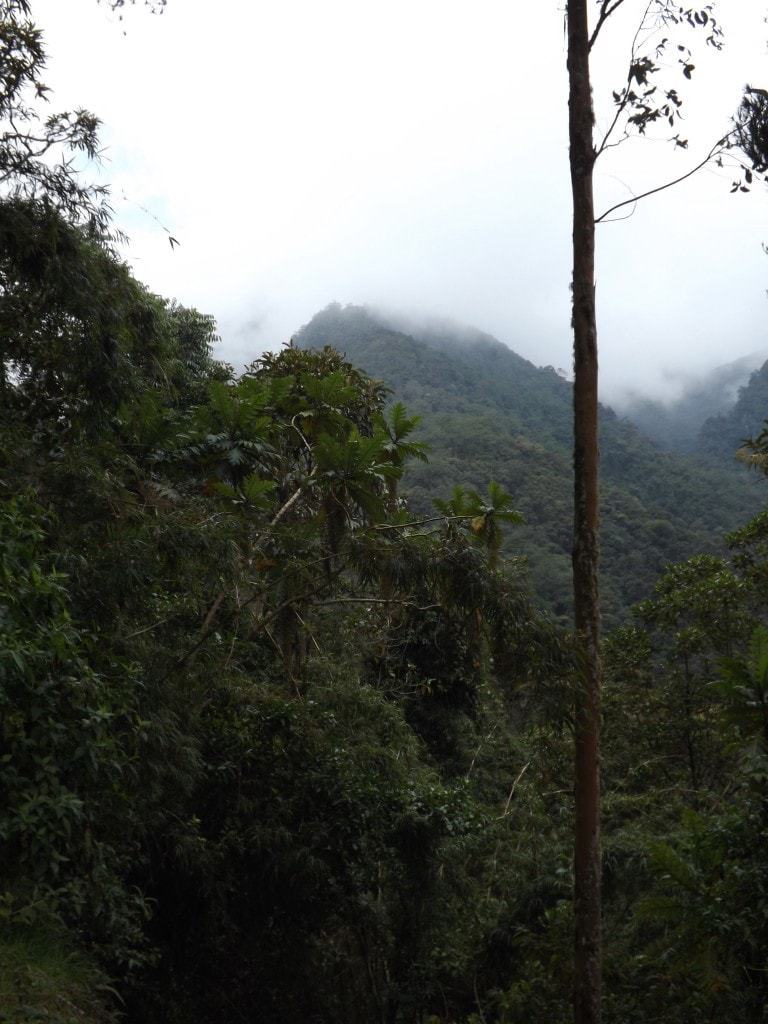 Indiana Jones Bridges
Within less than an hour, we had reached the forest and begun following a small, rushing river along a rocky path. The trees grew thickly all around and in many places bent over the river so fully that we were almost in darkness, but every now and then the sun – finally out from behind the heavy clouds – broke through and caught the river in a beautiful, golden light, making the place seem almost magical. The path was winding, and frequently crossed over the river on long, thin bridges made from wooden slats and thick copper ropes, which bounced as we walked across them and only supported one person at a time. Obviously, you can't cross a bridge like that without humming the Indiana Jones theme!*
*yes, I'm a massive geek!!
Acaime Hummingbird Point Salento
From the forest, we veered off the main path and took a detour to Acaime, also known as hummingbird point. This was at the top of a pretty steep hill, but was worth the extra walk and the 4,000 COP entrance fee (which included a drink) because it's the best place to see the huge numbers of hummingbirds which live in the Valle de Cocora.
There are at least six species which make a home there, and we caught a glimpse of all of them at Acaime, a lovely, rustic coffee shop – where we dried the delicious, super-sweet hot drink Aguardiente – thanks to the feeding stations they have hanging around the building.
The birds hovered and darted, making the most incredible, unexpected vibrating noise with their wings and moving much faster than I could move my camera, seeming to move almost in stop motion; sometimes one would move so quickly from one point to another that I couldn't be sure it was the same bird I was looking at. I was so close, I could see their tongues dart in and out of their long, pointed beaks as they slurped up their drink. It was incredible!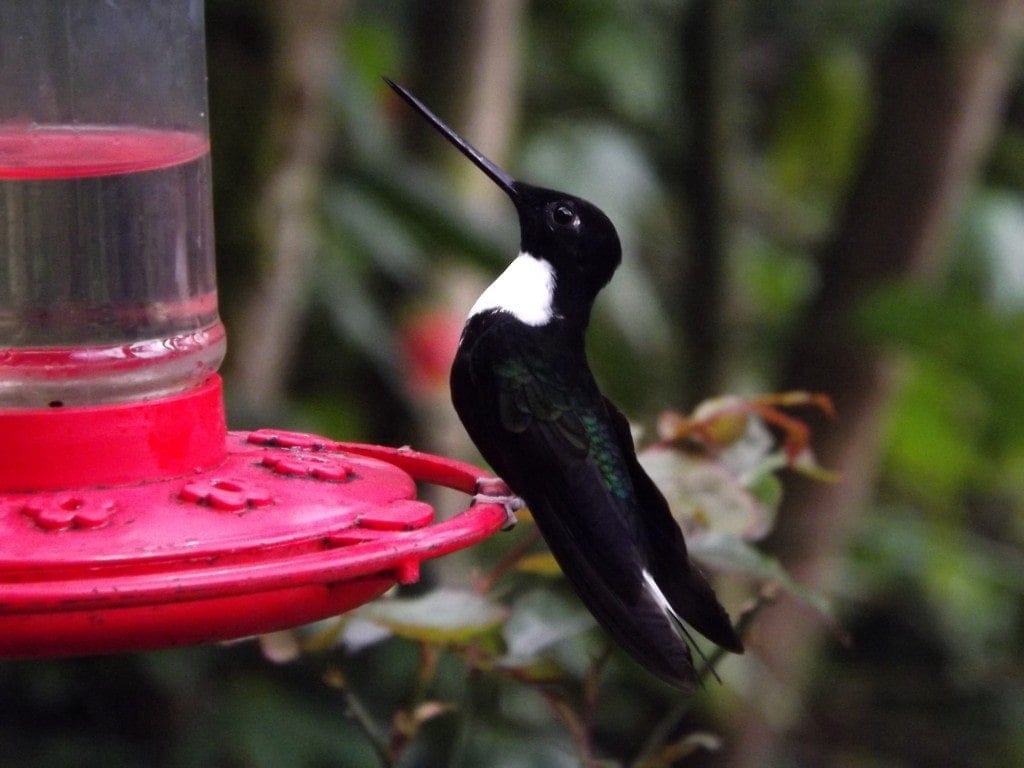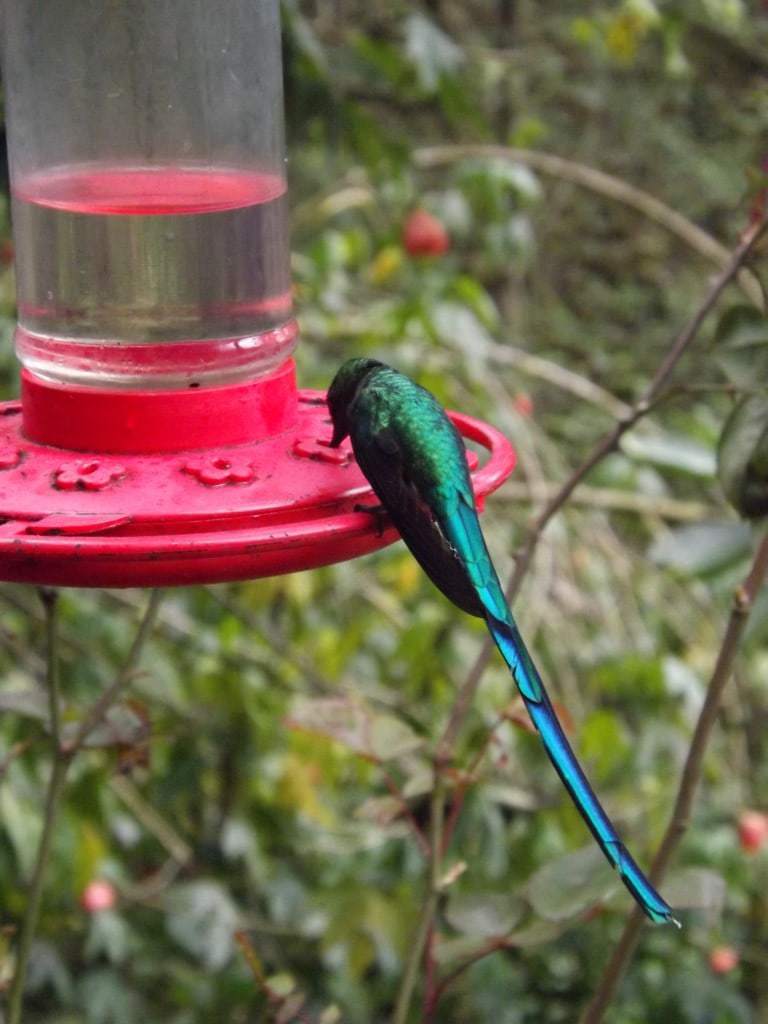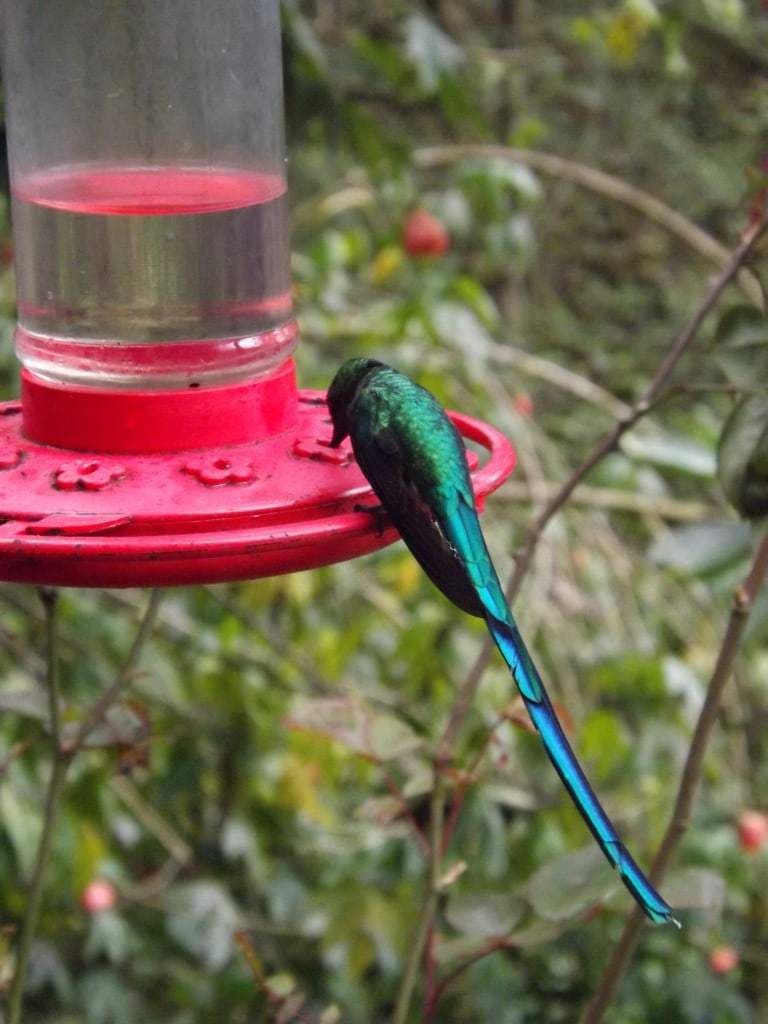 Hitting the Peaks
After Acaime, the walk became more difficult as we headed out of the valley and upwards, climbing an increasingly steep path as it zig-zagged along the side of a mountain. My legs, stronger now than theywere at the start of our trip but still unfit, protested at every step, and we took frequent stops to catch our breath as we moved out of the forest and up into the damp air of clouds.
Reaching the top, where we discovered a beautiful farmhouse that seemed to be wrapped in colourful flowers, I felt so relieved (and so proud) that I could have sunk to my knees – but I didn't want to miss the view! Now that we were out of the forest, and at 2860m above sea level, we found ourselves at eye level with thick, white clouds as they moved between the mountains around us, blocking the view of the thickly forested, emerald green slopes opposite.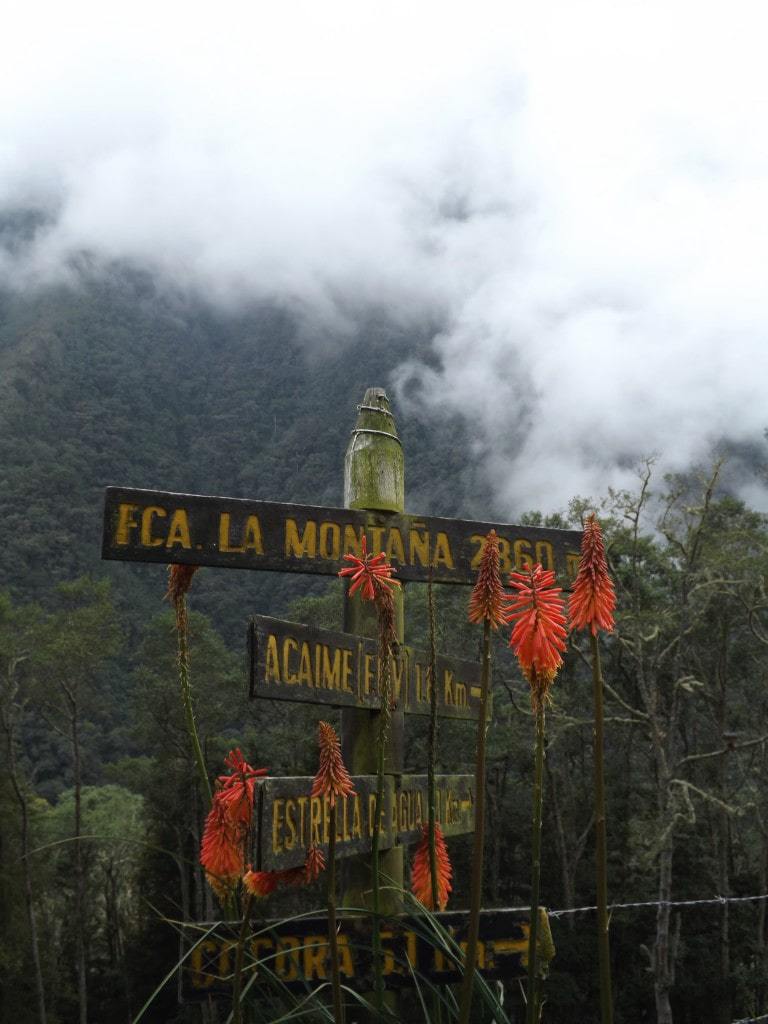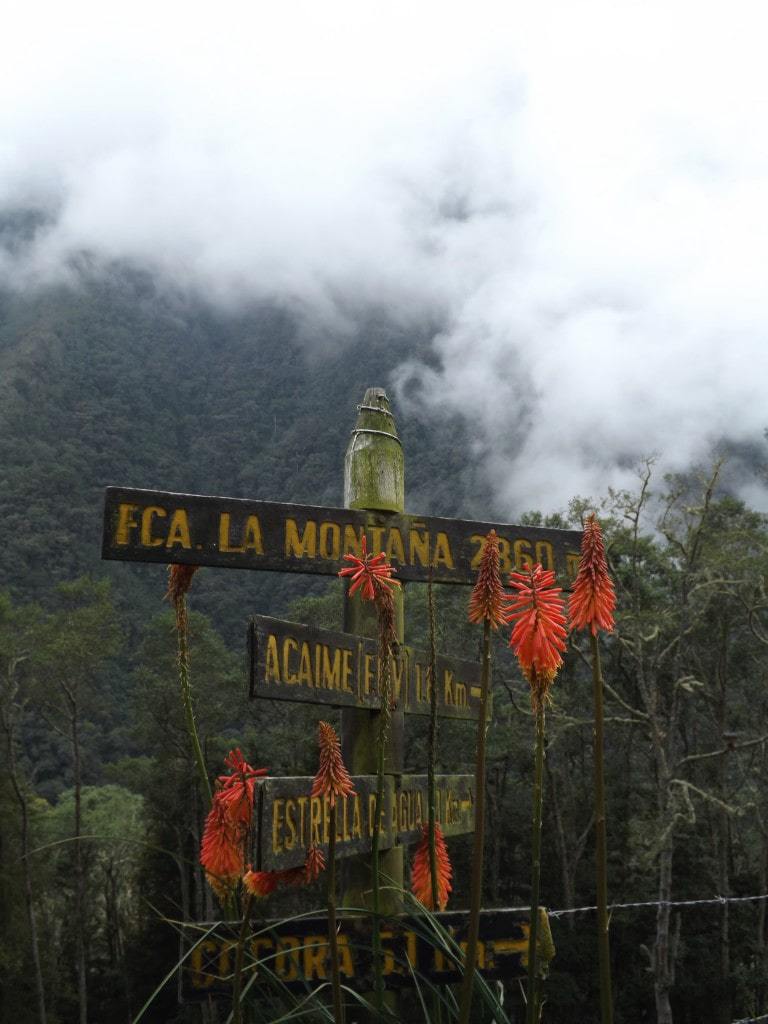 Cows and Palm Trees
The last section of the walk was all downhill, following a wide path with a sharp cliff on one side and a wide, sloping valley on the other. We were walking with a group, now; Sandra the maths teacher, British couple Henry and Zara, and a French woman who barely spoke and whose name I never caught.
The fields we passed were vividly green and home to moody cows alongside towering palm trees, which is a strange contrast; as Henry said, it was like someone had transported the British countryside to the Caribbean. For the last hour or so of the walk, we were caught in heavy rain – the tropical kind with fat, battering drops that soak everything but still feel warm – and surrounded by clouds which by now had descended so low into the valley that they skirted the ground in places, but although it was uncomfortable the surreal and beautiful landscape was well worth it.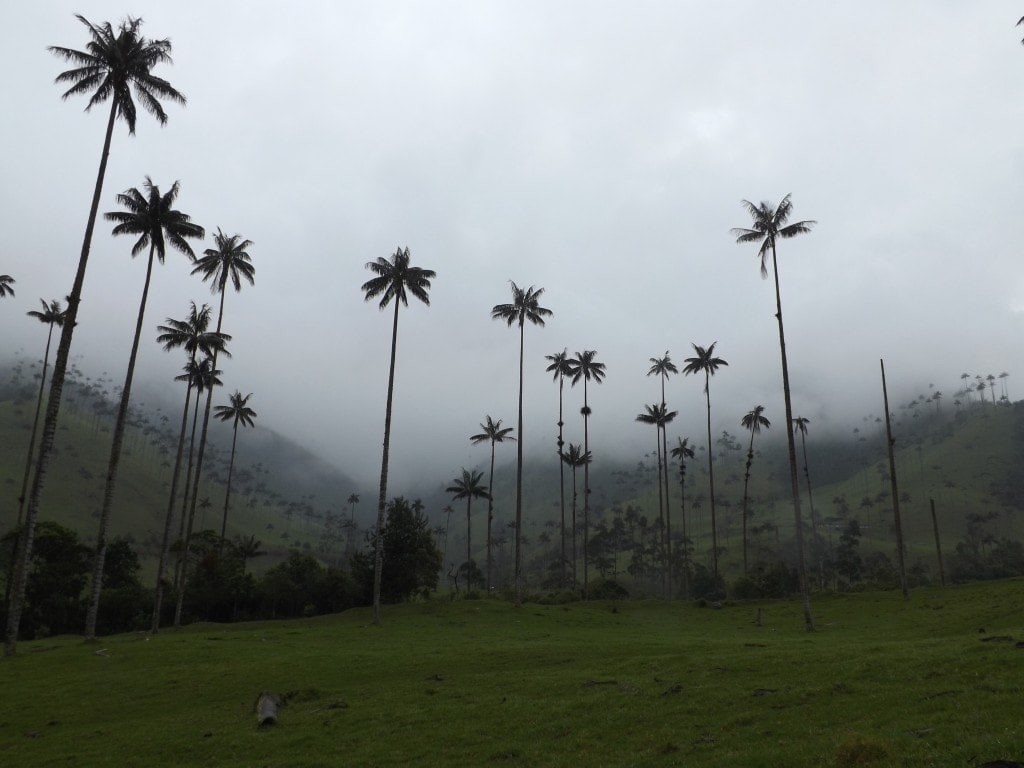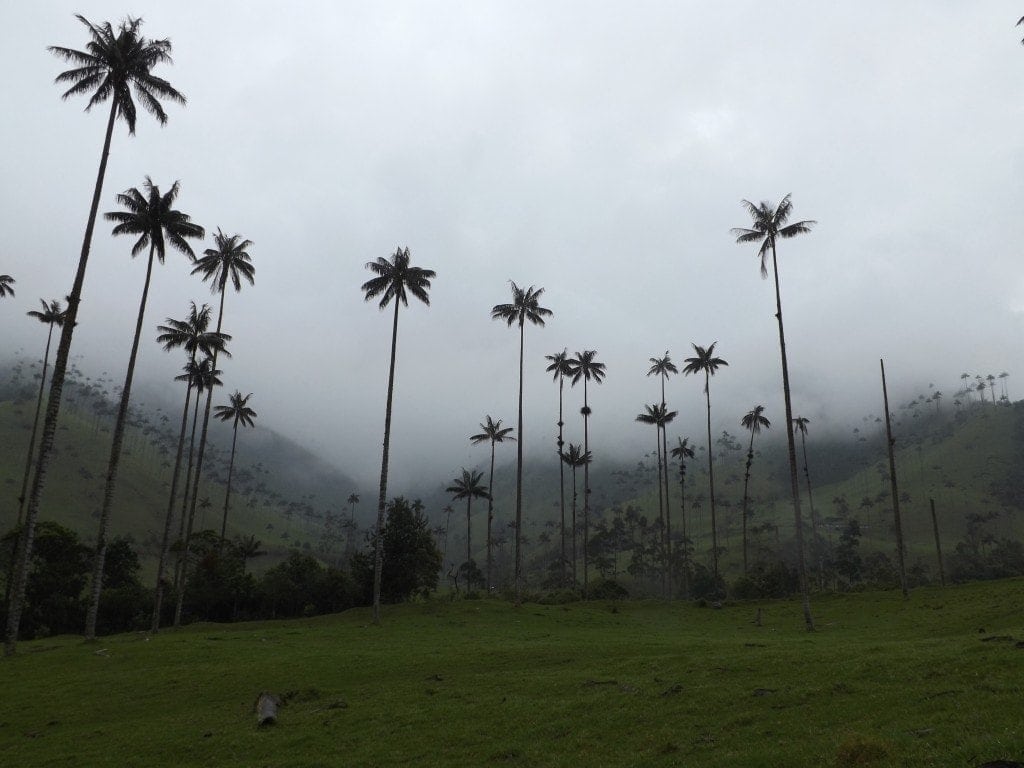 Finally, wet through and exhausted, we made it back to the entrance of the park and hopped into jeeps back to Salento, where we whiled away a very enjoyable evening with our new friends, a lot of drinks, and many variations of Salento's best dish – fresh trout.