Some posts on this site contain affiliate links. If you book or buy something through these links, I earn a small commission (at no extra cost to you). Take a look at my privacy policy for more information.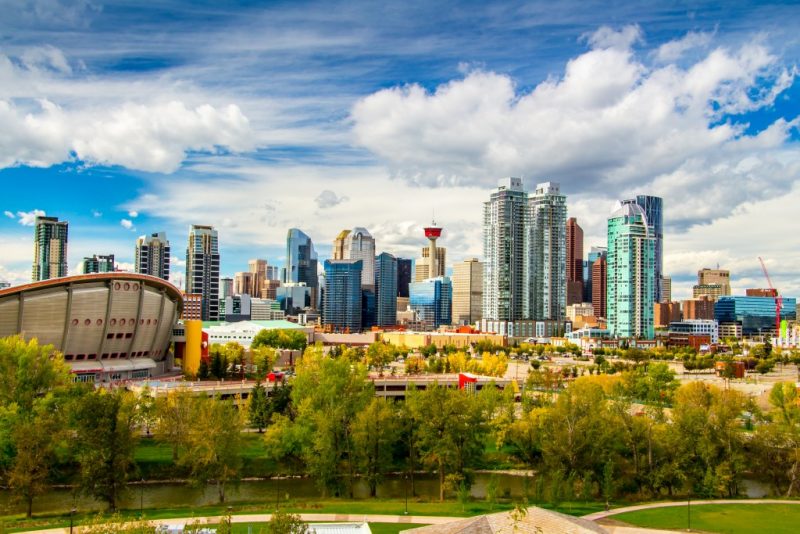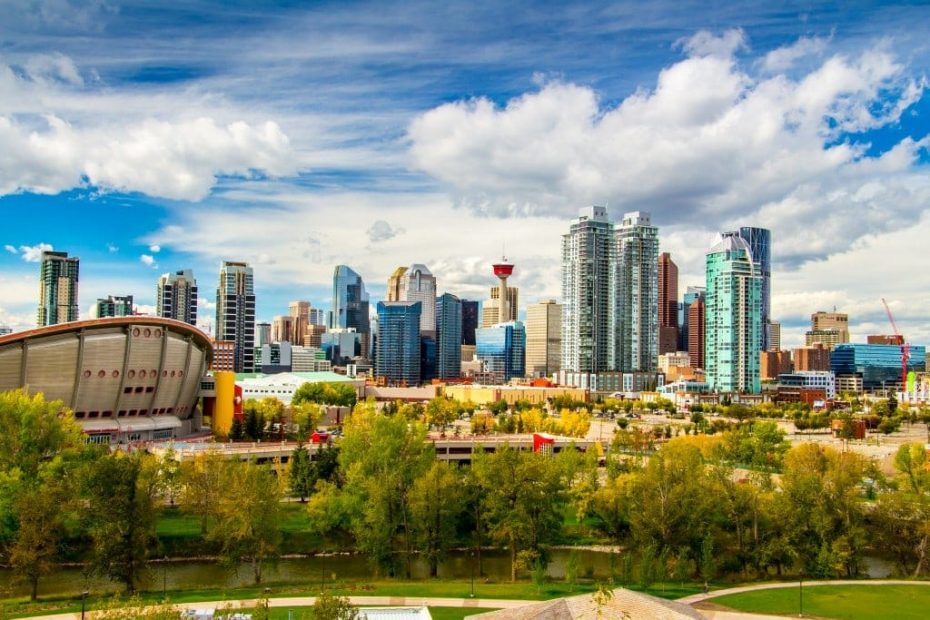 Got a few days in Calgary before or after heading to Alberta's national parks? Want to see the very best of the city? I've got you covered with this list of the best things to do in Calgary. I spent a few days there before kicking off my solo road trip around Southern Alberta, and had an absolute blast.
Perhaps best known for the famous Calgary Stampede and its long cowboy tradition, this is also a seriously cool and contemporary city with plenty to keep visitors busy. From street art, to artisanal breweries, to funky architecture – there's a lot to discover. This is my round-up of the most fun things to do in Calgary, whether you only have a day or a whole week to fill!
11 Fun Things to do in Calgary
3 Neighbourhoods You Have to Visit in Calgary
My trip was supported by Travel Alberta and Explore Canada. But, as ever, all words and opinions are completely my own.
RELATED POST: Amazing Places to Visit in Alberta
11 Fun Things to do in Calgary
Brave the Glass Floor at Calgary Tower
Top of any list of the best things to do in Calgary is the Calgary Tower. Partly because the 191m tower offers some of the best views of the city – making it the perfect place to start your visit to get your bearings! But it has the added attraction of a glass floor section at the front of the tower. Stepping out onto the glass several stories above the traffic of downtown Calgary is a bit of a funny feeling – but it's great for a photo. And it offers an alternative view of the city!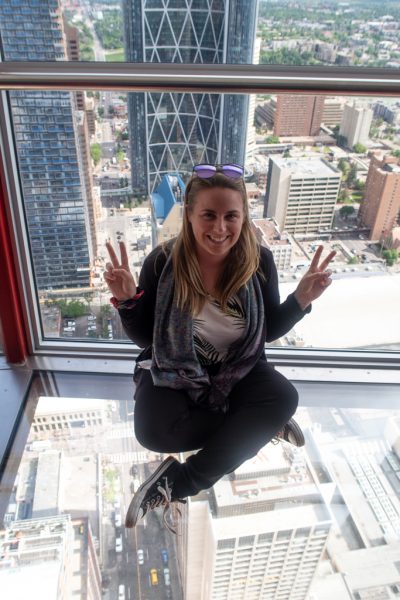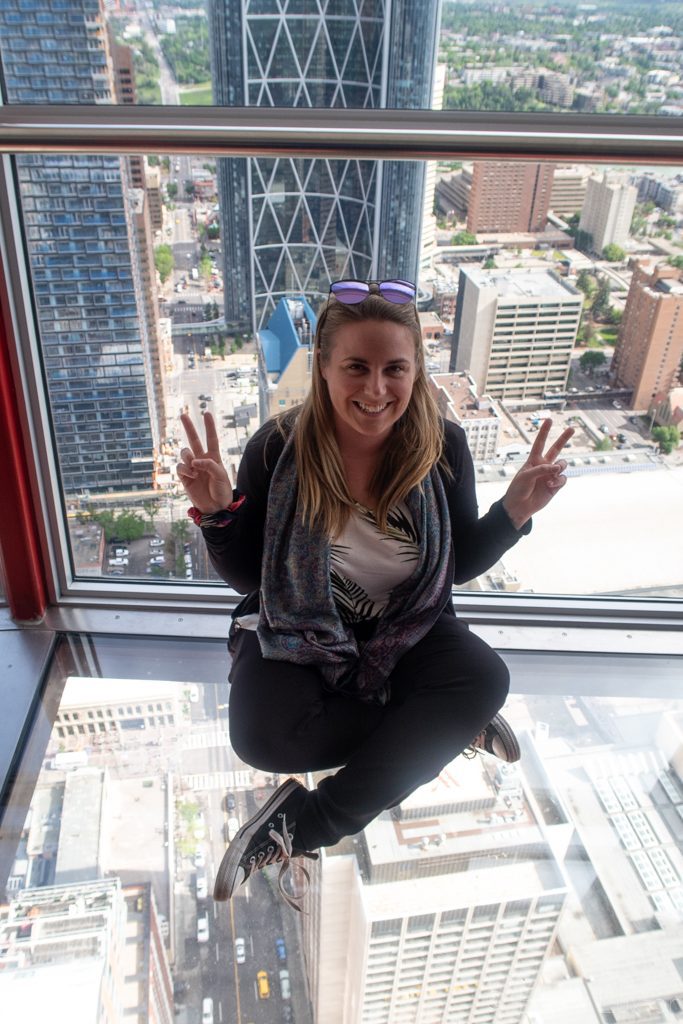 Once the tallest building in Calgary, and dating from 1968, the tower is also a big part of the city's history. During the 1988 Winter Olympics, the Olympic Flame burned at the top. There are several exhibits showcasing the tower's history.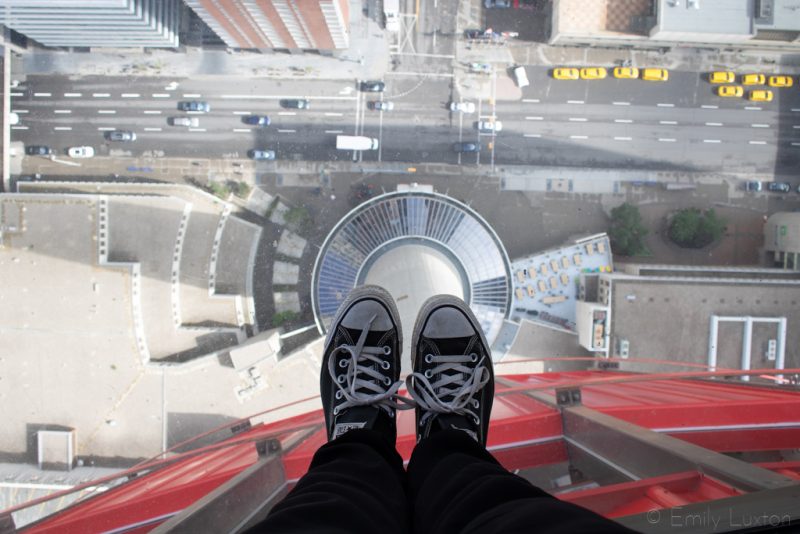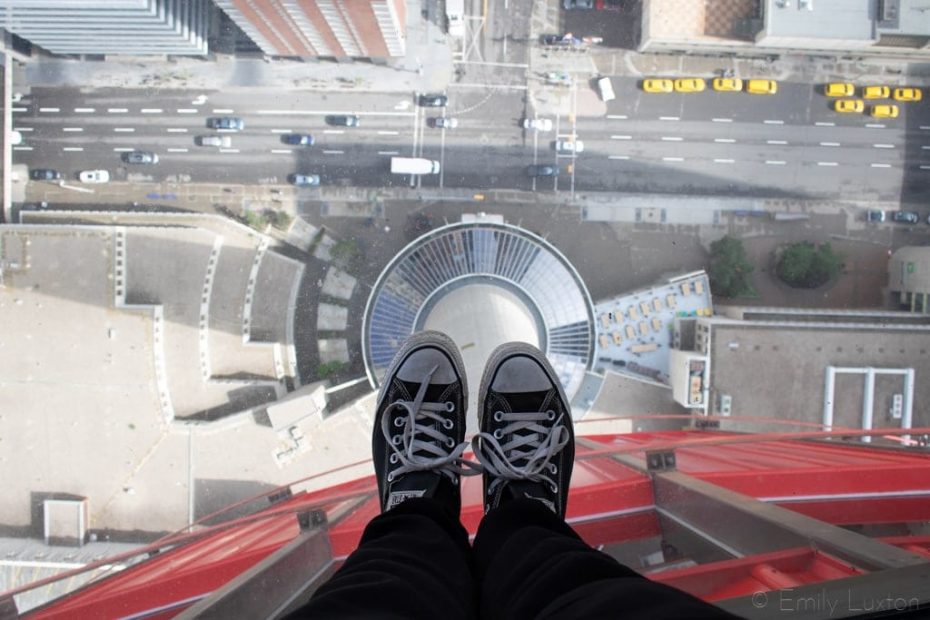 Tour the BUMP Murals
Calgary has a ton of great street art. If you're into colourful walls and cool murals, you'll love this city. Although there's loads of street art dotted around, I particularly loved the BUMP Murals.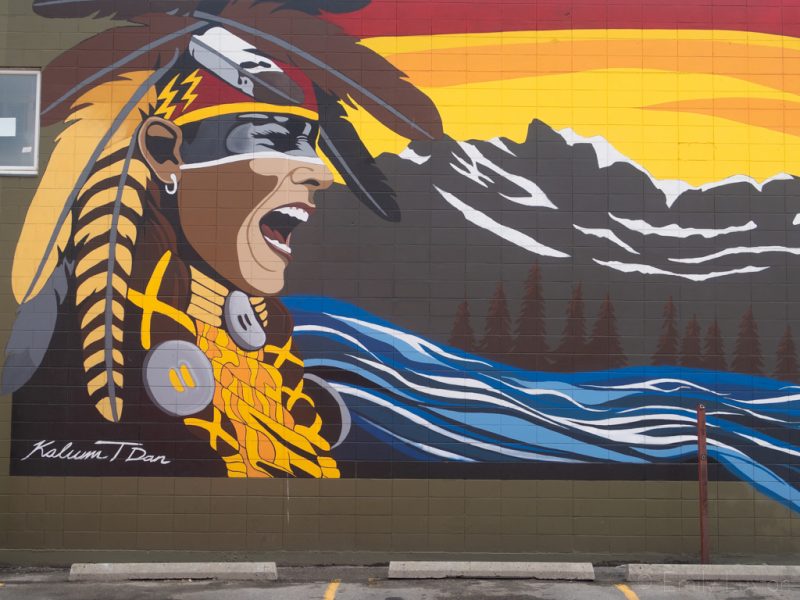 The Beltline Urban Murals Project (BUMP) was started to showcase art and build community spirit in Calgary's funky Beltline neighbourhood. It's a project designed to celebrate the diversity and vibrant character of the Beltline through colourful, creative, and often thought-provoking, works of art.
Artists from around the world, as well as many locals, have produced murals across the neighbourhood. Many of them celebrate Calgary's unique culture, such as a pair of cowboy boots by Edmonton-based artist Jill Stanton, or the powerful portrait of a singing Blackfoot man by local indigenous artists Kalum Teke Dan.
If the BUMP murals aren't enough for you, here are some more fab street art spots I discovered:
Corridor of Connection – 4th Street Underpass near Studio Bell (850 4 St SE)
The Camera Store (802 11th Ave SW)
Commonwealth Bar & Stage (731 10 Ave SW)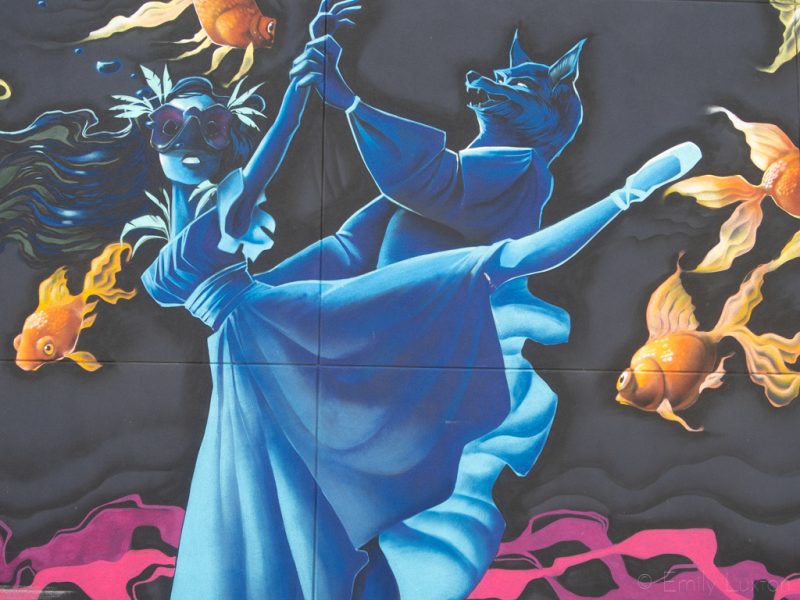 Bike Along the Bow River
One of the best things to do in Calgary during the warmer months is to make the most of all the city's green spaces. The wide, dreamy Bow River cuts through downtown – opening up a serene area that's perfect for cycling.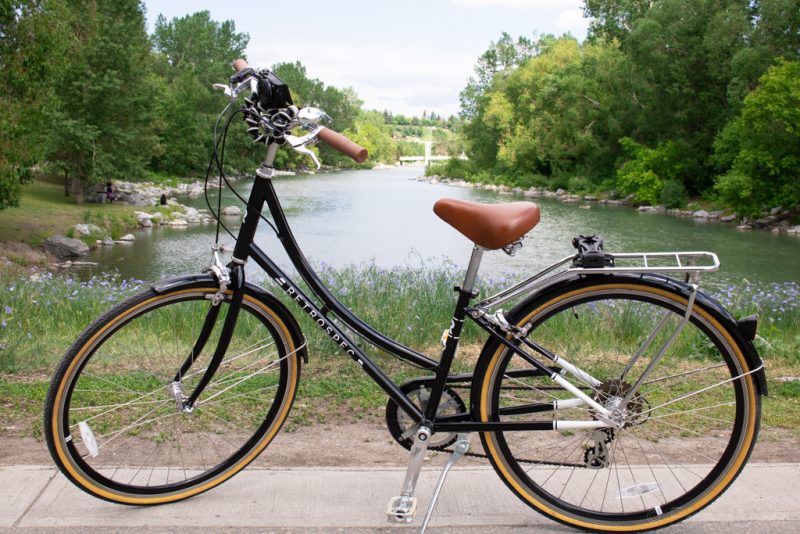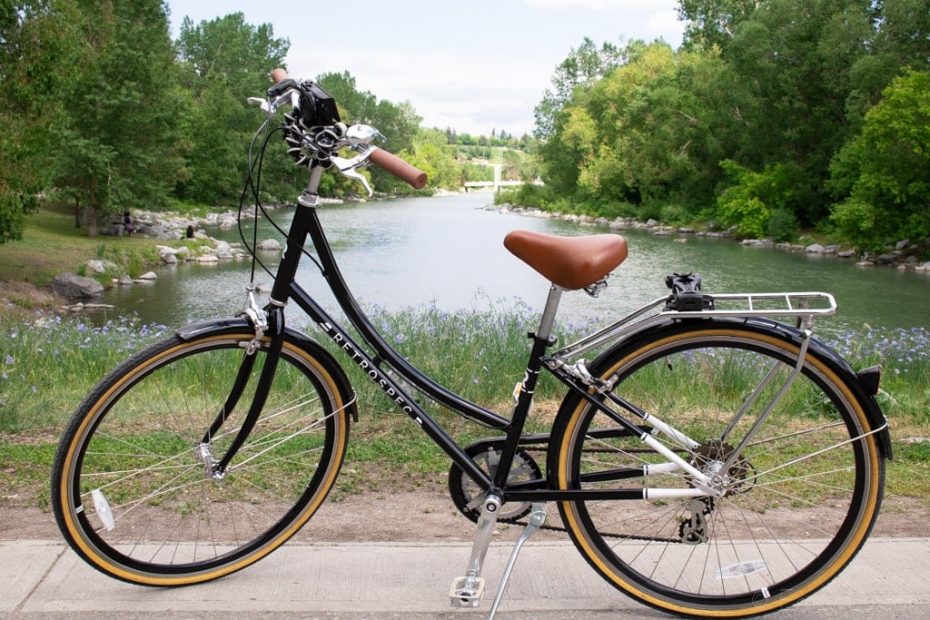 Rent a bike from Rath Bicycles – cute, vintage-inspired rentals available from a hot-pink shipping container on the River Walk. There's a cycle path running the length of the Bow River on both sides. It was a really lovely leafy trail and one of my favourite things that I did on my visit. As you pass the Calgary Zoo keep an eye out for the bear, which can be seen from the bike path!
Cross the Peace Bridge
While you're cycling (or walking, if you prefer) along the Bow River, be sure to cross the Peace Bridge. Designed by architect Santiago Calatrava, this bright red helix bridge connects Calgary's Downtown with the leafy Sunnyside neighbourhood. Not only is it a very cool bridge, but on its northwest side, you can get a great view of downtown Calgary across the river.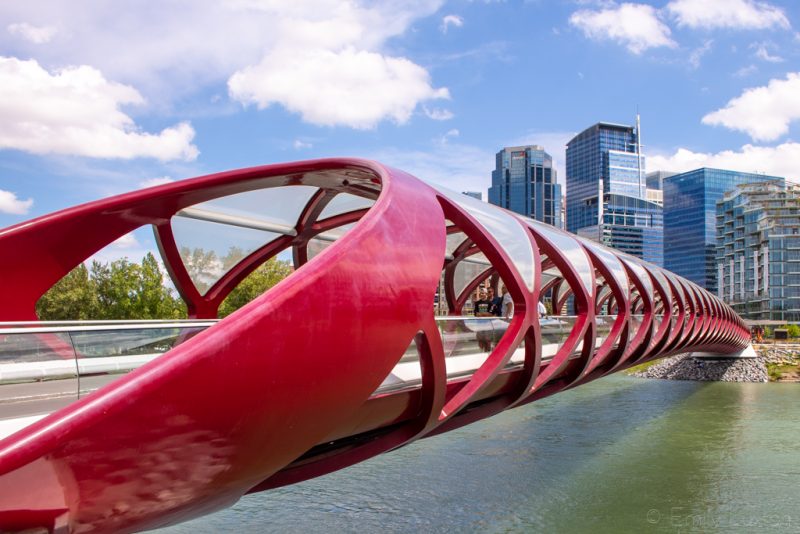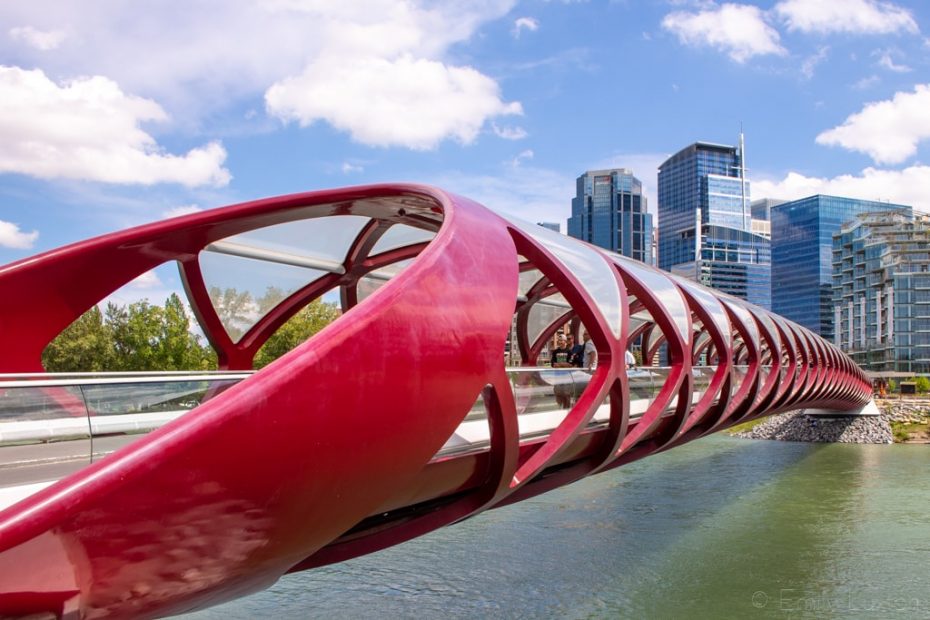 Prince's Island Park
Just next to the Peace Bridge is Prince's Island Park, Calgary's answer to Central Park. This 49-hectare park is right smack in the middle of the Bow River.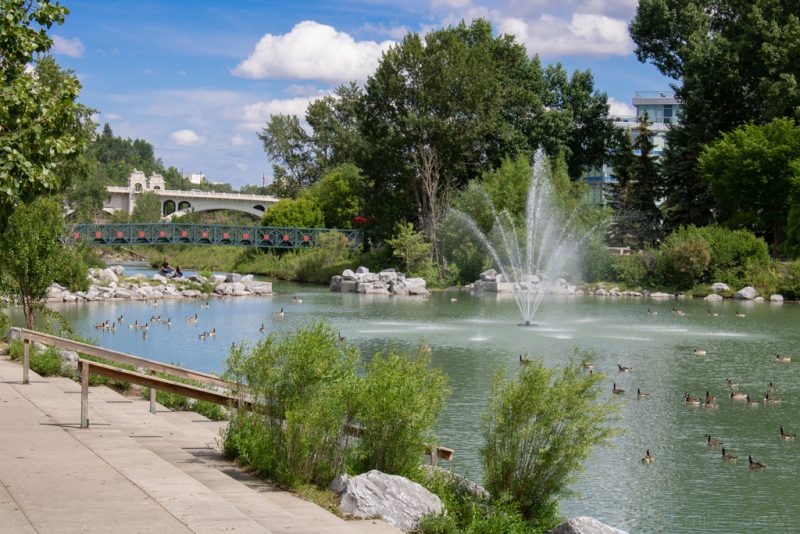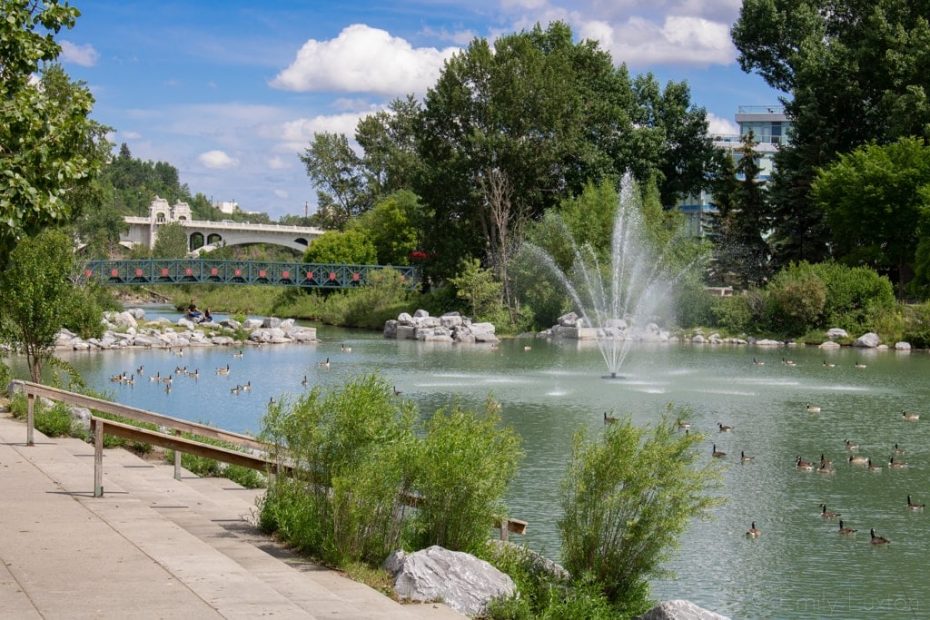 The glinting buildings of downtown Calgary might be visible from its banks, but this urban oasis makes it feel like you're not in a city at all. There's a great network of bike paths, lots of leafy spots for a nice walk, as well as plenty of green spaces to sunbathe or play a game of catch. The park also hosts multiple festivals and performances throughout the year!
Calgary Central Public Library
It seems pretty unusual to include a library on a list of the best things to do in Calgary. Doesn't really seem like much of a tourist attraction, does it? But the Calgary Central Public Library is an AMAZING space and worth a visit for the architecture alone.
The stunning building was jointly designed by American-Norwegian architecture firm Snøhetta and Canadian firm DIALOG. And it does not look at all like a library! The oval structure has a beautifully textured façade dotted with translucent fritted glass panels. Inside, the four floors look out over an oval-shaped central atrium, connected by intricate wooden staircases which look like a work of art in themselves.
Grab a Bite in the Simmons Building
Once a mattress factory, the historic, red-brick Simmons Building was redeveloped in 2015. Today, it's a quirky culinary destination – and a social hub at the heart of the East Village.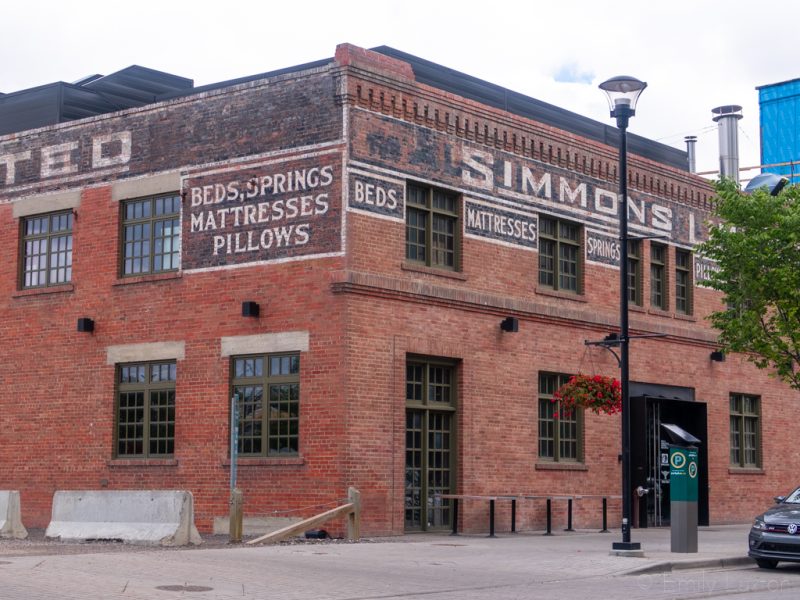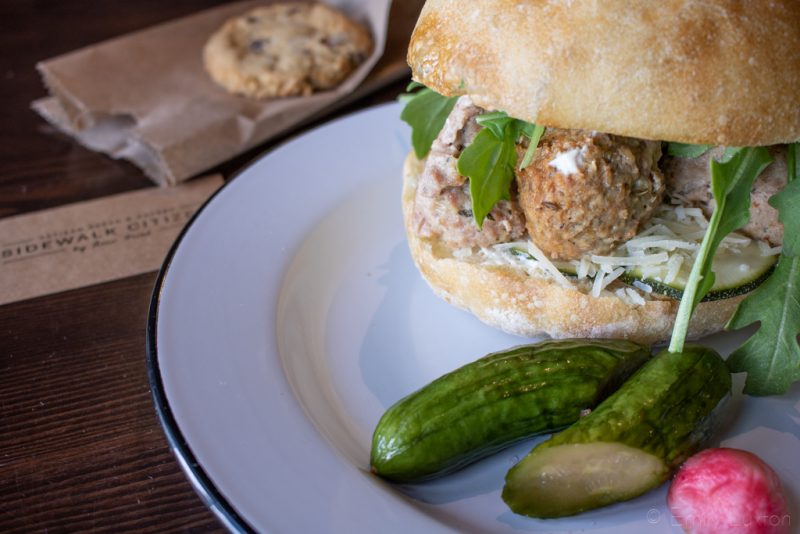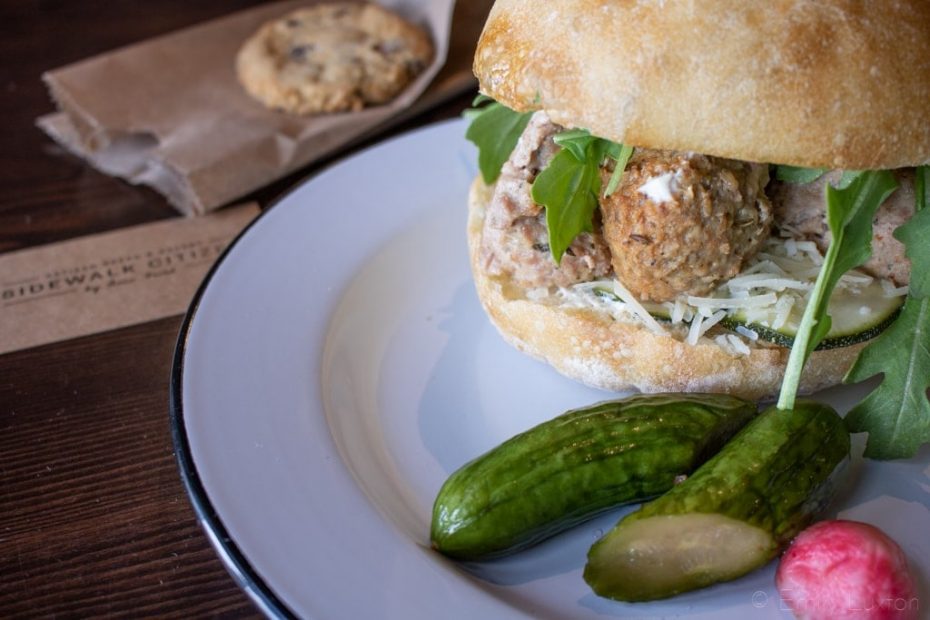 The industrial-chic space is home to a handful of great foodie offerings. There's coffee roastery Phil & Sebastian (SERIOUSLY good coffee), the boutique bar and eatery Charbar, and -my favourite – the delectable Sidewalk Citizen Bakery. They do amazing sourdough sandwiches, daily-changing home-cooked soups and stews, and gorgeous cakes and pastries. I had to buy several – SO GOOD!
Visit a Brewery (or Thirty!)
Calgary has a LOT of breweries. Apparently, some of the best barley in the world can be found growing just outside the city, so it's no surprise that over thirty breweries call it home. From intimate microbreweries to large-scale productions, there's a lot of variety to work your beer-loving way through.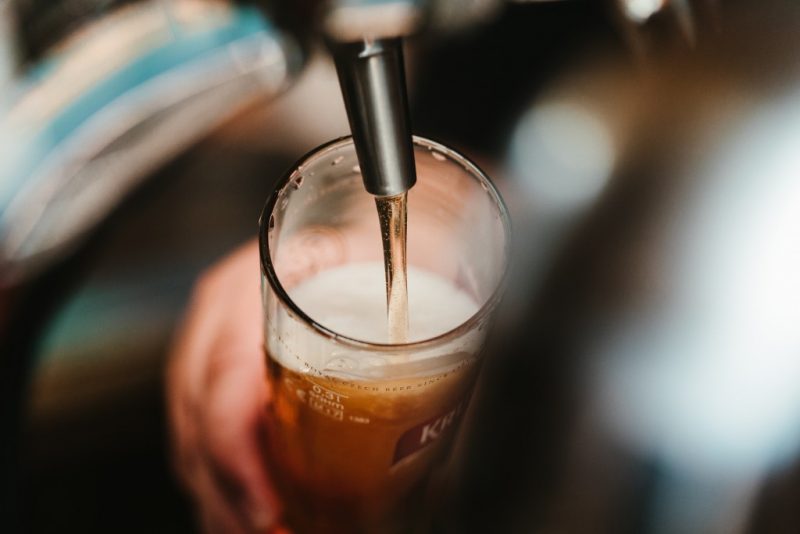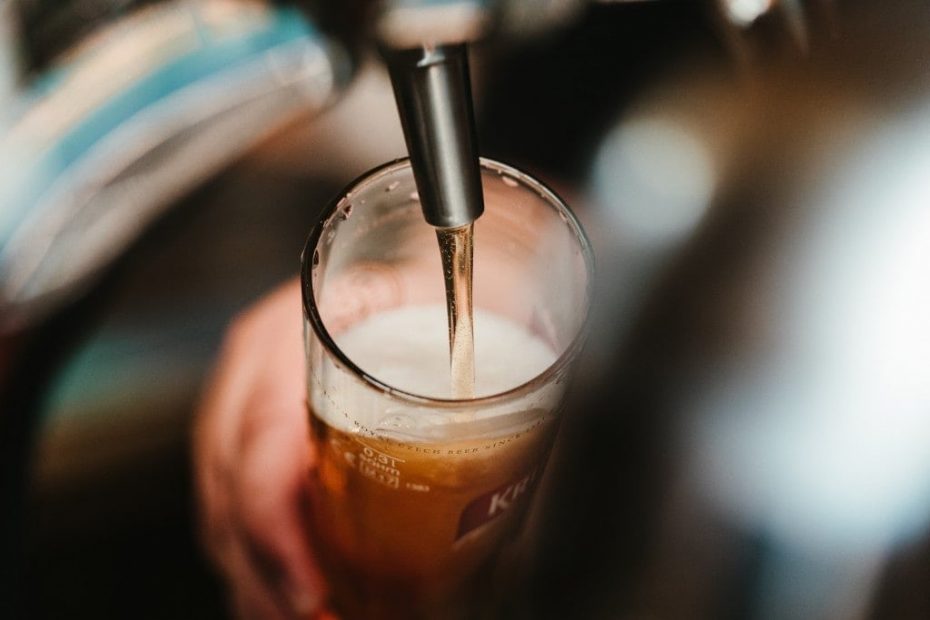 You can pick up a Calgary Beer Map at any participating brewery, the Calgary Tower, or at any Tourism Calgary office. Hop on a bike and make the most of Calgary's extensive cycle track network to spend a few hours touring the city's breweries. For a behind-the-scenes glimpse, arrange a tour and tasting at a brewery (several of them offer this).
My personal favourite was the Dandy Brewing Company. It's a microbrewery in Ramsay with a trendy restaurant and a great range of seriously good brews!
Walk the "Red Mile" on 17th Avenue
If you're into shopping, street art, or yummy food, a visit to 17th Avenue is one of the best things to do in Calgary. You'll find over 400 shops, restaurants, and bars packed along the street, many of them independently owned. I had the BEST breakfast at Pigeonhole – a chic but cosy little wine bar and restaurant serving up globally inspired cuisine. Honestly one of the best breakfasts I've ever had; no wonder a few locals told me this is the best breakfast place in Calgary!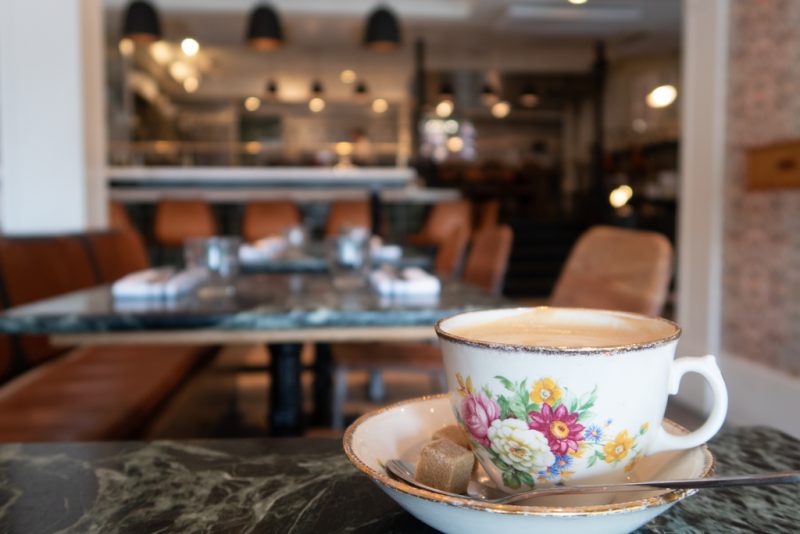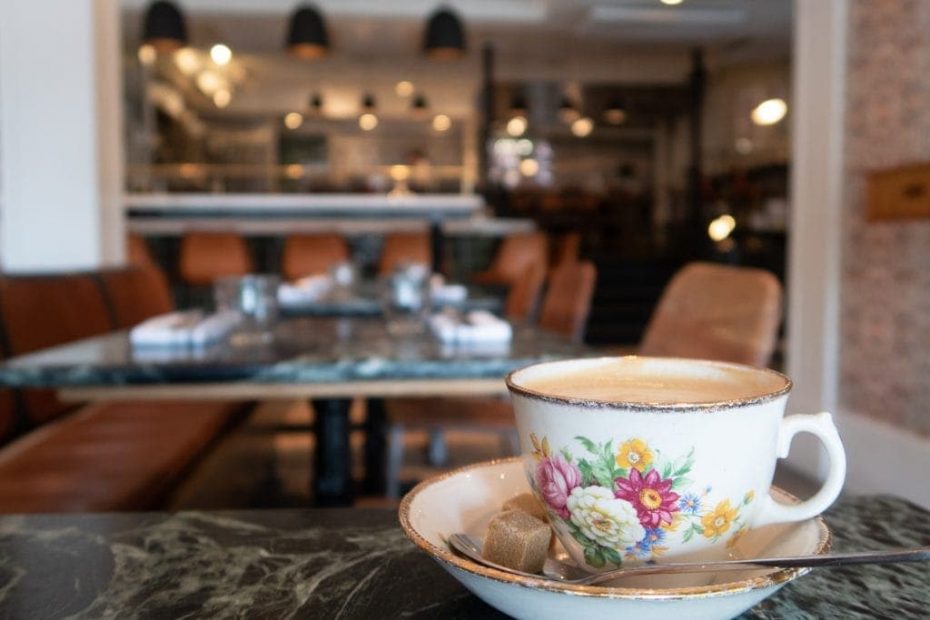 Fun fact – 17th Avenue is also nicknamed the Red Mile, because the stretch of bars along the road became a sea of red jerseys as Calgary Flames fans celebrated their team's victory in the 2004 playoffs! On game days, the street is a pedestrian-only zone. But there's a real buzz to the area on any day of the week, especially after dark.
I've listed a few of my favourite discoveries below, but there are loads more…
Steeling Home (1010 17 Ave SW). Quirky souvenirs and locally made arts, crafts, and other goodies.
Ollia Macarons & Tea (810C 16 Ave SW, just off 17th). Mini bakery and tea rooms selling amazing macarons. They also run classes!
Jusu Bar (816 16 Ave SW). Awesome smoothies, juices, and smoothie bowls. Plus my takeaway cup was 100% compostable!
Kate Hewko (908 17 Ave SW #112) – fab little women's designer boutique.
The Bamboo Ballroom (814 16 Ave SW). Fashion-led clothing and local home decor.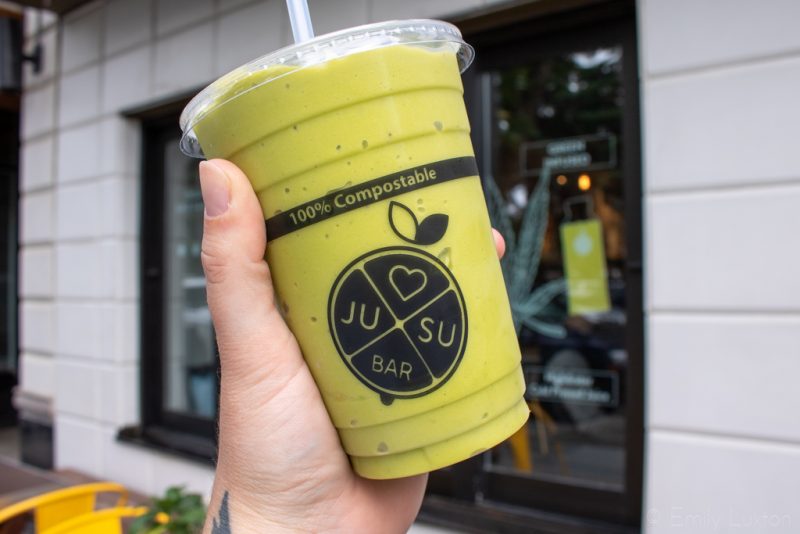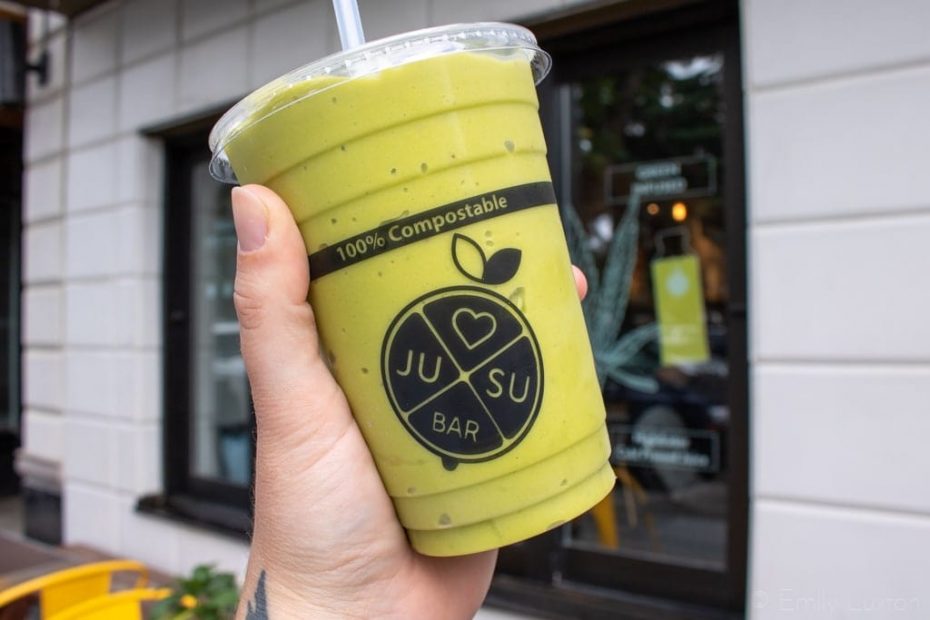 Explore St Patrick's Island and Bloom
Like Prince's Island Park, St Patrick's also lies in the centre of the Bow River. It feels a little wilder, but thanks to a recent redevelopment project it's very much an oasis in the heart of the city. It's also a refuge for wildlife – including owls and ospreys – so you can discover native flora and fauna as you wander the 31-acres of the island. Wild yes, but not without amenities. There are trails, wading ponds, play areas, a picnic grove, and even a fire pit to enjoy.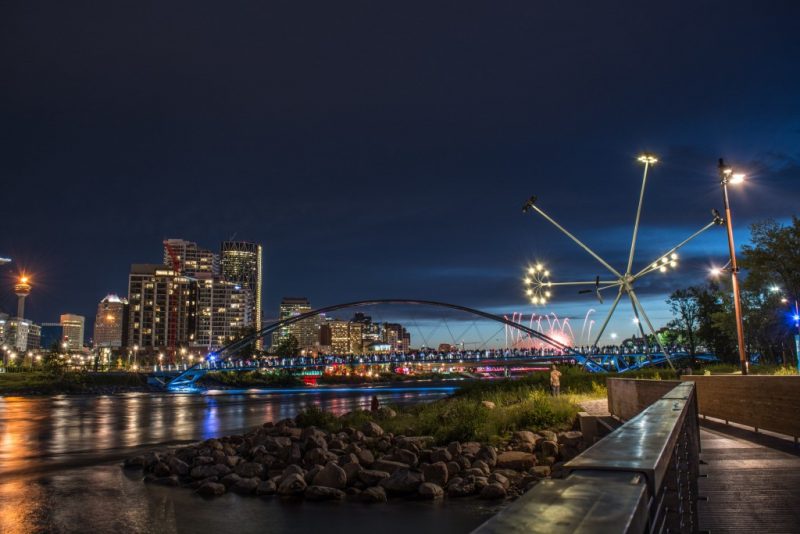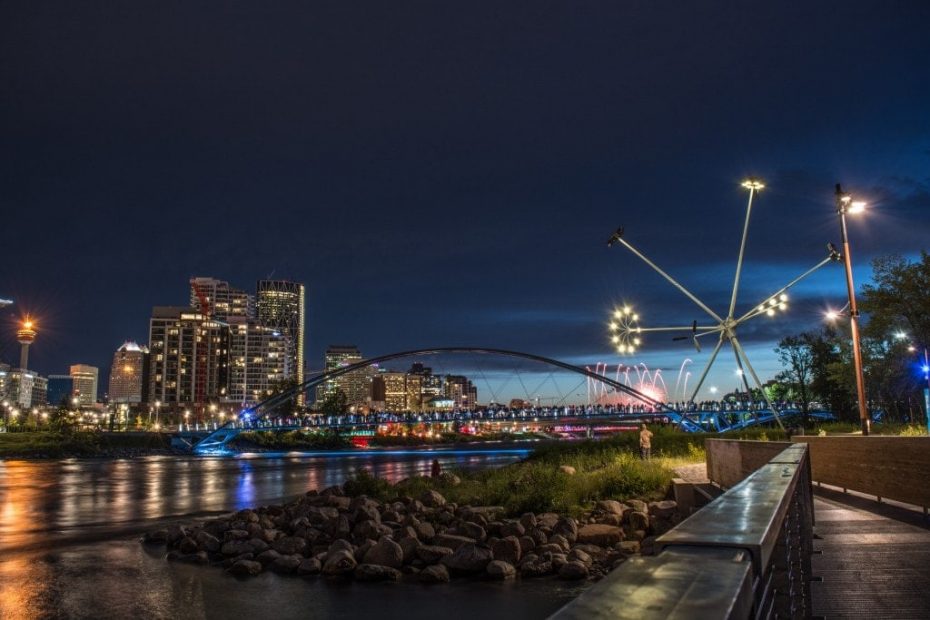 On the edge of the island is Bloom, a 24m tall sculpture by Montreal-based artist Michel de Broin. Made up of multiple streetlights assembled together in the shape of a flower, it represents the relationship between the natural landscape of and the surrounding cityscape.
Studio Bell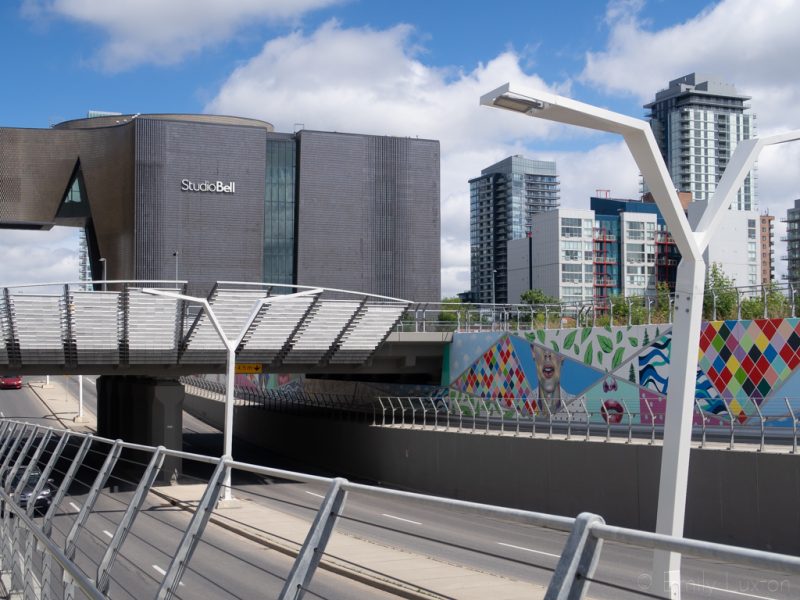 This is the only place on this list that I didn't actually visit myself, but it looks so cool that I really wanted to include it anyway. Studio Bell is the Home of the National Music Centre – telling the story of music in Canada.
It's housed inside a really unique building made up of nine interlinking towers, imagined as a living instrument. Inside, you'll find a performance hall, recording facility, broadcast studio, live music venue, and museum. There are also interactive exhibits where you can play instruments or have a singalong in a sound booth. Definitely one for music lovers!
3 Calgary Neighbourhoods to Exlore
Inglewood
Inglewood is the oldest neighbourhood in Calgary, but today it's a really cool area full of boutique stores and independent galleries, as well as amazing bars and restaurants. Especially along the bustling 9th Avenue SE. With its trendy shops, splashes of street art, and historic buildings, Inglewood feels like visiting a whole different city!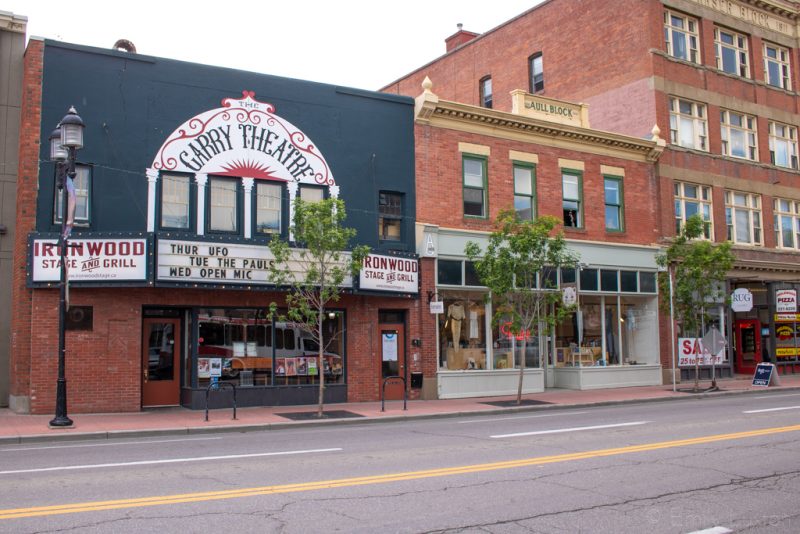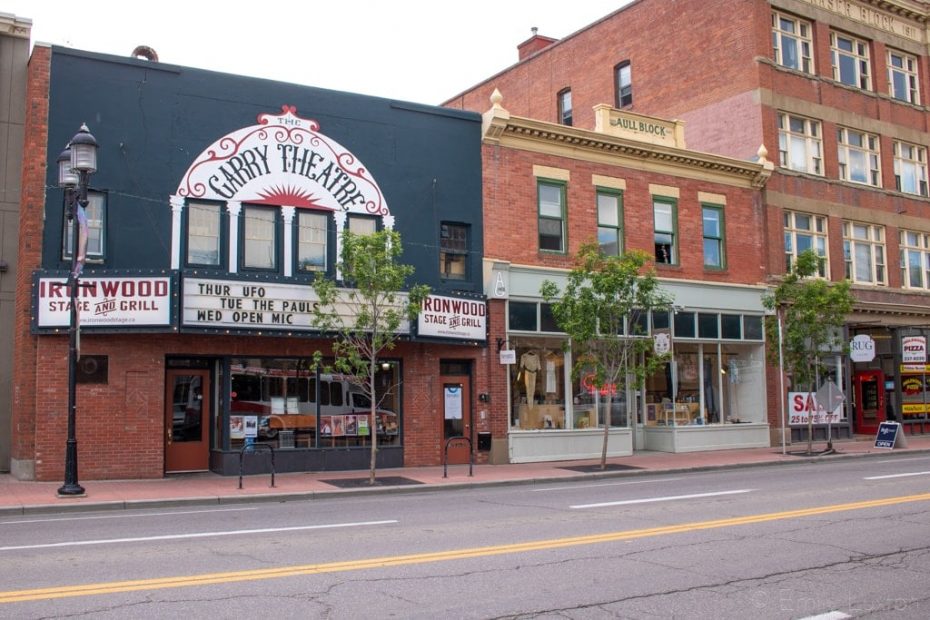 The neighbourhood is also known as Calgary's music hub. You'll find dozens of music venues dotted around Inglewood, including The Blues Can, Festival Hall, and the Ironwood Stage and Grill. Don't miss a visit to Recordland, one of the biggest privately own record shops in the country, packed with over two million records accounting for pretty much every music taste imaginable!
East Village
One of my favourite neighbourhoods in Calgary was East Village. A decade ago, it was pretty much abandoned, but thanks to a huge revitalisation project it's one of the trendiest districts in the city. Dotted with historic buildings – like the Simmons Building I mentioned above – as well as iconic new buildings such as the New Central Library and some seriously swanky condo blocks.
You'll find public art all over the place, as well as plenty of awesome retail and dining options. There are also multiple urban parks and "village squares" adding a lovely community feel to the area.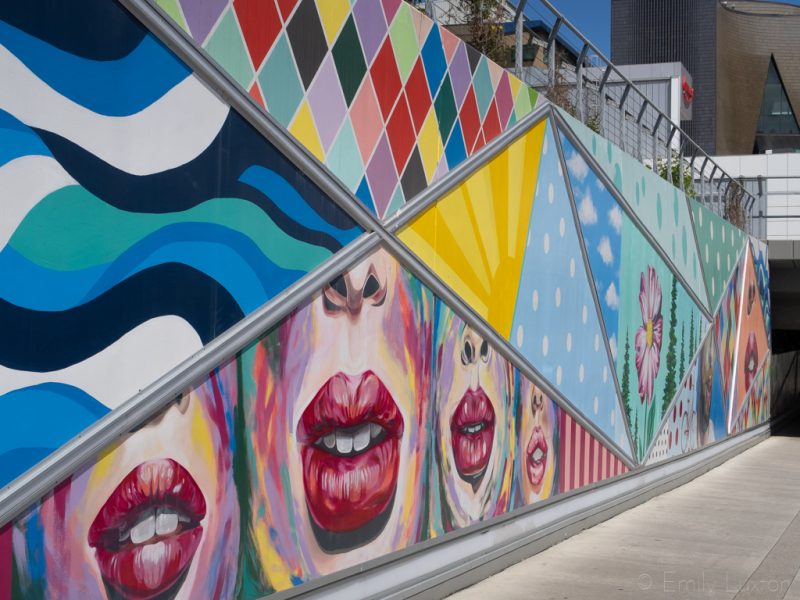 Eau Claire
Last but not least, there was one more district in Calgary I really loved. On the banks of the Bow River, Eau Claire is the heart of downtown. In summer there's always something going on – from festivals and performances to Food Truck Fridays. I loved the parks, such as Haymarket Plaza and Prince's Island, and the public art dotted around the neighbourhood.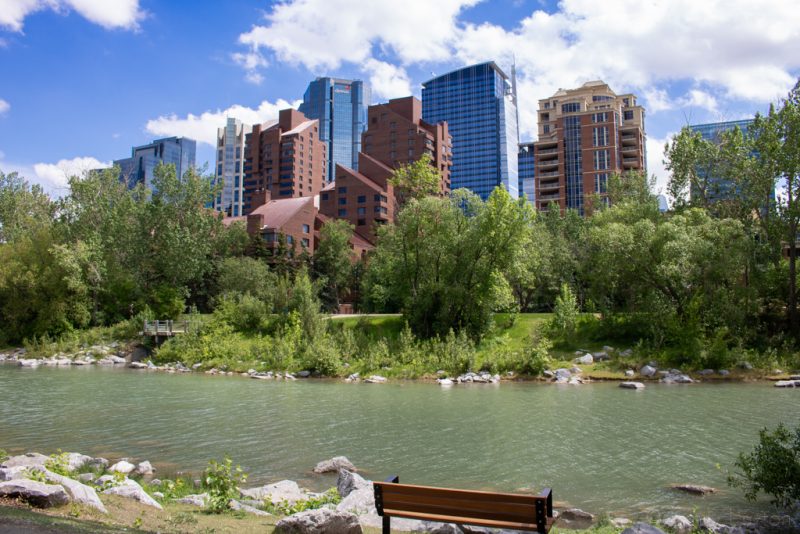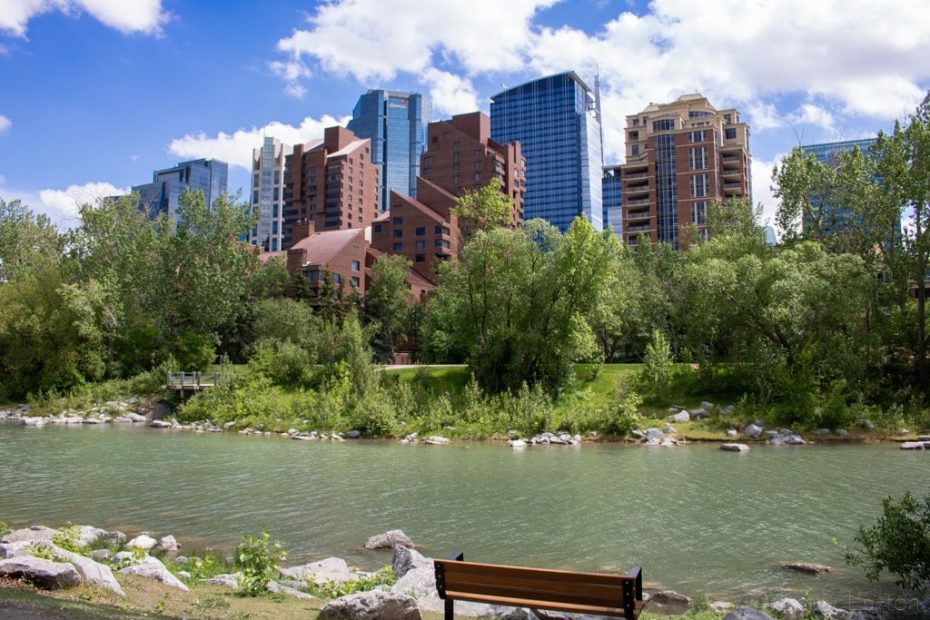 Further Reading
My Southern Alberta Road Trip Route and Itinerary – Fossils, First Nations, and Frontiers!
Fun Things to do in Edmonton, Alberta
Adventures on the Icefields Parkway
Head Smashed in Buffalo Jump, Alberta
Have I missed any of the best things to do in Calgary? If you're a local – or a regular visitor – leave a comment to share your tips!
Pin This Post!