Some posts on this site contain affiliate links. If you book or buy something through these links, I earn a small commission (at no extra cost to you). Take a look at my privacy policy for more information.
---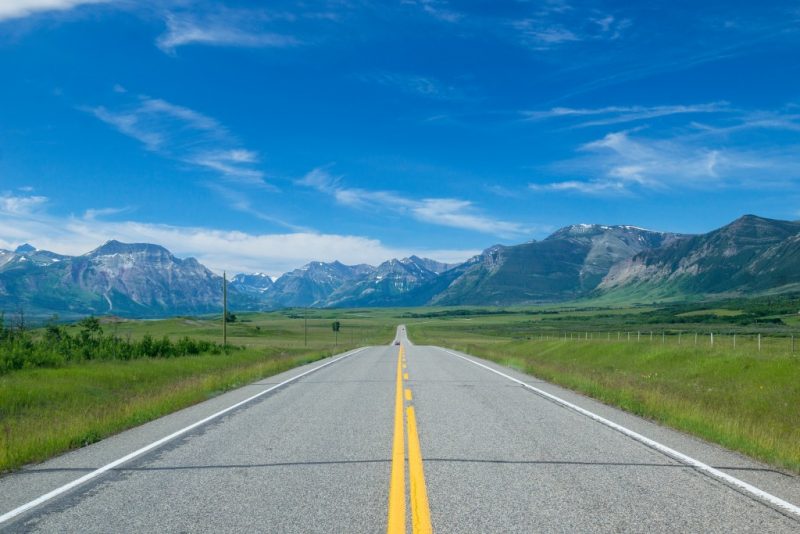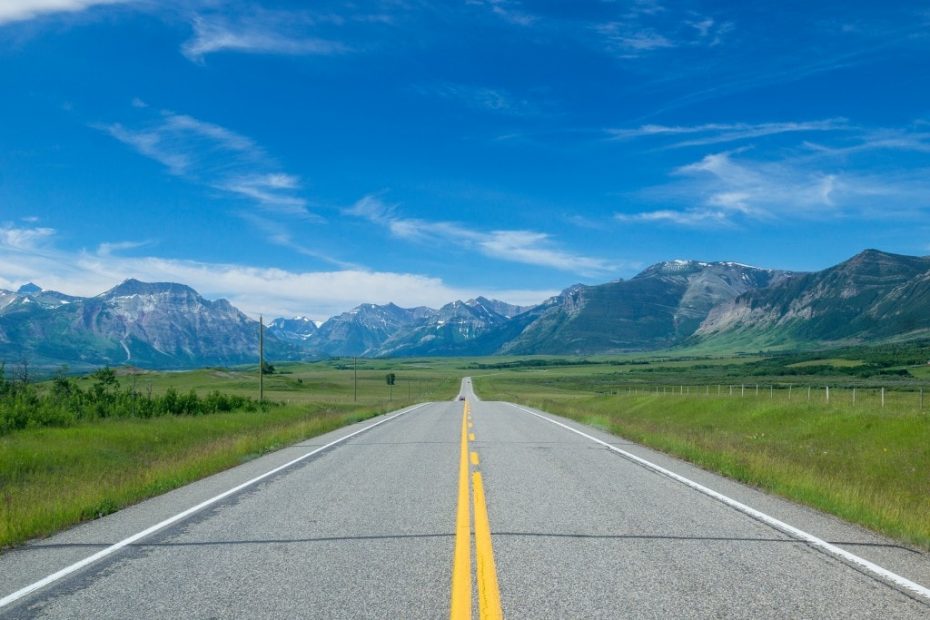 Looking for the ultimate southern Alberta road trip itinerary? Maybe you're done with Banff and Jasper, and you're looking for the next awesome stop, or something a little more off the beaten path. Or maybe you just want to delve a little deeper into Alberta's culture, history, and incredible landscapes.
Well, this could be the perfect Alberta road trip for you! I recently set off from Calgary on a week-long drive around some of the incredible Provincial and National Parks that southern Alberta has to offer. So, I've popped together this itinerary with everywhere you need to visit – along with my top tips for what to see and do, and where to stay, while you're there!
My trip was supported by Travel Alberta and Explore Canada. But, as ever, all words and opinions are completely my own. This post contains some affiliate links.
1. Southern Alberta Road Trip Route Map
This Alberta road trip post is all about the route I took on my recent solo trip there. I hit some of the most impressive spots around the south of the state, including several provincial parks and one national park.
Banff and Jasper are also two popular spots for road trips in Alberta. In fact, the route from Calgary to Jasper is one of Canada's best road trips.
But loads of posts exist about those two destinations, so I thought I'd focus on Southern Alberta. If you're visiting those two parks, this road trip route makes a great extension for your trip. Or, if you simply want to see a different side of the province, visit a diverse range of landscapes, and delve a little deeper into the region's history – this route is for you!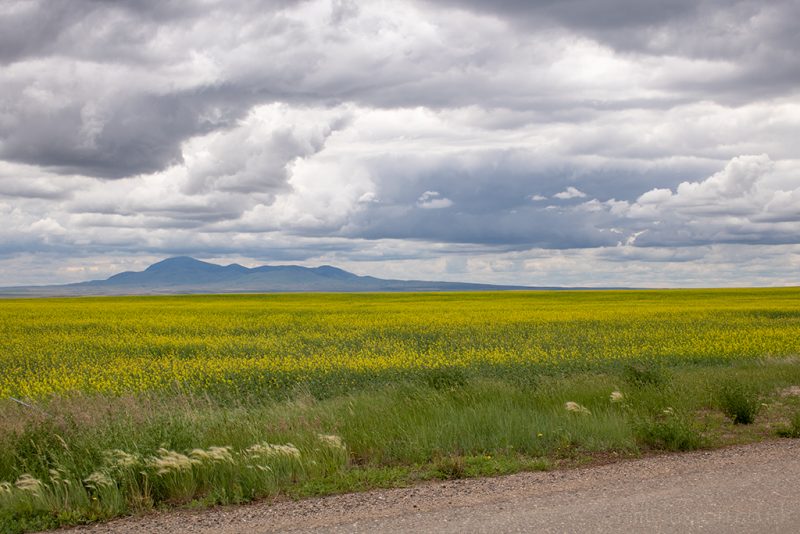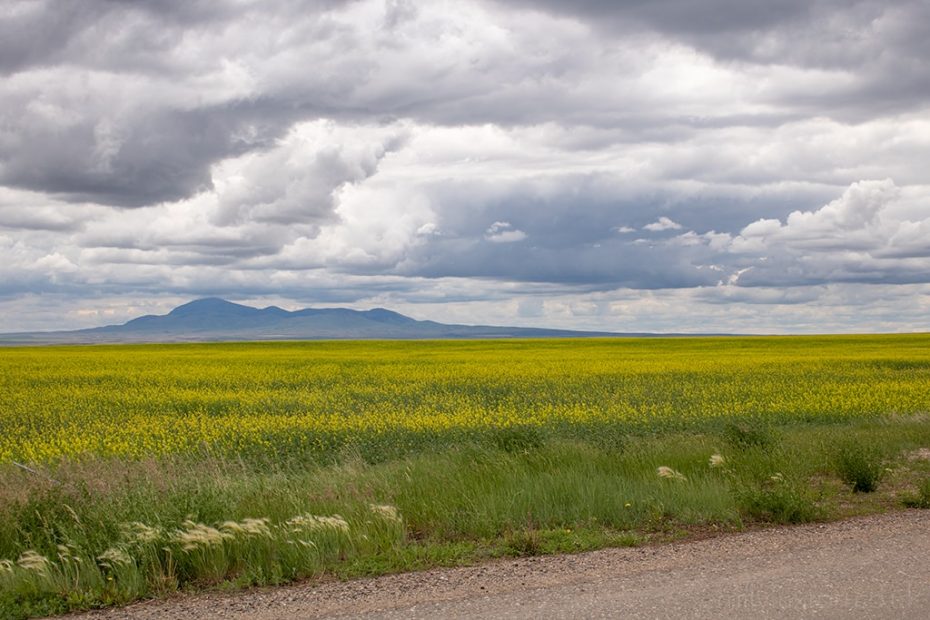 From the dinosaur fossils and wind-sculpted hoodoos of the Badlands, to the fascinating traces of Alberta's proud indigenous cultures, to tales from the frontier days of Canada's early history – there's a lot of history to discover. Start and finish the trip in Calgary – a cool city with plenty to keep you busy. Then press on to the parks of Southern Alberta to discover an amazing array of landscapes. Below, I've mapped out the itinerary in a bit more detail…
2. Itinerary
2.1 Calgary
Recommended Nights: at least two.
RELATED POST: Fun Things to do in Calgary
Calgary is the perfect place to start an Alberta road trip. The international airport is just 17km from the city so it's an easy drive into the centre. And the city itself is a really cool place to spend a few days.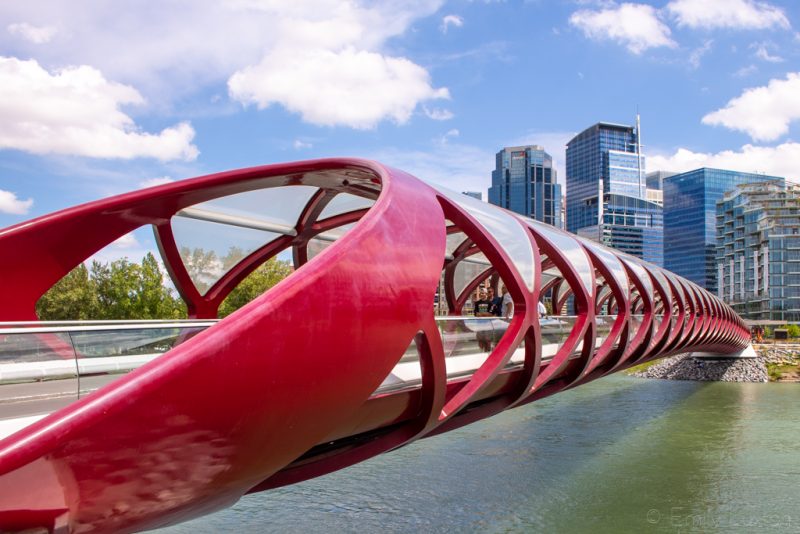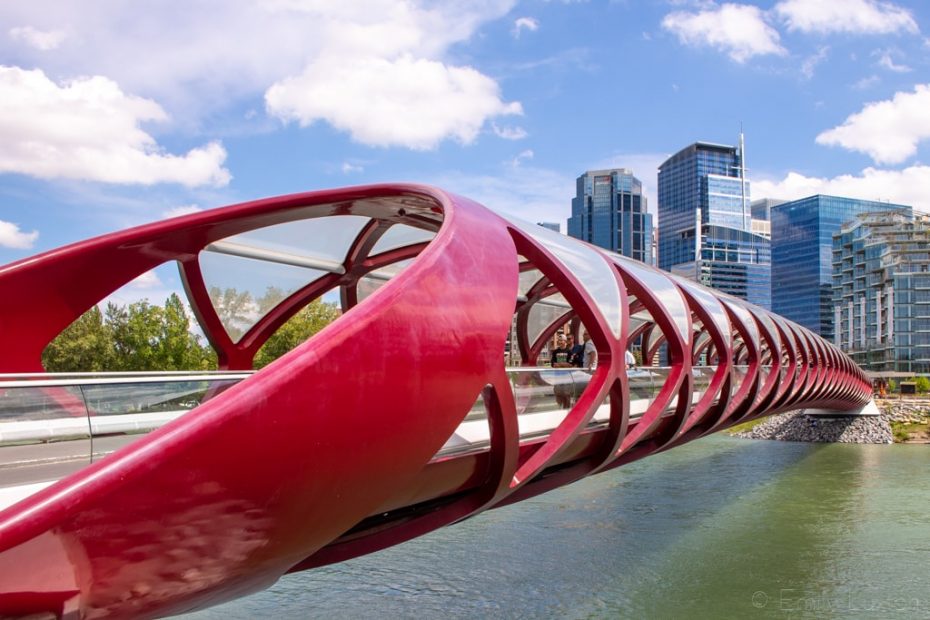 Cutting through the centre of Calgary is the wide and serene Bow River, lined with trees, parklands, and cycle paths. This is a seriously green city; so much so that at times I forgot I was in a city at all. There are tons of funky neighbourhoods to explore – from the boutique shops of 17th Avenue to the gritty-cool of Inglewood.
With cool street art dotted around, some incredible architecture (such as the new Central Public Library in the East Village), and plenty of intriguing museums, Calgary is bursting with fun things to do! In fact, I packed so much into my short time in there, that I had to write a whole separate post about it!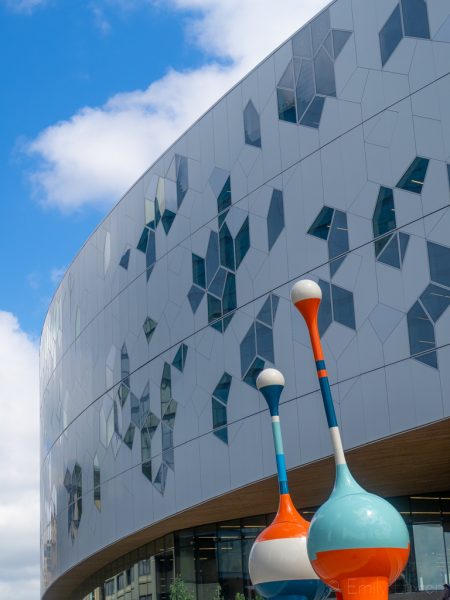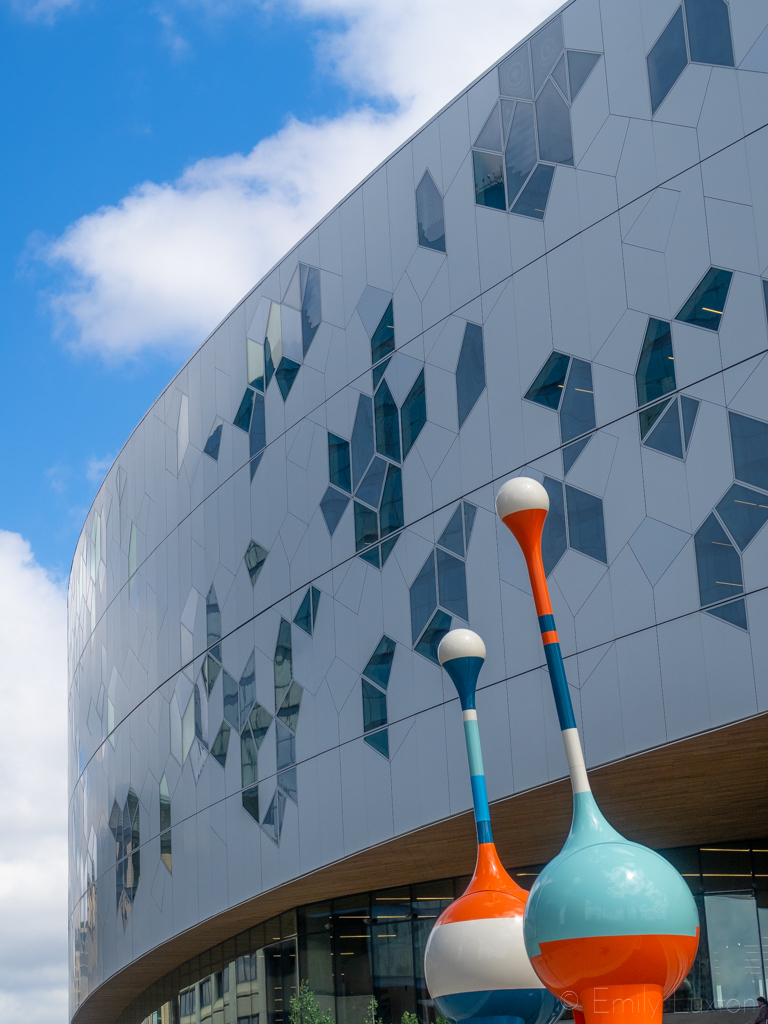 Where to Stay
I stayed at the Fairmont Palliser Hotel in downtown Calgary. It's a beautiful, historic building full of grandeur and luxury. This would be the perfect place to unwind after a busy Alberta road trip or a few days of adventure in the national parks!
2.2 Drumheller and the Royal Tyrrell Museum of Palaeontology
Recommended Nights: one. Could also be done as a day trip en route to Dinosaur Provincial Park depending on your time constraints.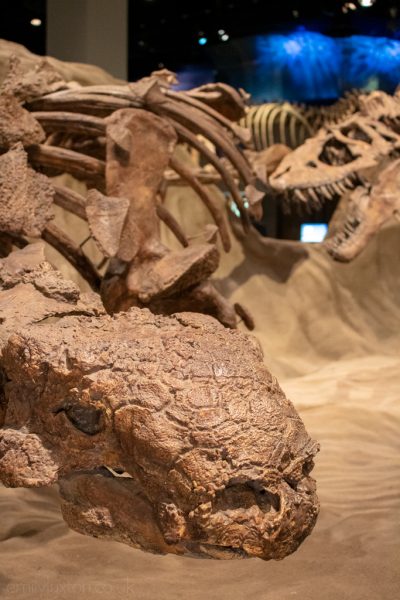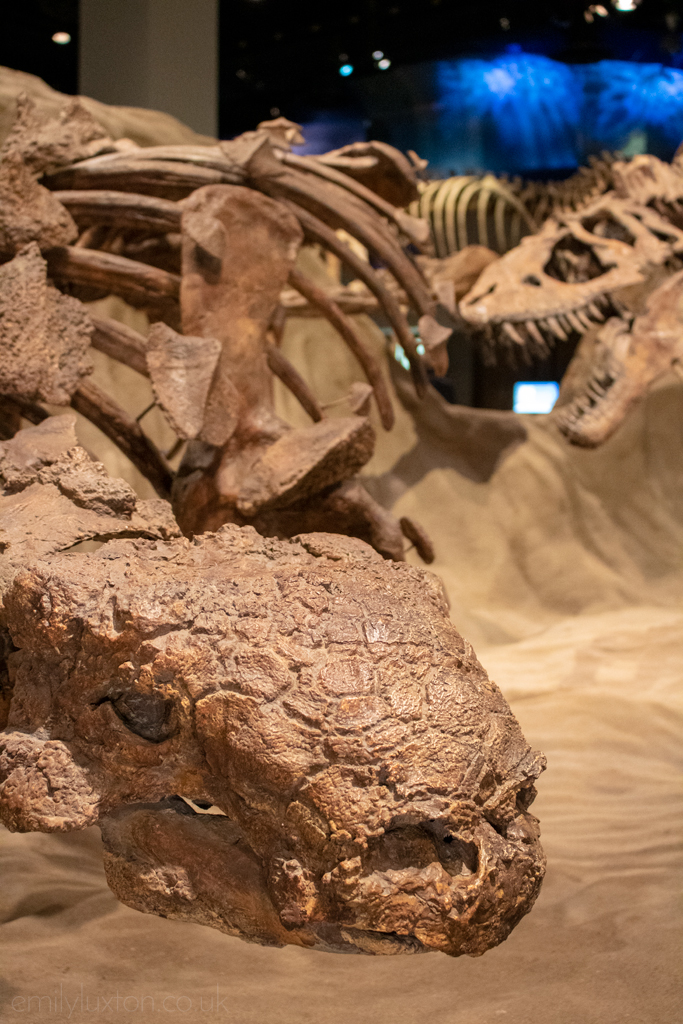 A road trip around Southern Alberta will take you deep into the province's history. WAY back, in fact, to its prehistory. Alberta's Badlands are seriously rich in fossils. Dinosaur Provincial Park – my second road trip stop – is the richest dinosaur fossil site in the world. But it's in Drumheller that you'll find the Royal Tyrrell Museum of Palaeontology.
Even if you have only the faintest of interest in dinosaurs, the Royal Tyrrell Museum is well worth a visit. This is a huge collection of both original and replica fossils, all of them found right here in Alberta!
Around an hour and a half from Calgary, Drumheller makes an ideal first stop on an Alberta road trip. The town lies in the shadow of the World's Largest T-Rex – you can't miss it – and the surrounding Badlands are prime hiking territory.
READ MORE: Here's a pretty comprehensive post covering the best things to do in Drumheller if you need some inspiration.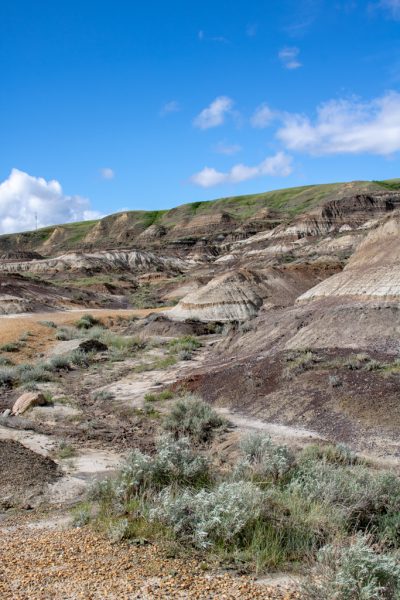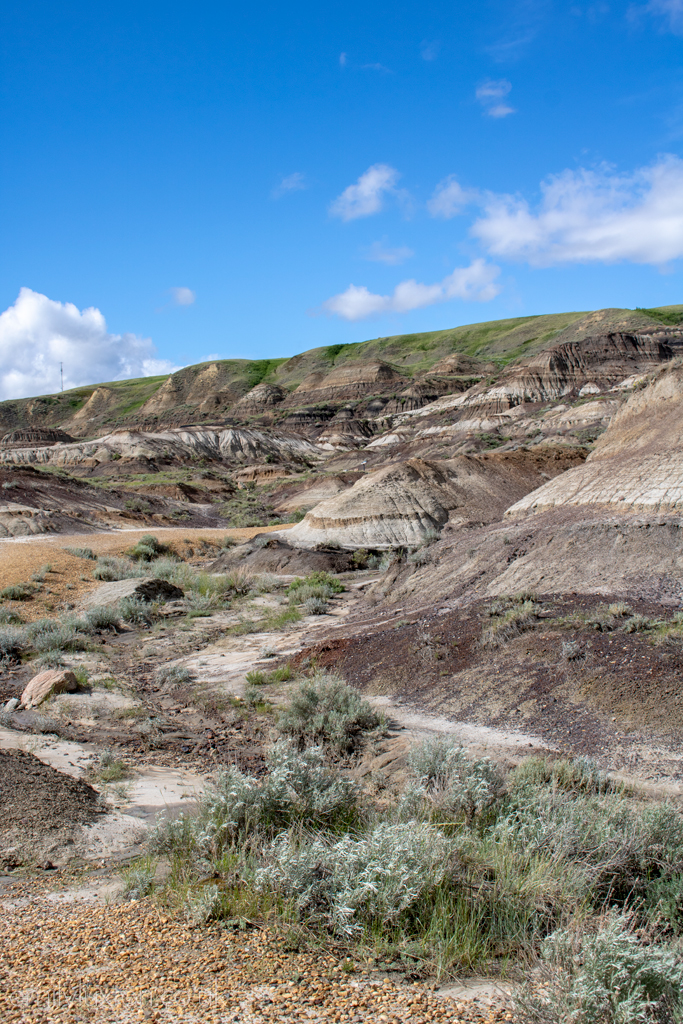 Where to Stay
I stayed at the Canalta Jurassic Inn, just on the edge of Drumheller town. It was a basic, budget-friendly hotel, but super comfortable and well-equipped. Plus they had free popcorn in the lobby! Perfect for a night or two if you're just passing through town.
If you'd rather stay a little closer to nature, there are plenty of RV Parks and Campgrounds around Drumheller. Ideal for a few days hiking in the Badlands.
2.3 Dinosaur Provincial Park
Recommended Nights: at least one.
Alberta's obsession with dinosaurs all began in 1884, when Joseph Tyrrell discovered the fossil of an Albertosaurus skull. It sparked a fossil-finding-frenzy to rival the gold rush. The Great Canadian Dinosaur Rush (1910-1917) saw thousands of fossils collected, many sold around the world.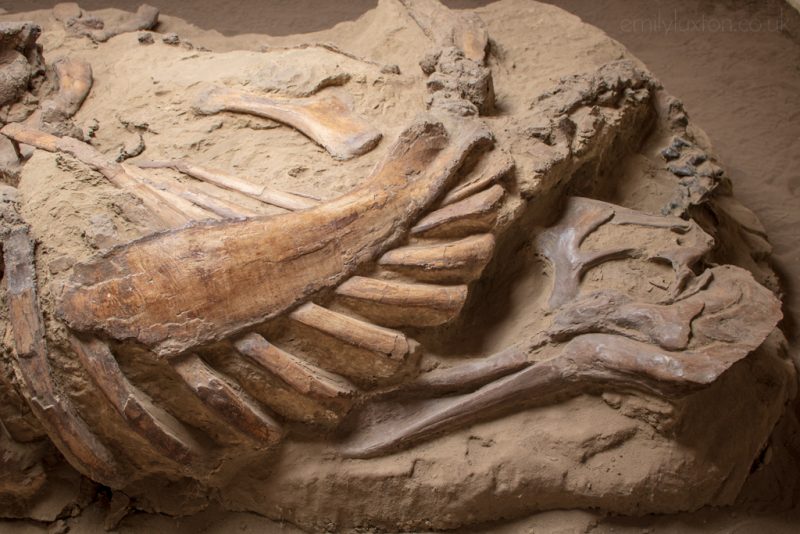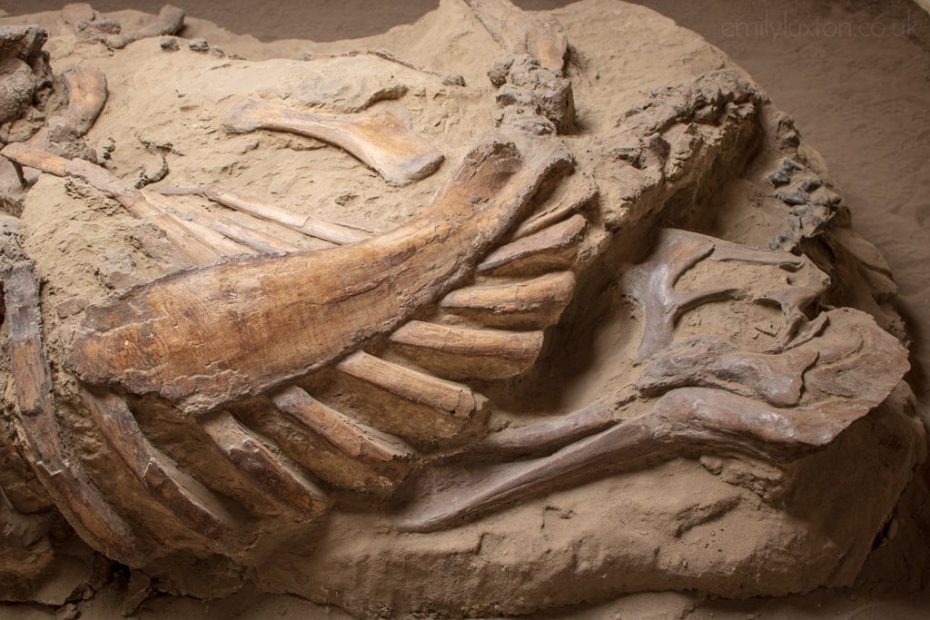 Over the last century, over 150 complete dinosaur skeletons have been discovered in what is now Dinosaur Provincial Park, from more than 50 different species. New fossils are discovered all the time, and you can still see active excavations inside the park. Smaller fossils, including bones and teeth, literally litter the ground. They're left where they were found, so that park guides can show them to visitors.
Because the park is such an important site, you can't roam freely within certain parts of it. Instead, you can join a bus or hiking tour with one of the expert guides. I did the Explorer's Bus Tour (adult ticket $20 CAD) and absolutely loved it.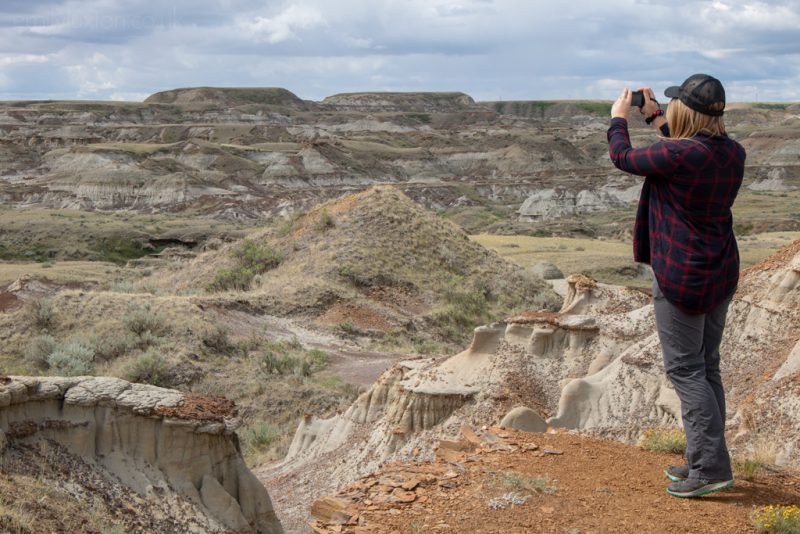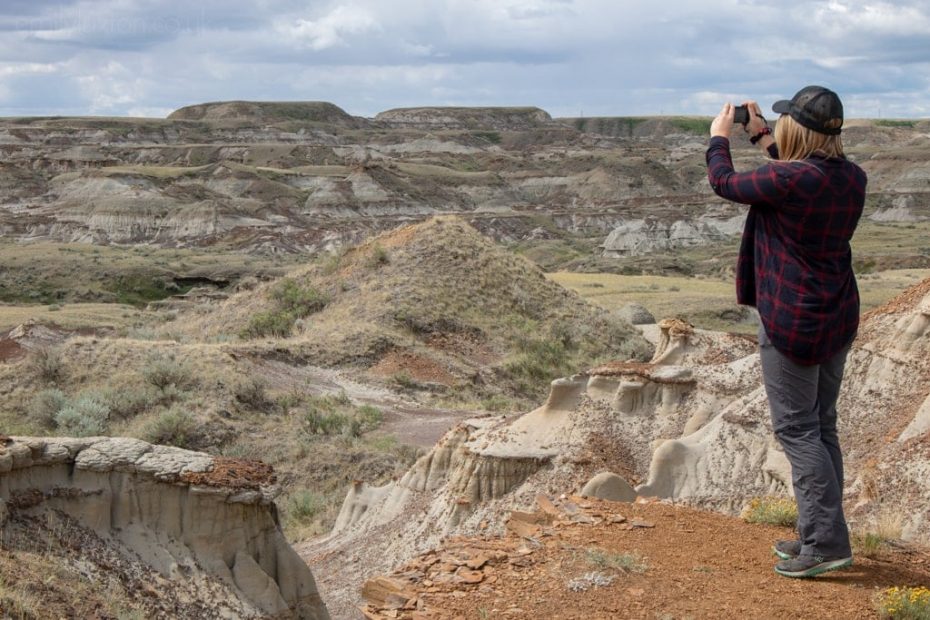 Where to Stay
There's a brilliant campsite at the park. It's next to the river and has good facilities, including a playground, shower block, and fast food restaurant. As well as the guided tours into the park itself, there are plenty of hikes in the area, or you can make the most of the river with some kayaking.
2.4 Cypress Hills Provincial Park
Recommended Nights: at least two.
Just a couple of hours from the Badlands, Cypress Hills Provincial Park felt like a completely different world. One of rolling green hills, dense pine forests, and lush, flower-filled valleys.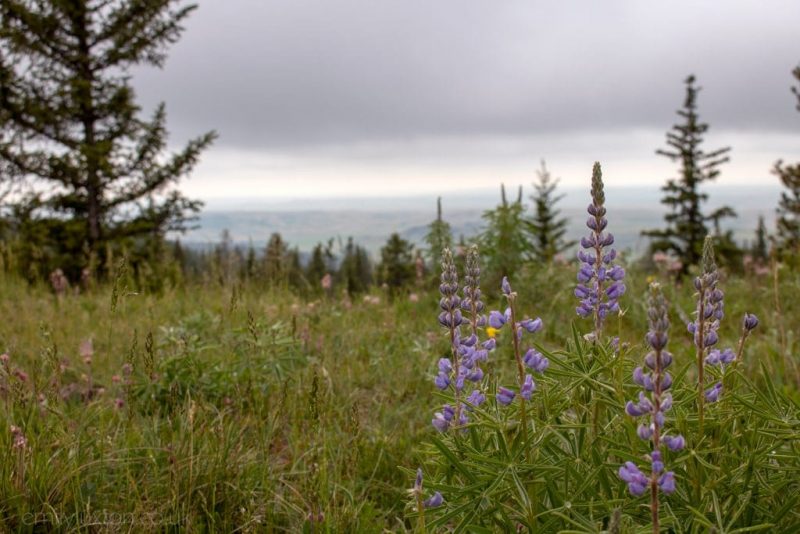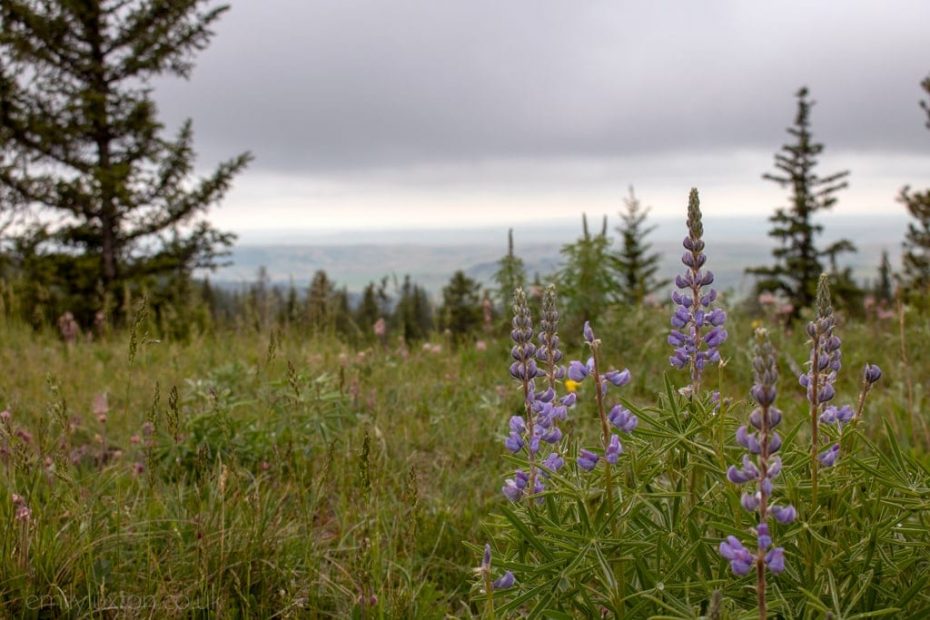 This is the perfect spot for lovers of hiking, nature, and the great outdoors. From watersports on the lake, to tons of gorgeous hiking and biking trails, there's plenty to keep you busy here. I only had one night as I was on a tight schedule, and I really regretted that – so stay longer if you can.
My favourite spots were the Horseshoe Canyon and Head of the Mountain viewpoints. You can drive up to both if you don't fancy the climb, or there are some awesome hiking trails. Wildlife is seriously abundant around Cypress Hills. I saw a lot of deer chilling out by the roadside, as well as several birds of prey. You can also see elk, moose, and even (rarely) cougars.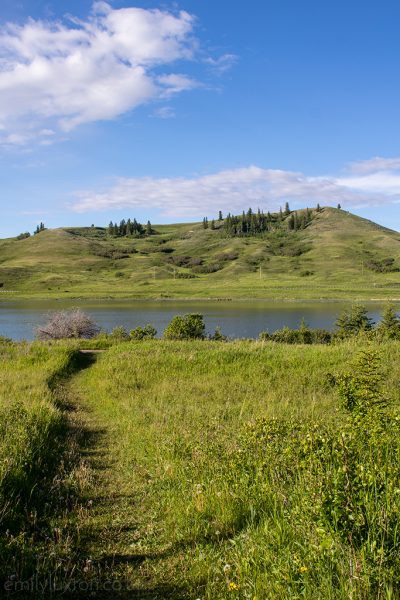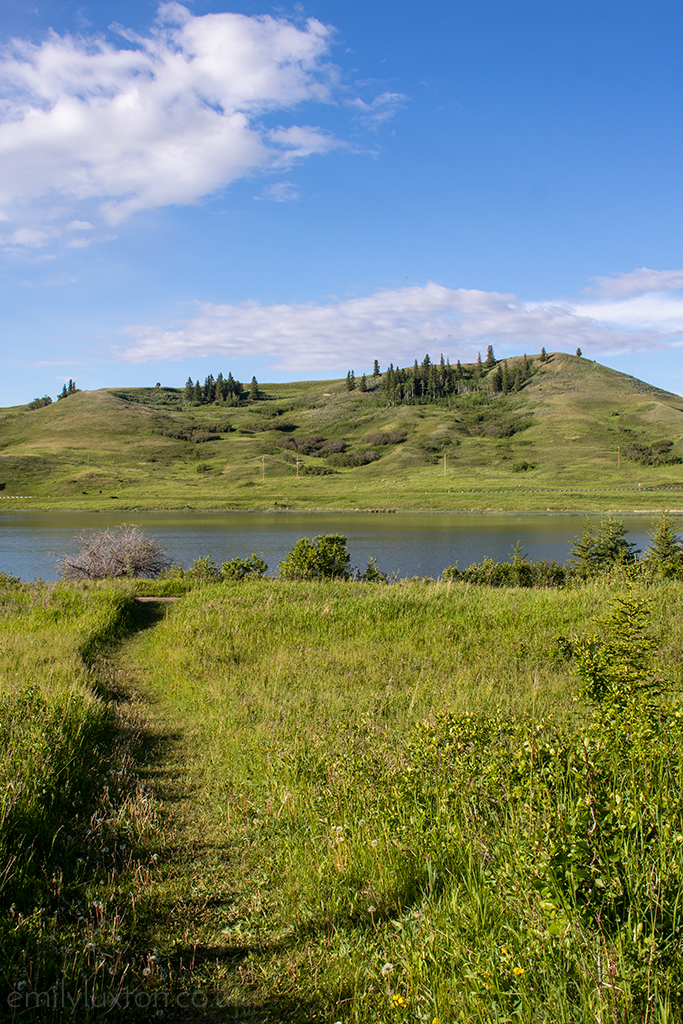 Where to Stay
Base yourself near Elkwater Lake to be close to several shops and restaurants. I stayed at Elkwater Lake Lodge, which was fabulous – cosy, welcoming, and well-equipped with everything I needed to relax!
If you'd rather camp, Cypress Hills has several campgrounds ranging from basic to full-service, as well as an RV park at Beaver Creek.
2.5 Writing on Stone Provincial Park
Recommended Nights: one.
The intriguingly-named Writing-on-Stone Provincial Park is yet another totally different landscape along this Alberta road trip. A snaking river winds its way through a wide, grassy valley, overlooked by the distant Sweetgrass Hills in neighbouring Montana. Within the valley, twisted hoodoos form a bizarre natural playground, carved into something otherworldly by centuries of wind and rain.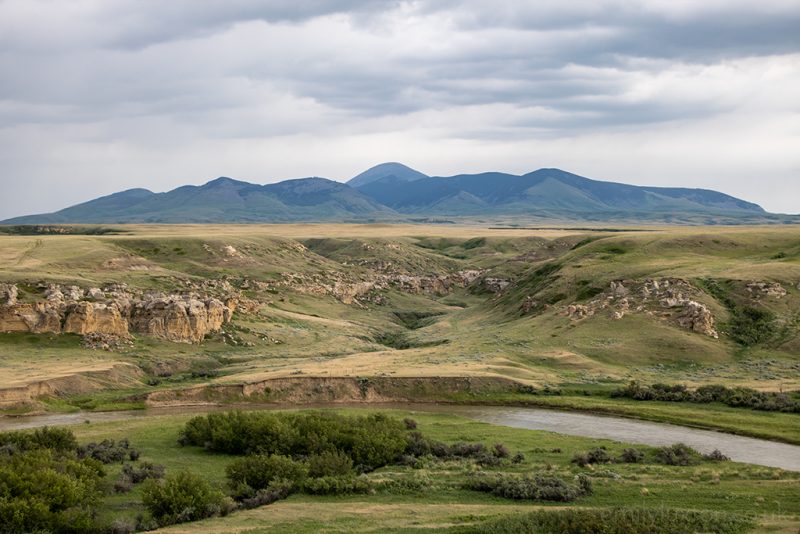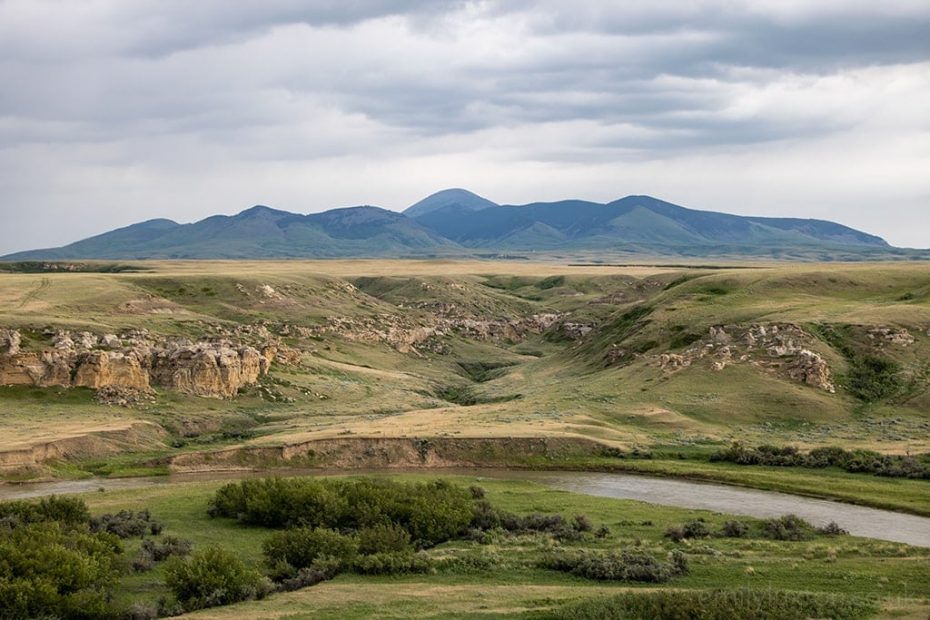 But what gives Writing-on-Stone its name are the red sandstone cliffs of the valley walls. These bear the signs of thousands of years of Blackfoot history. Canada's indigenous plains people inhabited the site for at least 3,000 years – and they've truly left their mark.
Thousands of petroglyphs litter the valley across fifty sites, carved directly into the rockface. Depictions of human figures and animals give clues into the history, traditions, and way of life of the Blackfoot people. Book a guided tour for the best experience, as you'll get a bit more context and history.
RELATED POST: Here's a pretty comprehensive guide to Writing-on-Stone Provincial Park to help you plan your trip.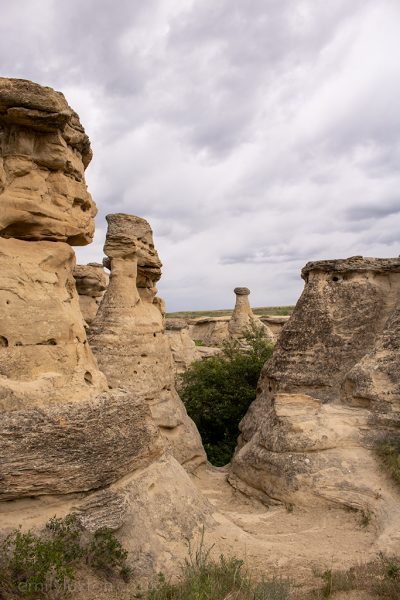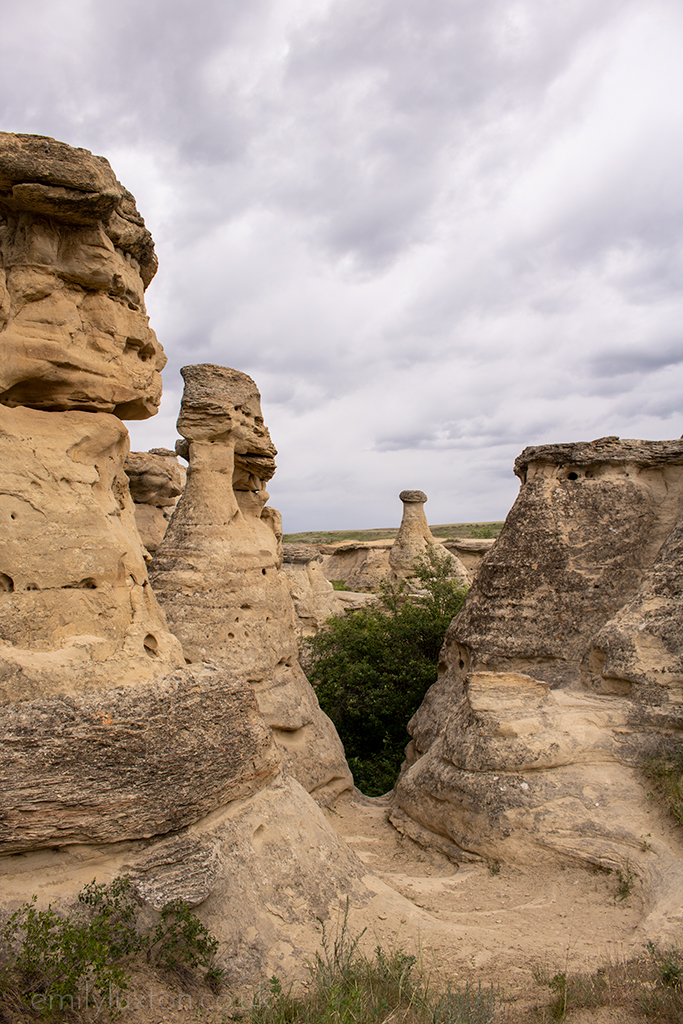 Where to Stay
If you don't have much time, you could do Writing on Stone as a day trip along your Alberta road trip, and carry straight on to spend the night in Lethbridge. That's what I did, but I was a bit sorry not to spend more time exploring the incredible landscape.
Alternatively, you can camp overnight in the park. The campground is down in the valley along the river, right next to the maze of twisting hoodoos which are great fun to explore! It's a really decent campground with all the amenities you need. There's no restaurant, but there is a small shop in case you forget any groceries. There's also a beach for swimming in the river during summer!
2.6 Lethbridge and Fort Whoop-Up
Recommended Nights: one.
Next stop on my southern Alberta road trip was Fort Whoop-Up in Lethbridge. The city itself is pretty conveniently located between Cypress Hills and Waterton (our next stop) so it's a useful stopover on the way, especially if you choose not to camp at Writing-on-Stone.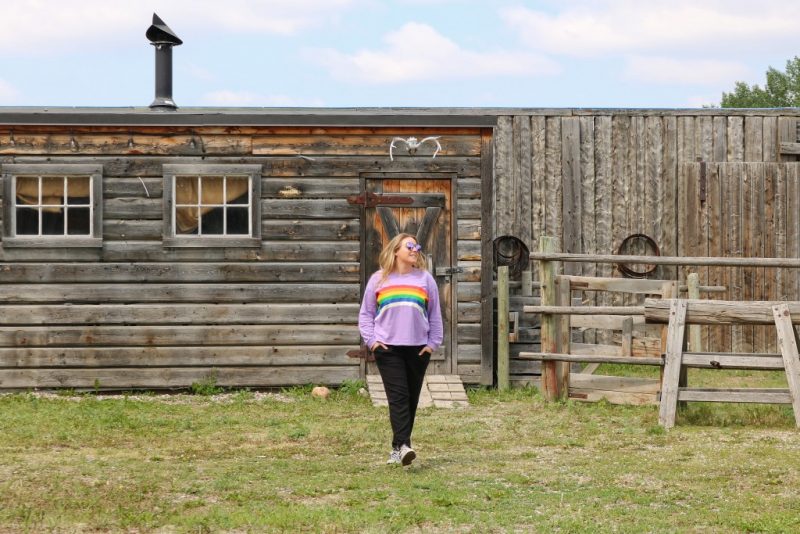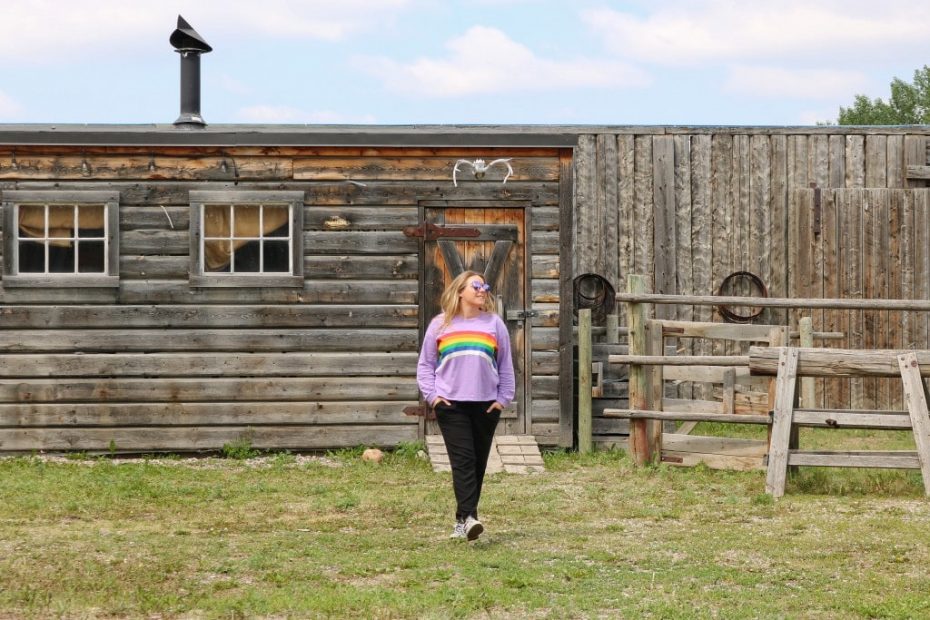 Fort Whoop-Up is an accurate recreation of a real-life fort (of the same name) which was used as a whiskey and fur trading post in the late 1800s. This was Canada's Wild West – days of buffalo hunting, frontier-living, and illegally trading "fire-water" with the local indigenous people.
The fort represents a fascinating period in Canada's modern history, so it's an interesting stop on any trip. It's also a great place for anyone who (like me) grew up dreaming of being a cowboy. You can step back in time and totally immerse yourself in life on the Canadian frontier!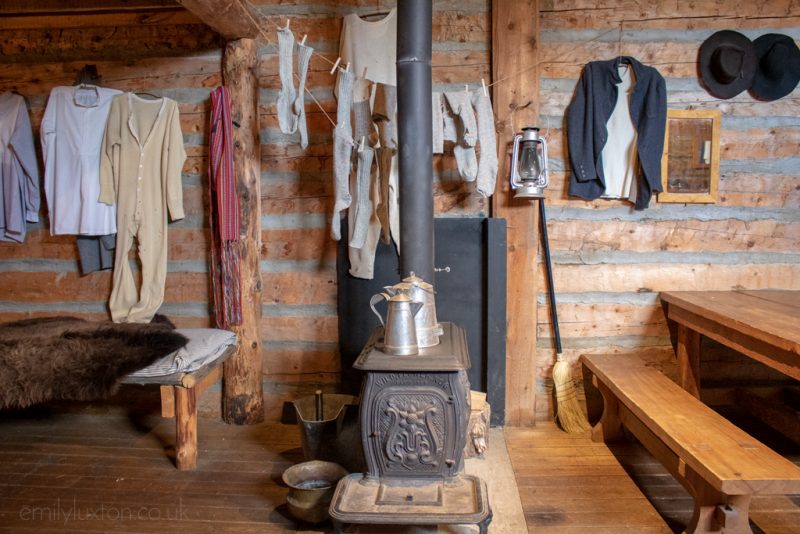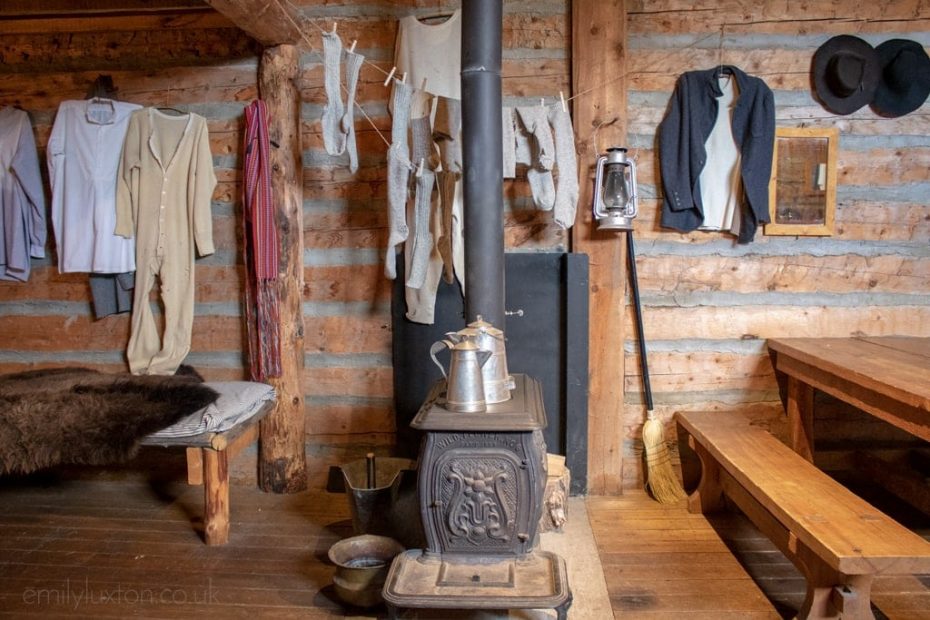 Where to Stay
I spent one night at the Coast Lethbridge Hotel and Conference Centre. It was a nice, basic-but-comfy hotel in an ideal location. Not exactly bursting with personality, but ideal for a night or two.
2.7 Waterton Lakes National Park
Recommended Nights: at least two – but more if you have time.
My favourite stop in Southern Alberta was Waterton Lakes National Park. Way down on the border with the USA, Waterton Lakes is like a beautiful baby sister to Banff and Jasper. Same stunning Rocky Mountains, same epic landscapes… but on a smaller, quieter scale.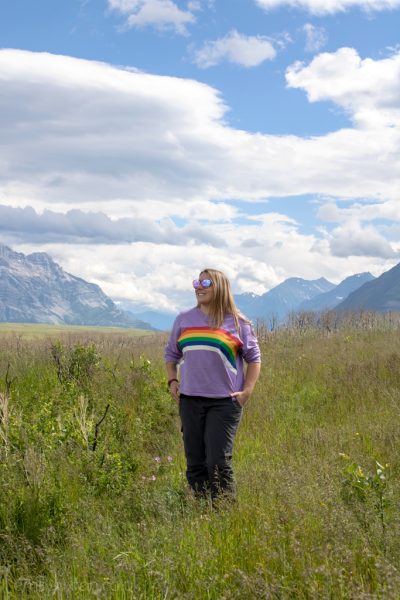 I've visited Banff and Jasper and love both, but Waterton felt like a much less touristy version of the same thing. Glittering glacial lakes, incredible hiking trails, and prairies covered in colourful wildflowers in summer – all of it overlooked by snowcapped mountains. And I had a lot of it completely to myself, since the park doesn't draw the same crowds as it's more famous neighbours.
One of the best things I did was cruising around the enormous Upper Waterton Lake with Waterton Cruises onboard the historic M.V. International – a must if you're visiting!
The park was hit by a devastating wildfire in 2017, and you can still see the damage all over. Huge swathes of forest were wiped out, their bleached-out skeletons standing as a testament to the scale of the fire. But you can also see the regrowth coming through thick and fast, and the park has been working hard on repairs. Although some hiking trails and roads are still closed, they'll be back open soon. The park is recovering and tourism can only help support that – so now is the time to go!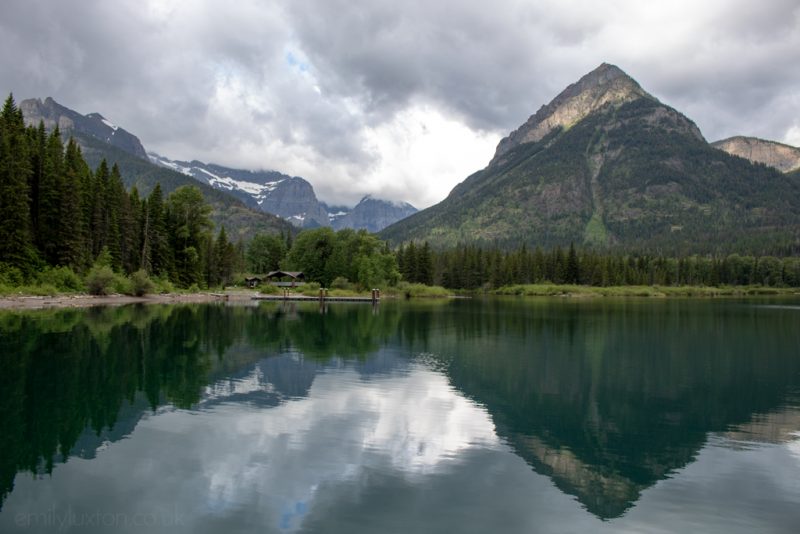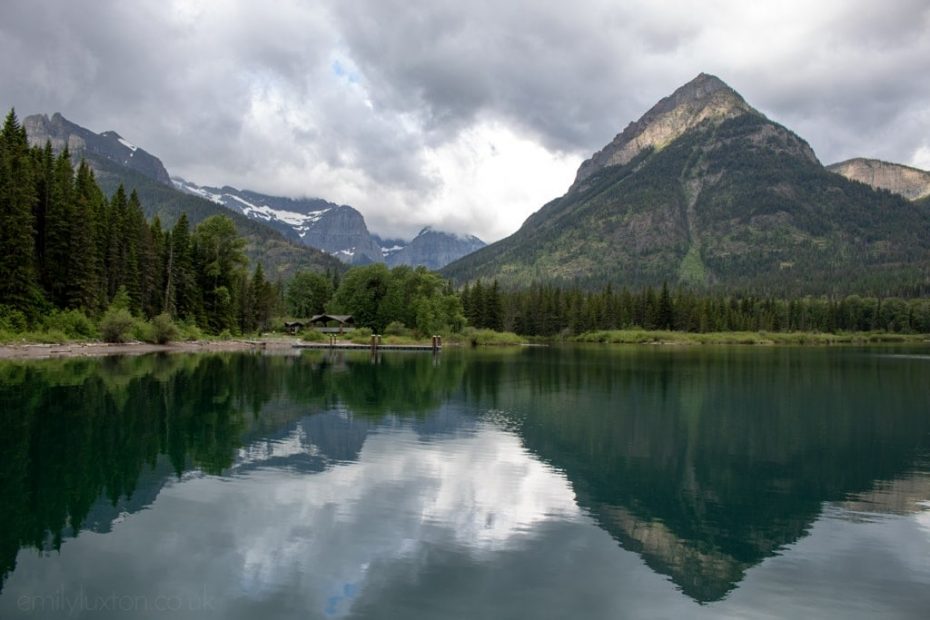 Where to Stay
The most central place to stay is the town of Waterton, which is right within the national park. I stayed at Waterton Lakes Lodge Resort and absolutely LOVED it. The service was so friendly, my room was lovely, and the location made this the perfect base. Although it's in the town, it felt very much like a country lodge. I even saw deer wandering through the resort just outside my room!
2.8 Head Smashed in Buffalo Jump
Recommended Nights: can be done as a day trip en route back to Calgary.
The last stop on my Alberta road trip was the evocatively named Head Smashed in Buffalo Jump. I was feeling a bit frazzled from an intense few days, and not really sure what to expect – but this was honestly one of my favourite stops of the week!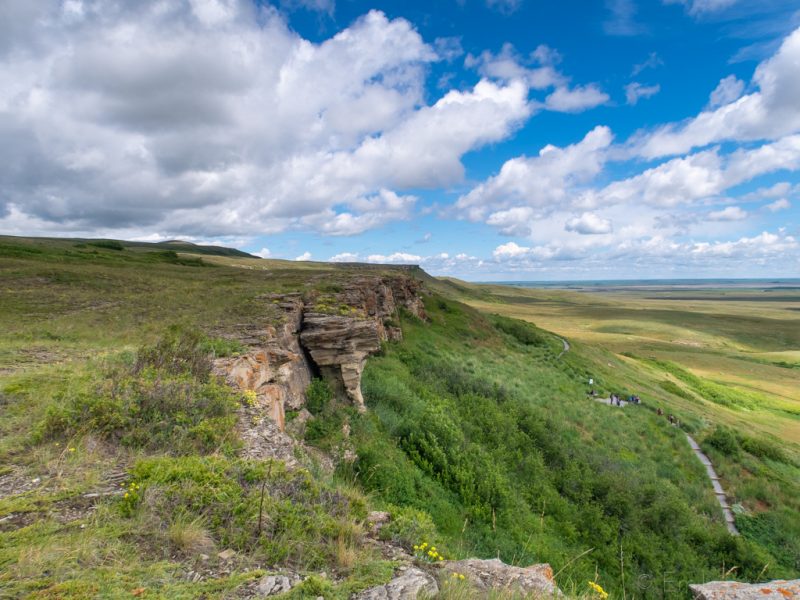 If you want to learn a little more about Canada's Blackfoot people – their history, traditions, and culture – then the Head Smashed In Buffalo Jump Interpretive Center is a must-visit. The Buffalo Jump is one of several sites around Alberta's plains, which used to be used by the Blackfoot people for buffalo hunting on a massive scale.
Once a year, after days of planning and preparation, they'd rile a herd of 100-300 buffalo into a huge stampede and run them off the edge of the cliffs here. The mass-killing would provide enough meat and material to see the tribe through the harsh Canadian winter. Today, the Center tells the story not only of the Jumps, but of life for the Blackfoot before Western settlers came to Canada.
RELATED POST: Delving into Blackfoot Culture at Head Smashed In Buffalo Jump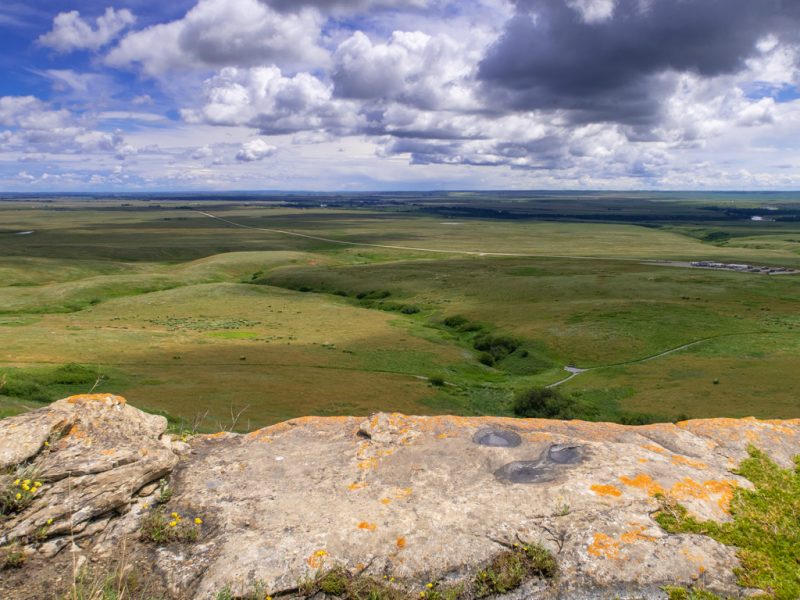 Where to Stay
I stopped off on the way back to Calgary Airport, as you only need about half a day or so to explore. But if you want to take your time, you could stop for a night in Fort Macleod – the nearest town.
3. Expand the Alberta Road Trip: Banff and Jasper
The Icefields Parkway stretching from Banff to Jasper is considered one of the most spectacular roads in the world. I road-tripped there with TrekAmerica last year and absolutely fell in love – the drive is stunning and there are some incredible natural attractions along the way. So it's a worthy addition to any Alberta road trip.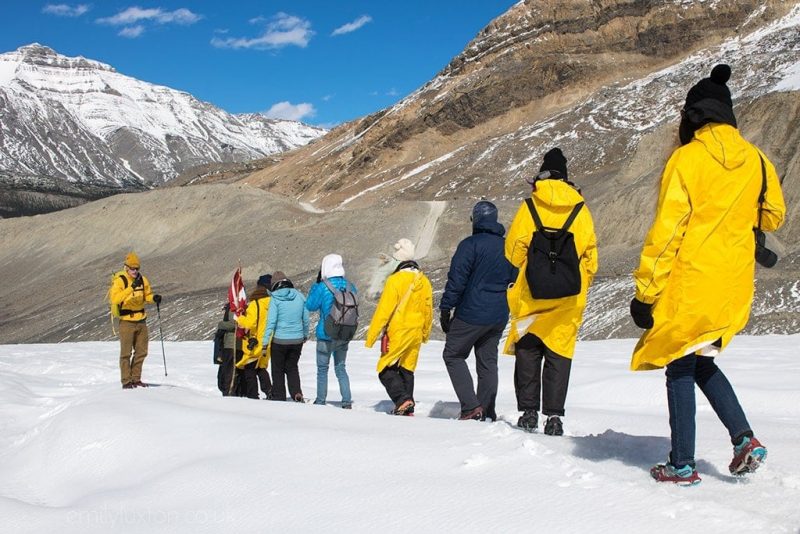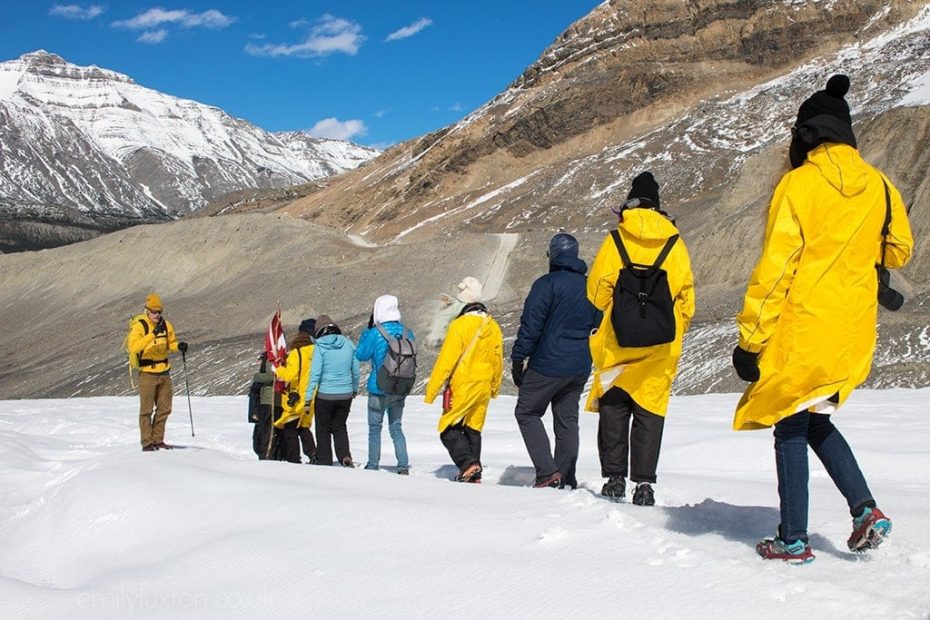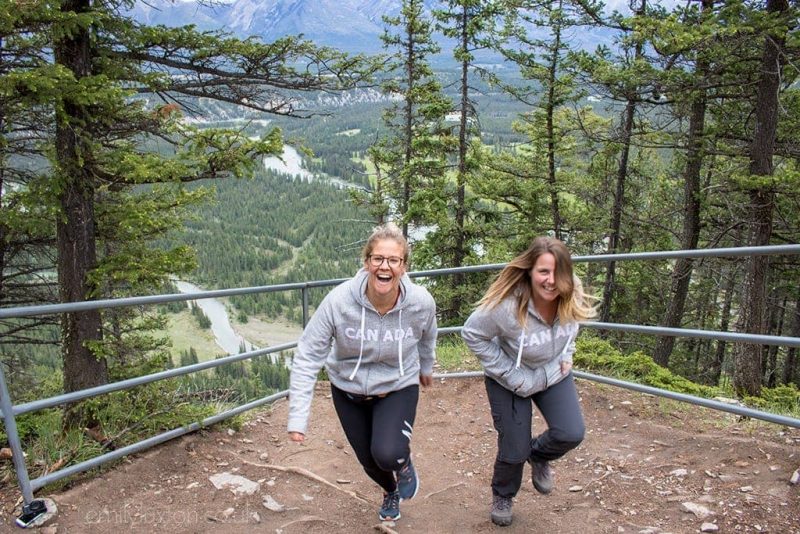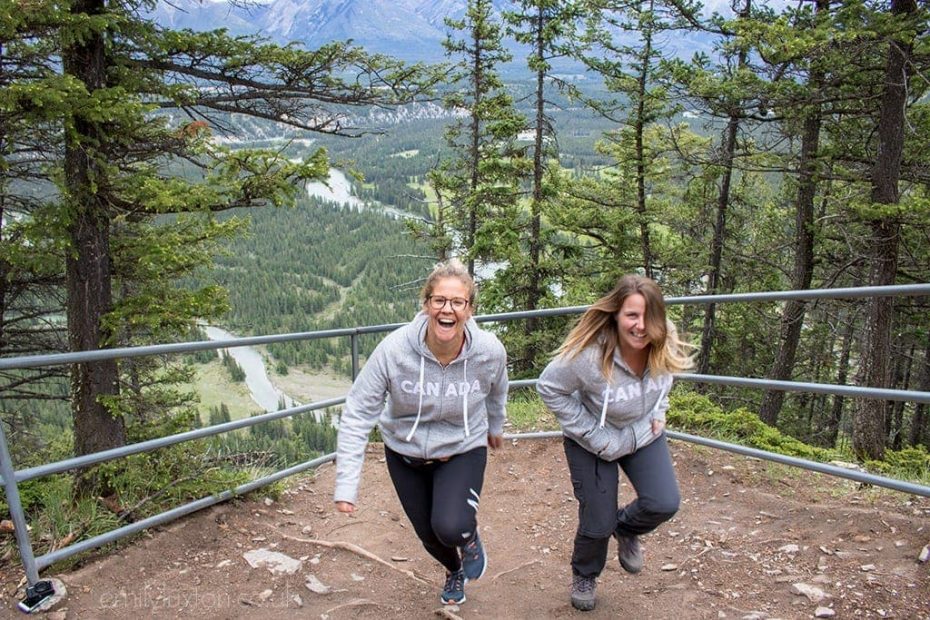 Both National Parks are absolutely gorgeous and have so much to offer visitors. Incredible mountain landscapes, dense forests, bright turquoise glacial lakes, awesome hikes, endless adventures, and everything from rustic campsites to fancy mountain lodges.
If you wanted to expand your Alberta road trip, you could push on to Banff after Waterton and Head-Smashed-In. After a couple of days exploring Banff, take the Icefields Parkway up to Jasper for a few more days, then drive across to Edmonton and Elk Island National Park before heading back down to Calgary.
4. Tips for Planning a Road Trip in Alberta
Bring your own SatNav – you can rent these along with a hire car, but it's nice to have a SatNav you're familiar with. I downloaded the Canada map for mine before leaving and it worked a dream.
Download a LOT of podcasts/audiobooks – distances in Canada can be pretty big, so you want to have some entertainment ready to go. Especially if you're travelling solo.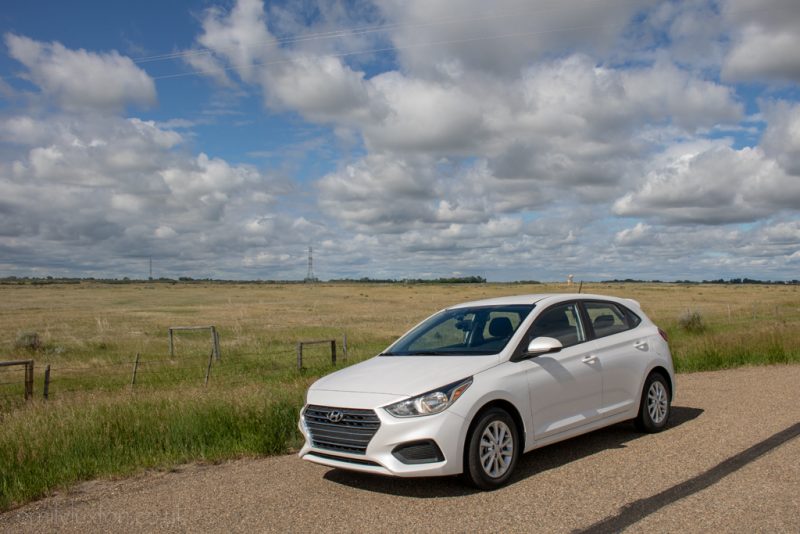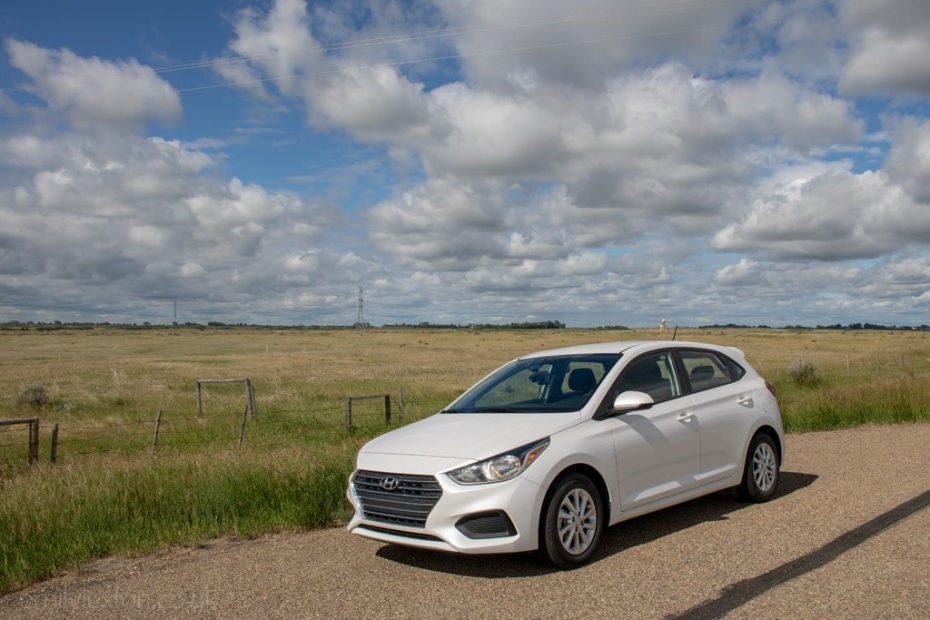 Pack for all weathers – Alberta is even less predictable than the UK, and it's not unusual to experience four seasons in a day. So be prepared! Decent outdoor gear, plenty of layers, and a really good waterproof jacket are all essentials.
Be prepared for dirt tracks! One thing I didn't expect was the long distances I covered on dirt or gravel roads. After about 50 miles on the same, seemingly endless, dirt track (without seeing a single other car), I'm pretty much a pro now – but it was scary at first. You need to go slow and know what to do if the car starts skidding.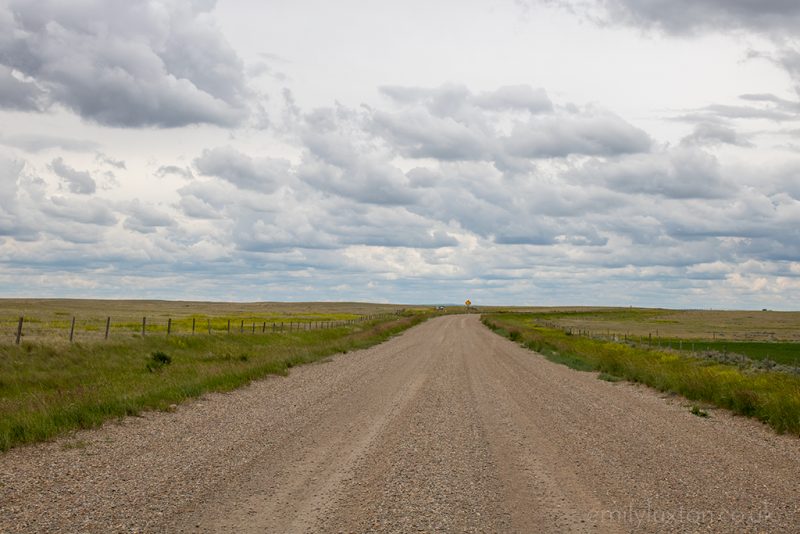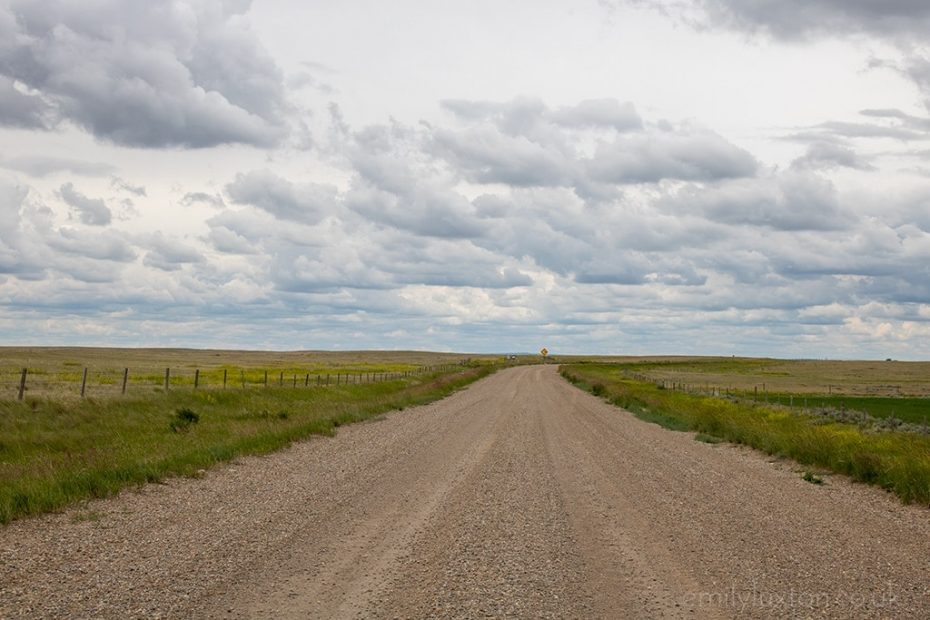 5. More Info and Further Reading
My Southern Alberta road trip itinerary was based around this Buffalos and Badlands tour from Wexas. The tour includes flights, accommodation, entry tickets, and car hire – but there's no tour guide and you can explore at your own pace. So it takes all the stress out of organising the trip, but still feels like an adventure!
To help your planning, check out out some of my other posts about Alberta below…
Adventures on the Icefields Parkway
Fun Things to do in Edmonton, Alberta
Discovering Elk Island National Park in Alberta
13 Amazing Places to Visit in Alberta
Pin This Post