Some posts on this site contain affiliate links. If you book or buy something through these links, I earn a small commission (at no extra cost to you). Take a look at my privacy policy for more information.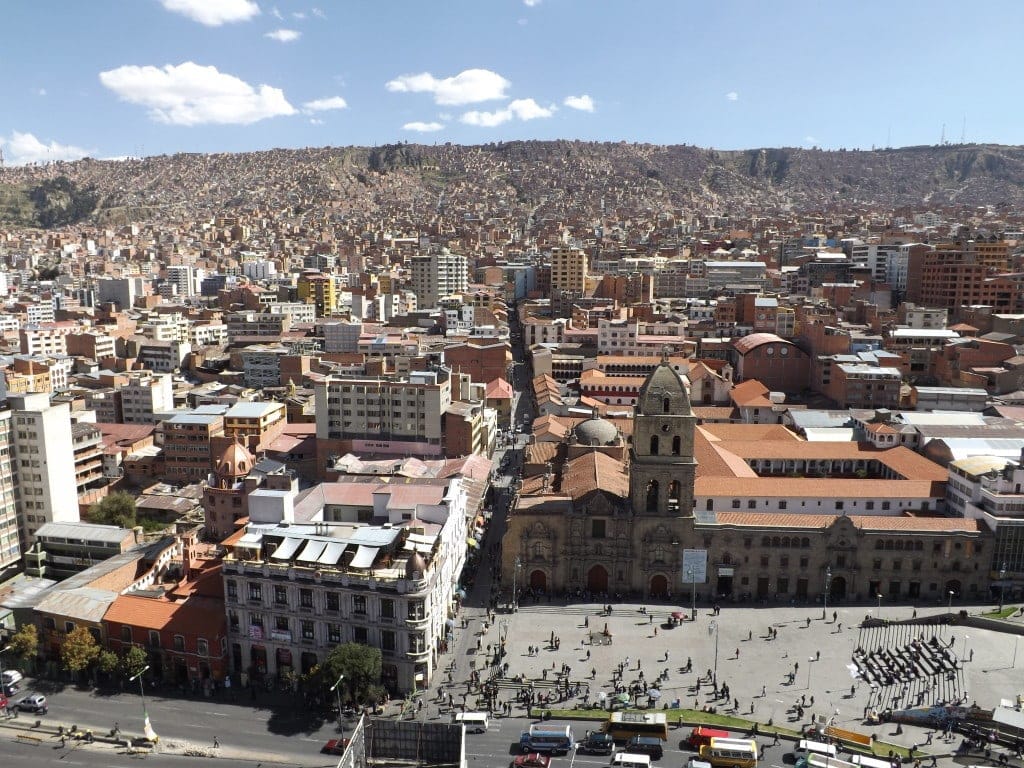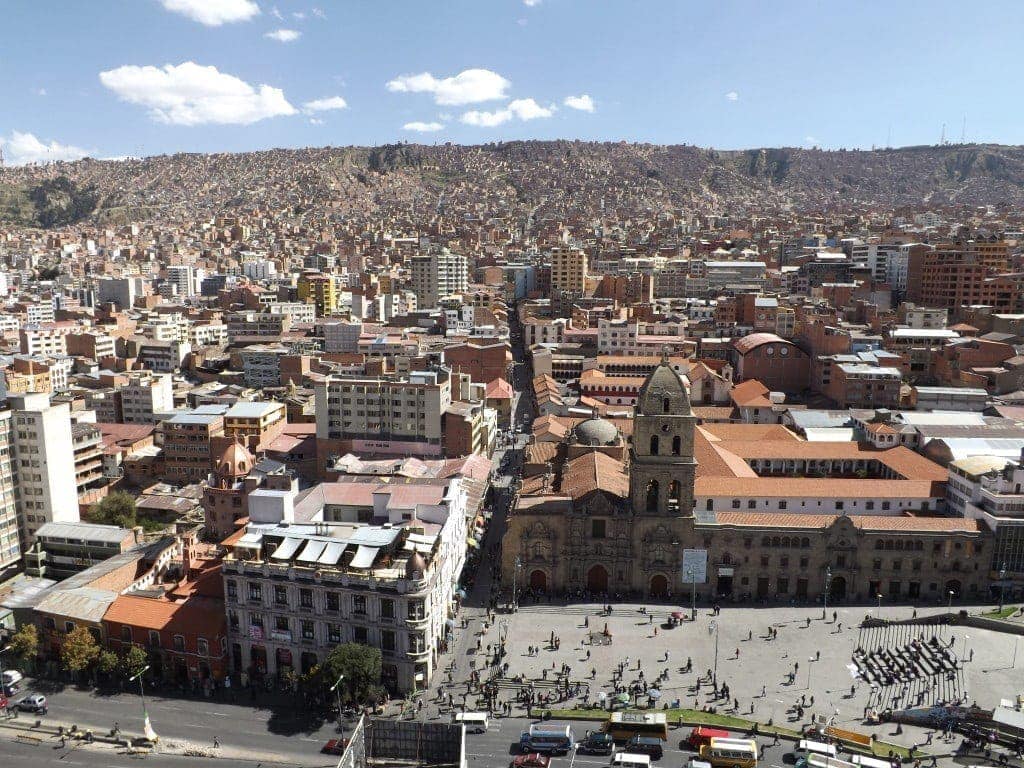 The awesome free Red Caps City Tour of La Paz finished on the seventeenth floor of the El Presidente hotel, which provided amazing views across the city as far as El Alto up on the hill behind, and to the snow-capped mountain overlooking downtown. This floor of the hotel also happened to hold the office for Urban Rush, for which Red Caps guests get the discounted price of 100Bs (about £10) instead of 150Bs, so straight after the tour I signed up for a jump.
Urban Rush La Paz
Urban Rush are an extreme sports company that basically offer the chance to abseil or rappel down the outside of the hotel, then freefall several stories to the bottom. This is even scarier than it sounds; seventeen stories is a long way and you have to lean out of the window over rushing traffic to get started.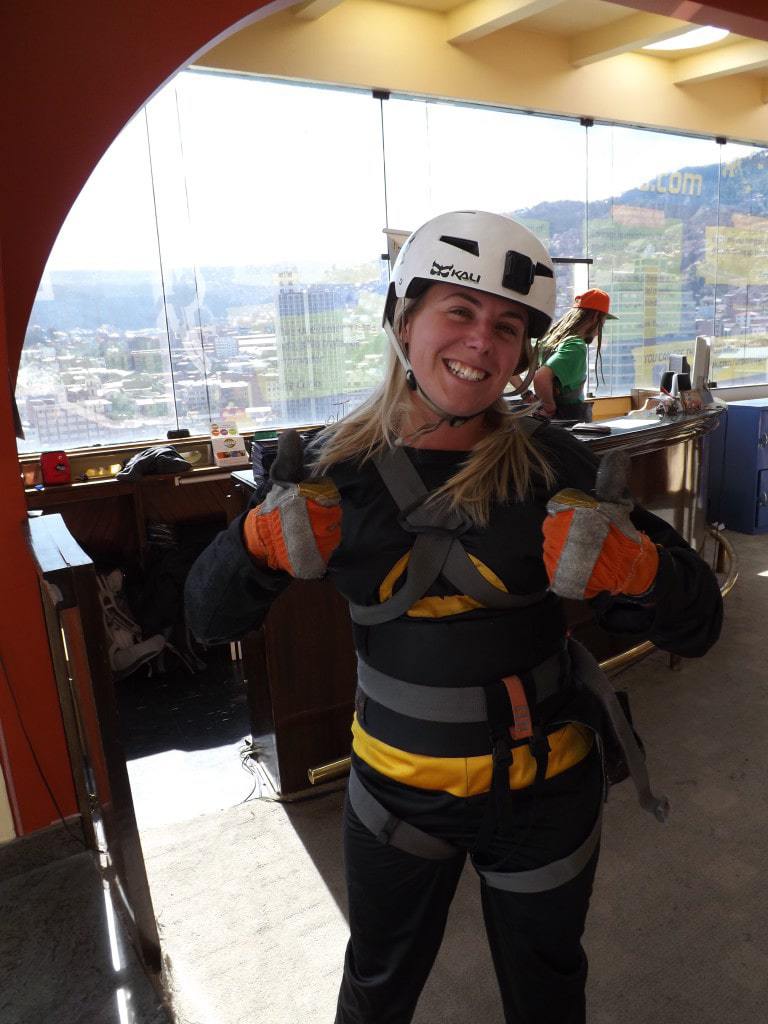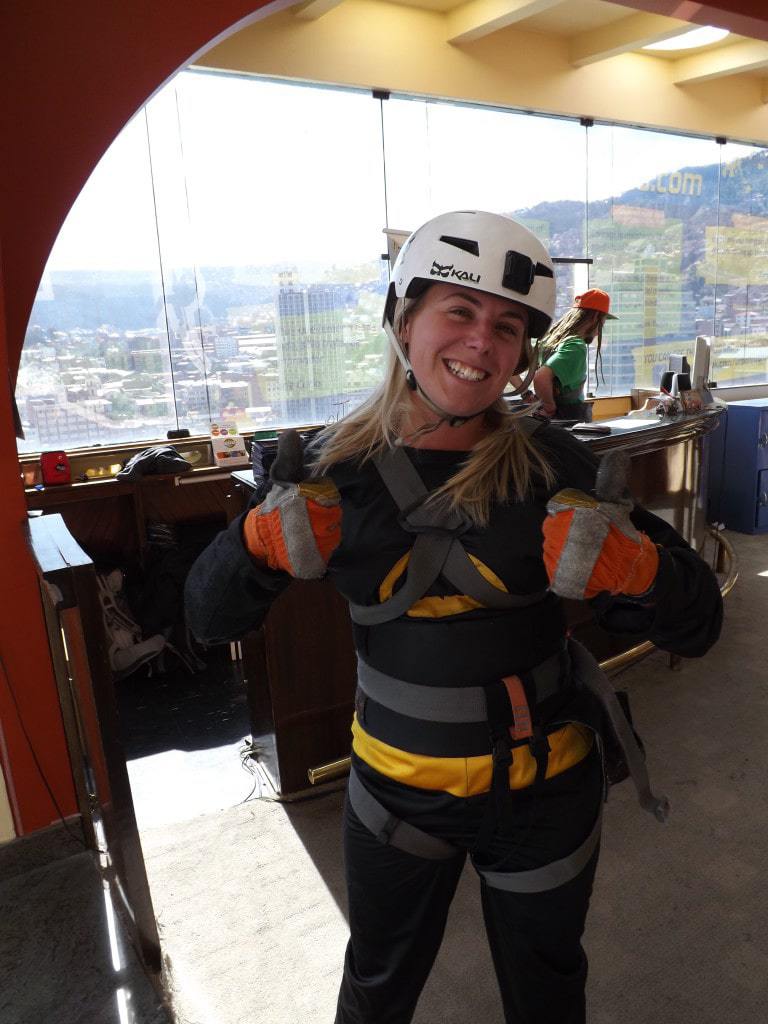 Out of our tour group of about twenty or so people, all backpackers between 20-30, I was the only one to do the jump, even Sam didn't want to do it (although apparently this is not because he was afraid, he just didn't feel like it). While I was getting prepped and filling out the usual 'if I die it's not your fault' forms, two other girls showed up to do the jump at the same time as me, so I wasn't alone.
The whole time we were getting harnessed up and trained, I saw my fear reflected in their grim, greyish faces, but I think, surprisingly, I dealt with mine quite well. The two girls barely said a word to me or to each other, looking like they might be sick if they opened their mouths, but I was chatting and trying to make jokes, to lift the tension.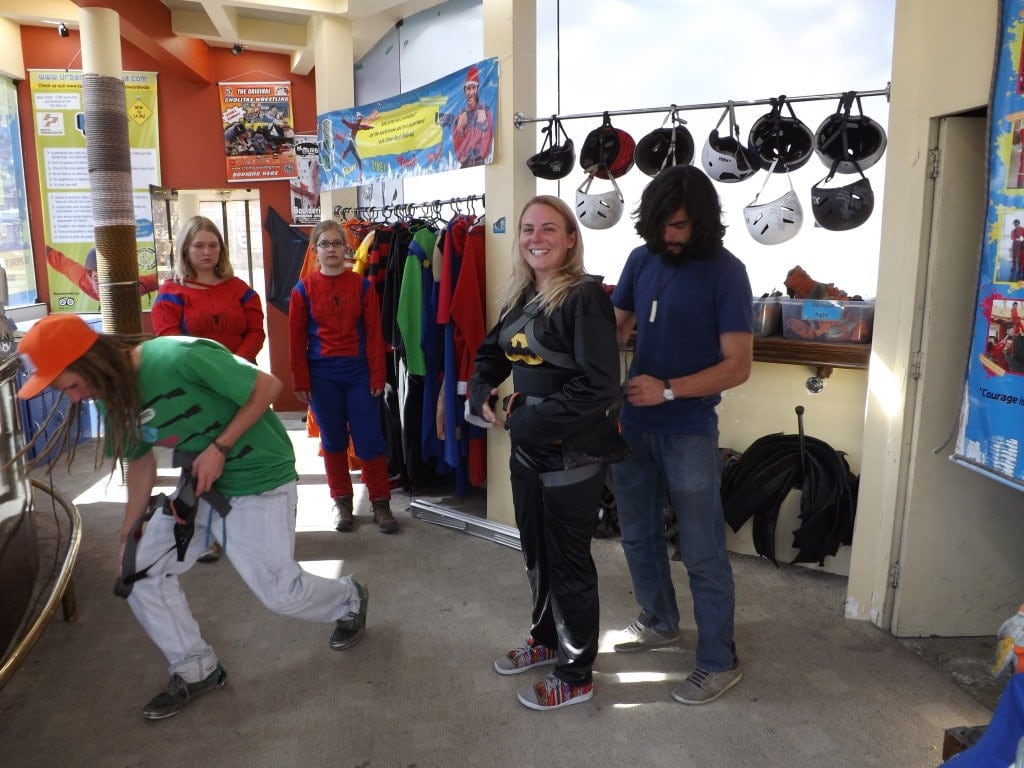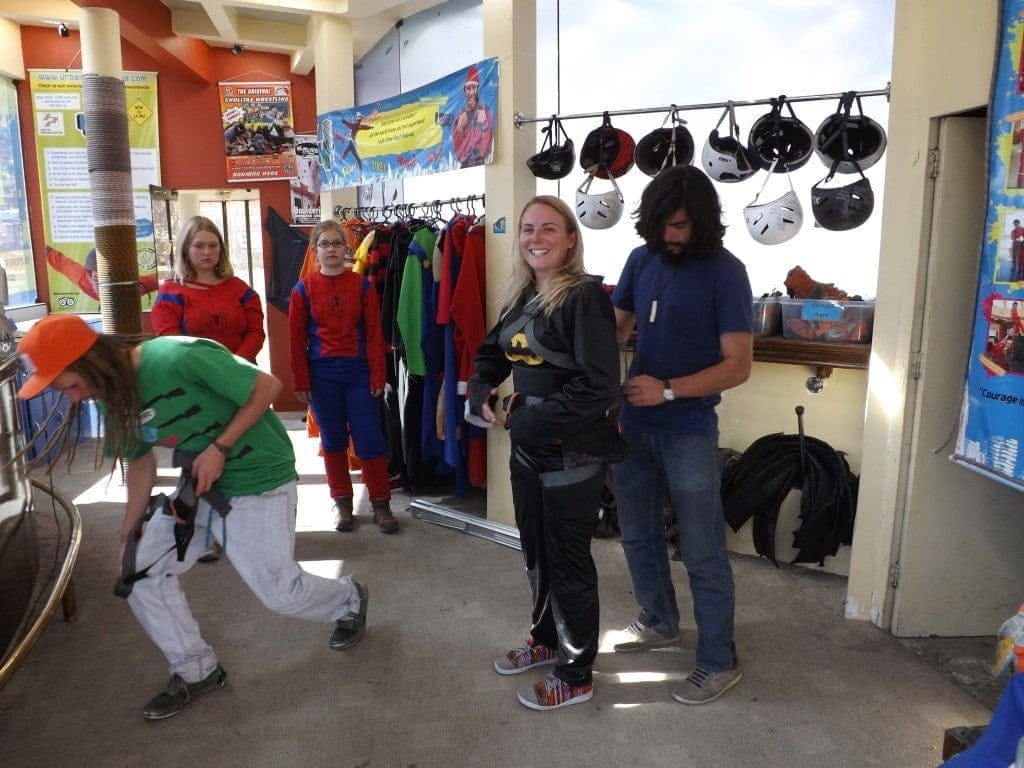 Getting Ready
Part of the attraction of the jump is that you can do it dressed as your favourite superhero, or as Santa or even a rasher of bacon, depending on your taste! After toying with Mario, I settled on Batman and got suited up in some very flattering black overalls sporting the yellow bat symbol. The harnesses went on top, and then it was time for the training wall, where our instructors showed us how to lean forward to a 90 degree position facing straight down.
We had to feed the rope through our hand little by little to slide ourselves forward, while one guy at the top and one at the bottom held onto to the brakes, ready to catch us. Standing on the edge of a four foot wall above a blue padded crash mat, and simply leaning forwards to face down, is HARD. Almost impossibly hard, and worse was the urge to keep a tight grip on the rope once I was in position and started walking. If you hold the rope, it doesn't move and you can't walk forward, so instead your legs slip out in front of you; exactly what happened to me the first time I tried.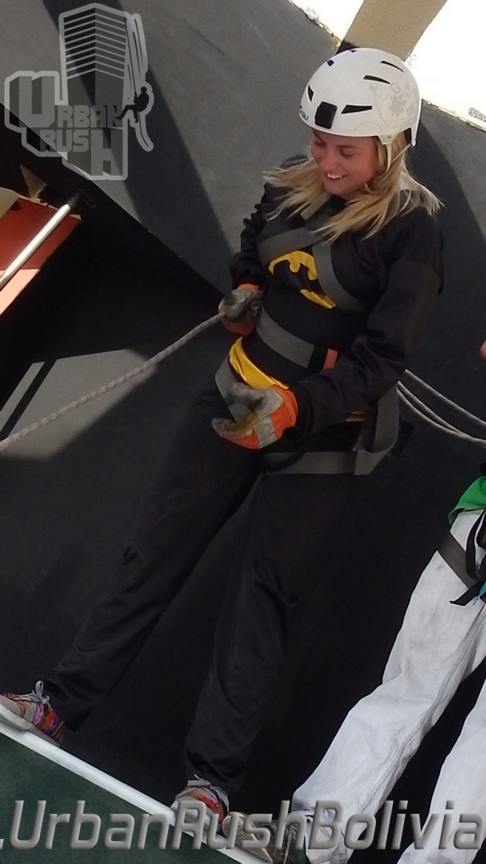 Rapelling Down a Building in La Paz
Training over, we headed over to the window itself while the speakers ominously blared 'Bang bang, my baby shot me down…'. Learning from my zip lining experience that a long wait only makes nerves worse, I volunteered to go first, but not before one of the instructors had run down in about four seconds to show us 'how it's done'. I was clipped into the ropes and hopped up onto the window ledge where, heart thumping, I shuffled my toes over the edge until my feet were almost half off.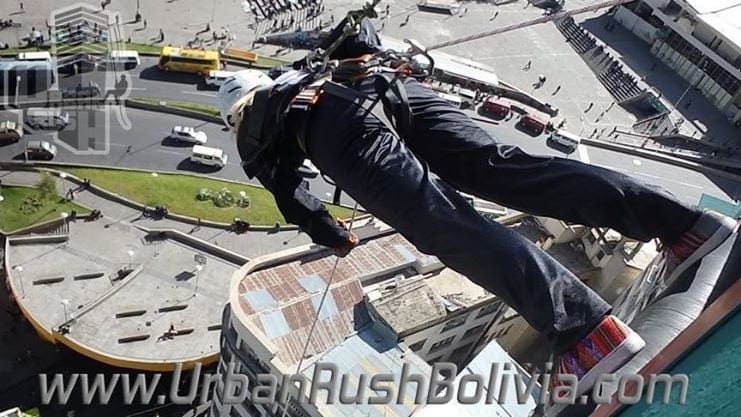 Leaning forward over that heart stopping drop is one of the hardest things I've ever done. Looking back, I'm not sure why I wanted to do the jump so badly anyway; I have a huge fear of heights and a generally nervous disposition. I think I just wanted to prove something to myself, or try to conquer the fear which so frequently gets in the way of having fun on my trip. But, suddenly there I was, leaning forward until I was standing horizontally over La Paz, and in spite of the strong grip of fear it was almost fun.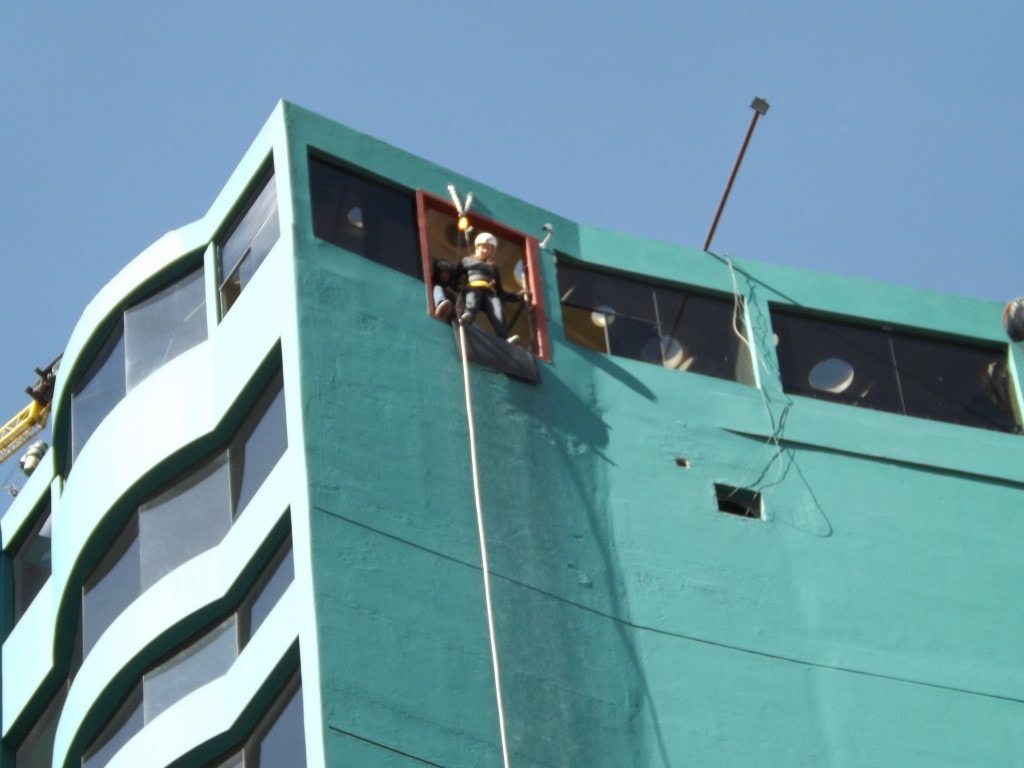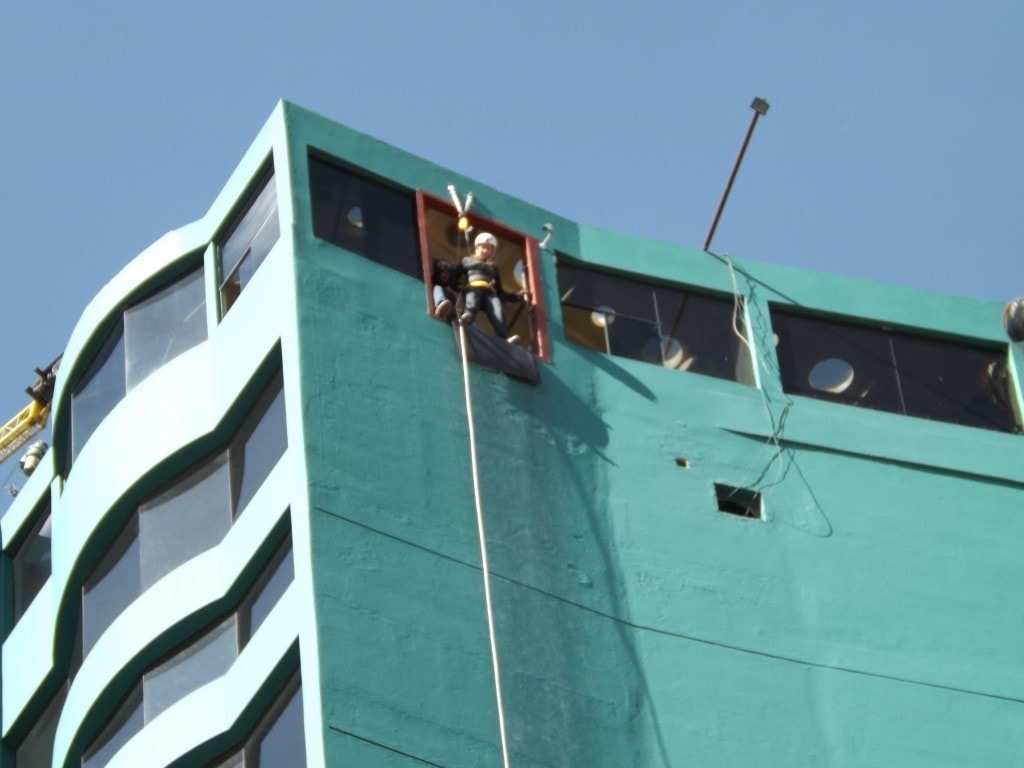 Bring it On
Then I started walking, and, just like in training, the urge to keep a tight grip on the rope, which felt like the only thing supporting me (in spite of the two men braking me at either end), was too strong. I held on for just a little bit too long while I kept walking, my feet went further than my body, and I slipped.
The only similar feeling I can think of is The Detonator at Thorpe Park, which hangs you at the top for a few teasing seconds before suddenly plunging downwards as your stomach flips and your head reels. For a horrific moment, I felt nothing but cold, hard fear seizing my body, but then I felt the strong grip of the rope which held me and realised that I wouldn't fall.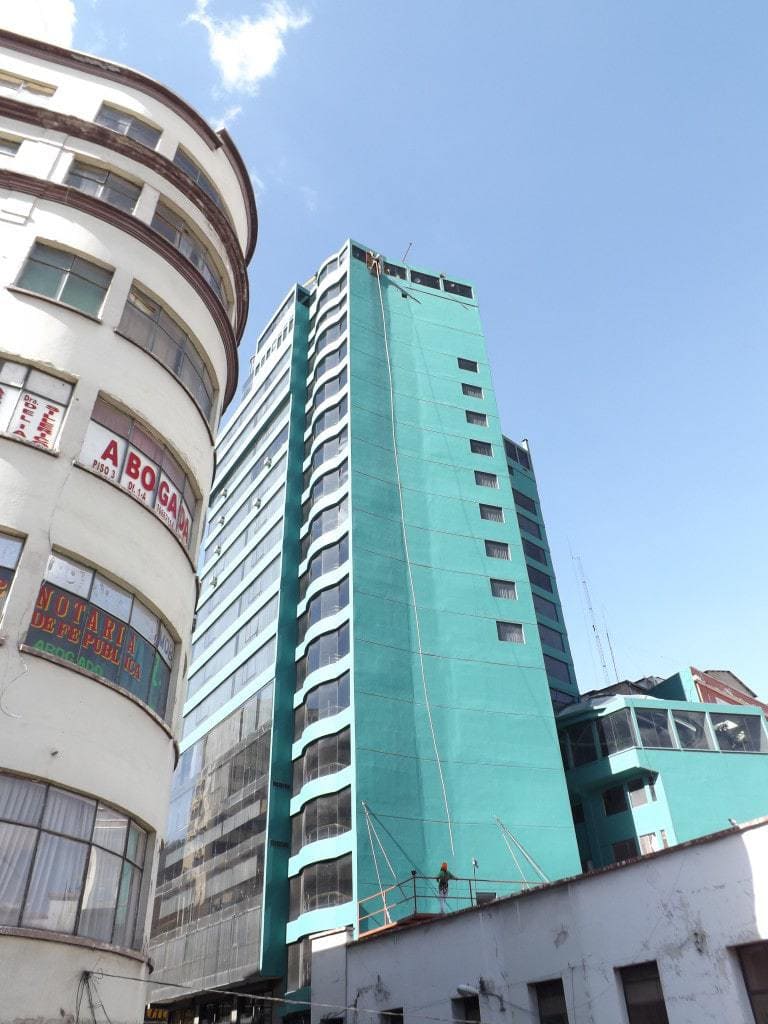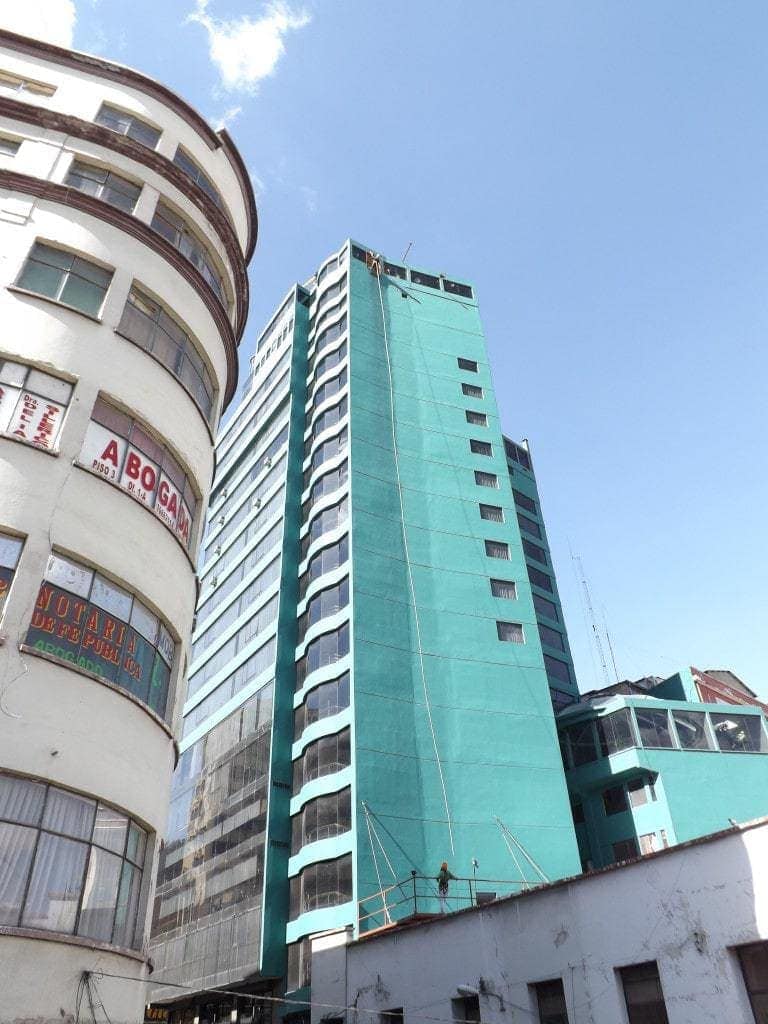 My trainers were so slippery that I couldn't get enough grip with my feet to stand back up, so after a small scrabble – which Sam, watching from the street below, said was the most horrible thing he's ever watched – the instructor shouted down to me to jump instead. I took the next few storeys in frog-like leaps down the building, feeling slightly less glamorous than Batman, but actually enjoying myself all the same.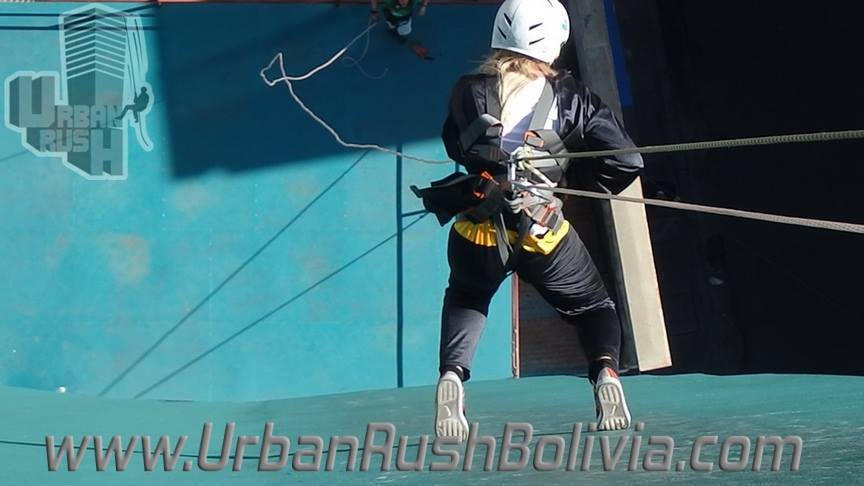 Freefall
About half-way down, the instructors braked the rope so that I couldn't go any further on my own, and shouted for me to freefall. I let go of the rope, held my arms out in front of me, and jumped off from the wall as hard as I could. At the same time, the two guys let go of the brakes and I fell – plummeted is the word, I think – down several stories in a whirlwind rush which was absolutely amazing. A bigger thrill than any rollercoaster, a brief feeling of almost flying, a huge hit of adrenaline coursing through my body: the feeling was incredible.
One storey from the bottom, my instructors braked me again and the guy at the bottom helped lower me down to solid ground. My whole body was trembling as he helped me out of my harness, and I was so full of excitement, fear and total elation that I almost burst into tears.
The experience was absolutely incredible, terrifying and fun in equal measure. But, as the Mark Twain quote on the Urban Rush poster points out, "courage is not the absence of fear, but the mastery of it".