Some posts on this site contain affiliate links. If you book or buy something through these links, I earn a small commission (at no extra cost to you). Take a look at my privacy policy for more information.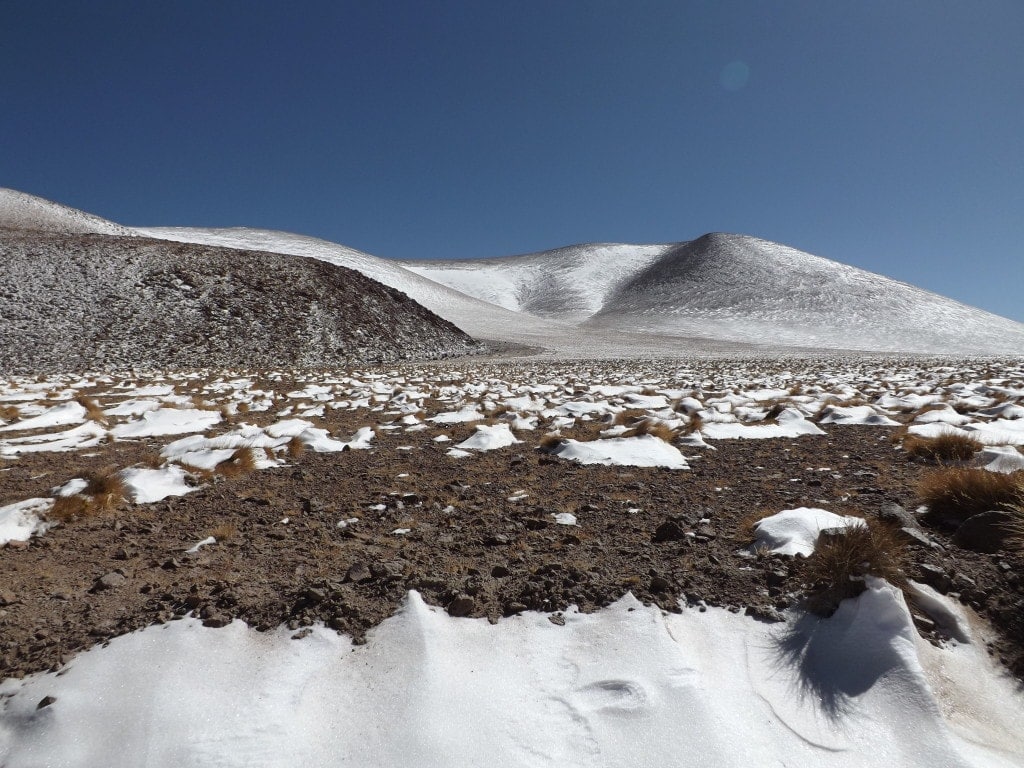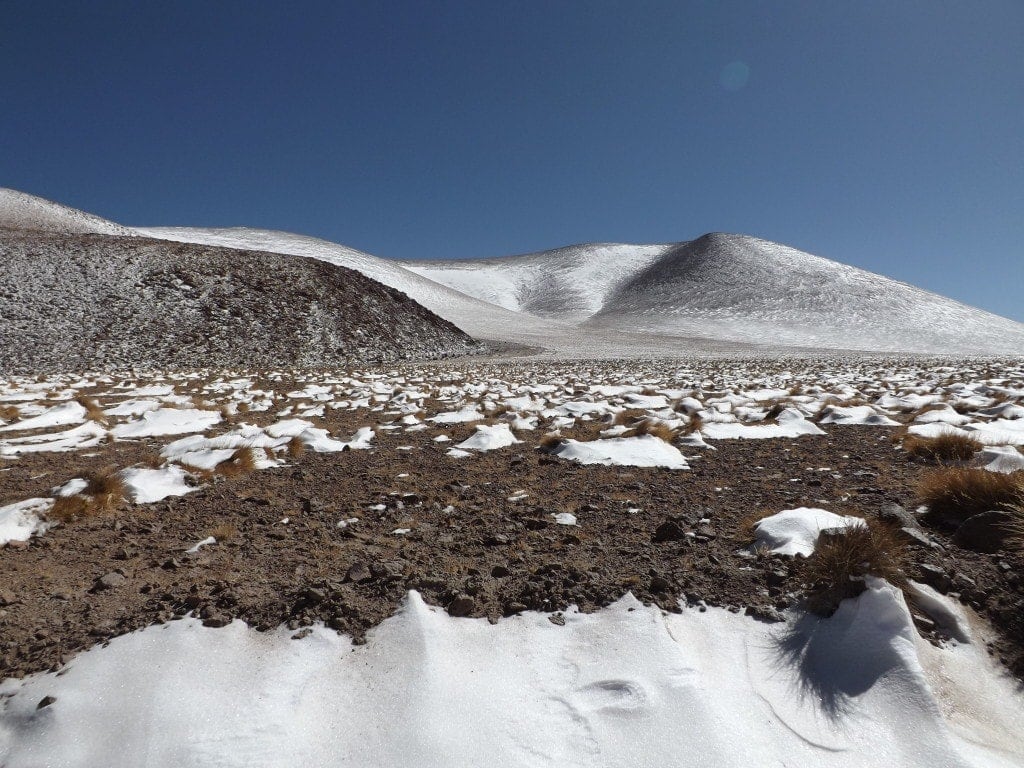 One of the most amazing highlights of all my time in South America was my Bolivia salt flats tour. In fact, it's still one of my all-time top travel memories nearly five years later. I took a Tupiza to Uyuni tour through the Eduardo Avaroa National Reserve, and had the most amazing time!
It was a trip which took us to heights of 5000 metres above sea level at times. This was during May, which is the beginning of Bolivia's dry winter season. Which means VERY cold weather. Nighttime temperatures plummeted to -13°C, and my hair actually froze after a dip in a thermal bath! In short, this was one seriously ice cold adventure. Below, I've listed five of my favourite frosty highlights from the trip…
Best Time to Visit Uyuni Salt Flats
May to October is the winter dry season in Bolivia. Which means no rain, but chilly temperatures – especially at high altitudes. It also means the Uyuni salt flats will be dry. This time of year is amazing for those funny perspective photos people love to take, and you get a real appreciation for the sheer size of the salt flats.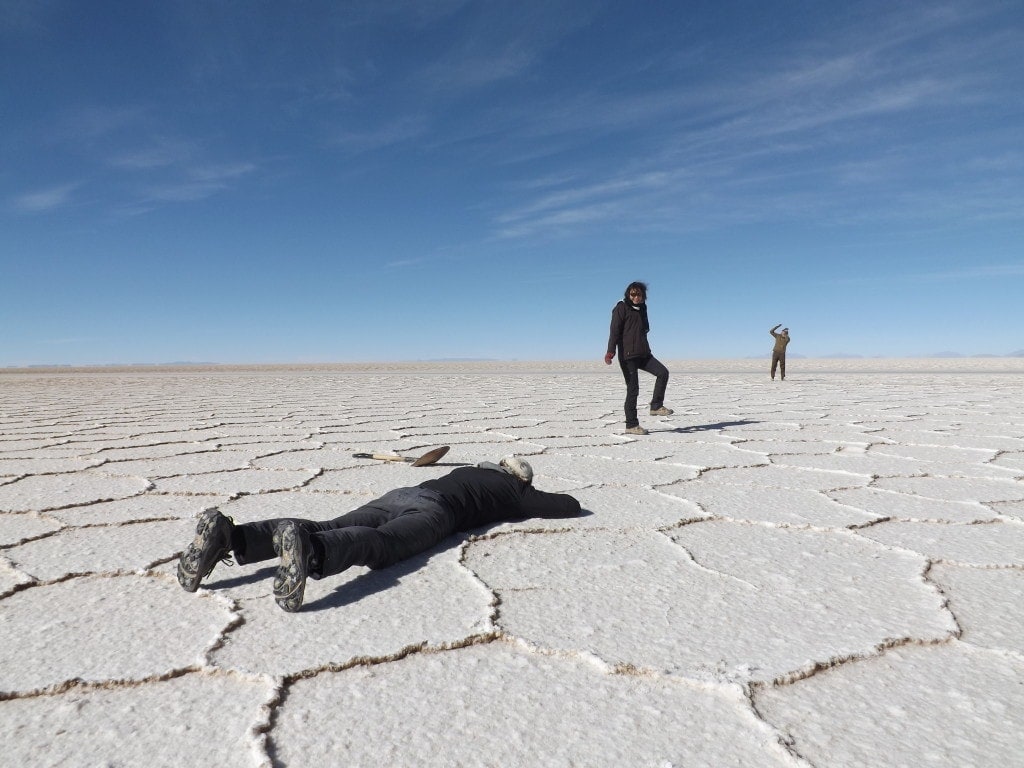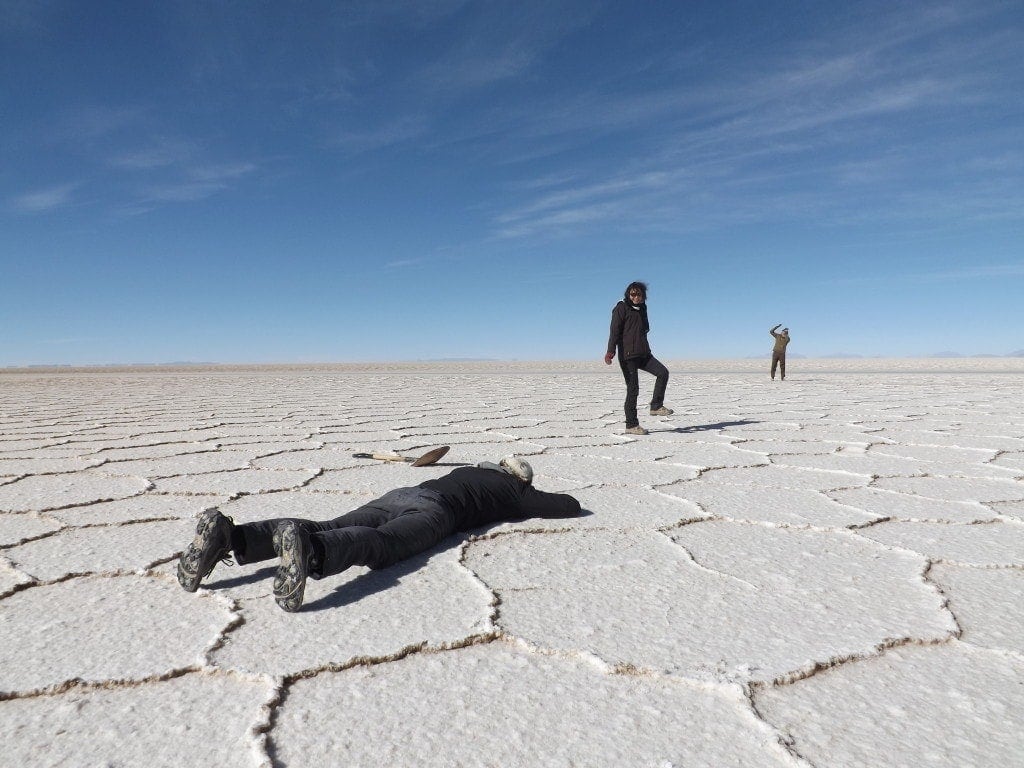 January to April is the rainy season. This can disrupt travel plans and mean pretty miserable weather for the rest of the tour! But this is the time of year when the Bolivia salt flats look their most magical. When the plain of salt is wet, it becomes a perfect mirror of the sky. Amazing for photography for an entirely different reason.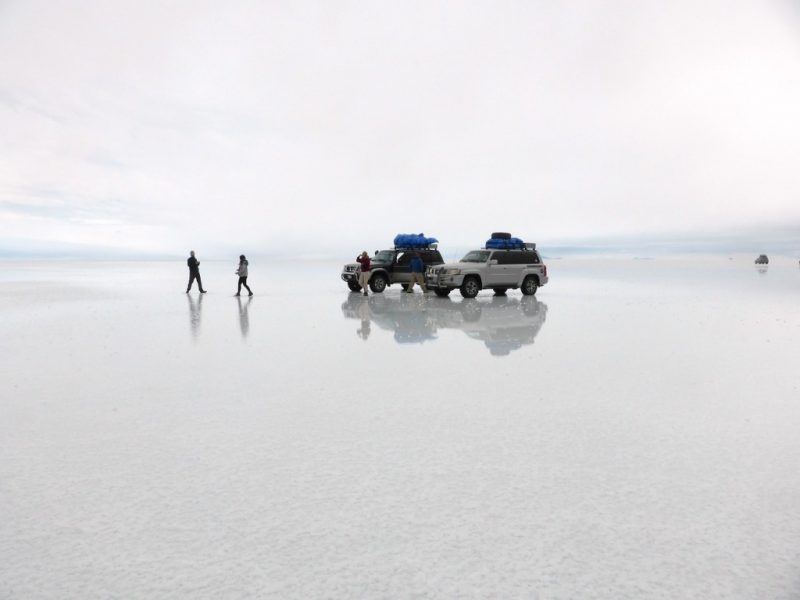 So the best time to visit Uyuni salt flats entirely depends on what you want to see when you get there. It also depends on what kind of experience you want for the rest of the tour. If you're only there to see the flats, a bit of rain won't bother you – and you get to see the wet salt flats reflecting the sky. Ultimately, there's no right or wrong time to visit the Bolivia salt flats. They look amazing all year round!
Highlights of a Bolivia Salt Flats Tour
I took the four day Tupiza to Uyuni tour (read the more in-depth post about the trip here). It was a longer option than the Bolivua salt flats tours that start and end in Uyuni. You also get to see a few more things along the way – particularly in the Eduardo Avaroa National Reserve. Here are a few of my highlights from this epic icy adventure…
Crossing Ice Rivers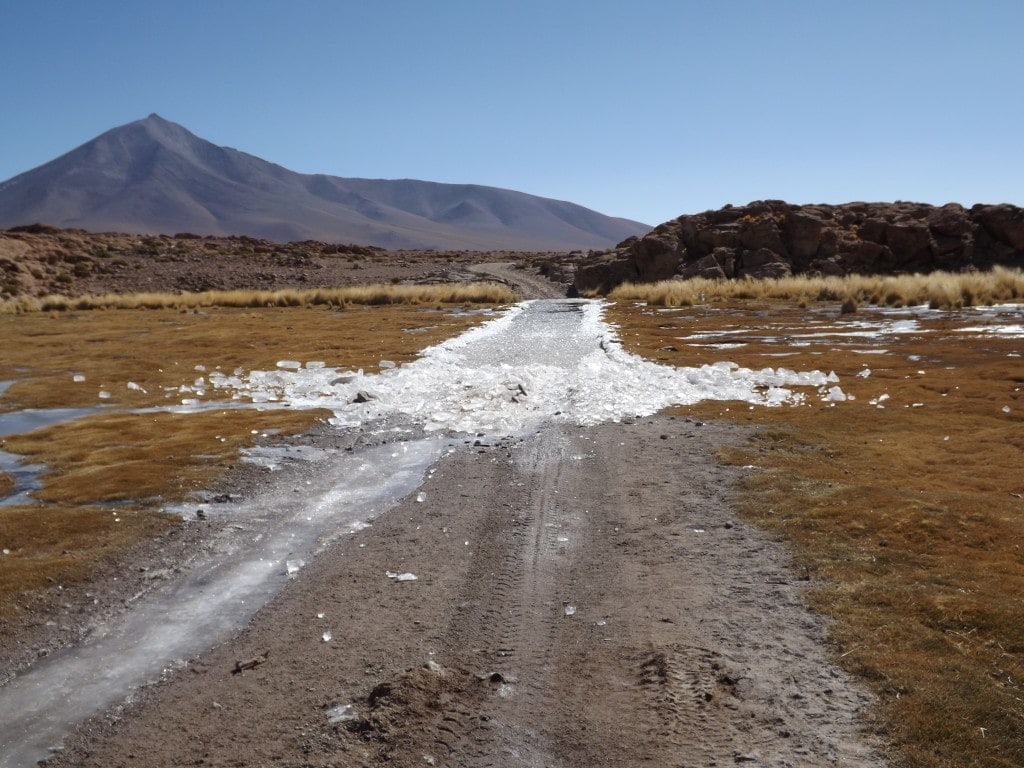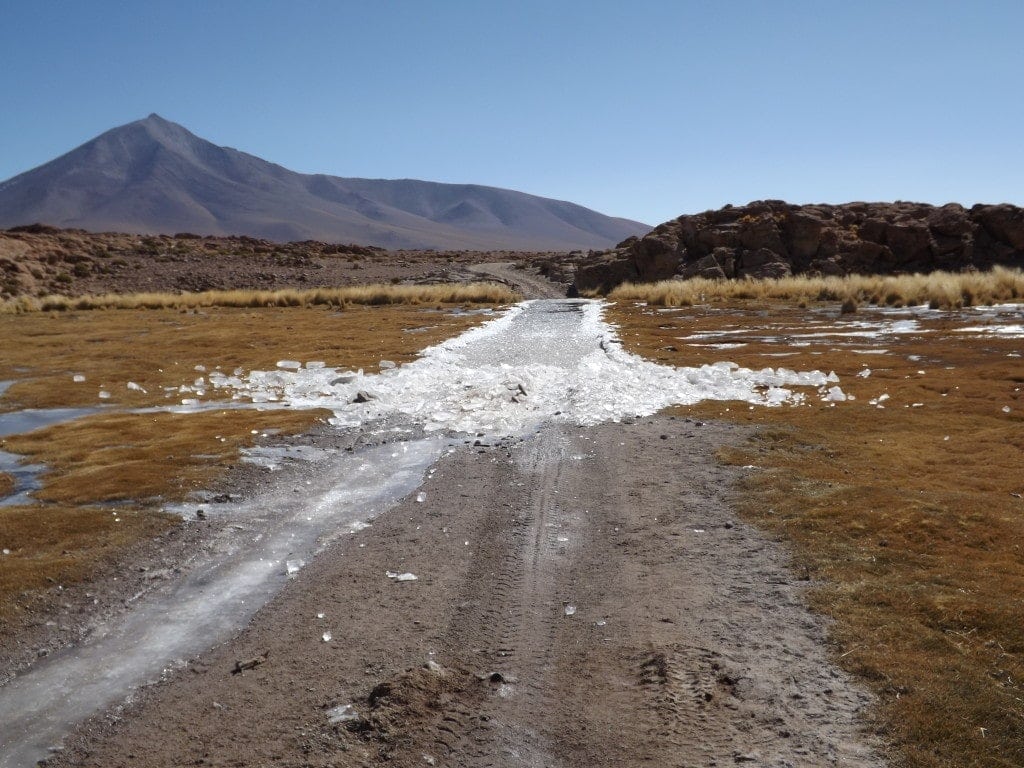 Winter in Bolivia means business. Especially at altitude! There were snowstorms, there was wind like I've never felt before, and there was ice. Oh, there was a lot of ice. Huge frozen puddles creaked and cracked under our 4WD as we climbed into the mountains. In places the road disappeared under rivers of ice, which we'd cross, tentatively, with the ground snapping beneath our wheels.
It was scary, it was dangerous, and it was very fun. There were times when the roads were so bad that we almost didn't make it across. We had to get out and watch our driver dig at the ice with a shovel to free the jeep. It would then skid across the slippery roads like a giant metal Bambi, struggling to the other side. We'd welcome him across with cheers – although these mostly came from our excitement to get back into the car and out of the cold. But every time we made it across another seemingly impassable road, it felt like a huge achievement – and a great adventure!
Pueblo Fantasmo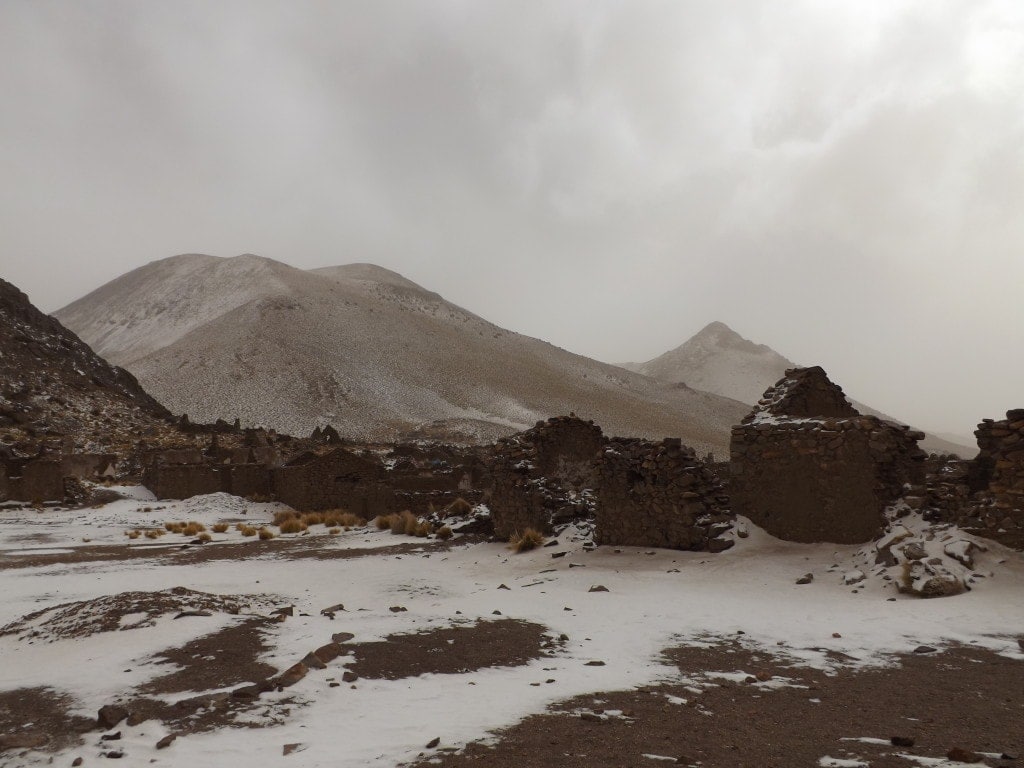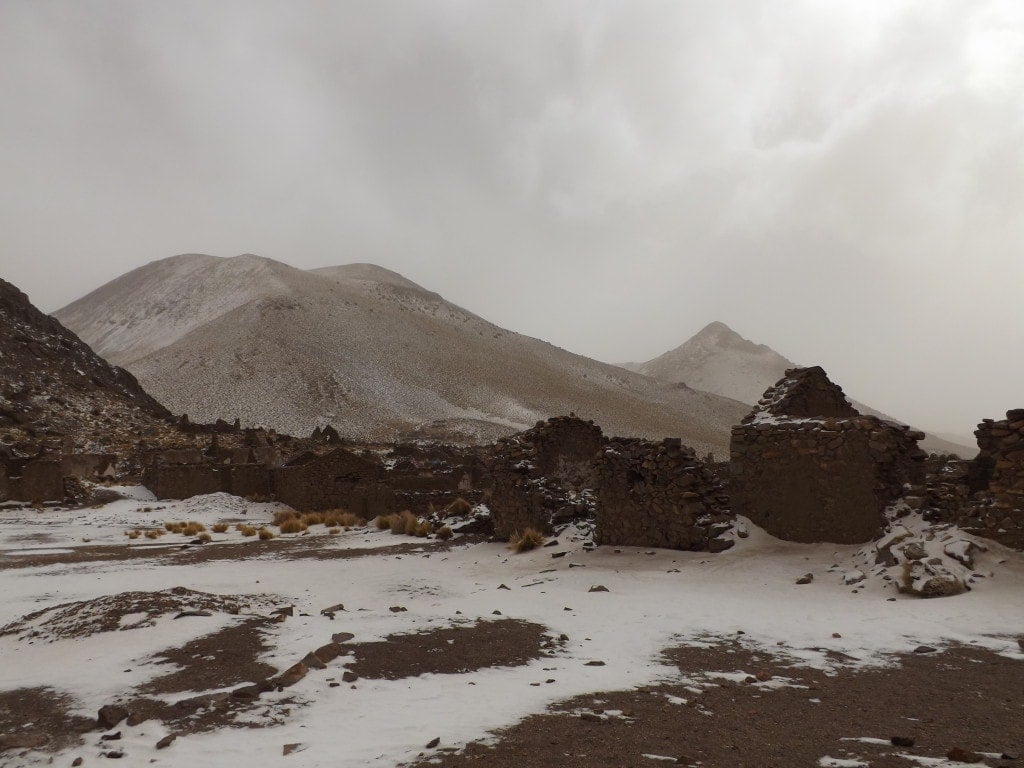 The "ghost town" of the mountains, the Pueblo Fantasma had almost disappeared when we arrived. The swirling white storm of wind and snow merged into a blanket of grey clouds so low we could almost touch them. It was through that blurred mist that we caught a glimpse of an abandoned town of roofless stone houses, huddled shivering at the foot of a dark hill. We were the only people for miles, the wind was howling and bitter, and the snow underfoot was deliciously unbroken, crunching under my boots. We stood in the brownish scab of a forgotten town surrounded by a whirl of hideous, freezing storm, and felt like the last people left in the world.
Frozen Lakes – including the dreaded Sulpur Lake (duhn duhn duhn….)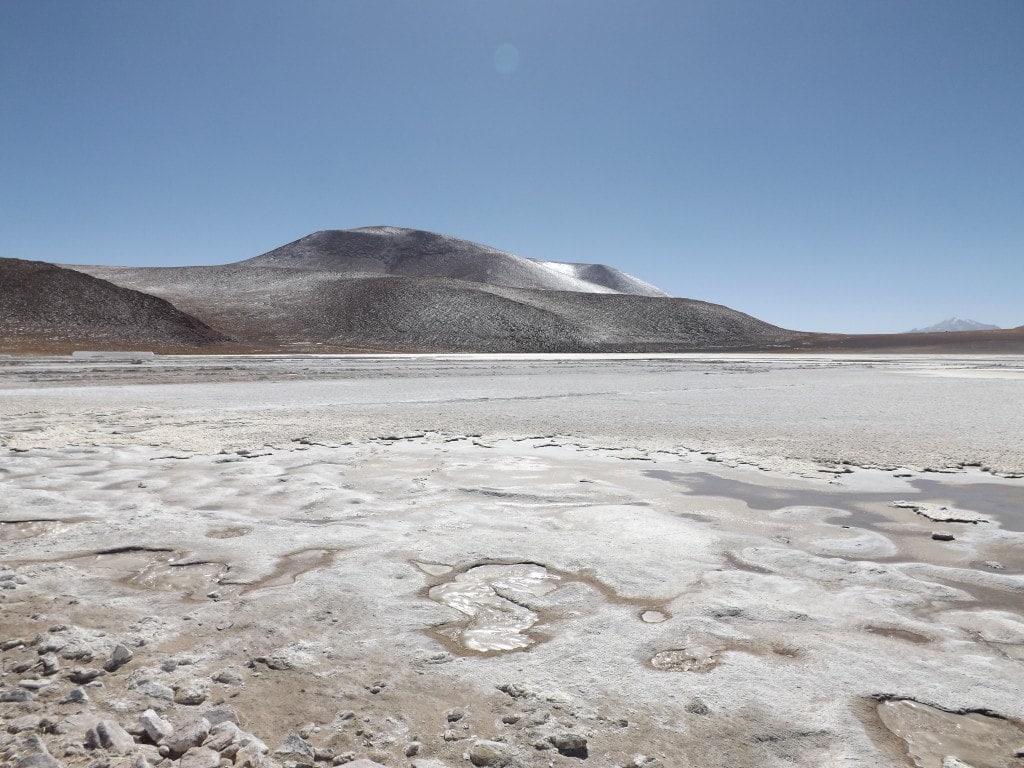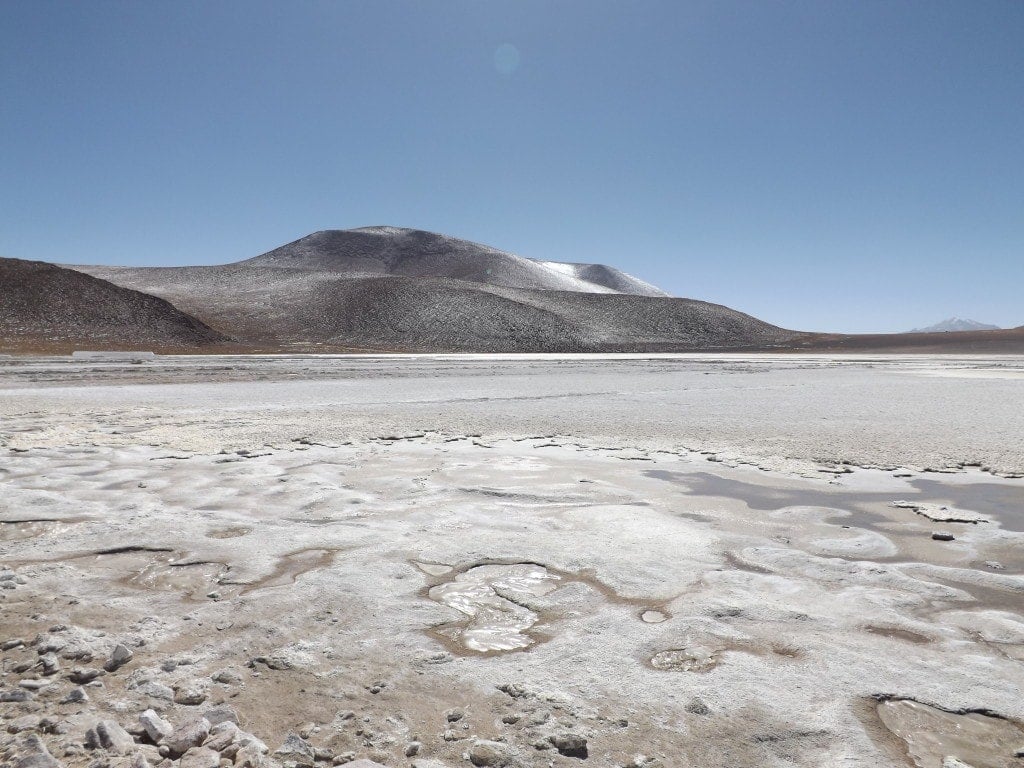 In the Parque Eduardo Alvaroa, all the lakes and lagoons were frozen over. Laguna Colorada (coloured or red lake) still retained a little of it's husky pink glow, but most of the colour in the ice white scene came from the huddles of shivering flamingoes perched on spindly legs in the patches of unfrozen water.
The frozen Laguna Kollpa, a lake filled with a natural detergant, was the whitest thing I'd ever seen, reflecting the dazzling sunlight on it's icy surface and skirted around the edges by a scum of bright white soap. And at the sulphur lake, Hedionda Lagoon, which had also frozen, my then-boyfriend Sam fell through the ice. His waste deep submersion into a brown sludge of sulphur left his clothes ruined and his walking boots frozen solid for three days!
It seems strange for that moment to be a highlight of mine, but now that the disaster is nothing more than a funny story, it's become one of our favourite funny stories – and the sight of Sam shivering naked in the white snow behind our jeep is a very amusing memory.
Hot Springs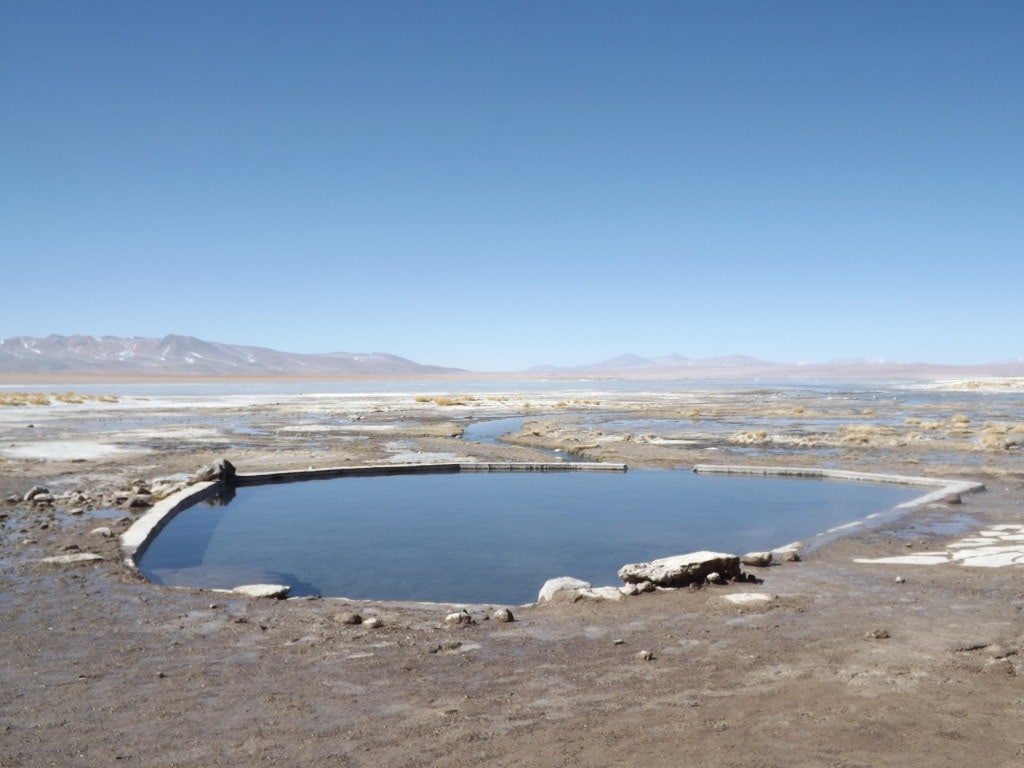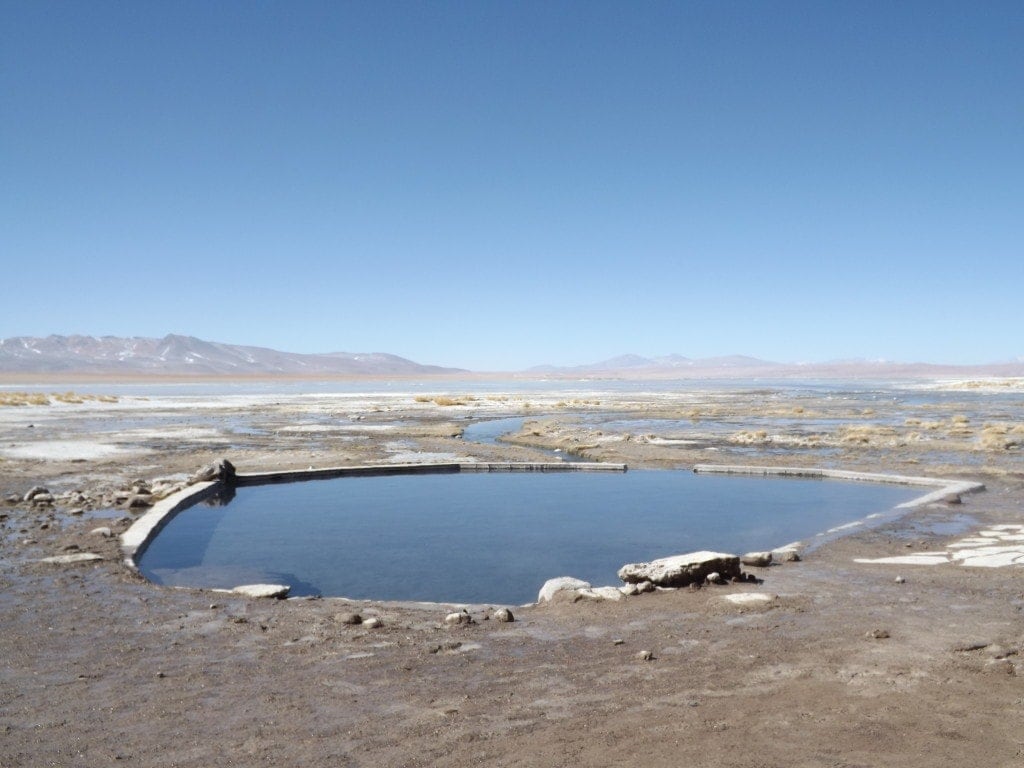 One of the lakes in the park is fed by a thermal spring. That has been tapped to feed a small pool of bathlike water, surrounded by snowy mountain peaks and sheets of ice. When we arrived, it was so cold that the taps in the visitor centre bathroom were dripping thick, deadly icicles. Sam's clothes – which we washed in the pool to save them from the sulphur – froze solid, turning into snappable 2D objects. Sitting in a pool of gorgeously hot water, surrounded by all that snow and ice was a blissfully special experience. Even if my hair did freeze afterwards.
Sunrise over the Salt Flats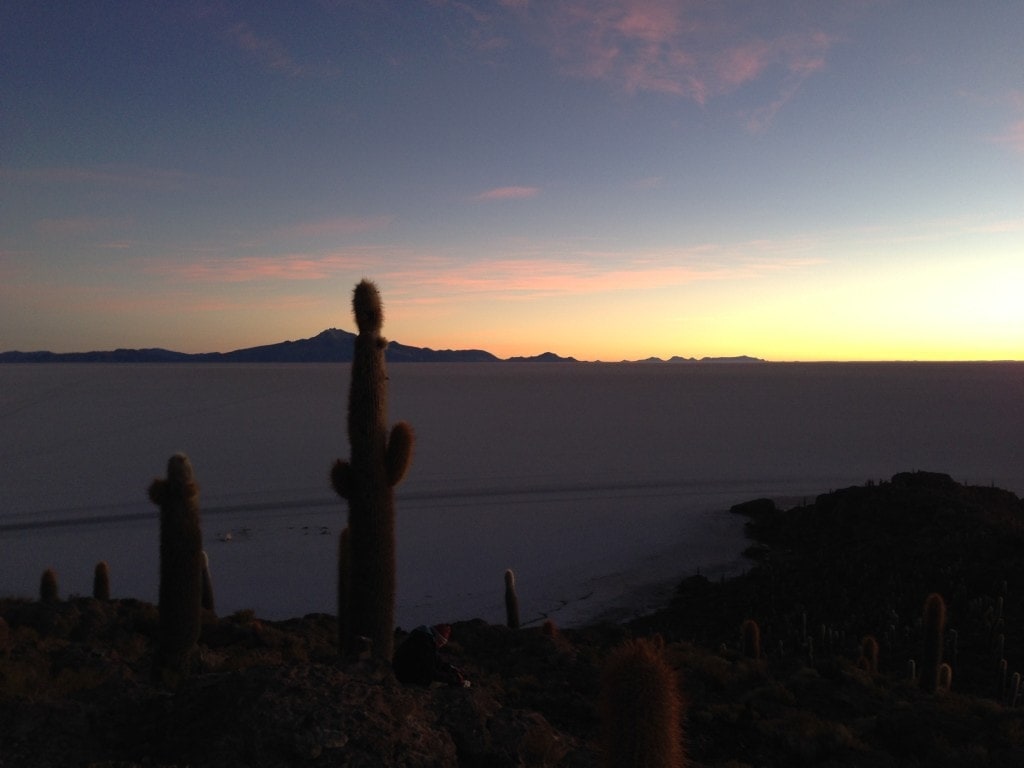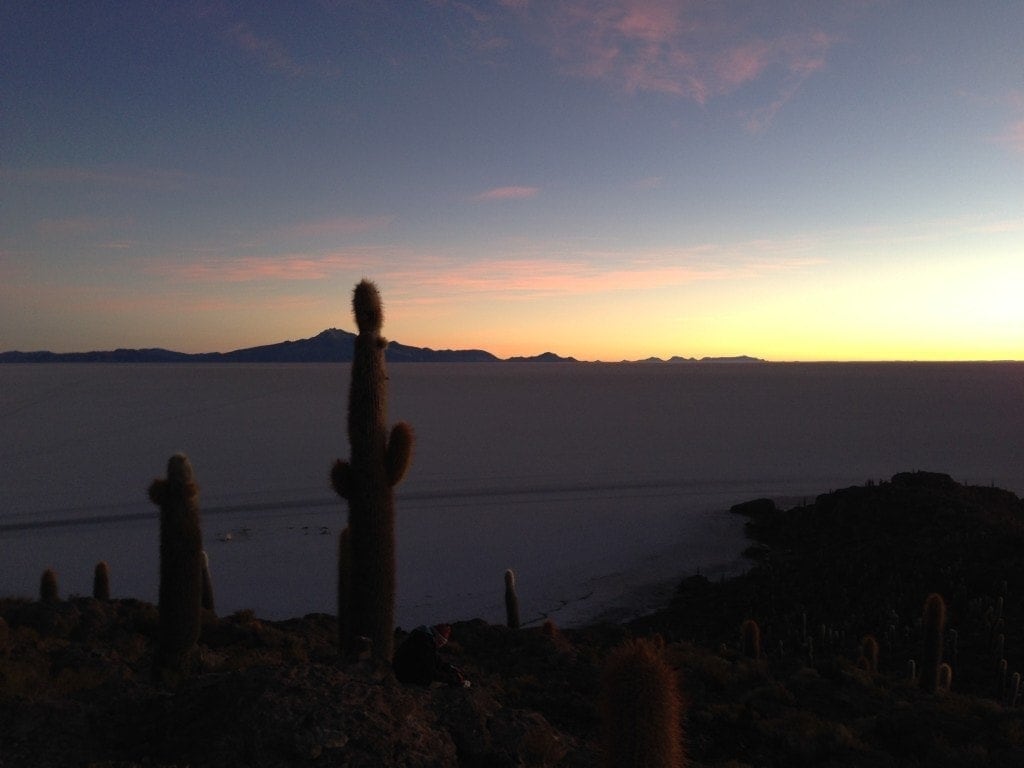 Finally, after all those icy adventures (and disasters) on our Bolivia salt flats tour, we made it to Uyuni. We woke up before dawn and raced across the gaping, dark emptiness of the salt desert to an 'island' of rock. There, we watched the sunrise over that bizarre, white, alien landscape. It was freezing. The wind was ice on our ears and I had to stop taking photos because my fingers could barely hold the camera.
Sunrise came, weak gold and pink, dazzling on a world of glittering minerals and crusty hexagons of salt. But it's distant warmth could barely penetrate the incredible ice cold of the air. And we didn't mind! It was horrendously cold, we were exhausted, and the whole trip had been marred by dozens of disasters… but it was a real adventure! One of the true highlights of my five month trip.
Have you taken a Bolivia salt flats tour? What was the weather like for you?