Some posts on this site contain affiliate links. If you book or buy something through these links, I earn a small commission (at no extra cost to you). Take a look at my privacy policy for more information.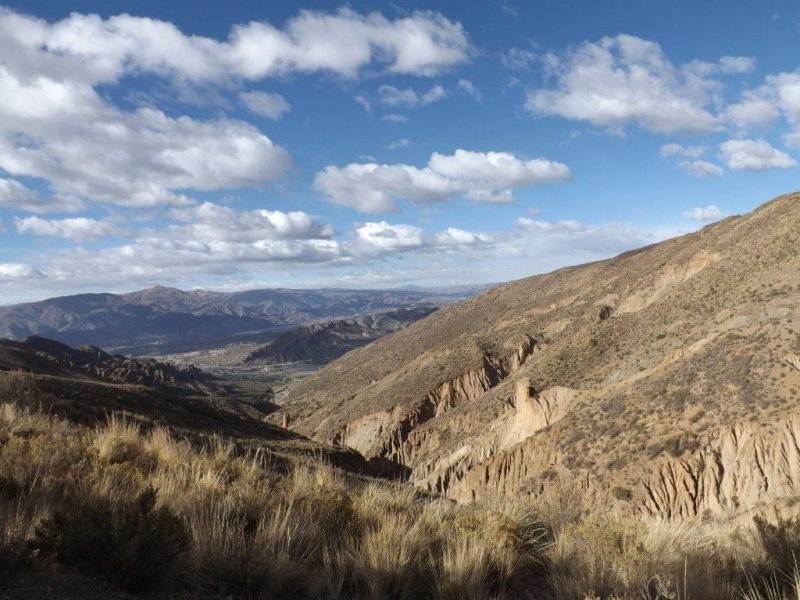 The Salar de Uyuni tour is easily the most popular tourist destination in Bolivia, and it's easy to see why. The salt flats themselves are breathtaking, and the three-day tour from Uyuni takes in a ton of incredible sights around that part of the country. Being so popular, though, can mean that you find yourself following the exact same route as all the other tours, fighting crowds of tourists for a view of each sight. 
If you're looking to escape the crowds, and do something a little different, why not take the four-day tour from Tupiza to Uyuni, instead. Not only do you get an entire extra day of sightseeing, taking you past things the Uyuni tours don't get to see, but also doing the route in reverse means that you rarely bump into any other groups, instead you get each spot to yourself and your photos of the landscapes will be unspoilt by crowds.
We went with Valle Hermosa Tours in Tupiza, simply because after getting a few quotes from various companies they seemed like the most organised and experienced, but they weren't without flaws. I'd say you should get quotes from all the companies in Tupiza, and just see which one feels best to you. Although the cost of 1295 Bs (about £120) each is pretty high for a backpacker's budget, this covered food, transport, accommodation and a guide, so it's a pretty good bargain. The other perk of paying the slightly higher cost is that Valle Hermosa – like most tours in Tupiza – only take groups of four at a time, so there aren't five or six people squeezed uncomfortably into a jeep.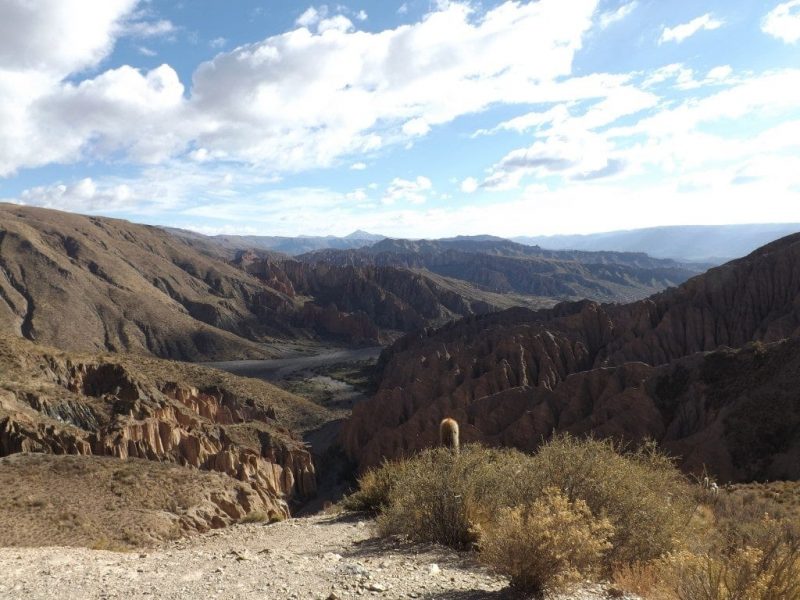 We set off pretty early at 8:30am, bundled up against the icy morning in two jumpers each, hats and gloves. The first stop was at a mirador above Tupiza which overlooked the strange, red rock formations surrounding the city. The hill we were on was yellow brown, dusted with grey-green scrub grass, but according to our driver the whole landscape is completely green and lush during summer (British winter time) and right now the hill is "muy triste", very sad.
Back in our jeep, we wound along mountain roads, through a stunning landscape that seemed to change more rapidly then I could write it down. Dramatic red rock valleys gave way to sloping brown mountains, distant green hills became pale grey plains, the clear blue sky turned cold and white. We passed twinkling rivers laced with ice, running water gurgling through the frozen sheets or smashed crystal shards. The landscape was enormous, and mostly uninhabited; with only one other jeep (a second Valle Hermosa group) in sight, it really felt like we were penetrating a huge wilderness.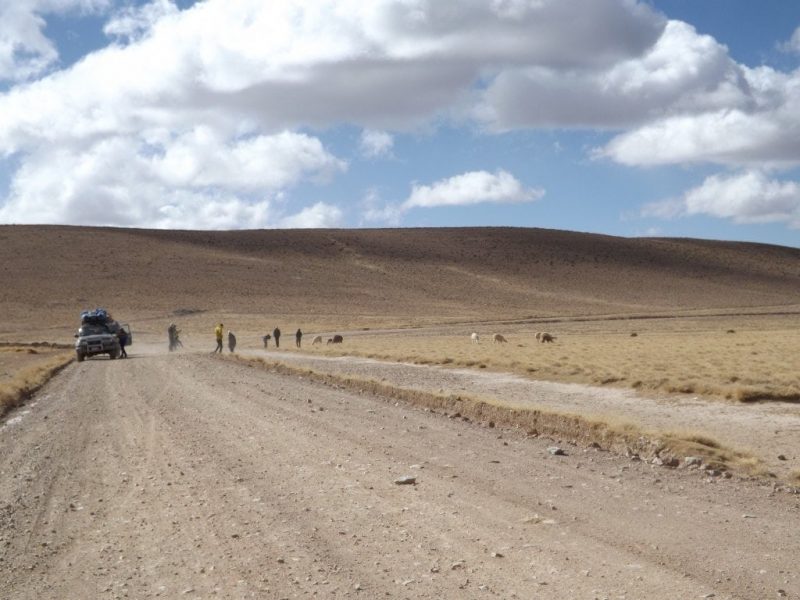 There was a brief stop on a long, deserted stretch of straight road cutting through the Awana Pampa plain, where llamas plucked despondently at rare tufts of grass, their thick fur buffeting in the sharp winds which bit at us through our winter clothes. It was the first time Sam and I had felt really cold since leaving the UK, so the icy winds were a bit of a shock – and things didn't improve as we pressed on, heading higher into the mountains. At the next stop, the Pasa del Diablo, we climbed the hill beside the road for a view across the valley – almost blocked out by grey, dust-filled winds – and found ourselves running back to the jeep after just a few seconds, unable to open our eyes – let alone remove the lens-caps from our cameras – because of the dust in the painfully cold air.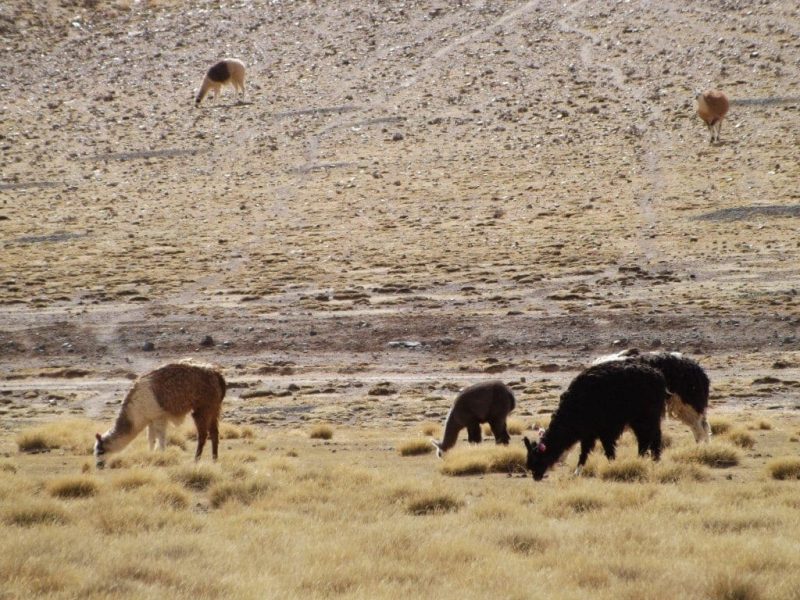 From sunny plains of dry yellow grass, the world became deep red earth dashed with yellow, flame-shaped bushes, then gave way again to purple earth, cracked-glass frozen rivers that crunched under the jeep's wheels, tufts of snow caught on wiry bushes. The trip was a constant journey, brief stops in between a kaleidoscope-changing landscape passing by the window, an endless forward motion. It was the perfect kind of travel. We stopped for lunch in Pueblo San Pablo de Lipez, a miserable patch of tiny grey houses, home to just 112 families, where the ceaseless, ferocious wind flicked endless waves of stinging grit and sand into our faces. We could do nothing but huddle inside the small room where we were eating, and listen to it howl outside, warming up with hot lentil stew and rice.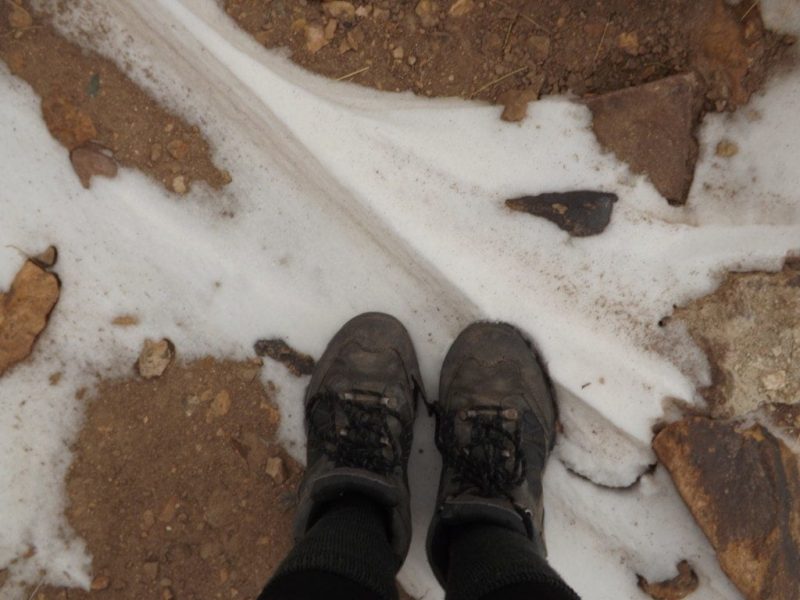 Climbing ever higher, through swirling clouds of dust as thick as fog, sometimes blocking out the road in front of us, we passed banks of snow clinging to the rust brown rocks of the mountains. At the next stop, none of us could even leave the jeep, peering instead at San Antonio de Lipez through the windows: another tiny, squat, empty town of grey houses and wind.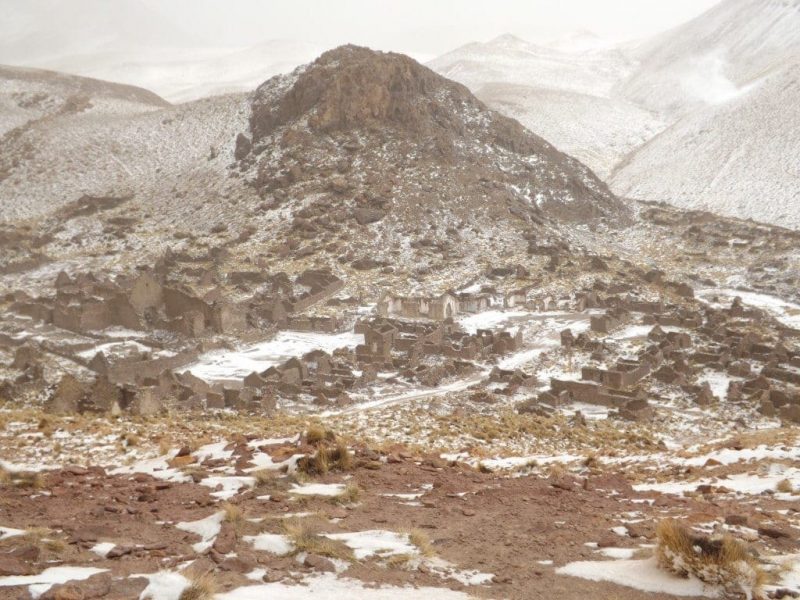 Surrounded by swirling snow, somewhere high in white-capped mountains that vanished into a thick, blanketing sky, we stood on a mirador above the Pueblo Fantasmo (ghost town) and watched the jeeps drive away down the curling road, praying that they'd stop again at the bottom to pick us up from the town below. Machu Picchu in minature, an abandoned town of stone houses, all roofless, shivered at the foot of a dark, brooding hill under a heavy coat of snow. Underfoot, the white ground was crisp and untouched, and we approached as though we were the first visitors to the town since it's inhabitants left. In the town, a bizarre place of warring families and something like 17 different churches, we stomped our feet into the deliciously crunching snow, bouncing on the spot to fight the shocking cold of the air.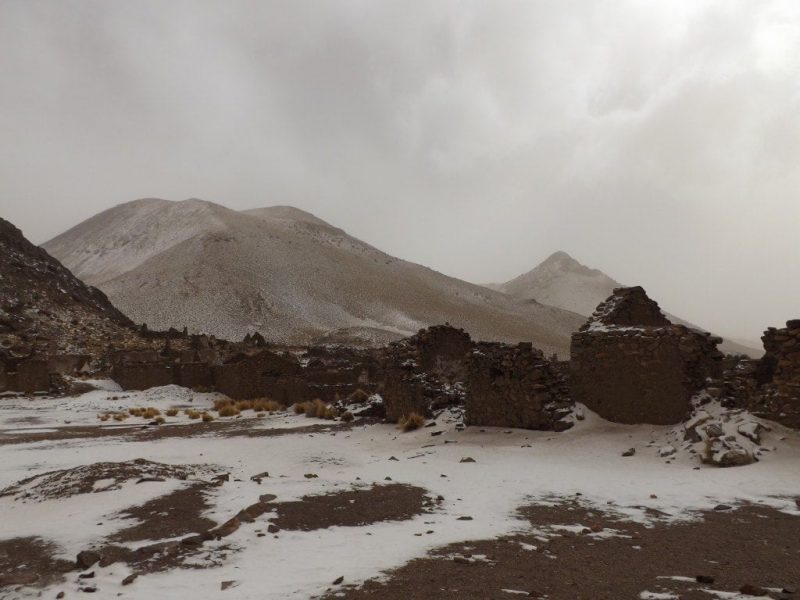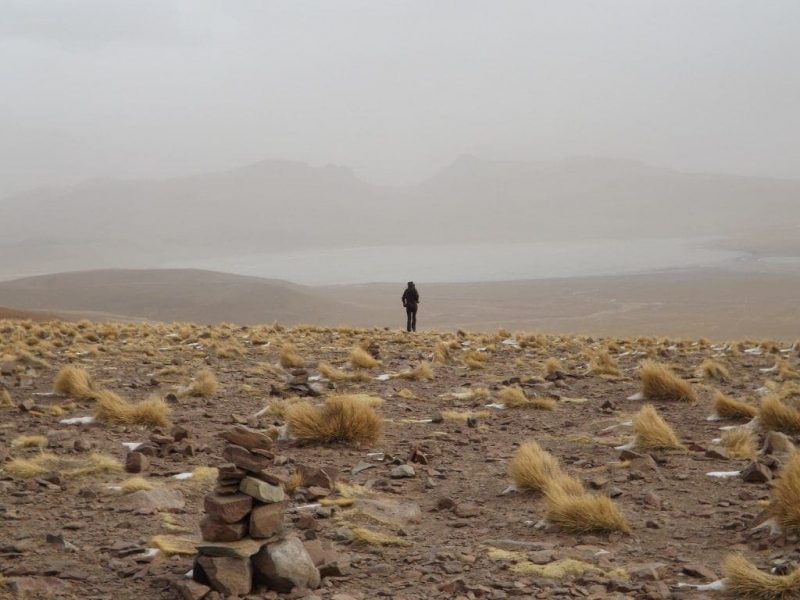 By the last stop, the whole world had vanished into white and grey. Somewhere in the distance, the faint blue sheet of Lagona Morejon disappeared behind the dust filled wind and icy grey sky, almost completely invisible and obstinately hiding from our cameras. We shrugged it off, disappointed, and headed to another small, grey town lost in bitter wind to find our hostel for the night.
The accomodation was basic, but it was clean, the food was good, and inside my sleeping bag under six blankets, in a hat, gloves and two jumpers, I was warm enough to get a good night's sleep. We drifted off to the sound of the wind shrieking outside the window, rattling loose doors and windows, and all of us prayed for clear skies the next day.
Want to know more about travelling in Bolivia? Check out the Bolivia section on my sister site, Backpack South America – and get in touch if you have a question.