Some posts on this site contain affiliate links. If you book or buy something through these links, I earn a small commission (at no extra cost to you). Take a look at my privacy policy for more information.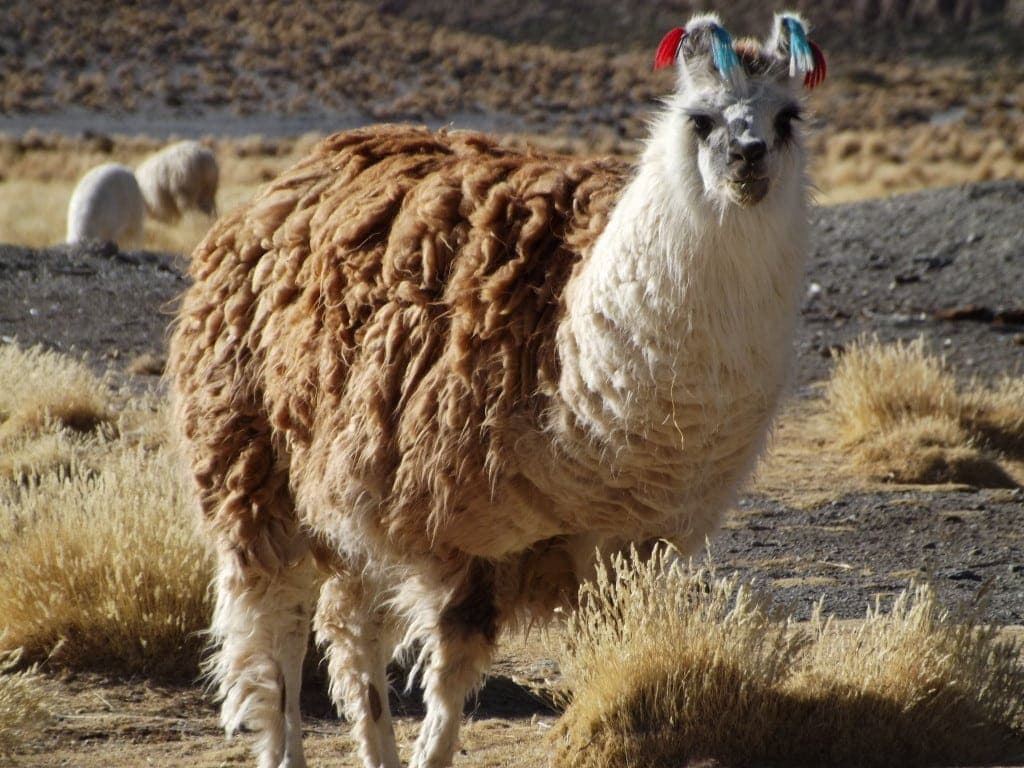 The four day trip from Tupiza to Salar de Uyuni was a constant journey. Most of everyday was spent in the jeep, with our guide Andres and awesome cook Dolores, watching the landscape slowly change outside the window, sliding from one scene from the next like a picture book, changing dramatically as we moved forwards.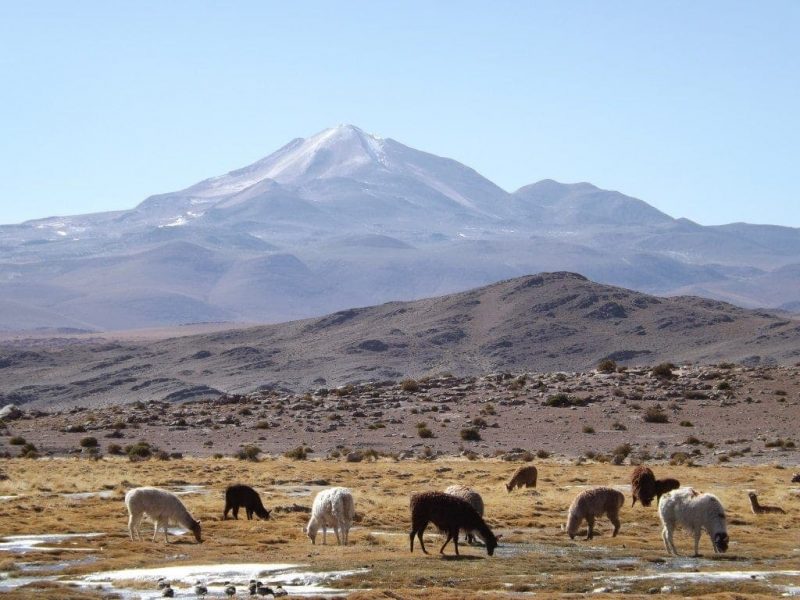 Our second day of the tour was, unfortunately, full of problems. First there were mixed reports of the weather, with some people saying the roads in Parque Eduardo Alvaroa were impassible, so that our drivers initially refused to take us there. When the weather improved in the morning, they said we could enter the park, but might not be able to see everything – although fortunately the only thing we couldn't see in the end was the green lake.
After we'd decided to try the national park, it turned out that one of the cars wasn't working. The drivers set to work on an engine part with some super glue, and we set off almost three hours behind schedule, around 10am. We didn't mind too much about the delay, until we found out that the driver of the second car had neglected to get up in the night and switch the car on – which they're supposed to do twice, to stop the engine freezing over – so the delay was his fault, and not an unavoidable accident.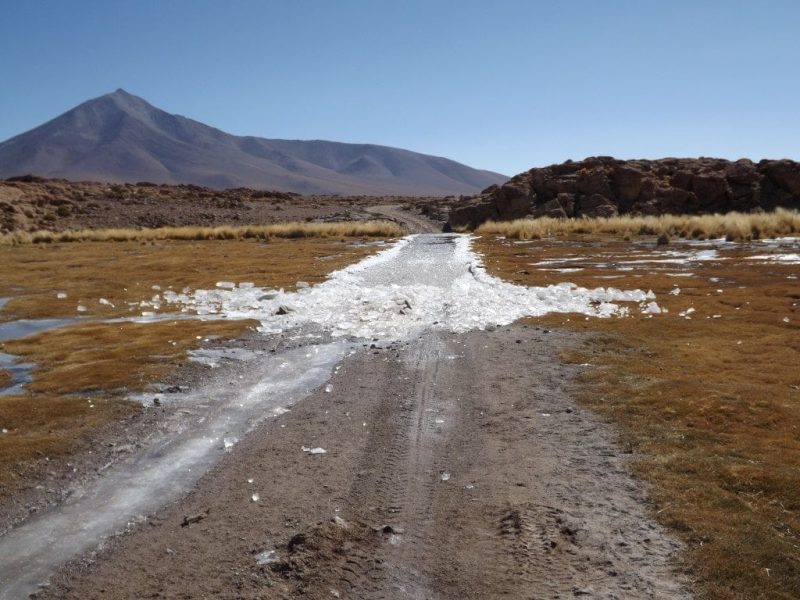 He admitted his mistake and apologised, though, and with the fantastic weather and dazzling scenery we soon got over the delay. We stopped just outside of town to view the Volcan de Uturuncu, a big purple cone in the distance, then stopped again a short distance after as the jeep got stuck crossing a huge, frozen river of ice. Both drivers had to dig the car out while we crossed on foot, snapping the ice with satisfying crackles, and cheering when the jeep finally made it across.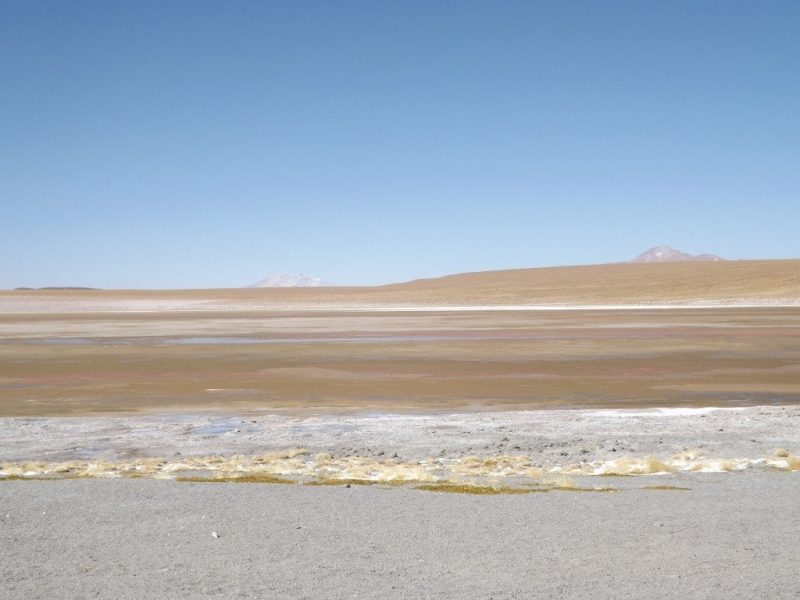 The first proper stop was the Hedionda Lagoon, a frozen, brownish lake of sulphur. Everyone marched out onto the ice to skid around and take photos, but the day's disasters of course weren't done, and Sam (it had to be Sam) fell through the ice. It was less falling, more sinking – suddenly, the ice wasn't under his feet anymore, and he was knee deep in a thick, orange sludge which sucked him back in each time he tried to pull himself out onto the slippery, wet ice sheet. Once out, his jeans, thermals, boxers, socks and boots were all coated in orange sulphur and all completely stank. It's a horrible, rotten eggs and body odour smell, and it escaped even the two plastic bags we wrapped all his stuff in, stinking out the jeep. Poor Sam had to strip off in the snow behind the jeep, and change into spare clothes and trainers, but luckily no real damage was done beyond some smelly jeans.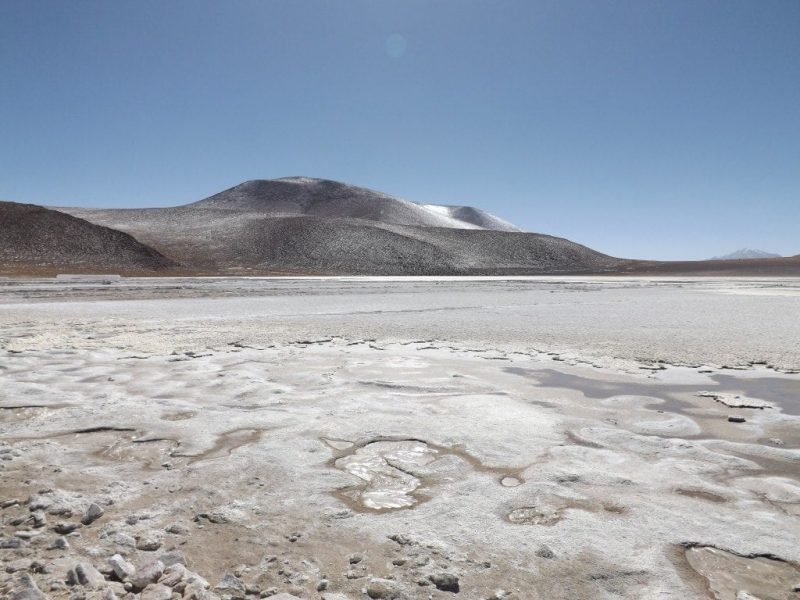 From stinky sulphur, we moved to clean, white soap. The Laguna Kollpa is filled with a natural detergent used by locals as shampoo and soap, and exported to Chile to make cleaning products. The whole lake was white and icy, surrounded by snow, and so bright that it stung my eyes. The white scum floating on top, like frozen foam, felt and smelt just like soap or washing powder, and it was so bizarre to see that naturally floating on a lake between mountains and snow.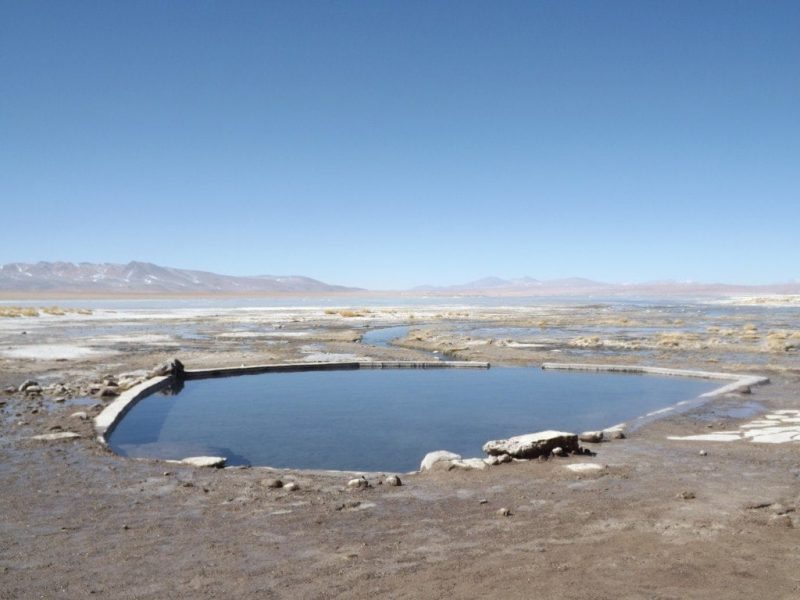 We headed next to the hot springs, and just in time: Sam's dirty clothes were starting to stink out the entire jeep. The pool is a small, shallow pond of super hot water next to a steaming, thermal lake between towering mountains, and was completely surrounded by snow and ice everywhere the hot water wasn't touching. It was so cold, that the taps in the bathrooms had thick icicles dangling from them, and we were shivering in our swimwear as we hurried into the pool, but the water was dizzylingly hot. The bizarre contrast of bathlike water surrounded by snow made the experience all the more special, and it was easily the best hot spring we've been to on this trip.
In the pool, we washed Sam's clothes and shoes out and hung them on a washing line to dry while we bathed. By the time we had completely relaxed, gotten dressed again, and eaten lunch, we went out to find that all his clothes had frozen solid – the jeans were like a 2D plastic cut-out, and would have snapped if we bent them. Although annoying, it was such a funny sight to see frozen clothes that we couldn't help laughing!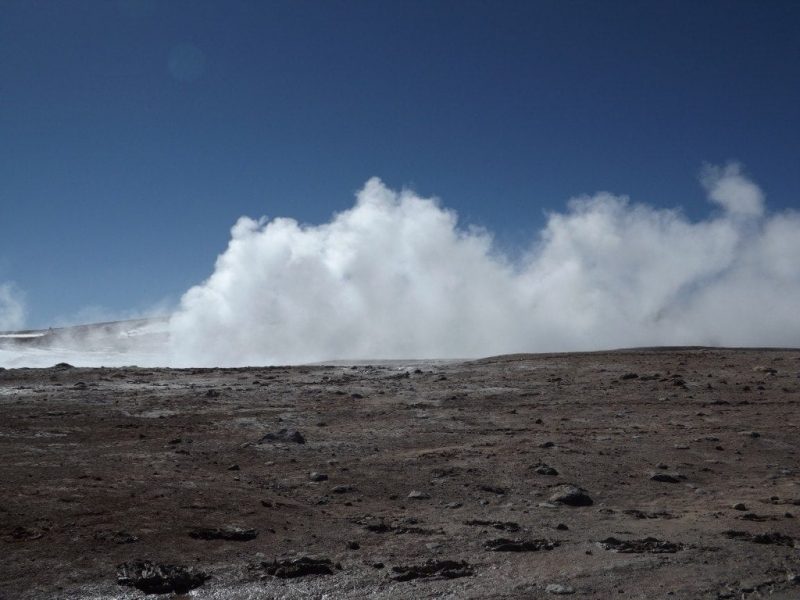 By the time we reached the next stop, it wasn't just Sam's clothes that had frozen. My hair, wet from the hot spring, had frozen into tiny icicles at the ends! Although sunny, it was still freezing cold, and everytime we left the warm jeep we had to bundle up in two jumpers, hats and gloves. We layered up and got out to view one of the most spectacular sights of the day: a huge number of geysers spouting thick clouds of white, smelly smoke into the crisp blue sky. The air gurgled and hissed with the sound of boiling, pressurised water, and the largest geysers, belching out an enormous jet of steam, roared with a sound like an aeroplane engine.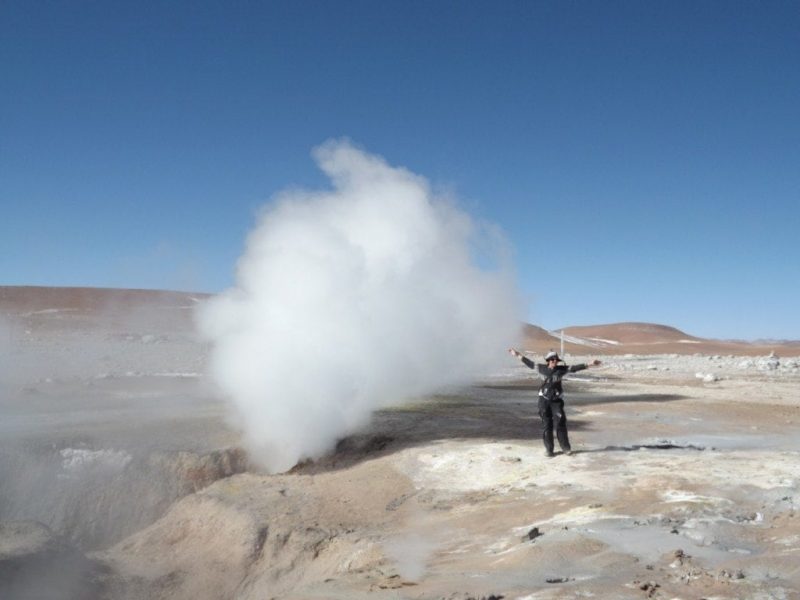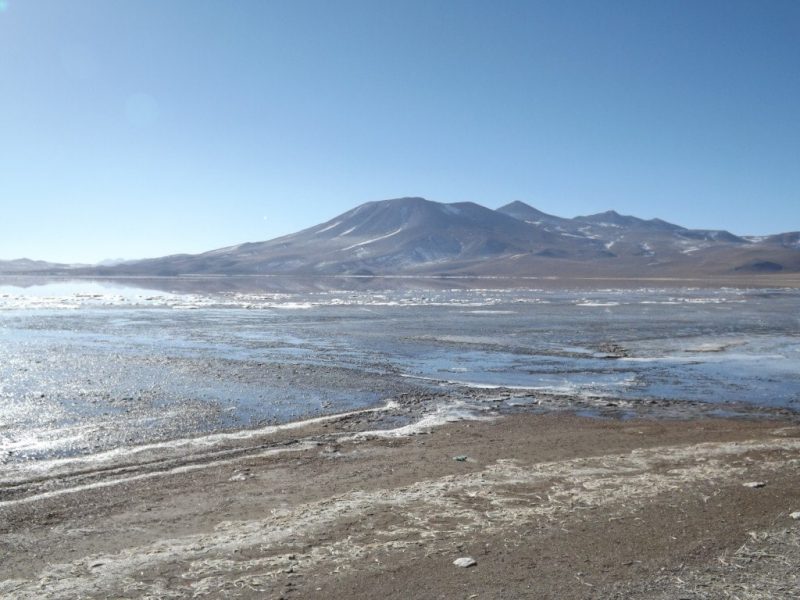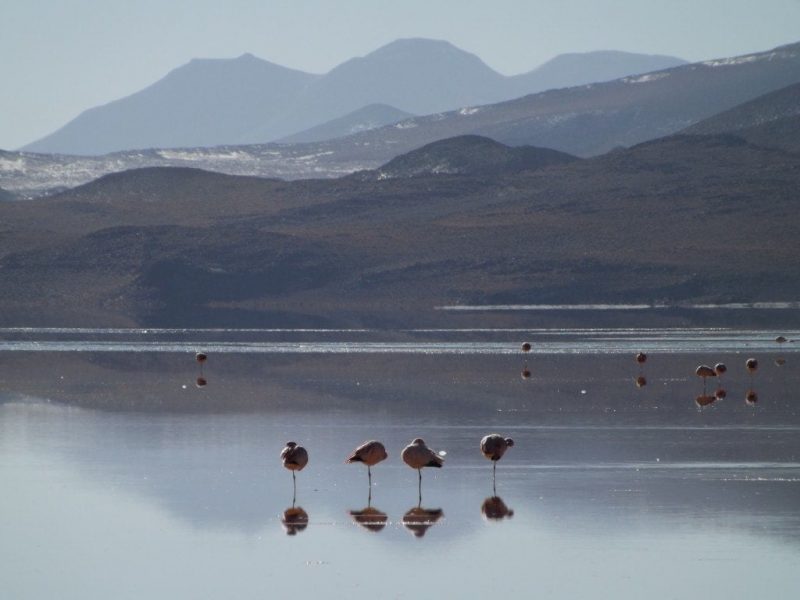 From the geysers, we began to descend. The landscape out the window went from red-brown earth laced with banks of blinding white snow in lines and distant hills dappled dark green and brown between tufts of snow like freckles, to warm, sunny plains of yellow and pale brown grass. We reached the Lagona Colorada, one of the highlights of the park, a lake tinted pale red by minerals, set in a landscape of creamy desert and brown mountains. The lake itself, glimmering in front of a pointed hill and frozen in patches, was a perfect mirror, presenting a crystal clear image of the hills and rocks in reverse, making the most beautiful photos. There was an enormous flock of peachy pink flamingoes, perched on their spindly legs out in the lake, eyeing us suspiciously from a safe distance. At the edge, on a long bank of straw used as a nest, we saw evidence of last night's ferocious snow storm; hundreds of huge, white eggs, all abandoned and void of life, some cracked and spilling a deep orange gunk onto the white sand. There were also frozen bodies of babies and mother flamingoes that had stayed to protect the eggs. It was a really sad, haunting sight that stayed with me as we drove away.
We stopped soon after in a small town where the hostel was just as basic as the night before, but still clean and pleasant. With no wind and a clear night, we were able to go outside – only briefly, since it was still freezing – to look at the stars: a stunning sweep of billions of twinkling lights, the arm of the milky way clearly visible, it was a gorgeous sight to round of a day of dramatic beauty.
Want to know more about travelling in Bolivia? Check out the Bolivia section on my sister site, Backpack South America – and get in touch if you have a question.