Some posts on this site contain affiliate links. If you book or buy something through these links, I earn a small commission (at no extra cost to you). Take a look at my privacy policy for more information.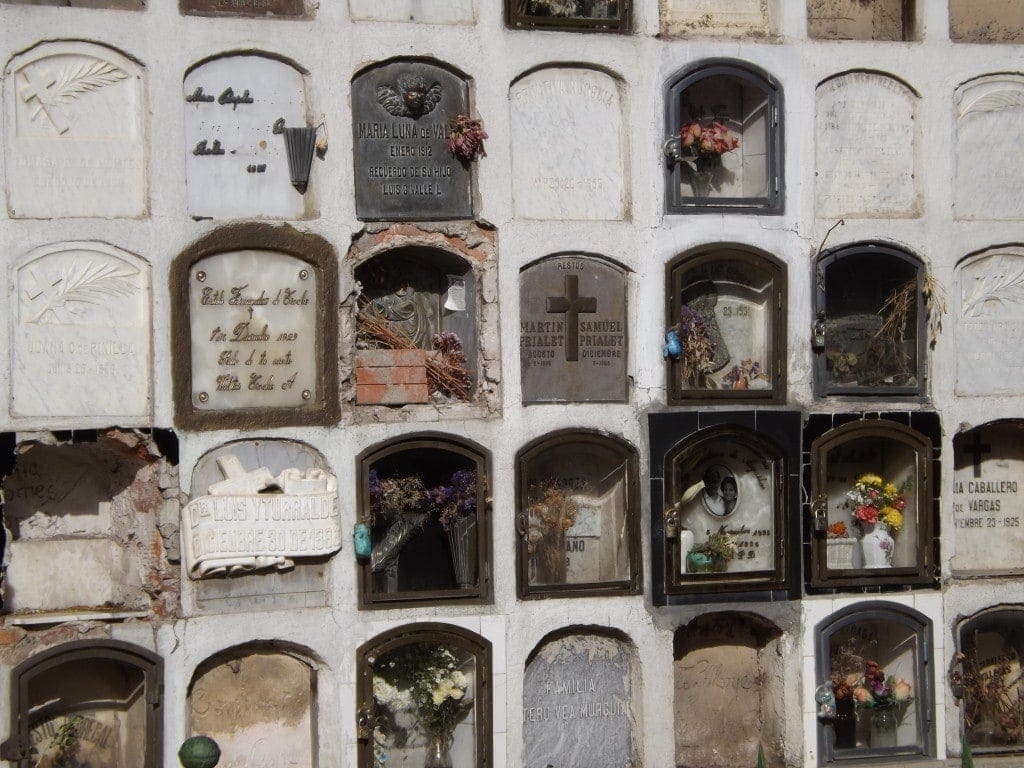 After the awesome free Red Caps Walking Tour of La Paz, we wanted to experience even more of the city with them, so on our last day in the unofficial capital of Bolivia Sam and I headed over to Oliver's English Tavern, the meeting point for the daily Extended Tour. Although not free, at 100Bs (about £10) per person for a three hour tour, it's pretty good value, and we actually had a private tour as no one else turned up that day. The idea of the Extended Tour is to take tourists 'off the beaten track', to see a side of La Paz that they would normally miss, and there are some really interesting stops throughout the city, some of which are a little dangerous or hard to find, so the Red Caps tour is a great way to connect tourists with these places in the safety of a local guide.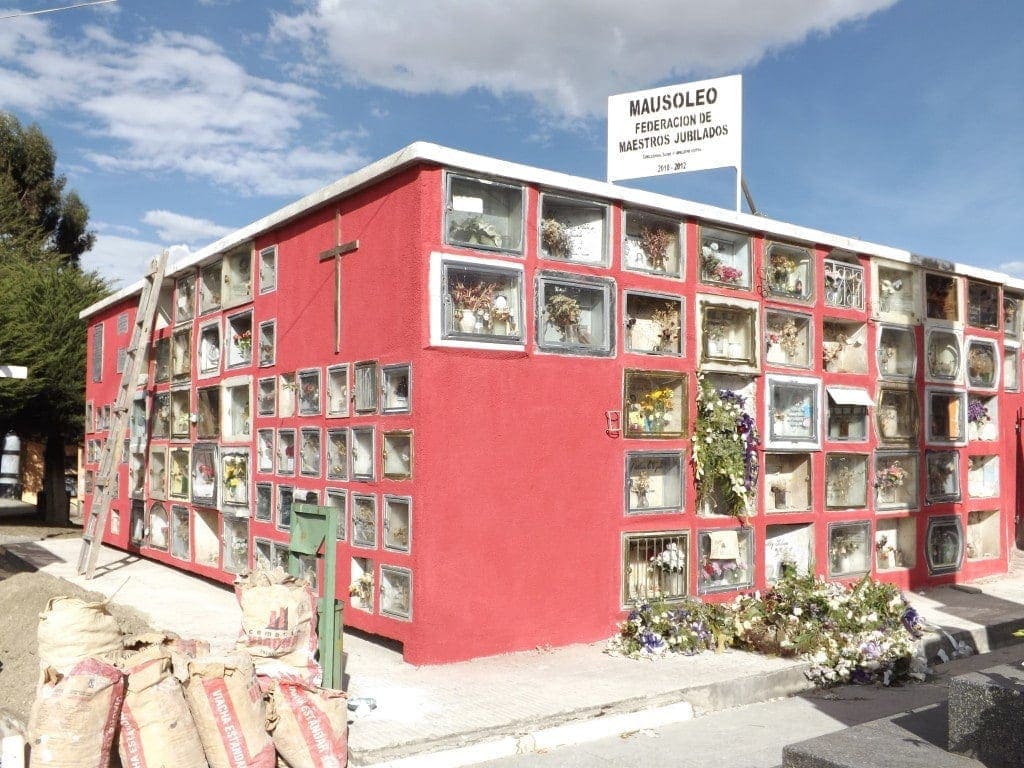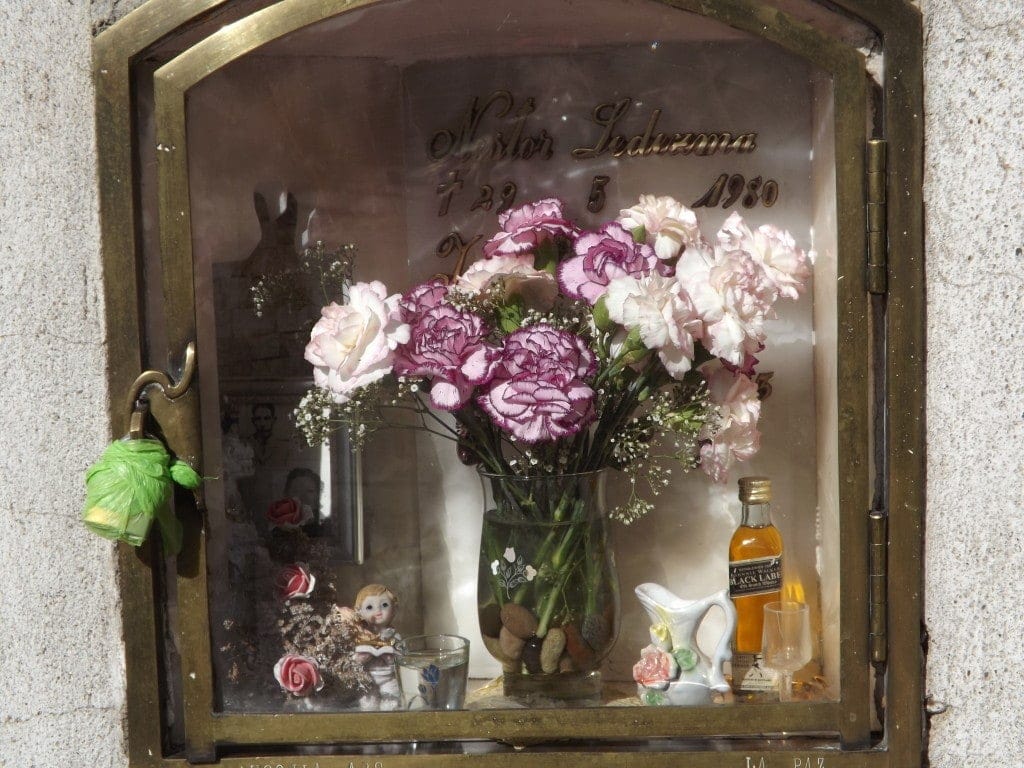 Our guide, Marcello, was a political science student who runs the tours between classes, so he was full of interesting information about Bolivia, especially politics. The tour uses all local transport – which is so much easier to navigate with a local at your side! – so we hopped on a crowded mini bus to reach our first stop, the cemetery. Although not an obvious choice for a tourist destination, cemeteries can be a great way to learn about a different culture and are often the most tranquil or green parts of a city. That was definitely the case with El Cementario in La Paz, a huge, quiet space surrounded by the frenzied chaos of the city outside. As we walked around, Marcello pointed out the graves of old presidents or monuments to soldiers from wars, with loads of fascinating political history along the way. The grave I found most interesting, though, was Carlos Valverde's. Carlos hosted a TV show called The True Voice of the People, which gave the indigenous people of Bolivia a voice and which also helped people with problems from the government, society or within the family. The most popular grave in the cemetery, it's still draped in flowers years after Carlos's death, and had two visitors while we were there. Marcello told us he used to bring flowers to the grave every Sunday with his grandmother, because when he was about five he'd gotten lost at the market and Carlos's TV show had helped Marcello's family find him. Interestingly, Carlos Valverde had been running for president before he died, and would have won; the country loved him, and the crowds at his funeral went on for blocks.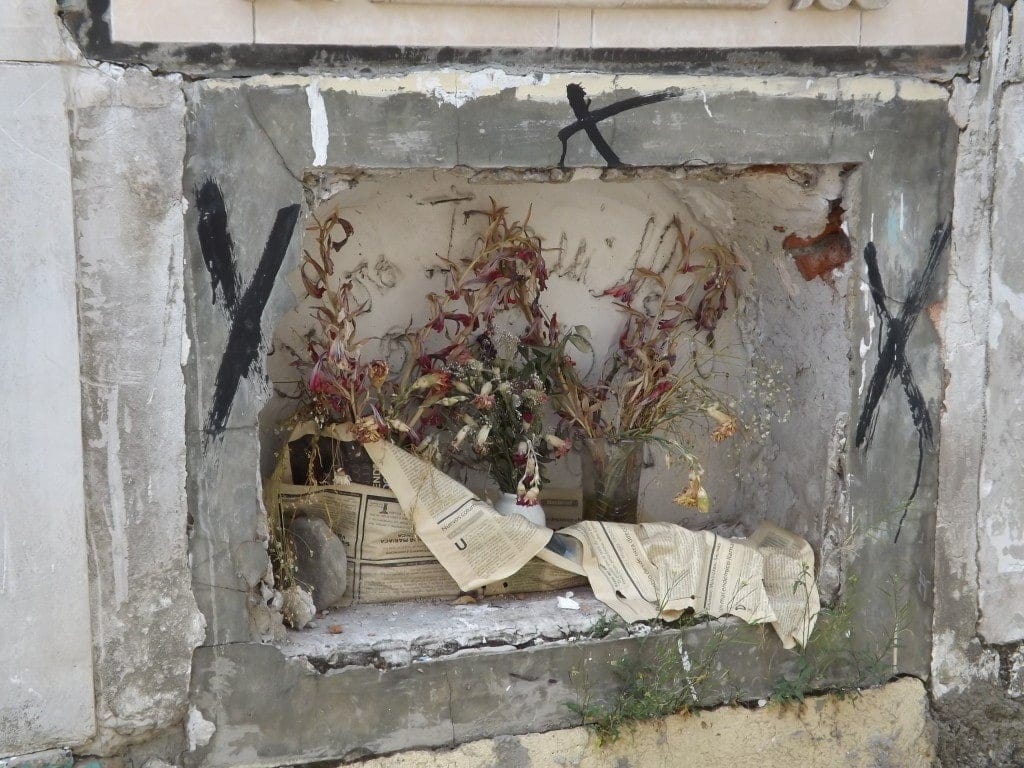 We saw three funerals while we were in the cemetery, plus a one year anniversary. Most graves were the Spanish style blocks of vaults, and after one year the family have a small ceremony to fit the glass and place ornaments, flowers, photographs and other memorabilia inside the grave – we saw everything from toys to coca leaves to bottles of whisky or Coca Cola. I was really interested to spot graves marked with eviction notices – apparently the family must pay taxes- or marked with black crosses to indicate an imminent eviction. It was such an interesting experience, and a really good insight into a more personal, less tourstic side of life in La Paz.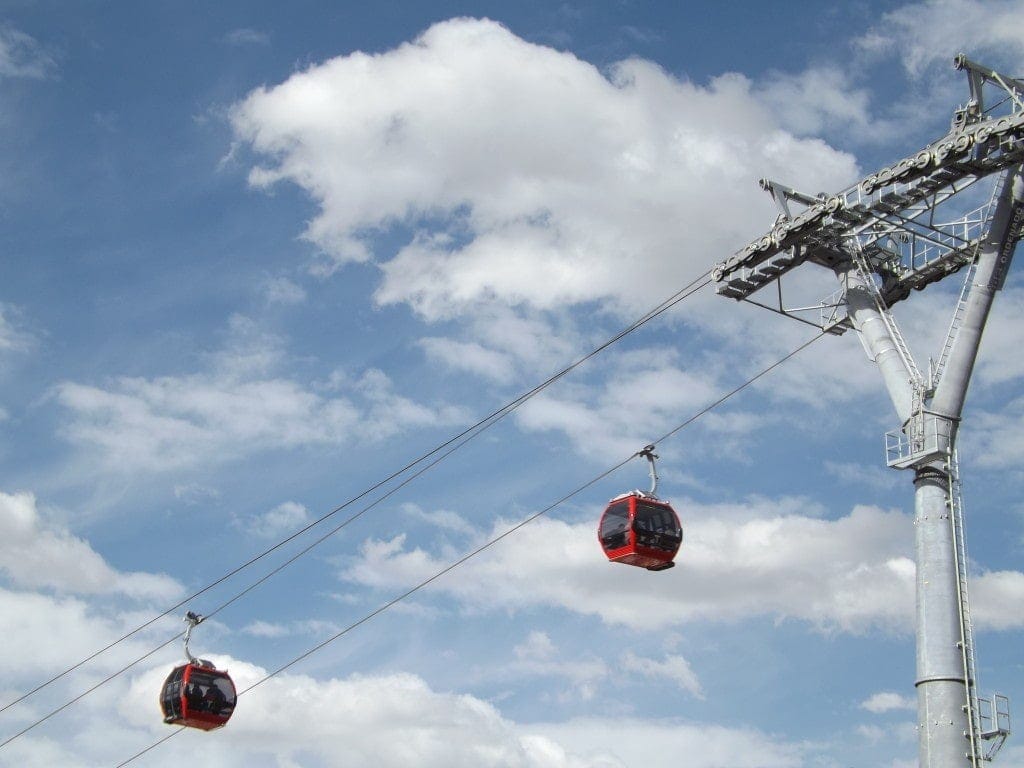 Whilst we were at the cemetery, we got a great view of the new, solar-powered cable car line linking El Alto with downtown La Paz, which had just opened the day before and was the first of three new lines being built by the president Evo Morales. We pressed political science student Marcello for his opinion of the president, and it seems Evo has done a pretty good job – stabilising the economy, recognising the indigenous groups of Bolivia, and setting up these cheap, quiet and super modern new transport systems to link the poorer districts with the rest of La Paz.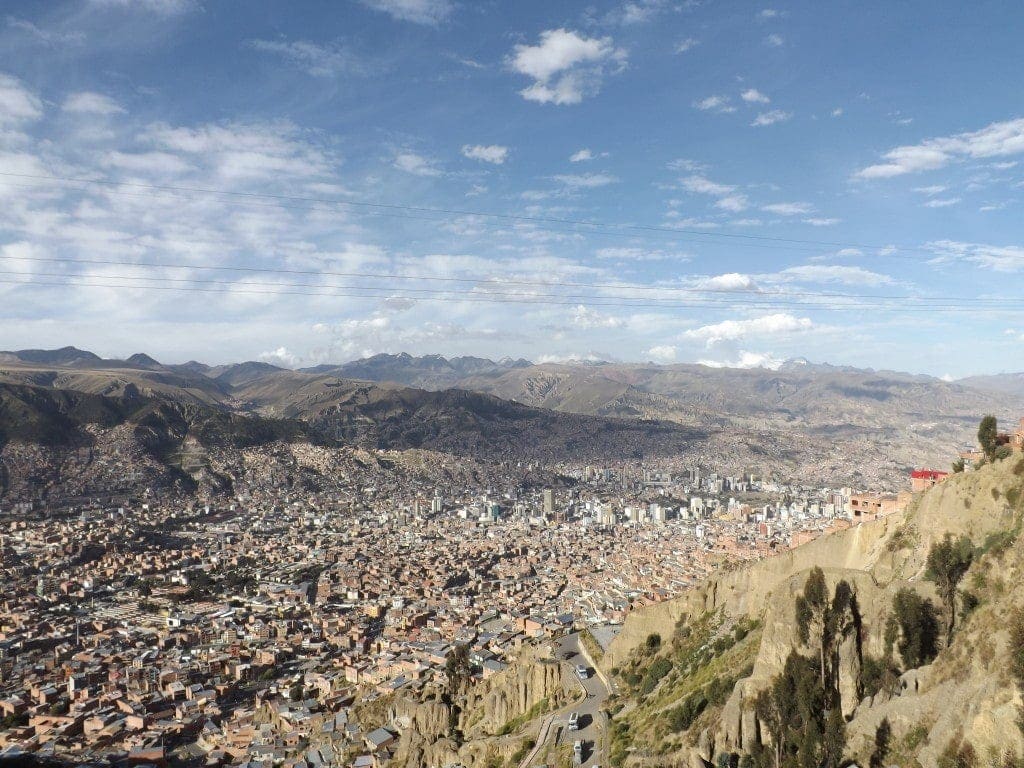 From the cemetery, we headed up into El Alto to explore the witches market above the city. After buying a bag of coca leaves from Marcello's favourite lady at the market, we headed down a strip of small, metal huts outside which spells were being heated in metal pans over small fires. Out of the back of one of these huts, with an incredible view of La Paz and the distant, dreamy mountains, we chewed the coca leaves with Marcello and a witch doctor alongside his pet llama and a big bunch of dried llama foetuses. Although I've been assured numerous times that they're good for the altitude, I hadn't tried chewing coca leaves before, so it was a pretty novel experience to find my cheek and tongue growing numb as I chewed (although I can't say I liked the flavour).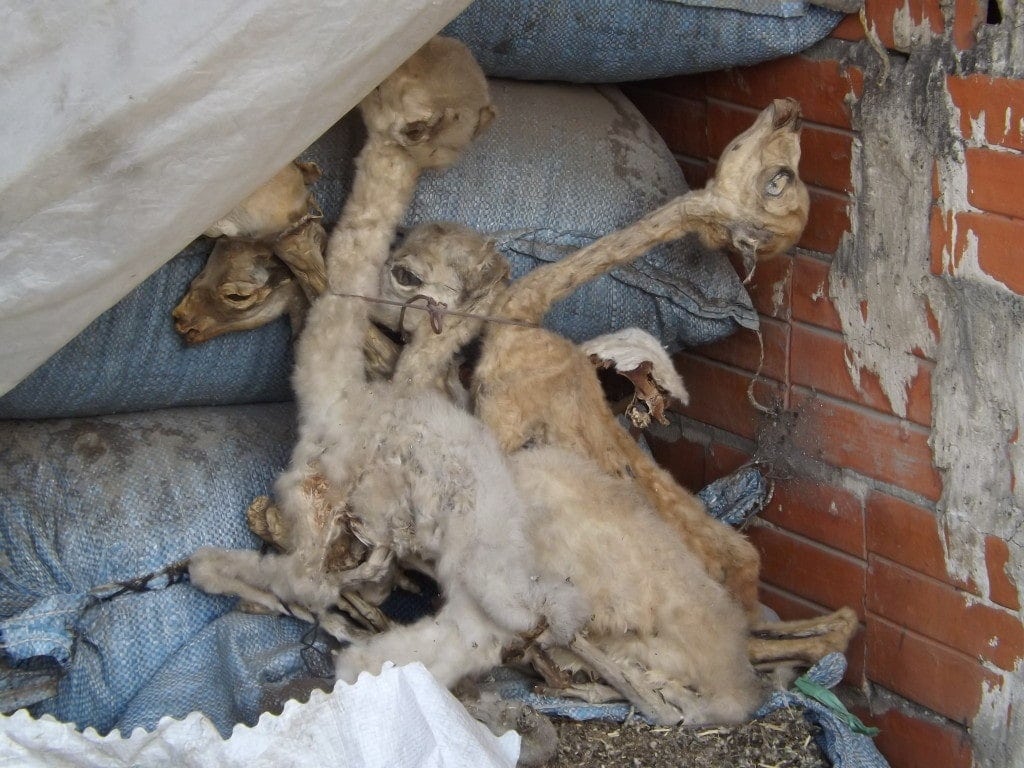 Inside the hut, it was dim and cluttered with highly un-witch-doctor-y items like a crocheted quilt and stacks of magazines. We sat down on a lumpy sofa to have our luck read in the coca leaves.
The old man, his lined face creased in concentration, spread a handful of leaves across the table, lined a few up in a pattern, then scattered still more over the collection. From this, using only my name and date of birth, he was able to glean a lot of information.
You might be sceptical, but as soon as he told me I was a good person I realised that this guy was obviously speaking the truth. I won't bore you with my whole future, but essentially I'm going to be ok.
The witch doctor doled out some pretty good advice, too; he said I want everything now and try to do things too fast, so I should slow down and be more patient. Patience also came into play in my relationship advice: apparently, I have a strong character and try to dominate, so I need to be more calm and patient with Sam, too.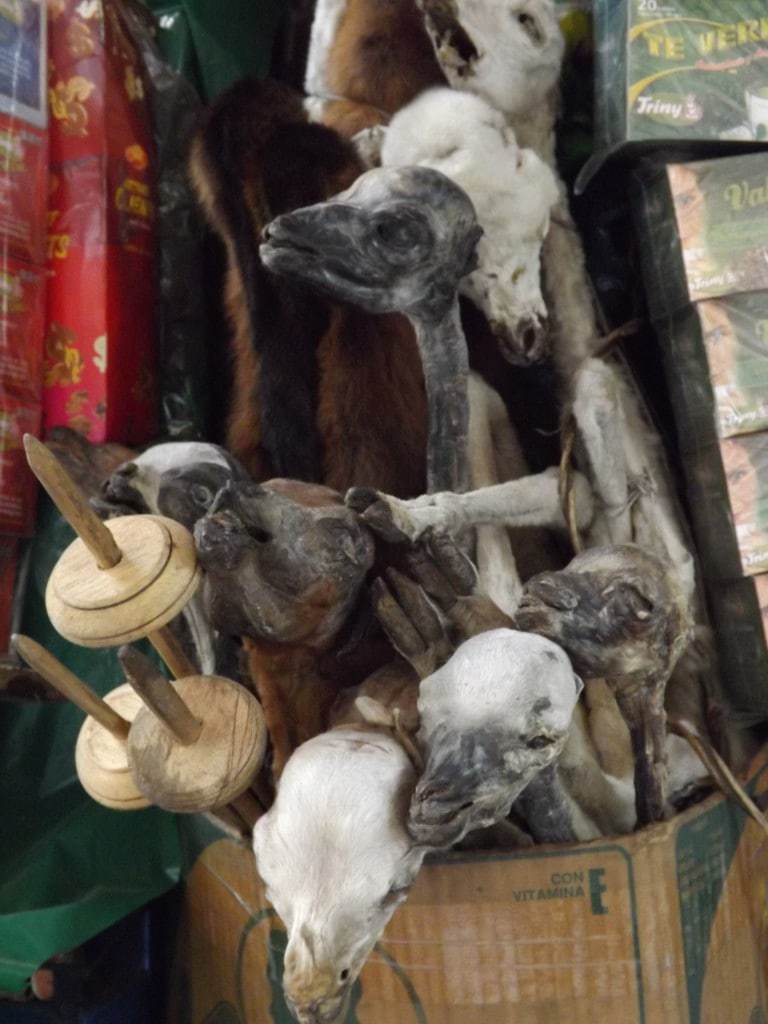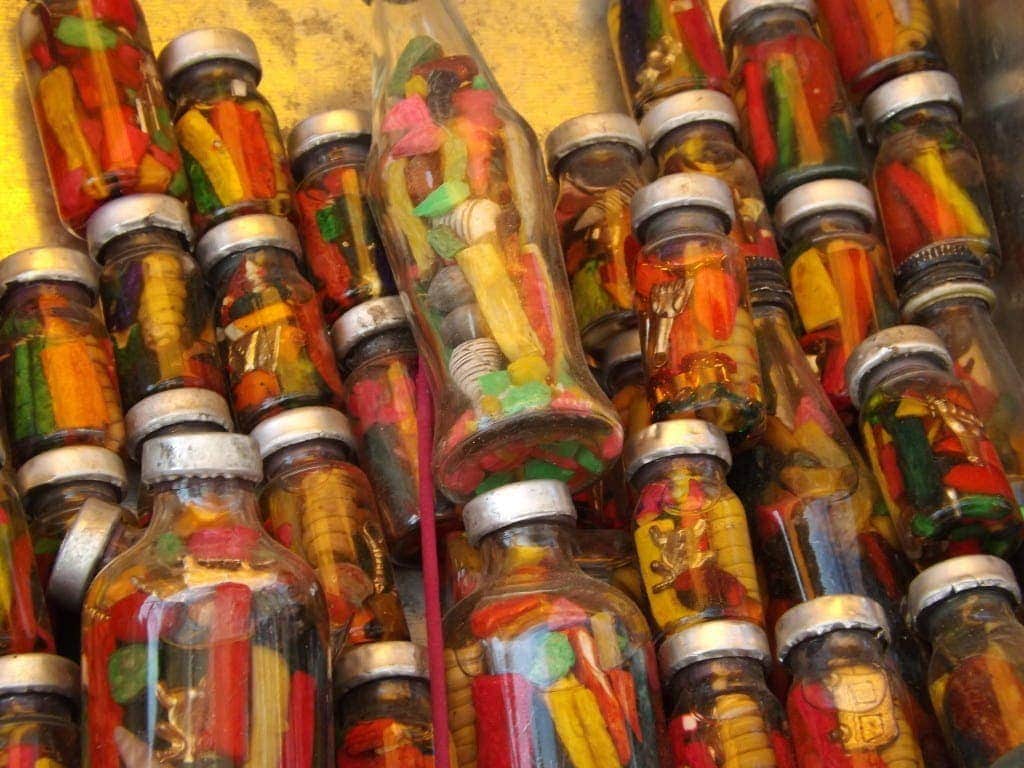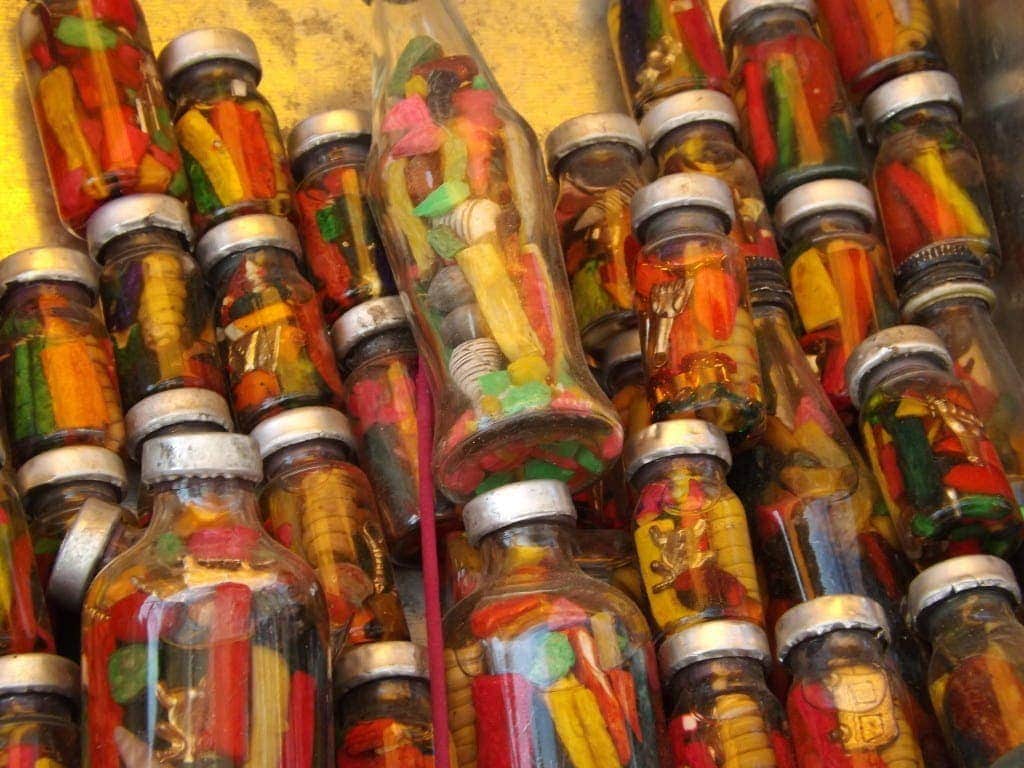 Although I'm a bit of a sceptic, having my luck read was a pretty cool experience and something I'd never have tried on my own, so it was a great stop on the Extended Tour. The rest of the witches market was a large scale version of the one we'd seen down in La Paz: endless arrays of foetuses, coca leaves, teas, and amulets. We headed deeper into El Alto to explore the sprawling outdoor flea market, with Marcello on guard the whole way and cautioning us to watch our belongings. Travelling though a daunting section of the city like this, with it's road of prostitutes and high crime rate, was really interesting, I felt like I was getting a peep behind a curtain into a world I'd never normally see, and with Marcello – who claims to be able to spot any thief, and pointed plenty out – looking after us I felt really safe. The flea market, filled with bizarre sights and smells of meat, cow tongue, fish, choleta underwear shops, pirate DVDs, sheep's belly, even penis soup (apparently delicious and an aphrodisiac), was a surreal, frantic, colourful area that thronged with the kind of ordinary, everyday life that travellers don't always get to see.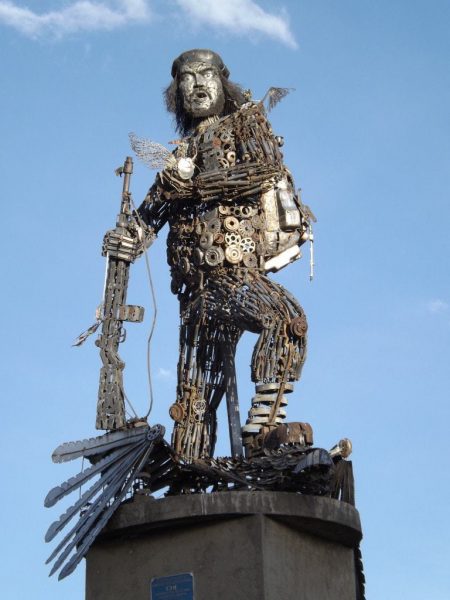 Before heading back to the city centre, we stopped by the awesome Che Guevara statue on the edge of El Alto. Built entirely from scrap metal, the tall statue with his fat cigar and iconic cap, was a really cool site.
Back at Oliver's English Tavern, we sampled a free Pisco Sour before saying goodbye to Marcello, then stayed on for dinner before our night bus later that evening. The two Red Caps tours in La Paz were definitely the most interesting and fun city tours we've had so far, and left us full of weird and fascinating facts! I only wish we'd had time to try the three hour Foodie Tour as well!
Information
The Red Caps Extended Walking Tour meets in Oliver's English Tavern everyday at 3pm. Find out more at www.RedCapWalkingTours.com.
I paid for my tour in full and all the opinions featured here are unbiased!