Some posts on this site contain affiliate links. If you book or buy something through these links, I earn a small commission (at no extra cost to you). Take a look at my privacy policy for more information.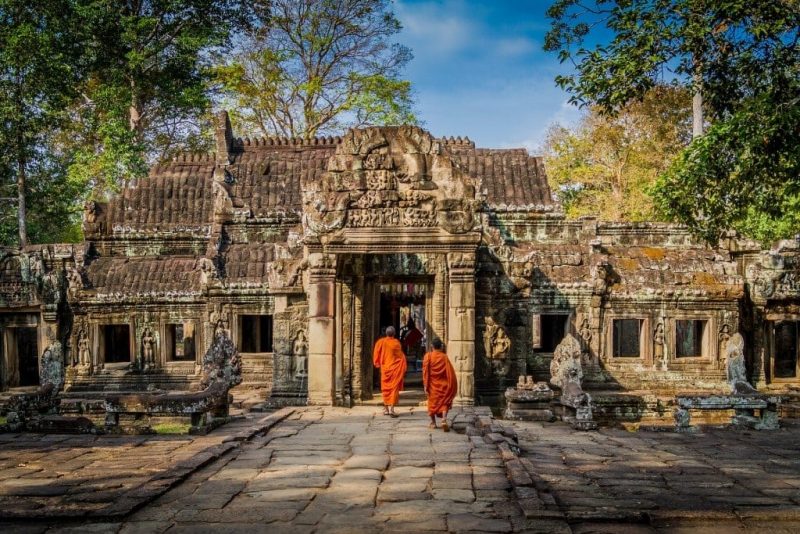 Cambodia and Laos are two of South East Asia's less frequented destinations, all too often overshadowed by neighbouring Thailand and Vietnam. Which means it's still possible to feel a little "off the beaten path" as you explore these two fascinating countries. While the major tourist hotspots draw in pretty big numbers, all you have to do is head out to smaller towns and rural areas to get the sense that you have the country to yourself.
So here's my guide to getting a little off the beaten path in Cambodia and Laos. Check out this first timers guide to Laos, to get started with your travel plans. But be sure to add in a few of these off the beaten track suggestions to your itinerary…
Go Beyond Angkor Wat
There's more to Cambodia than the famous Angkor Wat. In both Cambodia and Laos I encourage you to go beyond the classic tourist attractions and see what else you can dig out. It's what I try to do in every new country I visit!
Cambodia in particular boasts numerous hidden temples, such as the pyramids of Koh Ker, where you'll find far fewer tourists and that true sense of adventure that makes this part of Asia so enticing. Over in Laos, the mysterious Plain of Jars is a fascinating spot that's well worth the long journey.
Immerse Yourself in the History
Cambodia has a deep and dark history. There's so much to learn and the whole experience is an eye-opener. One unmissable, but unusual, attraction is the Choeung Ek Memorial Centre, which is both sickening and interesting at the same time. The memorial centre offers a very real experience of what modern genocide looks and feels like.
RELATED POST: Should I Visit the Killing Fields in Phnom Penh?
To get fully immersed, read First They Killed My Father by Loung Ung, the story of a Khmer Rouge victim who tells her story years on. I read Jon Swain's River of Time in Vietnam and was fascinated (and horrified) by his descriptions of both the Vietnam war and the Cambodian Civil War. Definitely worth a read if you want to learn a little more about this time period.
Meet the Ethnic Minorities
One of the most fascinating things about Cambodia and Laos is the rich tapestry of indigenous cultures. This is something I love to do when I travel and it's a great way to connect with these ethnic minorities is through homestays in traditional villages. Avoiding exploitative tours, you can head out to small villages where your tourism can have a real impact – and where you can discover the realities of daily life for ordinary indigenous people.
Another great way to learn about them is through programmes focusing on Laos' ethnic minorities, which might take you to Luang Prabang's Traditional Arts and Ethnology Centre with a local "insider". More immersive than an ordinary museum visit, this is a great way to learn more about the various indigenous cultures.
Become a Volunteer
If you want to get to know the real Cambodia and Laos, one of the best ways is to become a temporary volunteer. This is something I've always wanted to do myself, and I think South East Asia is one of the best places to do it!
Cambodia has recently become known for 'orphanage tourism', something that we should avoid as responsible tourists. If you want to help out in Cambodia, volunteering work at a government school is the best way.
READ MORE: 4 Amazing Non Profit Businesses to Visit in Cambodia
Try Your Hand at Khmer Cooking
My favourite way to learn about a culture is through its food – and cooking classes are one of the best ways to do that! The Khmer culture is integral to the culture of Cambodia as a whole, so a great way to learn about it is with an in-depth Khmer cooking lesson with a born-and-bred local chef.
You'll meet a talented Cambodian chef at her village home, and learn a few traditional Cambodian dishes. You'll also learn how to adapt them to cook at home – something that would have been really useful in the cooking classes I've done before. At the end of the lesson, you can tuck into a four-course dinner that's all been prepared by you. A great way to learn about Khmer culture.
Sail the Mekong
Stretching from China to Vietnam, the enormous Mekong River ties together the countries of Indochina. I cruised the Delta in Vietnam and fell in love! I'd love to sail the full length of the river, all along the Mekong. It would be the perfect way to take a Vietnam Laos Cambodia tour, as you could sail from one country to another!
The pace on the Mekong is slow and sleepy, and by sailing along it you can catch an enticing glimpse of life on its banks. Floating markets, tiny villages, and rich farmland abound. This is a unique experience and not one to be missed!
Do you have a great tip for getting off the beaten path in Cambodia and Laos? Share in the comments!