Some posts on this site contain affiliate links. If you book or buy something through these links, I earn a small commission (at no extra cost to you). Take a look at my privacy policy for more information.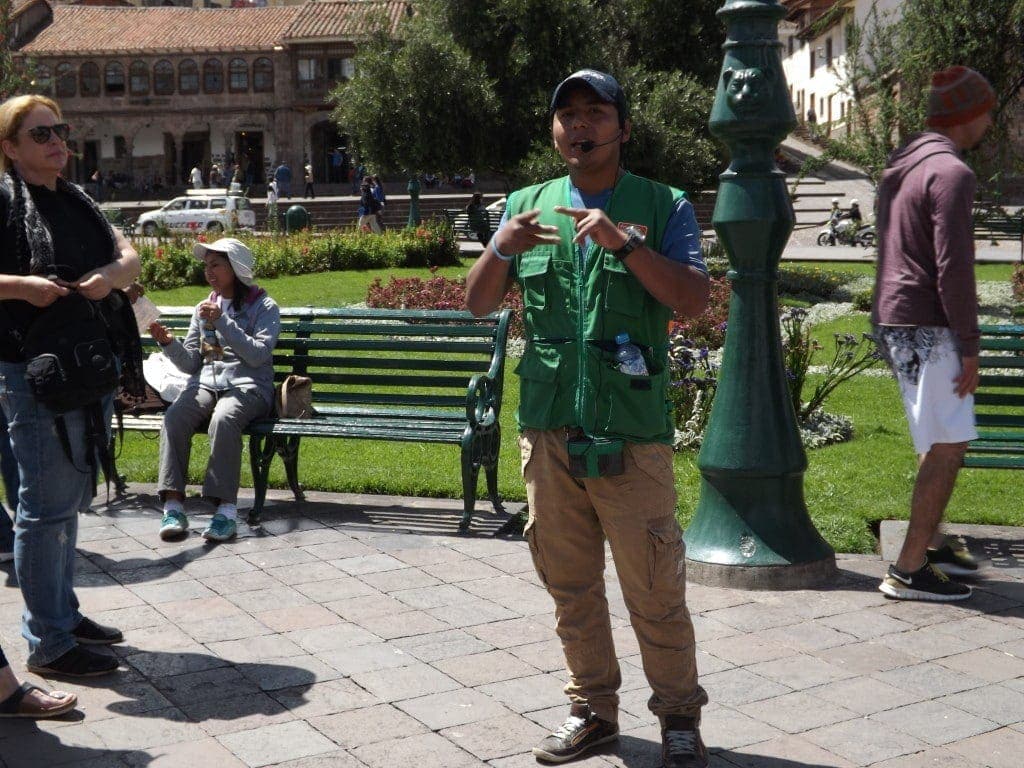 One of our last activities in Cusco was something that we really should have done much sooner, preferably as soon as we arrived, the Free Walking Tour. It was full of great tips about things to try and places to visit, and would have been a great way to get our bearings early on in the trip. Even so, when we finally got around to doing the tour it was still really interesting and gave us some helpful hints about what to get up to in our last few days.
There are a couple of free walking tours on offer in Cusco, but the one I'm talking about (and the one I recommend all visitors to Cusco opt for) is run by Free Walking Tour Peru (FWT). They meet in the Plaza Regocijo near the main square  at 11:50am every day, and the guides can be spotted by their green FWT vests and caps.
READ MORE: Tips for Dealing with Altitude Sickness in Cusco, Peru and the Andes!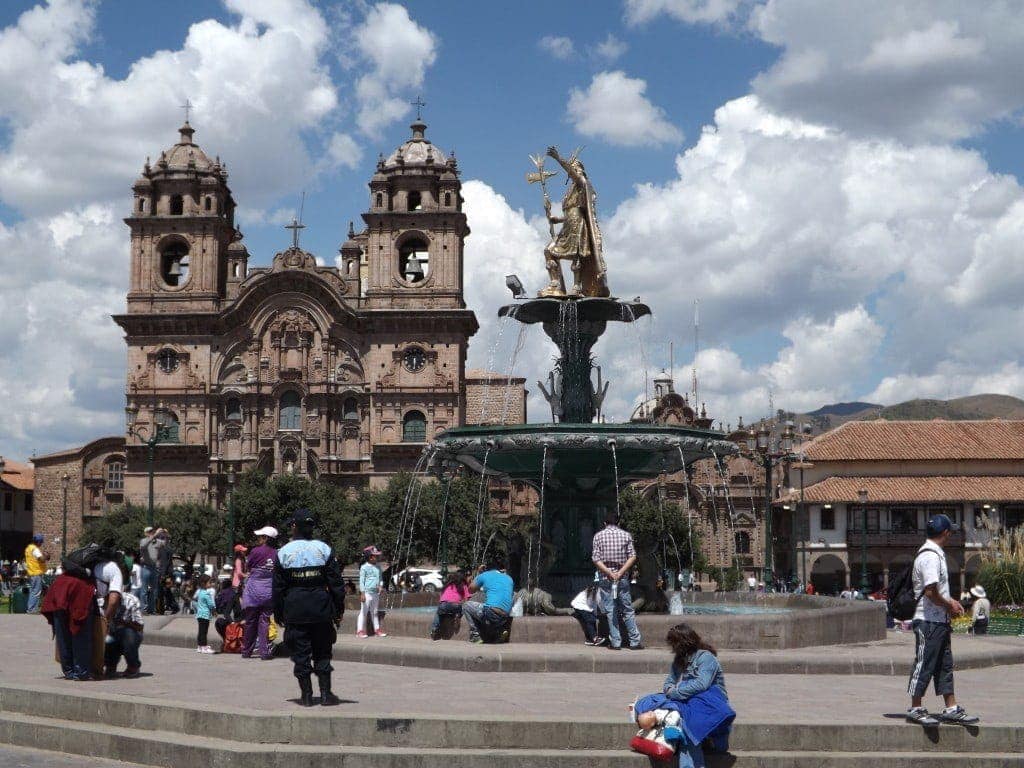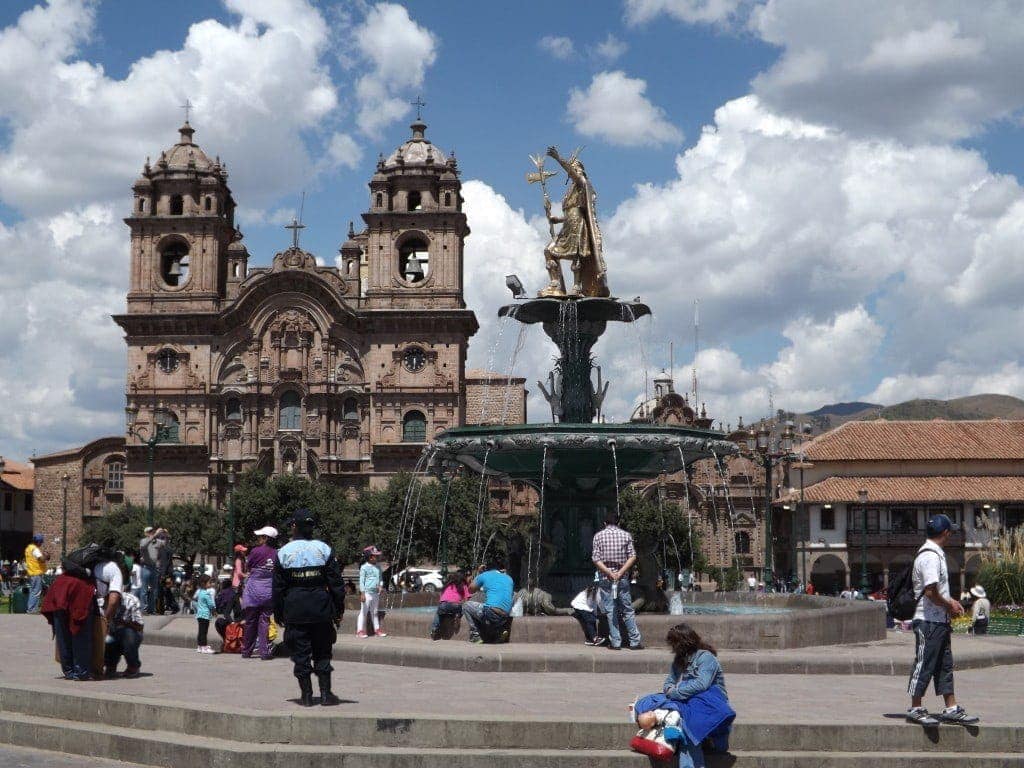 FWT are a really professional free tour company, and our two guides even had microphone headsets to ensure we could all hear them. The lead guide, Johnny ("as in Johnny Depp because I think I look like him"), was really funny and enthusiastic, and led most of the tour with a ton of interesting facts mixed with some quick humour. His partner was also really friendly, and although he didn't speak as much he made sure to chat to everyone in the group in between stops.
Our first stop was in a nearby restaurant, where our big group of about twenty crammed in around four tables, to try some of the local dish – alpaca. The restaurant provide a different plate of samples everyday, and we were lucky enough to try some of the rich, beef-like meat in a delicious mushroom sauce.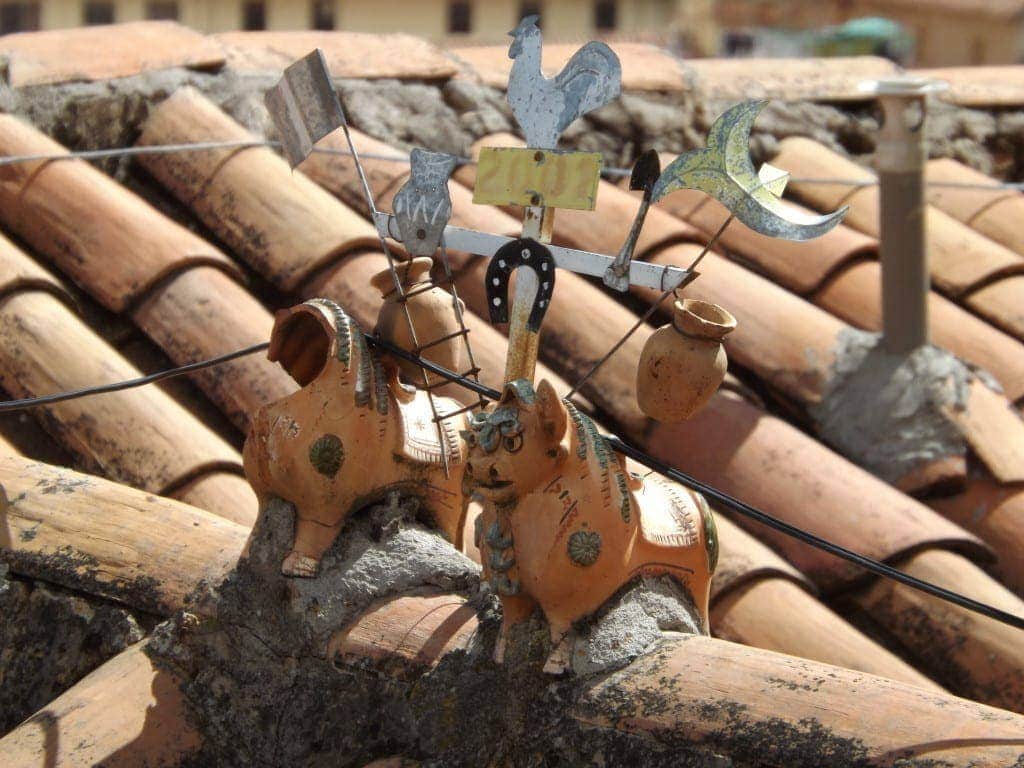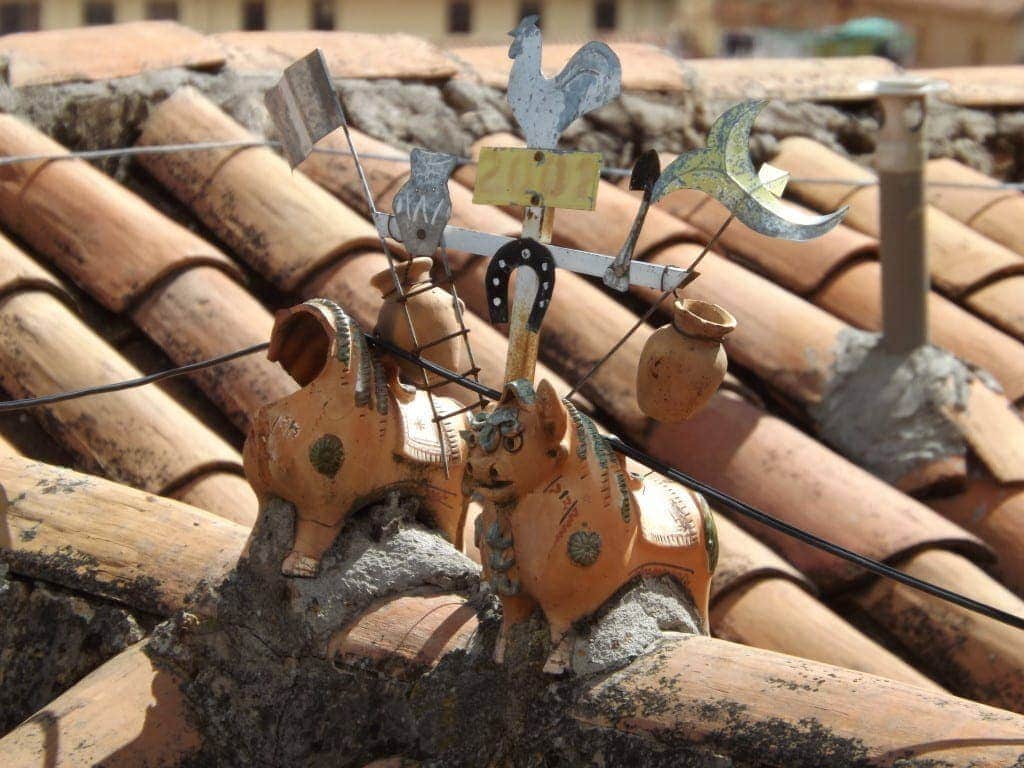 From there, we headed to the Plaza de Armas, the main square of Cusco's historic downtown area, which has a pretty interesting history. It used to be a sacred spot for the Incas when Cusco was Qosqo, their capital, so they built nothing there and surrounded the spot with temples. When the Spanish turned up, they turned it into a plaza for commerce, and built the cathedral and a Jesuit church where the temples used to be.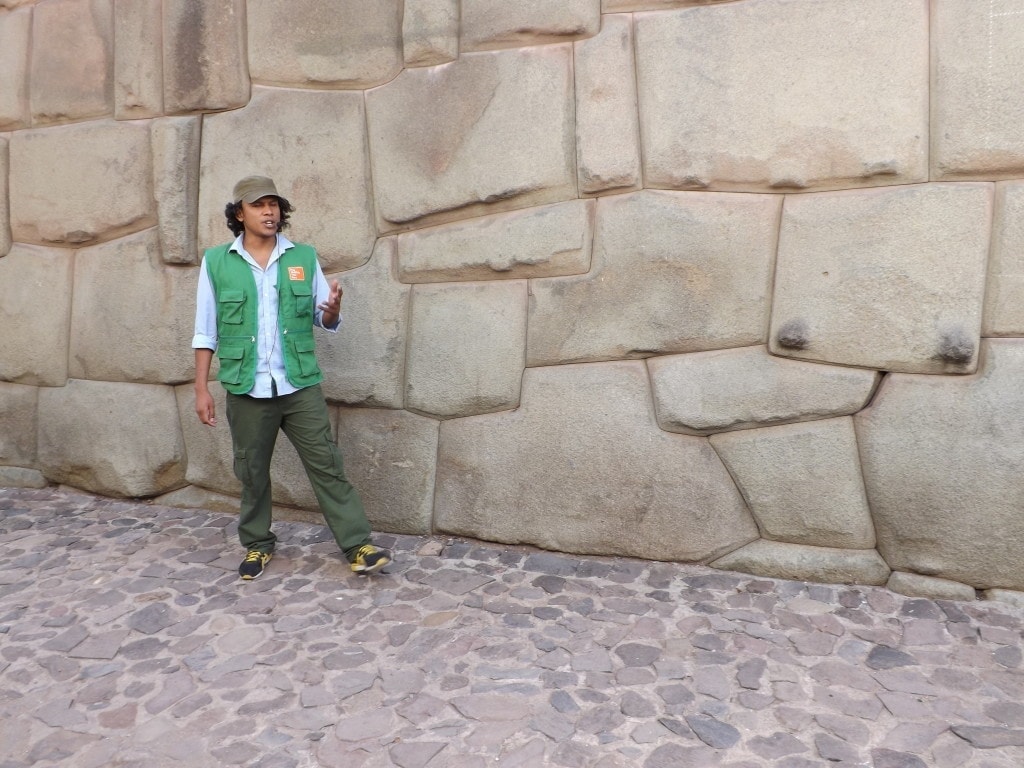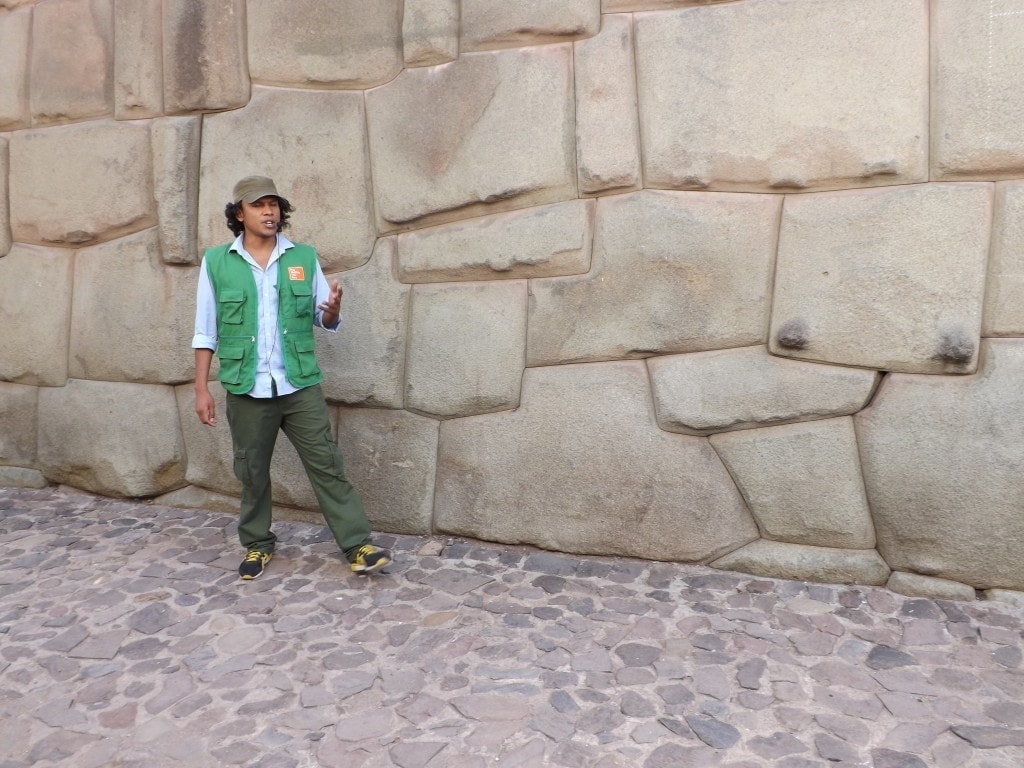 A few of Cusco's buildings are half-colonial, half-Inca, from where the Spanish built over or into the existing buildings, and we stopped at a great example of this, the Inca Roca next to the market behind the main plaza. The lower half of the building's outer wall is Inca, built from huge, uneven stones that slot together like a jigsaw. There are the shapes of the three sacred animals built into the stonework on the back wall, the snake representing the earth and underworld, where we all came from, a jaguar representing our time on earth, and a condor representing the afterlife. Johnny told us all about the Inca building techniques; how foundations were laid using sand (provided by the Chan Chan culture after it was taken over by the Incas) and small rocks, to absorb movement and help the building withstand earthquakes. All the walls incline inwards slightly as well, to make the movement during quakes predictable.
The rocks were cut using a type of wood which is very absorbent; a small incision is made in the rock, the wood inserted, and water added everyday so that the wood expands and eventually splits the rock. Rocks were then carved to match one another, using moulds made from molten copper. Each brick took thirteen months to make in this way.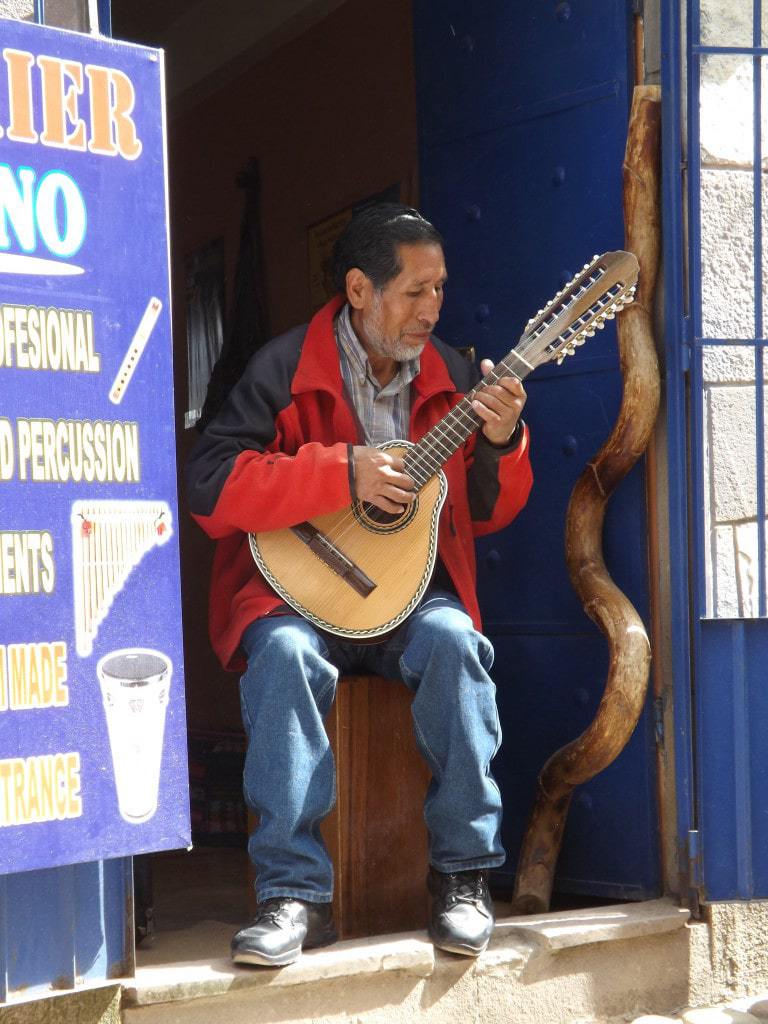 From the fascinating Inca ruins, we headed up into the San Blas neighbourhood, an area of narrow streets and tiny, cool bars which are great for live music almost every night. From a fabulous viewpoint over the city, looking down at a sea of terracotta roofs and whitewashed walls, we headed to Luthier Sabino's beautiful, hand-made instrument shop, where the owner himself treated us to a few performances on various Andean guitars, and on panpipes.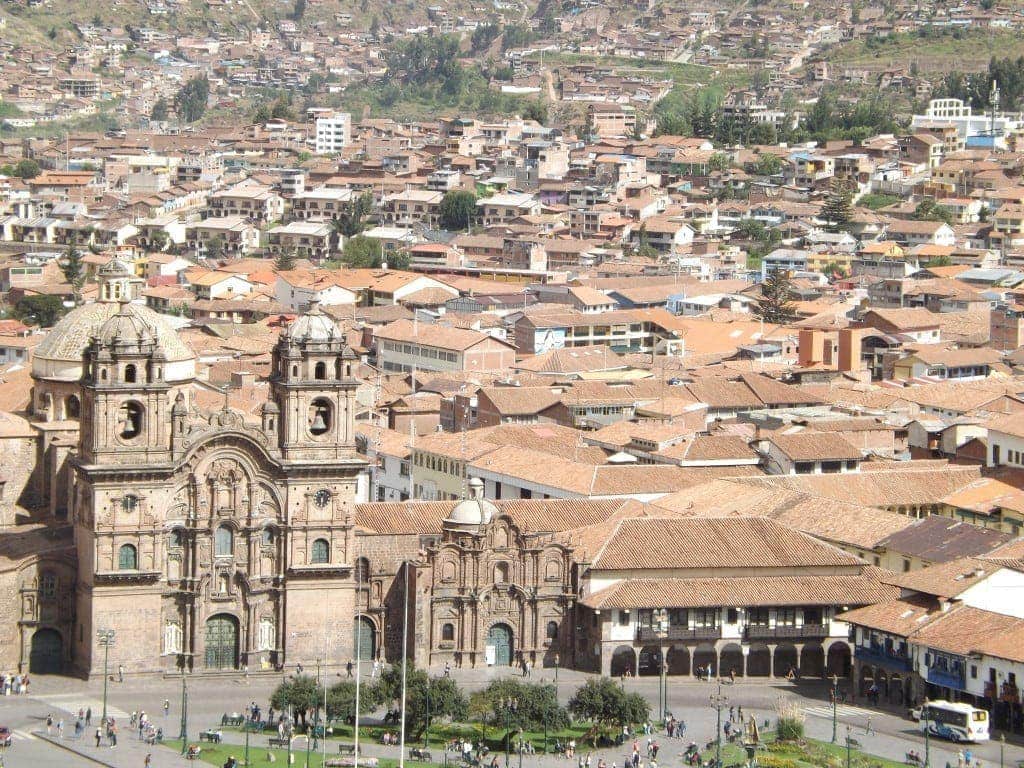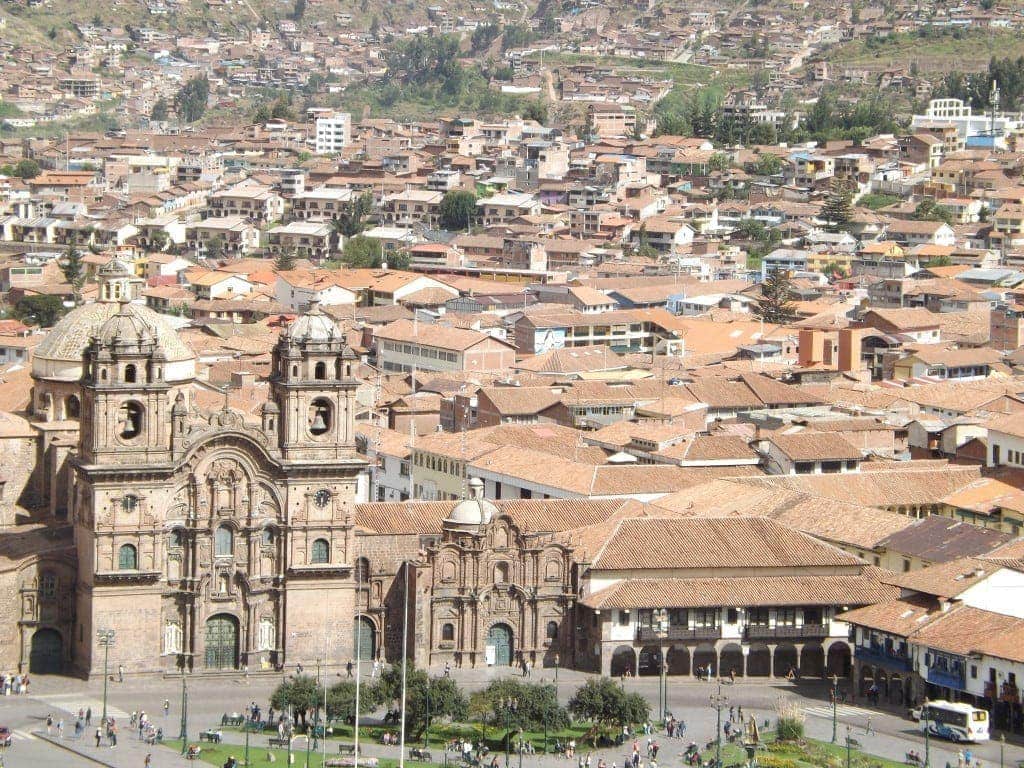 We headed next to San Cristobal church, a place providing incredible 180 degree views of the city, with a wonderful view straight down to the main plaza and the ornate, red-brown cathedral. The tour finished back at the Chocolate Museum, my favourite haunt in Cusco, where we sampled lots of delicious chocolate! Later that night, we headed back to the San Blas neighbourhood on the recommendation of our guides, and spent a fantastic evening watching a local band play live from a stage so small that only the drummer could fit on it (the others had to stand awkwardly at the edge), in a tiny bar with about four tables. They belted out a number of popular South American songs, along with a very sped up version of Robbie Williams' Angels for us Brits By the end of the evening, and a large number of mojitos, I was dancing in a conga line with a huge group of Chileans, and heartily joining in the cheer for "uno mas, uno mas"; proof of a very good night, in my opinion!
FYI – when we were in Cusco, FWT were about to launch the exciting sounding Cusco by Night tour, so make sure to check that out, too!