Some posts on this site contain affiliate links. If you book or buy something through these links, I earn a small commission (at no extra cost to you). Take a look at my privacy policy for more information.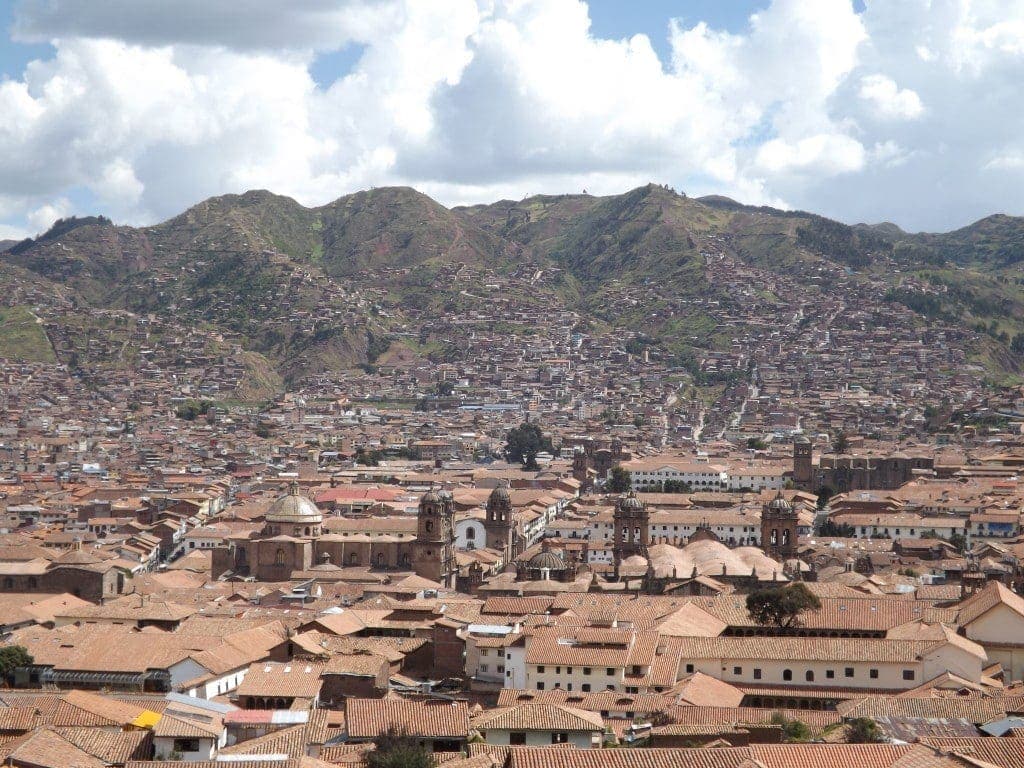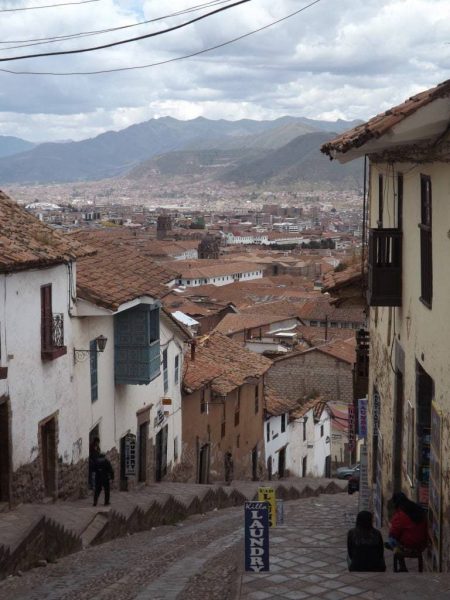 Although it was easily our favourite city in Peru, we didn't actually do a whole lot in Cusco during our rather long time there (four days either side of our Machu Pichu trek). It's just such a beautiful city, with a lot of history and a really interesting, chilled out vibe, that we fell in love with the place after just half a day.
The antique brown buildings and white-washed houses with terracotta roofs of the historic centre are all surrounded by green mountains, with forests and ridges that catch the golden sunlight. Cusco's only downside is the altitude, at 3,400m (11,200 ft) above sea level it was the highest place we'd visited so far, and for the first few days it completely knocked me out. In fact, after weeks of being in the Andes (I'm even higher now, in La Paz), I'm still finding myself feeling a little sick at times, and my body is hopelessly weak and tired – a single flight of stairs leaves me out of breath for several minutes. Our first day in Cusco, we were both feeling a little sick, and I was suffering from headaches, dizziness and general exhaustion, so it was a little overwhelming.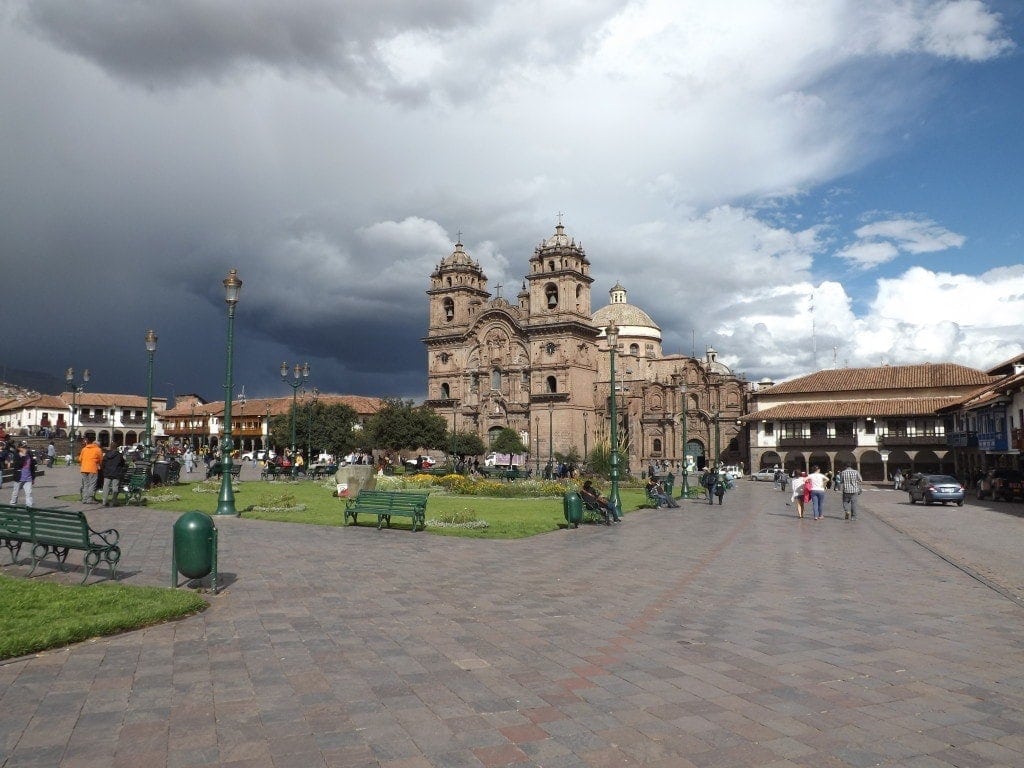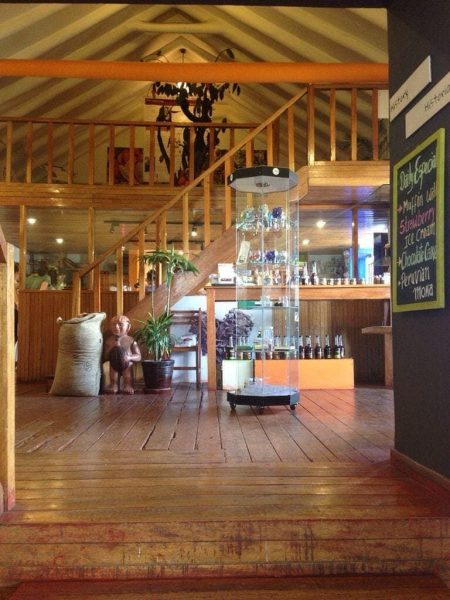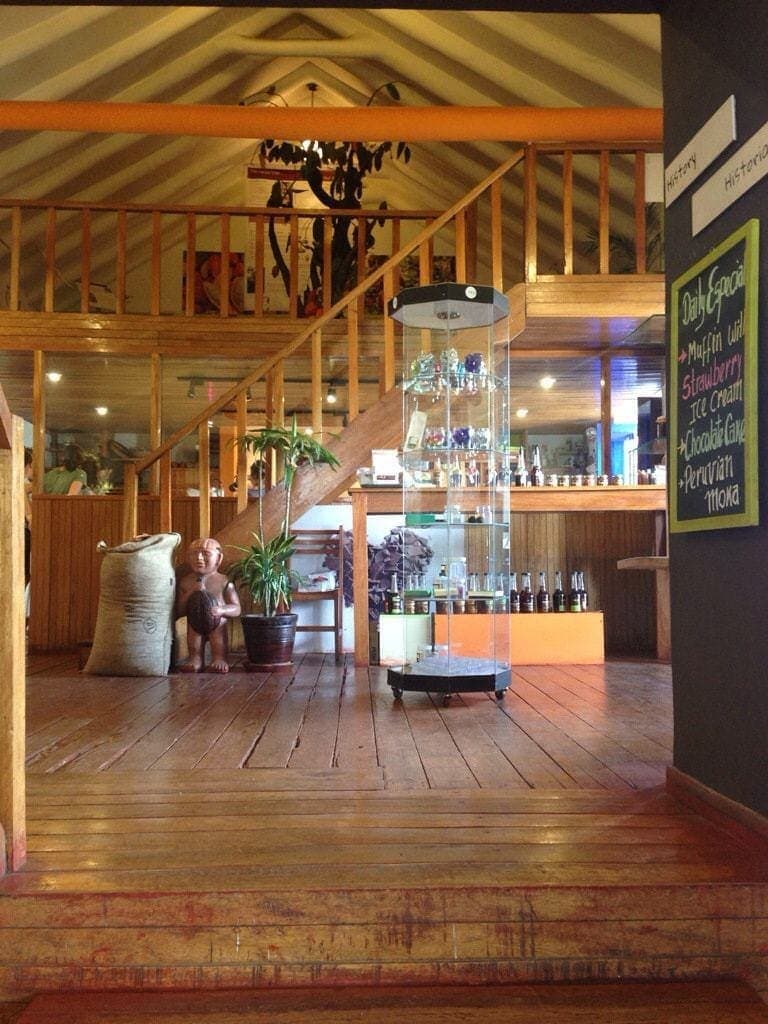 We spent the first day sorting out a few things like shopping and getting Sam a new immigration card (word of advice – don't lose or throw away your immigration card, it is so much hassle!). As well as all the outdoor gear we needed to pick up (with pretty good bargains on North Face products to be found everywhere), there are loads of awesome souvenirs on sale in Cusco, and we spent a few hours browsing the various shops around the plaza and the huge artisan market on the Avenida del Sol; where I picked up some really cool trainers decked out with colourful, Andean material to replace the ones which had been destroyed by the heat and sand in Huacachina! We also discovered what was easily my highlight of Cusco; the Chocolate Museum. More of a gorgeous cafe featuring exhibitions all about the history and production of chocolate, this was the perfect place to wait for the heavy afternoon rain to stop, and after learning everything there is to know about my favourite food, we sat down in the cafe to enjoy a delicious hot chocolate. The 'make your own' Mayan hot chocolate came with a pot of melted chocolate paste, a jug of hot milk, and pots of chilli powder and honey – and the finished product was absolutely delicious.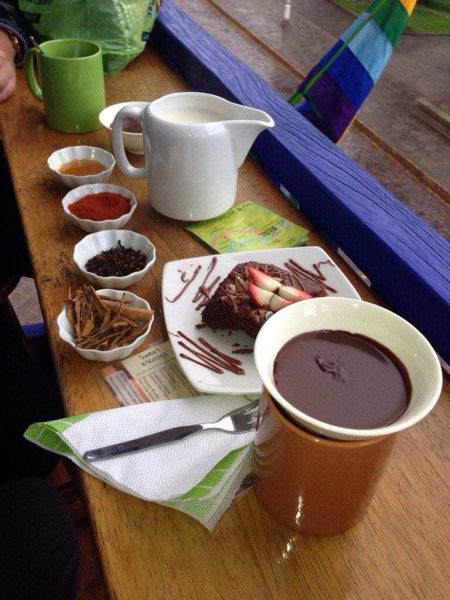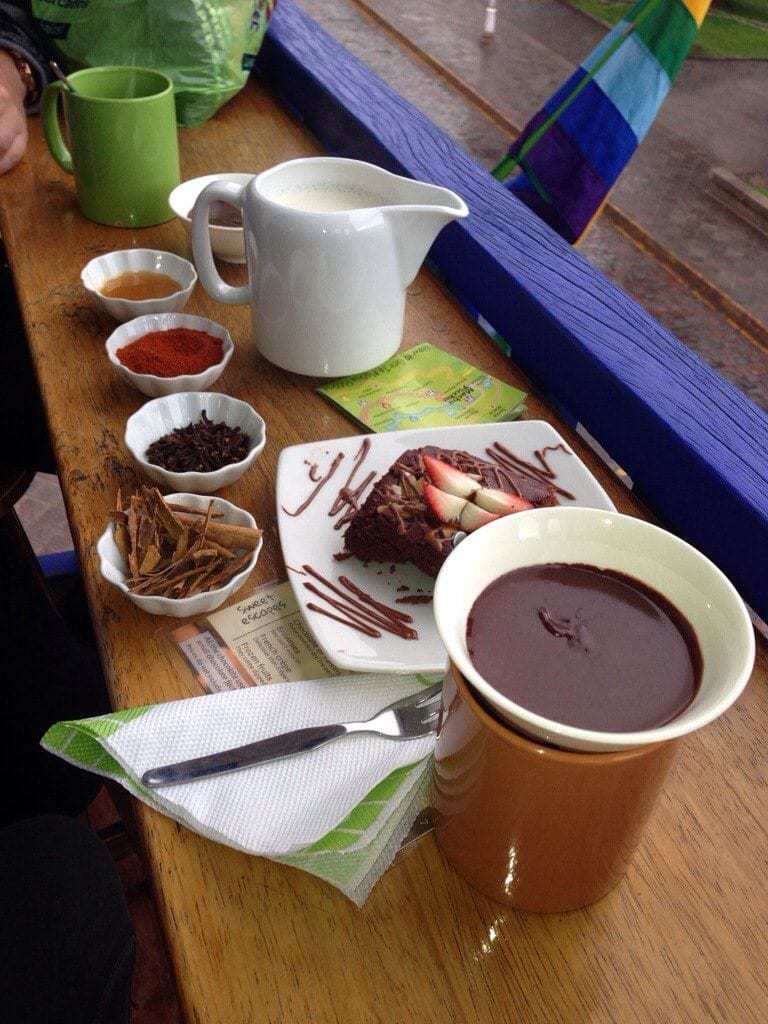 By the evening, we were so tired that we could only manage a bowl of soup and a mildly delirious chat with a couple we met at our hostel, before crawling into bed for an early night. Luckily, on the second day things had improved slightly, so we headed out for a spot of sightseeing. We walked around the Plaza de Armas that we'd seen the day before – now spending more time appreciating the ornately carved brown buildings of the cathedral and the Jesuit church, and the central fountain with it's glinting gold statue of Inca King Pachacuteq – and up into the San Blas neighbourhood of narrow streets and antique buildings. Apart from a daily shower of afternoon rain, the weather was gorgeous; clear blue skies and baking hot sun, which made the city even more beautiful.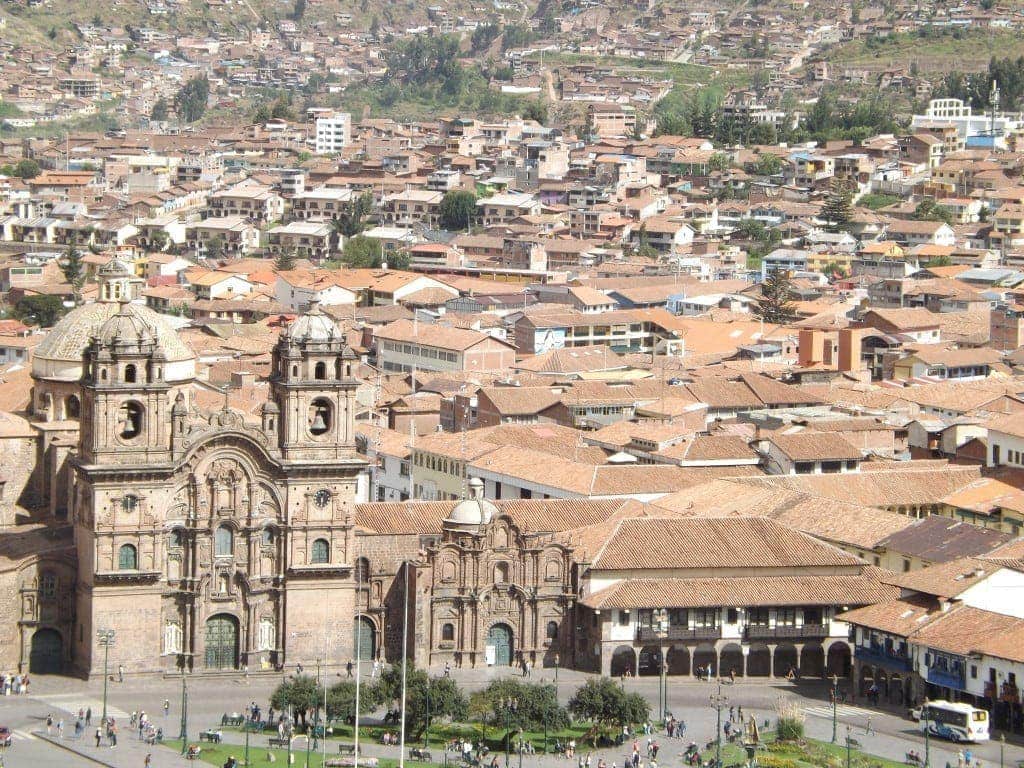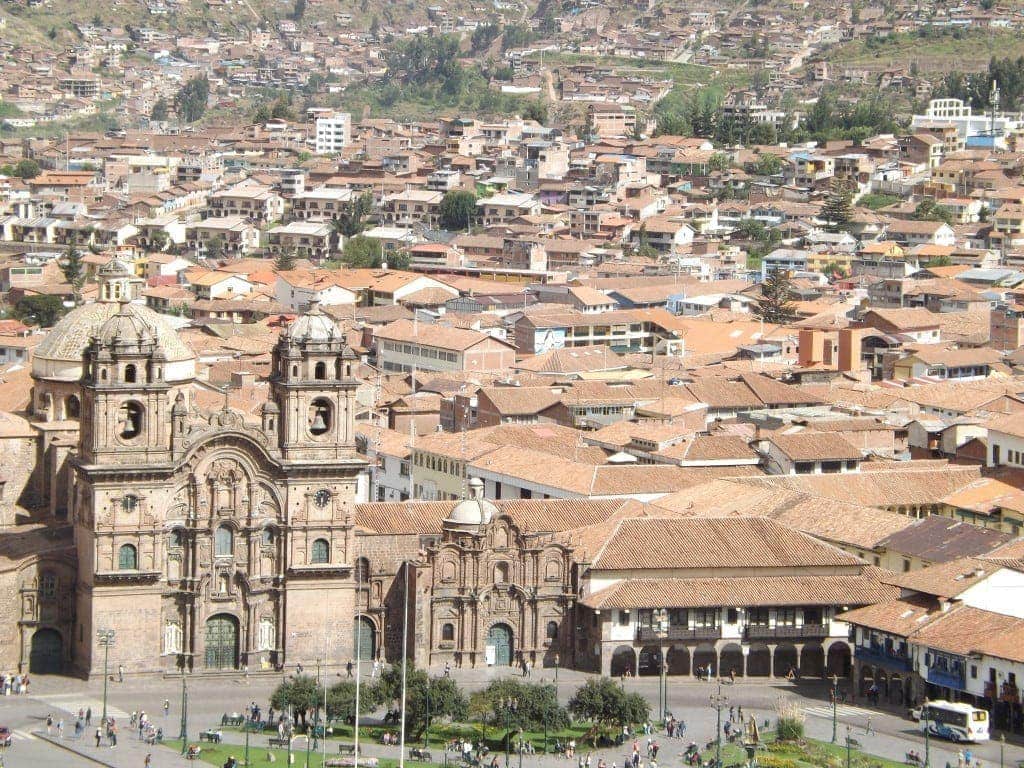 One of the friends we've made on our travels, Ben, told us recently that he's trying to find the cheapest massage in South America. My own mission is slightly different; to find the best budget massage in the world, but on our second day in Cusco I'm pretty certain I finished Ben's job for him. Thanks to our Inti discount cards – which we got free with Peru Hop – we were able to get 33% off an hour long, full body massage at Nusta Wasi Massage, making it just s./20 each or about £4! As soon as we saw the discount listed on the Inti Card website, we headed straight out to seek out this ridiculous bargain. Finding the place was easier said than done; like many of the cheaper massage parlours in Cusco, this one was not in an official spa, but instead was in a small room at the back of a market on Calle Inca Roca, advertised only by a small poster on the street. But, eventually we found the place, handed over our S./40, and hopped up onto the massage tables.
Ok, so in terms of ambience this wasn't the world's most relaxing the massage. For one thing, the girl doing me was about four foot tall, and had to sit on the massage table in order to reach my back. For another Sam's masseur had her daughter with her, a three year old who would not sit still, ran around the room gabbling to herself (in spite of repeated desperate requests to "shh" from her mother), and occasionally prodded at both our hands, which were sticking off the beds. But, those minor distractions aside, the massage itself was incredible. After numerous tumbles during my attempts at sandboarding in Huacachina, not to mention the twenty six hours we'd spent getting from there to Cusco by bus, my body was in dire need of some intense TLC.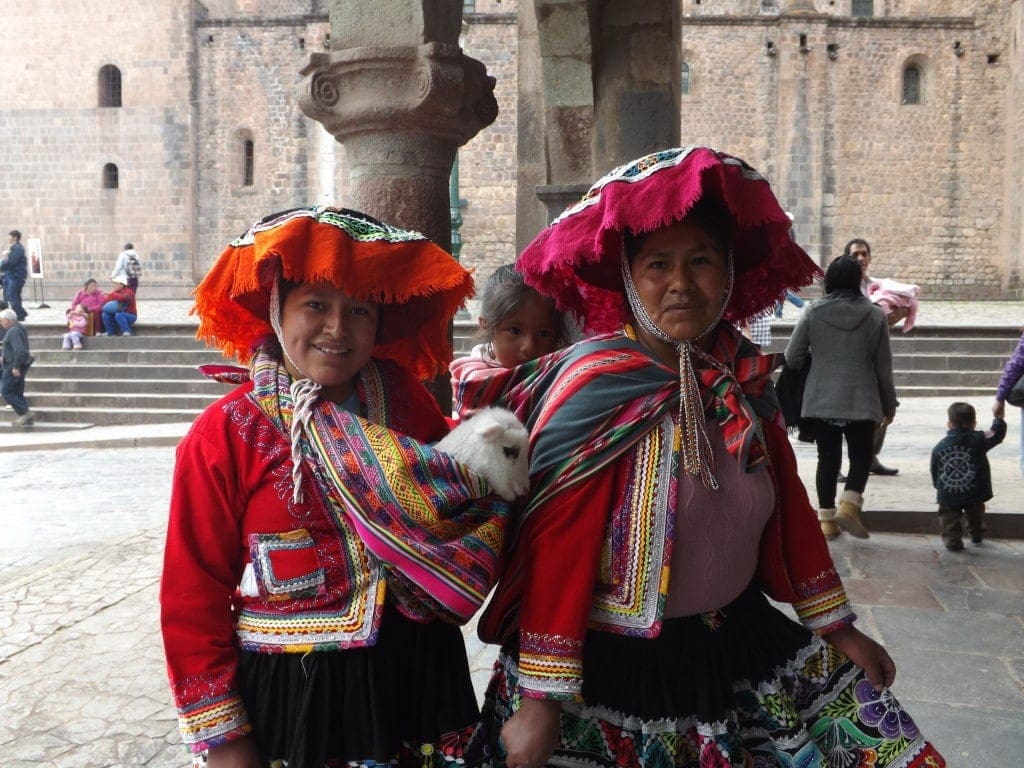 The massage, a mixture of shiatsu, Thai and traditional Inca techniques (according to the masseur – I'm not expert enough to know the difference), was intense, super relaxing, and very thorough: face, hair, hands, toes, shoulders, and bum cheeks, not a bit of me was missed!
After the massages, we tumbled out of the market place feeling meltingly sleepy, and had no choice but to head back to the Chocolate Museum for another hot chocolate; we simply couldn't do anything less relaxing!
Two days in Cusco, and we'd only managed to eat and drink chocolate, get massages, and buy ourselves souvenirs. But, after several weeks on the road, this kind of relaxation was exactly enough to make us fall head over heals for Cusco!