Some posts on this site contain affiliate links. If you book or buy something through these links, I earn a small commission (at no extra cost to you). Take a look at my privacy policy for more information.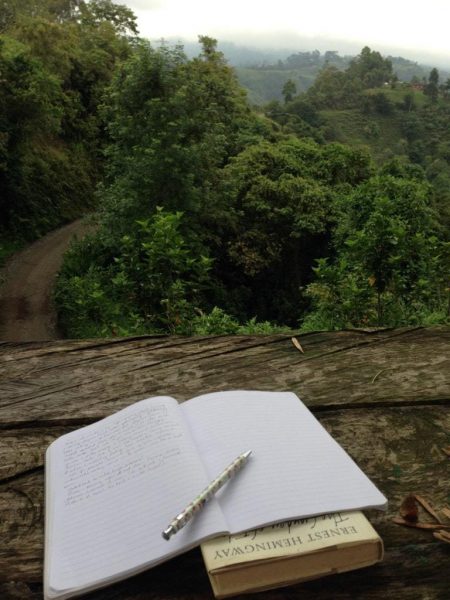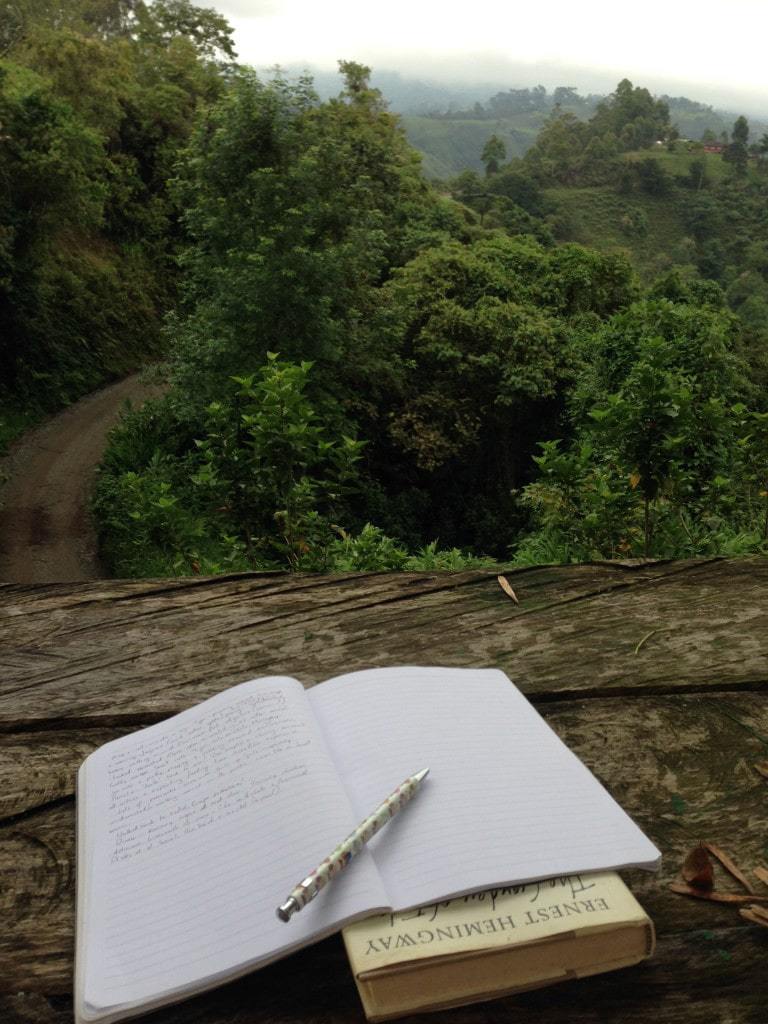 I spent the morning of our second full day in Salento, a small Andean town in southern Colombia, writing and catching up on my diary.
My writing desk was a big wooden bench, damp with mist, at the end of the front garden, which looked out across the valley that falls away in front of Yambolombia, our hostel in Salento.
The landscape, thick emerald forest and green slopes with purple-blue mountains in the distance, was covered by low clouds that crept like smoke over everything.
Shrouded in mist, the world was silent; nothing but the sounds of birds, a slight breeze, the barely moving trees, and insects. The conditions were perfect for writing, and I found myself wishing I could stay in this place forever, with nothing to distract me from my work but the landscape, a daily walk, a pet dog. I understood why Amy, an Australian girl who'd been working at Yambolombia for a year or so, said she was unable to leave even to visit home. It's the kind of place that draws you in.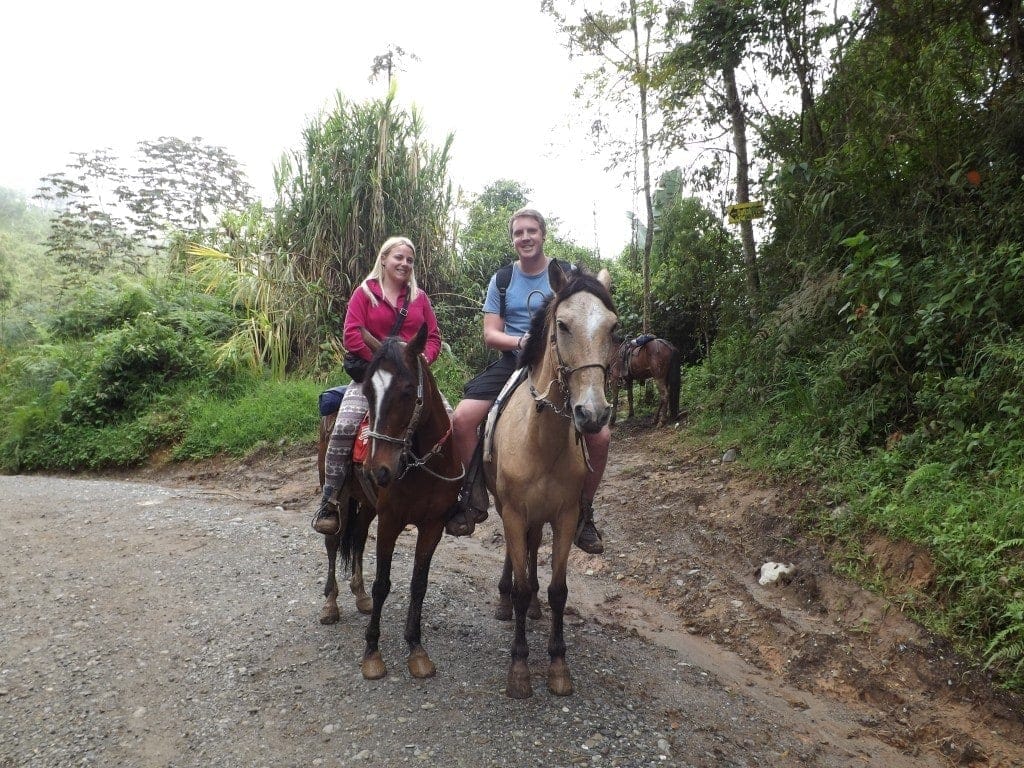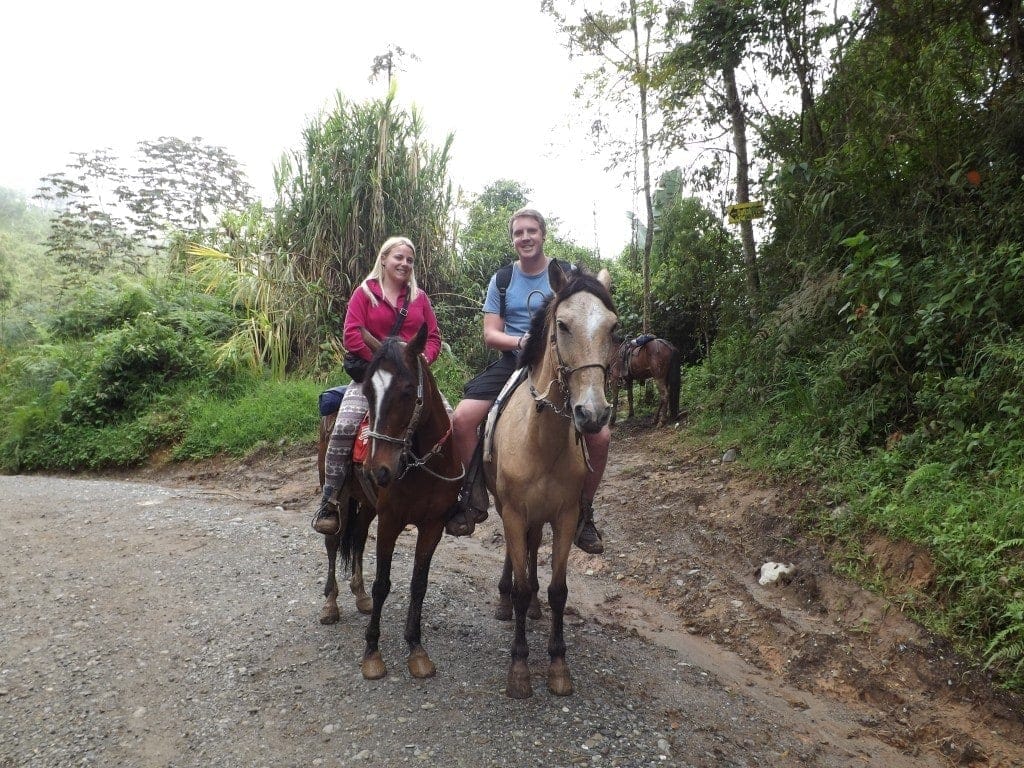 After a slow morning quietly working, we headed out for a horse ride with a local guide. I've been before a few times when I was younger and enjoyed it, but Sam had never been on a horse before. Our guide, a guy called Oscar who wore double denim and a coloured poncho and looked just like a cowboy, turned up with three horses and helped us hop up. Sam was on a taller, beige-yellow horse named Mantequilla (Butter), while I got lumped with Principe (Prince), an aggressive, strong-minded horse with a hatred of walking anywhere but first place. He never obeyed me and constantly tried to overtake, often squeezing past Mantequilla on cliff edges or in very narrow pathways, making sure I got slapped in the face by low branches or wet leaves as much as possible.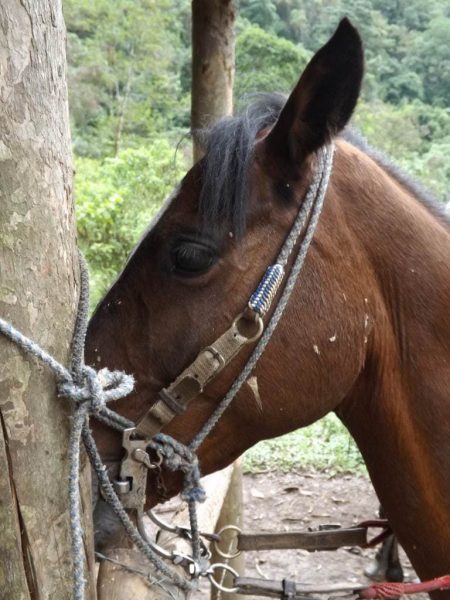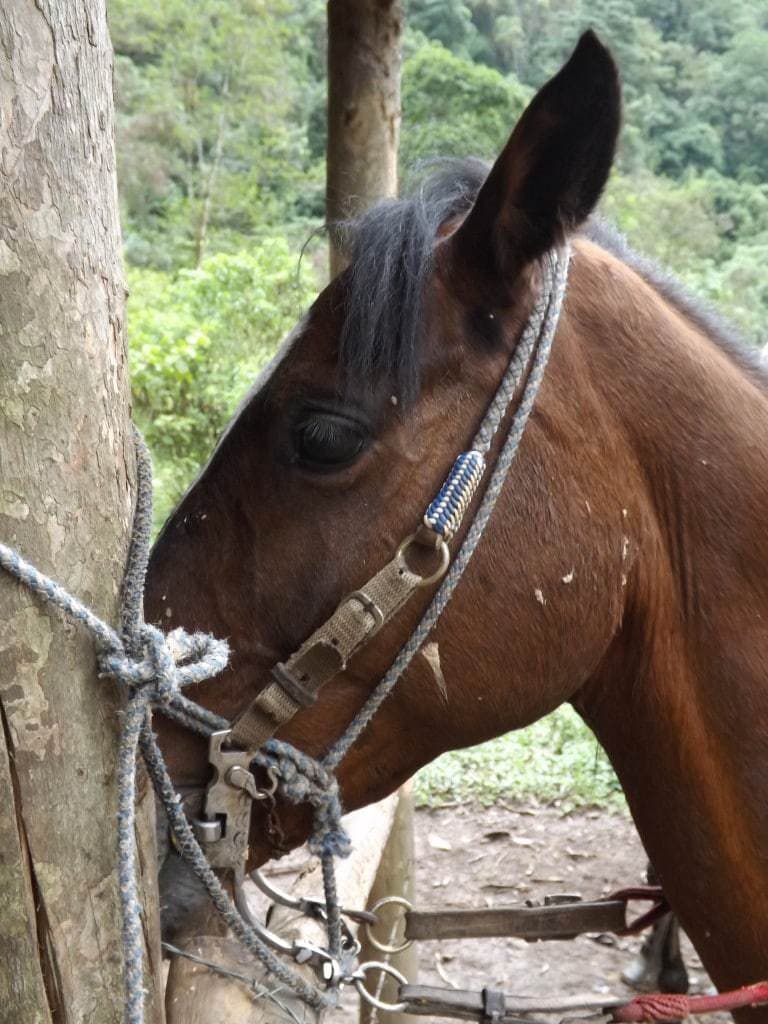 We set off at a gentle pace, but quite quickly both horses were ignoring our instructions on the reigns and had broken into trots which they kept up for most of the journey. Oscar led from behind, on his well behaved horse, probably laughing inwardly at our incompetence. Although he spoke no English and my Spanish is pretty rubbish, he was really friendly and we managed to have a bit of a conversation. He clearly loves his home town and it's gorgeous surroundings; as we headed down the winding mountain road leading to the River Quindío he pointed out birds (telling us the Spanish names, which of course I instantly forgot), the river glinting white below us, and the view in general, smiling approvingly every time I gushed "que lindo, que bonito".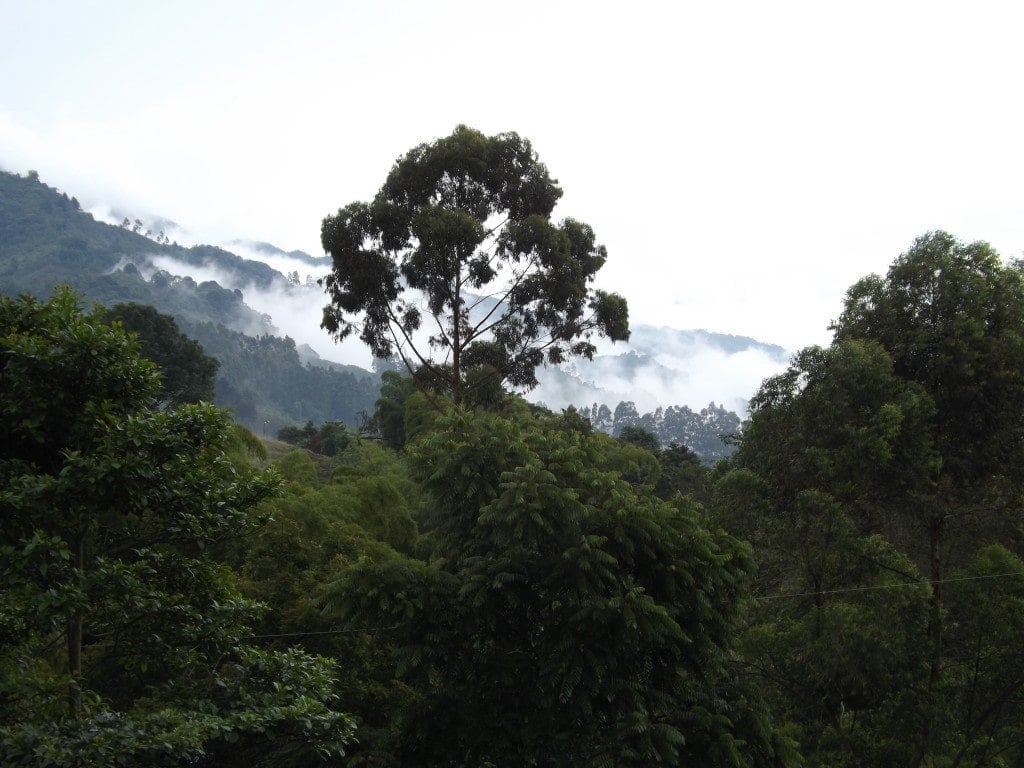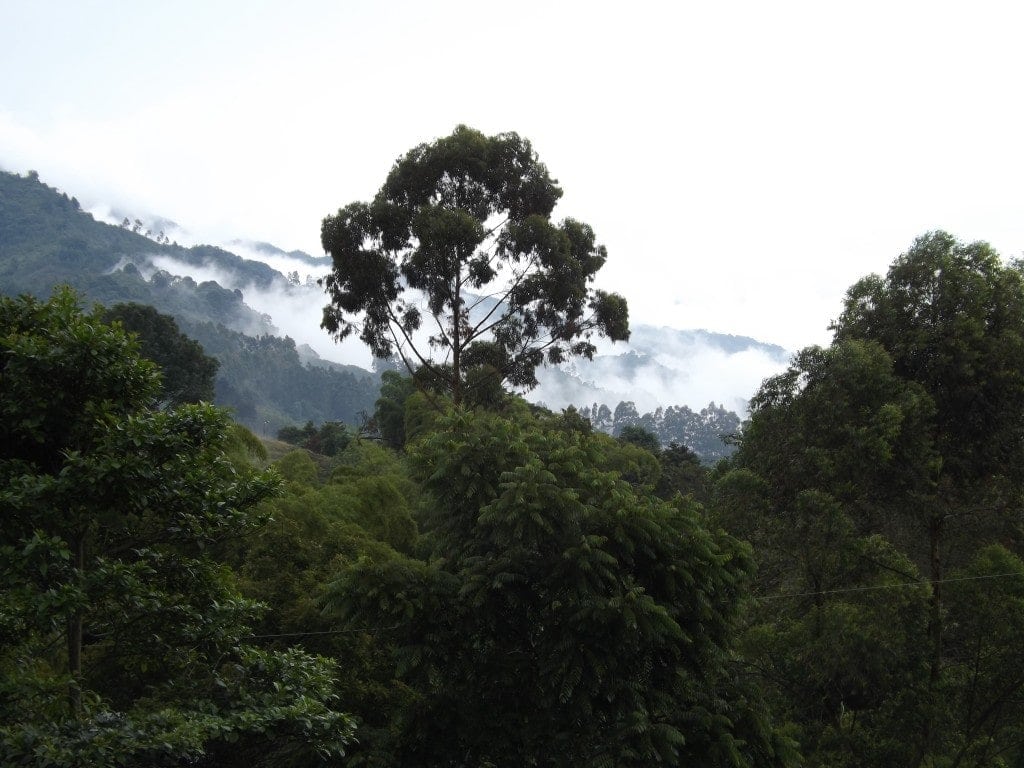 Halfway down the mountain, Oscar pointed at a bush next to the road and said "aqui". We looked at the bush, then looked at him quizzically, and Oscar said some more things in Spanish, then pointed again and insisted "aqui aqui". Sam's horse seemed to know better than we did, and plunged into a small gap between the bushes with Principe right at his heels, and we found ourselves on a very steep, very wet and very rocky mountain path which the horses basically slid down with us on their backs, gripping the reigns for dear life and leaning back to avoid falling straight over their heads.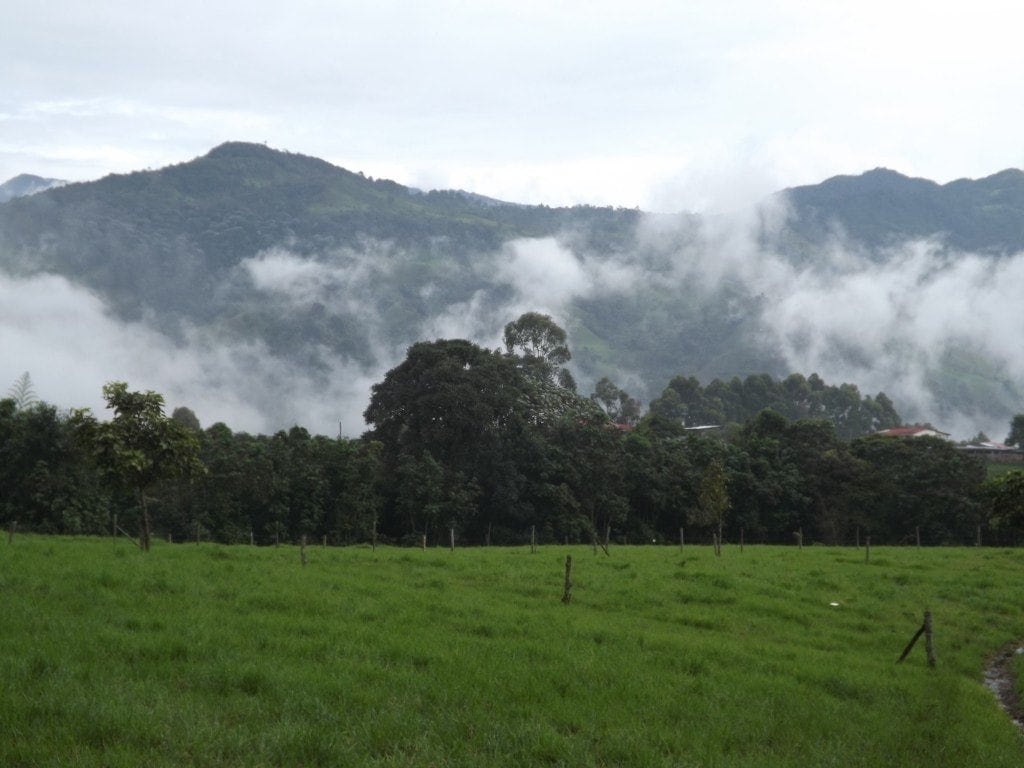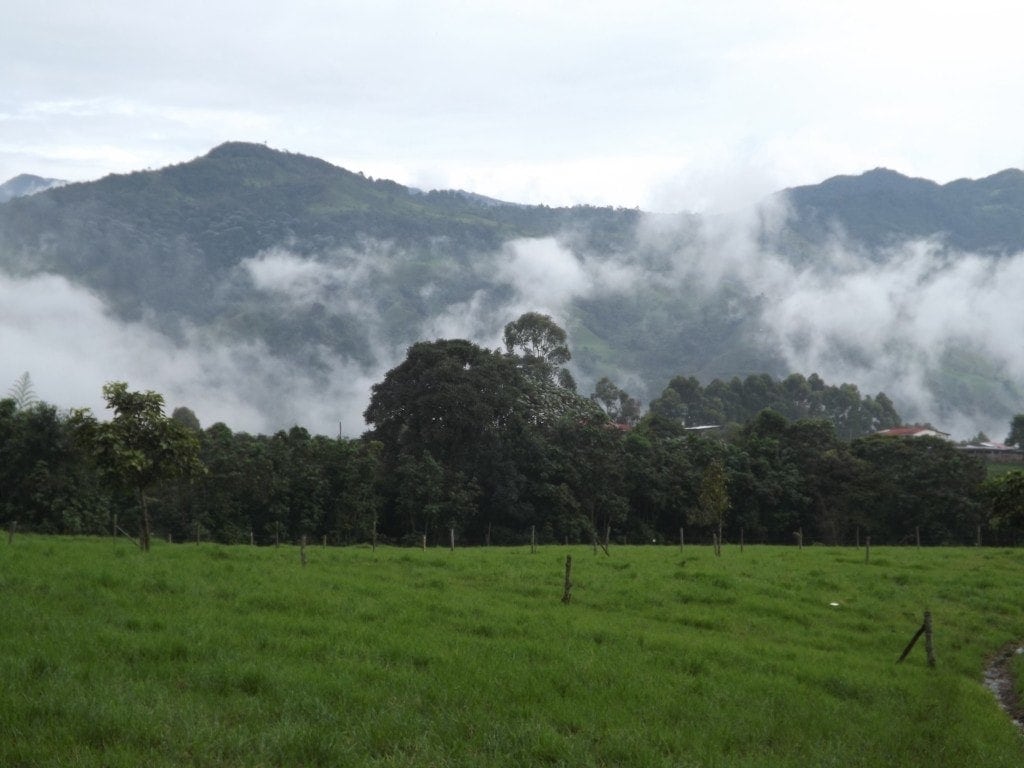 With that slightly nerve-racking off road experience behind us, I hoped the rest of the way would be fairly simply, and once we were in the valley making our way along the river I thought I might be right. But, it wasn't long before we reached a large bend in the river which curled to block our path, and Oscar pointed straight at the water, gesturing that we should cross. Before I had time to say "but there's no bridge", Principe had plunged into the river and was waist deep, splashing the rushing water with his legs so that it sprayed right up my back and even into my hair. The "off-roading" continued with several more river crossings, in spite of the strong current and deep water caused by the heavy rains, but although it was a bit of a shock at first it made the horse riding experience really fun and we were having a great time (even if we were damp and slightly uncomfortable).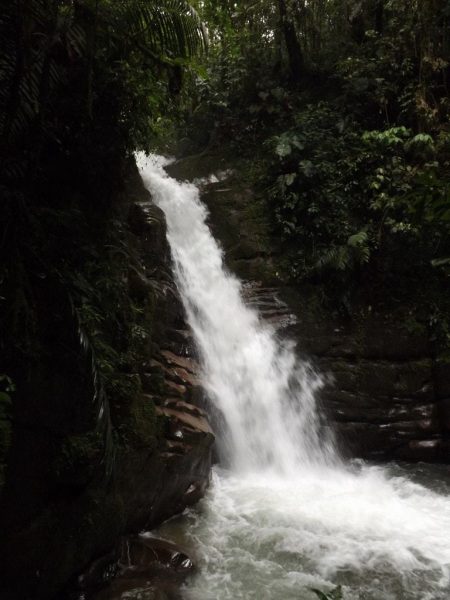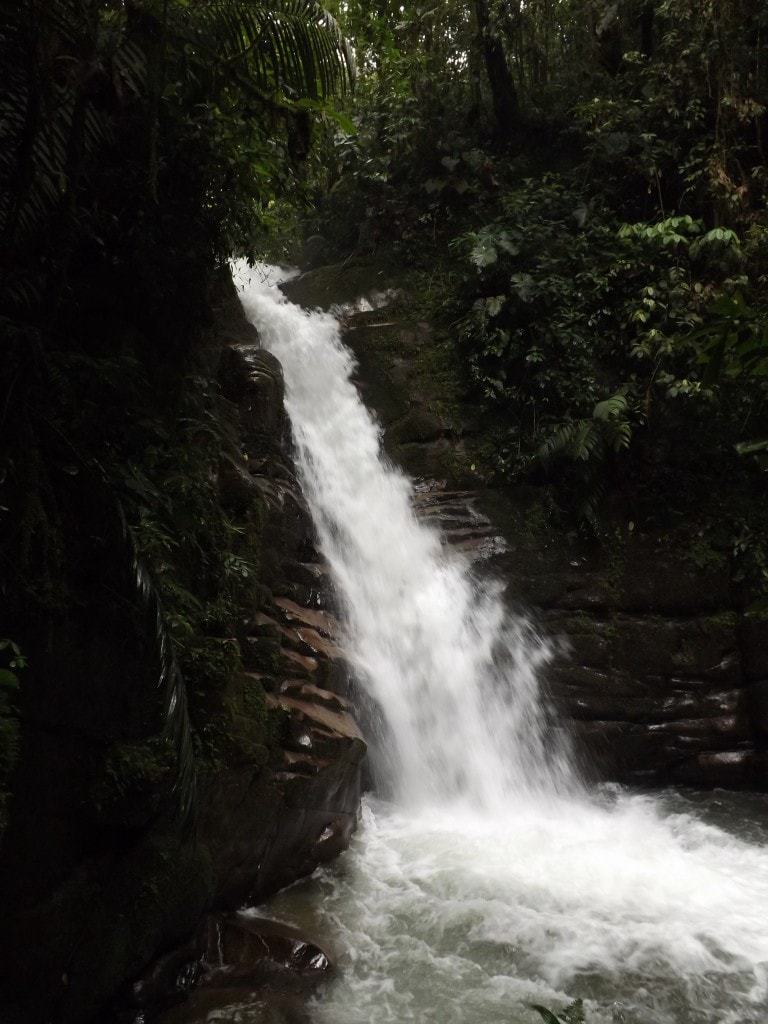 Eventually, we made it to a point where the river entered a forest, and dismounted our not-so-trusty steeds. We entered the forest on foot, finding ourselves plunged in darkness thanks to the thick foliage, and walked a short distance down a path and across a wooden bridge just like the ones from the Valle de Cocora. The smell of wet leaves and damp mud filled the air, rich and earthy. In a small clearing, surrounded by shiny wet rocks and trees coated in dark green moss,we came upon Quindío's waterfall; a white, gushing shoot of water which seemed to fling itself off the cliff edge about 45ft up and come tumbling down to a shallow pool of crystal clear water. Apparently, you can swim there, but the day was much too cold for that, especially in the darkness of the forest clearing, so we remained fully clothed and instead enjoyed the waterfall from a safe and dry distance.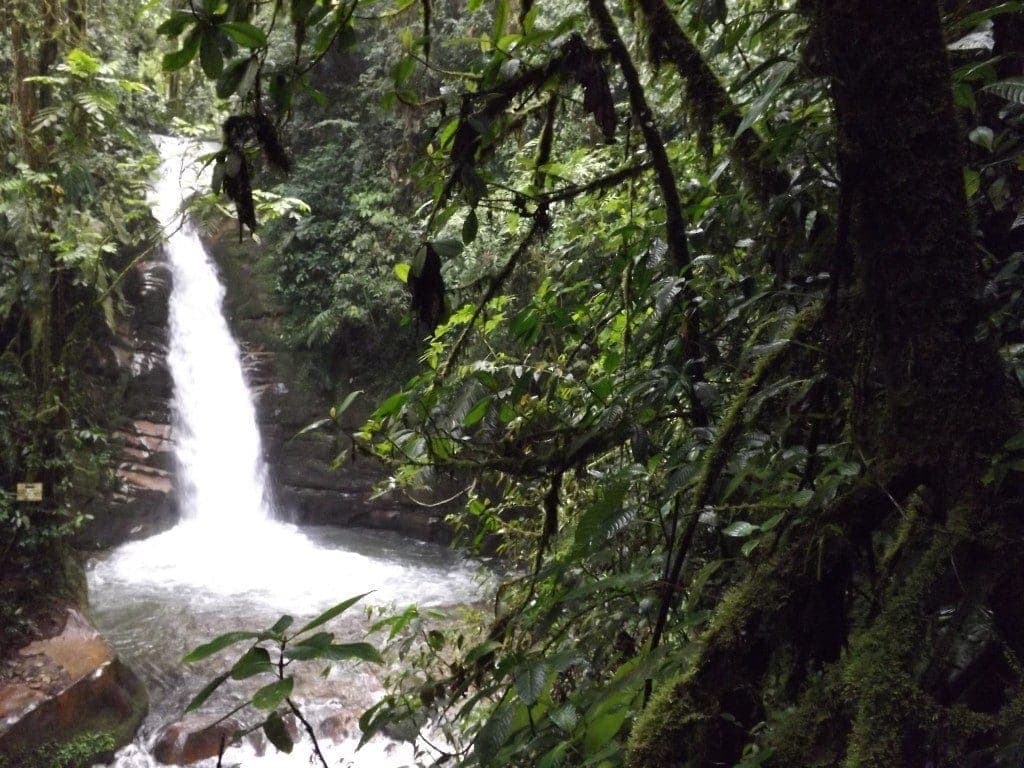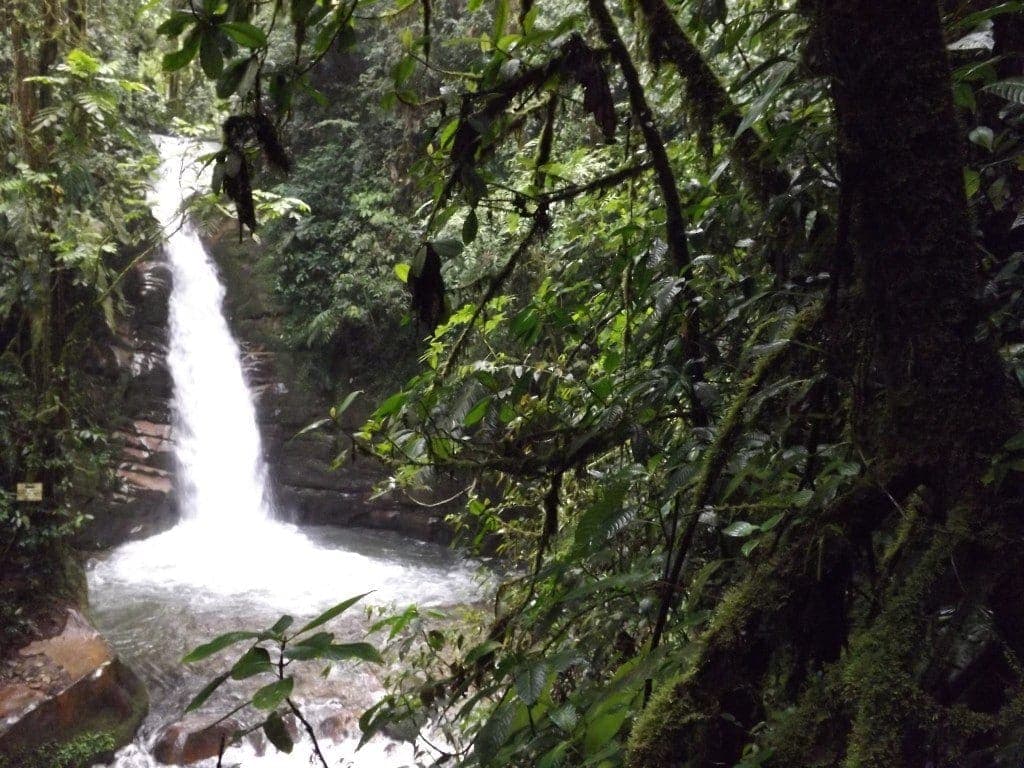 We came out of the forest to discover that it was raining, just as thick and heavy as the day before. The horses looked unfazed by the rain, but we wanted to avoid another soaking so Oscar helped us into thick ponchos made from a tent-like fabric, and we returned by the same route we'd come, shrouded in heavy tarpaulin with our vision blocked by cavernous hoods. On the return journey, we avoided the mountain road altogether and instead clambered up through a narrow, muddy chute-like path which was channelling so much rain water it might as well have been a river. The going was slippery and very steep, but Principe took it all in his stride, and we made it to the top in once piece.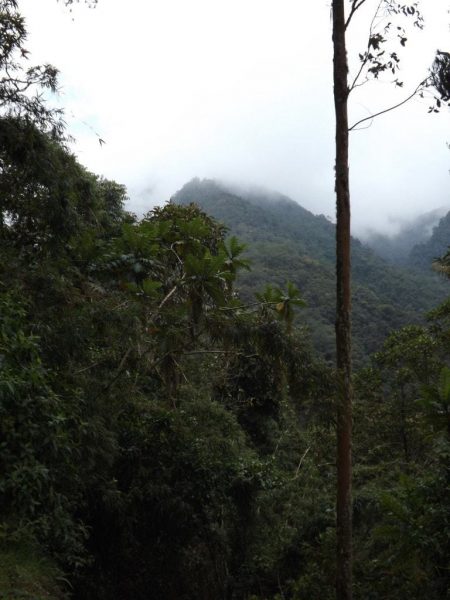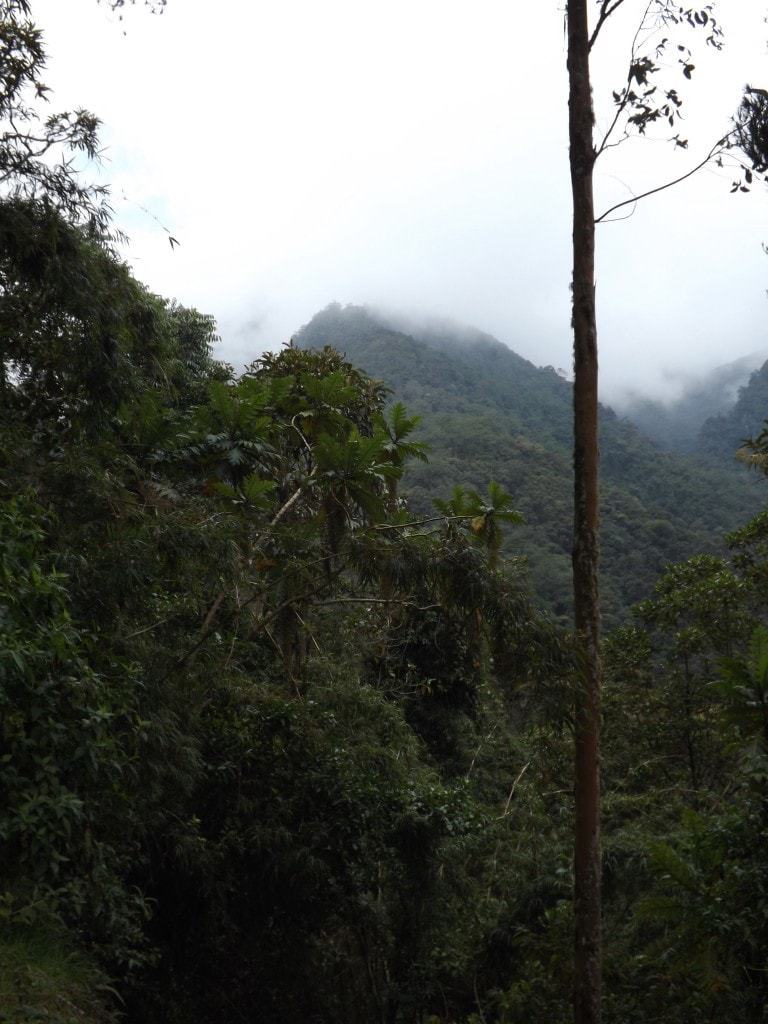 From here, in spite of the heavy grey skies and battering rain, we had a fantastic view of the valley on the other side of Salento, which was so full of clouds it seemed to be filling up. We headed back into the town, and Oscar invited us to sit in his house with his family for a cup of coffee while he sorted out the horses. The coffee was black, which I normally hate, but was also delicious – probably from one of the local plantations and very, very sweet.
After coffee, we had lunch in town while we waited for the rain to stop, before heading back to Yambolombia to dry off and spend the rest of the evening relaxing in the total peace of the gorgeous hostel, chatting to the other guests and to the owner Gabriel, a lovely man who has been my favourite host so far.
When we checked out the next morning, on a sunny day with blue skies that seemed to beg us to stay in beautiful Salento, we left with heavy hearts. The pain of travelling with a deadline is having to leave everywhere we fall in love with, but I'm adamant that we'll be back in Salento one day soon. Gabriel gave us both bracelets woven with yellow, red and blue thread (the Colombia flag colours) to remember the hostel by, but we don't need them. Our trip to Salento was a very special one that will stay in our hearts for the rest of our lives – until we get back there.