Some posts on this site contain affiliate links. If you book or buy something through these links, I earn a small commission (at no extra cost to you). Take a look at my privacy policy for more information.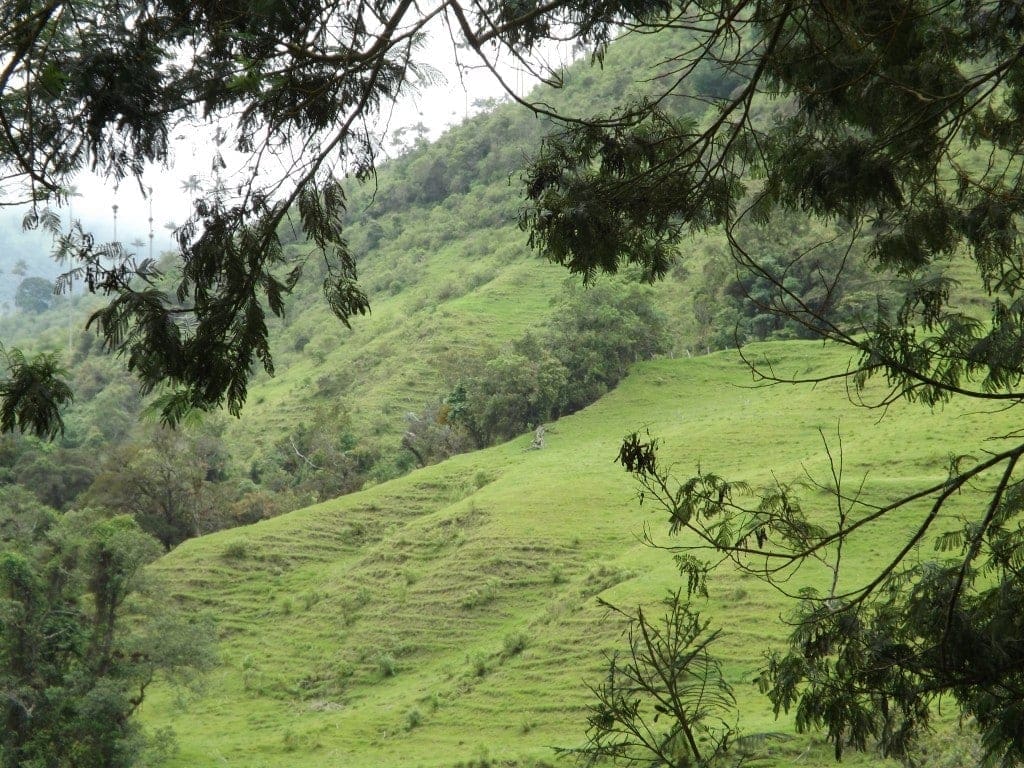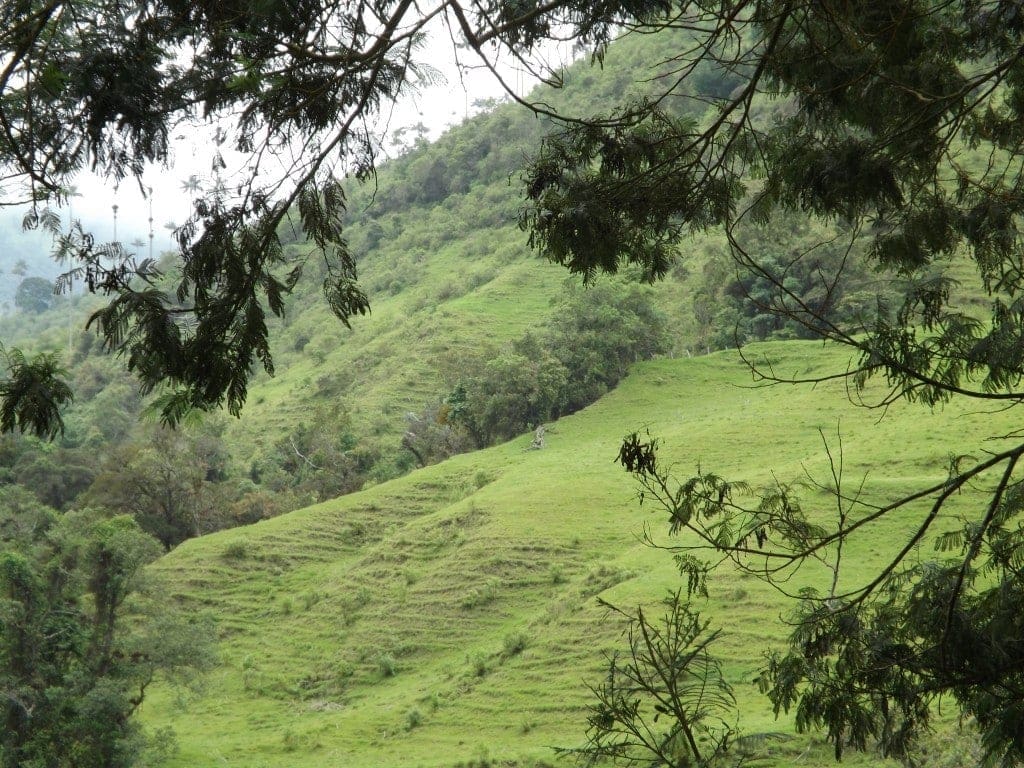 After two disappointing days in Medellin, Sam and I had had enough of cities and were ready to head into more of Colombia's gorgeous countryside. We've discovered on this trip that it's impossible to escape good advice when you're travelling in hostels and meeting other travellers just like yourself – so when an American guy named Stephan told us that Salento had the most beautiful landscapes he'd ever seen, it was easy to decide on that as the next stop.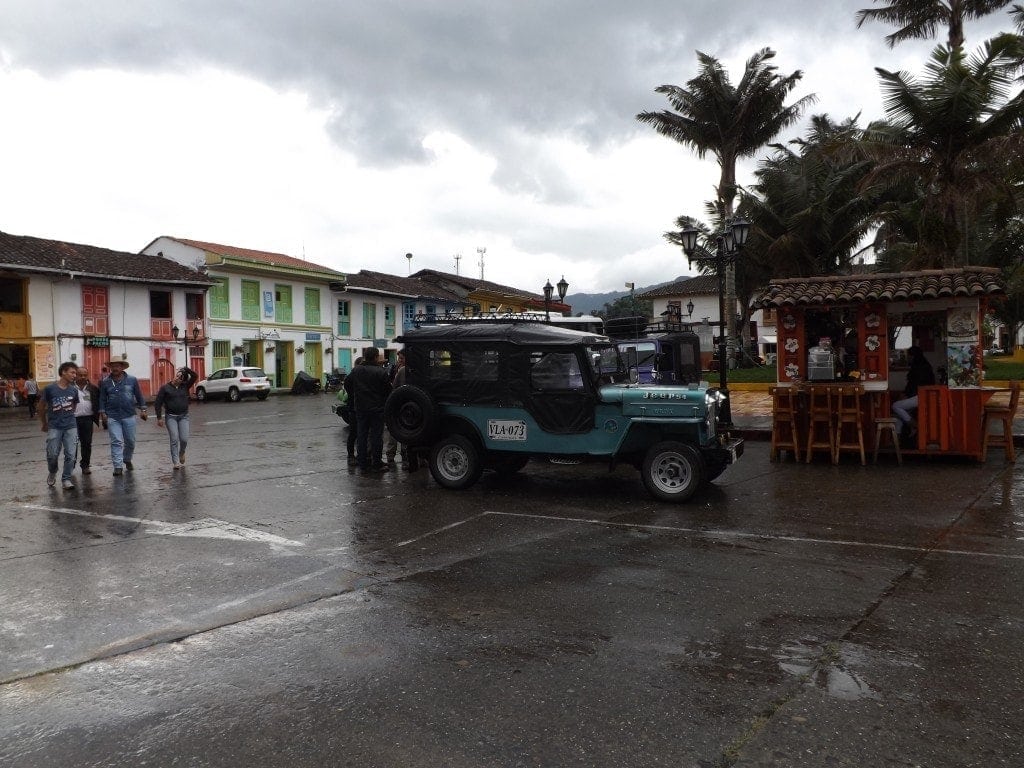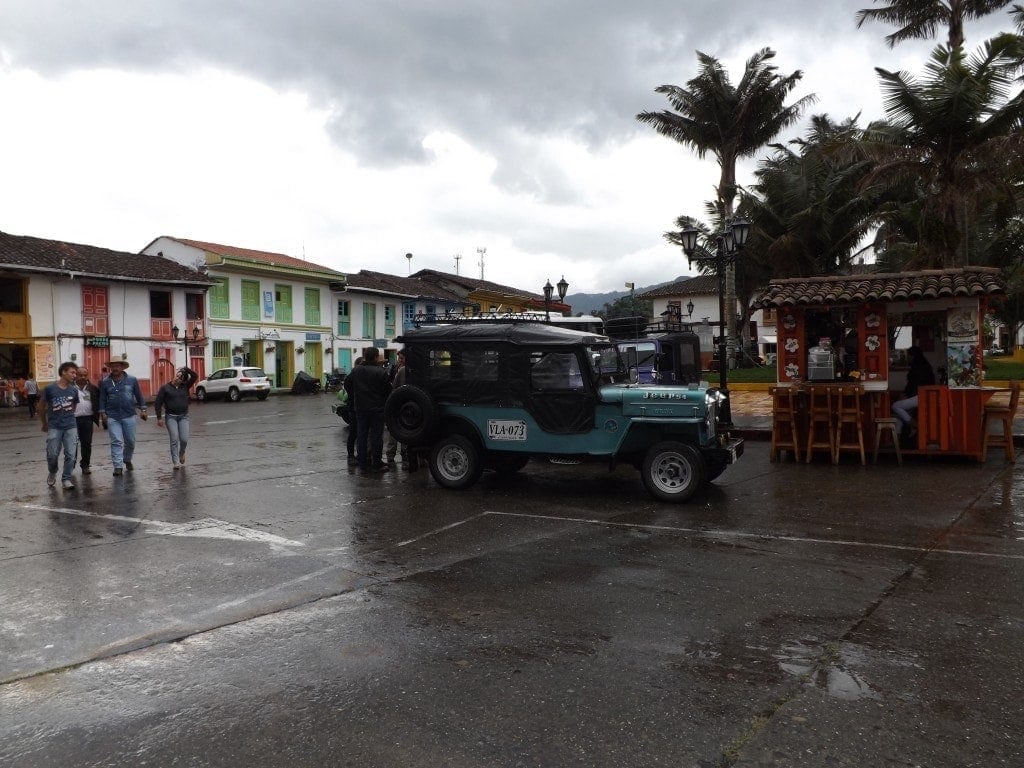 The bus ride quickly plunged us out of the grey, modern dullness of Medellin and into a sweeping landscape of smooth green mountains, surging rivers, sprawling farms and plantations, and low, smoky clouds which crept down the edges of hills as though trying to swallow up the world. The views, constantly changing and ceaselessly beautiful, made the six or seven hour journey go fairly quickly, and soon enough we found ourselves sitting at the side of an empty motorway – three lanes either side – waiting for the colectivo to Salento. When it arrived, we were packed into a rickety mini bus already stuffed with passengers, our big backpacks crammed in wherever they would fit, and Sam tucked in at the back between two schoolgirls who found his presence there somewhat hilarious. They giggled at him for twenty minutes or so as we bounced our way to Salento, a small, hilly town of steep slopes and one storey buildings, until we jumped out at the plaza and found ourselves a jeep to get the rest of the way.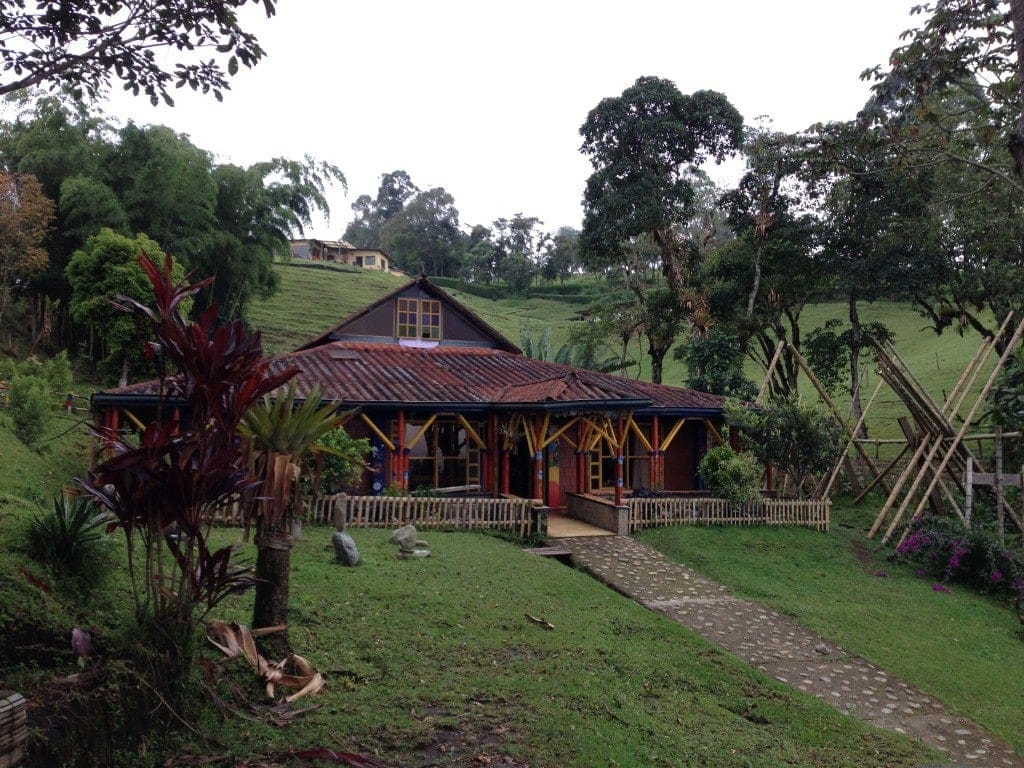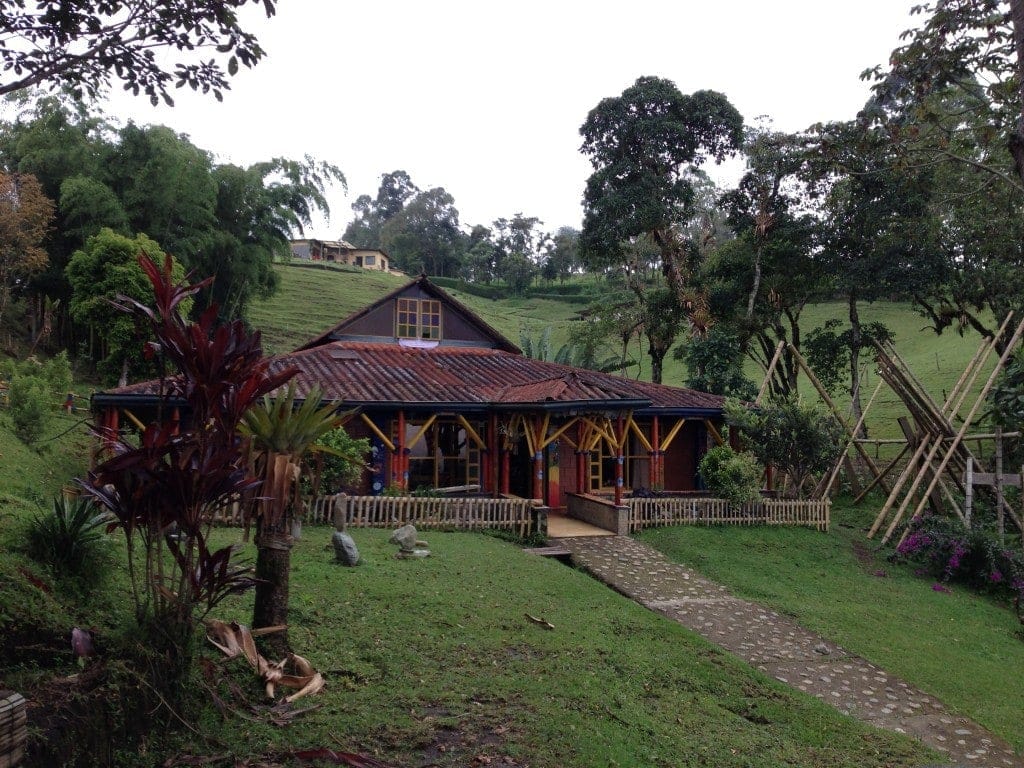 Yambolombia, the hostel we'd booked online the day before, was about a twenty-minute walk outside of town – and heavy rains recently had turned the dirt road into a deep, muddy bog, so that even the jeep struggled to get through it.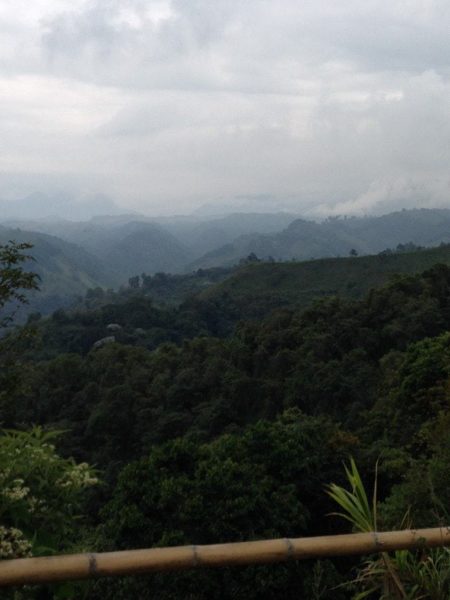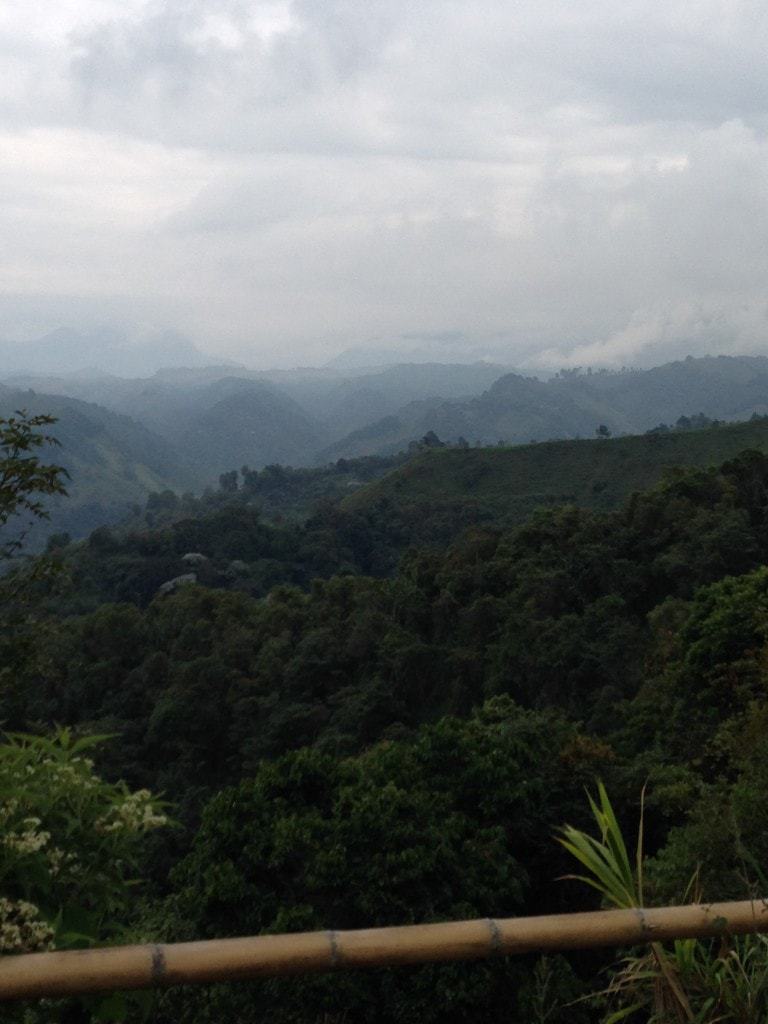 Eventually, though, we made it to a beautiful wooden building perched at the bottom of a small hill, surrounded by nothing but greenery and tall, silent trees. I was in love before we'd even made it through the front gate, and on exploring the hostel it only got better: a converted farmhouse, Yambolombia is a vegetarian eco hostel with amazing food, tons of funky artwork decorating every surface, and incredible views across the surrounding valleys (on a clear day I caught a glimpse of the snow capped peaks in the distance).
It's pretty small, so there are never too many guests at once, making it really intimate and friendly -perfect for meeting a small group of nice, like-minded people. The owner, Gabriel, described himself as a hippy – but a social one, "not anti-social" – and is one of the most welcoming, friendly and relaxed hosts I've come across, plus the staff – especially the warm and lovely Amy – made the environment fantastic.
We spent the evening at the hostel, eating Gabriel's incredible vegetarian food (in South America any break from the meat-heavy diet is welcome) and chatting with the other guests, playing a game of werewolf which was led by two French guys whose accents made the narration absolutely hilarious and much more atmospheric – "ze werewolves wake up, and zey design someone to kill…"
It was a fantastic evening in one of the most peaceful and pretty places we've come across so far, and we both fell asleep eager for the following day and completely in love with Yambolombia, Salento, and Colombia in general.