Some posts on this site contain affiliate links. If you book or buy something through these links, I earn a small commission (at no extra cost to you). Take a look at my privacy policy for more information.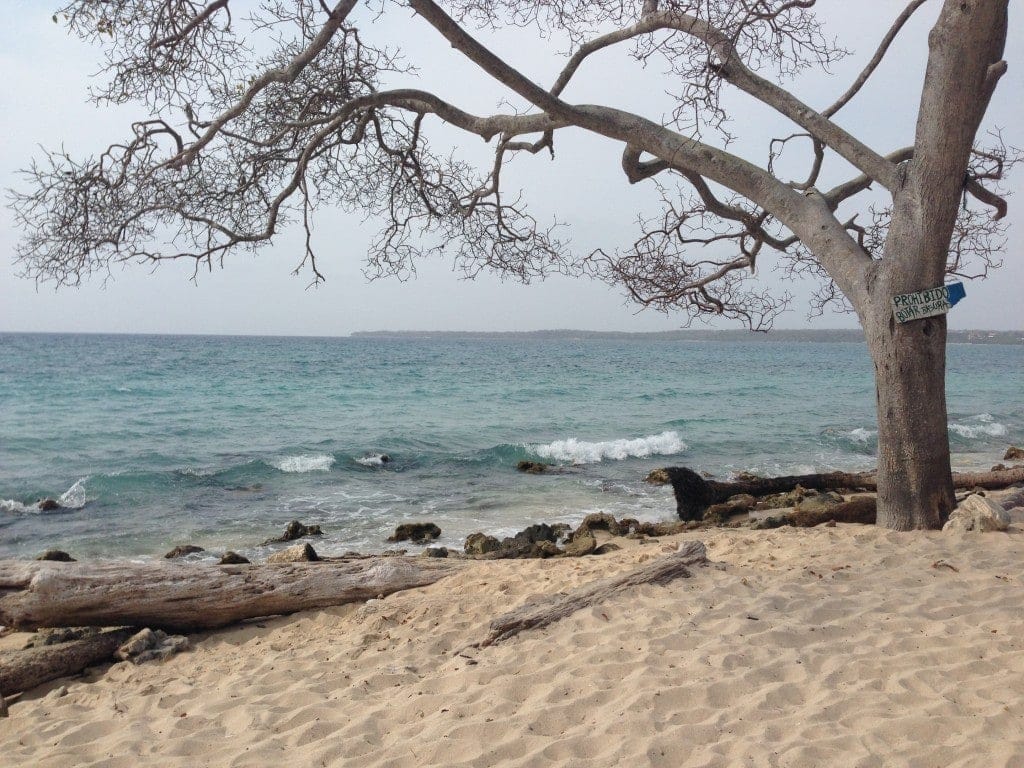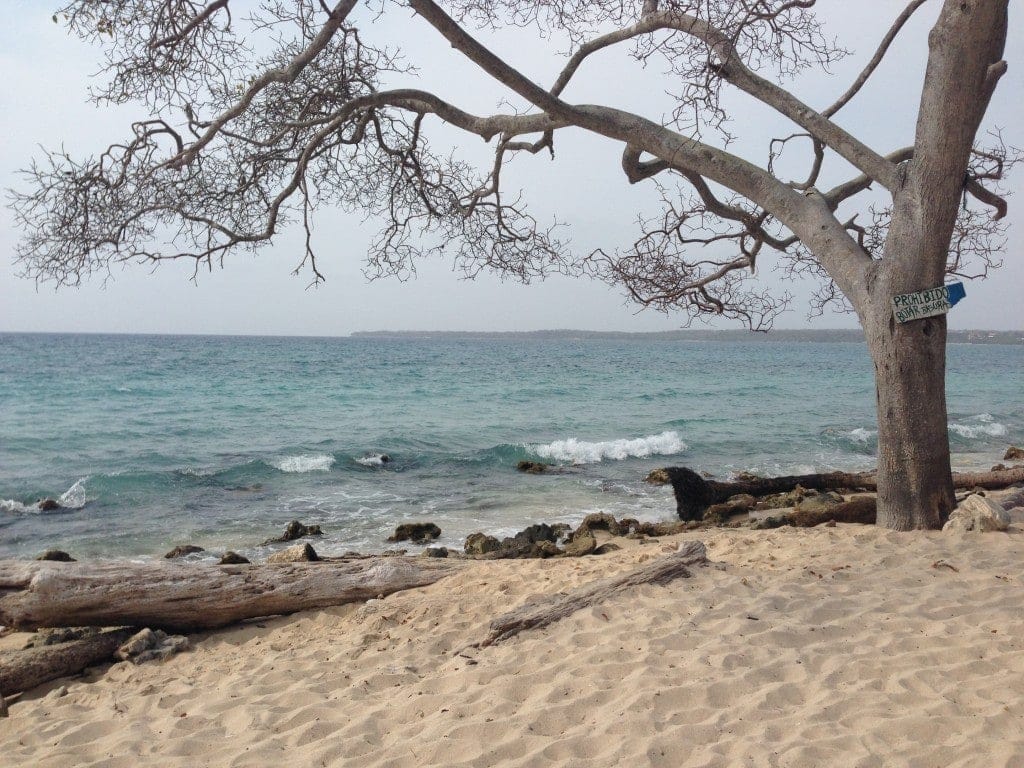 After a fantastic evening on the lovely, but rather plain, Playa Bocagrande in Cartagena, Sam and I were desperate to get a glimpse of the beach advertised as the area's best, Playa Blanca. It's on the Isla de Baru, part of the Rasarioa archipelago and national park, and the easiest way to reach it is by boat.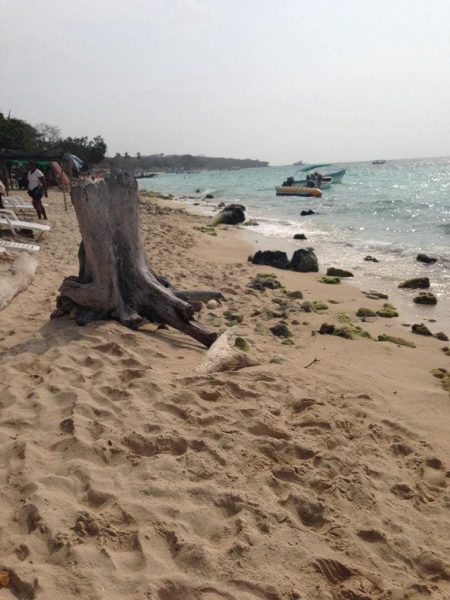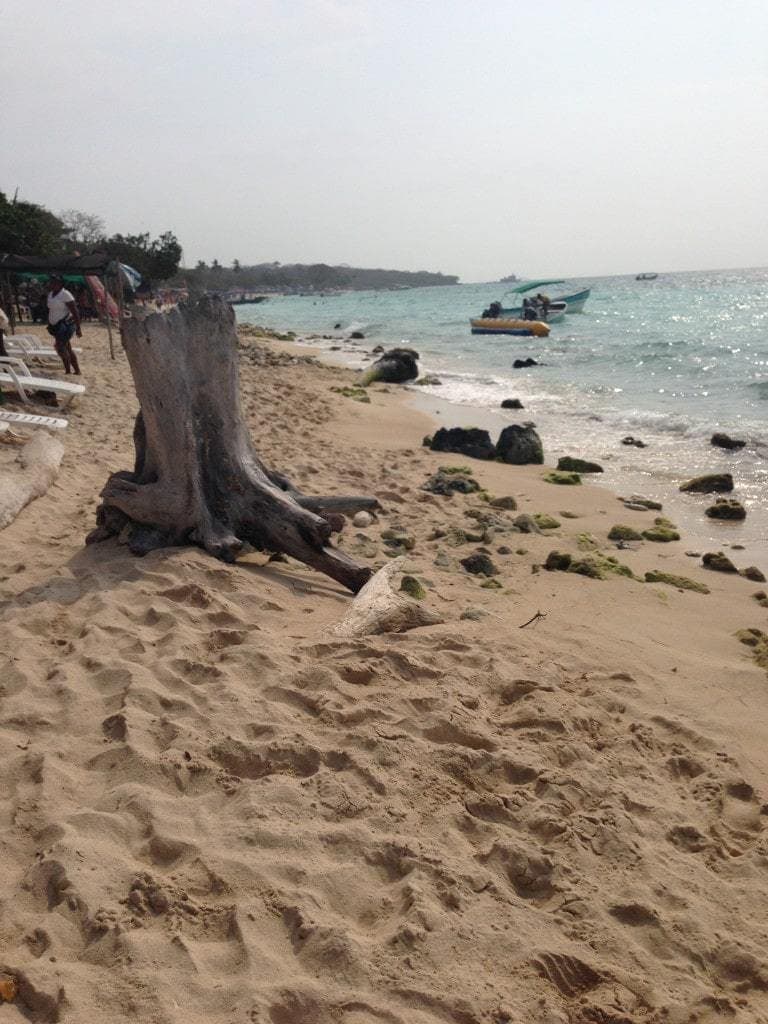 Most people head to the port and wind up with a pricey ticket for a tour through the archipelago which lasts a few hours, stops at an aquarium which by most accounts is fairly boring, and finally finishes at Playa Blanca up at the busier 'touristy' end. Thanks to our hostel owner, an enthusiastic guy with a hint of a New York accent, we avoided all that; he sent us instead to the Mercado Bazurto market port, where he said we could buy much cheaper tickets for seats on a cargo boat.
When the taxi pulled up at the market – a sprawling, shabby network of stalls, guys pushing carts, stray dogs, motorbikes, wholesale stores, and litter – I was a little daunted, but knowing we wanted the 'lancha' for playa blanca our driver pulled up alongside the intensely busy market port and called over a ticket tout who offered us passenger seats on board a small motorboat. Soon enough, we were sitting amongst an ever growing pile of boxes, sacks of potatoes, bags of onions, toilet rolls, vegetables, trays of eggs, drums of gasoline, and who knows what else; but it was almost an hour and a half before the boat was deemed full enough of bodies and cargo for us to set off, by which time my buttocks were numb and my leg had fallen asleep from my cramped position sharing a seat with a sack of potatoes.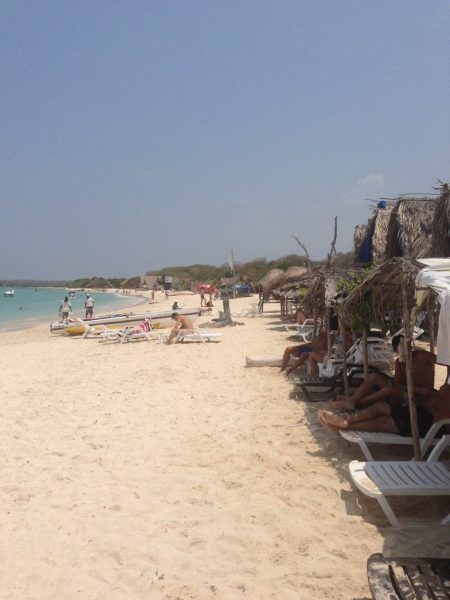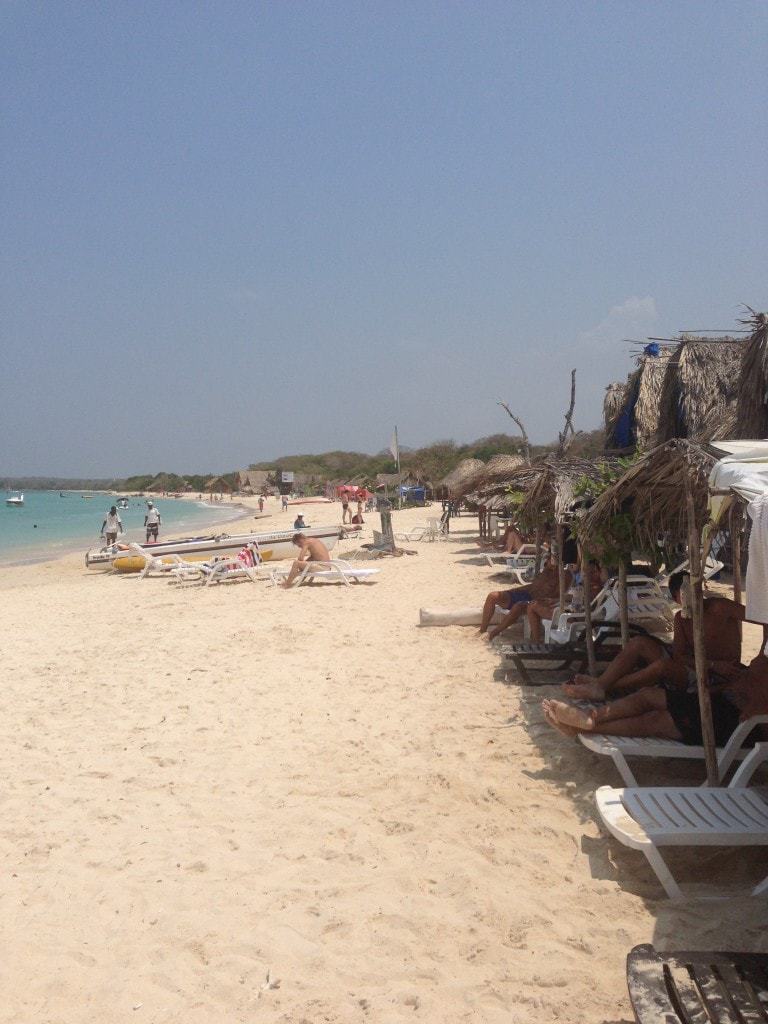 The boat ride was uncomfortable but fun; speeding over the water on a motorboat, the view blocked by a wall of spray. After about forty five minutes, we pulled up at an almost empty section of a seemingly endless stretch of pristine white sand, backed by thick green forest. The view as we flew towards it on the motorboat was stunning, exactly the image that springs to mind when you think "Caribbean Coast".
The beach was lined with restaurants and campsite style hostels, all built from wood with palm frond roofs and a decor of driftwood and painted shells, giving Playa Blanca a chilled out atmosphere of having truly escaped, making it perfect for travellers.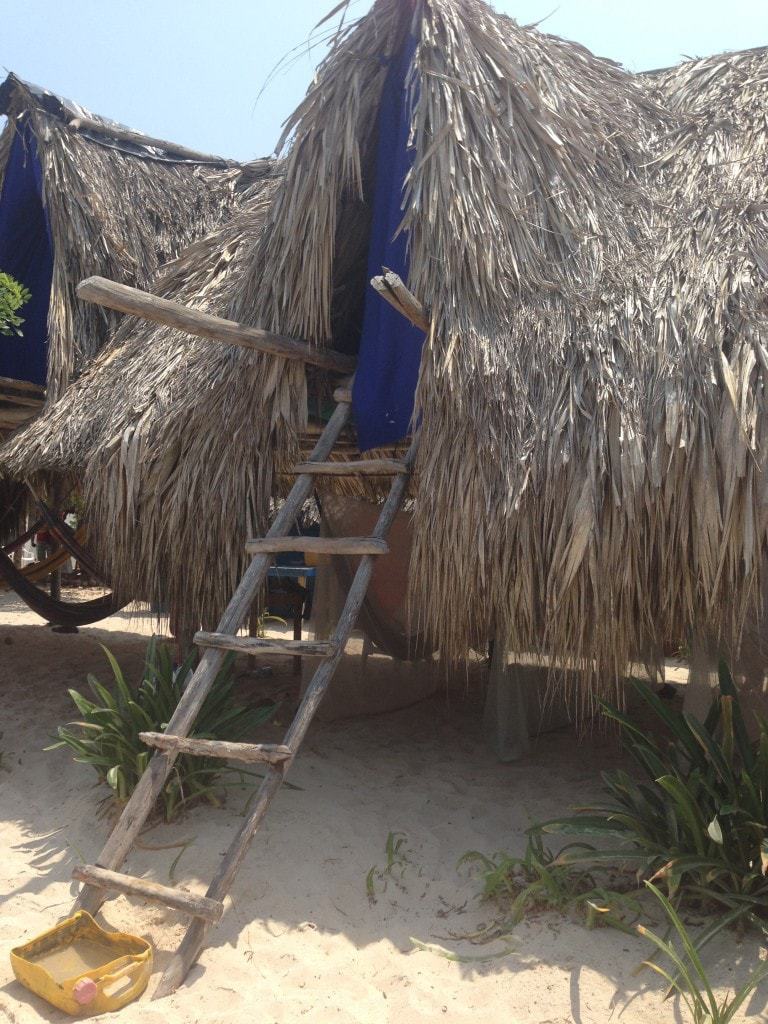 We 'checked in' at the first hostel we came across, Hostel Any, a row of stilted individual huts facing the ocean, with camp beds inside them or colourful hammocks below. The owner, a really easy going guy who seemed to pretty much live on the beach, rented us a hut for 40,000 cop, then went back to gazing dreamily at the sea. This was extremely rustic accommodation; just roll mats and sheets for furniture, a curtain for the door, wind for aircon and the sound of the sea to send you to sleep, but although the bathroom was – putting it lightly – extremely unpleasant, it was a great place to spend the night, and so peaceful!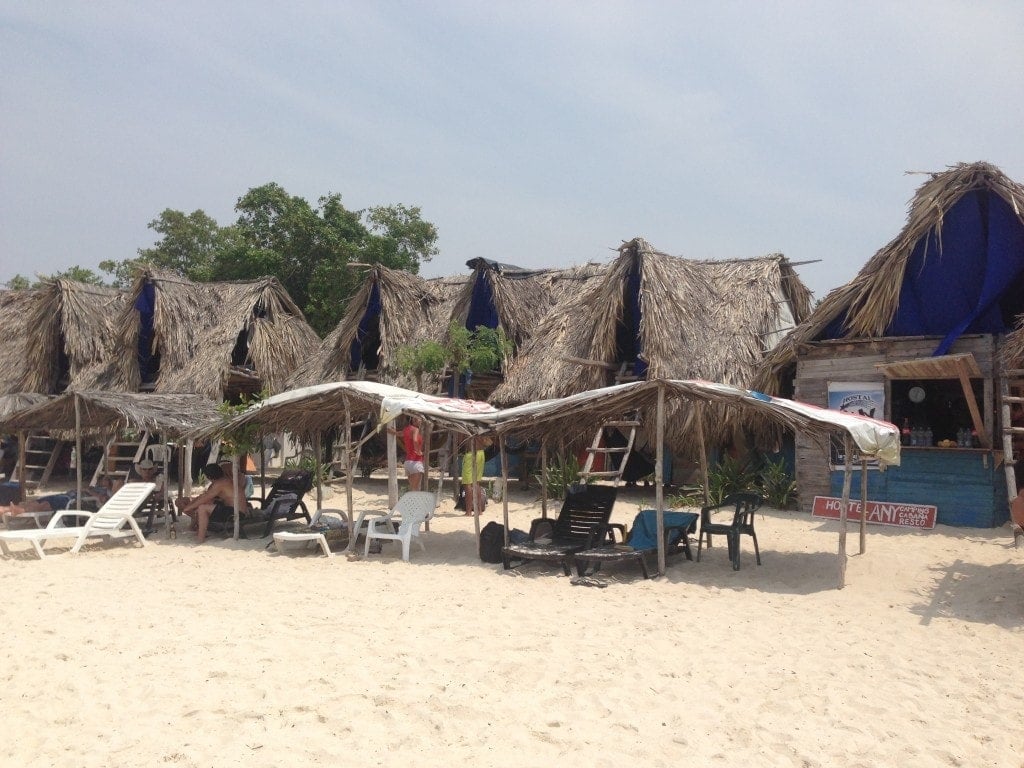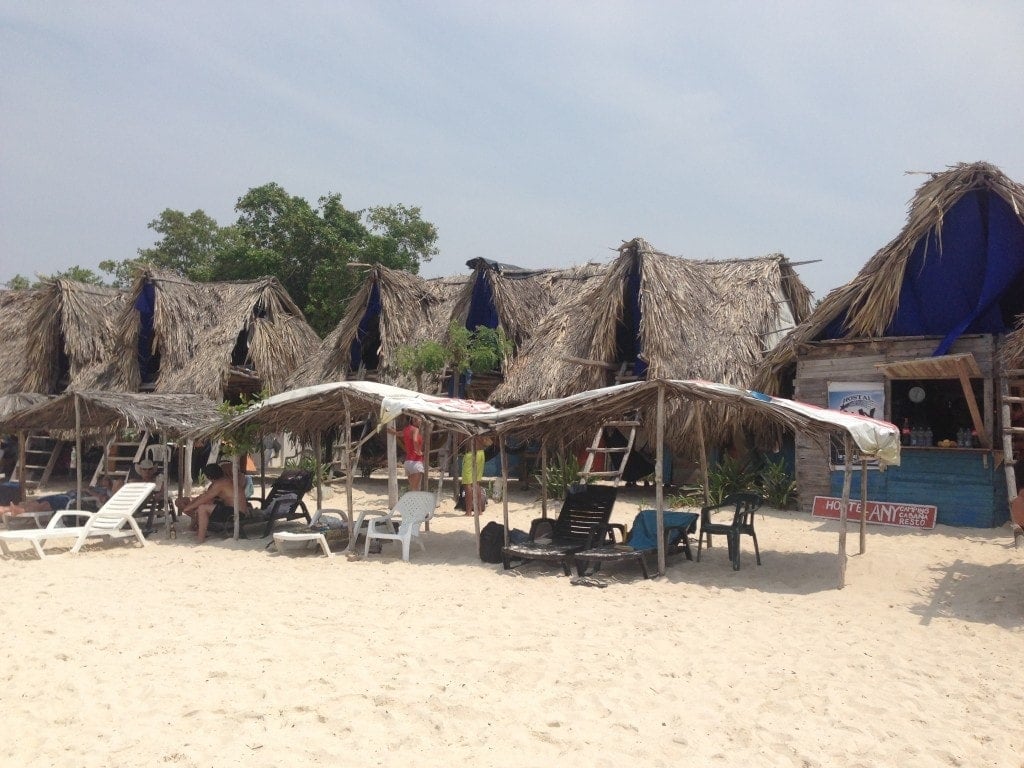 Once we'd dumped our bags, had a quick bit of lunch, and changed into swimwear, we set about enjoying one of the best beaches we've discovered so far. Hostel Any provides plastic loungers under palm frond shelters on the beach for shade, so we laid ourselves out in the warmth and got on with some good old fashioned relaxing. The beach is a truly gorgeous setting; warm, turquoise water that's so clear you can see your toes on the sandy bed, clean, ice-white sand that stretches for miles in either direction, twisted and sun-bleached trees at the waters edge, and further back towering coconut and palm trees swaying in the gentle breeze.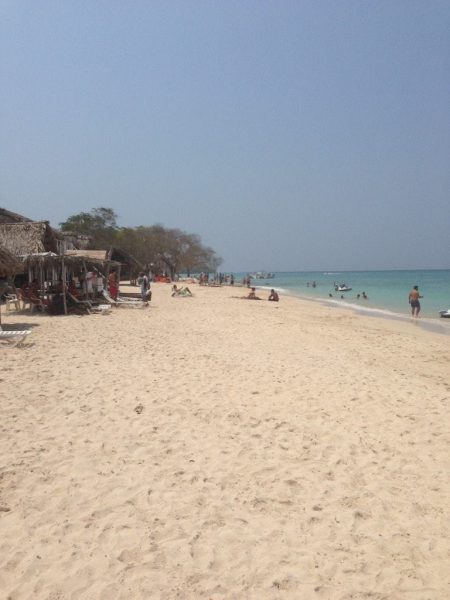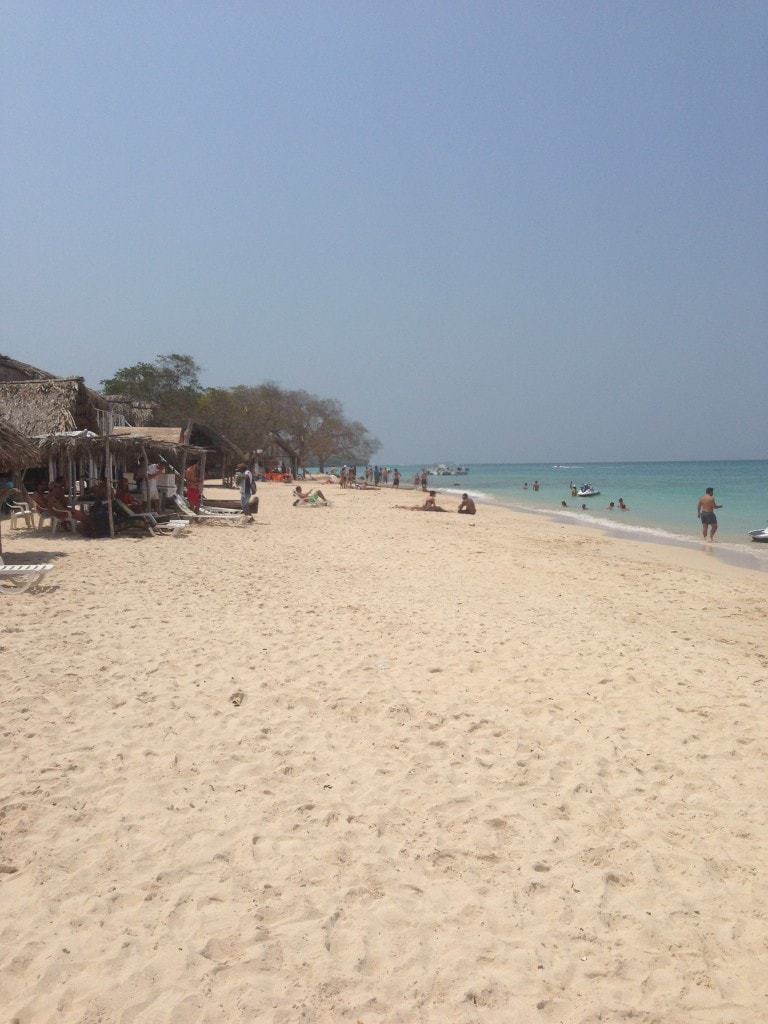 Further along the beach, where the tour boats and ferry come in, it's really busy and more touristy – with so many locals trying to sell you souvenirs and massages that it's difficult to finish a sentence without interrupting yourself with yet another 'no, gracias'. But where the cargo boat dropped us off, the beach is much quieter – if you do arrive by ferry I recommend to walk left and keep walking until you reach Hostel Any, at least. There are a lot less salespeople down this end, the beach is wider, and it's really empty, making it the perfect place to relax on the sand or in the gorgeous water.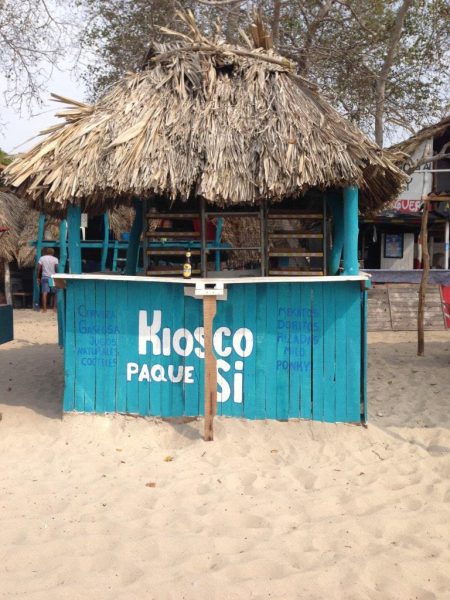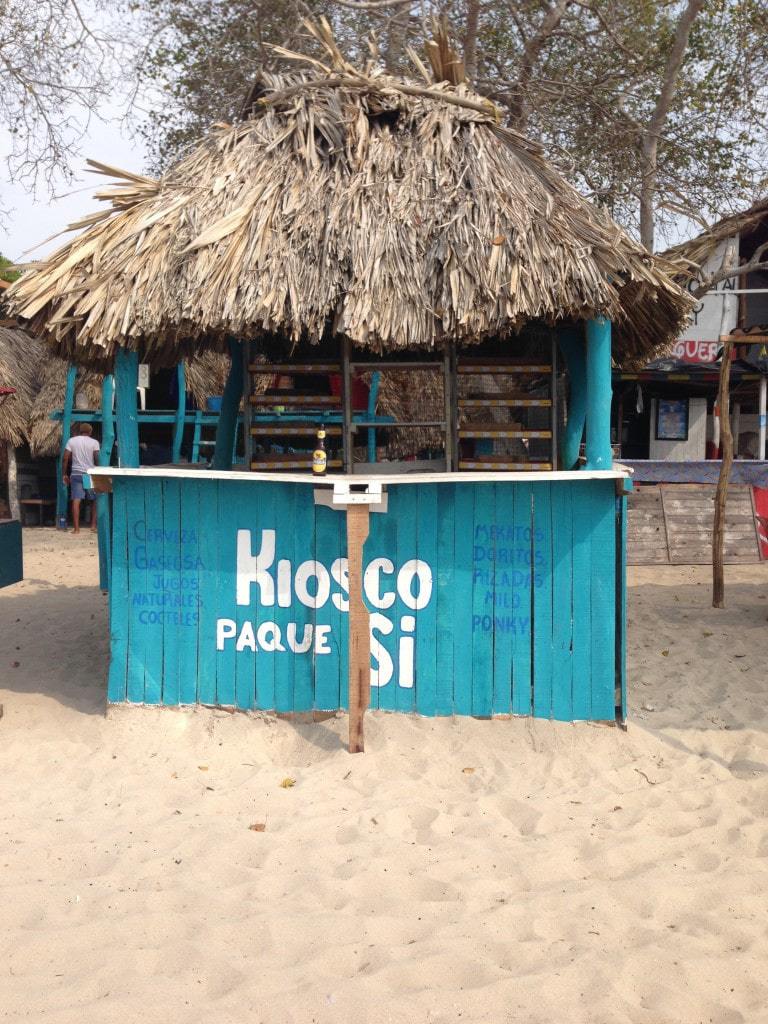 There is one local selling his wares in the beach who you absolutely should not turn away, though, and that's the Coco Loco man.
He came trundling along the beach, in his straw hat and long sleeved sweater, pushing a wheelbarrow full of coconuts and singing out 'coco loco piña colada coco locooooo…', sunglasses at the end of his nose and a machete glinting in his belt.
Obviously, it was impossible to resist the idea of a freshly made piña colada on a perfect Caribean beach, so we ordered two.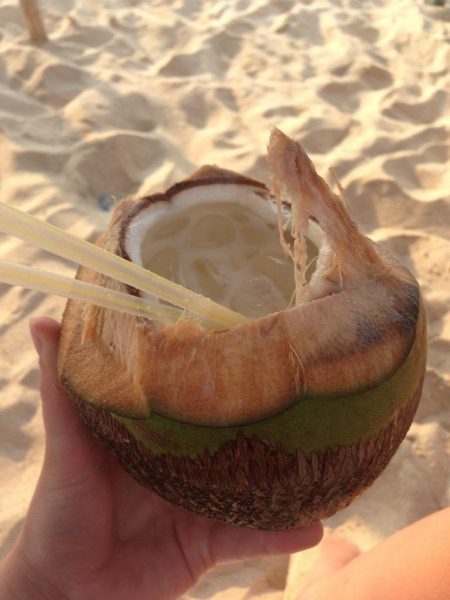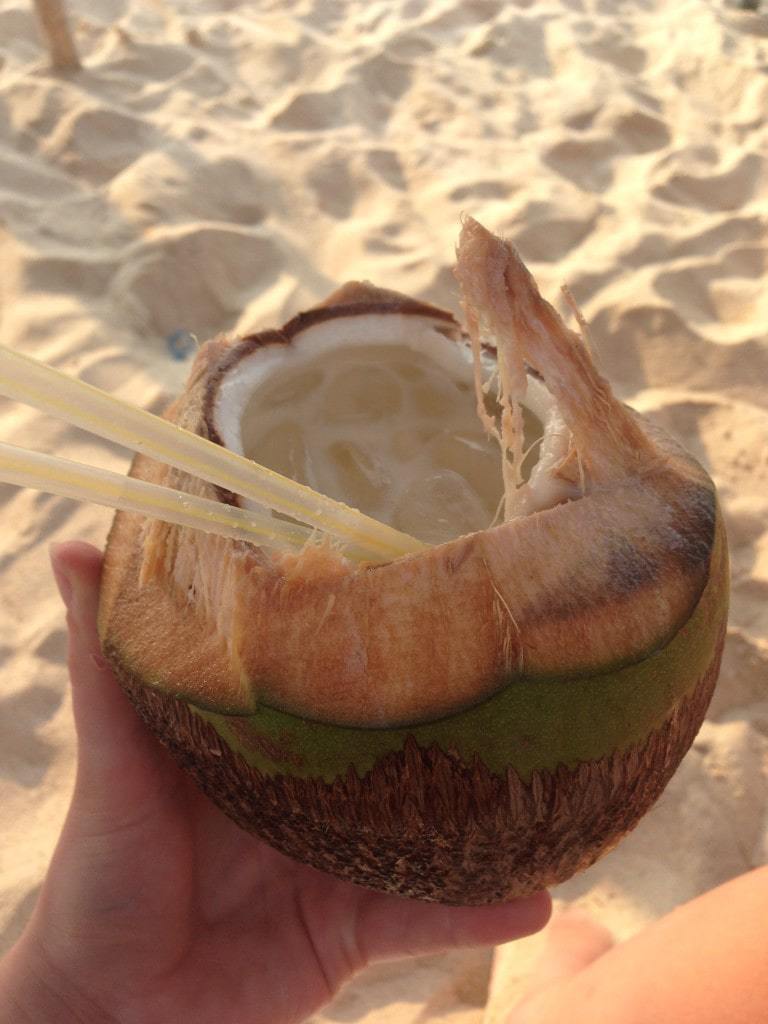 The coco loco man whipped out his machete, lopped the tops off two fresh coconuts, and filled them with a concoction of white rum and creamy liquor, before hacking a few chunks off a huge block of ice, again with the machete, assuring us "you gotta ice da coconut, amigo".
After one sip, I was in heaven, but we obviously didn't look impressed enough because Señor Coco Loco insisted on adding more rum – a lot more – to both our coconuts, pouring it from on high so it glistened in the air before hitting the creamy, now incredibly potent, cocktail. All that for just 10,000 COP (about £3)! We sipped our delicious cocktails on the beach as the sun began to set, turning the entire world – sky, sea, sand – a delicate peach and gold, then got back in the sea until the sun, a solid pink disk, slipped beneath the thin blue horizon.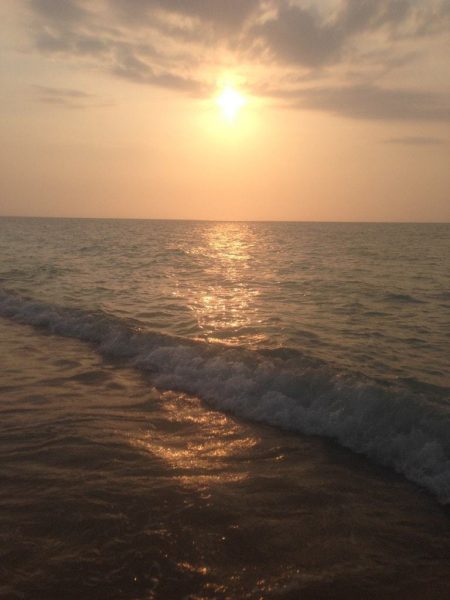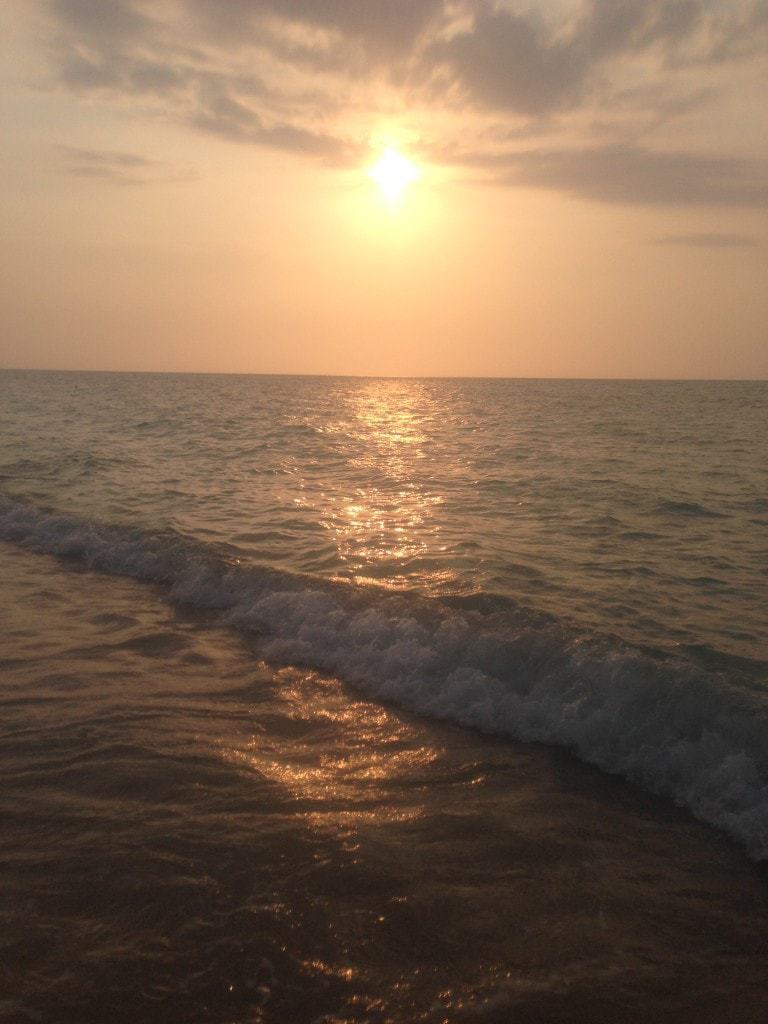 We ate dinner at a restaurant on the beach on a wonky table that was sinking into the sand. I had freshly caught red snapper with the usual carb heavy accompaniments of rice, potato, beans and fried bananas, which was gorgeous. The tables were all lit by candles in jars, and the sky overhead was a tangle of stars, more stars than I've seen in my life, creating shimmering clouds of light in the sky. It was utterly stunning, so beautiful it seemed surreal: even looking back just three weeks later I can hardly believe that it was a genuine place, that it really was so perfect.
I woke up early the next morning and snoozed until about 9am, listening to the soft crashing of the waves and watching the light grow stronger and brighter through the cracks in our wooden hut, first soft grey, then blue, and finally a brilliant white light. We passed a second day there, until the ferry left at 3:30, swimming and lazing on sun loungers, trying to soak up every available drop of tranquility before we left.
It may have some fierce competition from the likes of Tayrona Park, but the beach at Playa Blanca is up there  as one of the most beautiful we've found on our trip so far, and is well worth the expense and hassle of getting there.