Some posts on this site contain affiliate links. If you book or buy something through these links, I earn a small commission (at no extra cost to you). Take a look at my privacy policy for more information.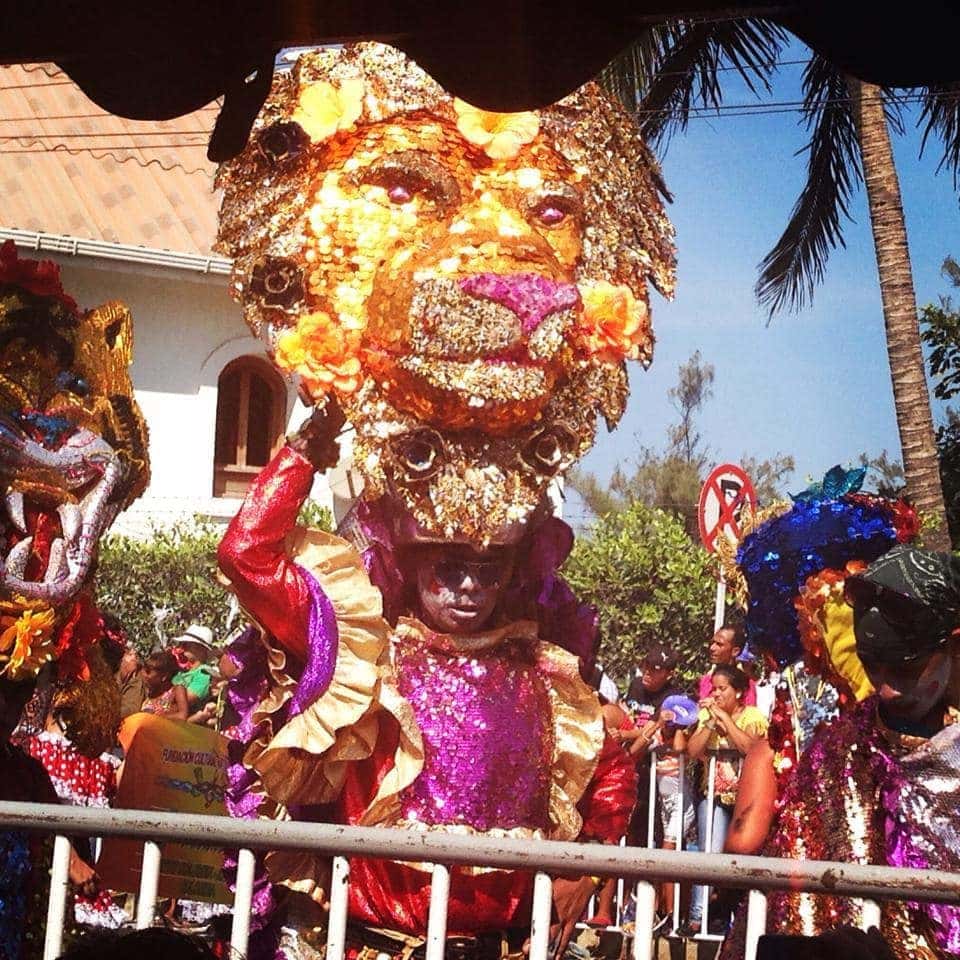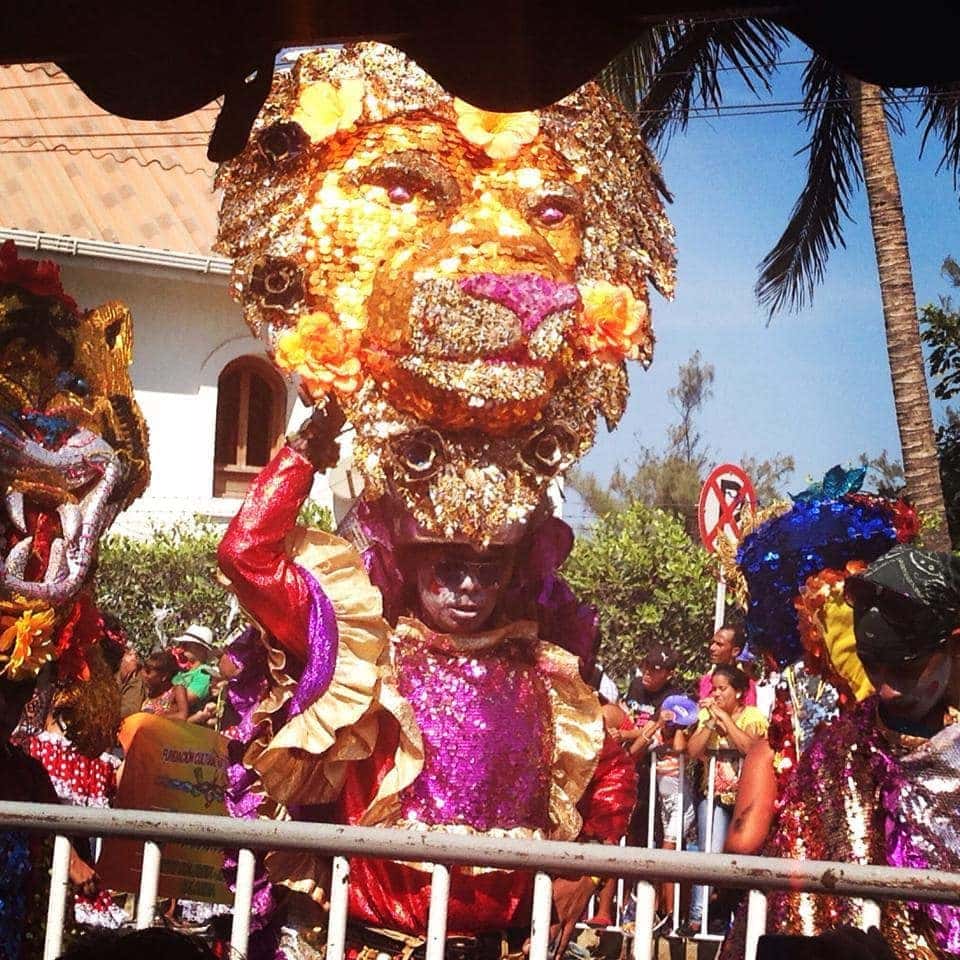 After three days in the gorgeous mountain town of Minca, surrounded by silence and the monochrome green of forest filled valleys, the colours and crowds of carnaval in Barranquilla suddenly sounded a little daunting. Especially because we had nowhere to stay in Barranquilla, and knew that every bed in town had been booked for months. Not wanting to fork out £100 a night for a hotel – and certainly not optimistic enough in our energy levels to partying until the first bus out of Barranquilla at six am the next day – we had no choice but to head back to Santa Marta and plan a day trip to Barranquilla for the first day of carnaval.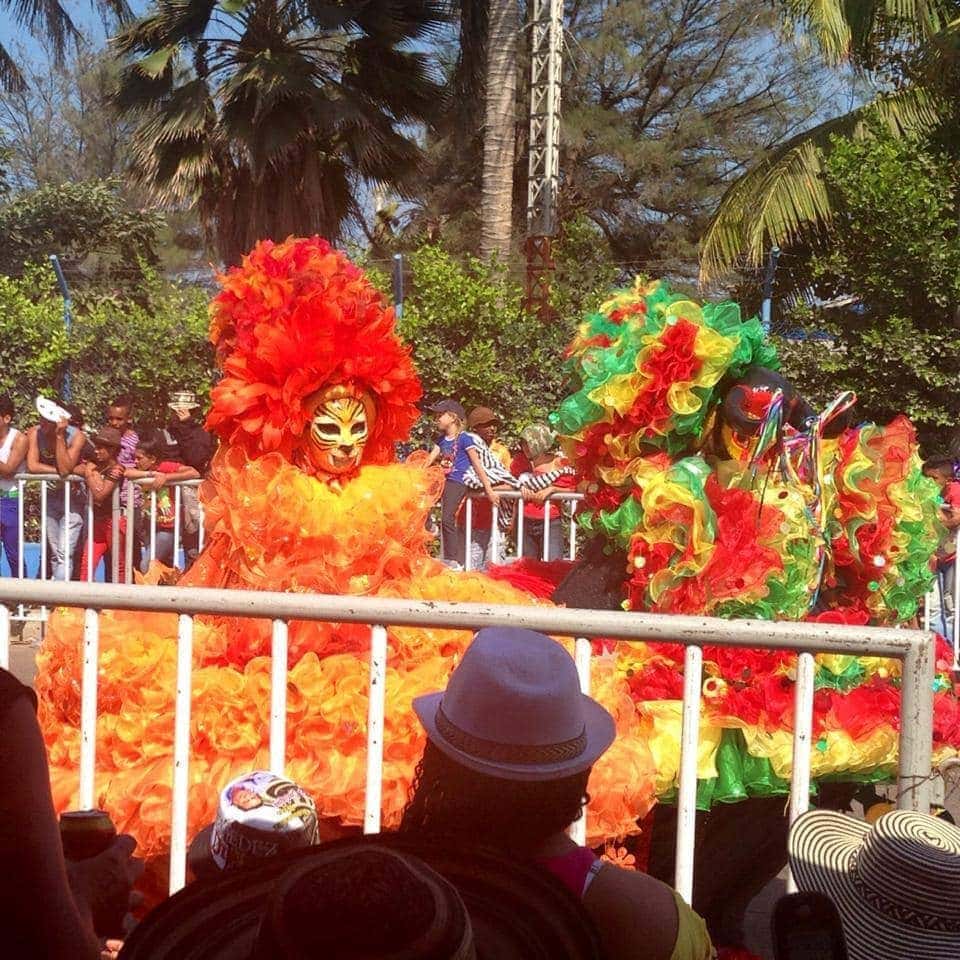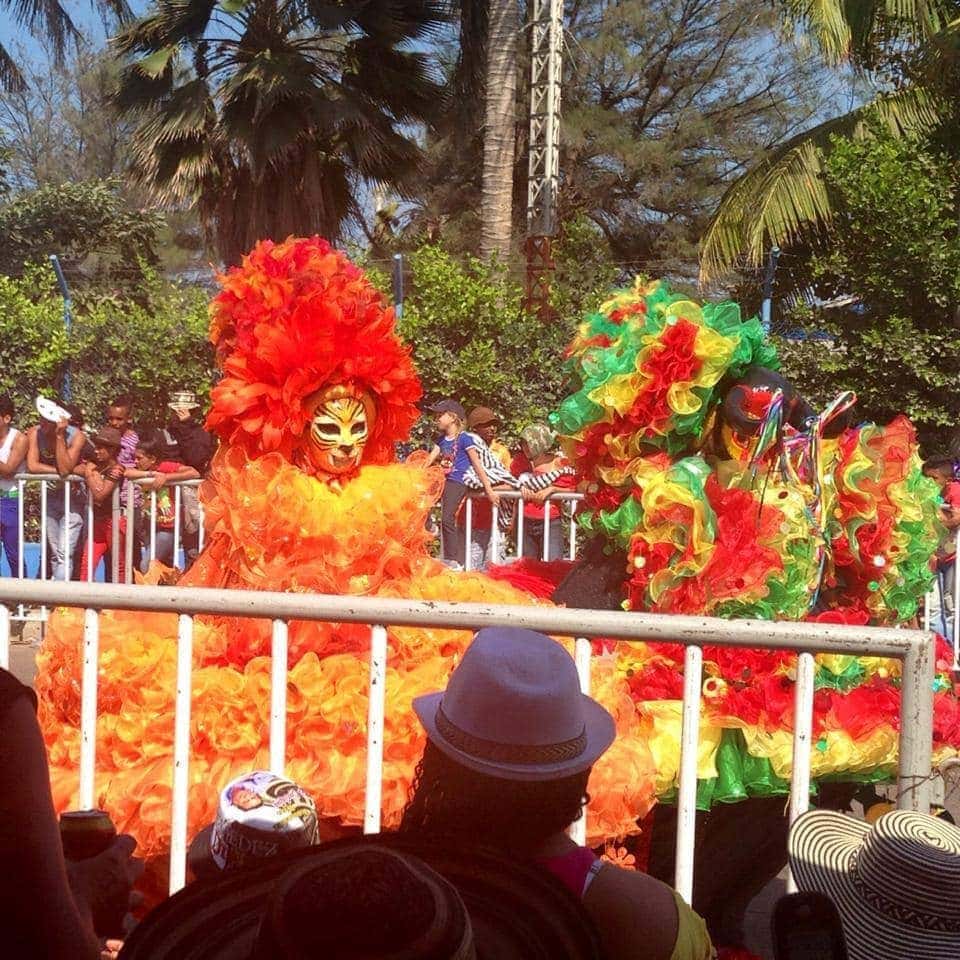 So, we headed back to the fabulous Drop Bear hostel, which was was holding a carnaval party that night – complete with a traditional band and a dance act out by the pool – so we sat outside with a few mojitos and got ourselves in the mood for carnaval!
The next morning we headed off to Barranquilla at about 10am with a bus load of Drop Bear guests and a bottle of the fiery, sambuca-esque Colombian drink Aquardiente being passed around (although, since I was hungover and it is a disgusting drink, I declined). Two hours later, we had arrived in a baking-hot, sticky Barranquilla filled with empty streets and closed shops; the whole city having drained to the centre to line the parade route.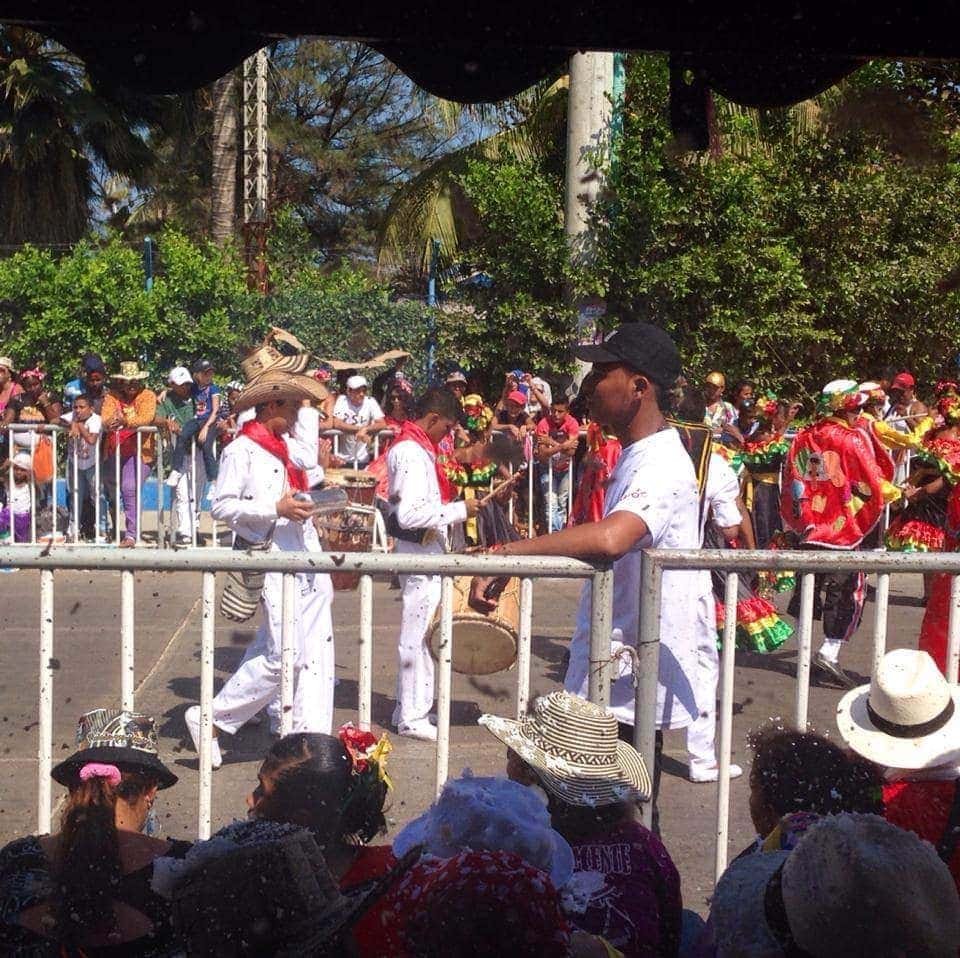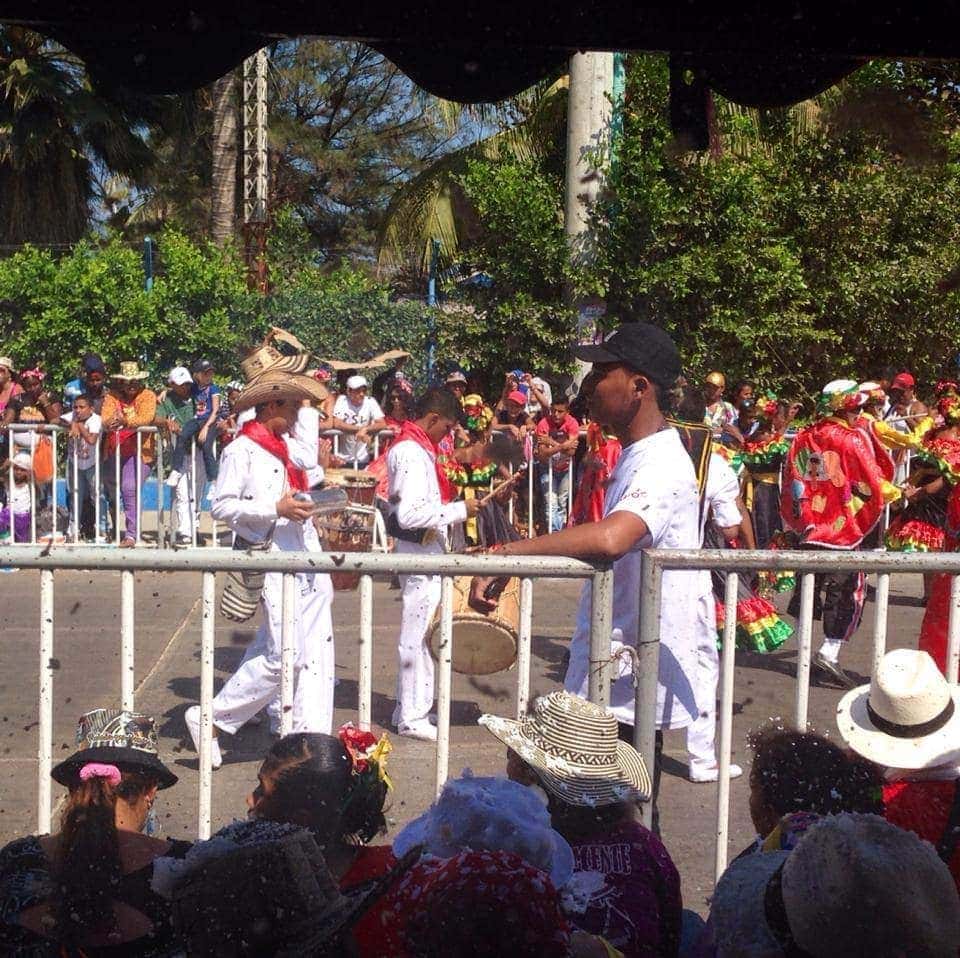 A short walk later and we had joined them, finding ourselves stumbling through a confused crowd of hawkers, barbecues, stalls laden with sombreros, wigs and costumes, guys with coolers full of beer, dancing locals, snow-cone carts, costumed party-goers, and endless foam ejected from aerosol spray canons that appeared to be the highlight of carnaval for most locals. Being gringos, we quickly became a popular target and were coated head to toe in foam, but it was all part of the atmosphere – so we bought our own canon and joined right in.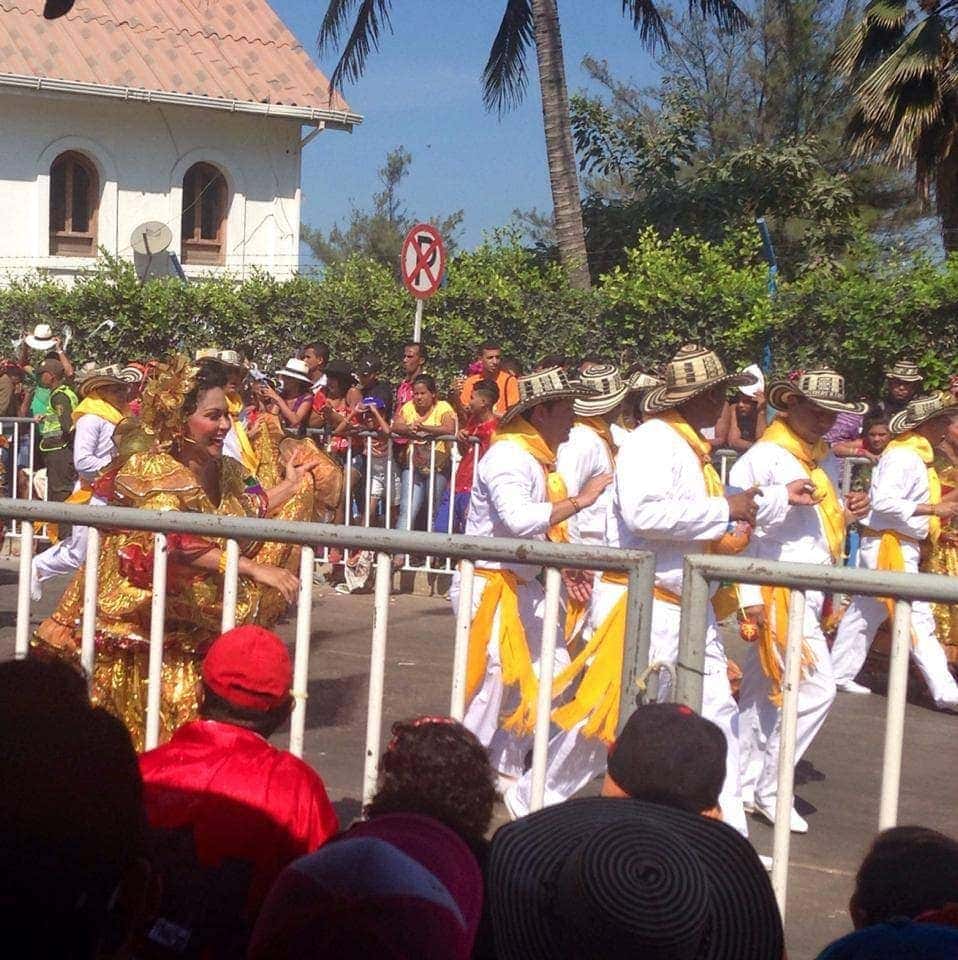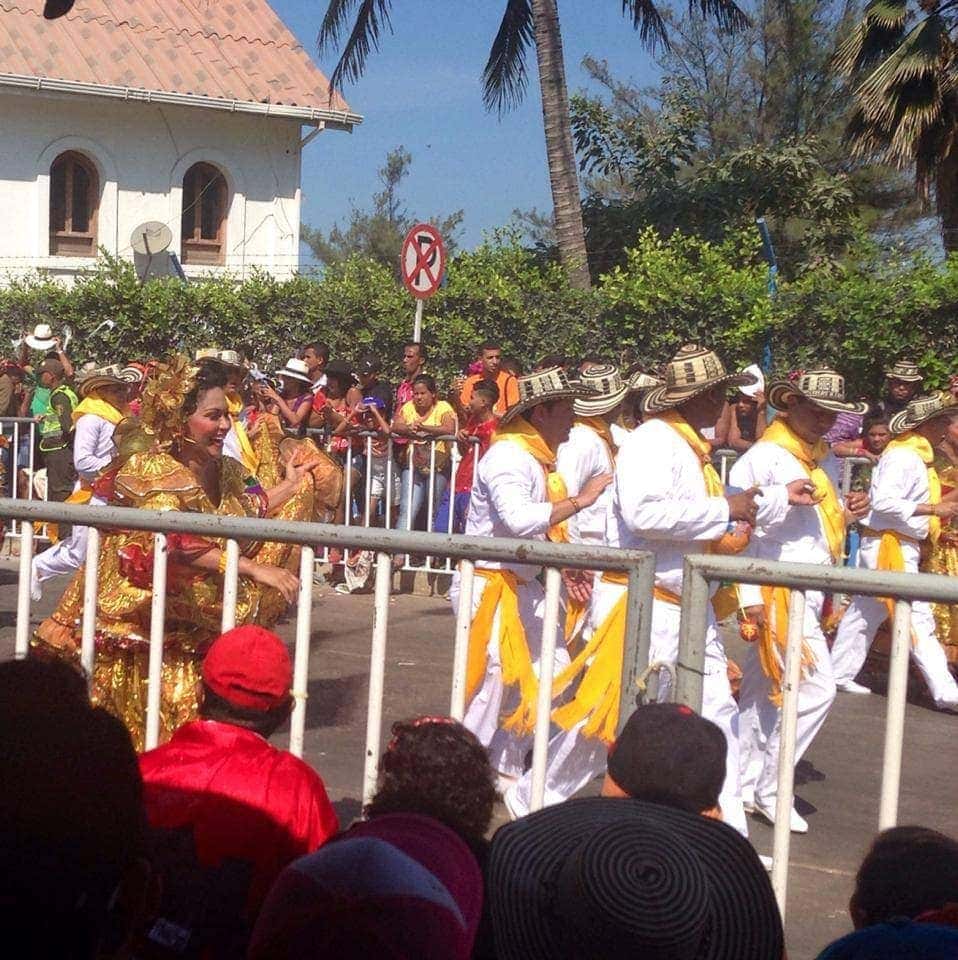 It took a long time for the parade to reach us – we were stuck right at the end of the route in the "cheap seats" with all the locals – so we made the most of that time by moving through the crowd to have a look. We ate some barbecued sausages skewered into kebabs with baked potatoes and peppers – delicious – and cooled down with super-sweet, syrupy snow cones, while we waited for the first signs of the parade, which eventually turned up in the shape of Colombia's favourite song of the moment: Mr Black's El Serrucho (not a day passes where we don't hear that song at least twice) which seemed to be the theme of the carnival. We bought seats in the shade to escape the painfully strong midday heat (15,000 COP each for seats, shade, and a view of the parade route which was otherwise obscured by the crowds) and watched the parade approach. Led by tributes to the military, police, navy, fireman and other services in Barranquilla, the parade finally got started. It was huge; far bigger and longer than I was expecting (a good three or four hours) with endless groups of hip-shaking dancers, marching bands, people in costumes so varied it was ridiculous, folk dancers in traditional dress, floats, and celebrities (including a few from the Colombian football team), all ploughing forwards with joyful smiles in the heat to the endless, pulsing beat of cumbria – although some of the dancers seemed to have flagged a little by the time they reached us.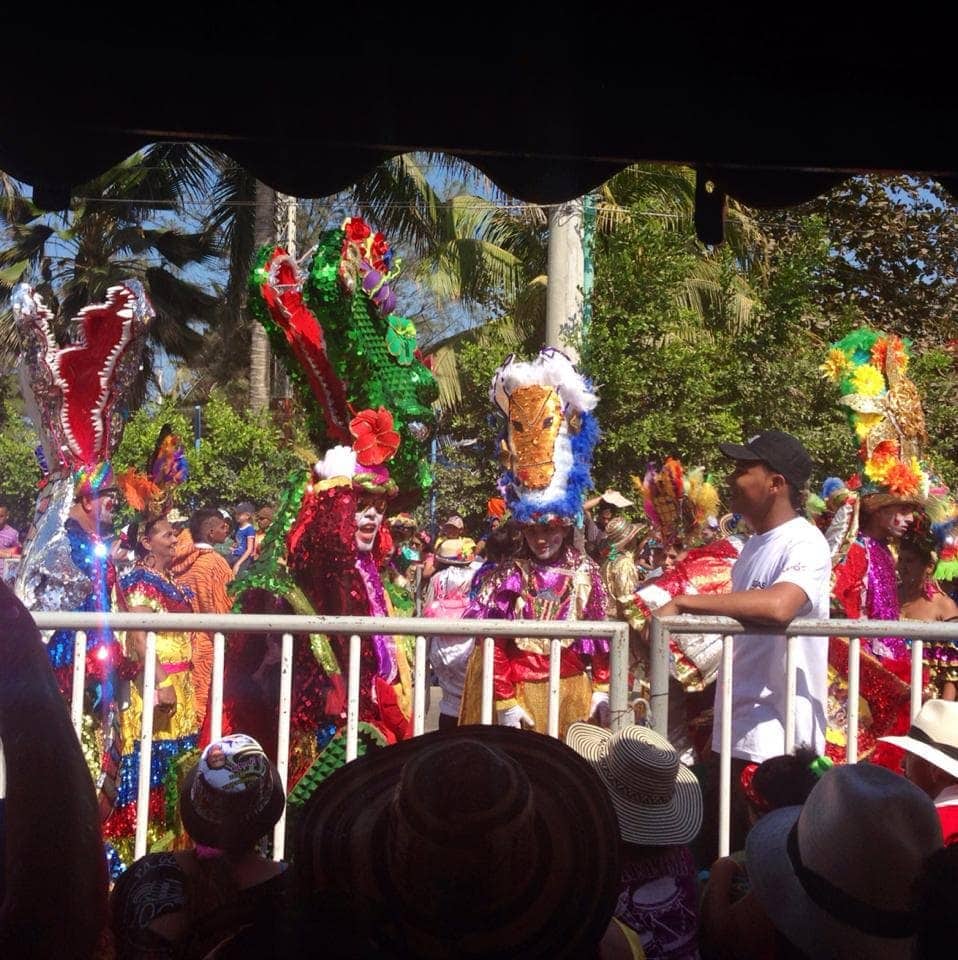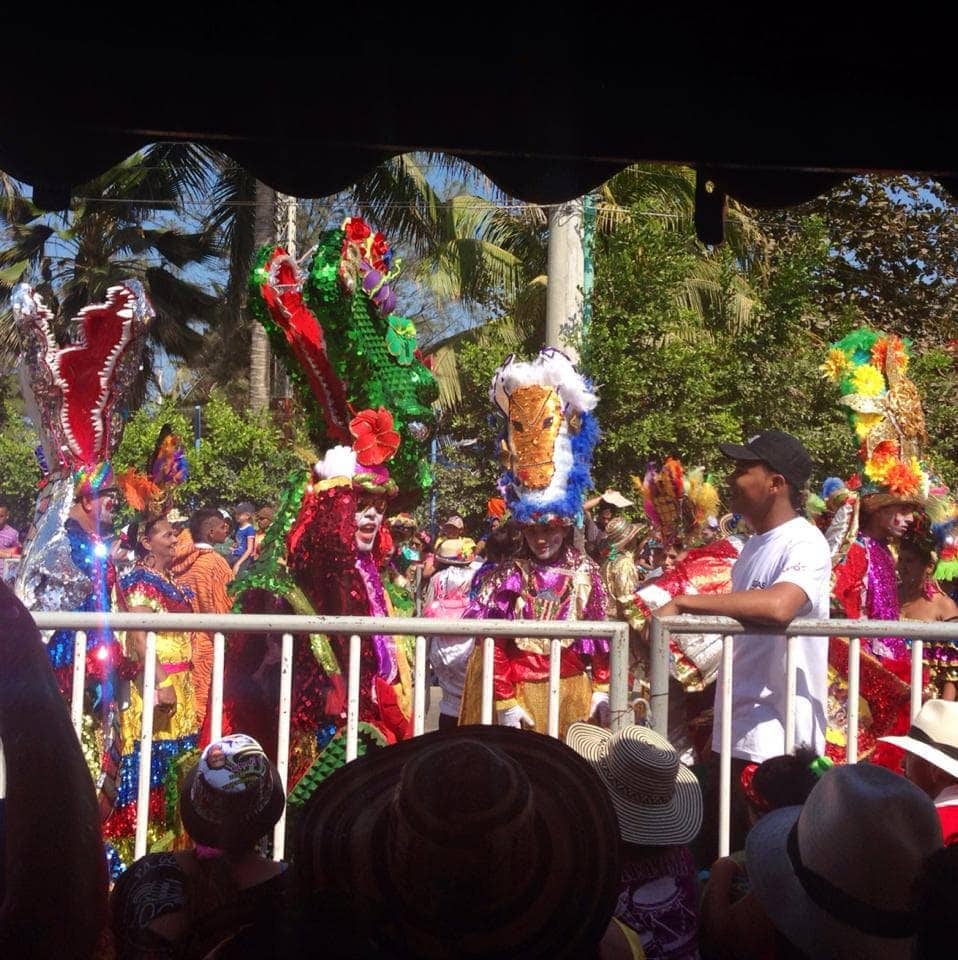 The first day of Carnaval, on the Saturday before Ash Wednesday, is the Battle of the Flowers and has the biggest parade consisting of the greatest and most colourful creations. The floats were particularly incredible, one of which housed an enormous, animatronic caiman opening and closing it's bright green jaws over the head of a pink-frilled carnaval princess. I loved the gaudily pink float from which Carnaval Queen Maria Margarita Diazgranados Gerlein (who had her own theme song) waved to the adoring (and they really were adoring) crowds in her huge, tinselled, hot-pink cupcake dress. The dancers were all incredible, as well, with frilled dresses whose swirling colours evoked the spirit of a battle of flowers, and whose shaking hips were almost impossible to believe. So many different costumes emerged throughout the parade, each one more bizarre than the last: men in drag, giant babies, a huge crowd of neon green snakes, Obama and Osama walking side by side, Dracula, bears, caimans, Mr T… the list goes on. Everything was a bit surreal, coated in foam with lurching shapes and colours, and a surging crowd.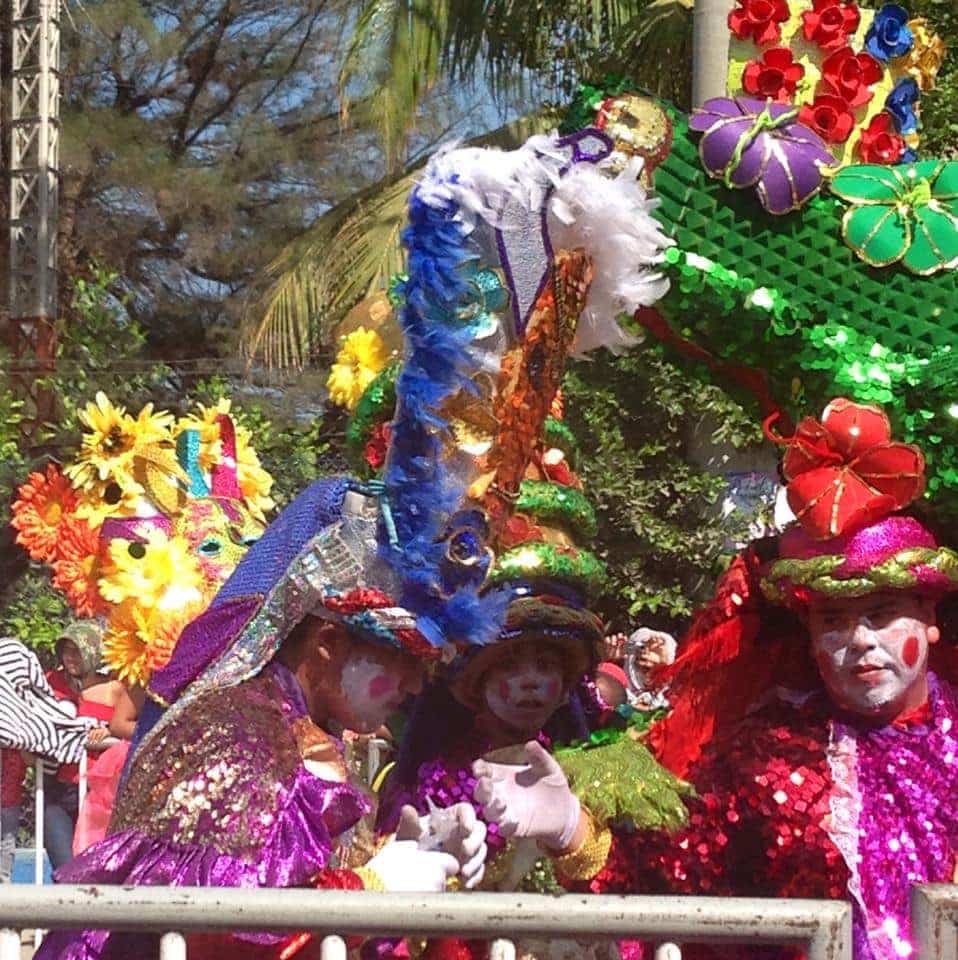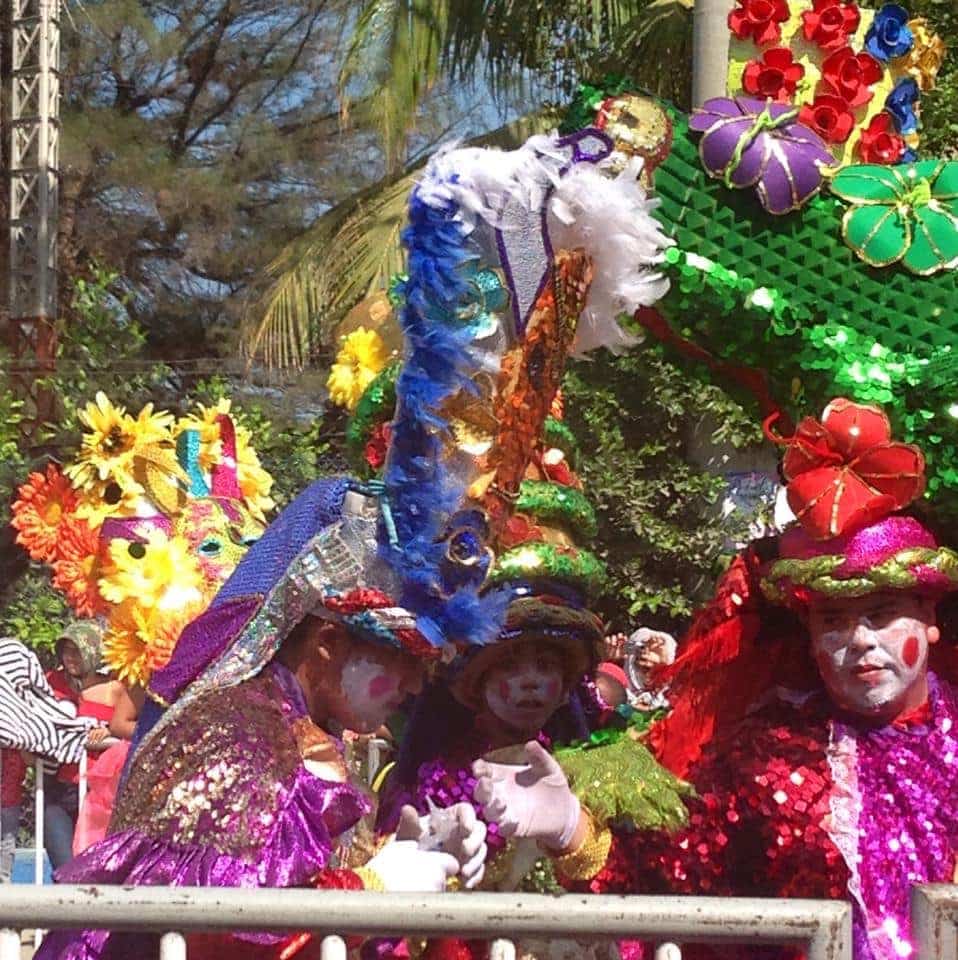 Eventually, the parade became a bit much, so we backed out of the 'seating' area, which had become a slippery, foamy whirlpool of bodies shoving and standing on chairs, desperate for a glimpse of some Colombian pop princess. En route, Sam had his phone stolen from his pocket, which added to our sense of despair at the claustrophobic crowd and giddy kaleidoscope of parade and pumping music. I thought we'd have to go home early, but then we bumped into a few friends from Drop Bear and a few drinks and jokes with them soon made us feel better. Pretty soon, we found ourselves surrounded by locals wanting to talk to us, introduce themselves, and take photos with us – especially with Sam, who for some reason is incredibly popular with twelve year old Colombian girls! They would shyly pose for a photo and then run off shrieking with delight. It was a bizarre experience, but everyone was so genuinely friendly and lovely, and so excited to meet us (two white, blonde people must look so out of place in that dark skinned, dark haired mass of bodies) that it was a really fun experience, and the highlight of carnaval for me. A few men came up to me and just told me their names and shook my hand – happily chatting away to me even though I couldn't understand a word. One girl in particular, a skinny, beautiful little eight year old with huge, shining dark eyes, really caught our attention and we made a big fuss of her; she came up to ask for a photo and rung her hands with such exquisite delight when we said yes, smiling her massive happy smile, that we all just fell for her instantly.
At the end of the parade, we walked with her family through the pressing crowd, until it surged through a bottleneck gap at the end of the street and we were separated from our new friend. Luckily, about thirty minutes later her bus stopped in traffic next to us and we spotter her waving madly from the window, so we ran over for a last quick high-five and a kiss on the cheek.
My experience of carnaval was surreal and dreamlike – at times almost nightmarish, given the hideous crowds, stolen phone and me cutting my foot on the walk back to the bus, having to patch myself with a scarf and limp on so that we didn't miss it – but the experience that was totally worth it, to meet all those wonderful Colombians who welcomed us into their tradition with open arms and wide smiles, and especially to meet that gorgeous little girl, so pleased to see us and to practice her English "good morning". Although we couldn't get back for any of the other days of celebration, it was an incredible experience and I'm so glad to have shared in it.
Information
Book a hostel months in advance if you plan to stay in Barranquilla, and be prepared to spend a lot more than usual for a bed.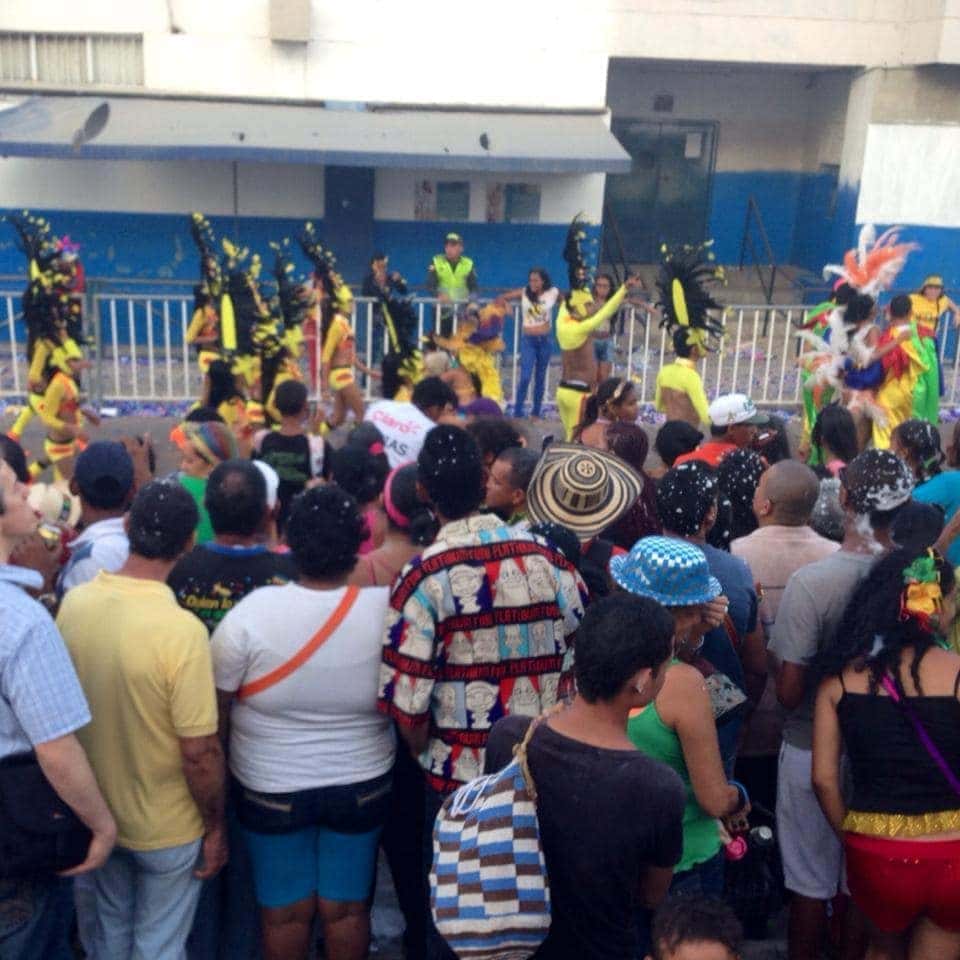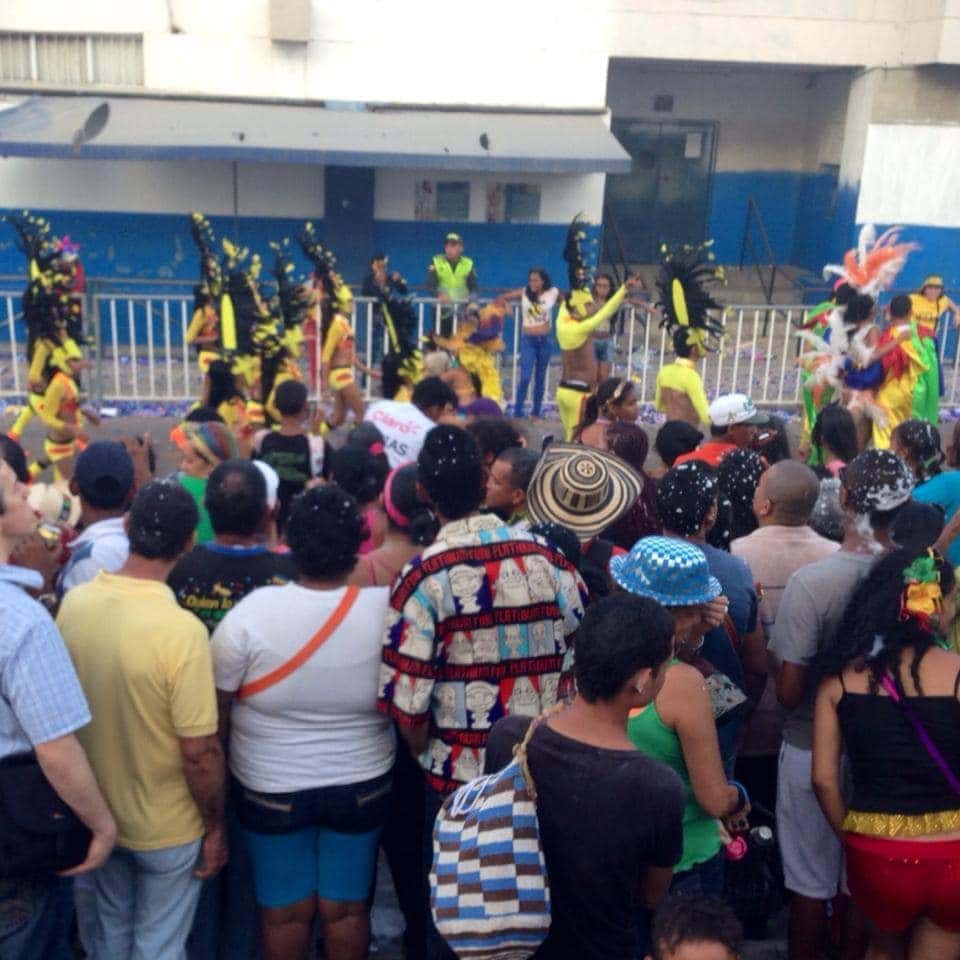 Alternatively, MarSol run buses throughout the day from Santa Marta (and other buses leave from the Terminal) for about 20,000 COP.
Apparently, you can book tickets for VIP areas in front of hotels and other private sections of the parade route – for a clearer view and less crowds – although I preferred getting stuck in with the locals towards the end of the parade route.
Don't take valuables! Have as little cash as you need on you and keep it in a zippered bag or money belt. We met numerous people who had unfortunately been pick-pocketed or had their bags slashed, and unfortunately Sam was unlucky enough to get his phone stolen. It's a common trick, someone will spray foam straight into your face and eyes, and while you wipe them clear they will lift whatever is in your pocket. Be vigilant and if possible get an anti-theft bag.