Some posts on this site contain affiliate links. If you book or buy something through these links, I earn a small commission (at no extra cost to you). Take a look at my privacy policy for more information.
From my diaries backpacking around South America in 2014. Don't miss Minca Part One and Part Two.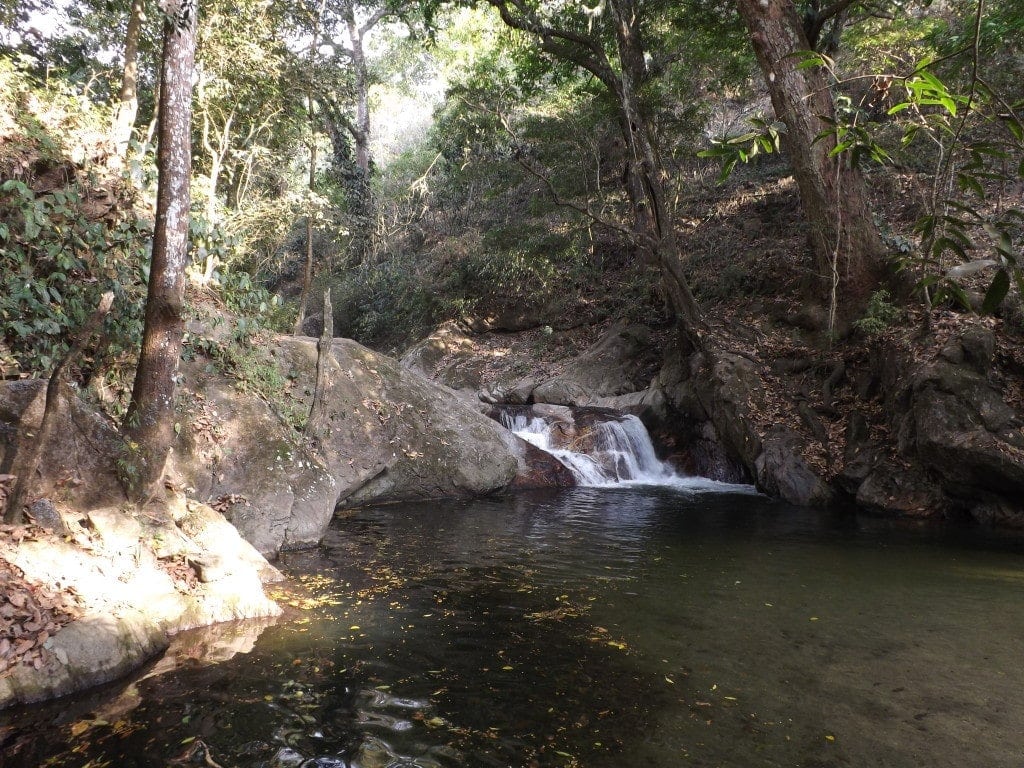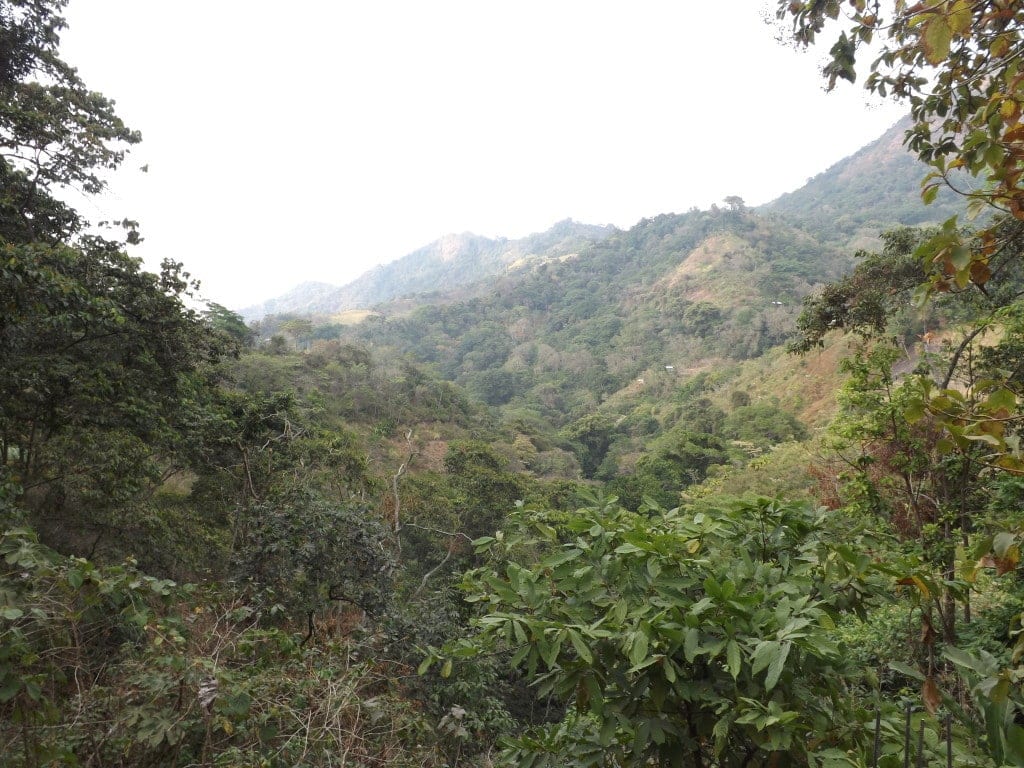 Our original plan was to stay in Minca two nights, but after our second night – even after the agony of the seven hour hike the day before – we just couldn't tear ourselves away, and booked into Casa Loma for a third night. If it hadn't been for carnival on Saturday that week, we probably would have stayed even longer – in fact I'd happily head back there right now if we didn't have a whole continent waiting for us.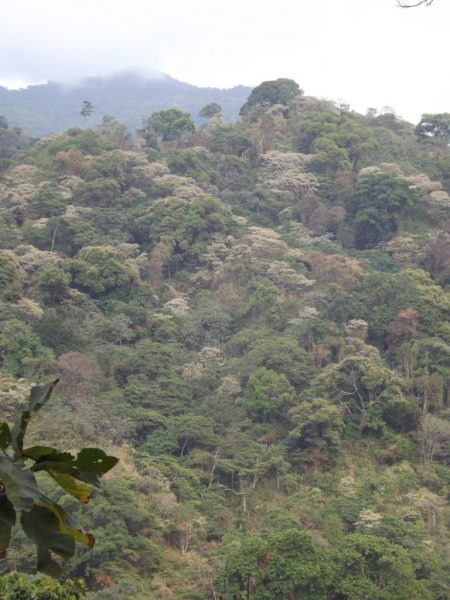 The third day, still aching from our long and mainly uphill hike, we decided to take it easy. That morning, we booked massages with the local yoga teacher and Reiki healer – who visits Casa Loma most mornings to run a yoga class (which we skipped) on decking at the top of the hill, facing the forest and overlooking the valley in what has to be one of the most beautiful places for morning yoga on earth. The massage wasn't entirely what I'd expected. It took place in the same place as the yoga class, facing the vivid green forest filled with darting birds and colourful butterflies, and began with me seated on a stool, practicing good posture (apparantly I hold my chin too high) and breathing excerices, including fire breathing (fast breaths in and out, heaving my diaphragm up and down). The instructor, a very enthusiastic guy with a growling voice and a tendency to run off on tangents on the importance of energy, told me to open my nostrils wide when breathing in, to allow maximum oxygen to reach the 'energy centre' at the front of my brain, just at the top of the nose. "More oxygen, more energy, better perception, better consciousness".
After the breathing exercises came the proper massage, which was great. Sam complained that his was too hard, with too much pressure, but that's my favourite kind of massage. I felt my joints click and soften up, slowly recovering from the strains of yesterday. Slightly off-putting were the humming noises, chants, loud commands for fire breathing (very difficult when you're face down on a massage bed) at random intervals and continuous insistences for me to let Gaia in to speak to me ("she has many gifts for you") coming from the masseuse, but, ignoring those, it was a really good massage and exactly what I needed after the dreaded hike of the day before.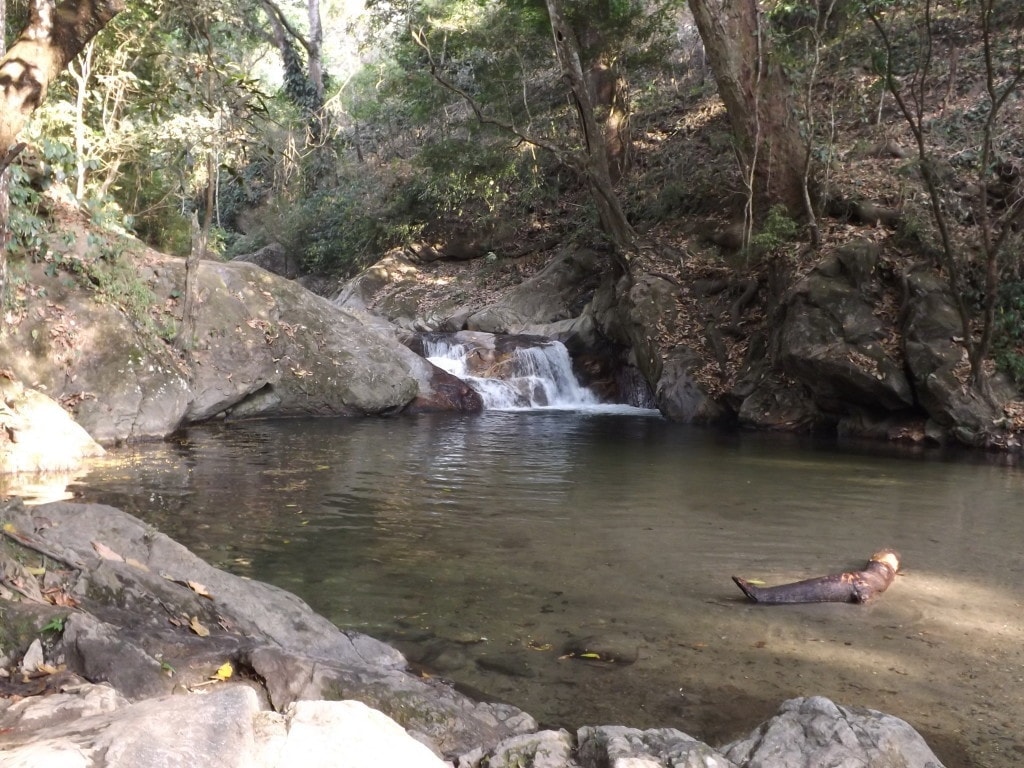 After our massage, we headed to a wifi cafe in Minca for lunch (there's no wifi at Casa Loma, which completely adds to the peace up there) and I cooled off with a fresh, natural lemonade; my favourite drink in Colombia (sweet and sour and made with lots of sugar!). Afterwards, we set off to the nearby Pozos Azules, a series of deep swimming holes fed by small waterfalls.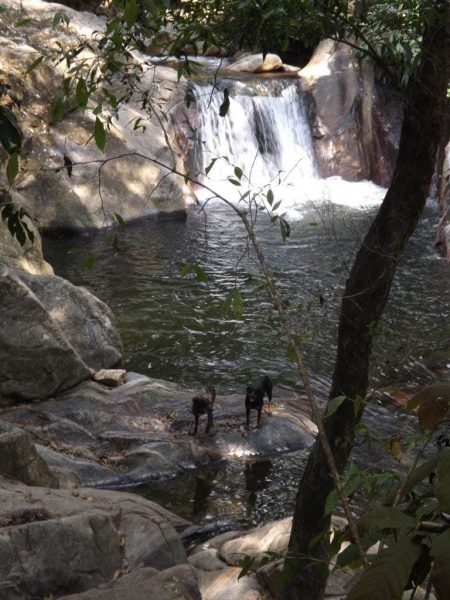 We couldn't face another walk – even the hour or so it would take to get to the pools – and there are no car taxis in Minca, so (Dad, don't read this part) we took a moto taxi, which is a popular and cheap form of transport in Colombia. Basically, we hopped on the back of motorbikes and were driven to the pools. The drivers know every crack in the roads around Minca and are clearly really experienced, but that didn't stop my heart leaping into my throat as we sped down a bumpy dirt track, me clinging to the back of the bike for dear life. The ride was very nerve racking but also pretty fun, and since I've never been on a motorbike before I felt pretty pleased with myself for having braved it.
At the pools, we bumped into Ed, the owner of Casa Elemento, for a third time and he recommended us to climb up to the second pool which is much bigger and into which you can jump from the top of the waterfall (about seven foot or so above the water level). So, we headed up there and slipped into icy cold but incredibly clean, crystal-clear water which tasted fantastic. The pool was pretty secluded, with just three other people there besides us, and it was a gorgeous experience to swim in the river completely surrounded by thick, green forest and a penetrating silence. Just like at the Cascades Marinkas, the rocks around the pool were full of quartz which made the water sparkle as though filled with gold glitter.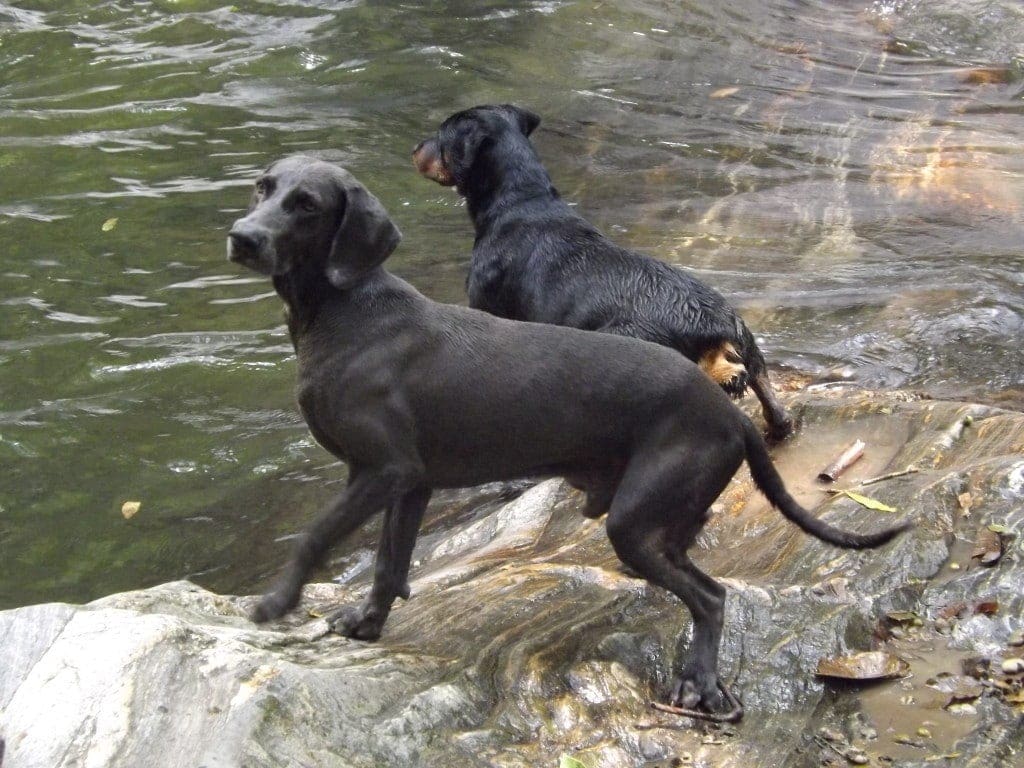 There was a local boy at the pools with his two dogs – big, silly animals which kept chasing the same stick and then scrabbling out of the pool with it clamped firmly in both their mouths – and he climbed up to the top of the waterfall to jump in. Sam, and another tourist who was there with his girlfriend, soon followed suit, plunging into the deep water from the top of the fall, with the local telling them both exactly where to jump from and where to aim for. As recently as five years ago, it was unsafe to travel to Minca, so the locals there, even more than the rest of Colombia, are extremely grateful for the tourism which is bringing a lot of profit to their little town, and are therefore very friendly, helpful and protective of tourists. The boy appointed himself our unofficial guide, letting us play with the dogs and showing us where it was safe to jump in.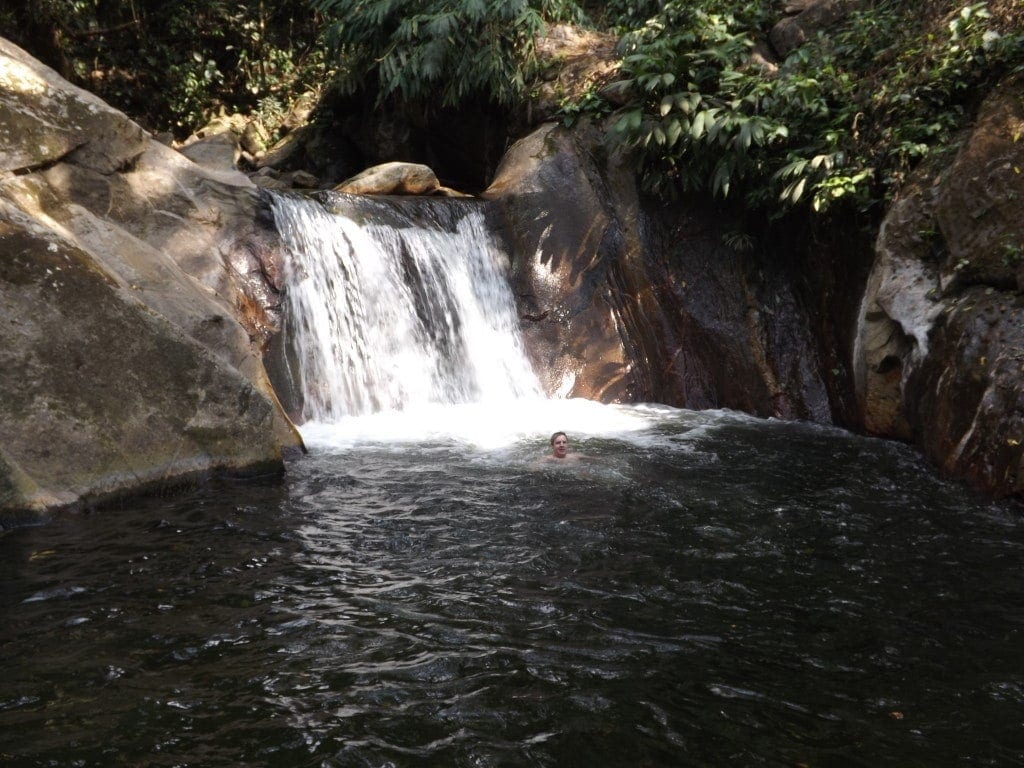 Having tested the depth of the water, I plucked up the courage to jump off one of the smaller rocks into the pool. I am a notorious worrier and have a tendency to over-think everything; I've also developed a fear of heights in the last few years which is pretty new to the girl who once climbed out of her attic bedroom window to sit on the roof. One of my New Years resolutions was to try to be more brave, to "jump in without analysing first", so I decided that I also had to have a go at jumping off the top of the fall. But, once up there, and even with repeated assurances from Sam and the others who had all gone before me, I found that I could't do it. My heart raced in my throat, my whole body trembled so that my knees jerked with the shaking, and absolutely nothing could get me to take the leap forward once I'd looked down. So, feeling like a complete failure and very miserable about it, I had to climb back down on foot.
Later on, back at Casa Loma, I consoled myself with the knowledge that I'd been brave enough to ride on the back of a motorbike, and to jump in from a smaller rock, but even so if sort of clouded over the fun of the afternoon, because I was so dissapointed with myself. Next time the opportunity comes to jump in feet first, I'm going to force myself to take it; because a huge part of travelling is to grow, get braver, and face things that you would normally avoid.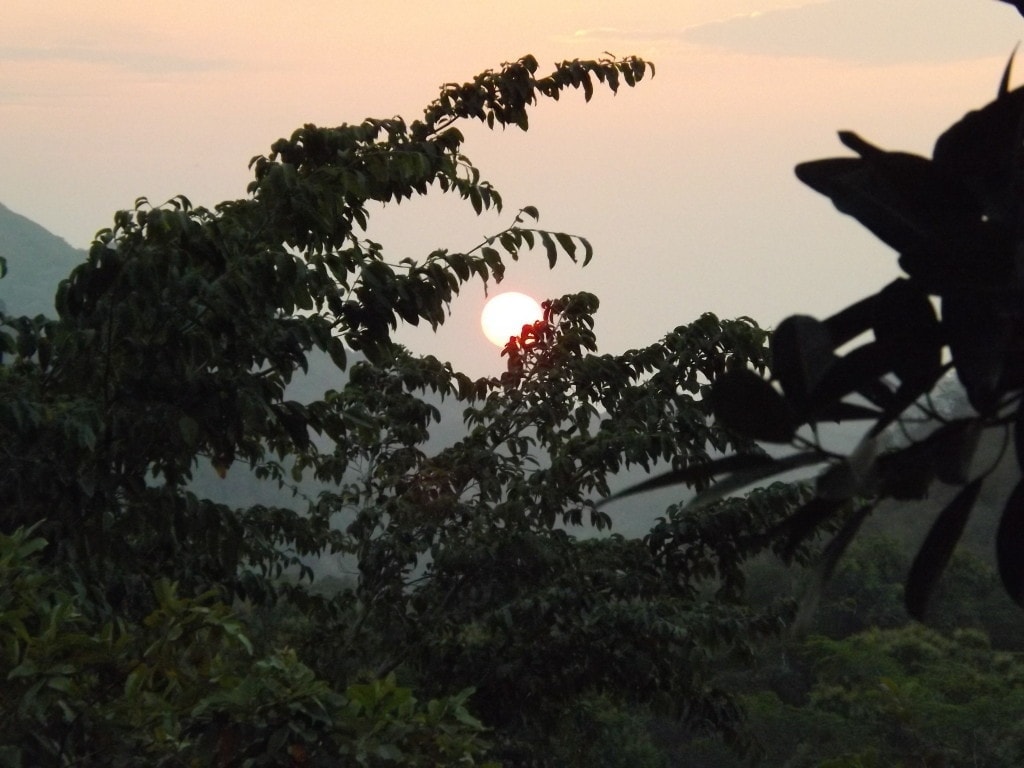 The day ended with a "Forest Cinema" at Casa Loma after dinner; a Wes Anderson film projected onto a screen up on the decking on the hill where the yoga class is held. Every now and again, the scream of a Megabug (see part two) would drown out some of the dialogue, but that's all part of the experience, and there's nothing like watching a film under an open sky filled with more stars than I've seen in a long time.
It was our last night in Minca, and we'd well and truly fallen in love, so the next day we slunk back to Santa Marta with heavy hearts. But, carnaval was calling, so we had to leave all the magic of Minca behind and head back to the real world once again.