Some posts on this site contain affiliate links. If you book or buy something through these links, I earn a small commission (at no extra cost to you). Take a look at my privacy policy for more information.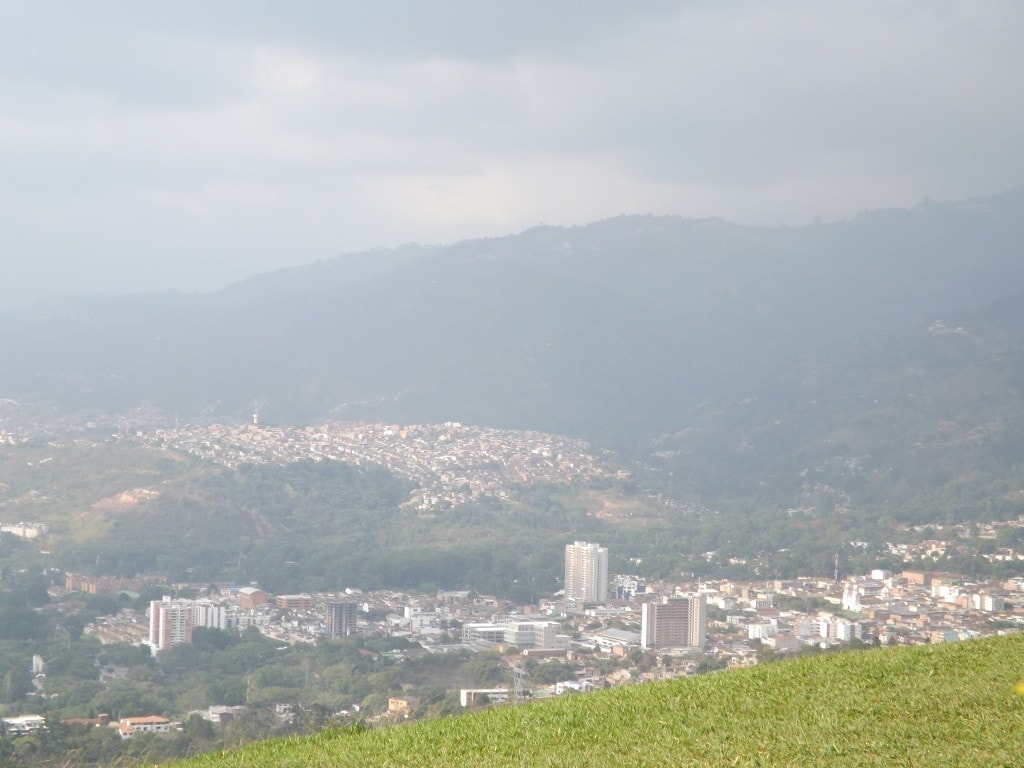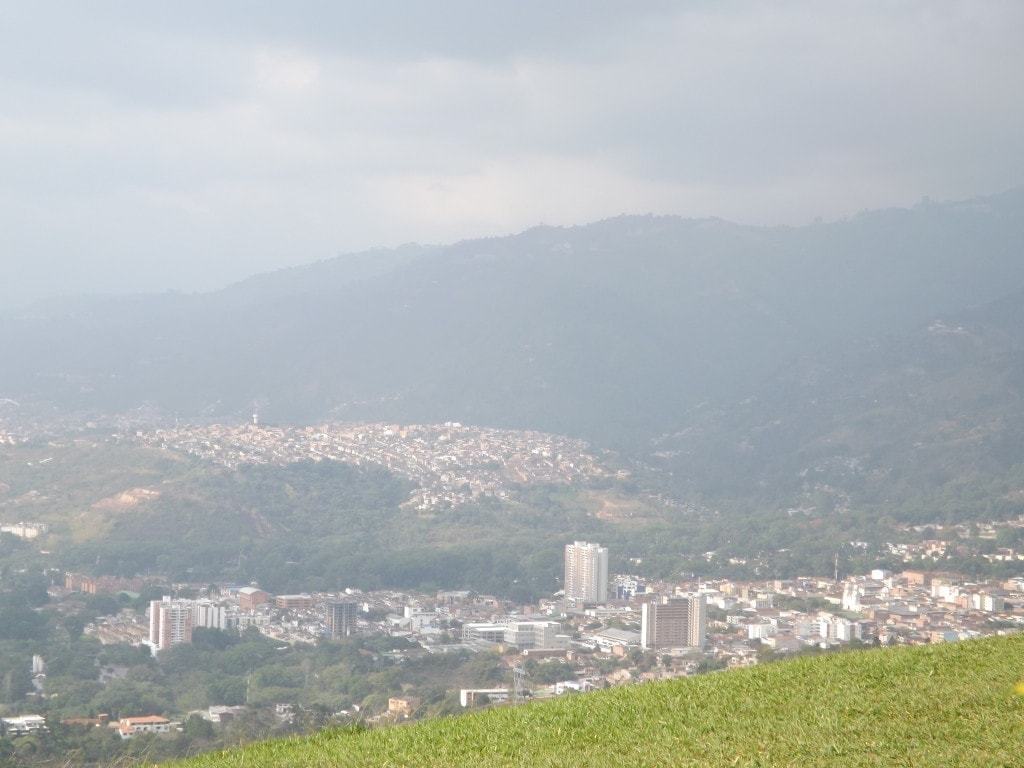 On Tuesday last week, Sam and I woke up in Bucaramanga – having randomly decided to stop there on the way to Santa Marta purely to break the journey up. We had no idea what Bucaramanga was or what it had to offer us, but after looking around our hostel – the lovely Kasa Guane – we soon found that the city was a bit of a haven for adventure sports lovers, with loads of great hikes, rock climbing and abseiling in the area. The thing that caught our eye straight away, though, was the advert for paragliding, and when we found out we could go that same day we decided we couldn't miss it.
That afternoon, we took a cab to the edge of town where we were picked up by the bus for the paragliding school which is at the top of a hill overlooking Bucaramanga.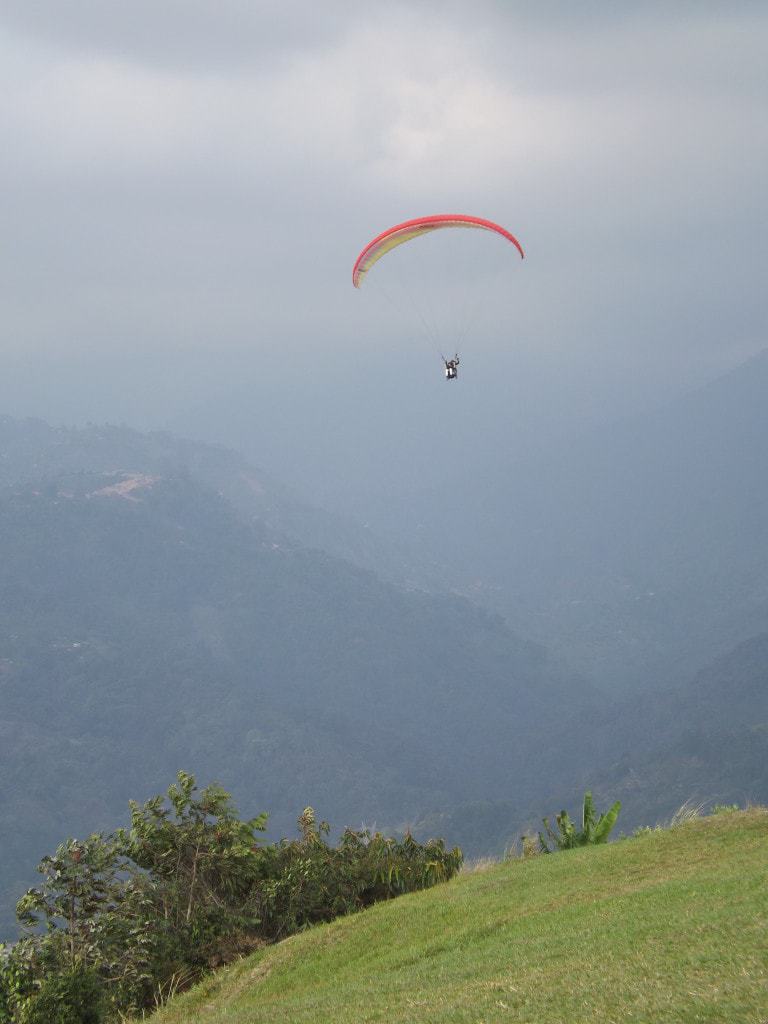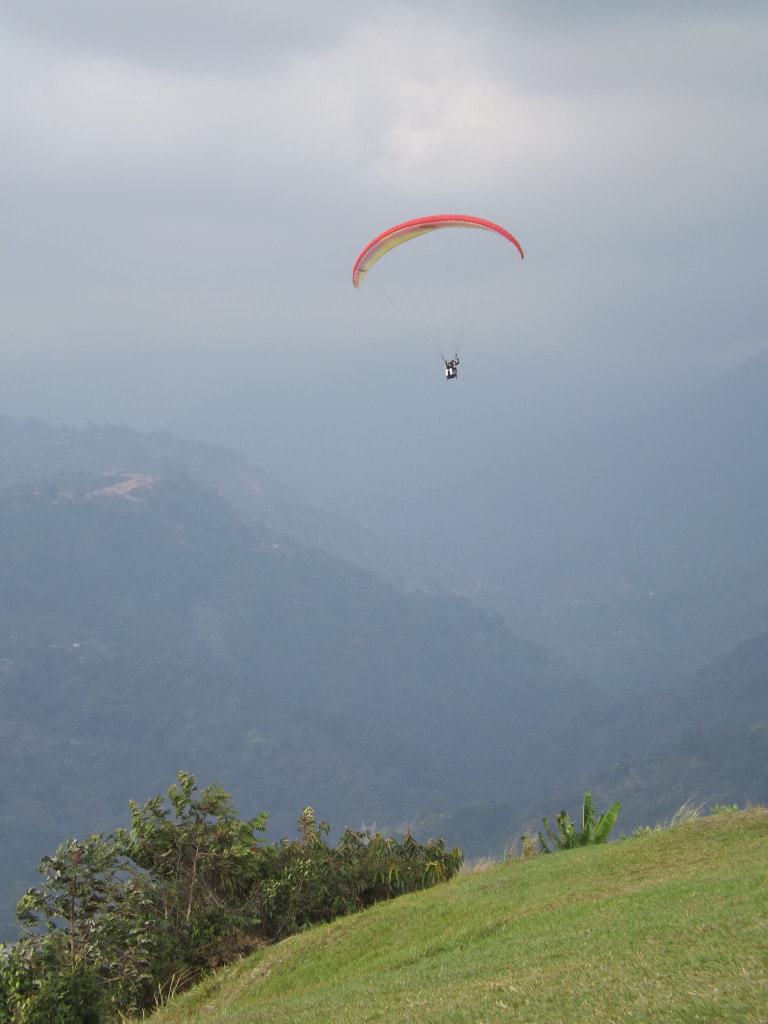 The cost of a tandem flight was 90,000 each (less than £30) for twenty minutes, although we each paid an extra 25,000 for photos. The school itself was great, fairly laid back with some really nice staff; one of whom told me that some of the pilots were among the best in the world. The guy who took me up had recently come third in a competition of one hundred entrants, he was really nice (although my broken Spanish meant we couldn't talk much) and made me feel pretty safe.
Once we'd paid, things moved pretty quickly and soon I found myself, helmet on, being strapped in to the seat in front of my pilot. The instructor told me to get ready to sit, we took a few steps forward, there was a huge roar of wind and billowing fabric, someone shouted "sit" and suddenly the ground was gone beneath me. Within seconds we were twenty or more feet above the paragliding school, and the edge of the hill was falling away below us, with the trees and valleys looking like a little Hornby model village. Bucaramanga spread out in front of us, tiny buildings glowing in the weak sunlight that was filtering through the overcast sky.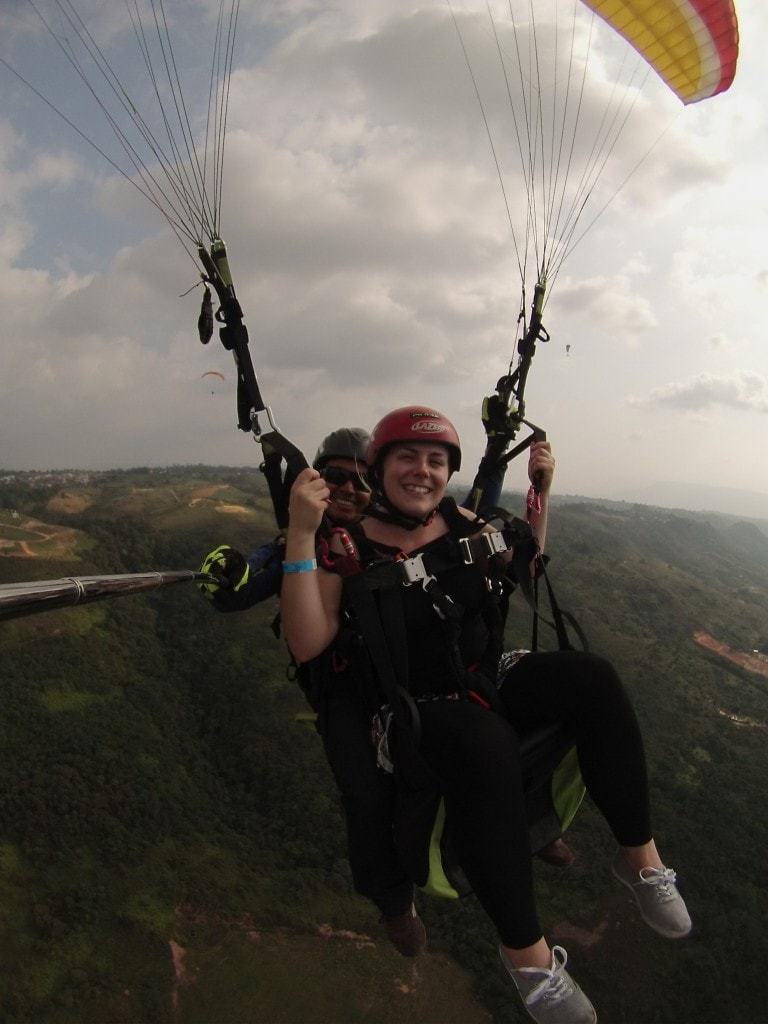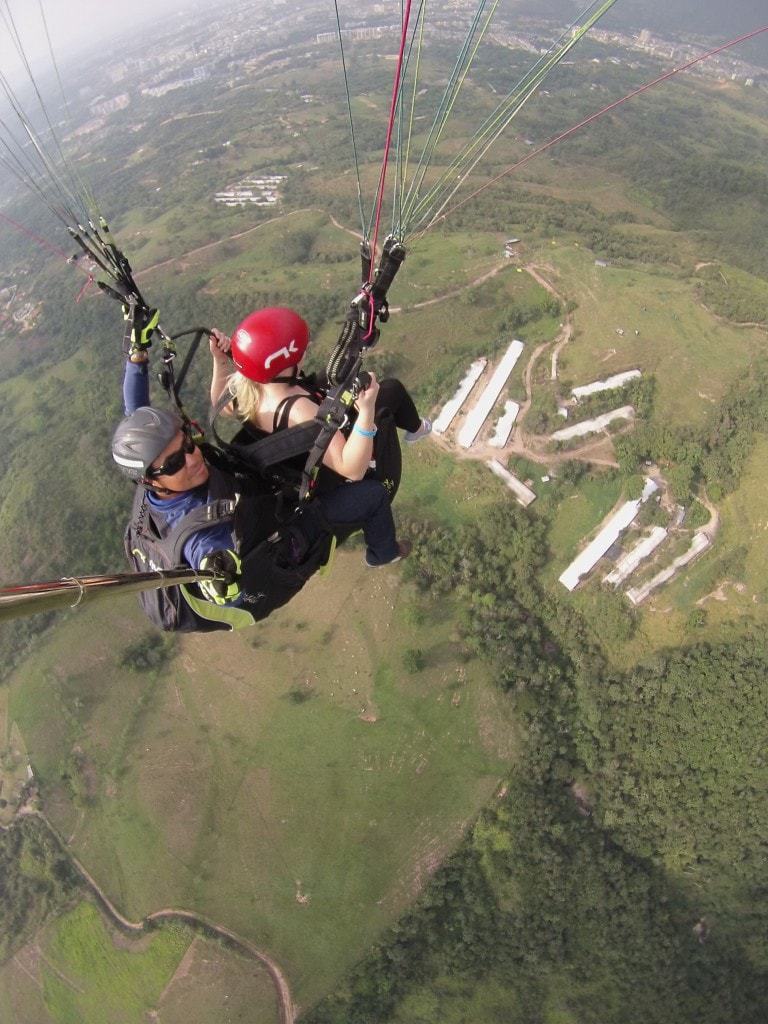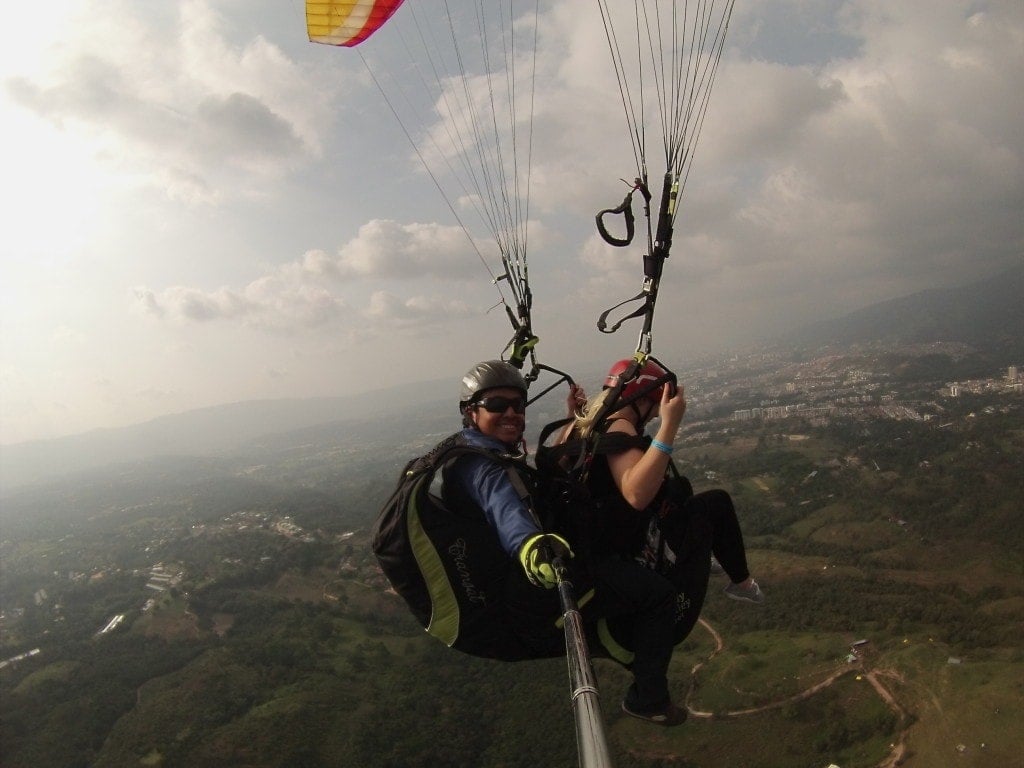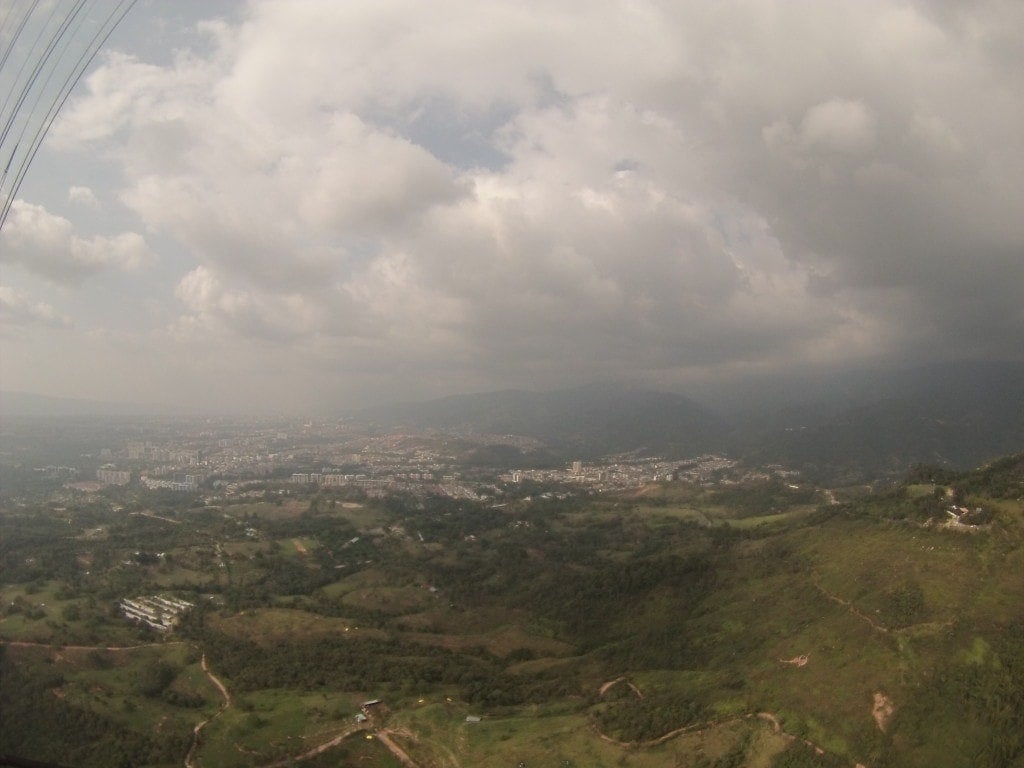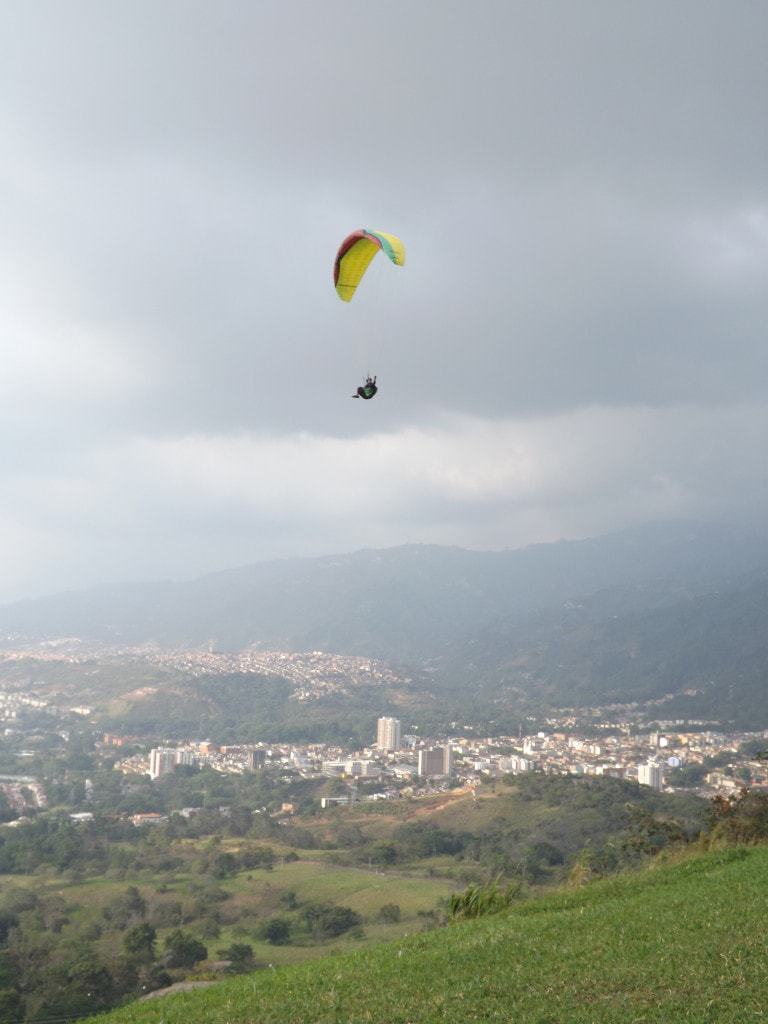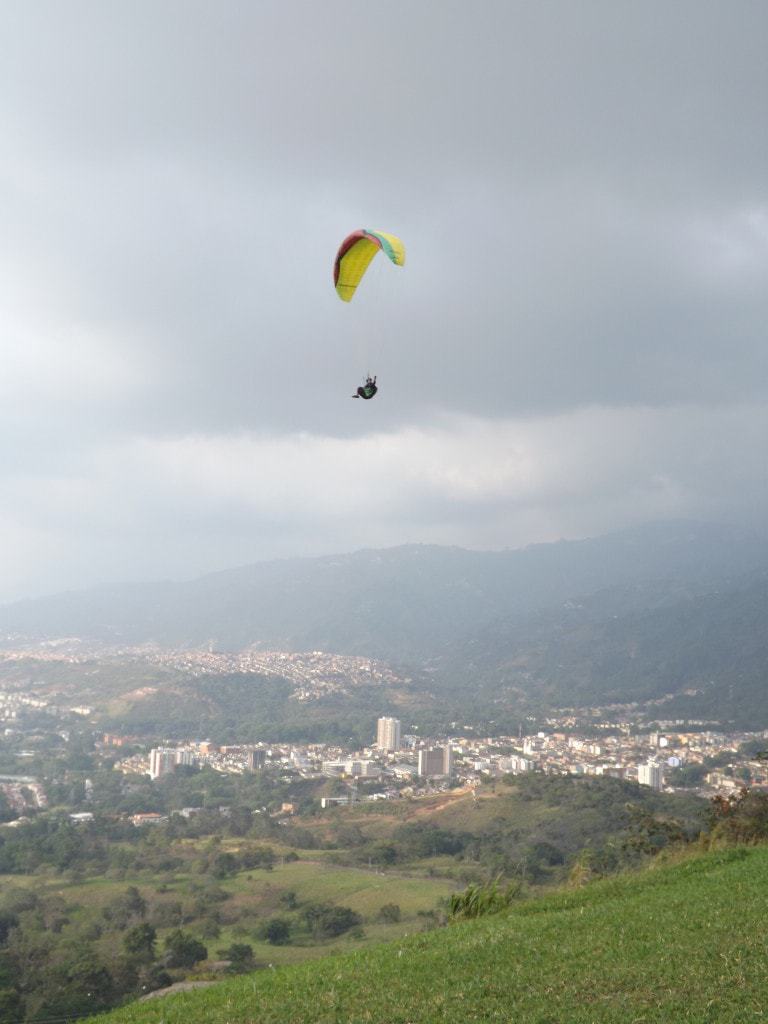 My heart was pounding in my throat, my knuckles were white from gripping the straps so tightly, but there was a huge, unshakable grin on my face. My pilot took hundreds of photos and a video using a small camera on a long stick which he held out in front of me, and in every single one I'm grinning like a maniac. The feeling is similar to those rare but beautiful flying dreams – in fact the feeling is exactly how you might imagine flying would be; no fear or butterflies or lurching stomach, just pure delight. I was so high on the elation and so completely, utterly happy at doing something I've always wanted to do, that I was genuinely moved to tears at one point.
Sam had a bit of a chat and a joke with his pilot, but other than "es muy bonito" I couldn't really get much out. The feeling I had of pure happiness and genuine, unhampered joy was so private that I didn't want to share it, and instead I was able to forget about the pilot and just enjoy the moment.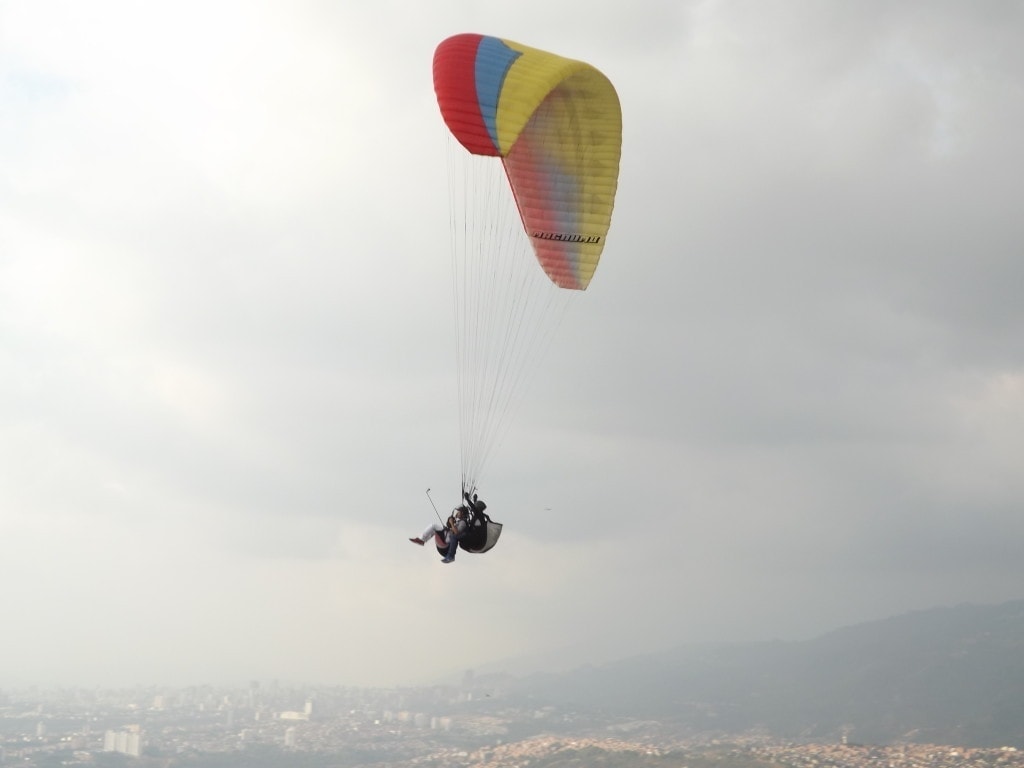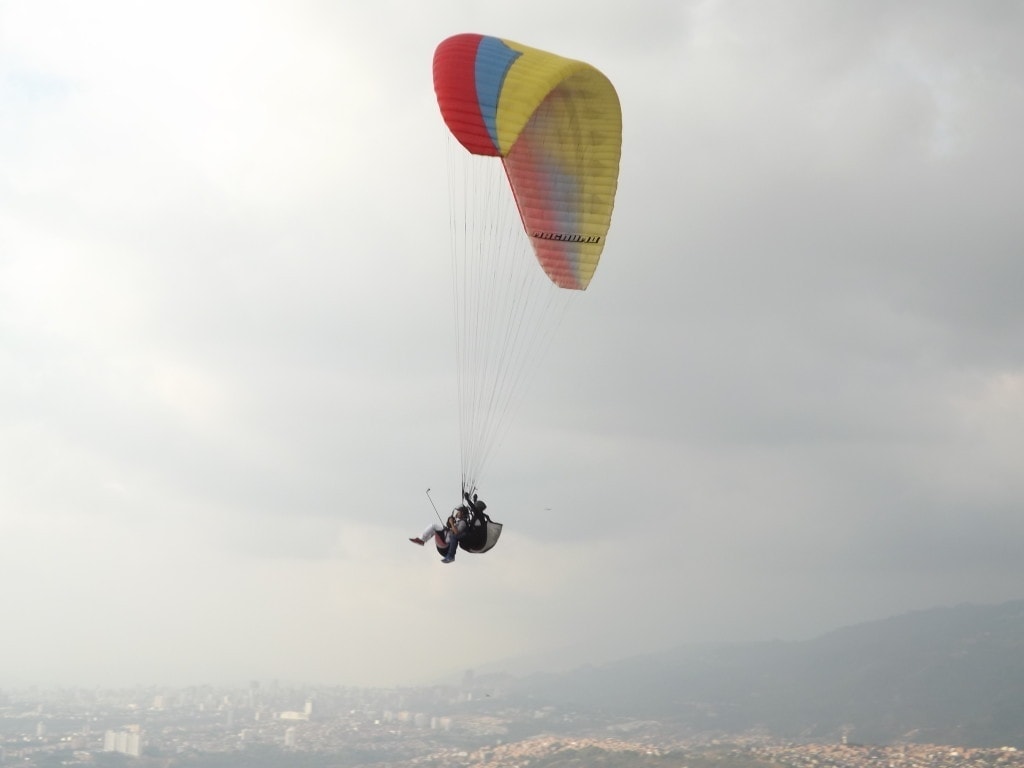 Landing was a bit more frightening. It was a very windy day, which made landing difficult; we looped around and around skimming nearer to the ground each time, but kept getting pulled back up by huge gusts of wind. My pilot showed off, skimming the tops of trees and whacking them with his hand, proving just how in control of the flight he was, and I was whooping out loud and giggling with the thrill of it, but eventually we had to land. My adrenalin rush lasted long after I had my feet back on solid ground, leaving me giggly and generally just ecstatic!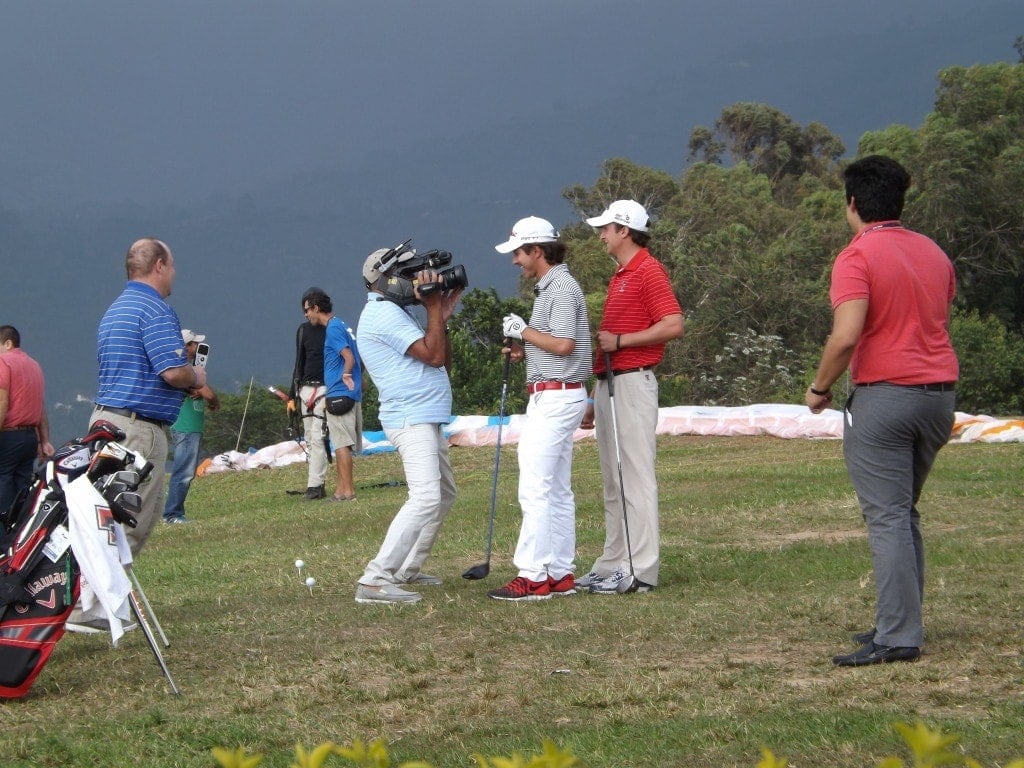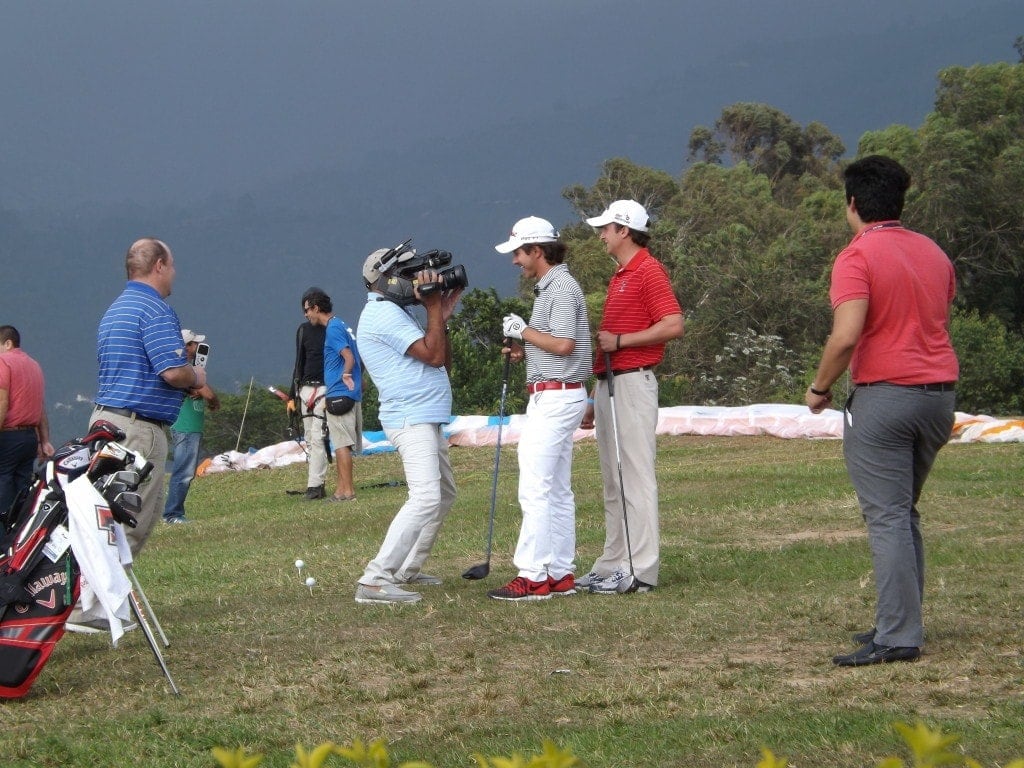 On the ground, while we waited for our videos and photos, we chatted to some guys who were due to fly next. I'd joked to Sam that they were dressed like golfers, but once we'd spoken to them we found out that they actually were professional golfers, playing in the PGA nearby – Finley Ewing IV and Santiago Rivas – and they were being filmed and photographed by ESPN. If you watched any of that tournament you might see a clip of us joking with two of the golfers, although I somehow suspect that they'll edit that particular highlight out! They were both really nice and very nervous about the flight, but we watched them go up (after a very long photo shoot hitting golf balls of the hillside into the valley) and they clearly loved it as much as we did!
Paragliding was well and truly one of the best experiences of my life, and one I hope to be able to repeat (maybe soon if we find anywhere else in South America offering tandem flights). We also met a lovely English couple who run a paragliding course in Sussex, so perhaps once we're back I'll be able to learn to do it myself!
If you ever find yourself in Bucaramanga, Colombia, I whole heartedly recommend taking a tandem paragliding flight. It's amazing fun and you shouldn't miss it! Anyone else tried an extreme sport on their travels? I'd love to hear from you.