Recently, I've (finally) been putting together a photo album from my trip to Morocco last year. Digital photography is great, but no one seems to remember to print any more, which I think is really important. I love the permanency of printed photos bound forever into a lovely book.
Anyway, looking through all my photos again has made me nostalgic for what was a really fantastic adventure. So I've spent most of my day at work daydreaming about the things I miss most from my Morocco trip, and since my stomach has been rumbling all afternoon, that has mainly gravitated towards my favourite dining experiences. Follow the links for more pics and stories…
Breakfast in Morocco
Breakfast in Morocco consists of fresh baked bead, honey, spongey pancakes, olives, and deliciously tangy fresh squeezed orange juice. I really miss sitting on the terraces of our various hotels around Morocco, lazily enjoying a huge spread of food in the gorgeous sunshine and fuelling up for a a day of exploring.
Lunch Overlooking the Ouzoud Falls
A delicious lamb tagine cooked by the side of the road, eaten outdoors on the edge of a small cliff, facing the stunning, rainbow-strewn Ouzoud waterfalls. Basically, I have no words to describe how incredible this experience was!
Mint Tea
I didn't expect to love mint tea, but served up with sugar this ancient berber custom is super sweet and absolutely delicious. The best part is watching the waiter pour it out from as high as possible into tiny glasses: the traditional method of serving mint tea. Show even the tiniest bit of interest in any stall in the maze-like souqs, and your sure to be offered a cup of this refreshing drink 'on the house', although you may walk away with a carpet afterwards…
Djemma el Fna
The central square in Marrakech, the Djemma el Fna, is probably the city's most popular tourist attraction. Traditionally, this UNESCO World Heritage site has always been a hub for entertainment and outdoor dining, with street performers, storytellers, snake charmers, and food vendors descending on the square as the sun sets.  I had a fantastic time wandering through the stalls, sampling various Moroccan delicacies all cooked outdoors on barbecues, gas-stoves and open fires.  A huge meal of bread with olives and tomato and chilli sauces, Moroccan salad, calamari, and brochettes (mixed barbecued skewers with pepper and onion, beef, lamb and chicken), only cost me about Dh100 (about £7) with drinks.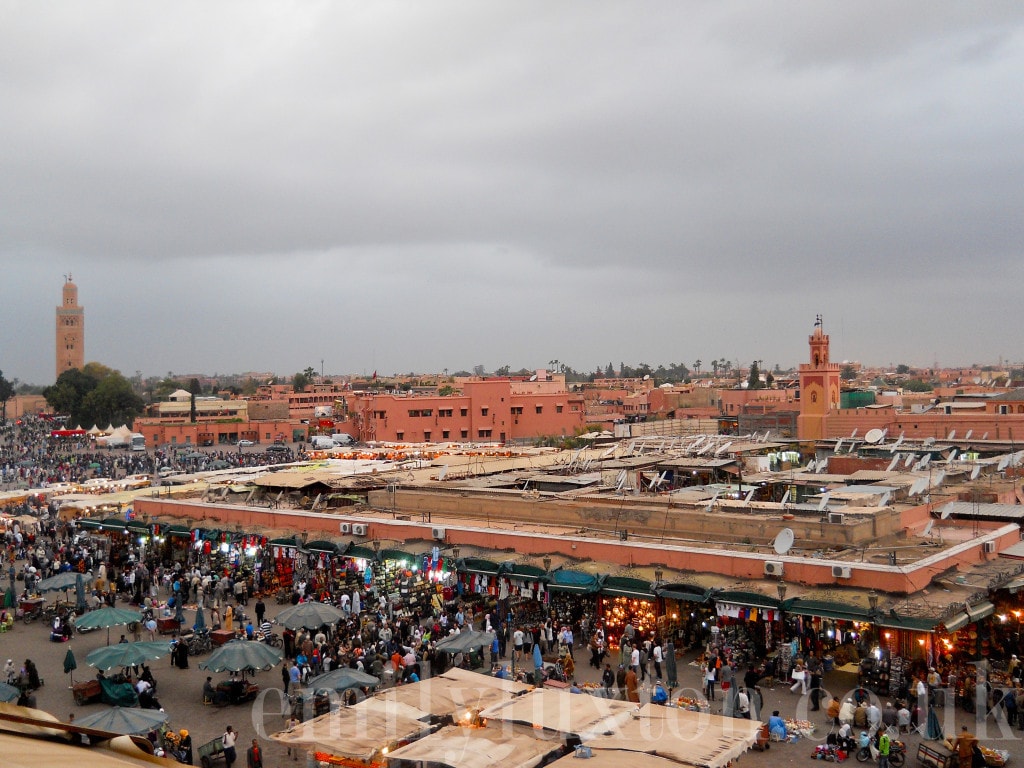 Tagine in the Desert
Camping in the Erg Chebbi dunes in the Sahara was one of the highlights of my trip – scrap that – of my life so far! After a strenuous camel ride across the dunes, in high winds which whipped up flurries of sand, I was feeling pretty ravenous when I sat down in the warmth of the tent to a dinner of that Moroccan staple, tagine. Basically, this is a stew made with a variety of meats and vegetables – depending on the season – in this case chicken with potatoes, carrots, tomatoes and courgettes. The food was delicious, the company hilarious, and the experience – incredible.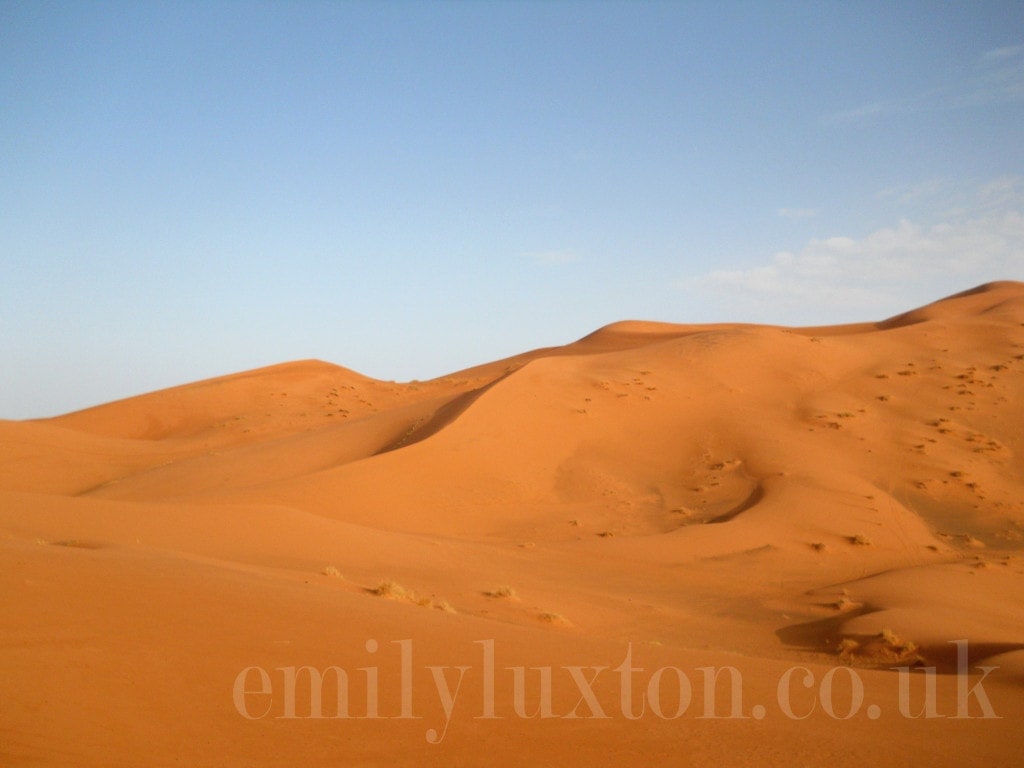 Tweet me with your favourite food memories from around the world @em_luxton.