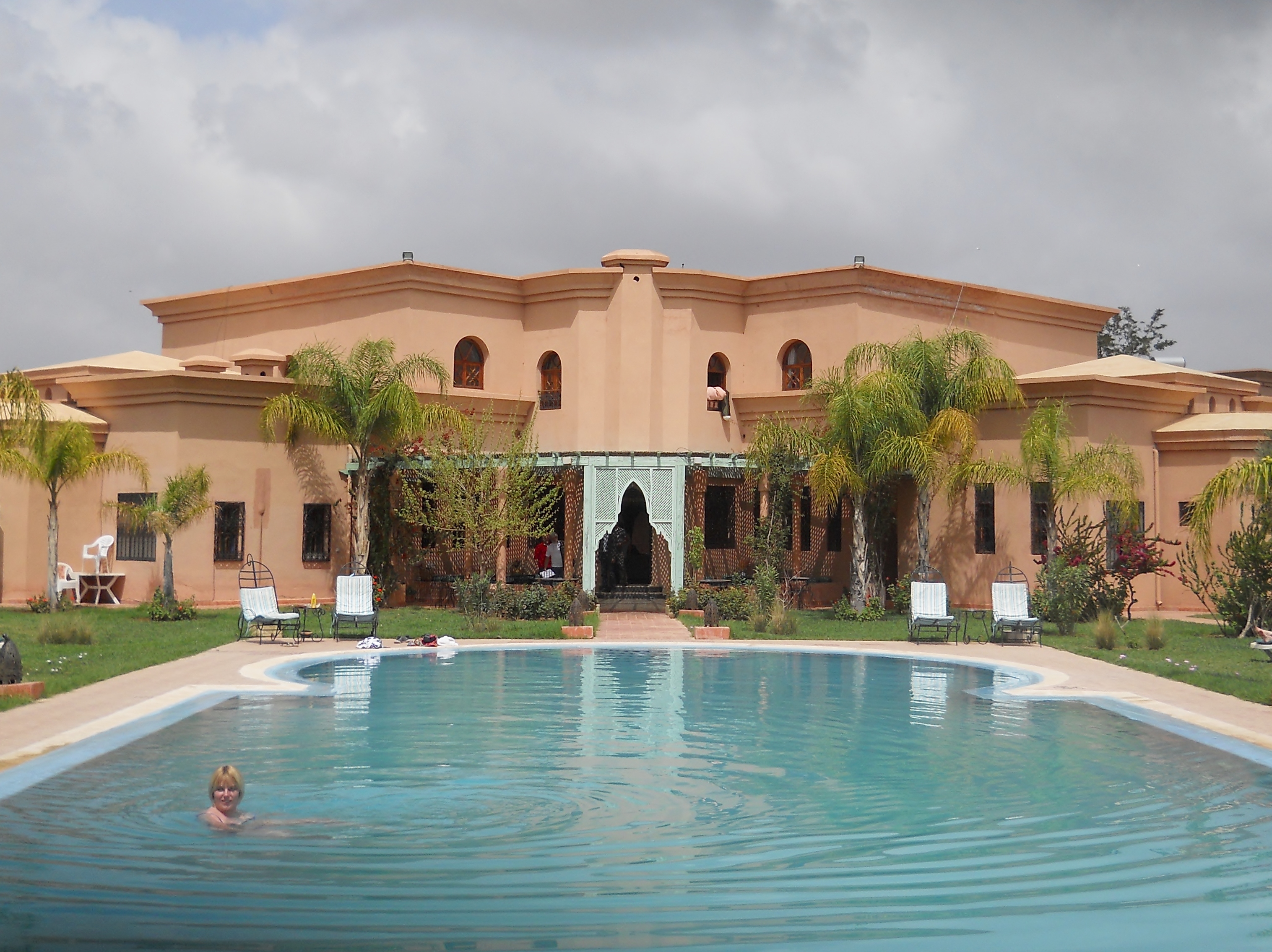 Tired and stiff after a twelve and a half hour drive back from Merzouga, still with traces of the desert in the folds of our clothes, any hotel would have looked like a palace to our road-weary eyes. But the Hotel Las Palmeras in the Palmerie district outside of Marrakech makes a particularly striking first impression.
Hiding at the end of a long driveway, behind heavy wooden gates set in salmon pink walls, the hotel is a grand, colonial-influenced villa set in some lovely grounds. The still night air hung heavy with a floral perfume from various plants decorating the gardens. We were greeted by the manager, Ali, whose energetic and friendly manner made him instantly likeable. He showed us round and introduced us to all the other English guests. After upgrading our room to the Arabian Nights suite (four-poster bed? Yes, please!) we ate a late dinner in the beautiful reception area, extravagantly decorated with dozens of chaise longues and brightly coloured cushions.
The following morning we sat in the dappled sunlight on the leafy terrace to enjoy yet another fantastic Moroccan breakfast, including some delicious pancakes, sort of a cross between the scotch variety and crumpets. After a seriously jam-packed first week in Marrakech, this was well and truly a wind-down day. We spent the morning lounging by the pool, enjoying the warm sun and cooling off in deliciously crisp, cool water, until dark clouds rolled in out of nowhere. They were soon followed by that thunderous rain of tropical climates; fat drops fell thick and fast, drenching everything within seconds. Over lunch we arranged a spa trip for the afternoon through Ali who, although very helpful, was clearly taking some kind of cut from the hotel he sent us to, as well as from the taxis he arranged.
I'll do a separate post about my trip to the hammam, as well as a review of the Hotel Las Palmeras. All in all, there's not much to be said about our penultimate day in Morocco, as it was a day of rest and recovery from our hectic cross-country desert trip. But I wanted to rave about our lovely hotel and share a few pictures, plus I'm easing back into blogging after my long absence (I've been moving to London). Check back later for the tale of how ancient Moroccan skills and techniques relaxed me beyond all reason!