Some posts on this site contain affiliate links. If you book or buy something through these links, I earn a small commission (at no extra cost to you). Take a look at my privacy policy for more information.
On Sunday morning we woke up late, still stiff from the day before and utterly disorientated. Visions of dirt tracks and narrow alleys in the darkness swam before my eyes from the night before. Wandering outside, we found the quiet courtyard of our hotel, brimming with rose bushes and smelling sweet under the already baking sun.
Breakfast – huge helpings of warm bread and jam, cakes and pancakes with honey – was served on the patio by the pool. The honey in Morocco is amazing; sweet and tangy with an after-taste of oranges, and goes splendidly with a glass of freshly squeezed orange juice. The pool, a streak of vivid blue between Hotel Mamouche's painted yellow mud-and-straw walls, looked cool and inviting. We were the only two people on the patio, which was silent except for the trilling of small, darting birds from hidden nooks in the walls.
The view from our room – a few run-down houses made of straw-stuffed mud walls – gave no hint as to what our surroundings were. After breakfast we climbed up to the roof terrace to have a look around and get our bearings. The view that suddenly faced us was a big shock. In front of the hotel was a flat, dusty plain, littered with patches of black sand and otherwise utterly empty. Beyond that, completely within a tangible reach, stood the Erg Chebbi dunes. This wind-swept patch of the Sahara, one of two such dunes in Morocco, was by far closer than I'd ever expected. In a rippling line, wave upon wave of perfectly smooth orange hillocks, the dunes of the actual Sahara sprouted out of the horizon like a mirage. The sand was a pale yellow-orange colour, like sun-bleached red paint, and glowed as though lit from within.
It was an arresting sight, and it was a long time before we could put away our cameras and tear ourselves away from it. Seeing the Sahara has been on my bucket list for a long time, right up the top with things like the Northern Lights, or sunrise from the top of Mount Fuji. It made my head spin to be so near, so physically close to something which seems so completely far away and other worldly.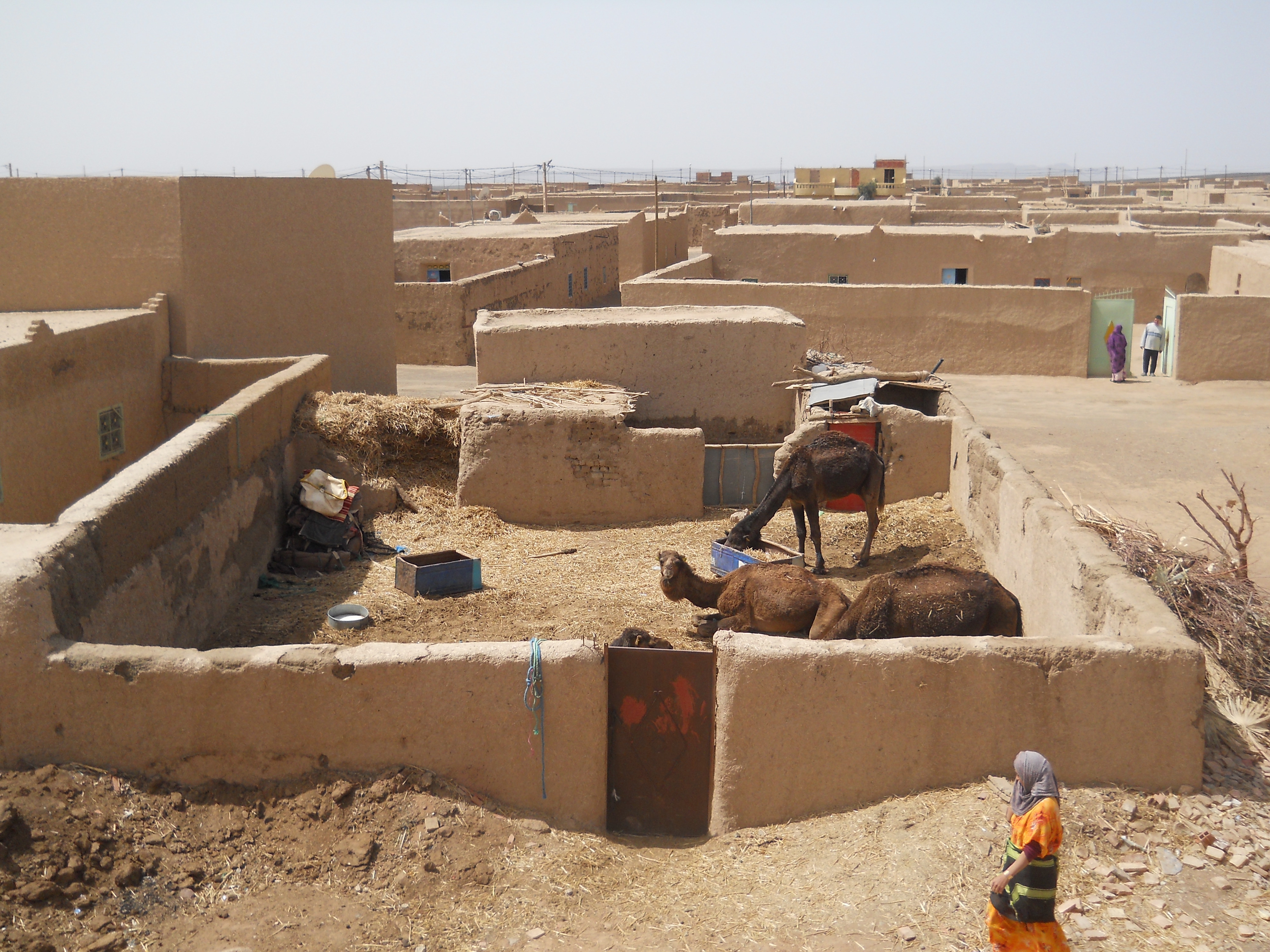 Hotel Mamouche is right on the edge of Hassilabied, a small village close to Merzouga. Mamouche and the handful of other hotels are the only buildings above one story, and everything is the same uniform shade of pinkish beige. The houses are all built in a similar style; a low, one storey square building with a flat roof, alongside a square courtyard of about the same size circled by walls the same size and colour as those of the house. This pattern repeats over and over, and viewed from above looks a little like a maze. In a lot of the courtyards, camels or sheep lazed alongside bundles of hay. Low brays hung in the silence of the town, and the air had the musty farmyard smell of dried mud and animal fur.
The pace of life in Hassilabied is a million miles from Marrakech. The village is nearly silent, and work is slow and leisurely. We watched a woman take a group of camels for a lazy walk around the house. A young girl stood outside breaking wood into sticks for a fire, tossing the smaller twigs aside aimlessly. In the distance, I heard the sound of a single moped, or quad bike, far too loud and fast for the sleepy afternoon.
The walk to the foot of the nearest dune took less than fifteen minutes. Along the way, a group of boys of around eight to ten, dressed in baggy rugby shirts and tatty jumpers (even though it was around thirty degrees) surrounded us. "Hello! English? How are you?" they called in a sign song, before holding out home-made woven bracelets in their grubby little fingers, offering their "best price" just like any Marrakeshi salesman. I sighed and said "no thank you" over and over, feeling a little sad. These children were the same age as my nephews and they were out working in the heat instead of in school, or playing.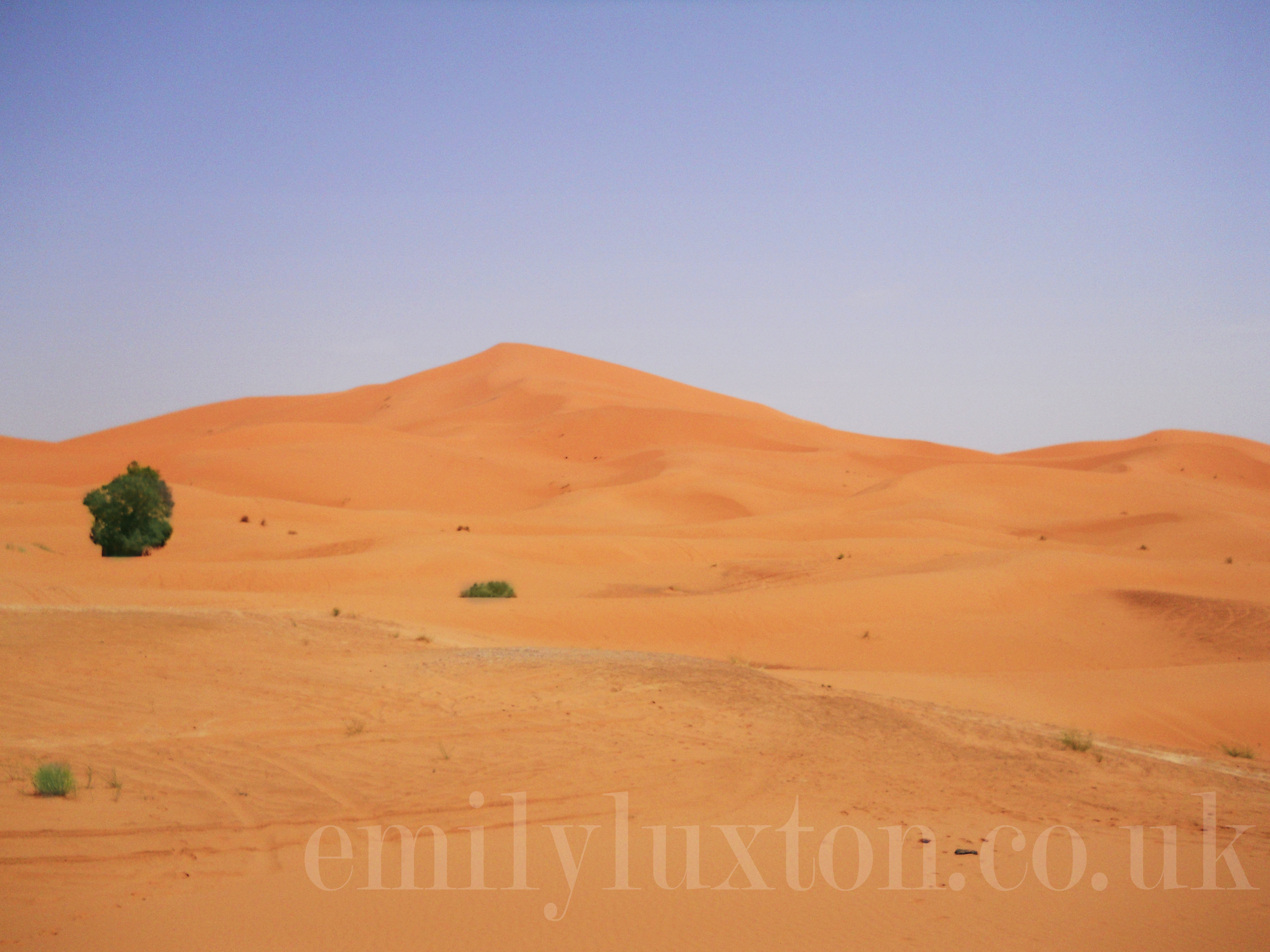 We clambered onto one of the lower hills at the foot of the dunes, our feet slipping and sinking in the soft, loose sand. Once on top, though, the sand was firm and spongy underfoot, like packed earth. The sun was baking and my skin felt scorched. Huge red ants scuttled about at our feet, and a few other bugs with pincers or spiked tails like a scorpion's. I felt unable to stand still when the ground was so alive. Dung beetles, slow-moving and glowing a phosphorescent blue, ambled slowly along leaving a pattern of footprints in their wake, little woven flecks of dark shadows on the orange sand.
Sam and I looked at each other and grinned. We were stood on the edge of the Sahara desert! Gazing around at that rich, golden landscape under the creamy blue sky, I felt that I was further away from home than I've ever been before.
Information
READ MORE: How to Plan a Desert Trip in Morocco