Some posts on this site contain affiliate links. If you book or buy something through these links, I earn a small commission (at no extra cost to you). Take a look at my privacy policy for more information.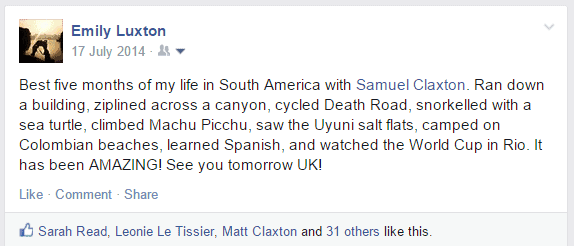 Ah, social media. Bringing people together, making the world smaller, taking over eveyone's lives… isn't it fun? Especially when your friends all head off on holiday and start updating you with every minute detail of how amazing/sunny/life-changing/beautiful/hot it is. Social media, especially Facebook and Instagram, sometimes seem to be little more than one big bragging competition – and it can get annoying.
Recently, I came across a post about the Seven Most Annoying Holiday Updates, which ranks posts like the holiday countdown, weather updates, and shots of local cuisine among the most irritating holiday shares on social media. Which got me wondering, how many of these and of my own pet peeves am I actually guilty of? Obviously, I have to share updates about my travels on my Facebook page and other accounts – I'm a travel blogger, after all – but what about my personal feed? As it turns out, I'm guilty of most of my own most hated social media crimes.
So, here are my own top seven most annoying social media holiday offences – all of which I've committed in the past year or so. Sorry about that…
The Airport Check-in
My friends might have forgotten I'm going away (in spite of me talking about nothing else for weeks). Quick, I'd better remind them.
Or not. Apparently, airport check-ins are considered one of the most annoying social media updates of all time. Oops.

Legs by the Pool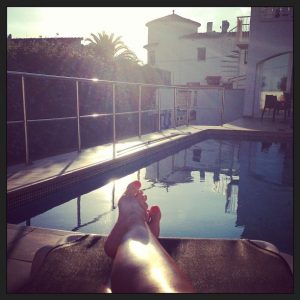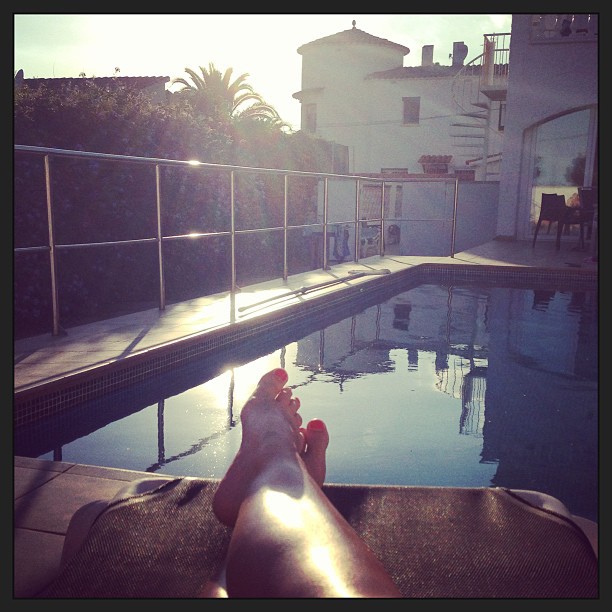 Legs in the sand, pedicured toes in the sea… why is it always more appealing to get our holiday tootsies into that beach or pool snap? Even I'm guilty on occasion, although thankfully I've never yet taken on of those vague knees-up shots that are so easily confused with tinned sausages. Watch this space!
Cocktails
No one wants to see what a fabulous time you're having sipping cocktails in some exotic destination. And yet, when we're drinking cocktails on holiday, we just can't seem to help ourselves…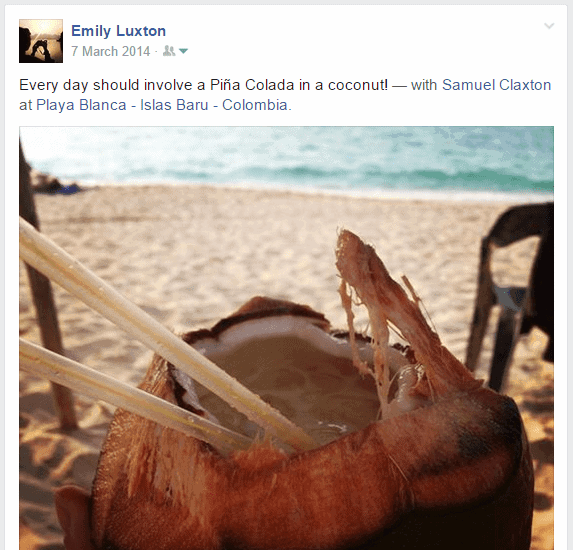 Jump Photos
Why do large groups of people always seem to feel the need to leap into the air to prove what a great time their having? I hate these shots, but I seem to wind up in dozens of them. When someone points a camera at me and says jump, I say "how high?".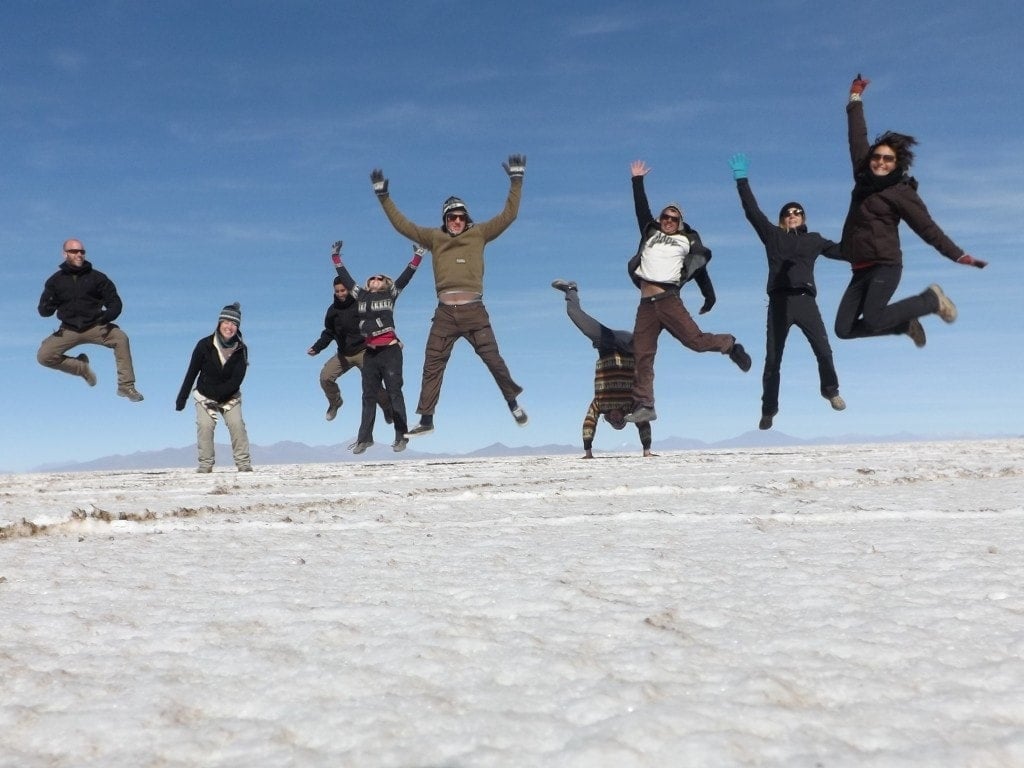 The 'Aren't I Adventurous' Status

Because what people really want to see when they're stuck on the train to work is my "Just went PARAGLIDING" Facebook status. Apparently, that's considered showing off – and it's the 5th most hated holiday Facebook share according to a recent survey. Whoops.
Intentionally Braggy Statuses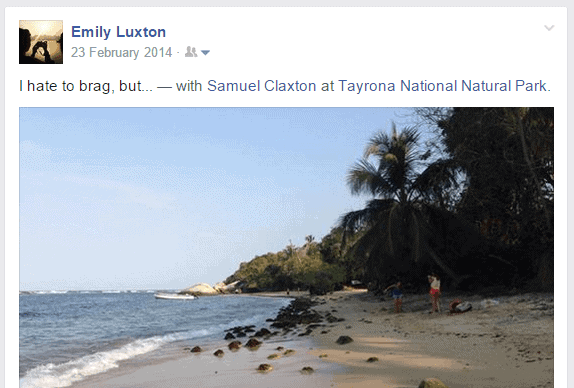 Speaking of showing off…
"I don't normally do braggy statuses, but… Just spent the day driving to deserted Vietnamese beaches on a morobike. So there."
That's probably my most recent Facebook brag. It's also a big fat LIE; almost all my Facebook statuses from last year were outright brags. In fact, other than adding new photo albums, the only times I bothered posting to Facebook at all were to show off. And it seems I'm not the only one; in a recent survey of more than 2000 adults, over 51% admitted to using hashtags in their holiday posts predominately "to make people jealous/envious". Here are a few of my worst offences from 2014…
"Think I've put on about a stone in Mendoza. Pancakes with dulce de leche every morning, two all you can eat buffets, and so much wine! I am a fatty."
"Crazy-fast dune buggies followed by sandboarding in the desert at Huacachina! Peru is seriously awesome!!"
"So… Tomorrow we fly to the Amazon. No big deal."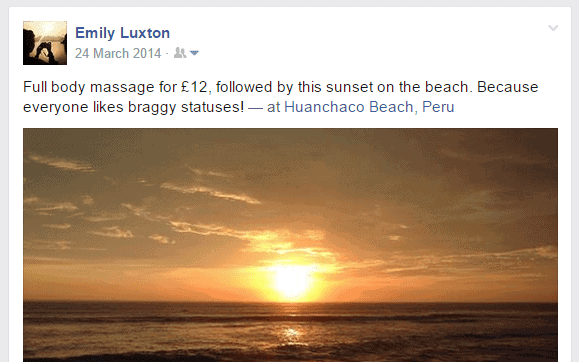 Me On the Beach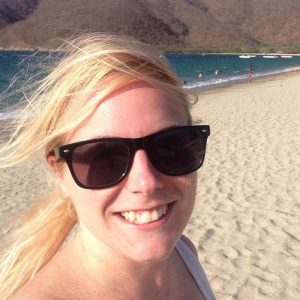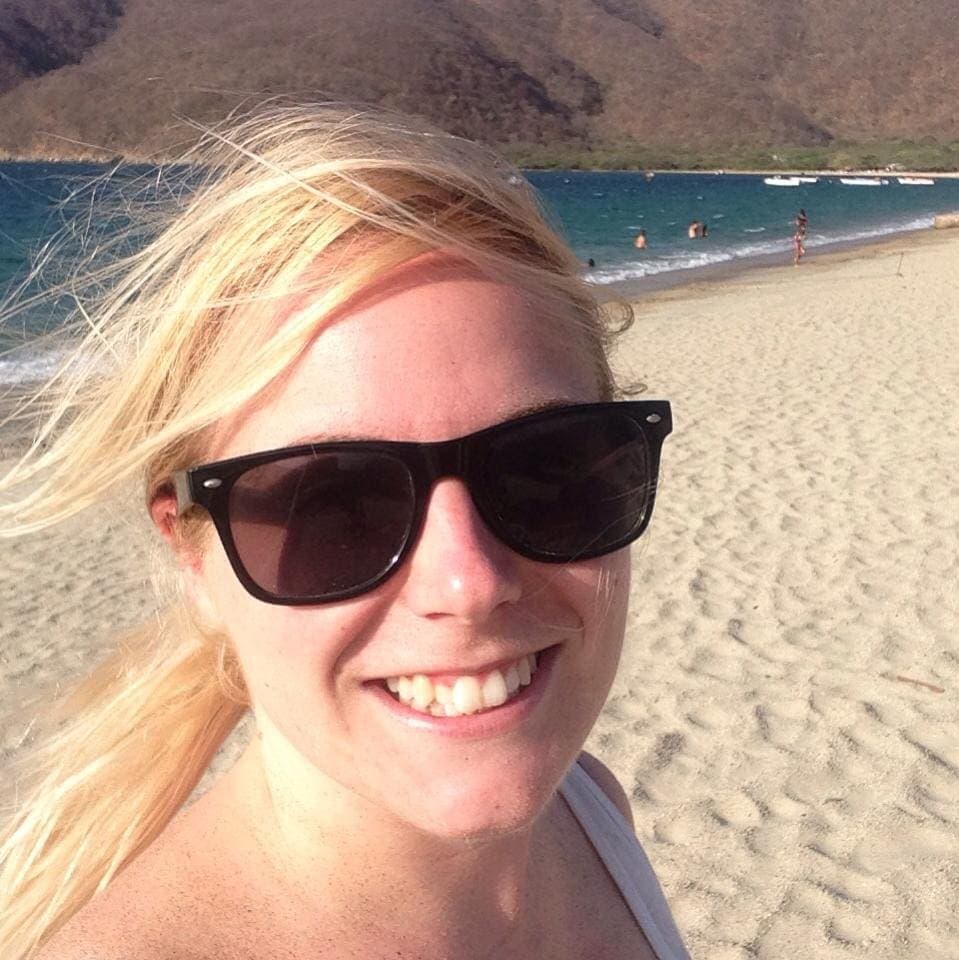 According to a recent survey, the number one most irritating holiday status update on social media is the classic 'me on the beach' shot. I HATE these when I see them, but looking back through my Facebook I realise I'm so guilty of them, too. Even my cover photo is an image of me joyously leaping out of the sea in Vietnam. Selfies on the beach, feet in the sea, shots of sandcastles and palm trees or just about anything else which proves I'm on a beach while you're all stuck at work in the boring UK – those are the most hated Facebook posts apparently. And it seems I share just as many as anyone else. So… sorry about that guys.
What social media shares annoy you most – and how many of these are you guilty of? Get commenting below and tell us you're most braggy social media share!