Some posts on this site contain affiliate links. If you book or buy something through these links, I earn a small commission (at no extra cost to you). Take a look at my privacy policy for more information.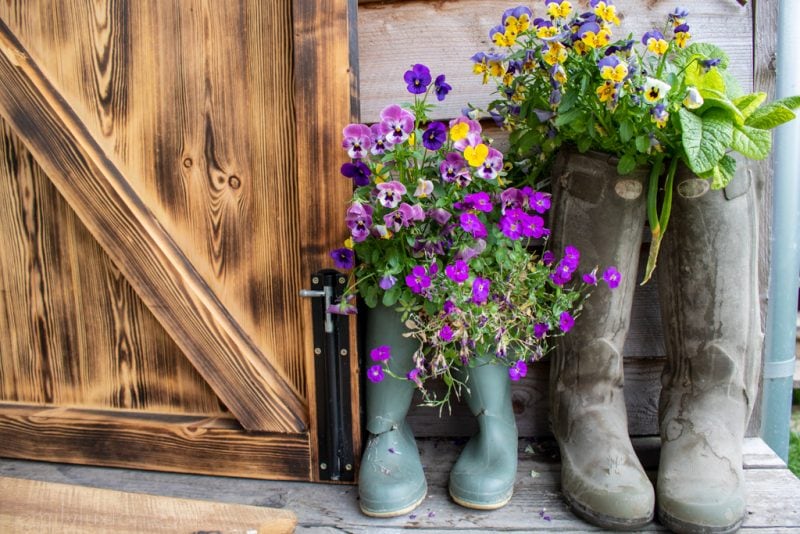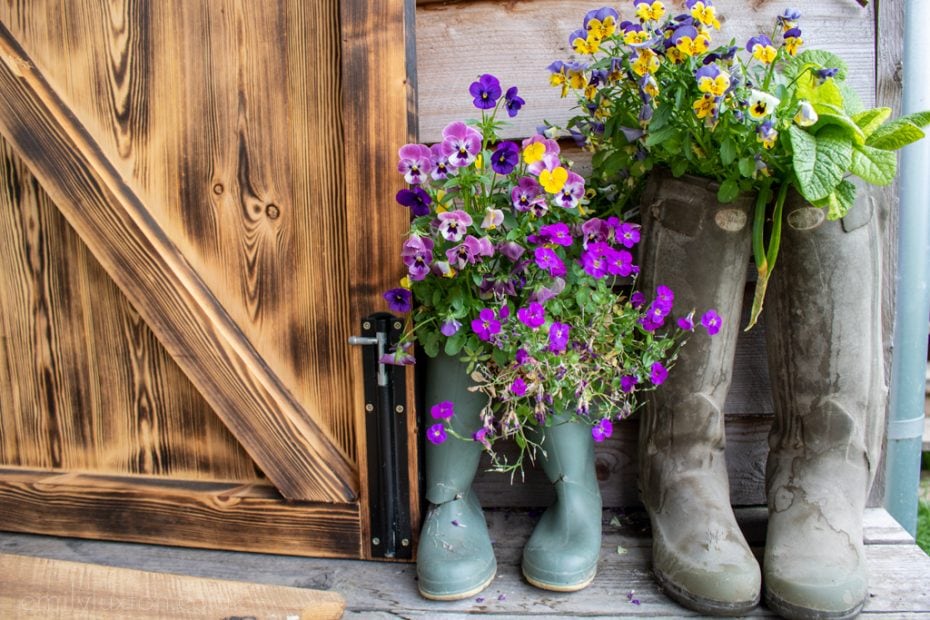 Are you as bad as I am at slowing down and just relaxing? Life has been pretty chaotic lately, and stress has been building up. So the thought of doing a wellness retreat in the UK was really appealing.
And the Wild Wellness Retreat from Adventure Tours UK sounded PERFECT for me. Four days of glamping in North Wales, on a small group tour packed with gentle activities like yoga and paddlebarding… yes please!
Even my travels recently have been rushed and chaotic – like driving to the Scottish Highlands in just 2 days! So it was nice to really slow down for a few days, to just reconnect with nature and focus on the simple things in life for a while.
I was worried that a wellness retreat in the UK might not be quite as relaxing as similar ones I'd seen overseas. But there's something about the rolling hills of the Dee Valley in Wales that's just perfect for reconnecting and recharging. Stunningly beautiful, blissfully quiet… and simple. Ideal for getting away from it all.
My place on this Wellness Retreat was provided in exchange for this review. As always, all words and opinions are my own and unbiased.
Wild Wellness Retreat in the UK: What's Involved?
Adventure Tours UK is a small British business, based in North Wales, founded by outdoor enthusiasts Claire and Jim. They bring a ton of local knowledge to their Welsh tours, and pack all their itineraries with fun adventures. They also have an incredible – and genuine – commitment to sustainability (more info at the end of this post).
The Wild Wellness Retreat from Adventure Tours UK is a 3-night, 4-day trip focused on nature, mindfulness, and well-being.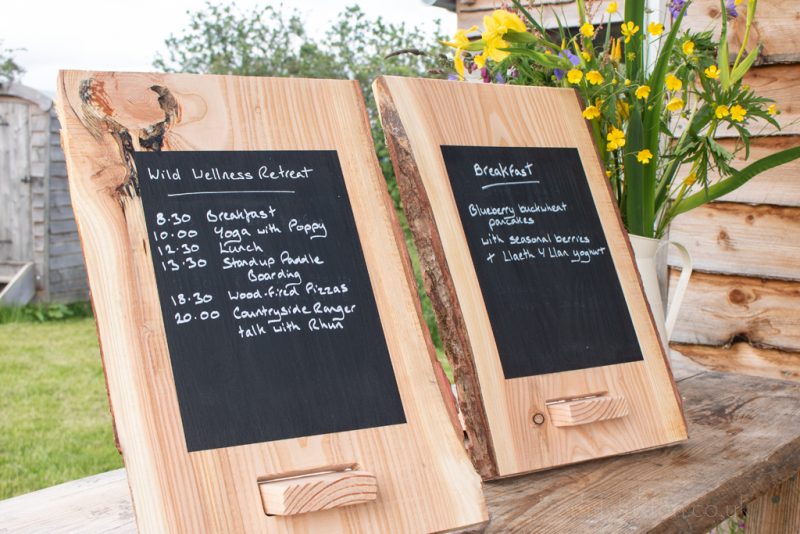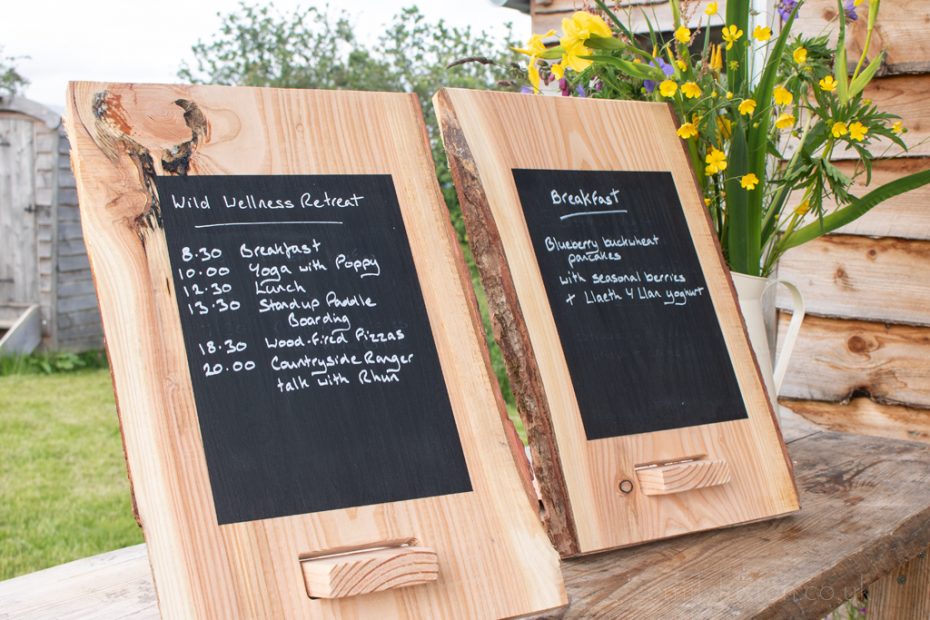 It's held on a lovely glamping site called The Forge near Corwen, in the Clwydian Range and Dee Valley AONB in North Wales.
The tour includes 3 nights accommodation in a shared luxury bell tent. You can pay extra for a solo tent, but if you're travelling solo, sharing a tent is a really good way to make friends.
It also includes parking, all your meals during the trip, and several activities. Two yoga sessions, a paddleboarding lesson, storytelling, and foraging, among others.
NEXT DATES: The next Wild Wellness Retreat departs on 30th July 2021 and still has a few spots available.
Days 1-2 of the Wellness Retreat
We arrived at the Wellness Retreat in the late afternoon, a group of 8 people from all over the UK. Most of the other guests were also travelling solo – only two people had arrived together.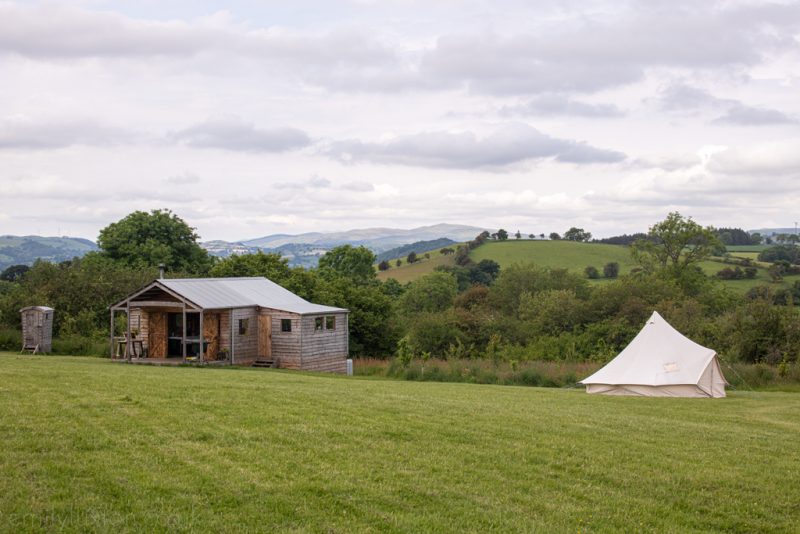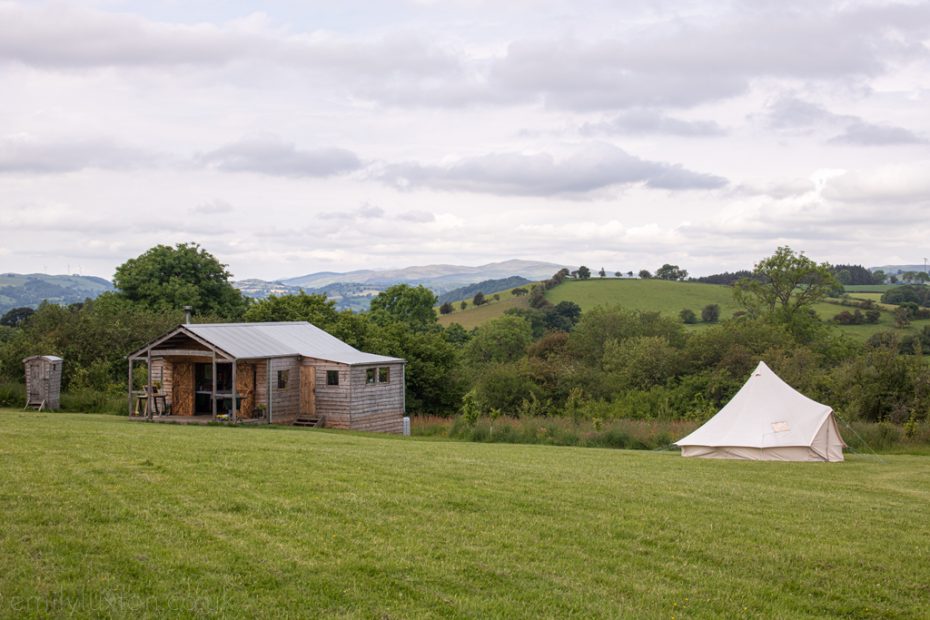 I still always get nervous before group trips, but it was a lovely group and we all clicked straight away. It was really nice to be meeting new people for the first time in forever, and sharing stories over our first dinner.
Storytelling by the Campfire
The stories continued that night, when we headed up to the fire pit on top of the ancient Hillfort with Fiona.
Fiona looked like a woodland goddess, with her long grey hair and lively eyes. She stood at the top of the hill and summoned us with a cry that echoed around the valley.
"STORY-TELLLLINNNNNGGGGG"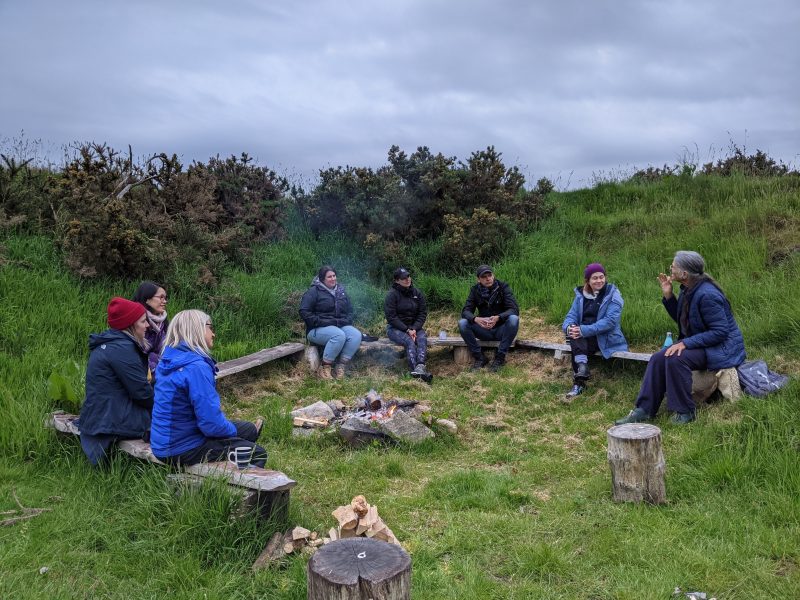 We assembled around the campfire carrying tin cups of red wine (for warmth) and sat for about an hour, listening to local legends and folk stories, all brilliantly and colourfully told brought to life. A professional storyteller (what a cool job), Fiona is an expert in Welsh stories. She seemed to have an endless supply of material, and I think she'd have gone on spinning stories for us all night if we hadn't given in to tiredness and headed to bed!
Outdoor Yoga
Waking up to fresh morning air bright sunshine the next day, I already felt restored. The perfect headspace for our first yoga session.
Mid-morning, we headed outside with local yoga instructor Poppy Backshall. It was the perfect spot for it; surrounded by the tranquil hills, with nothing but the sounds of birds and whispering long grass.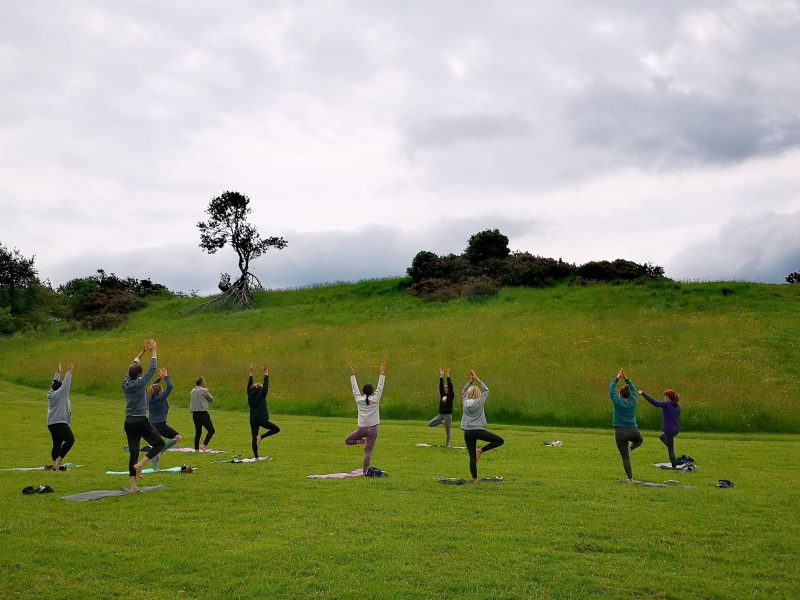 It feels like an age since I last did a yoga class, but Poppy was an amazing teacher. Most of us were beginners so she didn't push us too hard, and it was a beautifully restorative session.
The sun came out to shine warmly on our faces during the long Savasana (lying on our backs, eyes closed, in corpse pose) at the end. More than one person drifted off, and a few quiet snores joined the peaceful sounds of nature!
Paddleboarding in Llangollen
That afternoon, we headed into the nearby town of Llangollen for the activity I was most excited about. Stand-up paddleboarding!
We met up with Caz and Steph from Stand Up Paddle Board UK for a guided paddleboarding session. Most of the group were complete beginners, so we started from scratch. And Llangollen canal is absolutely perfect for a gentle, easy SUP session.
The waters were flat, calm, and pretty low on traffic. The biggest vehicle we had to share the waterways with was the slow horse-drawn barge – and it was pretty fun to watch that go by!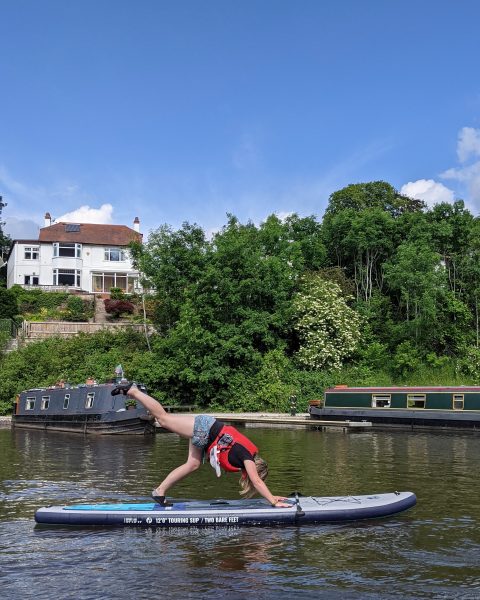 We pootled lazily up and down the canal, with sunlight flickering between tree branches overhead. It was such a peaceful afternoon! Paddleboarding is brilliant for mindfulness because you have to focus hard on your board, your posture, and the water, so there's not much room for your mind to wander. It's also just a lovely, calming activity.
Most of the group managed to stand up at least once during the session, thanks to the super calm water and our brilliant guides. I even managed to crack out a few imperfect, wobbly yoga poses on my board without falling in!
READ MORE: My review of the Aquaplanet PACE paddleboard
Days 3-4 of the Wellness Retreat
Enjoying the Simple Life
Our second full day was less active than the first, with a real focus on the "back to basics" simplicity of camping. Sometimes, slowing right down and taking some time to enjoy a simpler life proves to be just what you need.
After breakfast, we met up with Sheena – one of the owners of The Forge – for a foraging session around the campsite.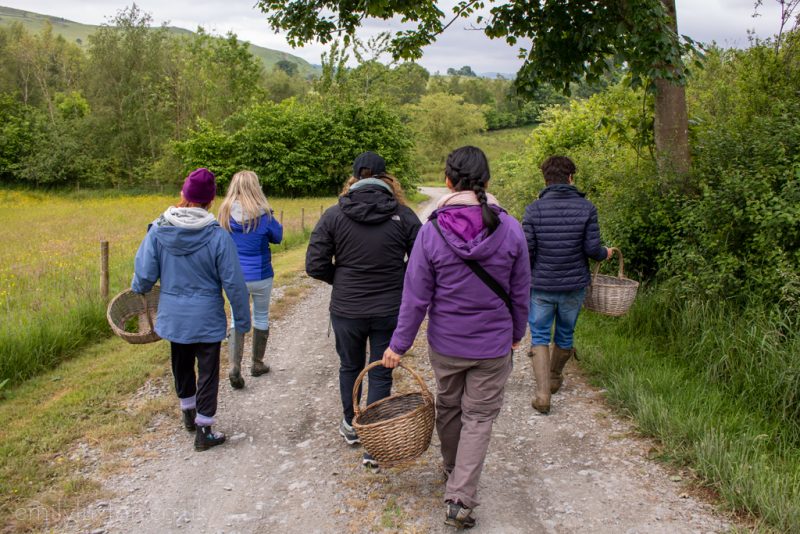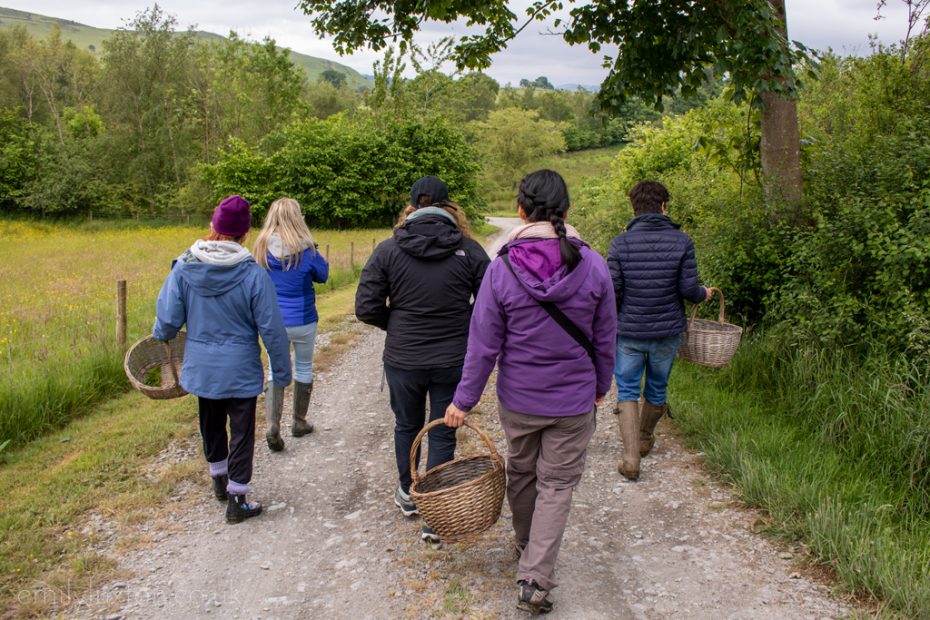 Foraging is a brilliant way to practice mindfulness. Outdoors in the wild, surrounded by the quiet sounds of nature, focusing on the different herbs and flowers around us… it felt like a really good way to centre and reconnect with the world.
We used everything we picked: brewing lemon balm, water mint and nettles into a tea, and making cordial from wild elderflower. It was such a lovely, wholesome morning!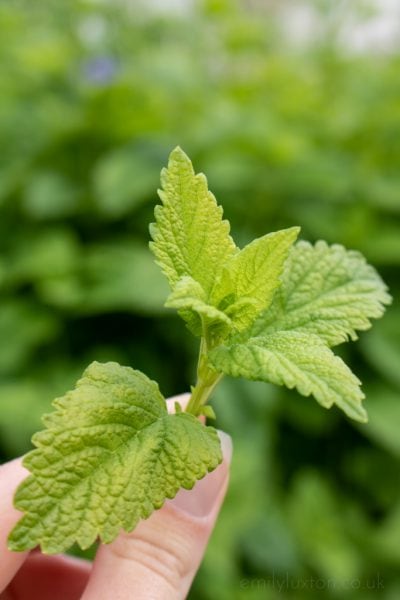 Later the same day – after another amazing outdoor yoga session – Sheena also took us around her abundant kitchen garden. Which made me realise just how terrible a gardener I really am! We gathered fresh salad and veg for our dinner, then cooked as a group – outdoors, around the campfire.
Fresh wild venison, shot by Sheena's husband Jamie as part of a culling project, with crispy roast potatoes and salad, followed by homemade rhubarb fool. Almost all the ingredients were local, and freshly gathered by us, and everything tasted that much better for it.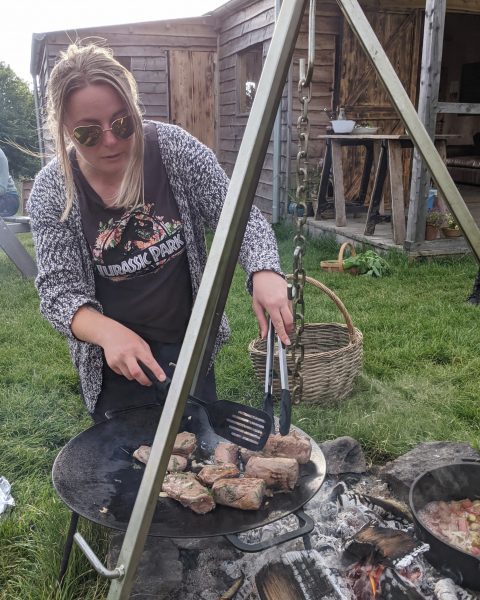 Refreshed and Restored
On the final morning, we packed up, had another delicious healthy breakfast, and said our goodbyes. Although it was only a short weekend, I genuinely felt a whole lot better both physically and mentally.
It was like a reset button had been pushed. A few days focusing on nature – and on my own wellbeing – had done me the world of good. Now if only I could bottle that feeling and take it with me into the working week!
Life can be so busy and chaotic sometimes – and so overloaded with information – that we lose touch with the simpler things.
Our retreat gave me a much-needed chance to reconnect with nature, the world, and the simple pleasures of nice views, good food, and great company.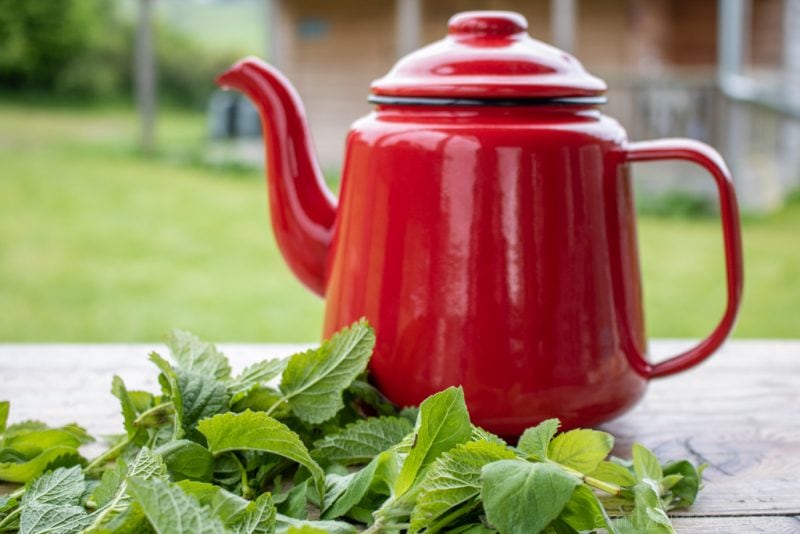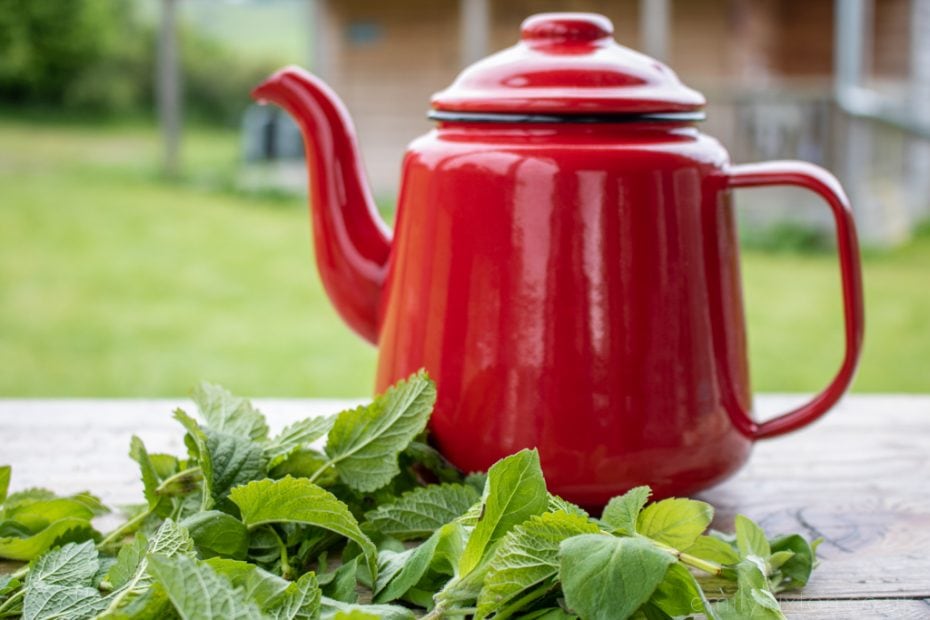 Wild Wellness Retreat – More Info
Accommodation: 3 Nights Glamping
The Retreats are held at The Forge in Corwen, a lovely, peaceful glamping site. It's nestled away on the side of an ancient Iron Age Hillfort in the heart of the stunning countryside.
Our tents were fabulous. I was a last-minute extra booking, so I was in a temporary bell tent – sadly without a log burner – but I was still super warm. And having a proper bed whilst camping felt like a real treat.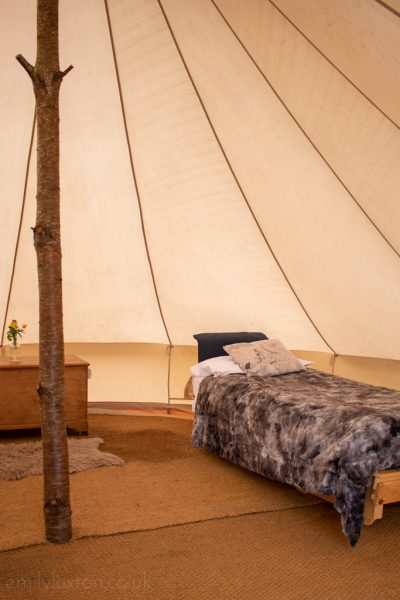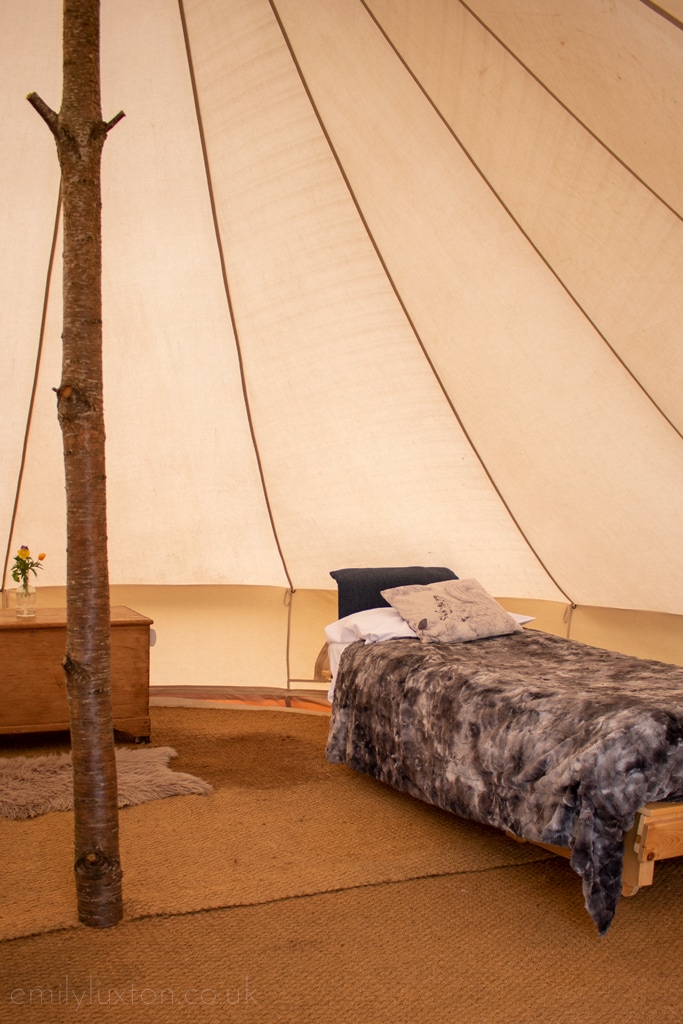 The regular tents were a little bigger, with log burners and lots of cute, homey furnishings. Although it was mid-June, the nights were still quite chilly. So having a log burner and lots of cosy blankets was ideal. The Forge also provided hot water bottles which were an absolute god-send!
Food
Food is always a big part of any trip! Because it was a wellness retreat I was a bit worried that the food might have more emphasis on "healthy" than on "tasty" – but thankfully my worries were unfounded.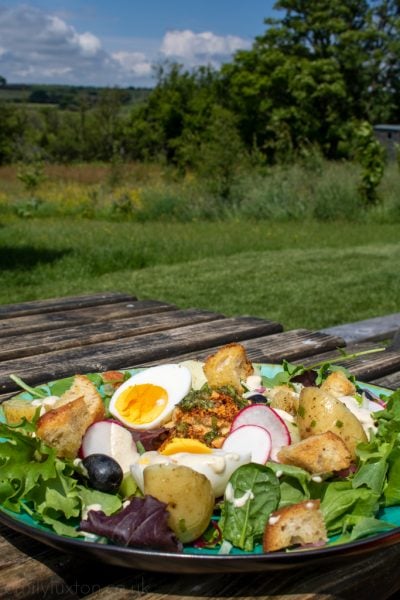 Every meal was absolutely delicious. All the food was provided by local caterer Eleri Eats, with tons of fresh, local, seasonal ingredients. And Adventure Tours UK founder Claire worked like a demon to supply us with dozens of handmade pizzas (cooked on a portable pizza oven) on Saturday night!
We never went hungry, always asked for seconds, and everyone kept commenting on how great the food was!
Sustainable and Community-Friendly
As I mentioned above, Adventure Tours UK have a huge commitment to making their tours as sustainable as possible. They've measured the carbon footprint of all their tours, and offset it by planting one new tree for every guest.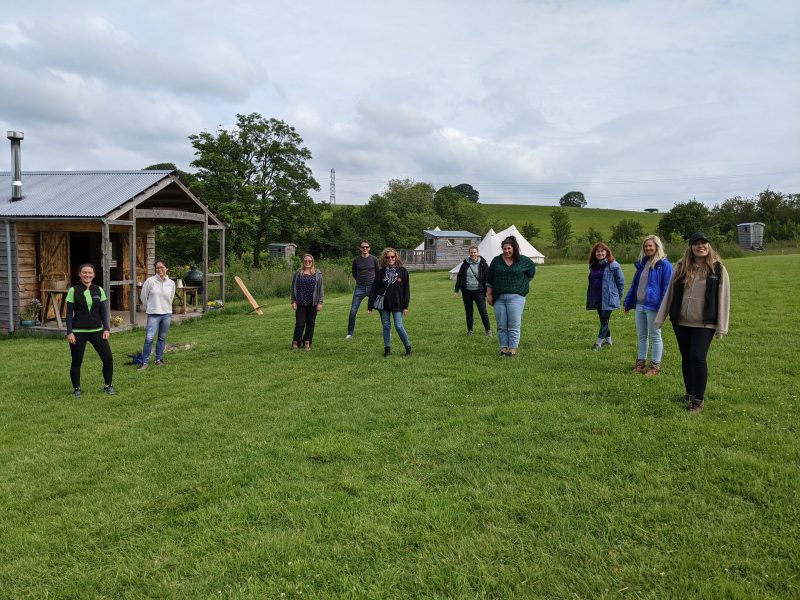 The trees are part of a local reforesting project, so any tour booked is helping support the local community and environment. And it will be completely carbon neutral, which is a huge selling point.
The company also uses small, local businesses wherever possible. Like the catering, yoga, and paddleboarding tours on our trip – all local companies.
You can really see where you're money is going when you book with a small local business, and you know you're getting a ton of local knowledge too.
Covid-Safe
All the small group tours have been updated to make them safe for travel during the current pandemic. You're also covered by an Adventure Promise, with flexible booking terms in case you need to cancel or rearrange.
Wild Wellness Retreat
The Wild Wellness Retreat starts from £545 and includes all your meals, activities, accommodation for 3 nights, and parking. It's a small group experience so it's ideal for solo travellers.
The next Retreats are running on 30th July – 2nd August 2021, and 10th-13th September 2021.
Honestly, I had such a fantastic time on my retreat, and I really can't recommend this tour enough. If you're itching for a getaway and need to slow down for a few days, this could be perfect for you.