Some posts on this site contain affiliate links. If you book or buy something through these links, I earn a small commission (at no extra cost to you). Take a look at my privacy policy for more information.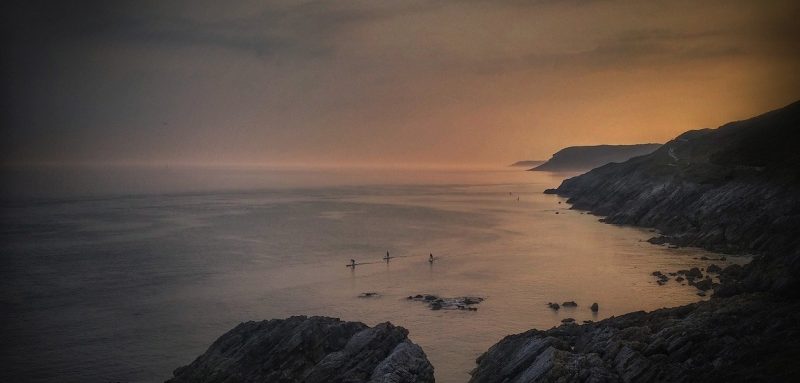 With this year set to be the year of more local travel, I've been busy showcasing some of the most amazing places in the UK. If you want to discover a few new places to visit, South Wales could be a brilliant place to start.
Whether you're looking for adventure, wildlife and nature, history and culture, or an exciting city break escape, the South of Wales has it all!
From the wild and rugged scenery of the Brecon Beacons National Park to the stunning coastline… South Wales is full of incredible landscapes. Not to mention vibrant cities – including the Welsh capital – quaint countryside villages, and cute seaside towns.
I asked locals and top travel bloggers for their favourite must-visit places in South Wales! Get ready for some serious travel inspiration…
Map of Places to Visit in South Wales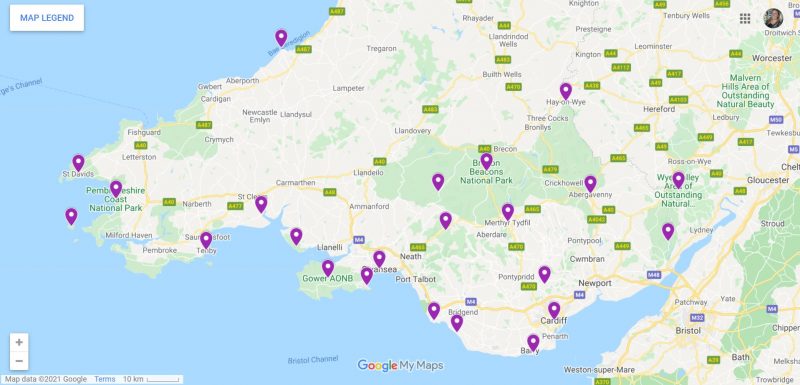 The region of South Wales is sometimes only applied to the very bottom "heel" of the country – the historic counties of Glamorgan, and Monmouthshire.
However, for this post, I'm also including the southwest region of Wales, right the way around to the Bay of Cardigan. If it's in the south, it counts – for the sake of this post at least!
23 Places to Visit in South Wales
Brecon Beacons National Park, South Wales
Recommended by: Rachel, Average Lives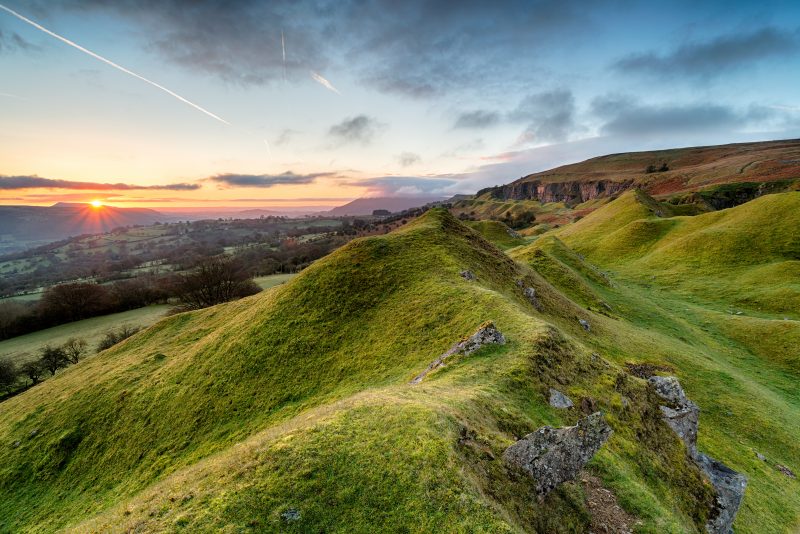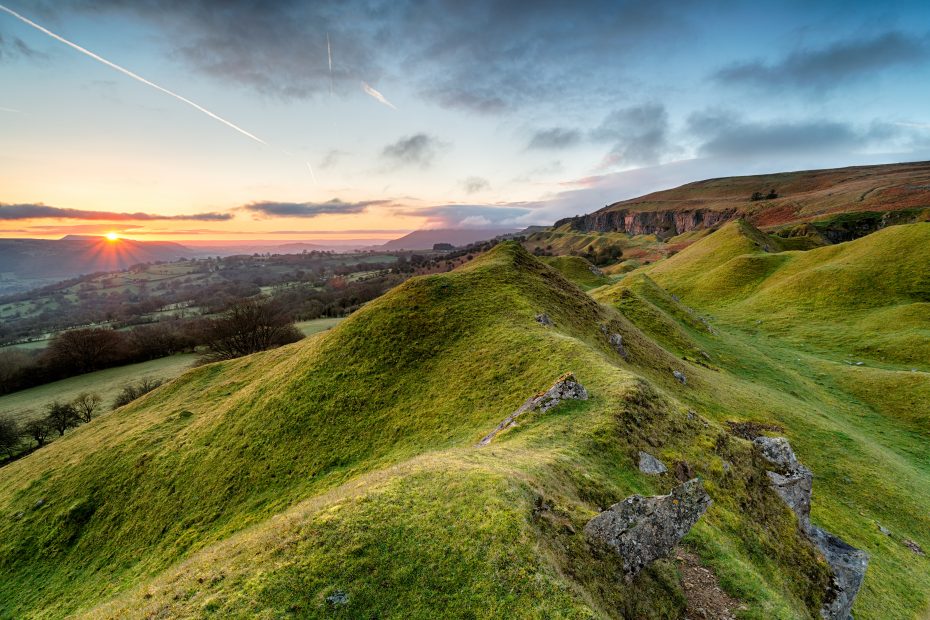 The Brecon Beacons National Park is one of the best places to visit in South Wales because it is full of extraordinary adventures. It's known as "waterfall country" and is full of breathtaking scenery, charming towns, castles, canals, and unforgettable outdoor fun.
You can experience gorge walking, quad biking, and hike incredible trails. Some of the best include the Four Falls Trail, where you can admire four different waterfalls in the beautiful woodland.
Nearby is the famous Pen y Fan, which lies 886m above level and is a National Trust walking trail. Hikers climb to the summit to take a picture of the Bronze Age cairn. From the top (if weather permits), you will see dramatic views across South and Mid Wales and Southwest England. After adventuring, you should grab a hearty meal at the pub in Brecon. You won't regret it!
Cardiff – the Welsh Capital
Recommended by: Cath, Passports and Adventures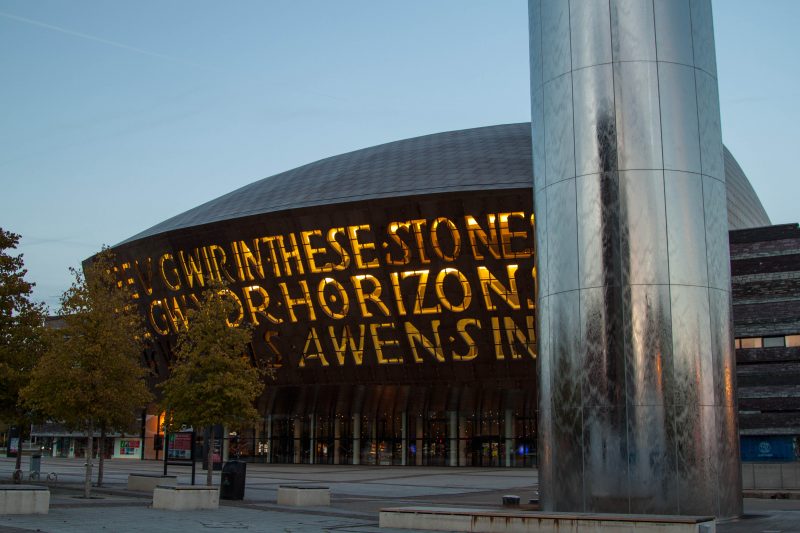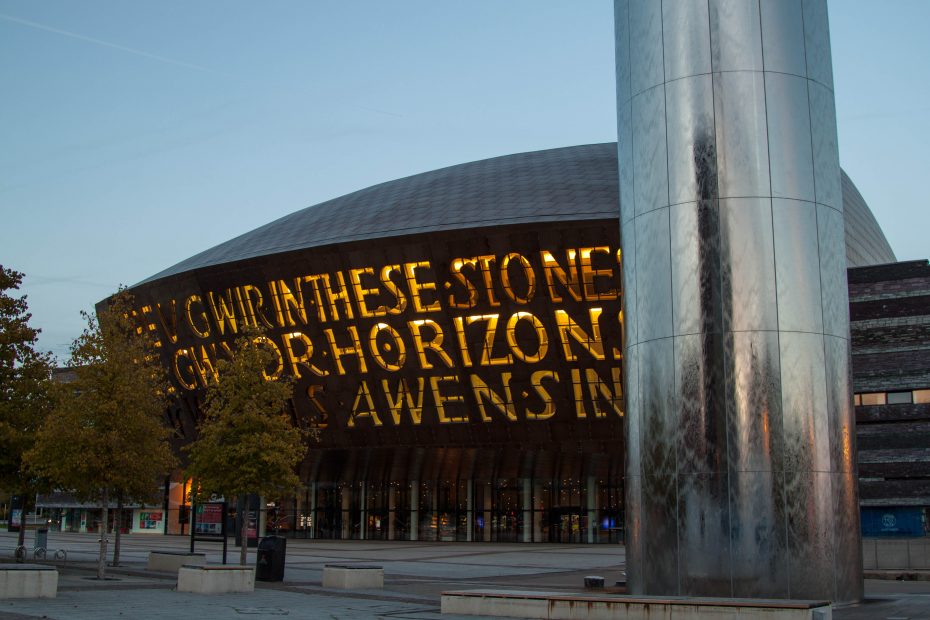 One of the must-visit places in South Wales is the Welsh capital, Cardiff. Cardiff is a vibrant city with a large student population thanks to the university. But that's not all there is to it.
Cardiff has a wealth of things to offer visitors, no matter their interests. Even travelling to Cardiff with kids is easy, with family-friendly places such as Cardiff Castle and St Fagan's on offer. Cardiff Castle has a Norman Keep, Castle Apartments and walls that hold secrets. St Fagan's is the National Museum of History, where you can view and step inside buildings from around Wales through the ages.
Museums are ten-a-penny in Cardiff, while if you like shopping, you'll love St David's 2. This huge shopping centre has everything you need for some retail therapy! Cardiff Bay is another great place to visit to soak up some sea air.
Tenby
Recommended by: Rose, Where Rose Goes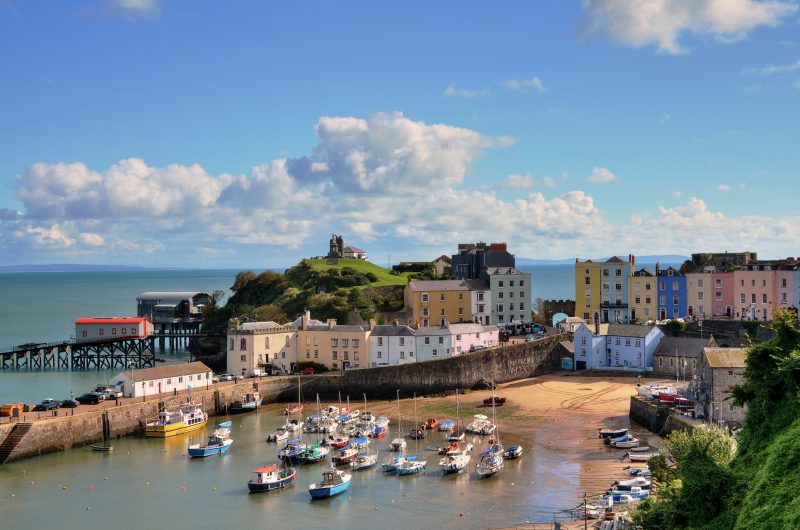 The charming seaside town of Tenby may no longer be a hidden gem, but it's without doubt one of the best places to visit in South Wales, whether you stay overnight or pass through during a Wales road trip.
Part of the charm of Tenby is the 13th-century city walls that run around the city. As well as an equally well-preserved castle, there are several beaches to enjoy. So you can relax with a good book or simply sample the local ice cream.
For a bit of culture, you can visit Tenby Museum and Art Gallery (found at the castle). Or take a spooky ghost tour to learn about the town's history spanning back a century! On a sunny day, take a walk along the coastal path to Monkstone Point. Finally, why not catch a ferry over to Caldey Island, still maintained by local monks?
Swansea
Recommended by: me!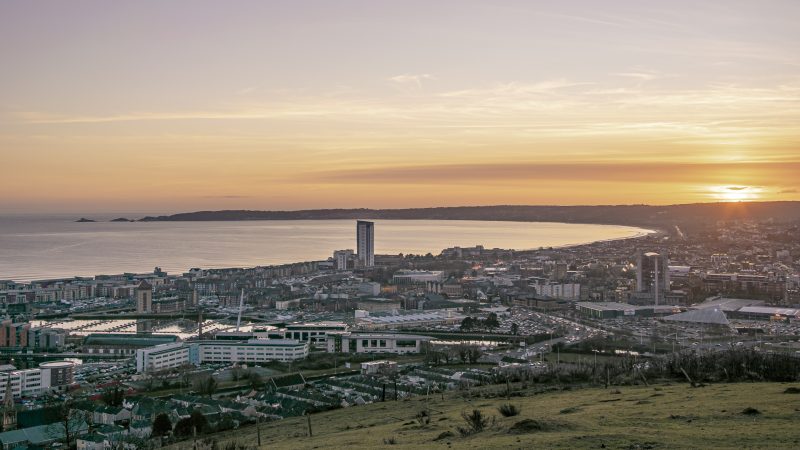 The second biggest city in the country, Swansea lies just along the coast from Cardiff, smack-dab in the middle of the South Coast of Wales. So it's brilliantly poised for exploring the stunning nearby coastline!
This small seaside city is definitely one of the best places to visit in South Wales. A stunning beach, a compact and walkable city centre, and plenty of amazing local food and drink to discover… what more could you want?!
Don't miss Swansea Market, one of the largest covered markets in Europe. This is the perfect place to try some of the top-notch local produce. Literature fans should also make sure to visit the Dylan Thomas museum and his house in Cwmdonkin. And, of course, there's the gorgeous beach at Swansea Bay – perfect for watersports.
Wye Valley AONB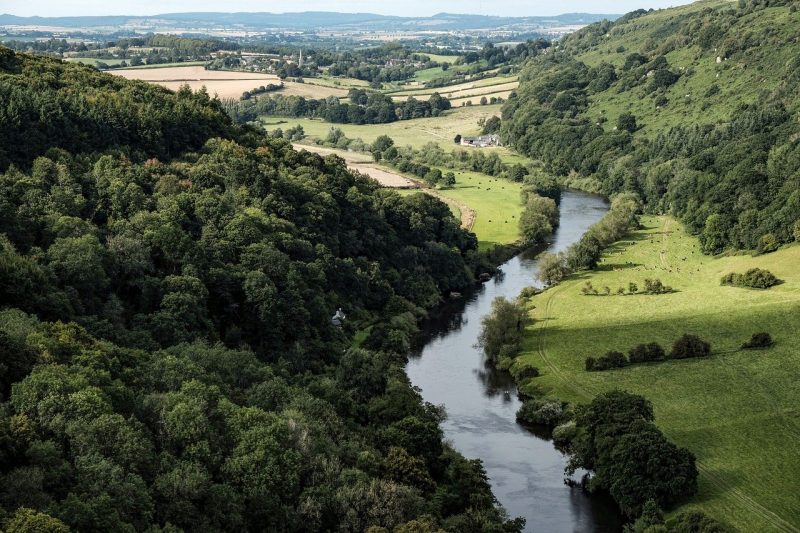 Skirting the England/Wales border, the Wye Valley AONB follows the meandering River Wye on its journey down to the Severn Estuary. It's an area known for dramatic limestone gorges, picturesque woodlands, and historic hillforts.
The lush, leafy valley is a paradise for walking, cycling, and horse riding. Not to mention rock climbing and caving for the more adventurous! And, of course, the River Wye is perfect for canoeing and kayaking – especially the smooth, glassy stretch between Monmouth and Tintern.
Gower Peninsula
Recommended by: Kat, Wandering Bird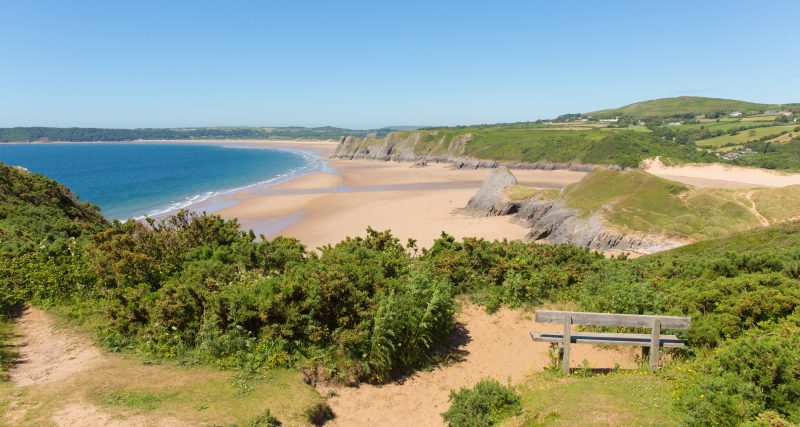 The Gower is a peninsula near Swansea – and one of the most beautiful places in Wales. It's so picturesque that it was named the UK's first Area of Outstanding Natural Beauty in 1956. Yet Gower still remains a perfect holiday destination today.
This small peninsula is home to 30 beaches, many of them sandy. The beauty of the place is that no matter which direction the wind is coming from, you'll almost always find a sheltered cove to enjoy.
Gower is mainly about outdoor pursuits and, as well as swimming, paddling and rockpool searching, you can get involved in surfing, paddle boarding and even canyoneering (please do this with an appropriate guide).
There are plenty of hotels and BnBs to enjoy. But to really get into the spirit of Gower, grab a tent or camper van and stay on one of the best camping and motorhome sites in south Wales.
Abergavenny
Recommended by: Kavita, Kavey Eats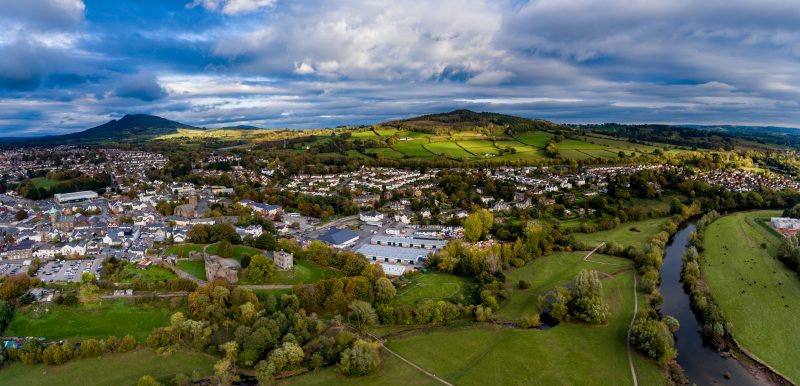 Abergavenny is a beautiful market town, often touted as a gateway to Wales, just 6 miles from the English border. Once the site of a Roman fort, it grew into a walled fortress town during Norman times, when the area was known as the Welsh Marshes.
Today, visitors appreciate the remains of Abergavenny's medieval stone castle built in the 11th century. In the town centre, an impressive town hall building remains part of community life. It also houses the market hall where weekly food and antiques markets are held.
Other historic buildings include the Holy Trinity Church, the Priory Church of St Mary and a 16th-century tithe barn.
In more recent years, the town has become well known for its annual Food Festival. Held in the second week of September, it draws foodies from all over the country to attend talks and classes by the top names in cooking and food writing, and to shop from the huge selection of food and drink producers selling their wares.
Mumbles
Recommended by: Ben, Driftwood Journals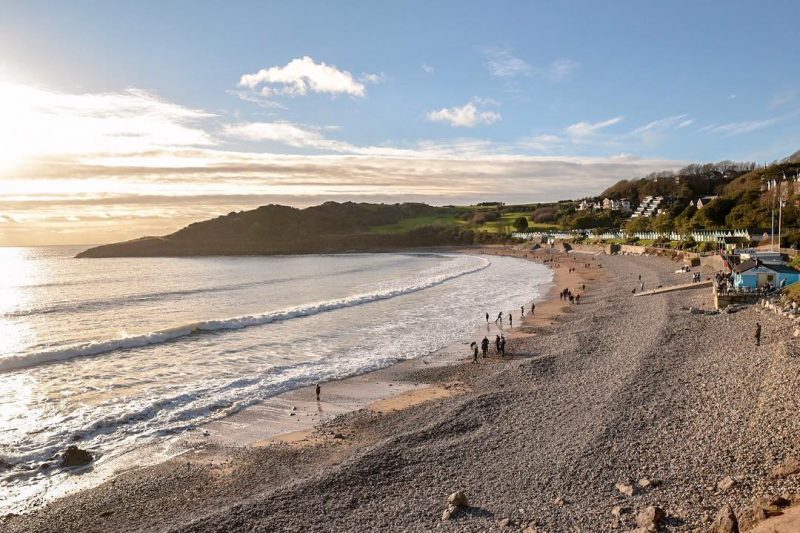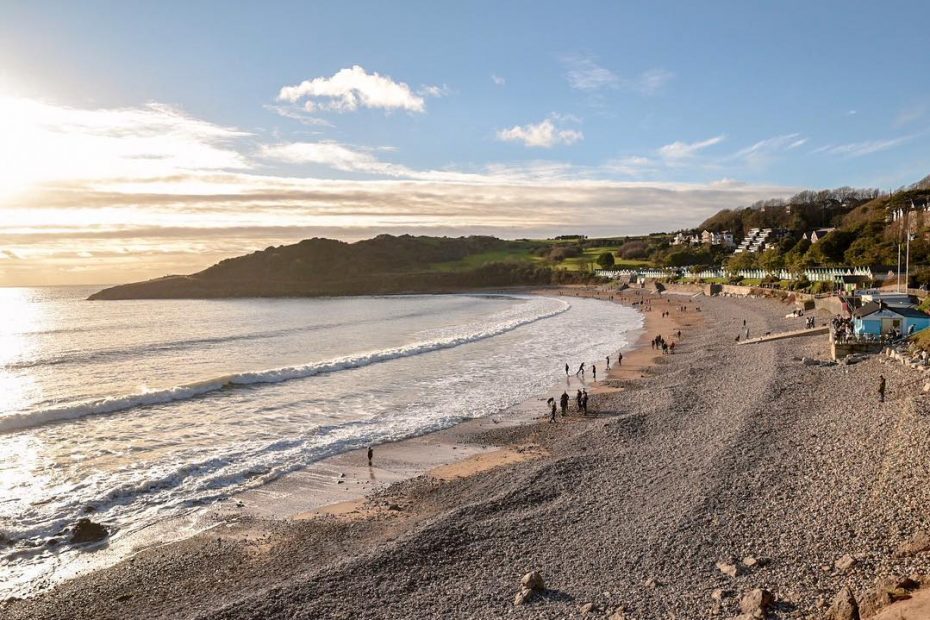 There is no prettier place to be on a sunny day in Wales than the charmingly higgledy-piggledy fishing village of Mumbles (or Mwmbwls in Welsh). Amble your way up Newton Road to explore the colourful shops and cutesy cafes. Be sure to stop by at the 12th-century Oystermouth Castle for commanding views over the sea and rooftops below.
Stop for a pint at the legendary White Rose pub or stroll the promenade in search of ice-cream and strong Italian espresso. Spoiler: you won't have to go far! Joe's ice-cream parlour is the most famous, while Verdi's, Castellamare and Forte's serve up spectacular views of the Mumble Lighthouse alongside their luscious scoops.
Don't miss the Victorian pier and historic lifeboat house. If you're feeling energetic, hike the coast path round to Langland and Caswell Bay, which are among the most beautiful beaches on the Gower peninsula. Croeso i Gymru!
St David's – the Smallest City in the UK!
Recommended by: Angela, Where Angie Wanders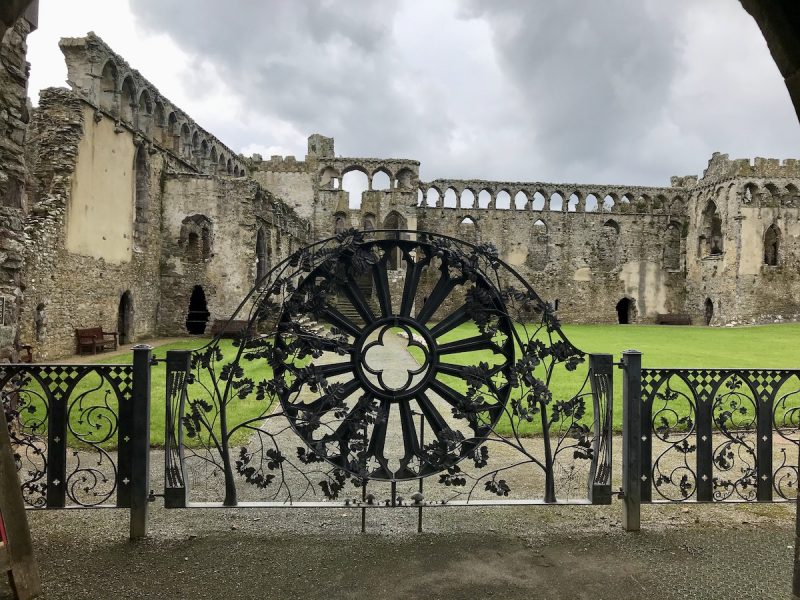 St Davids in Pembrokeshire is a very special destination in South Wales. Not only is it the birthplace of the patron saint of Wales, St David, but also holds the title of the smallest city in the UK.
It's a charming city. The main street is lined with independent retailers, coffee shops and traditional food and craft stores. And it all leads to St David's Cathedral, the centrepiece of the city.
Inside the cathedral, a visit to the shrine of St David is a must. It's said that three visits to St Davids is equal to a pilgrimage to Jerusalem! Next door to the cathedral is the Bishops Palace, mostly in ruins but still an inspirational place to have a look around.
A short walk or drive from the centre of St David's, you will discover some of the most beautiful beaches in Wales. Relax at the beach, or take a boat ride to see the coastal wildlife.
Glamorgan Heritage Coast
Recommended by: Catalin, TravelTrained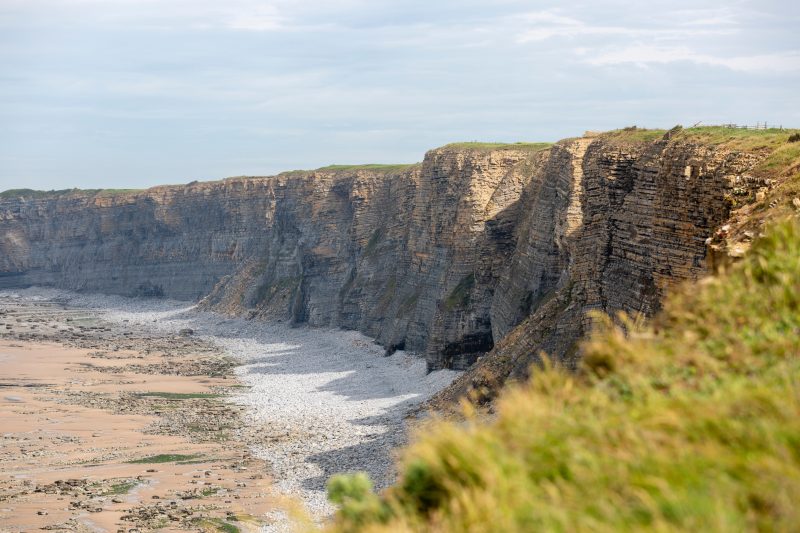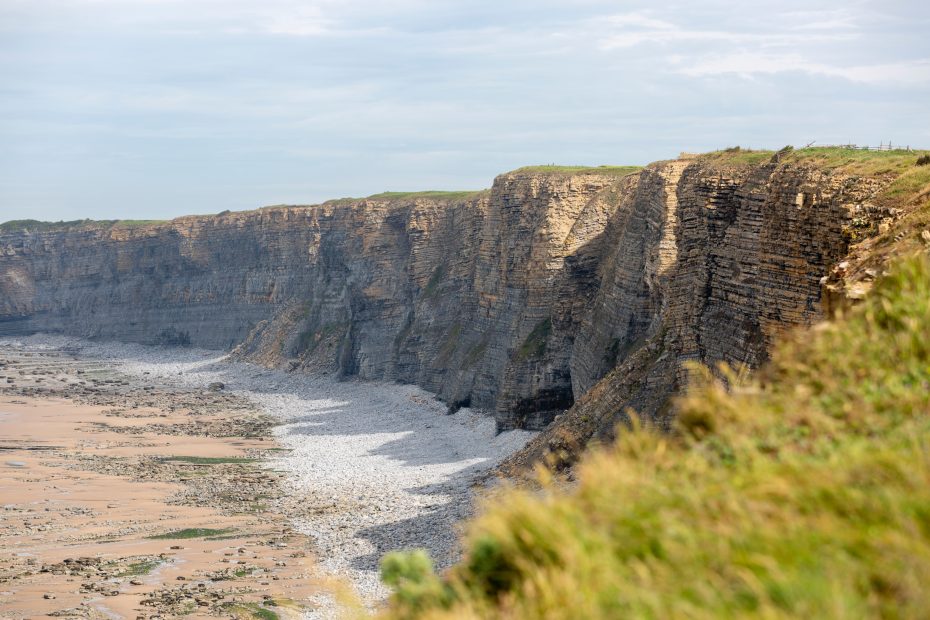 Located between Aberthaw and Porthcawl, Glamorgan Heritage Coast is a 14-mile-long breathtaking coastline pampered with incredible views and stunning landscapes.
The best way to explore this incredible place is on foot or by bicycle. There are a few small villages around with good places to stop for food and drink.
If you decide to visit, make sure you will stop by the Lighthouse at Nash Point, St Donat's Castle, and Holy Trinity Church. And be sure to sample the wine at Llanerch Vineyard or Glyndwr Vineyard. There is an app available where you can find 10 different Vale Trails.
Pembrey Country Park
Recommended by: Claire, Tin Box Traveller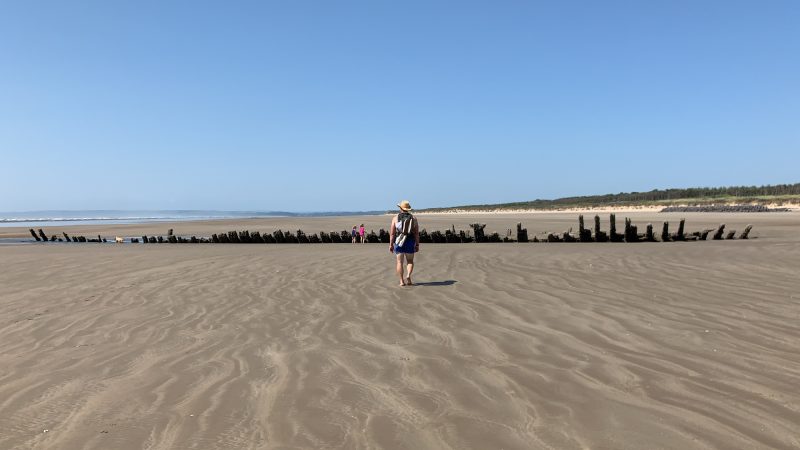 A must-visit destination in Carmarthenshire in South Wales is Pembrey Country Park. It's somewhere you can indulge in outdoor activities, enjoy a walk, or simply relax on the stunning eight-mile-long sandy beach. It also has a campsite, so you can kick back and stay for a while.
This 500-acre country park is a particular favourite with families. There's a model railway, adventure playgrounds, toboggan run, and endless picnic spots. Sporty visitors have a choice of cycle trails, archery lessons and a dry ski slope.
Whatever you chose to do here you must spend some time on Cefn Sidan Beach. It's one of Europe's best, and comes with dune-backed golden sand and panoramic views across Carmarthen Bay. There's even the odd shipwreck.
Find out more about Pembrey Country Park and more things to do in Carmarthenshire.
Dan yr Ogof Caves
Recommended by: Alice from Adventures of Alice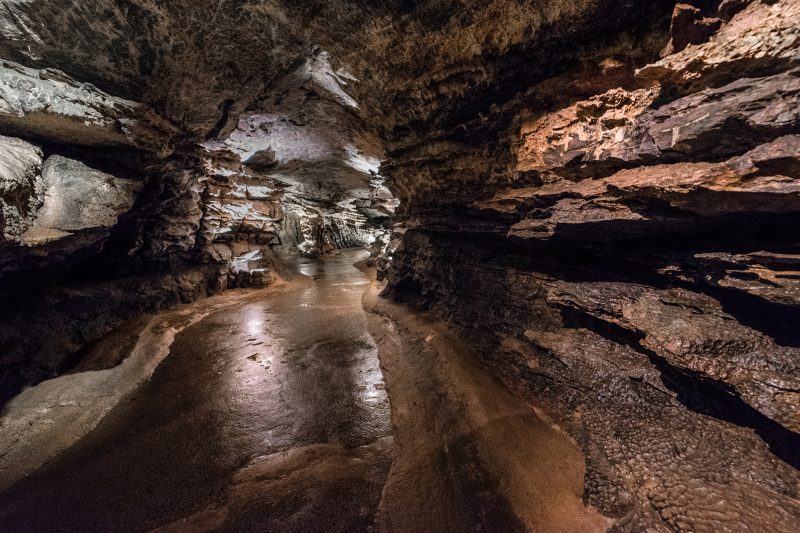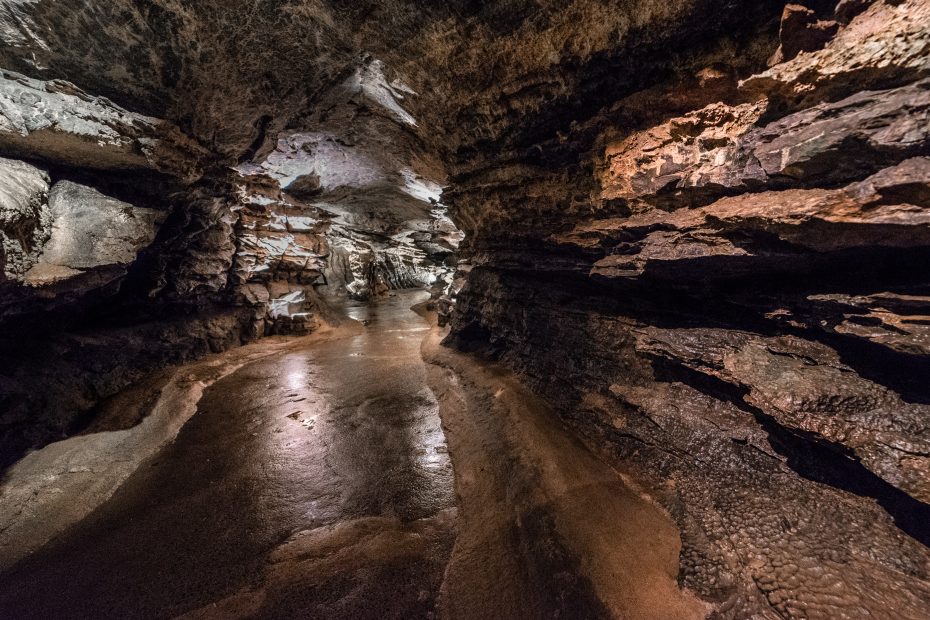 Located in the National Showcaves Centre in Wales, Dan yr Ogof is a system of intricate cave tunnels. They offer a unique underground experience suitable for any type of traveller, from couples to a family getaway. Situated just 15 miles southwest of Brecon, you can even make a weekend of your visit and camp onsite. They also have a campervan park and self-catering accommodation.
The National Showcaves Centre is actually a collection of three different caves: Dan-yr-Ogof, Cathedral Cave and Bone Cave. Dan-yr-Ogof was discovered in 1912, at the point where the river Llynfell comes out of the mountain.
You can walk along the beautiful passageways for just under 1km, passing some of the interesting formations. This includes the infamous "Rasher of Bacon", the heavenly "Angel" and the "Alabaster Pillar". This gorgeous natural wonder is one of the best places to visit in South Wales and you definitely won't be disappointed!
Porthcawl
Recommended by: Bart & Andy – The Jetset Boyz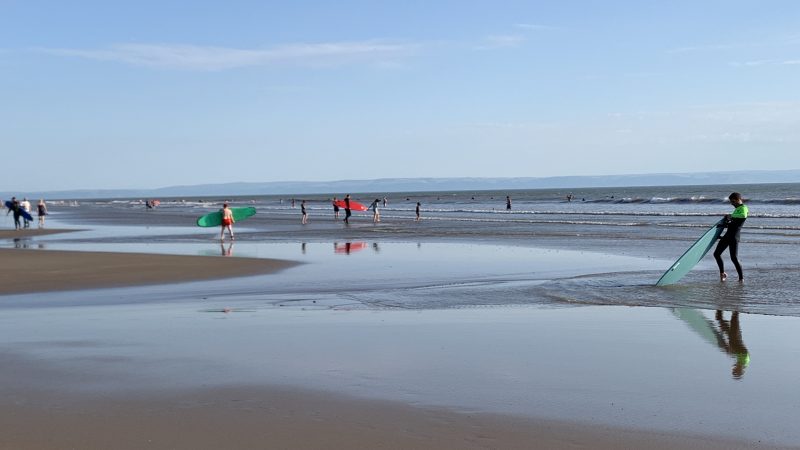 No visit to South Wales is complete without a trip to Porthcawl. Three of Porthcawl's seven bays hold Blue Flag status, with two being great surfing spots. Rest Bay offers consistent breaks, while Coney Beach offers perfect waves for beginners.
If you want to catch your thrills out of the water, head to the Coney Beach Pleasure Park for all the fun of a traditional fair at Wales' cheapest amusement park.
One of Porthcawl's claims to fame is that it hosts the world's biggest Elvis Festival. Every year in late September, the town welcomes 35,000 visitors and a host of Elvis impersonators from around the world for a weekend dedicated to The King. The event has been named by Time Out as one of the "40 best things to do in the world".
Skomer Island
Recommended by: Anna, Really Wildlife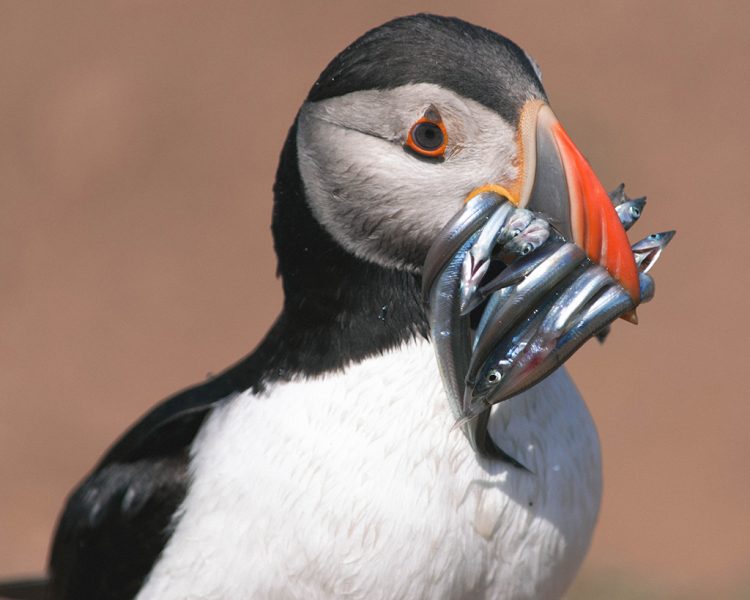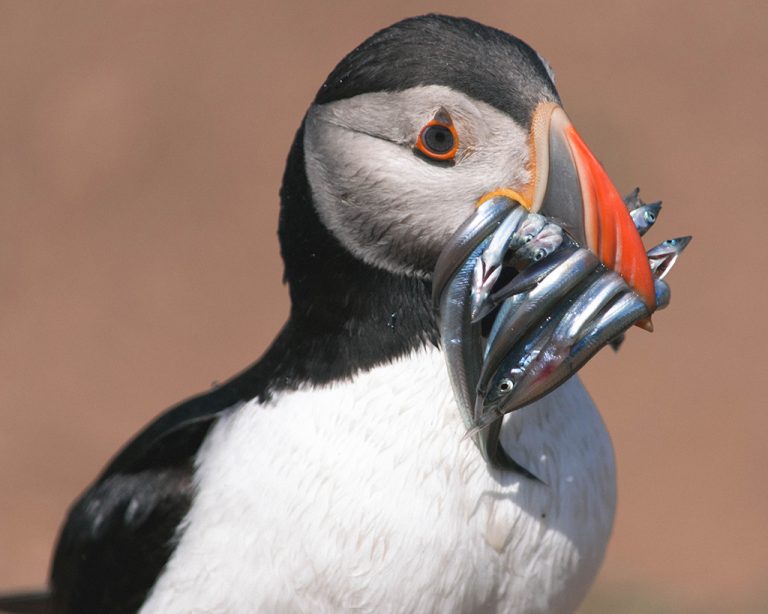 Located off the coast of Pembrokeshire, Skomer Island is one of the best places in south Wales to visit if you're a nature lover. To reach it, take a 15-minute boat journey from Martin's Haven – and make sure you have your camera ready!
Once on the island, you'll see incredible birdlife, including razorbills, guillemots and the largest known concentration of Manx shearwaters in the world. But the biggest draw of Skomer Island is its population of over 20,000 puffins who nest, breed and raise their young on the island.
These adorable birds treat visitors to close-up sightings as they land home from sea with mouths full of sand eels to feed their pufflings.
Travel along Skomer's walking trails to take in the puffins' various nesting sites, as well as cliffs and beaches full of seals too.
Hay-On-Wye – The Town of Books
Recommended by: Maja, Away with Maja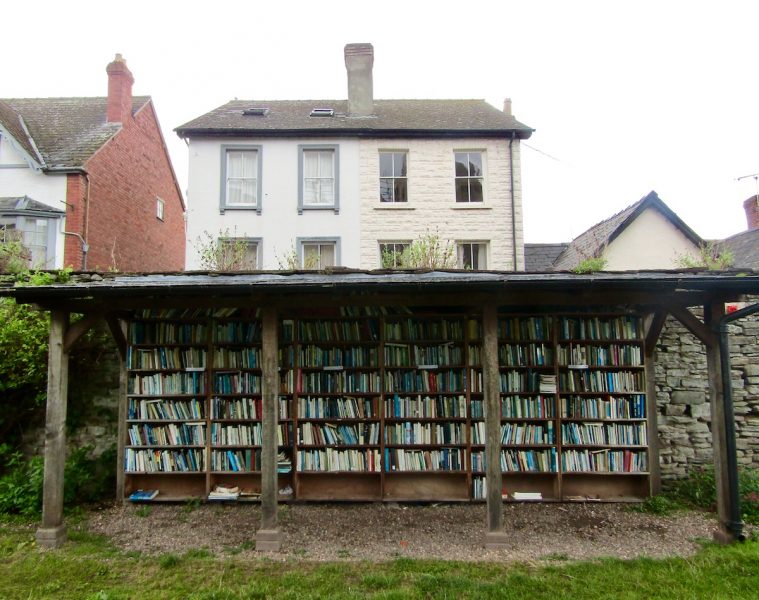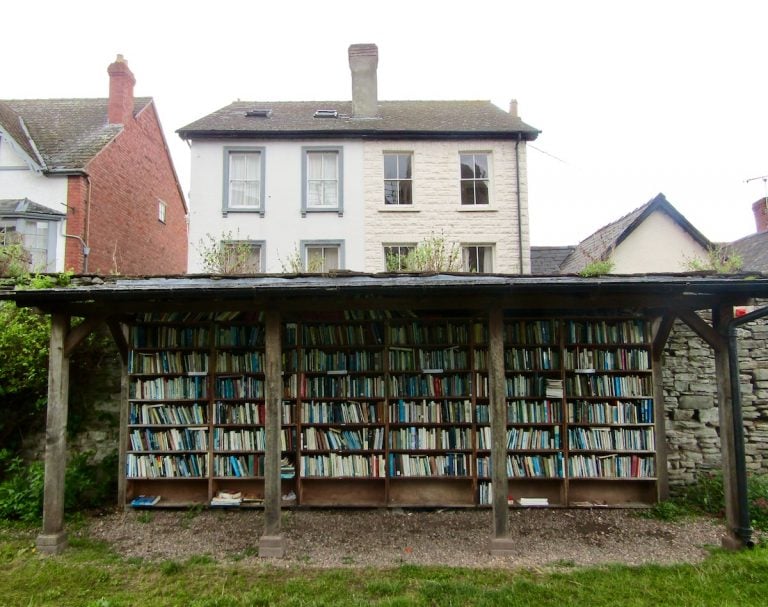 Hay-on-Wye is a small, quaint town in the Wye Valley, just next to the English border. Known as the "Town of Books," one of the main reasons people visit is to peruse the numerous bookstores – there are over 20 here! A few of the best ones to check out are Richard Booths, Addymans Books, and the honesty bookshop outside Hay Castle.
Time your trip around the Hay Festival, a literature and arts festival that takes place around the end of May.
If the weather is nice, take a walk out to the Warren, a pretty meadow just outside of town, or hike up Hay Bluff for beautiful scenery. If you're interested in the outdoors, Hay-on-Wye is also close to the Brecon Beacons National Park. So it makes an ideal stopping place on a visit to South Wales.
Pembrokeshire Coast National Park
Recommended by: Anuradha from Country Hopping Couple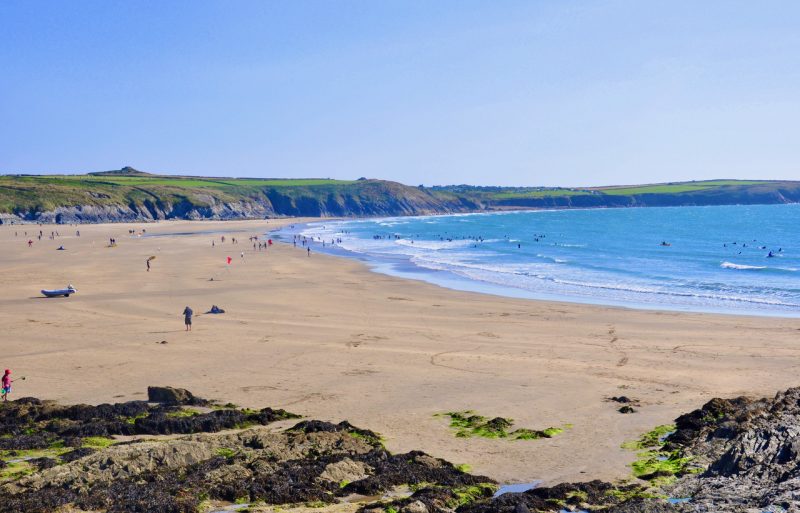 Pembrokeshire Coast National Park is one of three national parks in Wales, and the smallest among the national parks in UK. With a wide variety of landscapes ranging from sandy beaches to rugged cliffs to moorlands, the Pembrokeshire coast offers endless opportunities for outdoor adventures.
As an undisputed coastal national park, Pembroke Coastal Path National Trail spans over 186 miles of stunning coastline in Britain. Starting from St Dogmaels in the north to Amroth in the South, the trail is punctuated with blue flag beaches, limestone cliffs, red sandstone bays and rugged volcanic headlands. Not to forget the thriving habitats it creates for an array of flora and fauna.
One of the best ways to experience Pembrokeshire Coast is to put on your welly boots and go for a coastal walk. There are myriad circular and linear walking paths to choose from. Some of the popular beaches include Barafundle Bay, Broadhaven, Poppit Sands, Tenby and Whitesands Bay.
Tintern Abbey
Recommended by: Larch, The Silver Nomad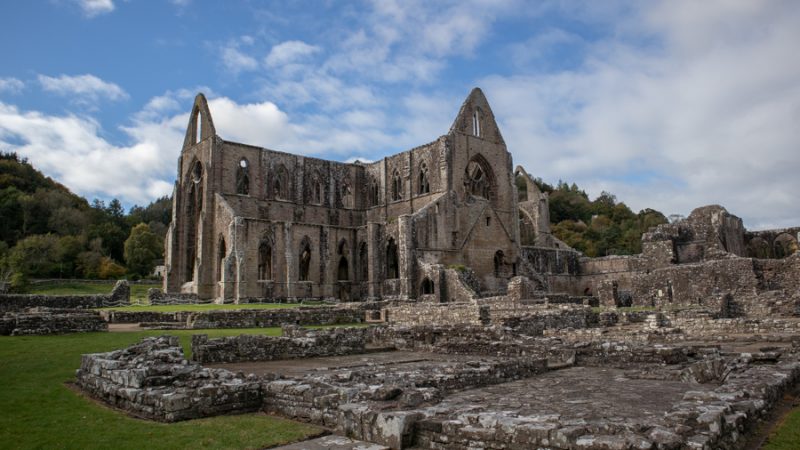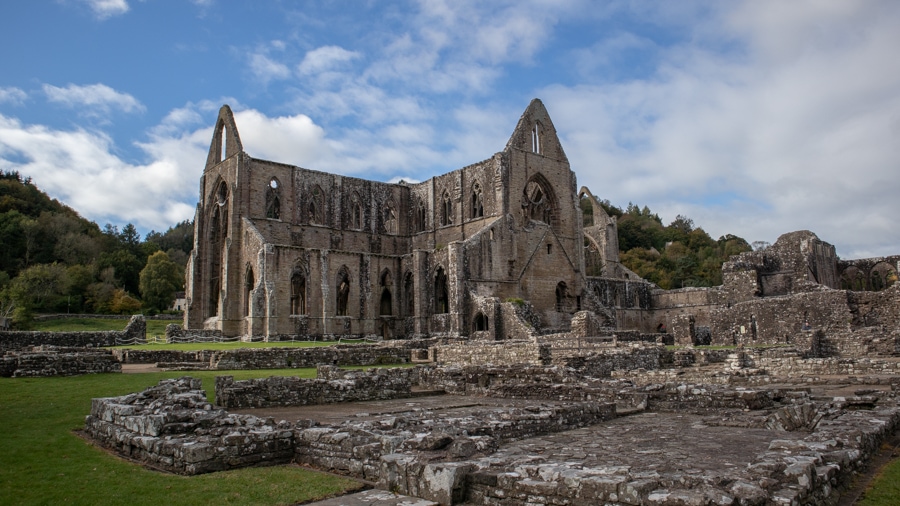 The majestic ruins of Tintern Abbey in Monmouthshire sit overlooking the River Wye on the boundary between Wales and England. Founded on 9th May 1131 by white-robed Cistercian monks, it was the first Cistercian church in Wales.
Tintern Abbey started life as simple timber buildings which progressed into a stone church and cloisters. In 1269 building of the new abbey church was started funded by the Marcher lords' patronage. Although the new Abbey was consecrated in 1301 construction did not finish for several decades.
In August 1536, Tintern became one of the casualties of King Henry VIII's English Reformation of the churches and the gothic Abbey slowly declined into ruins it is today.
Walking around Tintern Abbey, you cannot help but marvel at the architecture and grandeur. The ruins are accessible to visitors and you can walk around cloisters, nave, infirmary and kitchens, though some areas are being renovated.
Laugharne – Dylan Thomas' Home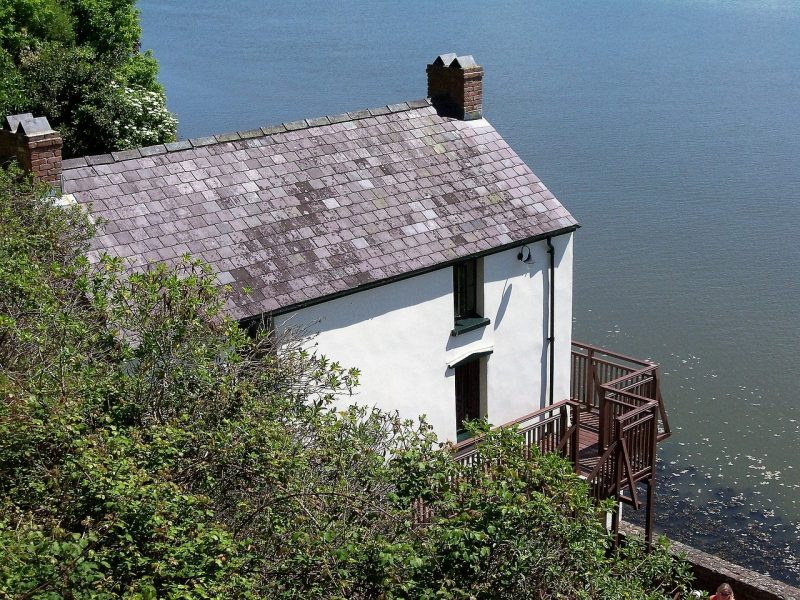 A small town on the Tâf estuary on Carmarthen Bay, Laugharne is best known for being the home of Wales' most famous English-language poet, Dylan Thomas. Thomas once described it as the "strangest town in Wales", but he was fascinated by Laugharne.
The Boathouse, where Thomas spent the last few years of his tragically short life, offers up incredible views of the estuary and the Gower beyond. Today, its a heritage centre – and there's also a tearoom and art gallery. So you can visit to learn a little more about the writer – and enjoy some of the views which inspired him!
While in Laugharne, you should also visit the ruins of the 12th-century Norman castle, and head into the estuary to enjoy the local wildlife. The area is perfect for birdwatching, especially in winter when there are flocks of wading birds feeding on the mud flats.
Cardigan Bay, South West Wales
Recommended by: Heather, Conversant Traveller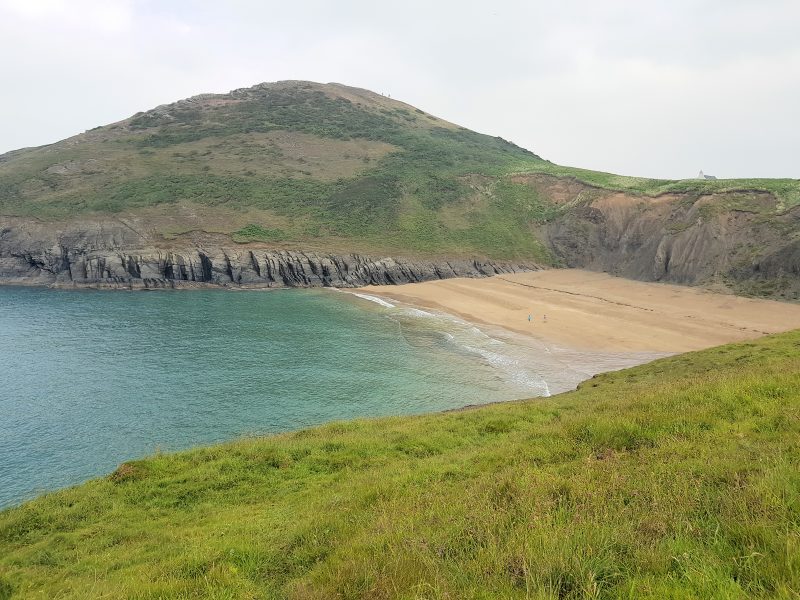 Cardigan Bay stretches from Bardsea Island in Gwynedd, all the way down to Stumble Head in Pembrokeshire. It's a beautiful part of Wales, with hidden coves, sandy beaches, and coastal paths to explore on foot or by bike. Some of the best glamping sites in Wales can be found near Cardigan Bay too, so it's a great place for outdoor adventure holidays.
Get the adrenaline pumping with a sailing or kayaking tour of the bay, while you keep your eyes peeled for dolphins jumping through the waves.
Back on shore, there are several golden sand beaches to discover, from the sunny stretch at Aberporth that is popular with families, to the secret cove at Mwnt which also has a small clifftop chapel. For colourful Georgian houses and delicious seafood, head up to the charming harbour town of Aberaeron. Or for some culture visit the 12th-century castle in historic Cardigan.
Vale of Neath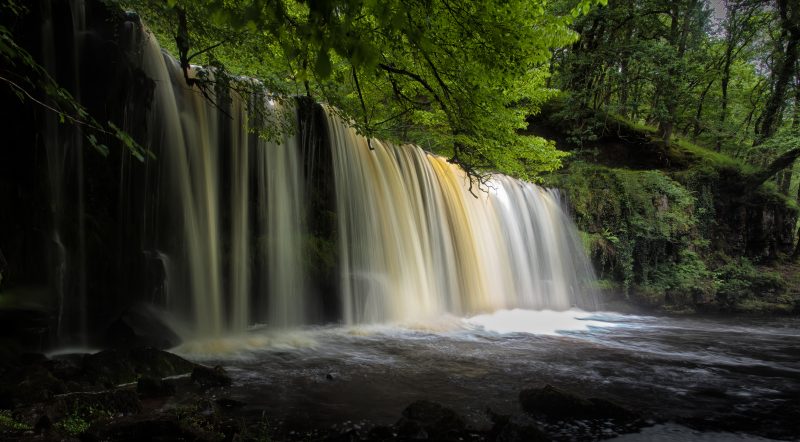 One of the South Wales Valleys, the Vale of Neath encompasses the upper reaches of the River Neath. The valley is known for its stunning scenery and numerous waterfalls. There are several waterfall walks and trails to explore the area, from the easier walks such as Aberdulais Falls to the more challenging trails around Sgwd Gwladys at Pontneddfechan.
Don't miss a trip to the 12th-century Neath Abbey, or the 14th-century castle in the town of Neath. Neath town centre, with its thriving indoor market and great foodie scene, makes an ideal base for exploring the Vale.
READ MORE: 11 Best Things to do in Neath Port Talbot
Barry Island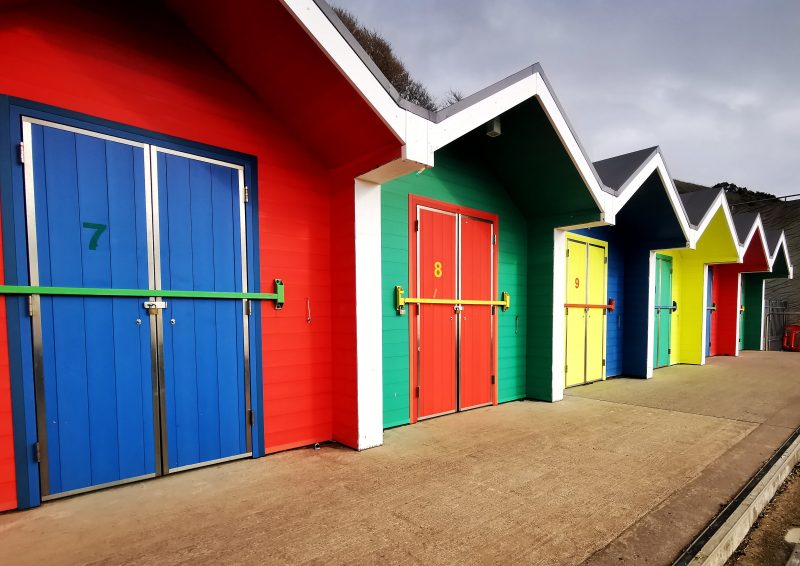 Fans of the beloved British sitcom Gavin and Stacey won't want to miss a trip to Barry Island! Known for its retro seafront and Pleasure Park, Barry Island featured pretty prominently in the show.
But Barry is about more than Gavin and Stacey! The island has attracted visitors since the 1870s, so it's a great spot to visit while in South Wales. Expect the quintessential British seaside holiday at Barry! Visit the golden sands of Whitmore Bay beach, lined with brightly coloured beach huts. Play a round of adventure golf, and – of course – enjoy the thrills of Barry Island Pleasure Park.
Merthyr Tydfil & the Brecon Mountain Railway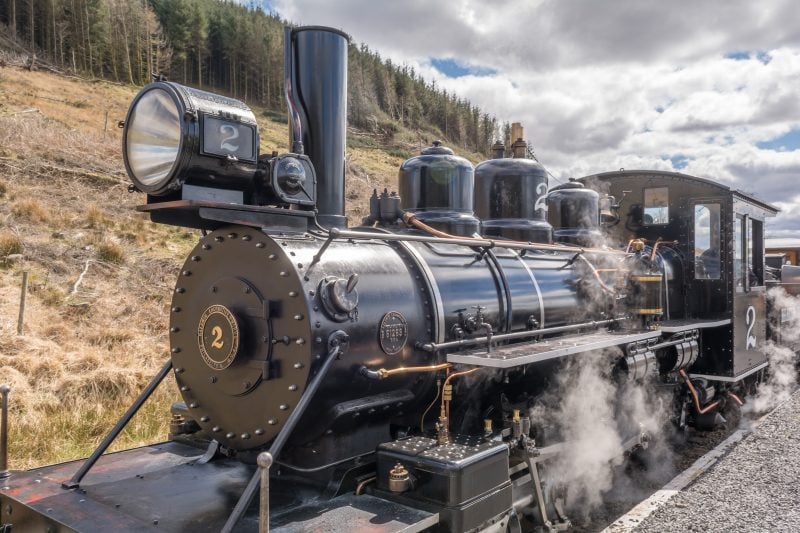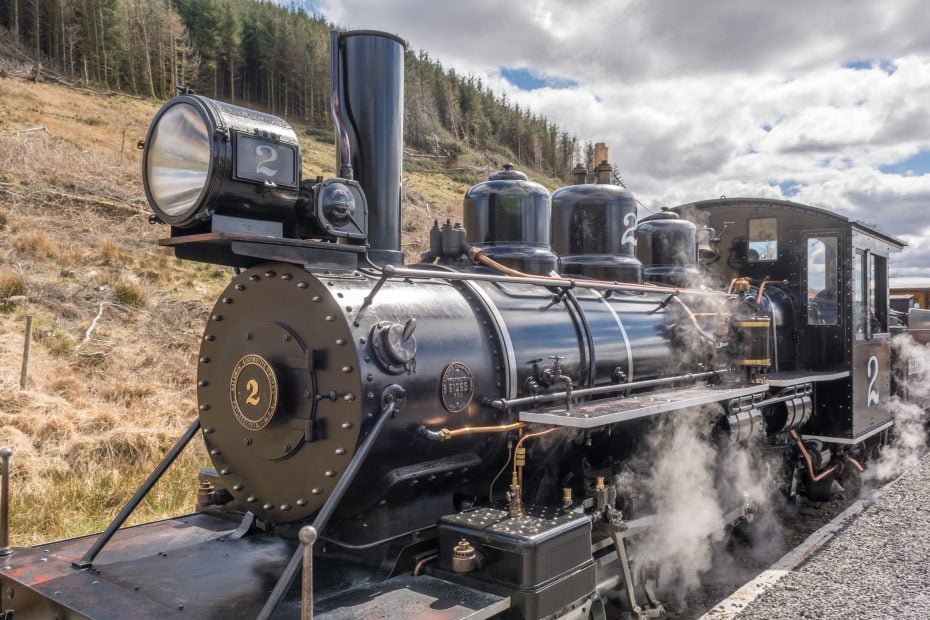 Ideally placed between Brecon Beacons National Park and Cardiff the Welsh Capital, Merthyr Tydfil is one of the best places to visit in South Wales. Especially because this is the home of the Brecon Mountain Railway, a heritage steam railway running from Pant to Torpantu.
A journey on board the classic steam train will take you into the Brecon Beacons National Park, along the full length of the stunning Taf Fechan Reservoir.
In Merthyr Tydfil town, the spectacular Cefn Coed Viaduct once formed part of the same railway. Today, it's part of the Taff Trail on the National Cycleway. So you can bike across the viaduct's fifteen arches for some stunning views!
Caerphilly and Caerphilly Castle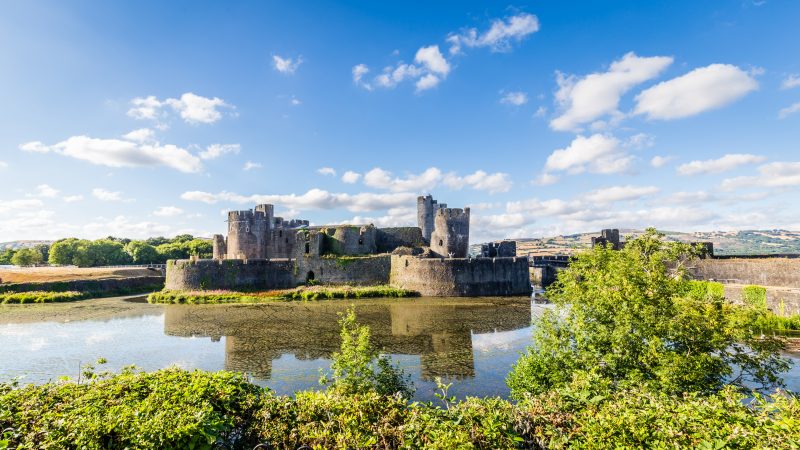 Last, but not least, on this list of the best places to visit in South Wales, we have Caerphilly. Famed for its incredible 13-century castle – as well as for the crumbly cheese of the same name – the town of Caerphilly sits at the southern end of the Rhymney Valley.
Caerphilly Castle dominates the town. The largest castle in Wales, and the second-largest in Britain, this is also one of the most popular tourist destinations in the country.
The imposing lakeside fortress spans some 30 acres, filled with massive walls, gatehouses, and towers. Including the 'the Welsh Tower of Pisa'; a wonky medieval tower with a serious lean!
More Near South Wales
19 Places to Visit in North Wales
26 Places to Visit in the Midlands of England
Why Wales' Beautiful Sacred Spots Should be Next on Your Travel List
Epic Wales Road Trip Itinerary