Some posts on this site contain affiliate links. If you book or buy something through these links, I earn a small commission (at no extra cost to you). Take a look at my privacy policy for more information.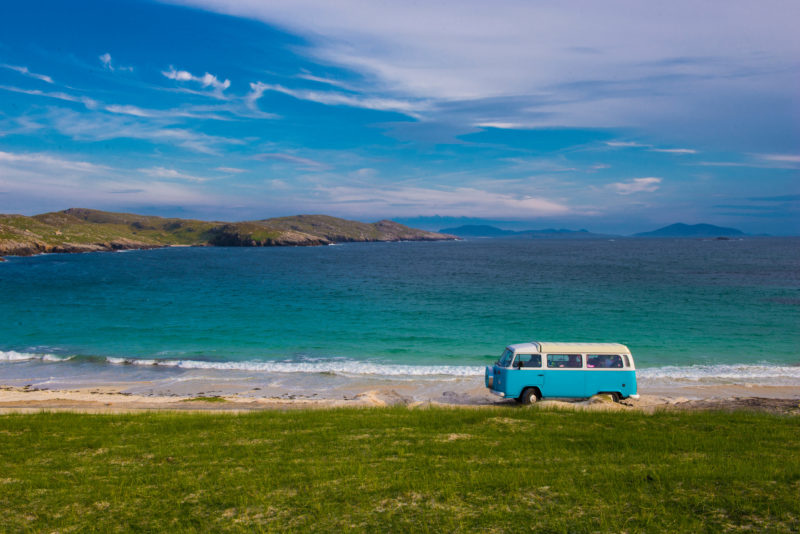 These are some of the best places to go in a campervan in the UK – perfect if you fancy a scenic road trip this year!
Hiring a campervan or motorhome is becoming an increasingly popular way to travel around the UK. Offering fantastic flexibility and the chance to plot a road trip route according to your exact tastes and travel preferences, this is a fantastic and unique way to explore the country.
On average, hiring a campervan can cost anywhere from a couple of hundred pounds to over a thousand per week. It all depends on the size of the vehicle, as well as the time of year and the location you're hiring. But you can use a booking service such as Goboony to find amazing deals on a range of campervans. It works a little like Airbnb; people who own campervans list their vehicles for people to hire for a holiday. Perfect!
Travelling by campervan gives you complete freedom. You aren't tied to a schedule and can tailor your UK road trip to suit exactly the kind of holiday you want! Plus, it's much easier to change your plans midtrip, so if you find a great spot and want to stay longer, or you decide to add on a visit to somewhere new, you can!
Below, I've listed some of my favourite places in the UK to explore in a campervan. There's also a quick list at the end with a few more ideas! If you think I've missed anywhere, be sure to leave a comment at the bottom of the post…
This post has been written in collaboration with Goboony, but all words and opinions are my own.
Best Places to go in a Campervan in the UK
Lake District, England
The Lake District, in northwest England, is the ideal holiday spot if you're looking for fantastic scenery and plenty of history. You'll find no shortage of activities in this region: historic villages to explore, hikes of varying difficulty and length, and all kinds of watersports on the gorgeous lakes that make the National Park so famous.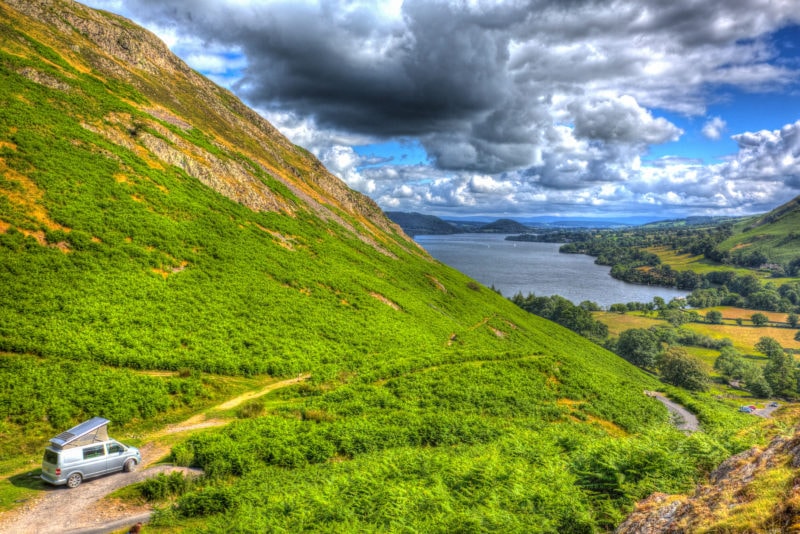 This region of England is beautiful at any time of year, with golden colours in autumn, snowy mountains in winter, wildflowers in spring and (usually) sunny weather during summer.
In autumn and winter, the National Park is much quieter, but it can be cold. So rent a campervan with heating in order to stay nice and cosy whilst enjoying the long, dark nights in a remote spot without light pollution – perfect for stargazing!
South West England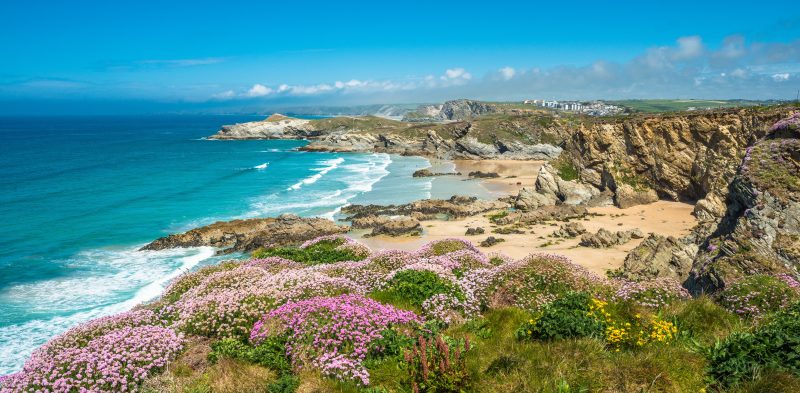 If a UK beach holiday sounds more like your ideal campervan trip, head to the south of England and check out the incredible beaches in Cornwall, Devon and Dorset. There are some particularly amazing beaches in Newquay, along the south Devon coast, and on Dorset's Jurassic coast!
Try the 240-mile Atlantic Highway (the A39) from Bath, through the Somerset countryside, and along the north Devon and Cornwall coasts down to Falmouth. Here, you can stop and enjoy some of south Cornwall's beaches – or head further west to the southernmost part of England at Lizard Point. Further west still, you can reach the famous Land's End, the most westerly point in mainland England.
Or, there's the Jurassic Coast in Dorset and Devon: a 95-mile stretch of coastline running from Exmouth to Old Harry Rocks on the Isle of Purbeck. The name comes from the coast's geological significance, because the cliffs around here were formed during the Jurassic, Triassic and Cretaceous periods.
You can hunt for fossils on the beaches around Lyme Regis, or see them at museums and heritage centres all along the coast. There are also plenty of beautiful beaches to enjoy, as well as epic coast walks, watersports, and lots of great seafood!
Dartmoor, England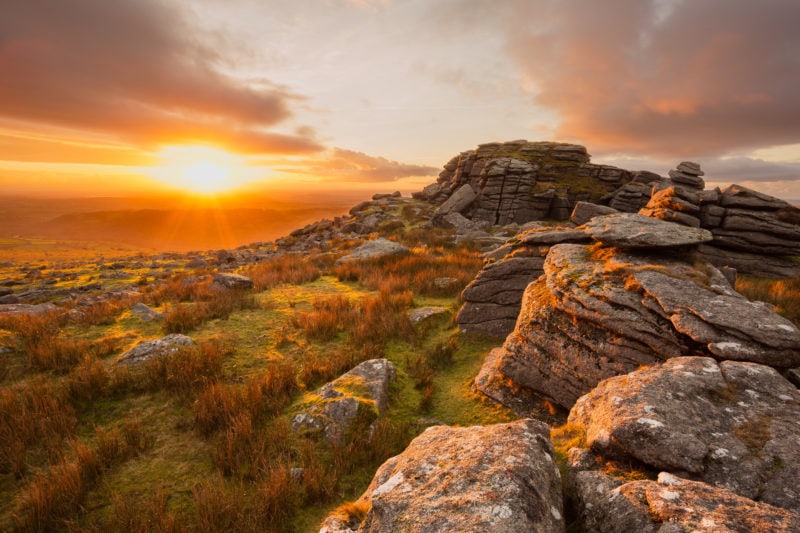 Dartmoor National Park is one of my favourite locations in the UK for a road trip, and it's perfect for a campervan holiday.
This is one of the last true wildernesses of England: a vast area of high moors, purple heaths, and dense pine forests. Adventure lovers will find a true playground amidst Dartmoor's cinematic landscapes and dramatic granite tours: climbing, abseiling, caving, kayaking and horseriding are all popular activities here. You'll also find hiking and biking routes to suit all levels – all of them with incredible views!
Just note: although wild camping is legal within the National Park, that doesn't apply to campervans and motorhomes. You'll need to book into a campsite like the one at River Dart Country Park.
Snowdonia, Wales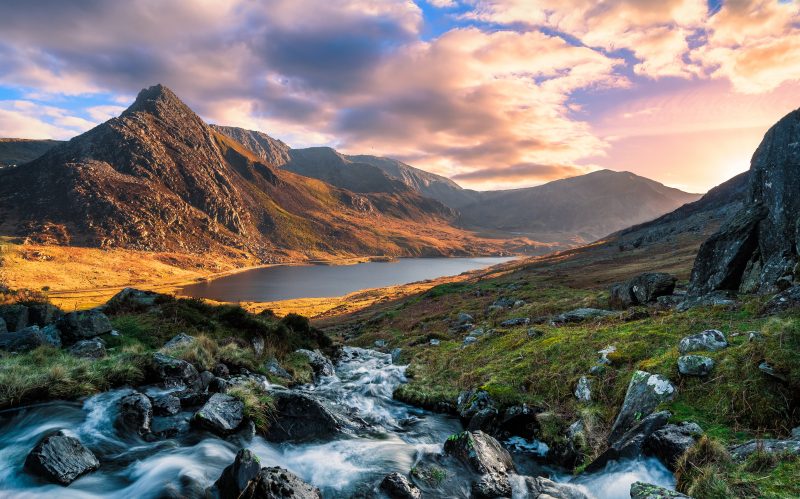 Home to the highest mountains in Wales – as well as glacial landforms, gorges, waterfalls, and valleys – Snowdonia is the perfect location for anyone looking for a more adventurous UK campervan holiday.
The varied landscapes in North Wales provide the ideal setting for a variety of extreme sports. Don't miss the adventure park at Penrhyn Quarry, home to the world's fastest zip line and the UK's only mountain cart track. All around Snowdonia you can enjoy walks to suit all ages and abilities, stunning road trip views, and beautiful villages brimming with history.
READ MORE: Check out my South to North Wales Road Trip for the ultimate way to discover the country.
Wales South Coast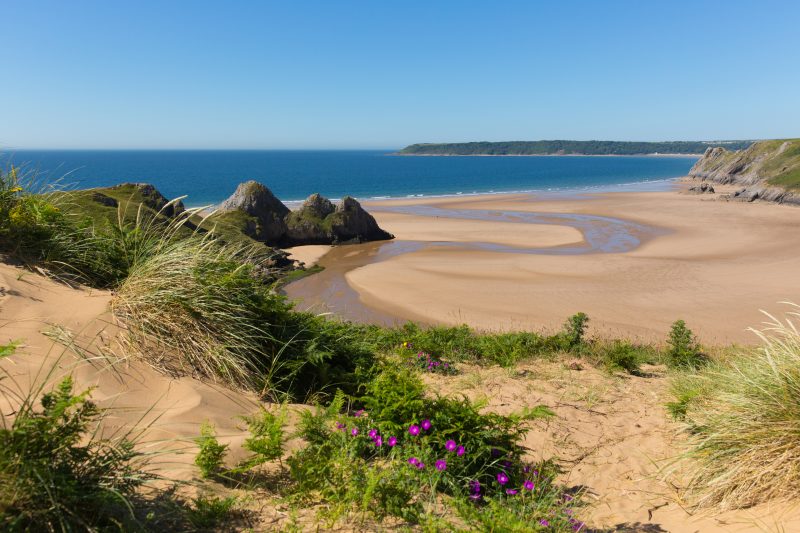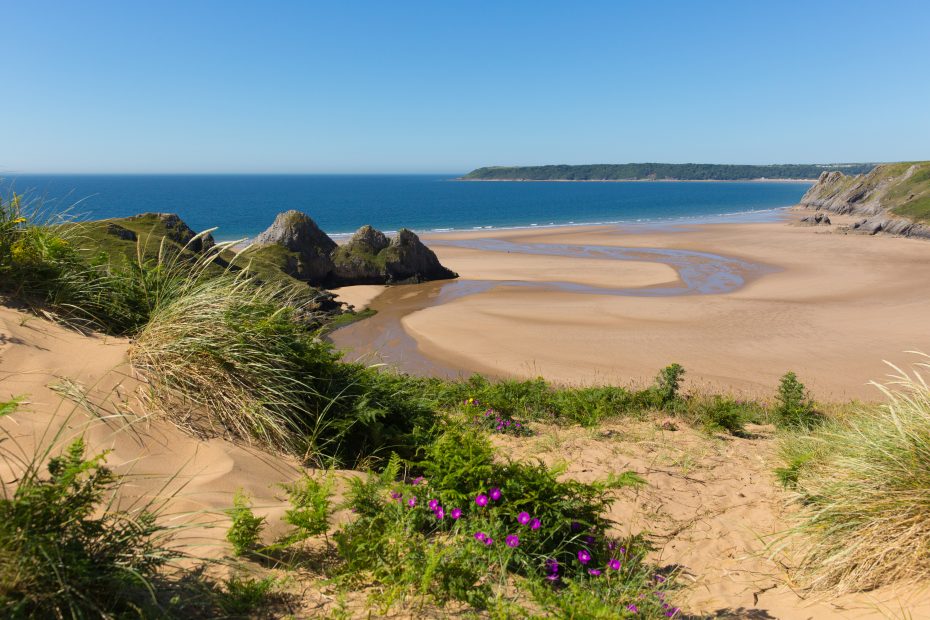 Another great spot to take your campervan for a beach holiday in the UK that won't break the bank is the south coast of Wales. The area around Swansea is ideal because it has both a city setting as well as plenty of small towns, like Mumbles, which are the perfect place to relax and unwind.
Explore the Gower Peninsula for gorgeous beaches, watersports, and coastal hiking trails. Further east, the cute seaside town of Tenby and the stunning Manorbier Beach are brilliant places to visit on a UK campervan trip.
If you have more time, work your way up to the incredible coastline of the Pembrokeshire Coast National Park: 186 miles of coastal trails and wildlife. This area is home to some of Wales' best beaches, including Broad Haven, Whitesands Bay and Marloes Sands.
The North Coast 500, Scotland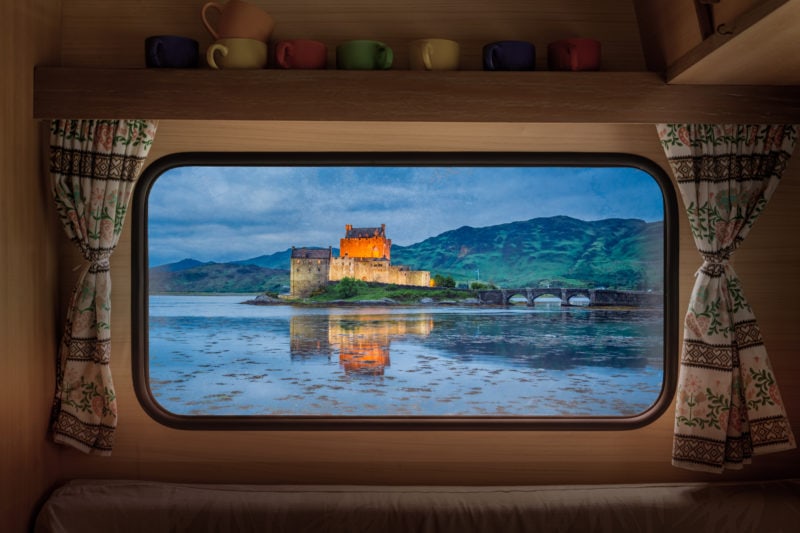 The North Coast 500 – also known as the NC500 – is a 500-mile loop that starts and ends in Inverness. Along the way, this epic UK road trip and campervan route takes you all around the scenic north coast of Scotland.
You'll pass by tons of historic sites, castles, and villages – as well as plenty of hikes, walks and other outdoor activities to keep adventurous travellers busy! Wild camping is legal everywhere in Scotland, so there's no need to stick to an itinerary or book a campsite. You can simply move at your pace and see where each day takes you.
The Kintyre 66, Scotland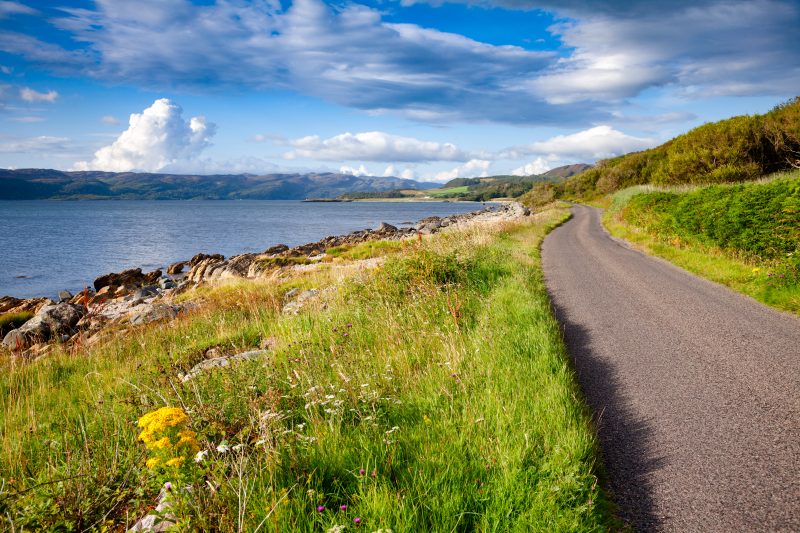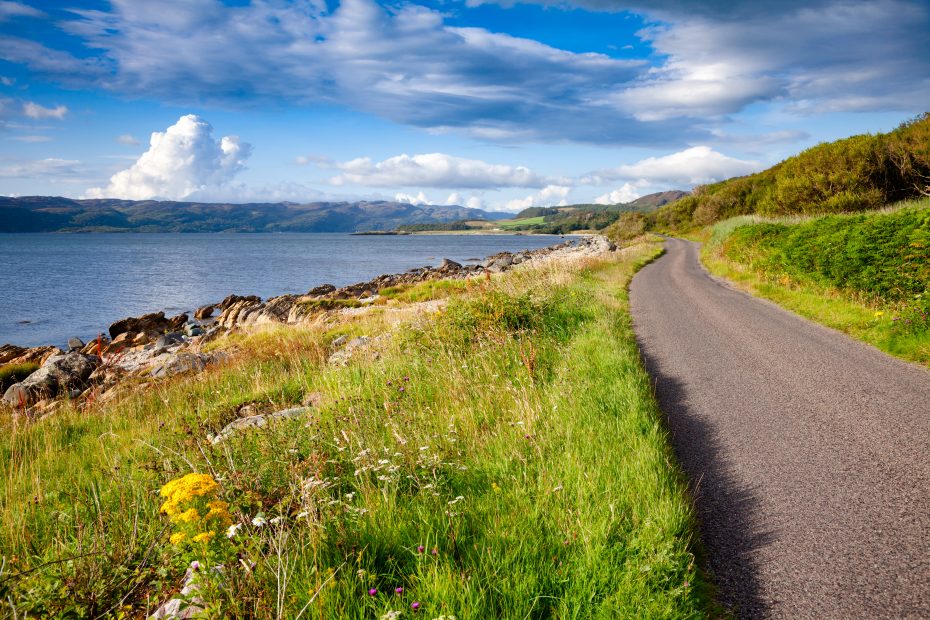 The Kintyre 66, or K66, is a new road trip around the Kintyre peninsula on the west coast of Scotland. This beautiful, underrated peninsula is connected to the mainland by a narrow strip of land. Other than that one link, it's completely surrounded by water, so it feels almost like an island!
With a campervan road trip around Kintyre, you can enjoy pristine beaches, remote bays, charming villages and wildlife sanctuaries. The K66 is only 66 miles, so you could easily drive the whole thing in a day. But if you have your campervan you can spread it over a couple of days to really explore the area in-depth.
Don't miss the ferry ride to the Isle of Gigha, where you can visit the stunning Twin Beaches and kayak in turquoise waters.
More Great Places in the UK to Visit in your Campervan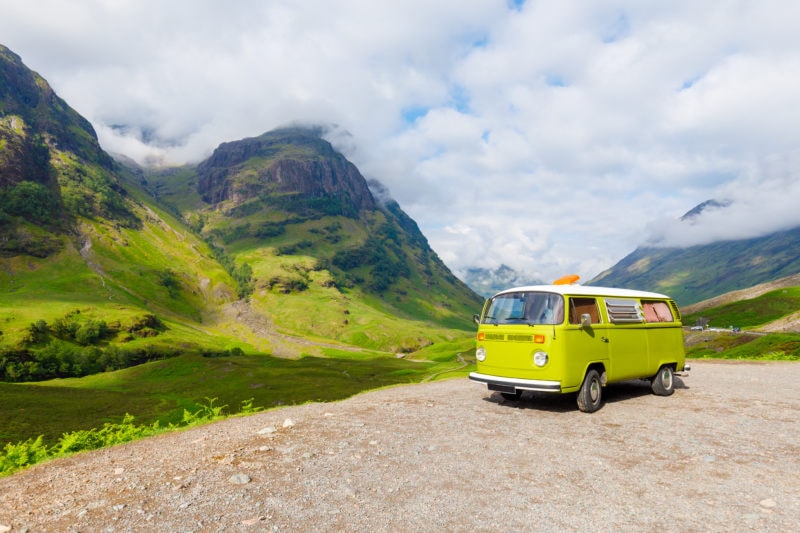 The Isle of Wight – off the south coast of England and easily reached by car ferry!
The Cotswolds – iconic villages and peaceful countryside in southwest England. Check out my Cotswolds driving route for more info.
The Peak District – epic landscapes perfect for hiking and adventure in northern England.
Causeway Coast – an incredible coastal trail in Northern Ireland dotted with Game of Thrones filming locations, cute seaside towns, and the famous Bushmills Whisky Distillery.
Brecon Beacons – a National Park in the south of Wales that's less well-known than Snowdonia but equally beautiful.
Outer Hebrides – remote islands off the coast of Scotland known for their white sandy beaches, whisky distilleries, and charming villages.
Leave a comment with your recommendations for the best places in the UK to go in a campervan!