Some posts on this site contain affiliate links. If you book or buy something through these links, I earn a small commission (at no extra cost to you). Take a look at my privacy policy for more information.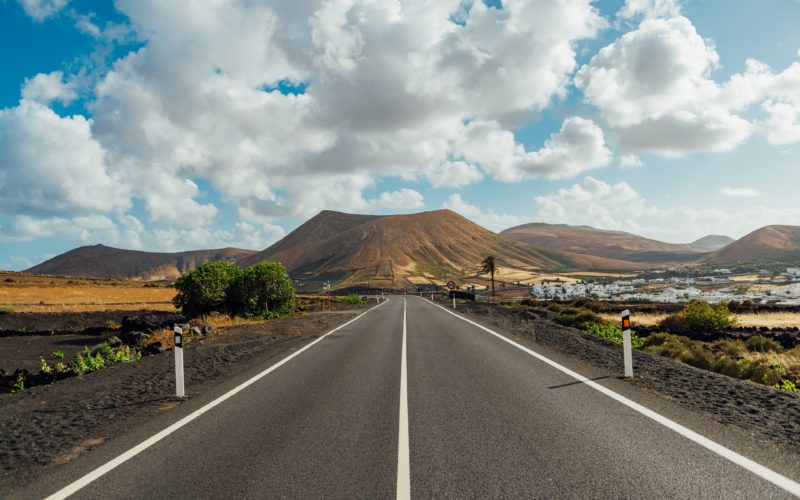 Planning a trip to the Canary Islands? Here's a run-down of the best areas in Lanzarote to help you figure out where to stay.
From the major resorts and bustling beach towns, to quieter villages and hidden gems… there's something for everyone in Lanzarote, Spain.
If you want nightlife, attractions, and amenities, the three "main" resorts along the southern coast of the island are your best choice. Or head to the island's capital for easy access to them all – as well as lots of historic sights.
For those who like to get a little off the beaten path, the northern and eastern coasts of the island have rugged coastlines, amazing nature, and some charming little villages to discover.
Keep reading for a guide to some of the best areas to stay in Lanzarote. The guide starts with the three "main" areas – the most popular resorts on the island – then delves into some of the smaller and less visited spots for anyone who wants something a little different.
Once you've chosen where you want to stay in Lanzarote, it's time to choose your accommodation. There's a wide range of options, from boutique hotels to big resorts. Prefer to have your own space? Check out Holidu's villas in Lanzarote for some brilliant holiday rentals. They have some fab apartments, holiday homes, and villas all over the island.
Wherever you decide to stay – I hope you have a fantastic trip to this fascinating, unique and beautiful island! Buen viaje…
This post was brought to you in collaboration with Holidu, but all words and opinions are my own.
Best Areas in Lanzarote: A Quick-List
Looking for a VERY quick guide? I've got some speedy bullet points below to help you make a quick decision about where to stay in Lanzarote. You'll find more information on each one later on down this page!
The three main areas to stay in Lanzarote:
Costa Teguise – well-connected with lots of attractions and nice beaches, ideal for first-time visitors who want a little of everything Lanzarote is known for.
Playa Blanca – sheltered beaches and a quieter town known as a good area for families.
Puerto del Carmen – lively resort town known for its lovely beaches and great nightlife.
Other lovely areas in Lanzarote for different kinds of holidays:
Arrecife – the island's capital and a great base for exploring.
Famara – the best place to learn to surf in Lanzarote.
Orzola – small, remote town with rugged landscapes and lots of adventures nearby.
La Graciosa – a tiny island off the northeast coast which is perfect for adventurous types!
Best Beaches in Lanzarote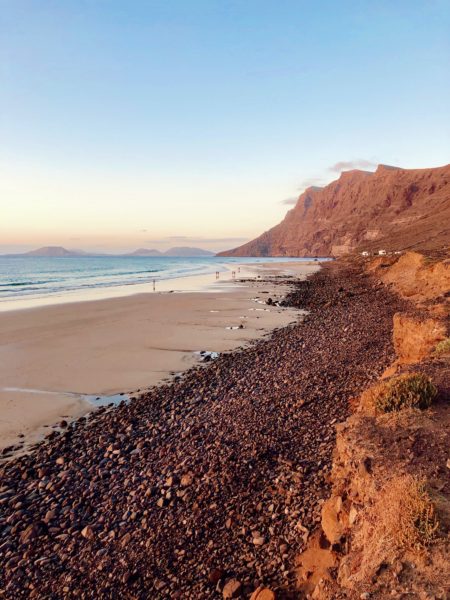 Most people holidaying in the Canary Islands want to spend at least a little time at the beach. So, the best beaches on the island may well be a factor when choosing where to stay in Lanzarote.
Helpfully, Holidu have created a list of the top-ranked beaches in Lanzarote:
I've added all these beaches to my map of the best areas in Lanzarote (above) to help you choose where to stay. Of course, the island is small and very drive-able. So you could always rent a car to visit some of these gorgeous beaches, even if you're not staying nearby.
The 3 Main Areas to Stay in Lanzarote
1. Costa Teguise - perfect for first-time visitors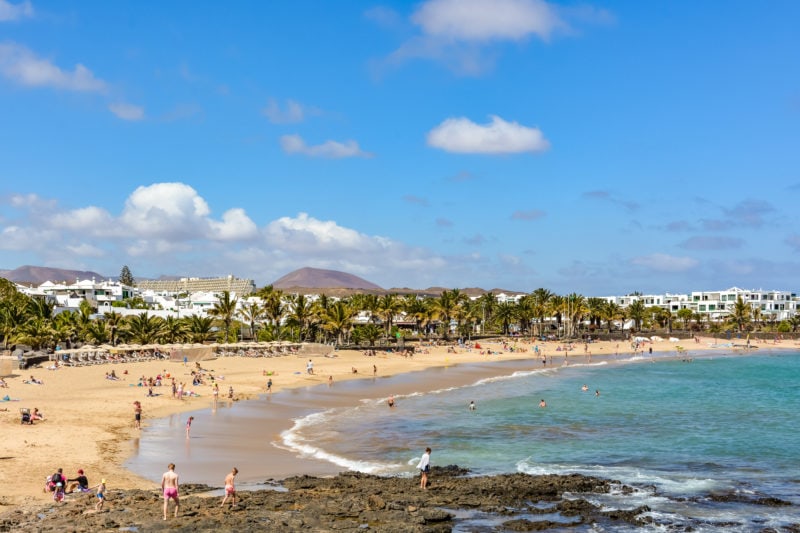 Costa Teguise is one of the most popular areas to stay in Lanzarote. Just 15 minutes or so from the airport, this is a lively resort with tons of accommodation options to suit every budget and travel style. Plus loads of great restaurants, shops, attractions and tour companies - so there's plenty to keep you busy throughout your trip to Lanzarote.
The town is surrounded by some beautiful beaches, ranging from sheltered family-friendly swimming spots to windsurfing hotspots like Cucharas Beach.
There are also lots of attractions to explore, both in town and nearby. The Cesar Manrique Foundation - dedicated to famed Lanzarote local artist and architect and housed in a building he designed himself - is just ten minutes away, as is the lively capital city of Arrecife.
There's also an aquarium, golf course, and water park, so this is a popular area for families. Feeling a little more adventurous? There are lots of hikes and walking routes near the town, or you can hire a bike and hit the island's mountain trails.
As you can see, Costa Teguise is a lovely, all-rounder option with something for everyone. Its ideal location and multiple attractions make this a popular spot for first-time visitors to Lanzarote.
2. Playa Blanca - great for families and beach days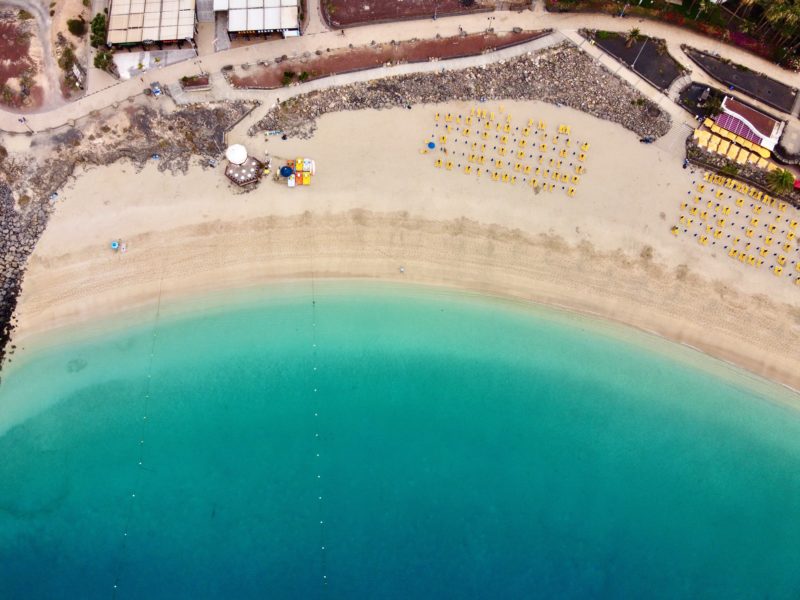 The southernmost town on the island, Playa Blanca is known as a more peaceful and chilled-out little resort town that's perfect for families. Again, there's a wide range of accommodation options, restaurants, and amenities to suit all budgets.
While the beaches in town are glorious, Playa Blanca is also right next door to some of Lanzarote's top-rated beaches - including Playa Mujeres and Playa de la Cera.
Also within easy reach of the town are some of the most famous sights and attractions in Lanzarote. Among these are the bizarre volcanic landscapes at La Geria, the Janubio salt flats, and the volcanoes of Timanfaya National Park. The picturesque village of Yaiza and the nearby bright-green lagoon at El Golfo also make a great day trip.
Playa Blanca's sheltered beaches and fun attractions, like the Aqualava waterpark, make it an ideal place for families with young kids. But this town is perfect for anyone looking for beautiful beaches, historic sights, and a quieter vibe than you might find at Lanzarote's other main resorts.
3. Puerto del Carmen - great for nightlife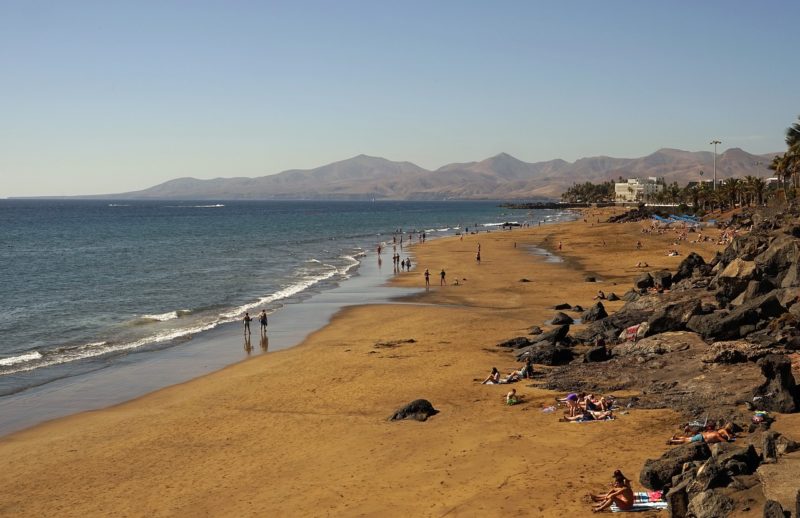 Looking for a lively resort town in Lanzarote with lots of fun nightlife options? Puerto del Carmen is the place for you.
This is probably the most popular resort in Lanzarote. Close to the airport, it makes another great spot for exploring the island's top attractions.
In terms of nightlife, there's no shortage of offerings. You can find beach bars, karaoke, bingo nights, live music, cocktail bars, and nightclubs. Whatever kind of night out you fancy, you'll find something to suit you in Puerto del Carmen!
It's not all about the nightlife, though. Puerto del Carmen also has plenty of lovely beaches to enjoy. The calm waters and great amenities at Playa Grande make it a popular choice with families, while the small and rocky Playa Chica is loved by locals.
There are also lots of great ways to get active during your stay in Puerto del Carmen. From coastal hiking trails - like the trail from Puerto Calero to Puerto del Carmen - to diving schools and watersports... there's plenty to keep you busy here!
More Great Areas in Lanzarote
4. Caleta de Famara - great for surfers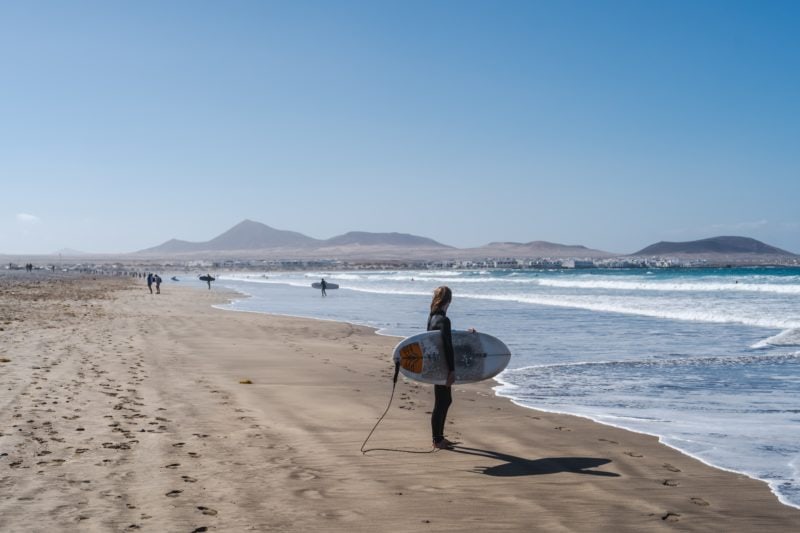 Most of Lanzarote's bigger, more popular resort towns are found along the southern coast. Caleta de Famara, on the other hand, is a smaller town found across the island on the northeastern coast.
The beach here is one of the most popular in Lanzarote - famous as a prime surfing destination. Enjoying near-constant winds and some powerful waves, this is a great area for surfing - as well as windsurfing and kitesurfing - and you'll find several surf schools along Famara beach.
If you want to learn to surf, the mountainside hamlet of La Caleta is a great place to base yourself in Lanzarote. It's also within very easy reach of the Parque Natural de los Volcanes and Timanfaya National Park, where you witness the island's active volcanoes up close.
5. Arrecife - Lanzarote's historic capital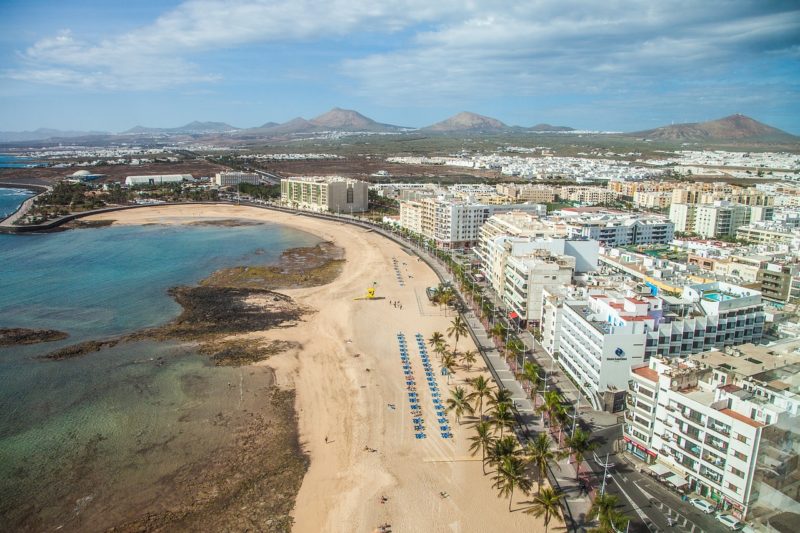 Arracife is a port city and the capital of Lanzarote. While it's not the prettiest city on the island, there's a lot of cool history here which makes it a good area for those who prefer sightseeing to beach-going.
Historic sights include the Castillo de San Jose (an ancient fortress now home to the International Museum of Contemporary Art), the Castillo de San Gabriel (home to the History Museum) and the beautiful San Ginés church in the old quarter.
Arracife is also a great base for those who can't or don't wish to drive. As the capital, it has good public transport links to the rest of the island. So you could base yourself here and take several day trips to explore.
6. Órzola - quiet and rugged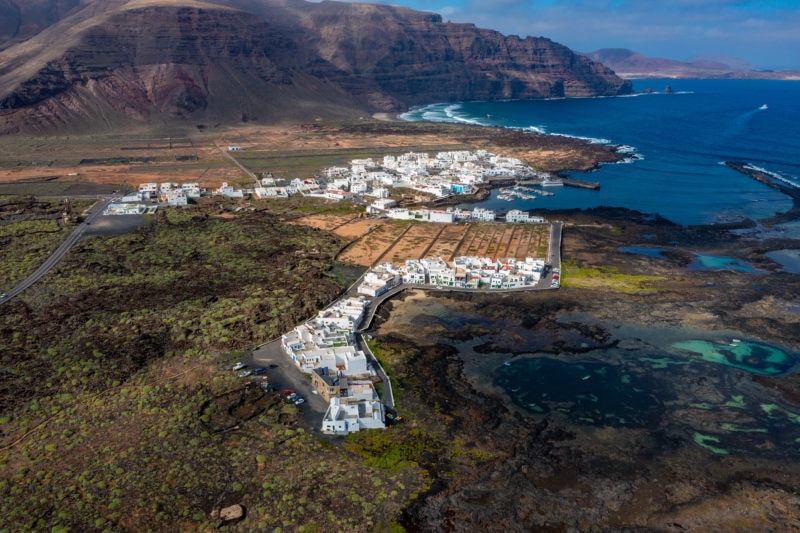 A small fishing village on the northernmost point of Lanzarote, Órzola is a great area if you're looking for an alternative to the big resort towns. With just over 350 inhabitants, this really is a tiny, quiet little town famous for its fresh seafood and picturesque harbour.
Staying here puts you within easy reach of some of the best-loved beaches in Lanzarote: including the beautiful beaches found on La Graciosa island, which you can reach by ferry from Órzola in just 25 minutes.
In this part of the island, you'll find empty, unspoilt beaches and rugged cliffs. This is a popular area for windsurfing due to the strong winds and waves along the northern coast. This can mean some of the beaches aren't great for swimming - but at the white sandy El Caletón Blanco you'll find a natural swimming pool sheltered by rocks.
7. La Graciosa - great for adventurous escapes!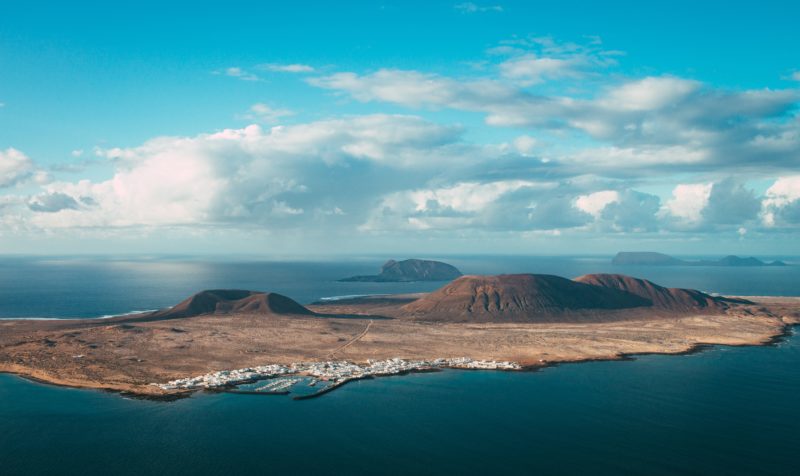 La Graciosa is a tiny island just off the north coast of Lanzarote - home to the two top-rated beaches in Lanzarote, as well as several gorgeous hiking and biking trails.
Most people only head to La Graciosa for a day trip - so it's one of the more unique areas to stay in Lanzarote. If you do decide to stay a night or two, you'll need to travel light, as cars are not allowed on the island. You can take bikes, though, so you can explore the small island on two wheels!
Although there aren't any hotels or hostels on the island, there are a few holiday rentals and private apartments which visitors can book. The best area of La Graciosa is the main town, Caleta de Sebo, which the ferry arrives into.
Alternatively, you can head to La Graciosa camping area. This is a small, basic campsite with few facilities (just public toilets and showers) - so it's the perfect place to indulge your inner adventurer.
Where to Stay in Lanzarote
If you're trying to decide where to stay in Lanzarote for your first trip, heading to one of the "main" areas along the southern coast is a fairly safe bet. These will be well set up for tourists and have plenty of amenities. Plus, they're popular for a reason: nice beaches, lots of attractions, and easy to reach from the airport.
But if you're the kind of person who prefers to stay somewhere quieter and discover a different side to a destination, basing yourself a little further from the airport - somewhere like Famara or Orzolo - could be ideal!
Wherever you end up, you're sure to have a fantastic stay on this beautiful and diverse little island.
21 Affordable Countries to Visit in Europe
I hope you found this guide to the best areas in Lanzarote and where to stay helpful. Got a recommendation to share? Scroll down and leave a comment!