Some posts on this site contain affiliate links. If you book or buy something through these links, I earn a small commission (at no extra cost to you). Take a look at my privacy policy for more information.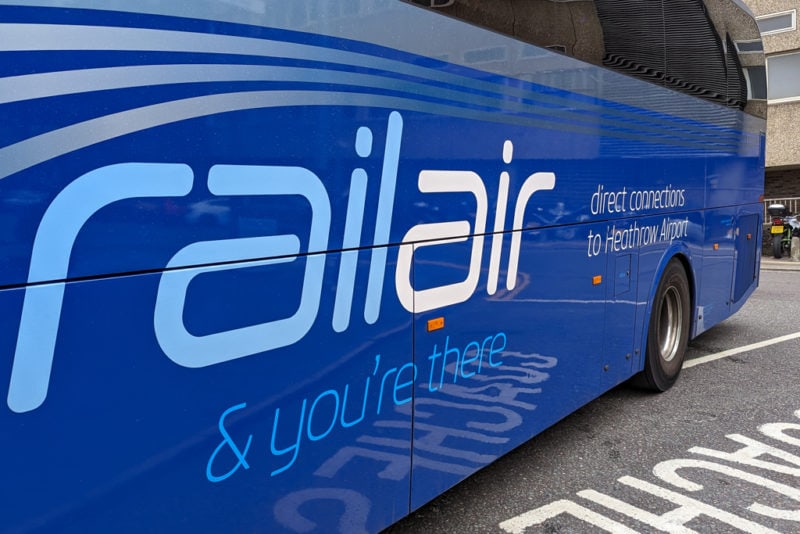 RailAir is the easiest, cheapest, and most stress-free way to get to Heathrow from outside of London. Here's why…
The only trains to Heathrow Airport run from central London. But for those of us who live outside of the capital, travelling into the city centre to connect to Heathrow can be costly and time-consuming.
That's where RailAir comes in. They have bus routes between Heathrow and four of the closest major train stations – forming the easiest and most cost-effective way to reach Heathrow by public transport from outside of London.
I've travelled with RailAir to Heathrow many times – most recently on last month's trip to Jordan. It's always a really easy, hassle-free experience and much more cost-effective than paying to park at the airport car parks.
Below, I've outlined the three bus routes to help you see which one is best for you. Then I've shared my take on why RailAir is the best way to get to Heathrow – especially for those travelling from outside of London.
This post was sponsored by RailAir – but all words and opinions are my own. I've used these coaches on countless trips to Heathrow and have always had a great experience.
The RailAir Bus Routes
RailAir buses run to Heathrow from four of the closest major train stations: Guildford, Woking, Watford Junction, and Reading. These four stations have rail links with the south, southwest, midlands and northwest of England – as well as with Wales (Cardiff – Reading). See below for more details…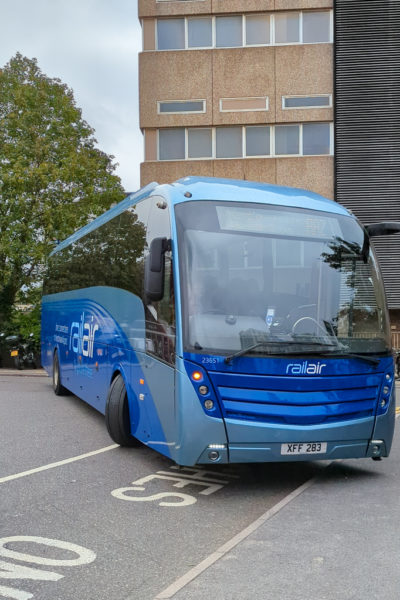 RailAir 1 – Reading to Heathrow
Ideal for those travelling from Wales and the Southwest (including Bristol, Oxford, and Penzance).
Reading railway station to Heathrow Terminals 2, 3 & 5.
Up to every 30 minutes
Adult single £22
RailAir 2 – Woking/Guildford to Heathrow
Ideal for those travelling from Dorset, Devon, Hampshire, and Gatwick Airport.
Guildford railway station and Woking railway station to Heathrow Terminal 2, 3 & 5
Up to every 30 minutes
Adult single £9.50 (£6.50 with a railcard)
RailAir 3 – Watford to Heathrow
Ideal for those travelling from Birmingham, the West Midlands and the North West.
Watford Junction Railway Station to Heathrow Terminal 2 & 3
Adult single £9
Children under 16 go free with adults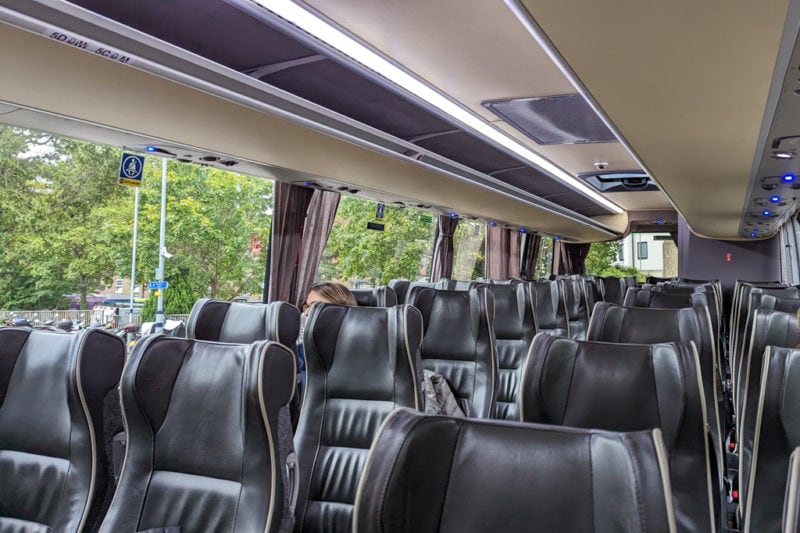 7 Reasons to Use RailAir to Get to Heathrow
1. Avoid Heathrow Airport parking costs with RailAir
As someone who travels a lot, I know first-hand how expensive parking at Heathrow can be – especially during peak travel times like the summer holidays.
Travelling to Heathrow Airport by public transport can work out much cheaper. You can take a train to Reading, Watford Junction, Guildford or Woking (just pick whichever one is most direct for you), then hop on board a luxurious RailAir bus which will deliver you right to your terminal.
Even if you prefer to drive (or don't live by a train station), it can be much cheaper to park further away from Heathrow and take the RailAir bus. There's a long-term term carpark at Woking station which costs £51 for the week – or you can use JustPark to find a secure parking space for your travel dates. I paid around £40 to park for a week on a driveway 5 minutes walk from the Woking station – vs £150 for the same dates at Heathrow's long stay car park!
2. Avoid the ULEZ fee for driving to Heathrow
In August 2023, the ULEZ (Ultra Low Emission Zone) was expanded and now includes Heathrow. If your car meets the necessary emission standards (check them here) this won't affect you – but if it doesn't, then dropping off and collecting at Heathrow by car now costs £35 with the new charges*.
Woking, Reading, Guildford and Watford Junction are all safely outside the ULEZ area. So by driving to one of these stations (or taking the train) instead, you'll be avoiding any potential ULEZ charges.
*ULEZ savings: The zone costs £12.50 to enter, which now includes Heathrow. This is payable twice if dropping and picking up. In addition, it costs £5 to drop off via car at Heathrow. Therefore, to drop off and collect at Heathrow via car would cost a minimum of £35.
3. Luxury travel at a budget price with RailAir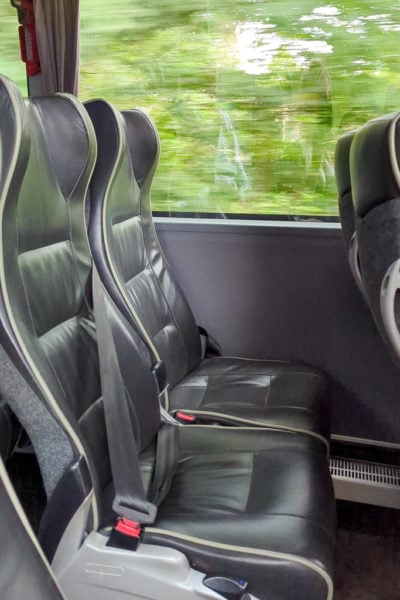 With adult single tickets starting from £9, you might not expect much from the RailAir coaches. But this is a pretty luxurious way to travel – especially considering the price point!
You get plush, leather armchair-style seats with footrests and plenty of legroom. It's a smooth, easy ride and the coach drops you off right at the terminal so you won't have far to walk.
There's even a small toilet on board – nothing particularly luxurious, but it's clean and can be super handy. AND there's free WiFi and free USB charging, which can be really useful if you've drained your phone watching Netflix on the train!
4. Help with your bags!
There's a huge hold so you don't need to worry about your luggage. The driver will even load your bags on and off for you, and can help with any awkward items.
On board, there are additional racks above the seat for any bulky carry-on bags. In short, this is as stress-free as a journey to Heathrow can be!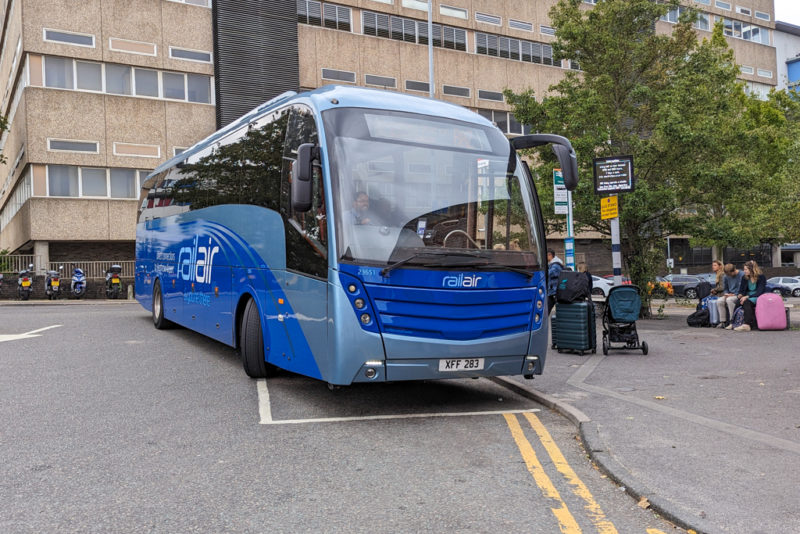 5. RailAir coaches are super frequent and fast
There are buses up to every 30 minutes – so you'll never be waiting long. And if you miss one by a couple of minutes (like I did after my recent trip to Jordan), you can relax in one of Heathrow's coffee shops until the next one.
Journey times are super quick, too: from most stations, the trip to Terminal 5 is less than 45 minutes, and from Guildford, it's under an hour. It may be even quicker than that, depending on traffic: the journey from Woking to T5 was around 30 minutes on my last trip.
6. You can use the FirstBus mobile app to buy tickets
Did you know you can buy mobile bus tickets using the FirstBus app? Because I only just found out! I used the app for my most recent trip to Heathrow and it's SO easy to use.
Simply download the FirstBus app, click on tickets, and buy the one you need. There's no need to book a specific coach time: you just purchase the ticket in advance and then activate it when you're ready to use it. Then, scan the ticket as you board the coach, and you're on your way. Couldn't be easier!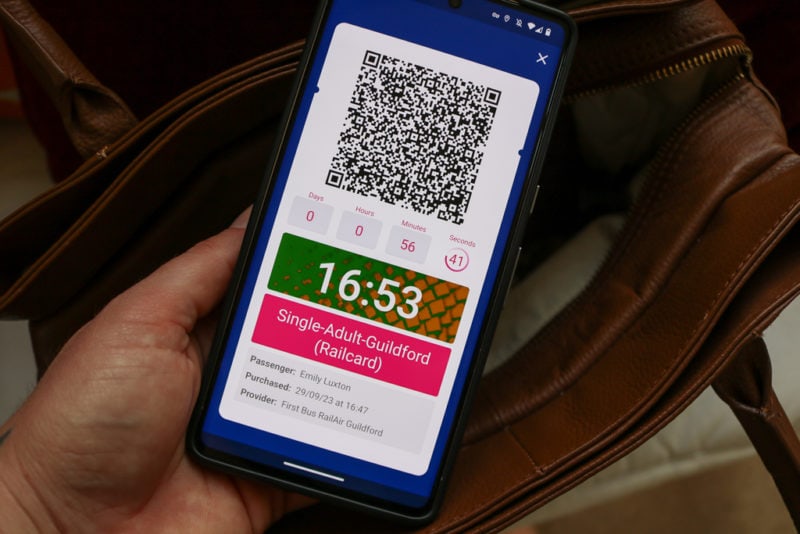 7. RailAir is a stress-free travel experience
Driving to Heathrow can be a pretty stressful experience. Doesn't matter how many times I've driven there, I still find it confusing and frustrating!
Traffic jams, the chaos of the M25, confusing road signs, and trying to find the right car park… it's not always a pleasant experience. ESPECIALLY not on the return journey after a long-haul overnight flight!
So I loved having someone else do the driving for me when I travelled with RailAir. No need to concentrate or keep on the lookout for carpark signs! You can just relax: read, listen to music, or have a chat with your travel companions (or, in my case, play peekaboo through the seats with my friend's son!).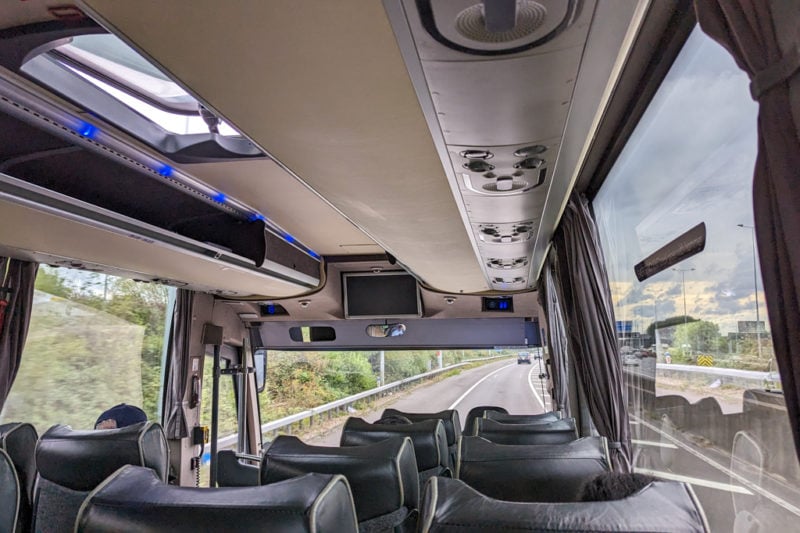 Final Thoughts
As mentioned above, I've used RailAir on numerous occasions to get to Heathrow from Woking train station – and I love it. This really is such an easy, hassle-free, and cost-effective way to get to the airport.
More Info
Visit RailAir.com to find out more and buy tickets – or download the app for easy purchasing.
You can check routes and timetables here to plan your journey. Make sure to choose a service that arrives at the airport with plenty of time to spare so you're not rushing for your flight!
I hope you found this review of the RailAir coach service to Heathrow helpful. Scroll down to leave a comment if you have a question!