Some posts on this site contain affiliate links. If you book or buy something through these links, I earn a small commission (at no extra cost to you). Take a look at my privacy policy for more information.
After years of working full time as a travel blogger, I'm definitely a pro at packing! And one of my favourite packing aids is eBags packing cubes. Nothing makes organising your luggage easier!
This review was first written way back before my first big backpacking trip to South America. I've been using the same set of eBags packing cubes ever since – so you know they're long-lasting.
Since writing the review, I've also bought 3 more packing cubes from eBags, all medium, and I never travel without them. Read on for my original review of the eBags packing cubes…
eBags Packing Cubes 3 Piece Set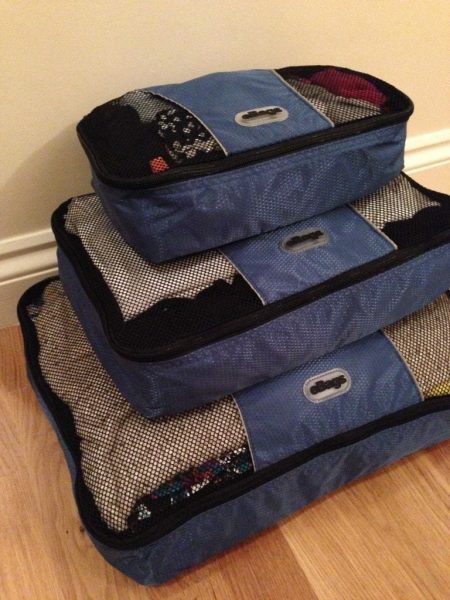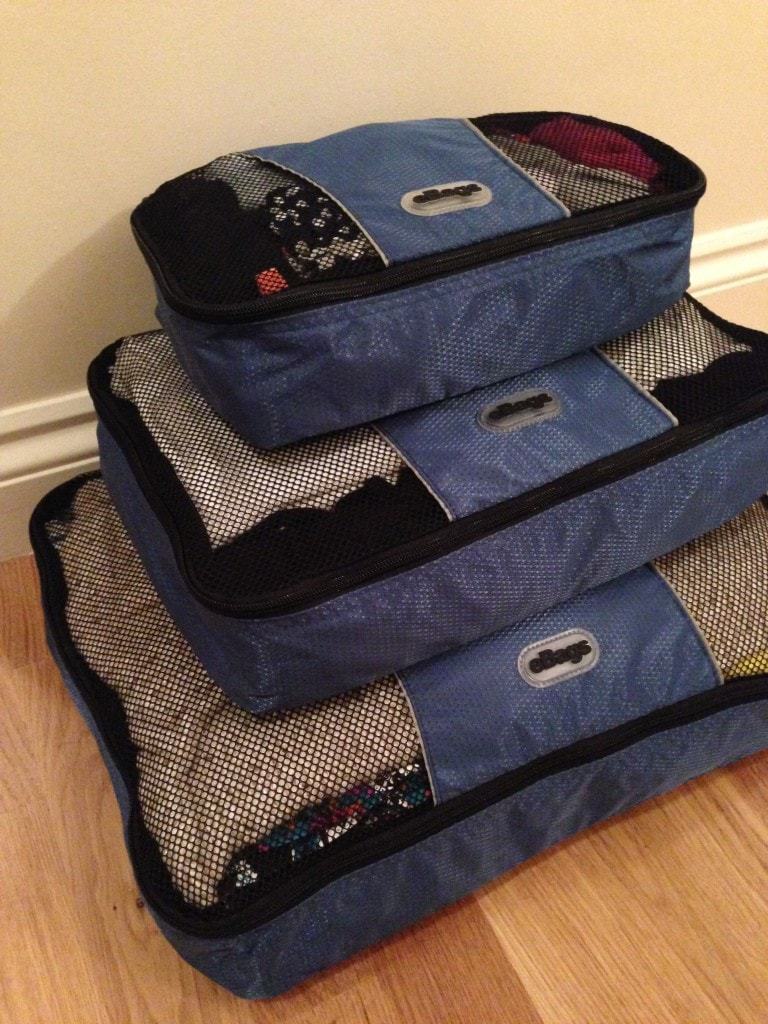 I have to admit, I was originally sceptical about how helpful a simple set of packing cubes could be. But, on testing out the eBags Packing Cubes 3 Piece Set this week, I'm fully converted! When I backpacked before in Malaysia, one of my biggest annoyances was having to root through (and practically climb into) my entire backpack just to reach my underwear which had, inevitably, tunnelled itself to the very bottom of my pack. For me, this is the huge draw of using packing cubes; I can simply put all my underwear in one cube and that way I'll know exactly where it is, at all times.
The 3 piece set comes in assorted sizes, with a small, medium and large cube, meaning that you can use the smallest for undies and the largest for your bulky items, such as jumpers or blankets. But it's not just clothes, either, you could use the cubes for plugs and adaptors, toiletries, medicines, dirty laundry, shoes, or any other smaller items you don't want loose in your bag.
The packing cubes are made from durable nylon which is thin and very lightweight, plus the mesh top means you can see exactly what's inside without needing to open it. With self-repairing coil zips, and seams that are reinforced with fabric binding, the eBags cubes feel really sturdy and they're definitely very travel-proof, perfect for long term backpacking trips! The 3 piece set is just £17.99 from Amazon, and there are plenty of colours to choose from, so click the link to check out the range!
So, what can they fit?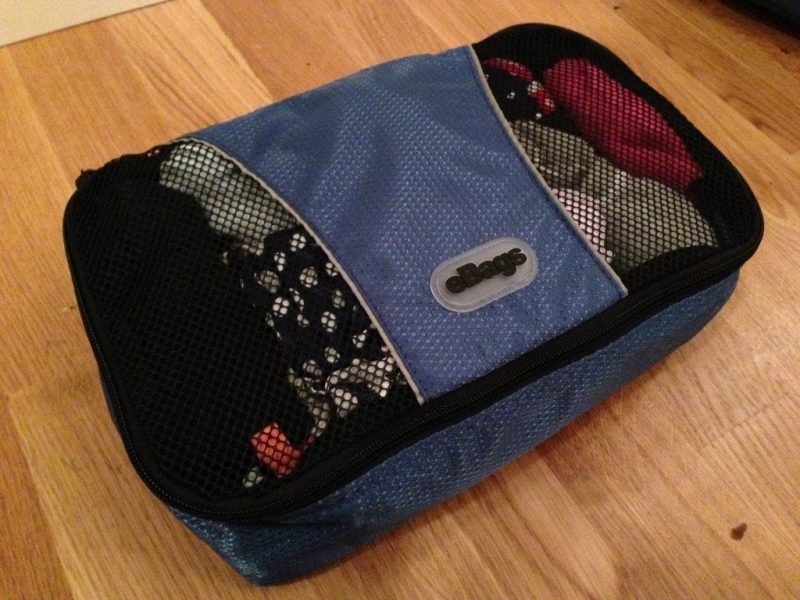 Small cube dimensions: 11″ x 6.75″ x 3″. This size is perfect for undies: I managed to squeeze in twelve pairs of pants and twelve pairs of socks (balled).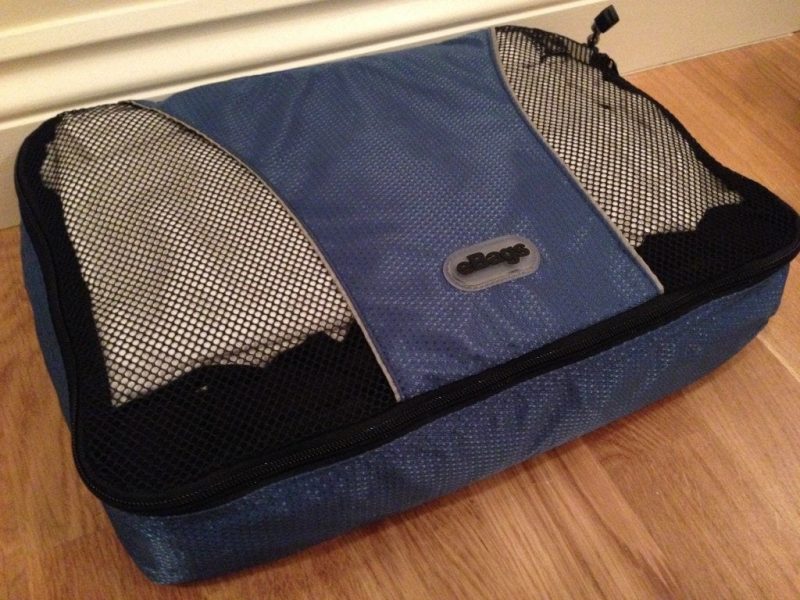 Medium cube dimensions: 13.75″ x 9.75″ x 3″. The medium cube is deceptively small looking, but actually fits an awful lot. I got in ten t-shirts, a pair of jeans and one pair of cotton trousers. With clever packing, you can probably get at least a week's worth of clothes into one of these cubes!
Large cube dimensions: 17.5″ x 12.75″ x 3.25″. Although it's pretty big, the largest cube still fits standing up inside my backpack, and it's great for particularly bulky items. Or you could use it to store all your clothes. I got in a whole lot of stuff into the big cube: 2 pairs of jeans, 1 fleece jumper, 1 woolly jumper, 2 pairs of leggings, 2 pairs of shorts, one skirt and two t-shirts.
You can also buy sets of three in fixed sizes – so three small cubes, for example – and sets of three slim cubes which look particularly perfect for smaller backpacks; you could easily slot three into your backpack long-ways. I really like the assorted sizes, though, since they allow me to separate my stuff based on the size and bulk of the items, and they stack pretty neatly into my backpack with plenty of space around them for the rest of my stuff. In fact, they function quite nicely as 'dividers' inside my backpack, too!
The eBags Packing Cubes are brilliant for organising your backpack or suitcase – meaning that you can quickly and easily find exactly what you need without having to rummage. It's almost like having a portable set of drawers with you on the road! The fab range of different colours means that you can colour-code, too, particularly great if there's more than one of you sharing a suitcase or backpack. Another perk is that the cubes keep your clothes together, neatly folded or rolled, which means no crushing, wrinkling or tearing inside your backpack.
Basically, the packing cubes from eBags really will be your best friend on the road – be it a long term trip or a weekend break – especially if you value organisation! If I've convinced you about the benefits of Packing Cubes, click here to buy them from Amazon now, you won't regret it!