Some posts on this site contain affiliate links. If you book or buy something through these links, I earn a small commission (at no extra cost to you). Take a look at my privacy policy for more information.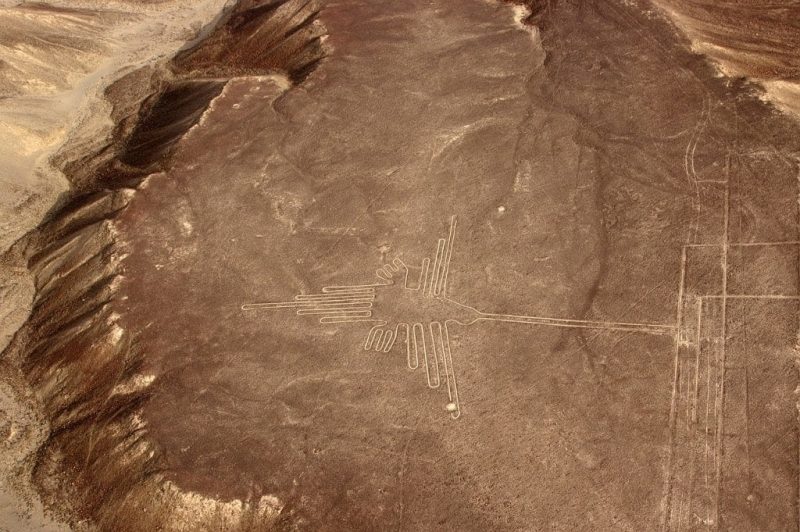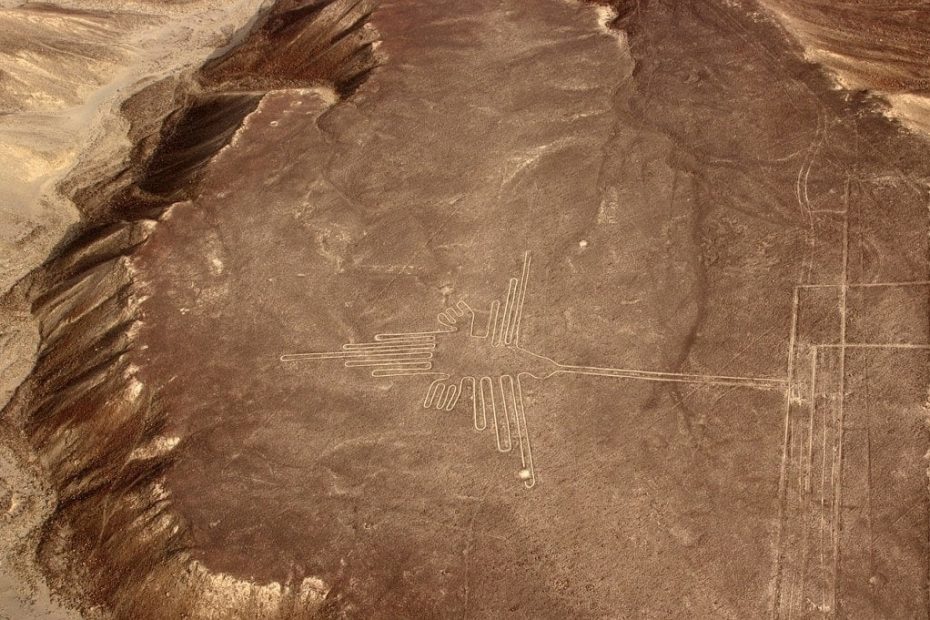 A few years ago, I experienced a Nazca Lines flight in Peru. This is an expensive tour. But, I thought it might be a once in a lifetime opportunity – so excitedly took the plunge.
It wasn't exactly what I thought it might be! Tiny, bumpy planes took us on a nauseating flight over the desert. My heart was in my mouth, my stomach churned… but the reward was an aerial glimpse of one of the most intriguing sights in Peru. Was it worth it? 
This post outlines exactly what my experience with the Nazca Lines flight was like. So if you're trying to decide if it's worth the splurge, it may be helpful. Of course, some things may have changed in the last few years. So I've also added in an update at the end with things like the latest prices. I hope this helps…
Nazca Lines Flight Day Trip from Huacachina
Our third day in the amazing desert town of Huacachina was taken up with an eight-hour day trip to Nazca. Although the Huacachina – Arequipa stretch of the Peru Hop bus journey makes a brief stop at the Nazca lines viewing tower, I had my heart set on seeing these incredible aerial carvings from the air.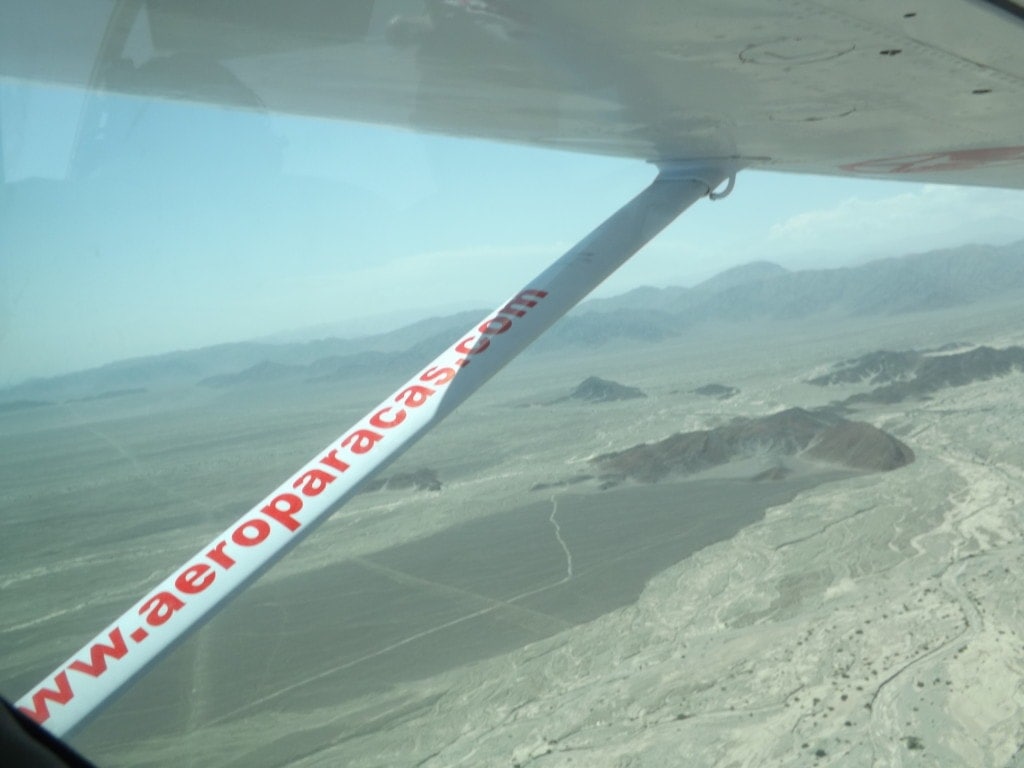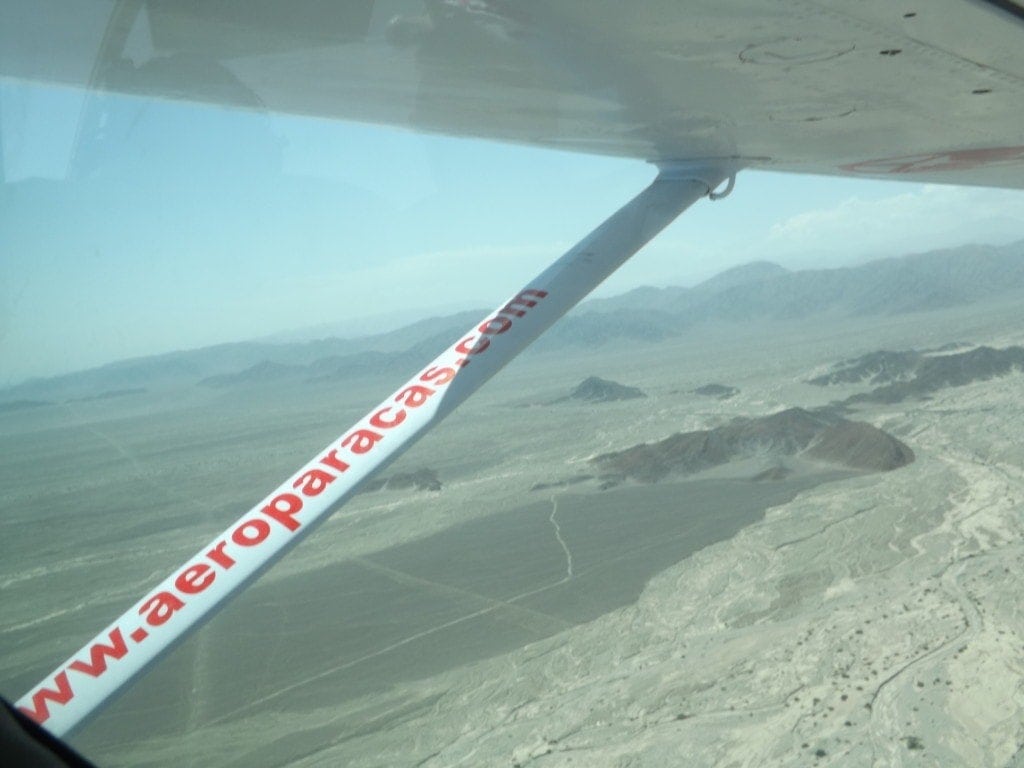 So we forked out a hefty $110 USD each, making it the most expensive tour of our 5-month backpacking trip so far! We organised the day trip through our hostel in Huacachina.
A Nazca Lines flight day trip from Huacachina is, as it turns out, quite a painfully long day. We set out at 8am on a very long journey. First, a taxi commissioned drove us to Ica and bought us bus tickets to Nazca. The bus took almost three hours, through a monotone sepia landscape of seemingly endless desert plains.
Tiny Airport – Tiny Planes!
I knew the airport at Nazca wasn't going to be big. But the tiny brick building alongside a single runway was a bit of a shock. As was the plane, when we were finally shown to it after a tedious wait inside the airport.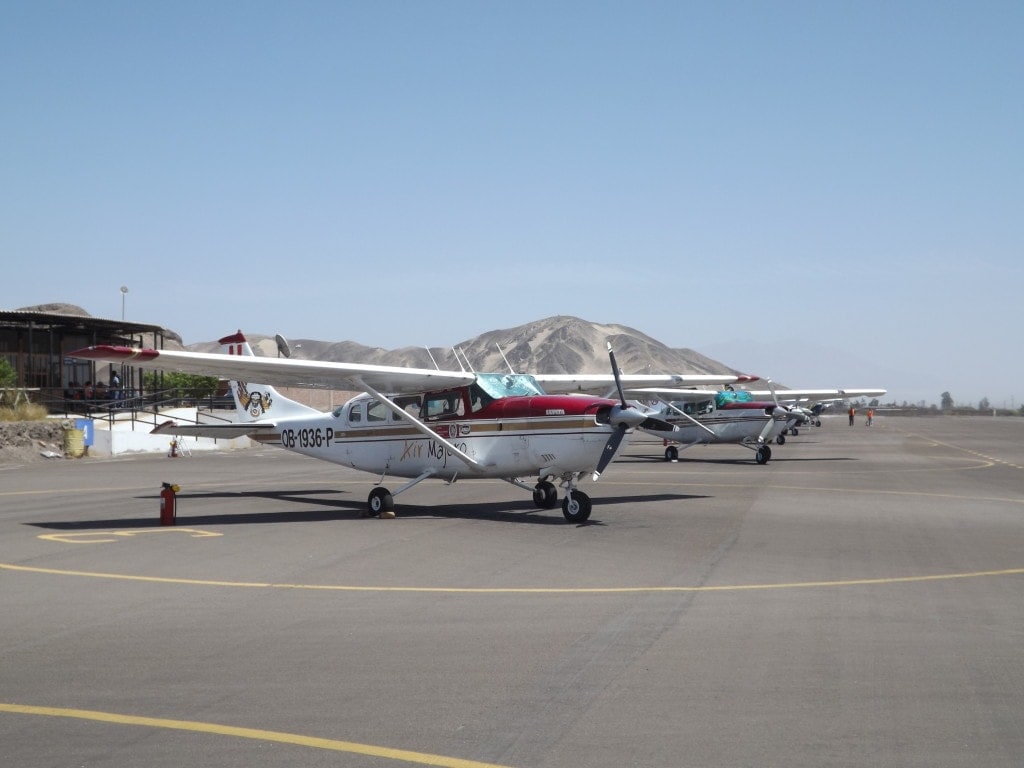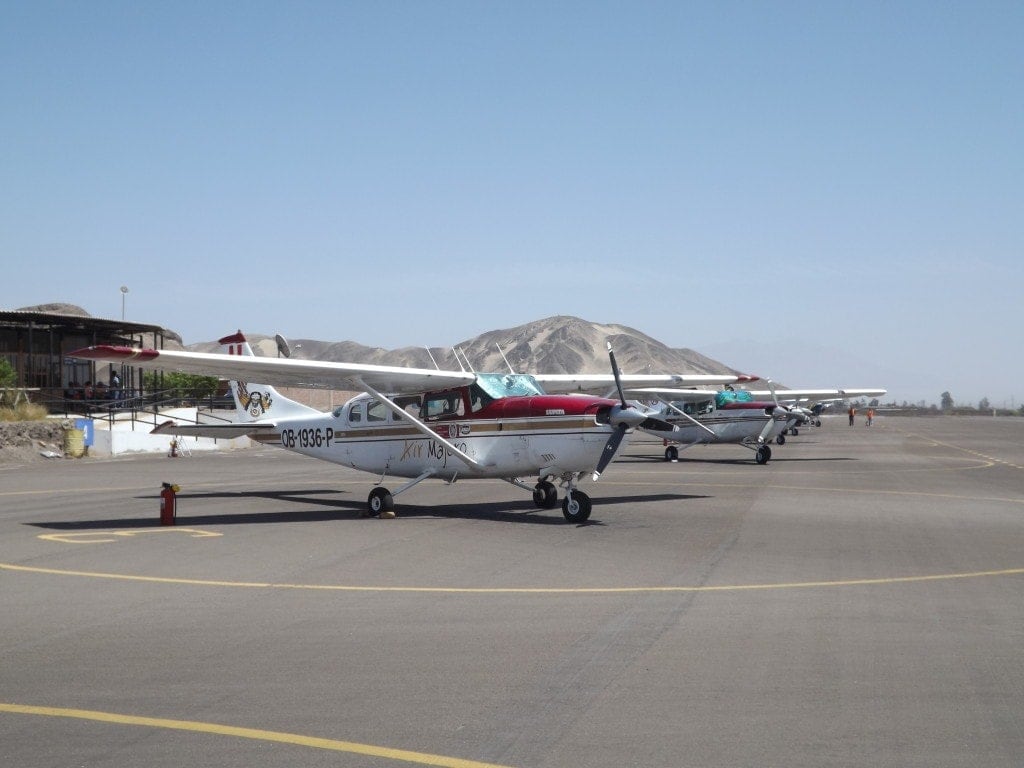 The plane was the smallest I'd ever been on. It wasn't much taller than me when I stood next to it, and had only four passenger seats.
We were all weighed before the flight, so we were assigned seats for weight distribution. This meant I was sat directly behind my travel buddy instead of beside him. He was afraid of flying, especially in small planes. So I felt really bad for dragging him on the Nazca Lines flight when we couldn't even sit together!
What's the Nazca Lines Flight Like?
As it turned out, I needed just as much support as him! As soon as we were inside the tiny, shaky little plane I realised I was absolutely terrified! Taking off was a nightmare, but once we were in the air things didn't improve, with the plane shaking, lurching and dropping several feet at a time.
Clearly, the fear was evident on my face, because the co-pilot leading the tour kept laughing and insisting that "everything is fine". We all wore huge, noise-cancelling headphones. When I lifted mine off out of curiosity the noise from the plane and the wind was overwhelming.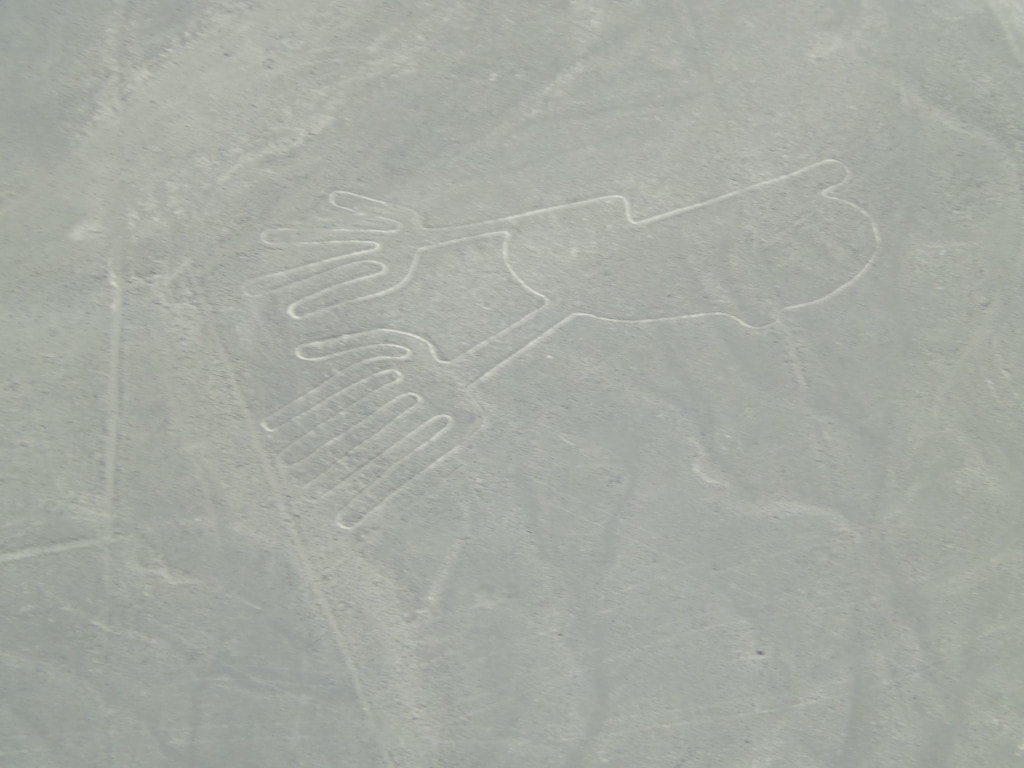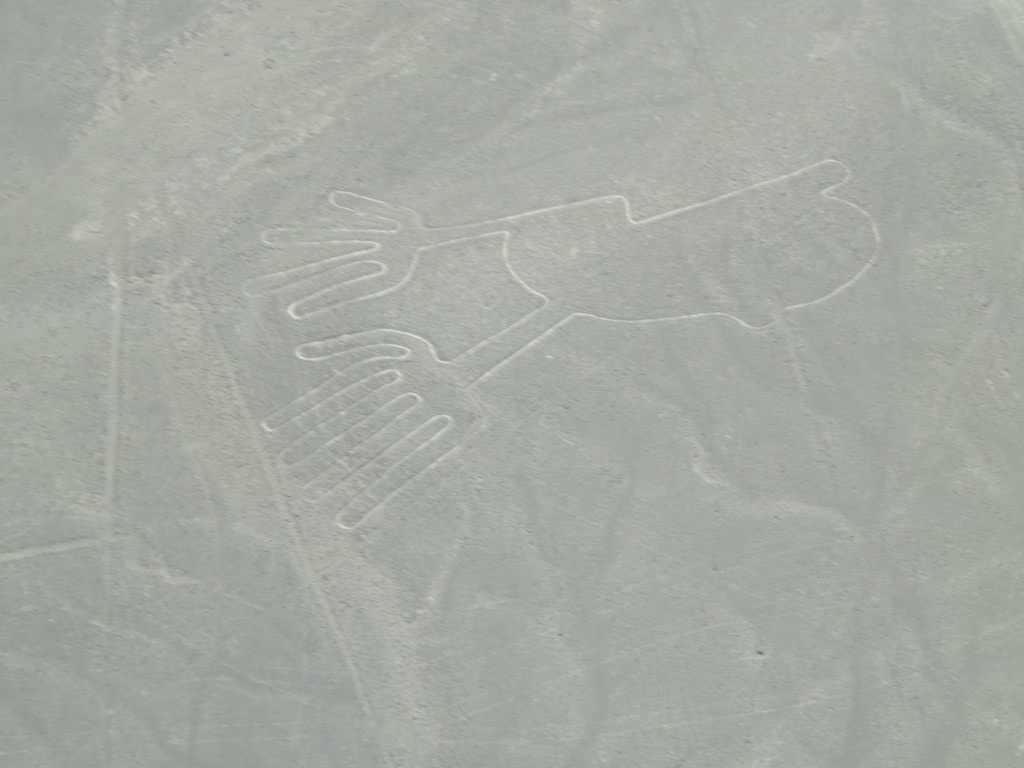 The co-pilot led the tour, and was able to speak to us over the headphones. He pointed out the various markings and explained what they were believed to depict. To be honest, I don't remember much of the tour as I spent most of the flight concentrating on silent prayers for protection!
Birds Eye View of the Nazca Lines
Once we were over the Nazca Lines, the plane banked to the left and right so that we could see each one out of our windows. Every time we twisted and dived, my stomach seemed to fall through the floor of the plane. Despite my terror, the lines themselves were incredible; enormous carvings stretching across the dusty, pinkish-brown field, some of them up to 200m across.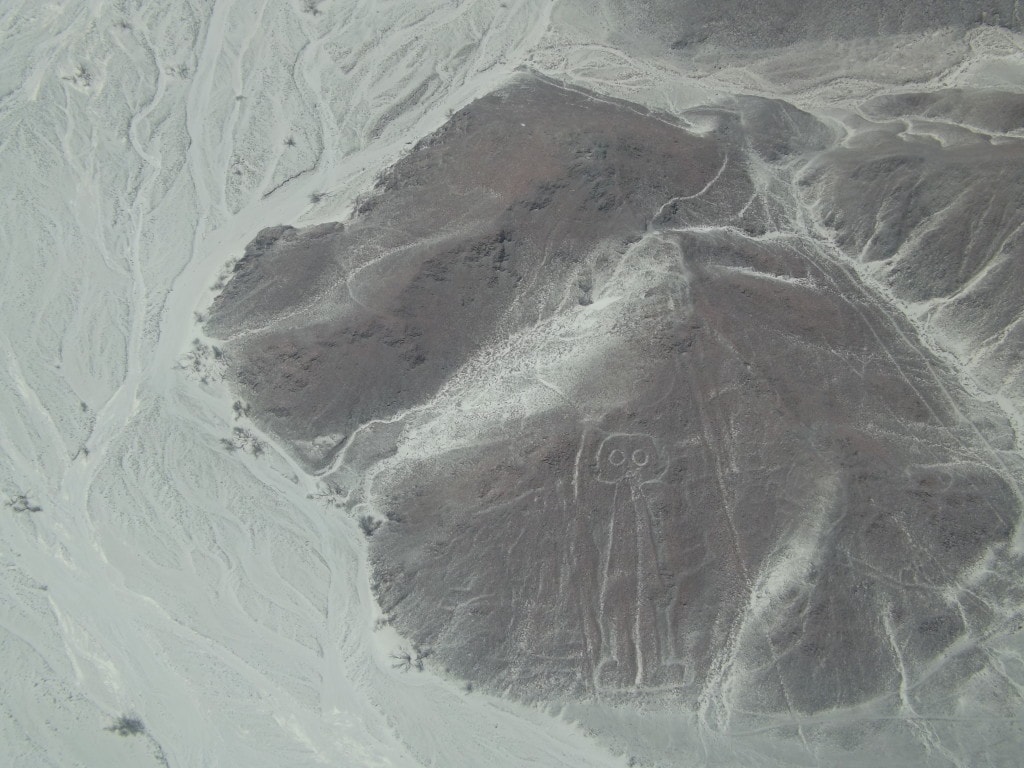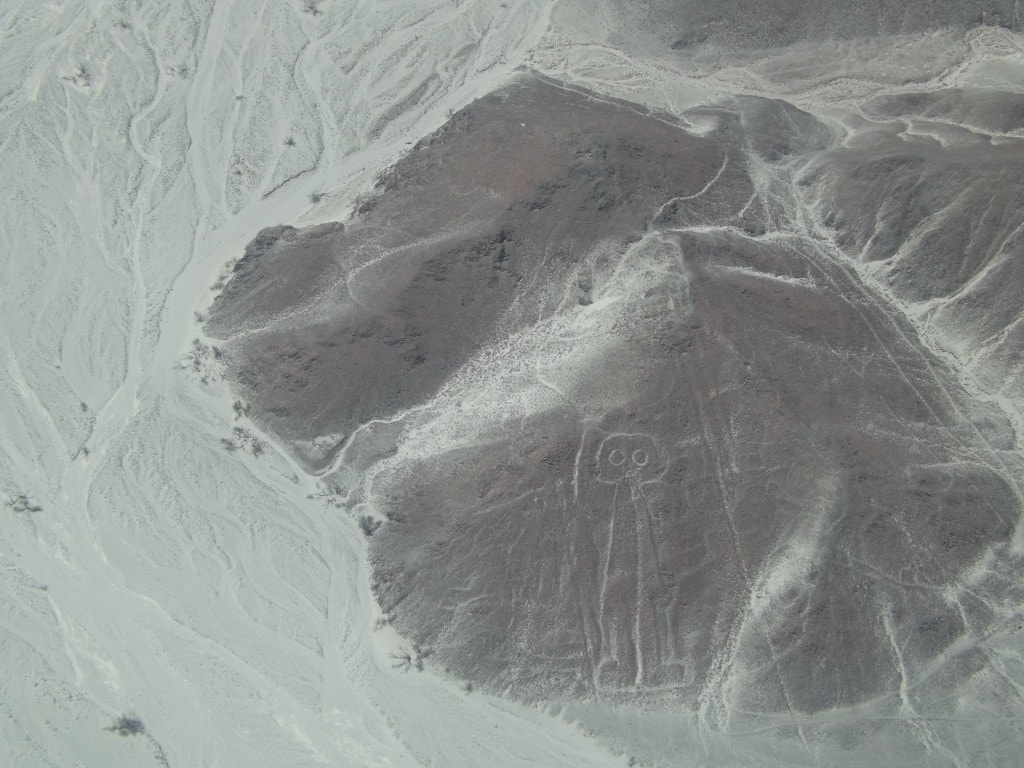 My particular favourite was the "astronaut" – a tall hillside carving of a waving human figure which, in my opinion, in no way resembles an astronaut. I also loved seeing the more famous Nazca Lines, like the hummingbird and the monkey.
Taking photos through the window of the shaky plane was really tough, so after a while, I gave up trying. Instead, I concentrated on properly seeing and appreciating the sights below me.
The violent motion of the plane, particularly the last five horrifying minutes before landing, made me really nauseous. That motion sickness didn't leave me for the rest of the day.
Was it Worth it?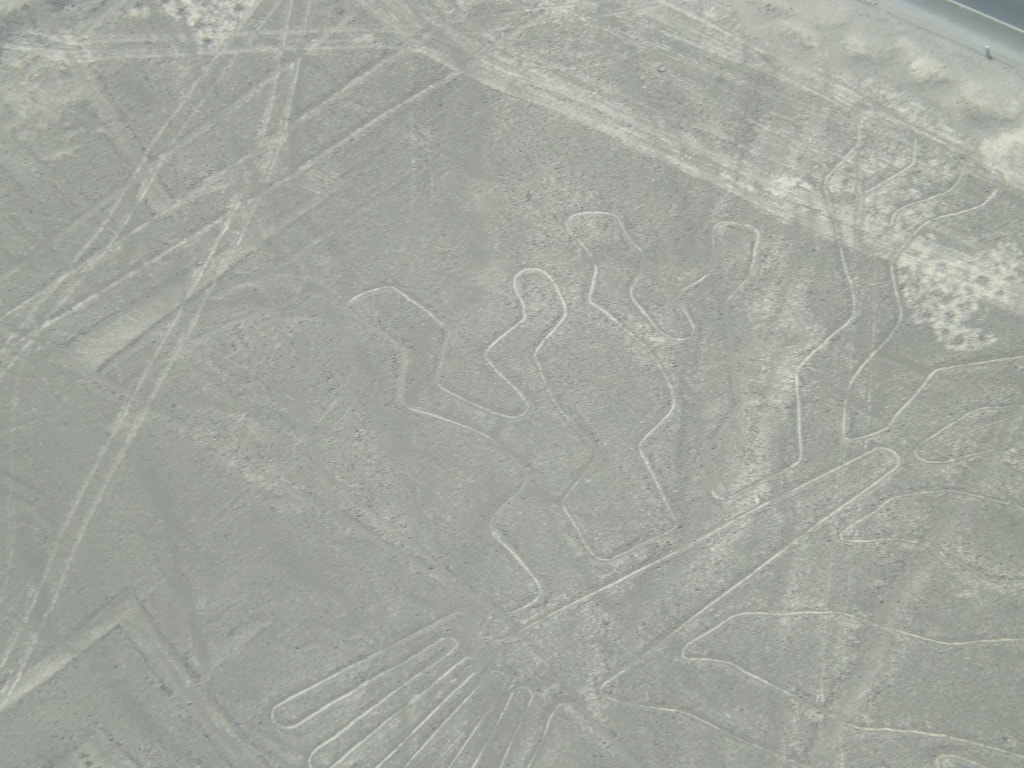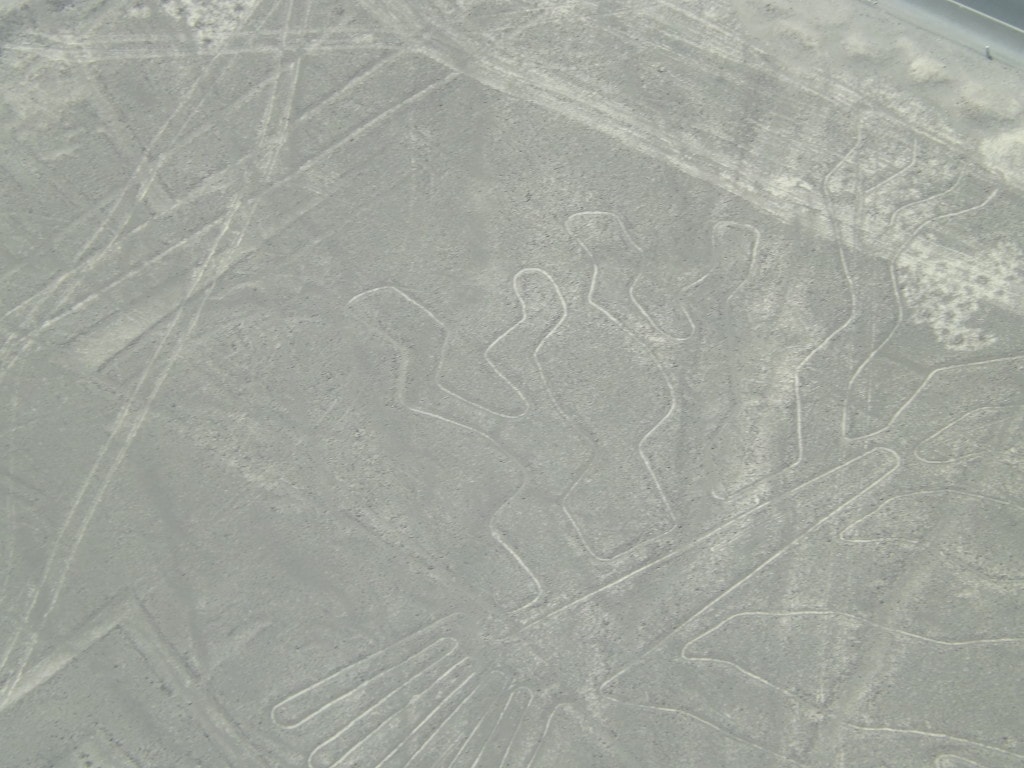 To save time on the return journey, we skipped the bus and paid extra for a colectivo (a shared taxi). Or, it was possibly a small mobile oven. An ancient car with no aircon, 4 passengers squeezed into the backseat, in which the driver kept all the windows wound up in spite of the desert heat.
When we arrived back in the oasis town, I was feeling nauseous and we were both still a little shaken from the unexpectedly terrifying flight.
So was it worth it?
I still think so. The chance to see the famous Nazca carvings from the air was one I was glad I didn't miss. The spectacle was amazing. Seeing them from above is also the only way to truly appreciate the impressive scale and neatness of the Nazca Lines.
However, I would say that anyone who suffers from a fear of flying might want to give it a miss. Likewise, if a bumpy, shaky and potentially dangerous journey sounds too far out of your comfort zone, you probably won't enjoy the flight.
Planning a Nazca Lines Trip
The links in this section are affiliate links, so I may make a small commission if you book anything I recommend.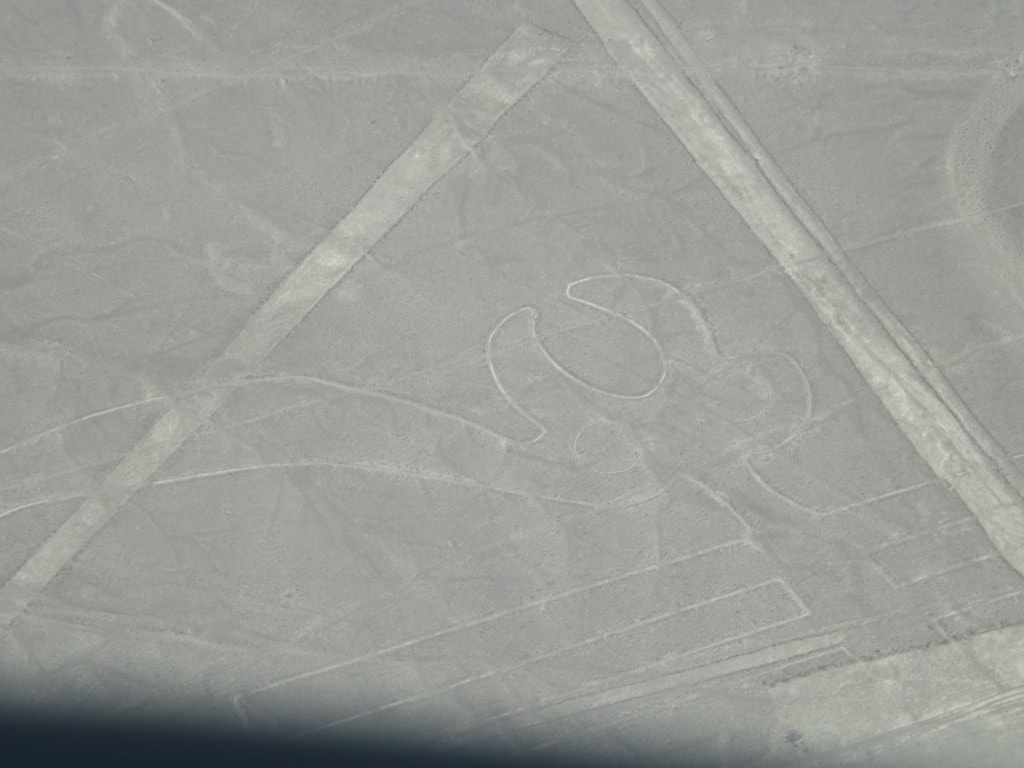 As I said above, I'm glad I took the Nazca Lines flight, even though I found it terrifying! It was a cool experience, and worth facing my fears for the exceptional view of these surreal desert carvings.
However, the tour we booked wasn't super well organised. We spend most of the day waiting around, and the timings of the buses meant that we arrived much earlier and left later than we needed to. So the day was a lot longer than it had to be. We even ended up forking out for a colectivo because the return bus wasn't leaving for a couple of hours.
Taking a Nazca Lines day trip from Huacachina isn't the most convenient. You may prefer to stop in Nazca town for a night or two in order to take the flight. This will also give you time to have a look around the museums and learn a little more about the Lines.
Today, there are definitely more options in terms of tours than when I visited. However, prices have also gone up a bit since then. If you book online, the price of a scenic flight ranges from around £80-£105. There are also more expensive day tours leaving from Lima. Although it's a longer day, you'll be in a comfy air-conditioned minivan. Below, I've listed some tours from my recommended booking company to give you an idea of costs: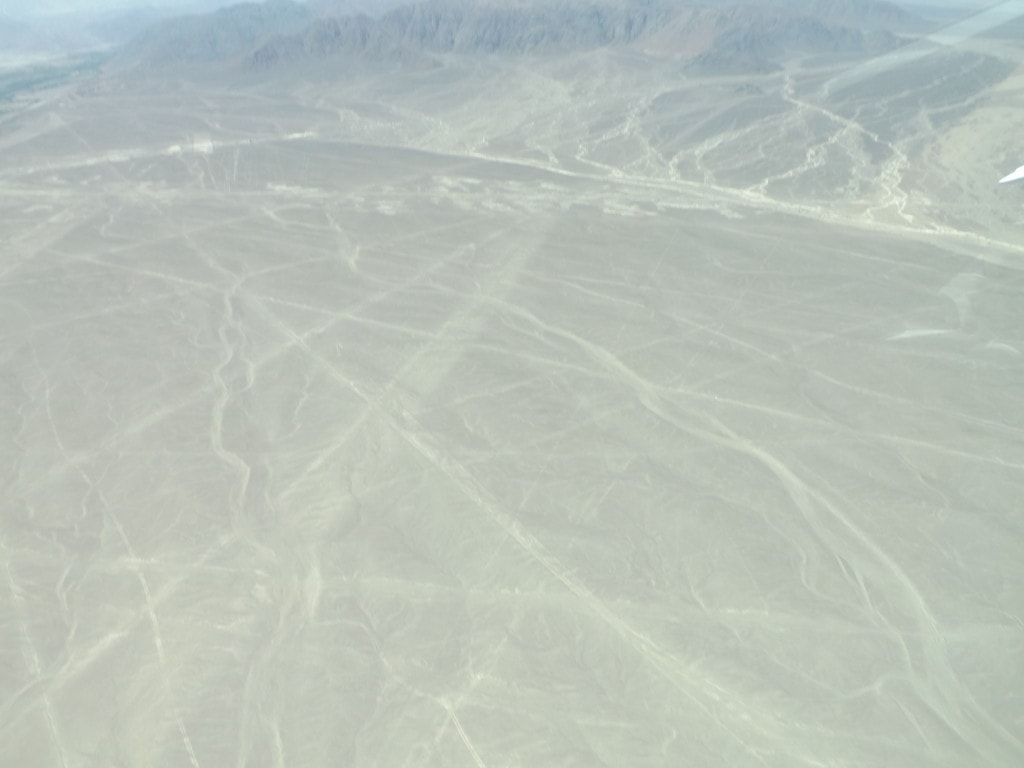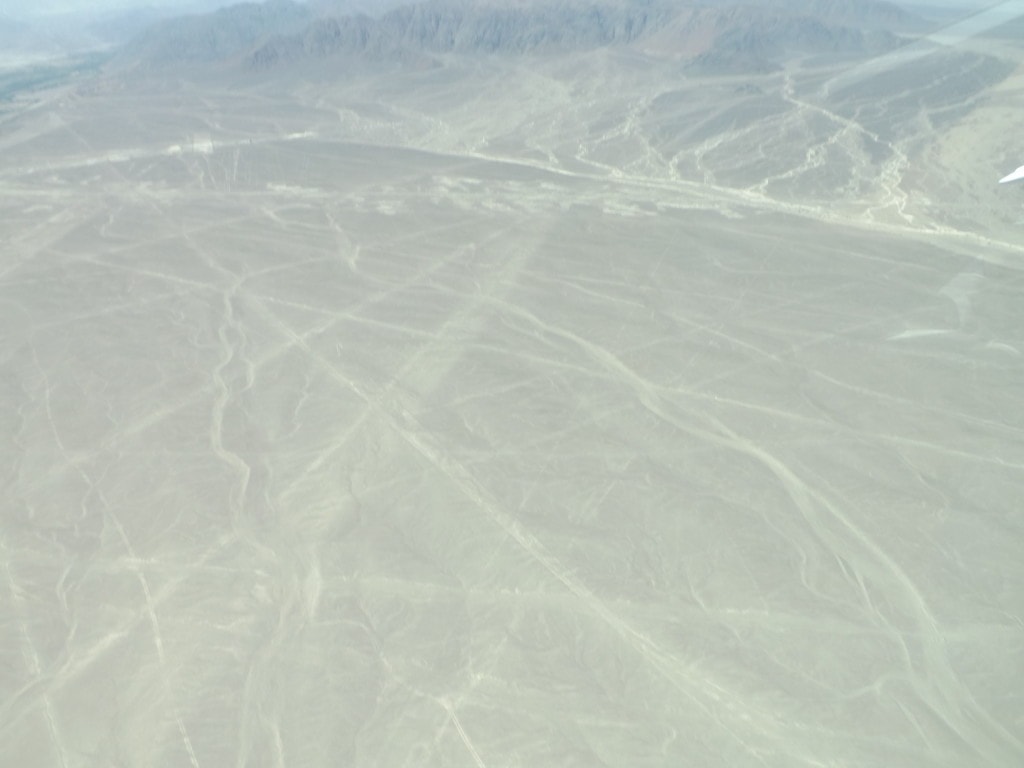 Tips for the Nazca Lines Flight
If you suffer from motion sickness you should definitely take some medication before the Nazca Lines flight. In fact, it's probably a good idea to take some even if you don't normally suffer!
Dress comfortably and wear layers. The desert can be very hot, so loose, comfy clothing is key.
Find a decent tour company. These flights aren't exactly cheap, especially for backpackers. If you're splurging, read reviews and make sure you're booking with a decent tour company!
Most of all – enjoy it. The flight may be nerve-racking but this is probably going to be a once in a lifetime experience. Few people get the chance to see the Nazca Lines from above, so make the most of it!
I hope this post helps you decide if the Nazca Lines flight is for you. Let me know in the comments if you decide to book!