Some posts on this site contain affiliate links. If you book or buy something through these links, I earn a small commission (at no extra cost to you). Take a look at my privacy policy for more information.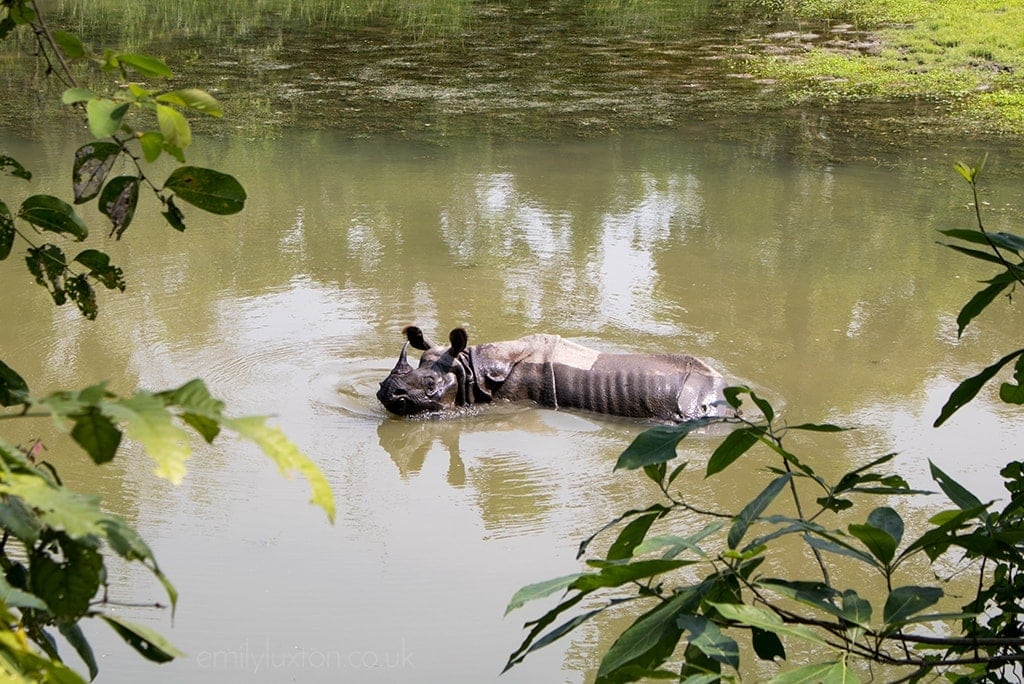 Our monster of a jeep jerks backwards in the vehicular equivalent of a double take, springing back for a better look at the tantalising glimpse we just had through the trees. And sure enough, there it is, through a gap in the branches so perfectly sized it might have been made just for us to look through. A rhino bathing in the river, no more than fifteen feet from us. We scramble out to the top of the muddy bank for a better view. We're so close, and if it wanted to trample us it probably could. But the rhino is too busy splashing in the water, blowing bubbles through his nose. It's about ten in the morning and the jungle heat of Chitwan is already thickly oppressive. Our rhino looks far too lazy and complacent in his muddy river bath to chase us.
Some travel experiences just stay with you forever. My brief stay at Meghauli Serai safari lodge in Chitwan National Park was one of those. So many wonderful moments were crammed into two short days, it's hard to know where to start. But that moment, standing a few feet away from a wild, one-horned rhinoceros, was something incredible.
My Meghauli Serai Experience
We arrived at Chitwan National Park after a painfully long and torturous bus ride. I looked awful, sticky and crinkled from the road. I don't know what I was expecting from Chitwan, but it certainly wasn't Maghuali Serai.
The lodge is part of the Taj Hotels group, an Indian brand known for their luxury hotels and incredible resorts. Greeted by a flurry of waving staff, already emitting the fantastic service Taj are known for, we stepped into what felt like a palace after such a difficult journey. The main building of the lodge is stunning; light and airy with towering ceilings and beautifully decorated with local art.
Where is Chitwan?
Chitwan National Park is in the south of Nepal, and is a far cry from the usual images of snow-capped mountains that most people associate with the country. Nepal may have the second highest average elevation in the world, but there are still lowland areas. And the jungles and grassy plains of Chitwan are one of them. If you travel from India to Nepal by road, Chitwan may even be one of your first stops.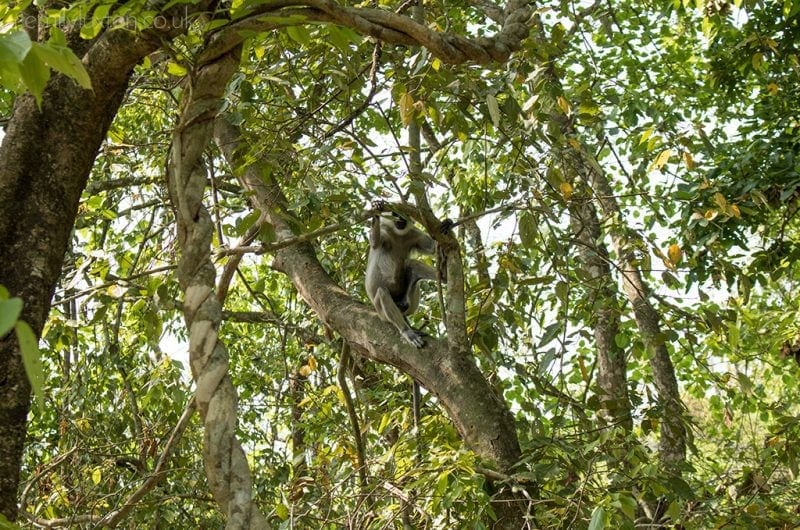 They're also home to one of Nepal's best known and most important national parks. Chitwan is a dream safari destination – and an important area for conservation. On safari in Chitwan, you might catch sight of rhinos, leopards, monkeys, elephants, hyenas, and more. And if you're extra lucky, you might even see one of the elusive Bengal tigers.
The park was established mostly to protect the greater one-horned rhinoceros, one of the world's most endangered species. Luckily, rhinos are thriving in Chitwan now – and they've even been able to relocate some to other parks in Nepal, to help boost numbers across the country.
Chitwan Jungle Safari with Meghauli Serai
Our open-top, twelve-seater safari vehicle was a true beast. Bumping along in the back seat, I had amazing views of the towering trees and lush vegetation of the jungle. And of the animals. Deer, wild boar, monkeys, birds, and about half a dozen one-horned rhinos.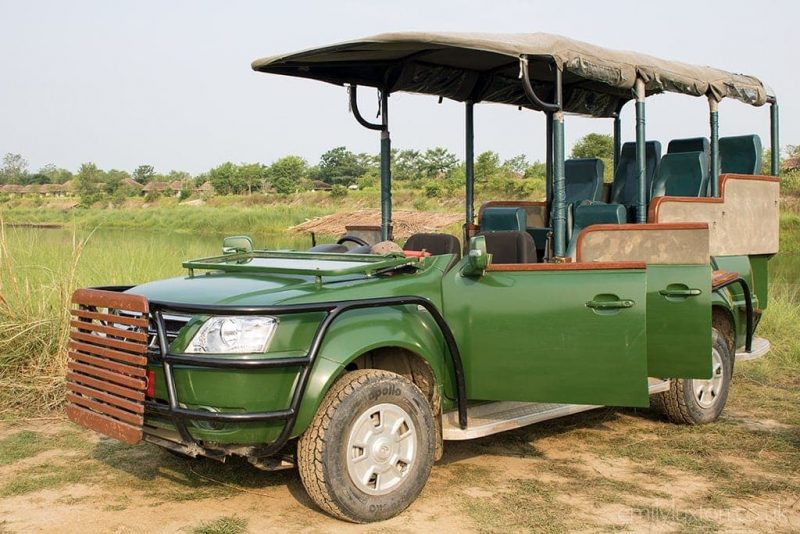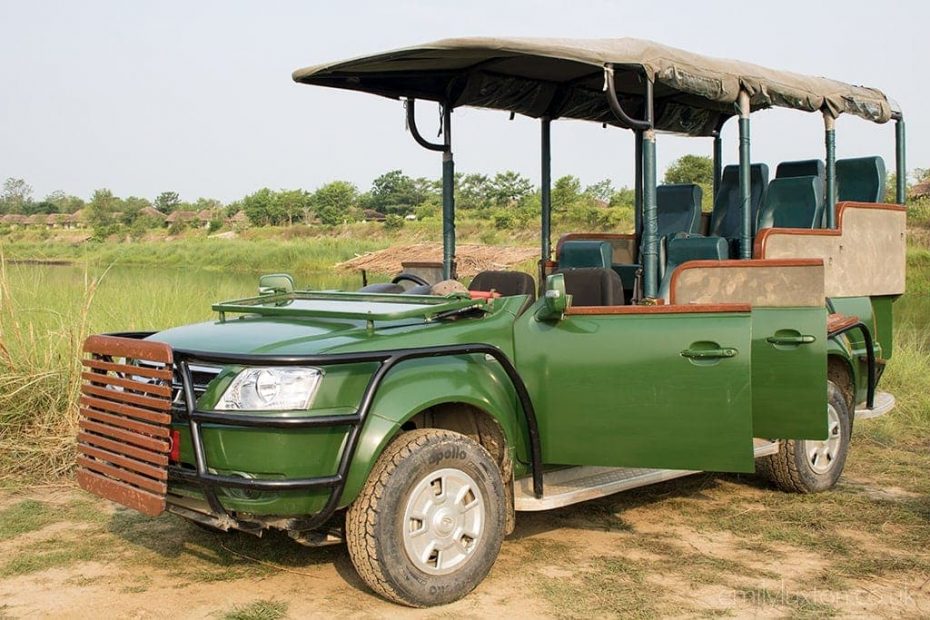 Spotting the rhino in the river was our closest encounter, and definitely the best photo I got. And although we never caught sight of a Bengal tiger, one of the rarest animals in Chitwan, we did come across a few pristine footprints in the dusty road.
But my other main "wow" moment came at breakfast. We stopped by the side of the river, and as we ate we had front row seats to watch a mother and baby elephant playing together in the river. Their squeaky, happy calls as they splashed are something I'll never forget.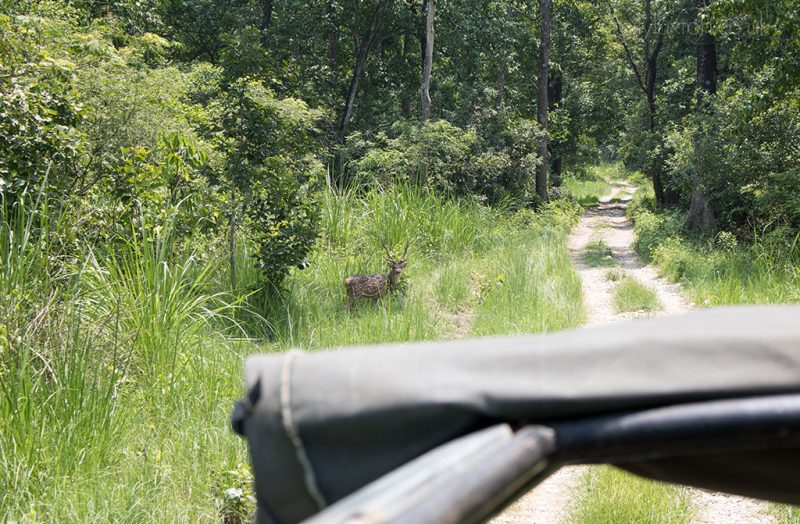 My Villa at Meghauli Serai Lodge
After the morning safari, I headed back to my villa to cool off – and immediately sank into my private plunge pool overlooking the Rapti River
If there's one thing that really set Meghauli Serai apart for me it was that villa. It was incredible! Enormous and beautifully decorated, with a bathroom bigger than my bedroom back home, an enormous bed, an outdoor shower, and gorgeous, cooling stone tiles. And that private pool out the back, behind the huge glass doors that let me wake up to incredible views of the Rapti. The room nearly floored me with its luxuriousness. Another unbelievable wow-moment from Meghauli Serai.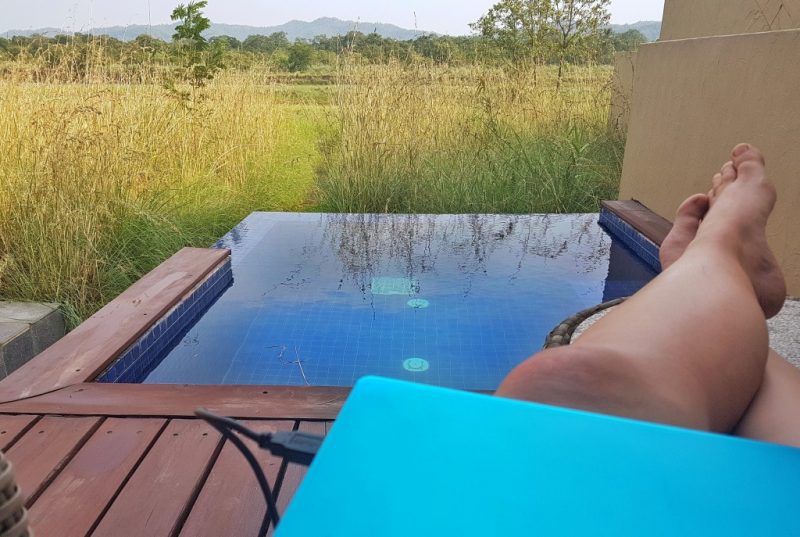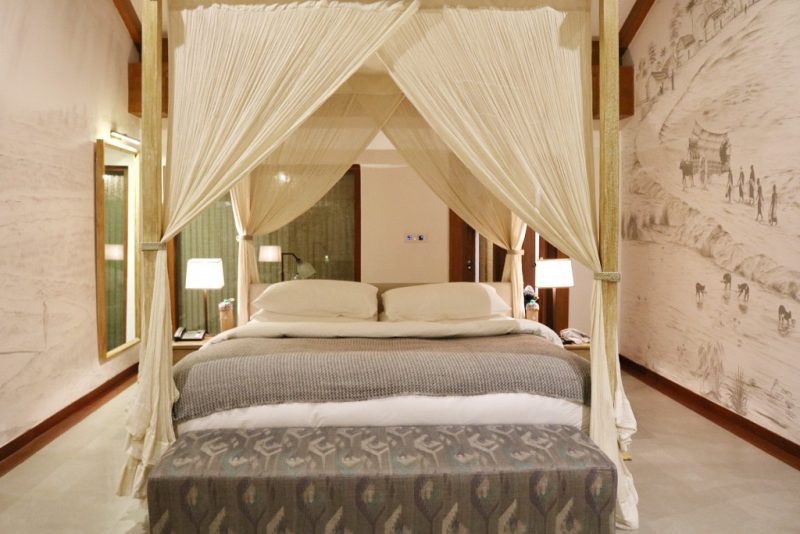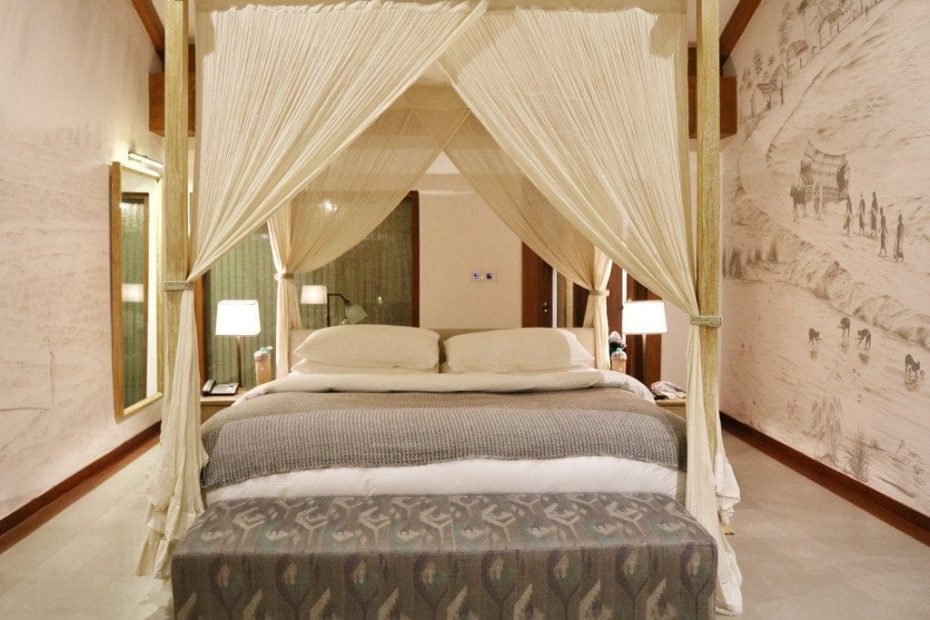 Dinnertime
Our last activity at Meghauli Serai was a boat safari. Smothered in enormous khaki ponchos to keep off the rain, we cruised slowly down the river in a big wooden canoe in search of birds and animals. Overhead, the sky was swollen and purple with a dramatic thunderstorm, and lightning flashed in the distance. But it was still warm, and a lot of the animals – especially birds – were still out and about.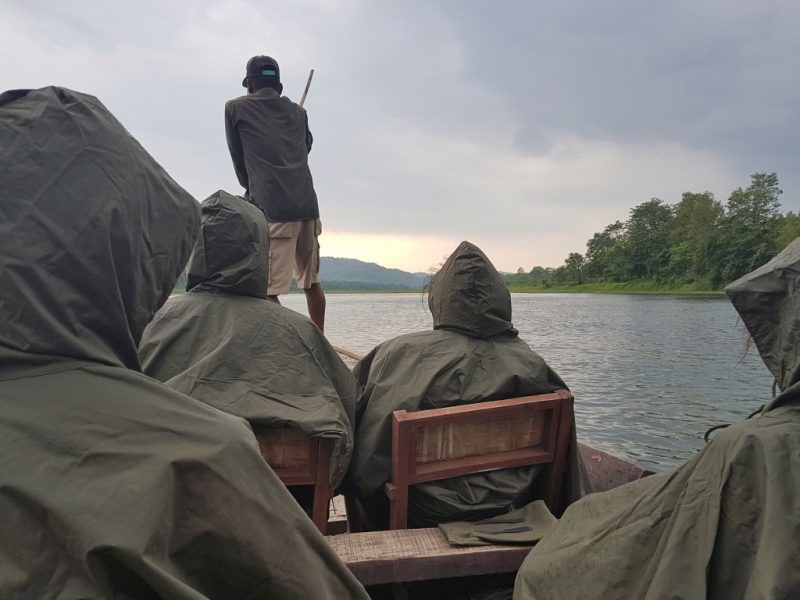 After stopping for sundowners served straight from the jeep bonnet, we headed back to the lodge in time for our final dinner. All the food we had at Meghauli Serai's restaurants was amazing, especially the barbecue on the riverbank on our first night. But the last night was the most interesting experience.
At an outdoor banquet beneath the warm glow of lamplight, we tried the traditional cuisine of the Tharu – a local indigenous culture. While we ate, local tribal dancers performed in a huge circle. Lit by flickering firelight, and beating out a rhythm with long sticks, the dancers were an intriguing site. And it was the perfect, celebratory way to end our gorgeous stay at Meghauli Serai.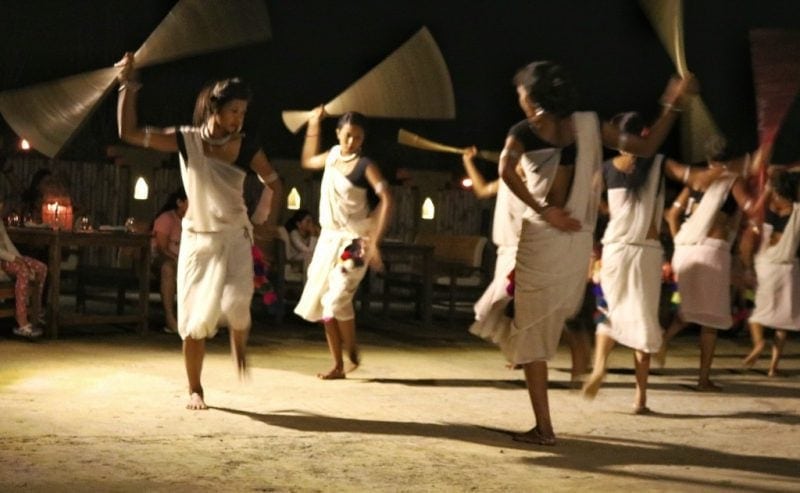 My time in Nepal was partly sponsored by PATA and the Himalayan Travel Mart. Our stay at Chitwan was provided without charge in exchange for an honest review. All words and opinions are, always, my own!
Pin this post: