Some posts on this site contain affiliate links. If you book or buy something through these links, I earn a small commission (at no extra cost to you). Take a look at my privacy policy for more information.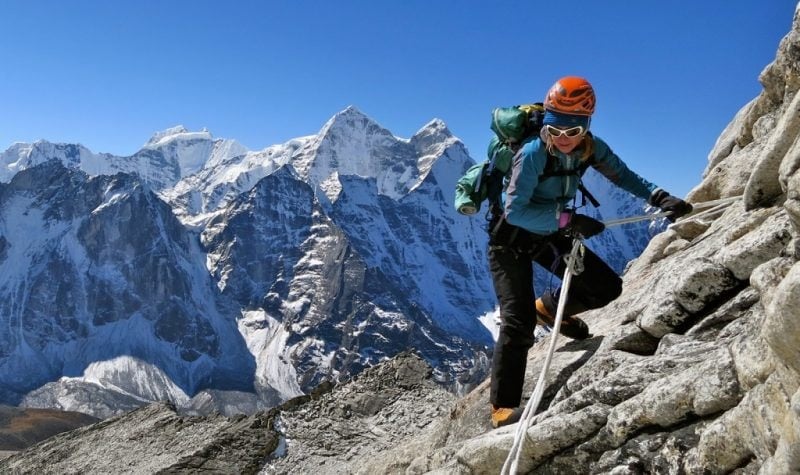 Today's post is something a little bit different! I recently got the chance to interview a really inspiring fellow traveller, and I wanted to share her thoughts with you. Heather Geluk is one of the most successful female mountaineers in the world, as well as being a Change Management and Communications Consultant for her day job at PricewaterhouseCoopers (PwC).
Heather is one inspiring lady, and she's had some incredible adventures around the globe. Her love of mountaineering has led her to climb many of the worlds largest mountains, including Everest, Makulu, and Kilimanjaro. She was the first woman in 23 years (and second ever) to climb Shishapangma and Cho Oyu in one season, two 8,000m peaks in the Nepal Himalaya.
She was caught in, and lucky enough to survive, the Nepal earthquake which struck last year on 25th April, and actually stayed on in Nepal to provide humanitarian assistance through raising funds and awareness and delivering food, shelter and financial relief to those impacted.
Heather has also raised over $350,000 for charity through her climbing experiences, including for Wellbeing of Women, which dedicates themselves to improving the health of women, mothers and babies, and also the Paldorje Education Foundation, which sponsors Nepalese children through school.
Keep reading to find out a bit more about Heather's adventures, and her thoughts on travel, a healthy work/life balance, and facing fears. And check out Heather's blog, People You Meet Along the Way, for even more great stories.
Hi Heather! Can you tell us about your first ever mountain climb?
The first mountain I climbed was Mera Peak, a 6300m mountain nestled in the snow-capped and soaring faces of the Nepal Himalaya. The decision to head to Nepal and take on this formidable high altitude challenge was an impromptu one – I'd just been dumped by my boyfriend and rather than booking a beach holiday and drowning my sorrows in bottomless mojitos, I called an adventure travel company looking for an escape – a trip, an adventure, anything, anywhere. As fate would have it, the trip turned out to be a climbing trip – and it was leaving in two days to Nepal. I signed up immediately. I often wonder whether, had the timing been even slightly different, I could have ended up as a professional mountain biker or scuba diver rather than a mountaineer..!
48 hours later I found myself under the watchful eye of a patient Sherpa guide and in the company of a wonderful team on the snowy slopes of Mera Peak. The experience of being so completely out of my comfort zone was one of the most amazing experiences of my life and also the most challenging; I knew nothing about climbing and even less about acclimatisation. I remember lying awake at night with aching muscles staring at the roof of my tent with tears in my eyes. Fast-forward 2.5 weeks and by some miracle and heaps of determination I summited Mera Peak. From my lofty vantage point I looked out at five of the world's 8,000m peaks – Kangchenjunga, Makalu, Lhotse, Everest and Cho Oyu – and thought, 'this is exactly where I'm supposed to be.' The rest, you can say, is history..!
What inspired you to become a mountaineer?
Mountaineering is the by-product of a passion for the outdoors inspired by my rural roots, combined with an inherent sense of 'wanderlust'. Being outside in the fresh air, and surrounded by soaring mountain faces – be they Himalayan peaks, the Rockies, the Andes or the Alps – is where I find myself filled with awe and inspiration.
Apart from the jaw-dropping views, there are so many things that I love about mountaineering. I'm not a full-time adventurer so it's important that when I get away from the hustle and bustle of every day 'life' in London that I can go to a place and completely 'switch off' – getting away from all the distractions of our connected world. Mountaineering meets this need and I find that as soon as my feet hit the trail, I quickly immerse myself in the meditative state of 'plodding' up big hills… the slow and steady step of putting one foot in front of the other to reach an ultimate goal.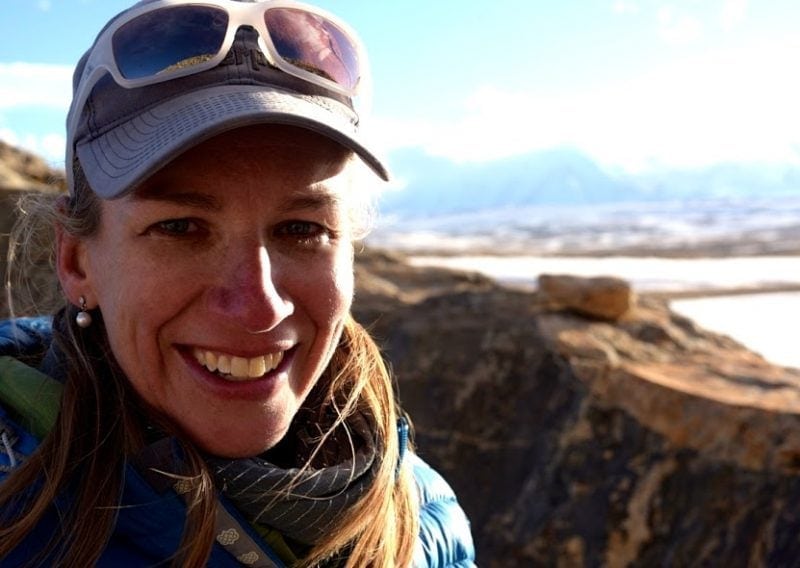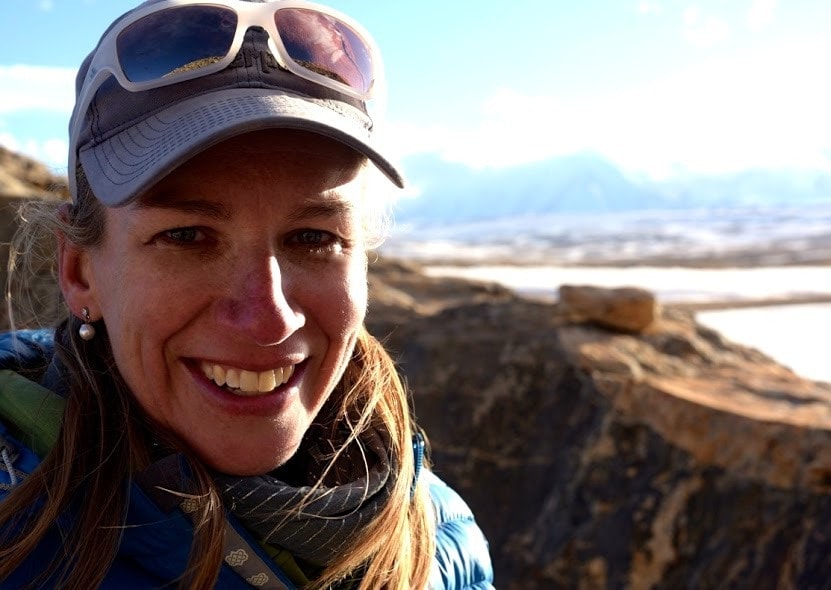 In university I studied Geography. I remember admiring the photographs of mountains like Everest in school. I never thought I'd see these mountains first-hand; they seemed part of another world, the realm of those who write text books. Before I knew it I found myself travelling to some of these far-flung places. I continue to use so many different aspects of my degree as I explore the outdoors. From learning about new cultures in the mountains of Peru through to reading the weather patterns high on the slopes of Everest, understanding the impact of climate change on the snowfields of Kilimanjaro, understanding the underlying geology of volcanoes in Iran, and appreciating the shifting tectonic plates of Nepal – my degree has greatly influenced my appreciation and understanding of the world. Standing on the summits of many of these mountains I can't help but think back to those faded geography text books and wonder how life has come full circle; I now experience the faded photographs of my old text books in living colour.
I love being part of a team – whether it's a small team of a Sherpa and myself or as part of a larger, commercial team. Over the course of the past 8 years I've been on expeditions ranging from 2 – 50 plus an entourage of yaks, camels, donkeys and horses. The best memories that I have from my adventures have been influenced largely by the incredible people that I've had the opportunity to share a rope with –some have devoted their life to serving and helping others, some are focused on conquering mountains, and others have built business empires. Some are great athletes, while others entertain with their incredible musical talents. Two things that they all have in common is that they are passionate, talented, and amazing people who have added colour to my life and have helped to gently shape the moments that make up the journey and that they share a common passion for the mountains.
You've had a lot of incredible adventures. Which has been the most memorable?
During an expedition to Peru to climb an absolutely stunning mountain called Alpamayo, I found myself engaged in a flurry of hand gestures, smiles and broken Spanish, attempting (ungracefully!) to speak with the locals in the mountain-town of Huaraz. Despite the language barrier, I was amazed at how much we were able to learn about each other through our shared passion for the outdoors and the curious similarities and differences between our cultures.
Following the expedition, we were invited to participate in the traditional Peruvian 'pachamanca' with our Peruvian guides and their families. Translated by Alfredo, our Peruvian cook, we were told that 'pachamanca' could be roughly translated as 'earth oven.' Our jovial post expedition celebrations involved placing carefully wrapped dishes of meat and vegetables in a hole dug into the ground, lined with baking hot, volcanic stones and buried under a mound of soil or rocks and cooked for three hours. It was the most delicious meal ever!
While the feast was as far from mountaineering as you could get (there was no talk of crampons and ropes to be heard!), for us, it was an integral part of the expedition and one that stands out in my mind as much as our first views of the mountain itself. I felt both honoured and grateful that our guides and their families shared this experience with us.
Are you ever scared when you're on a climb? How do you tackle that fear?
The most afraid that I've ever been was on a climb was in Scotland shortly after my first expedition to Nepal. I have an inherent fear of heights. Inspired by my experiences in Nepal, my guide Zac, took me to a relatively straightforward ridge around Ben Nevis in Scotland. Tethered to his rope and not realising how petrified I was of heights, he asked me to cross the narrow ridge. My legs froze. Despite the fact that it was absolutely freezing outside, sweat began to gather on my brow and I took a few deep breaths. Fortunately, Zac is an absolute legend with bucket-loads of patience. It must have taken me at least 45 minutes to cross a ridge that should have taken about 30 seconds..! He coaxed me across, explaining why I was completely safe through the system of rope. It was a case of mind over matter. Slowly but surely I made my way across the ridge and collapsed in a heap at his feet. Through that experience I learned – in the words of Nelson Mandela – "…courage [is] not the absence of fear, but the triumph over it. The brave man is not he who does not feel afraid, but he who conquers that fear."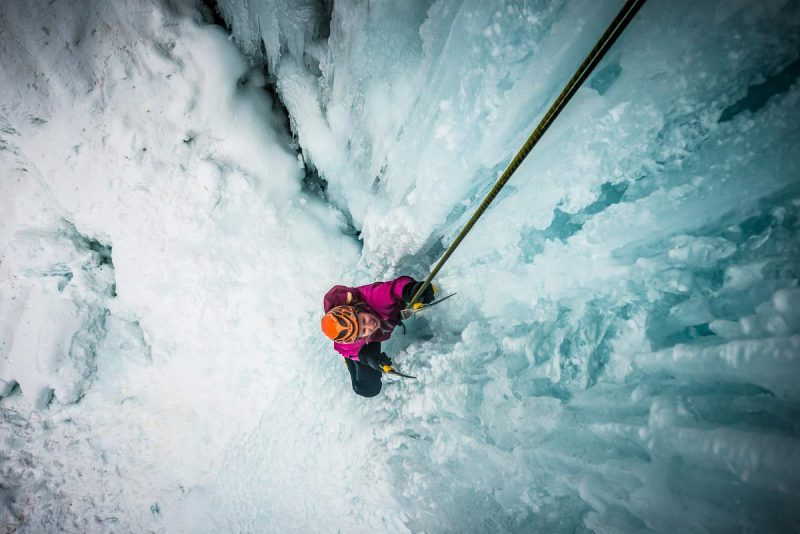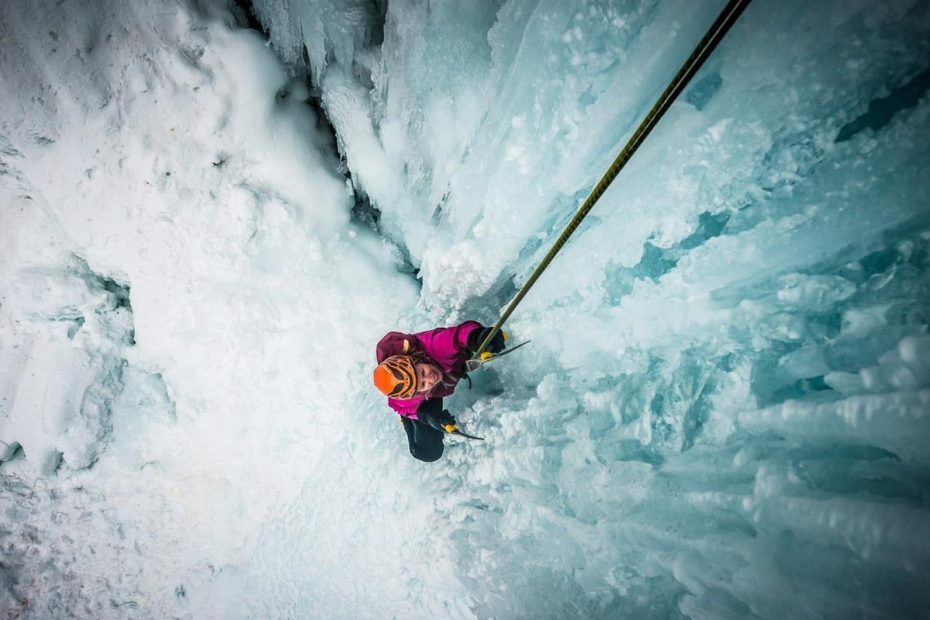 I have not overcome my fear of heights but I have learned to control my fear. I have found that understanding physically 'why' I am safe and 'why' I have nothing to fear, helps me to rationalise and overcome the 'fear' that says I'm not. This fear of heights is something that I still battle with from time to time but I've found tremendous strength and gained so much confidence in learning how to control it. Sometimes I even look down to challenge myself, to train my brain and smile with the knowledge that I'm stronger for it.
On your blog, you talk a lot about the various people you've met on your travels. Who do you find particularly inspiring? Do you have any role models?
I feel tremendously fortunate to have met so many inspiring people that have taken the time to share their thoughts, experiences, cultures, and countries with me over the course of my mountaineering journey. Through these people and the insights and experiences they've shared, I've come to learn that it hasn't just been the mountains but rather the mosaic of people I've met along the way that make life such an incredible adventure. The people that I've met, the things I've seen, the lessons learned have been more impactful than any summit I've ever attempted, stood on or dreamed about.
There is no one single role model that I could name, but rather, there are individuals from whom I regularly draw inspiration.
Tashi Sherpa, Sherpa Adventure Gear – I could never talk about inspiration without mentioning the selfless kindness of the Sherpa and the wider Nepalese climbing community. The Sherpa and people of Nepal have shared experiences and insights with me that have shaped my perspective on the world and have influenced how I live my life. Tashi Sherpa, the founder of Sherpa Adventure Gear, is an example of this. Not only did Tashi found and establish a global brand in an extremely challenging business environment, he stayed true to his vision to recognise the contributions of the Sherpa people to Himalayan expeditions and true to his Sherpa roots to do so in a way which 'gives back' and follows the mantra, 'what goes around comes around'. Tashi set up (and continues to oversee) the work of the Paldorje Education Foundation. With proceeds generated by Sherpa Adventure Gear, the Foundation sponsors children through elementary and high school and college undergraduate programs.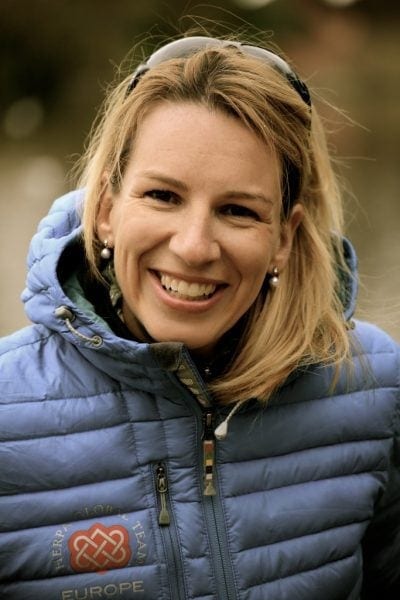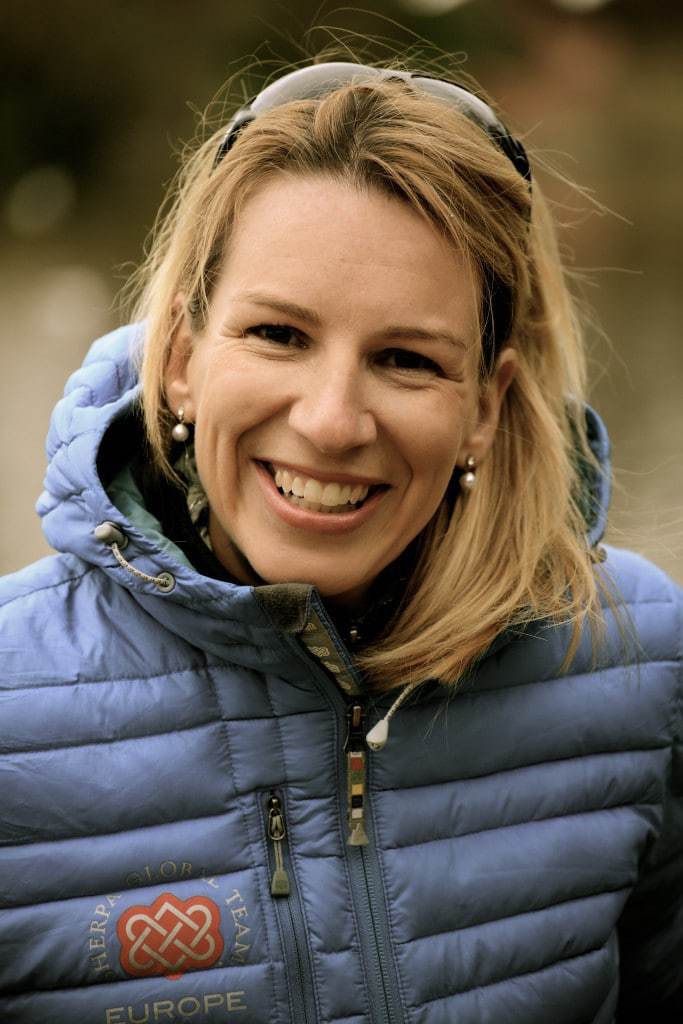 My guide in Chamonix, Isabelle, is a role model to me. Isabelle is one of the inspirational and hugely talented people that I've met through this altitude-driven journey and someone from whom who I have learned a tremendous amount. She is an inspiring athlete and teacher. On skis, or on a rock face, or when meeting to discuss ambitions over a coffee in sunny Chamonix, she is passionate about sharing the spectacular vertical world that is the mecca of the Alps. Her goals are to encourage others to experience the same and to go beyond their own perceived physical and mental limits. Her extensive adventures around the world include: traversing the Alps on telemarks, experiencing the high altitude of Aconcagua, Denali and Ama Dablam, battling spin drifts in Alaska and exploring the mountainous regions of Peru and Bolivia. Not only is she an amazing guide, she is also the proud mum of 2 gorgeous young children. This means that she has had to adapt her mountaineering aspirations and continues to live in the constant search for perfect balance enabling others to achieve their alpine dreams safely and spending time with her family.
Finally, my boss, Kevin – I could not have achieved my 'work-life balance' without mentioning role models at work. Despite living the life of an 'adventurer' who has been on over 15 major expeditions (including 5 x two month expeditions to 8,000m peaks) I have a full-time job in central London that require me to be as comfortable in a boardroom as I am in a basecamp. I work hard and I play hard. One of the people who I have drawn inspiration from is my boss, Kevin. A quality which I admire is empathy – in business and in life. Kevin empathises naturally with others, striving to identify with them and see the world from their perspective. Because of the nature of my work, I'm regularly faced with decisions which force me to try and 'balance' a professional desire to advance my career with a personal desire to follow my hunger for self-discovery outside of the office – a balance that can be tenuous from a commercial perspective. Being able to share both my professional and personal aspirations with my boss and seek his counsel has taught me an incredible amount about leadership and the importance about being open, honest and clear about my goals and objectives to help structure my time.
Balance is important to me – I love every moment I spend in the mountains however I also love the time I spend in the office or with my clients, drawing insights and inspiration from my colleagues, clients and helping individuals and teams to reach both short and long-term goals. I feel that the contrast between these two environments – and the role models I have in both – has helped to shape the way I approach challenges, make decisions, manage risk and manage my time.
What's the greatest lesson you've ever learnt?
The greatest lesson I've learned is the importance of striking the delicate balance between the professional ambitions I have in my career and my personal ambitions in the mountains. I love my job and wouldn't trade it for the world. I enjoy working as in teams and with clients in a corporate, office environment. The challenge, however, is that I also love big mountains. Unfortunately however the time and resources that are required to venture into these remote places is significant.
Working to manage the 'moving parts' – the stakeholders, the priorities, time-commitments – within the two worlds, to ensure that they stay 'in sync' is not an easy task and builds on those early lessons learned on Mera Peak – courage, commitment, discipline and a bit of creativity thrown in for good measure. I work hard and I train hard… and I take every opportunity to learn from both environments and the people that I meet along the way.
After returning from a major two month expedition climbing two mountains called Makalu and Ama Dablam in Nepal, I took some time out to reflect on how my love for the mountains fit into my career. I'm not your typical 'climber' and I'm not your typical 'consultant' either. I like my 'creature comforts' but there are more than a few days when I'd quite happily swap a pair of Jimmy Choo's for a pair of LaSportiva boots, a Burberry trench for a Sherpa soft-shell.
I love every moment I spend in the mountains however I also love the time I spend in the office or with my clients, drawing insights and inspiration from my colleagues, clients and helping individuals and teams to reach both short and long-term goals. I feel that the contrast between these two environments has helped to shape the way I approach challenges, make decisions, manage risk and manage my time.
The greatest lesson is therefore finding 'balance'. Balance is not better time management, but better boundary management. Balance means making choices and enjoying those choices. I am creative in the way that I balance my work and passions outside of work – this means prioritizing and saying 'no' when I have too much on my plate and becoming disciplined in the management of my time.
I believe that I'm a better consultant because I climb and a better climber because I'm a consultant. Being able to find that balance and staying true to myself means that reaching the summit is simply a matter of putting one foot in front of the other.
Why have you chosen Sherpa Adventure Gear to partner with?
I'm extremely proud to be an ambassador for Sherpa Adventure Gear. From my very first trip to Nepal and with each subsequent visit, I feel like I'm coming 'home' as I walk through the warm and dusty 'Arrivals' hall of Kathmandu's International airport. With each trip I continue to be inspired by the hospitality and selfless kindness of the Sherpa people and the wider Nepalese climbing community. They have shared experiences and insights with me that have formed the foundation for many of my Himalayan adventures.
Each piece of Sherpa Adventure Gear's high quality outdoor kit – from the hand-knitted hats made by local women in Nepal, to the waterproof jackets, stylish scarves, and comfy-warm down jackets – is finished with the symbol of an Endless Knot. This auspicious symbol represents the unity of thought and action, words and deeds, wisdom and compassion. The knot is represented on all clothing to bring good fortune and serve as a constant reminder that all things, in all ways, are tied together as one.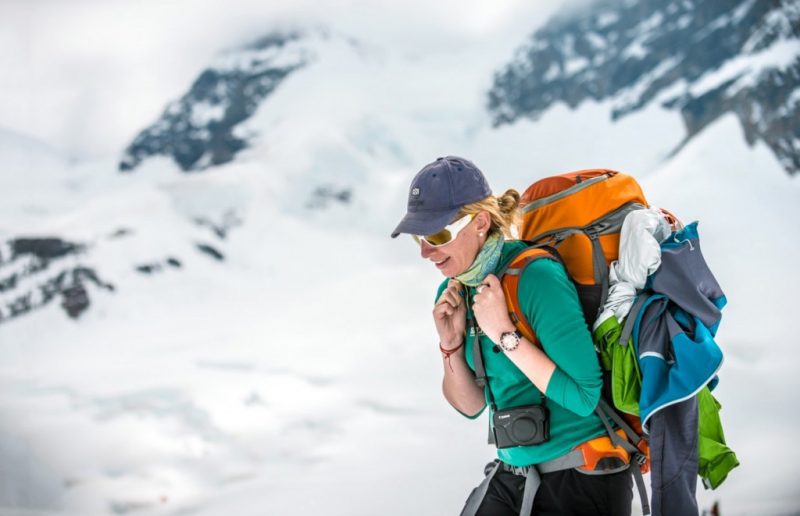 For Sherpa Adventure Gear this is more than just a symbol or a logo. A portion of every sale of Sherpa Adventure Gear clothing is given back to the Sherpa community through its Paldorje Education Foundation to help fund educational and social initiatives, such as providing scholarships to deserving Sherpa children and, more recently, to support community development and social programmes in Nepal.
The Sherpa appreciation for balance – be it in work, life, play – has transcended to my own life in the way that I approach work, my adventures, and a deep respect for the many cultures and people that I meet along the way. In my role as an ambassador, I hope to continue to inspire others to find this balance and encourage others to explore the world and its people.
What did you think of Heather's stories? Scroll down to leave a comment and tell us your thoughts – or even ask Heather a question! I'd love to hear from you.