Some posts on this site contain affiliate links. If you book or buy something through these links, I earn a small commission (at no extra cost to you). Take a look at my privacy policy for more information.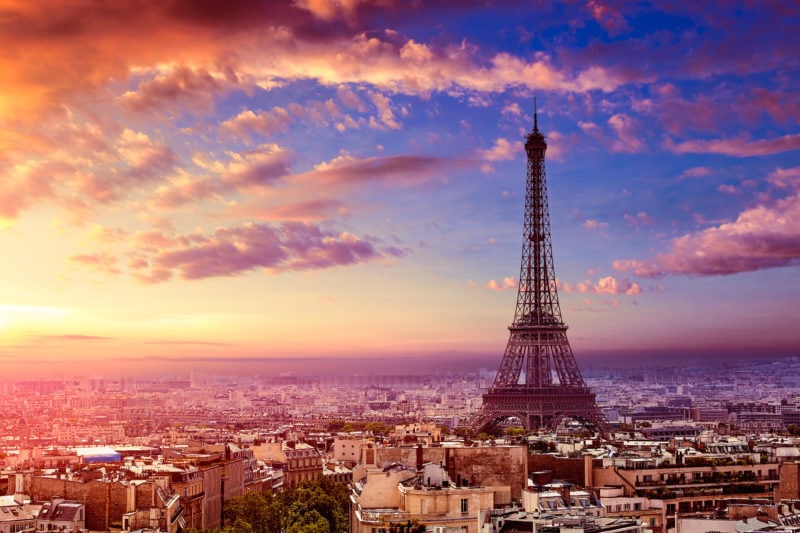 Once you're done with the famous landmarks and most popular sites in Paris, you might want to delve a little deeper into the city. Why not try one of these unusual Paris walking tours to uncover some hidden gems and explore a different side of the French capital.
From the scandals and secrets of the red-light district and the city's dark criminal past, to the LGBT community of Le Marais and the colourful street art of the 13th arrondissement… there's so much more to Paris than the Eiffel Tower and the Louvre.
Rewind Stories are a brilliant local brand offering specialised audio guided tours in France, and they have some brilliant options for exploring Paris.
Tours like these are perfect if you want to get off the beaten path in Paris. With an expert guide in your pocket via the Rewind app, you can delve into the culture, history, and legends of Paris' unique neighbourhoods, pausing at any time to browse an interesting boutique or enjoy the city's amazing food scene.
Below, you'll find my picks for the best unusual walking tours to try in Paris. Which one would you choose?
This post was written in collaboration with Rewind Stories. As always, all words and opinions are my own.
Why Take a Walking Tour in Paris?
Walking is always my favourite way to explore a city, and Paris is a joy to explore on foot. Between the famous buildings and tourist hotspots you can discover fascinating side streets, cute boutiques, dazzling architecture, and all kinds of hidden gems that you might miss on a bus tour or by taking a taxi!
There are tons of brilliant walking tours in Paris on the Rewind Stories website, starting from just €9.99. All you need is your smartphone, some headphones, and the Rewind app. With that, you can set off on a private guided tour of the city. From well-known landmarks and popular districts, to neighbourhoods you might never have seen otherwise.
6 Unusual Paris Walking Tours
1 – Take a Paris Street Art Tour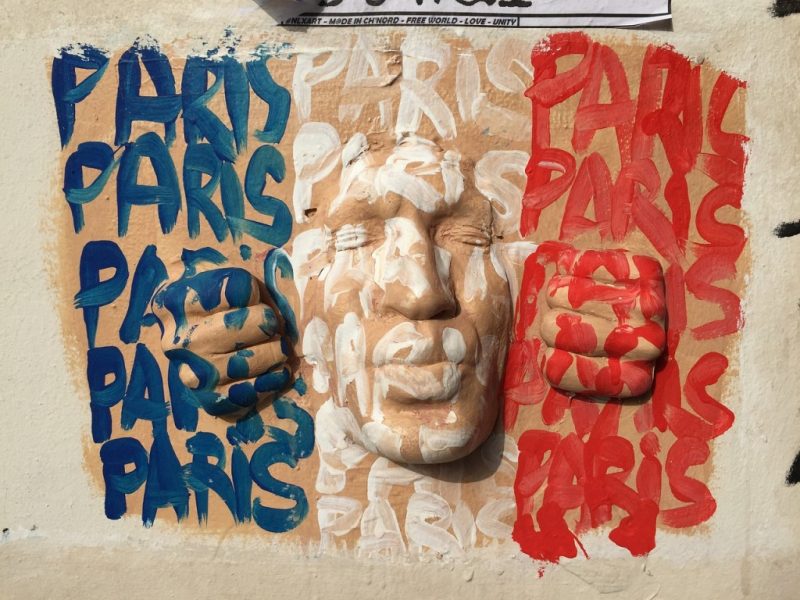 Paris is full of incredible street art if you know where to look for it. This is the home of one of my favourite artists, C125, as well as works by many of the world's greatest street artists.
A street art tour is a brilliantly unique way to explore the city. Delve into the 13th arrondissement to discover a living gallery of colourful frescos, murals, paste-ups, and more!
RECOMMENDED TOUR: Paris Street Art Tour in the 13th District (from $15.81 USD)
2 – Discover the Secret Side of Montmarte
The famous Sacré-Coeur Basilica is well known to tourists. But the surrounding "village" of Montmartre still has plenty of off the beaten path spots to discover.
Explore the cobbled streets, cosy cafes, and hidden side streets of this quaint bohemian neighbourhood. You'll also discover its rich history as a hub for artists. The likes of Monet, Renoir, Degas, Picasso and many more lived, worked, or had studios in or around Montmartre, making it the cultural heart of the Belle Époque period.
RECOMMENDED TOUR: Hidden Gems of Montmartre with Local Guide (from $37.03 USD)
3 – Delve into the Scandalous Side of Paris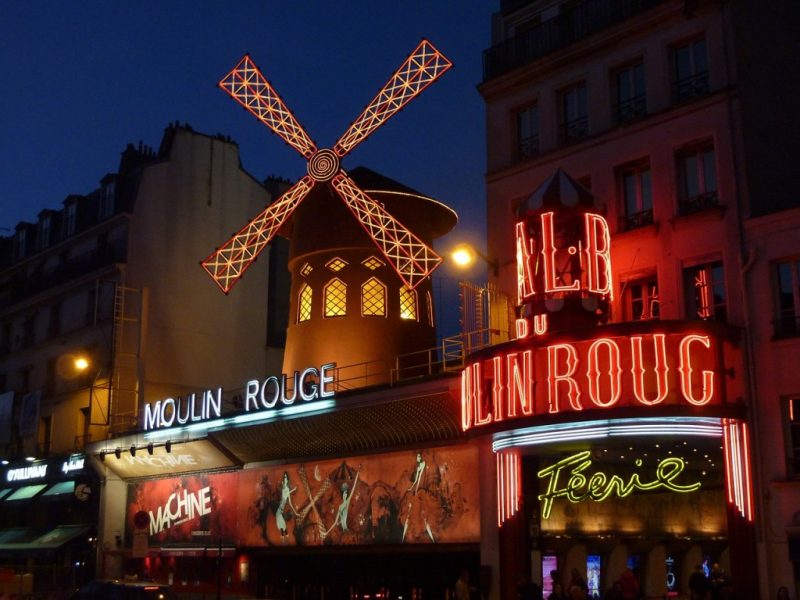 Paris has long been called the City of Love. But there's another side to that nickname – one which can be pretty interesting to discover!
After all, this is the home of the famous Moulin Rouge, which is still going strong after opening backing 1889. Head to South Pigalle – the city's red-light district – in search of more saucy secrets and scandals.
4 – Walk into Paris' Criminal Past
Speaking of scandals and secrets, Paris also has a pretty dark history of crime and intrigue. Take a walking tour of the "criminal past" in Paris for a unique take on the city's history.
From the St. Bartholomew's massacre to Pierre Loutrel, the first "public enemy number 1" in the history of France… there are some darkly interesting stories to discover. Perfect for fans of true crime podcasts!
5 – Tour the LGBT Neighbourhood of Le Marais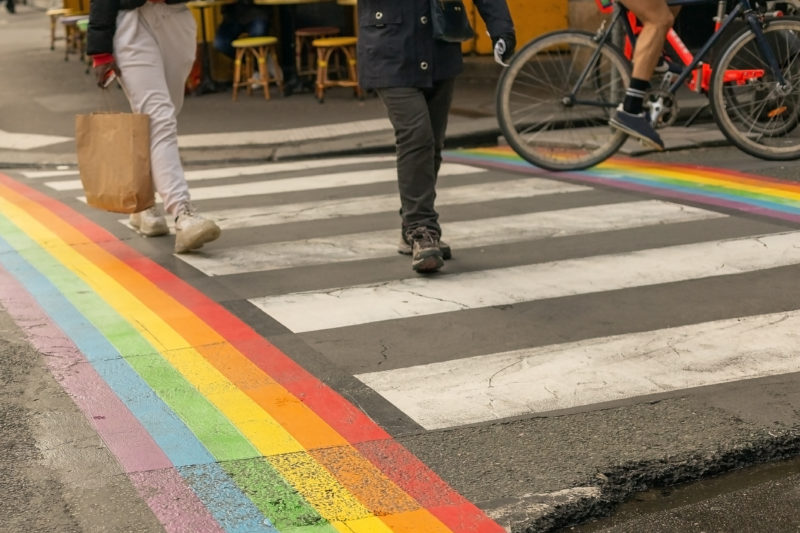 The historic neighbourhood of Le Marais is one of the most vibrant and trendy parts of the city. Known as the "gay district", this area has a strong LGBT community and a lively boho culture. It's packed with small shops and boutiques, museums, cafés, bars, and nightclubs.
Don't miss the Rainbow Crossing, painted a few years ago for Gay Pride. A walking tour of this village-y neighbourhood is a great way to get your bearings, but be sure to stick around to explore the independent shops and lively nightlife scene, too.
READ MORE: A Brit's Guide to Shopping in France
6 – Try a Paris Ghost Tour After Dark!
Ghosts, vampires, murder, and devilish deeds… perfect for a night out with a difference! This one isn't yet offered by Rewind Stories, but then again, I think this is one tour you'd want an in-person guide for. Listening to spooky stories alone after dark is never a good idea!
But for one last Paris walking tour, a guided ghost tour can be a really fun way to discover yet another unique side of the city. With over 2,000 years of gruesome history, there are plenty of spooky myths and legends to listen to.
RECOMMENDED TOUR: Haunted Père Lachaise Cemetery Guided Tour (from $21 USD)
Which of these unusual walking tours in Paris would you choose? Scroll down to leave a comment!