Some posts on this site contain affiliate links. If you book or buy something through these links, I earn a small commission (at no extra cost to you). Take a look at my privacy policy for more information.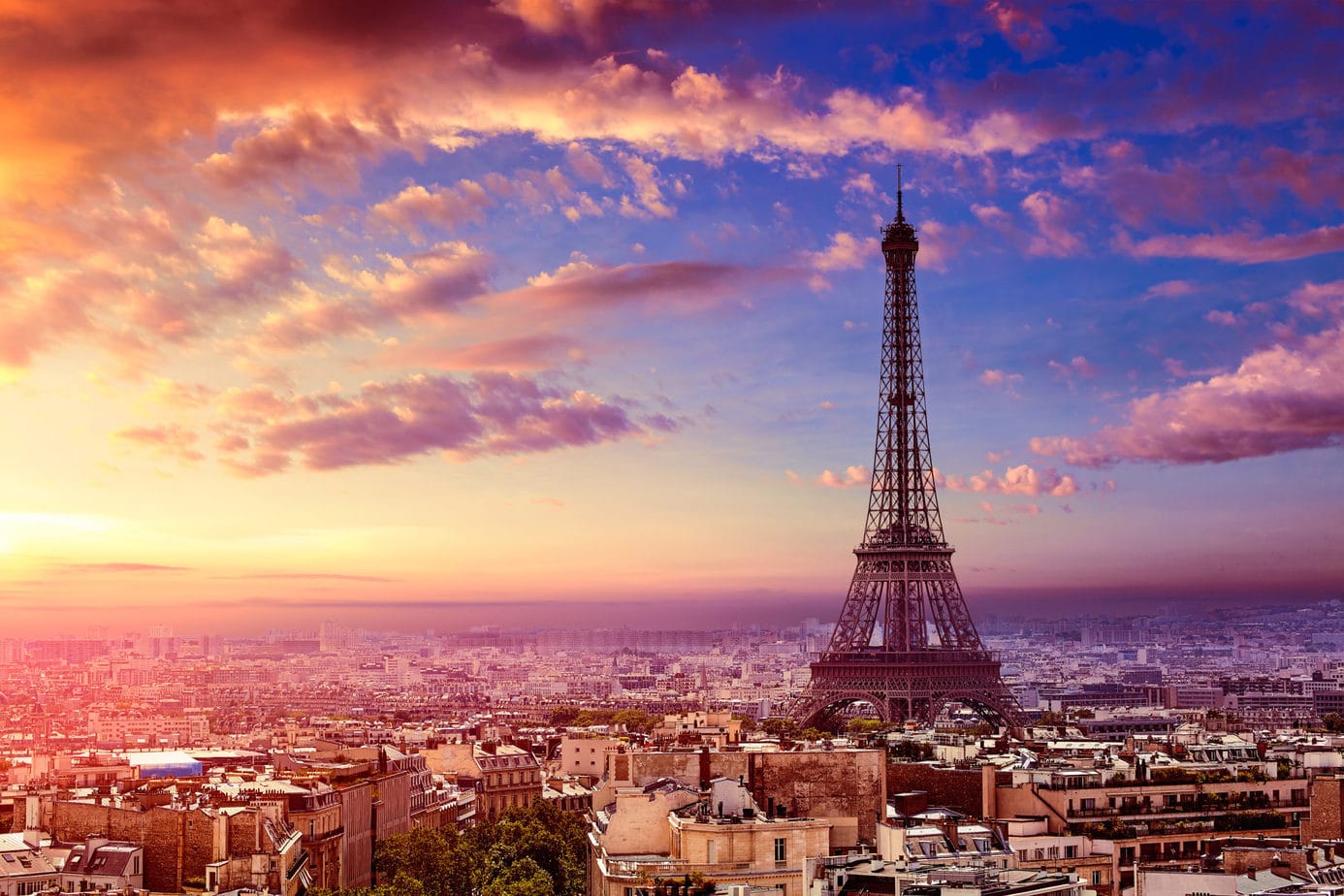 If you fancy doing a bit of shopping on your next trip to France, you're in the right place!
This guide lists the best shopping cities – and what to buy in each – along with recommendations for the best shopping streets, markets, or shopping centres. There's also a whole section on the best shopping streets and markets in Paris. Plus tips, money-saving hacks, and some handy French phrases to help you shop like a pro.
Whether you're loading up on wine in Calais, hitting the high-end fashion stores in Paris, or purchasing Provençal perfumes in the French Riviera… be sure to claim back the VAT on any eligible purchases.
UK residents can now claim back up to 20% on purchases made in Europe, so it's a great way to save money while shopping in France. To make life easier, you can use the Wevat app (more details on that coming later in this guide).
Whatever you're into, shopping in France is always a great idea! Food, fashion, haute-couture, wine, perfume… there are so many fabulous French things to bring home as souvenirs. Keep reading for more ideas and some handy money-saving tips. Bon voyage!
This post was written in collaboration with Wevat. As always, all words and opinions are my own.
Best Cities for Shopping in France
Paris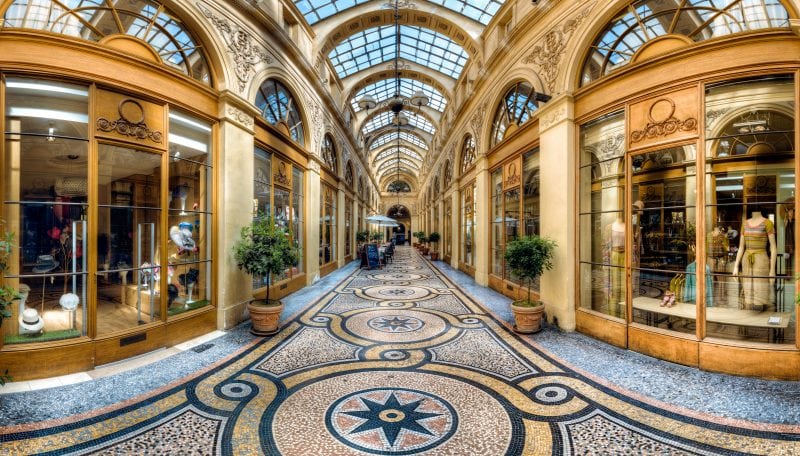 Top of the list for shopping in France has to be Paris! The French capital is famed for its high-end fashion houses and luxury designer boutiques. This is the home of Louis Vuitton, Hermès, Chanel, Dior, and many more… no wonder the city is considered one of the major fashion capitals of the world.
It's not all about the designers, though. Paris is known for its numerous markets (more on those later), as well as flea markets and vintage shops for those looking for a bargain or for sustainable fashion. Delve into the city's antique stores and second-hand markets on the hunt for hidden treasures, or get stuck into Paris' iconic department stores like Galeries Lafayette, Printemps, Bon Marche, and BHV Marais.
What to buy in Paris:
Fashion (from High Street to high-end designer)
Haute-couture
Perfume
Champagne
Wine
Food
Jewellery
… and so much more!
Recommended Tour: French Fashion History Walking Tour
Bordeaux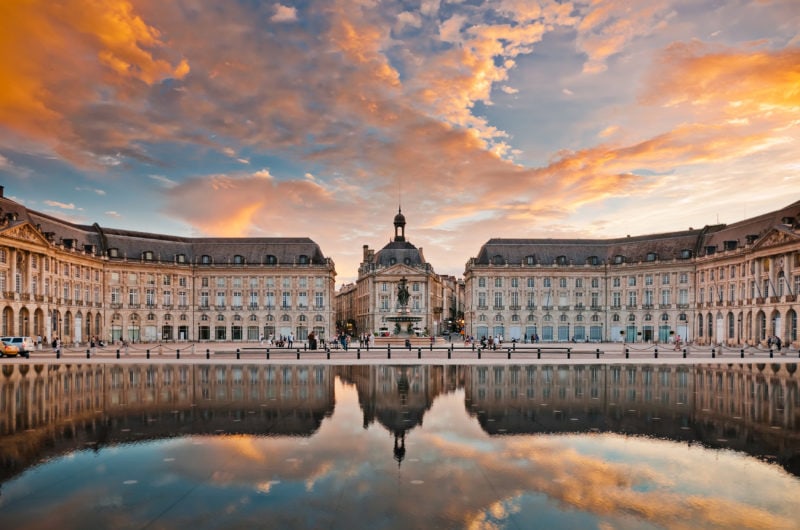 The hub of one of France's most famous wine-growing regions, Bordeaux is also a hotspot for shopaolics. At just over 1.2km, Rue Sainte-Catherine is claimed to be Europe's longest pedestrian shopping street. It's home to a vast array of shops, so there's something for everyone!
What to by in Bordeaux: wine! Try L'Intendant Grands Vins de Bordeaux, or book a wine tour and buy directly from the winery. Click here for some more great recommendations for wine shops in Bordeaux.
Recommended Tour: St Emilion Half Day Wine Tour from Bordeaux
Lyon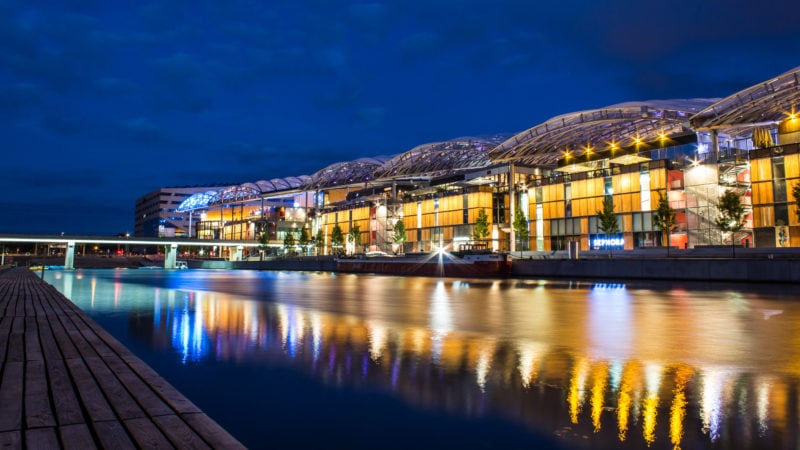 Lyon is one of the largest cities in France, making it an excellent location for shopping. The city is known for its cuisine and gastronomy, so foodies will love browsing the various markets and grocery shops here. For fashion and other shopping, head to the vibrant Rue de la République, or the new Confluence shopping centre at the heart of the revamped docklands area.
What to buy in Lyon: food products. Try Les Halles Paul Bocuse, a modern indoor market where suppliers of many of Lyon's finest restaurants sell their produce. The city also has a 100 year history of making chocolate, so be sure to visit a few chocolatiers while you're there. Try Voisin, the biggest chocolate maker in France, created in 1897. Click here for some more great Lyon shopping tips.
Cannes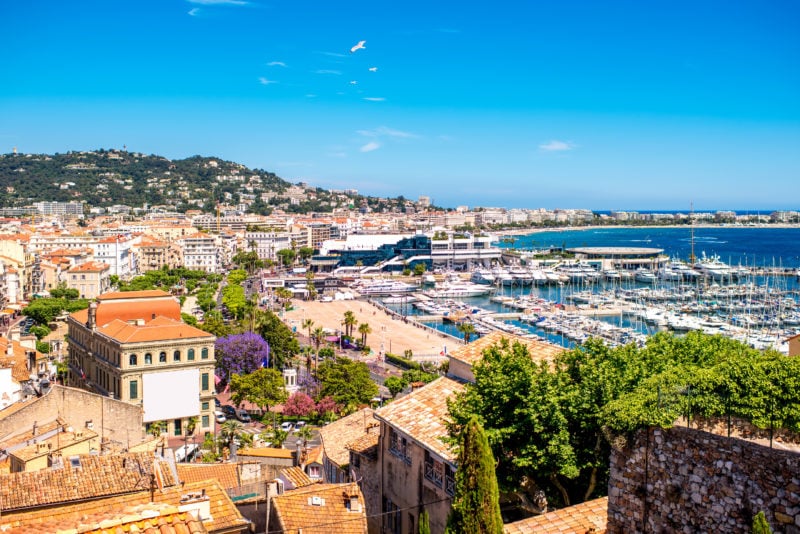 Home of the famous film festival, Cannes is a beautiful city on the French Riviera with a reputation as a hotspot for the rich and famous. Think designer boutiques and upscale fashion brands catering to the moviestars and megayacht-owners who frequent this beautiful city.
For high-end shops, head to La Croissette, while those with less expendable budgets might prefer Rue Meynadier for affordable clothes shops and artisan food stores.
What to buy in Cannes: perfume! The nearby city of Grasse is considered to be the world's capital of perfume, so there are many perfumeries in Cannes – look out for Fraginard and Molinard perfumes in particular. The region of Provence is also home of the world-famous beauty brand L'occitane en Provence, so that's another to be on the lookout for.
Lille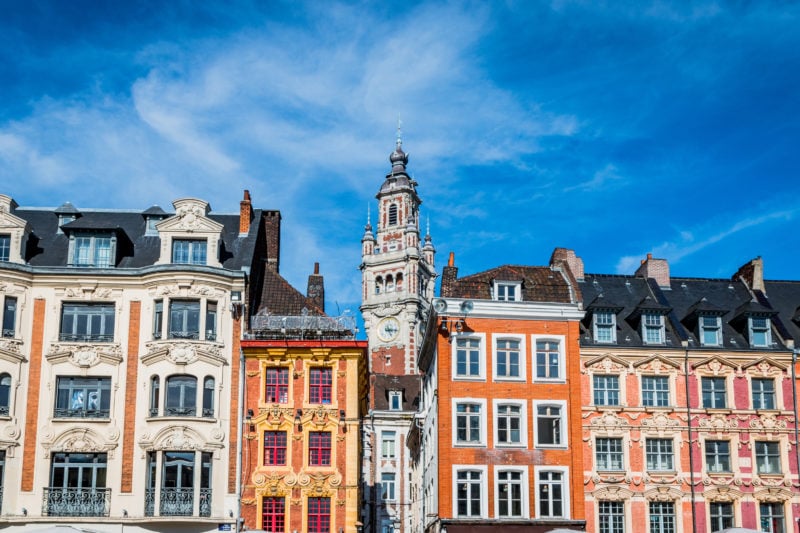 In northern France, Lille's Flemish-style architecture and rich history make it a popular destination for travellers. The city is well known for its fantastic Christmas market, but the shopping in Lille is good all year round. Explore the narrow cobbled streets of the Old Town for independent boutiques and hidden gems, or head to the Rue de la Grande Chaussée for classic designer names.
What to buy in Lille: emerging fashion brands. Maisons de Mode, in Lille and neighbouring Roubaix, is a project which seeks to identify and guide the fashion designers of tomorrow. Visit their boutiques to shop for unique pieces from up-and-coming designers.
Recommended Tour: Vieux Lille 2 Hour Walking Tour
Best Shopping in Paris
Shopping Streets in Paris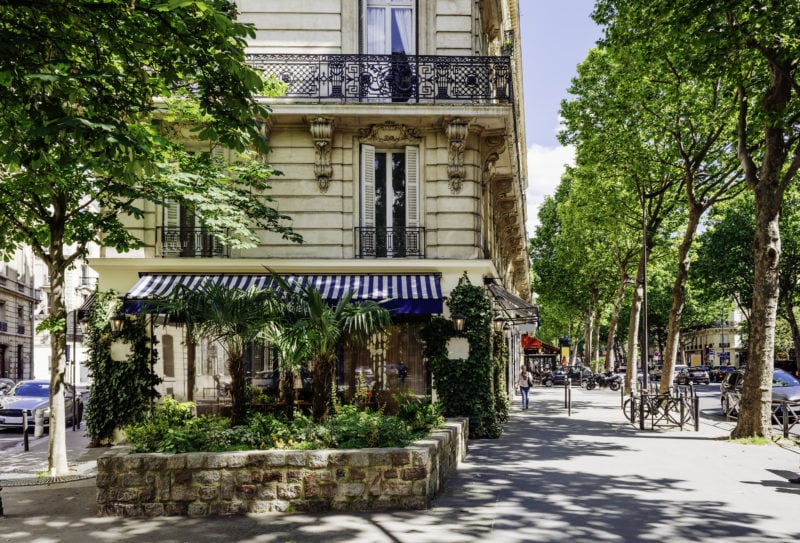 Champs Elysées – Probably the most famous shopping street in Paris, the iconic Champs Elysees is a wide boulevard known for its luxury flagship stores. Don't miss the small sidestreet of Avenue Montaigne, which is home to famous luxury shops such as Chanel, Givenchy, and Dior.
Other great shopping streets in Paris include:
Boulevard Saint Germain – and the surrounding side streets. Don't miss Le Bon Marché, one of the most famous department stores in Paris.
Rue de Rivoli – a 6.4km street lined with everything from high street fashion brands to small indie boutiques.
Rue Saint-Honoré – home to many high-end French designer brands, including Hermès, Goyard and Céline.
Boulevard Haussmann – home to the original Galeries Lafayette, as well as Printemps.
Rue du Commerce – named as one of the best hidden shopping streets in Paris by ParisPerfect.
Rue Montorgueil – a pedestrianised shopping street with many market stalls.
Markets in Paris
Marché Bastille – a large farmer's market that's a favourite with foodies.
Marché des Enfants Rouges – oldest market in Paris, selling food, flowers, textiles, and more.
The Paris flea market, Marché aux Puces de St-Ouen – generally thought to be the biggest flea market in the world.
Marché d'Aligre – one of the oldest markets in Paris.
Marché aux Fleurs et aux Oiseaux – a large flower market which also hosts a weekly bird market on Sundays.
How to Save Money by Claiming Tax Back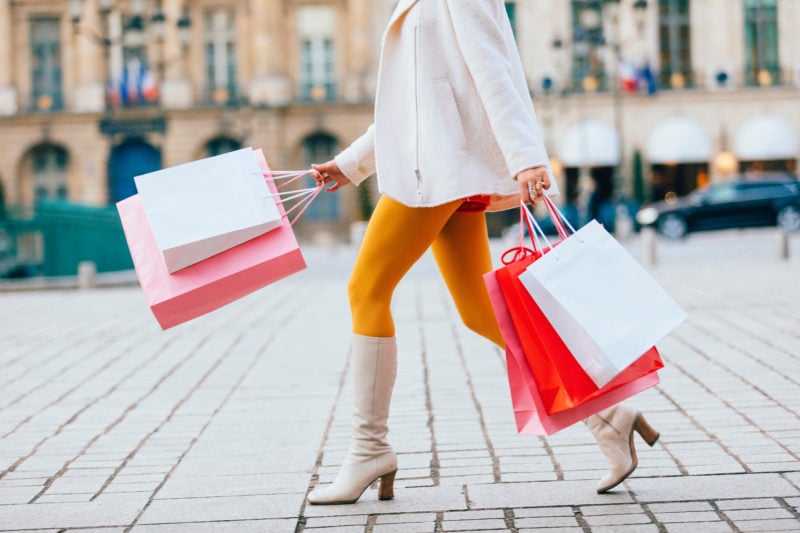 Did you know that UK residents can now shop tax-free in Europe? Yep, you can now save up to 20% VAT on your holiday shopping – pretty sweet, right?!
Since the UK left the EU in January 2021, residents of England, Scotland and Wales are eligible to shop Tax-Free when shopping in Europe.
Things like clothes, wine, Apple goods, cameras, cosmetics, souvenirs… even a box of macarons (as long as unconsumed) are all eligible for a VAT refund.
Through the traditional way, what have to do is fill out some forms, validate them at the train station or airport, and claim the VAT back as a refund. The process and details differ from country to country, but thankfully there are several apps you can use to automate the process.
TOP TIP – Don't forget you can also pick up some great bargains in the duty-free shops at airports, ferry ports, and onboard the ferry. Check out my guide to planning a duty-free shopping trip to France here.
Meet Wevat
For shopping in France, there's Wevat. Unlike using the paper tax refund form, with the Wevat app there's no minimum €100 single transaction limit. Also, the rate of refund is 23% higher than when you get an in-store tax refund, and generally higher than most other digital apps.
You simply snap a photo of your purchase invoices, then generate a barcode and scan it at a tax refund kiosk at the airport or Eurostar train station when you leave France. You can track your refund status the day after the departure through the app, then usually receive your refund within 7 days, and you can request it in over 50 currencies and via a variety of methods. It really couldn't be simpler!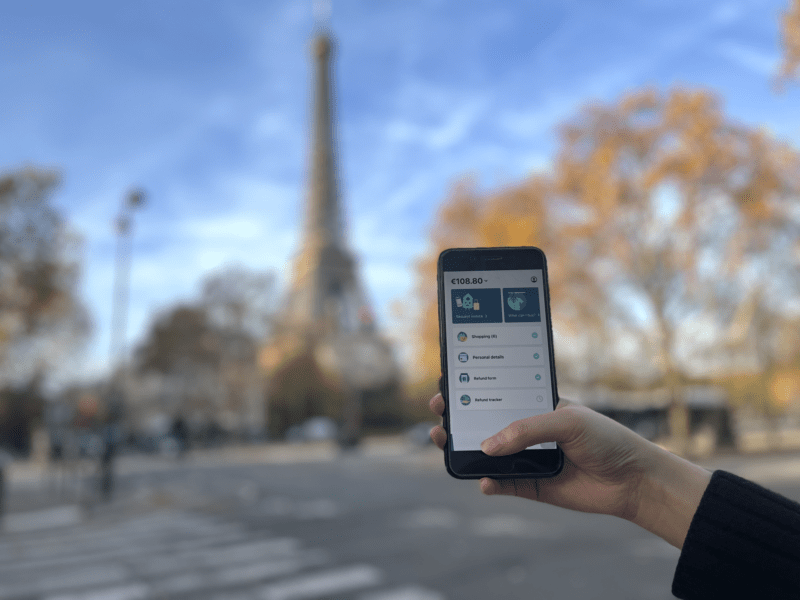 This app is only for shopping in France, so there are other benefits to using Wevat. For one thing, there are no partner store restrictions – you can claim the VAT back on all eligible items, no matter where you purchased them from, as long as you get the valid invoice addressed to Wevat from the shops.
Top tip: simply say "facture"(invoice in French) to the shop staff to make your invoice request easier.
If you have any questions about tax-free shopping, can always chat with their online customer support any time during your trip.
Download the Wevat app here or using the below QR code,  or look into the France tax refund guide on the Wevat Website before your next trip to France and give it a try! You'll probably be delighted with all the savings!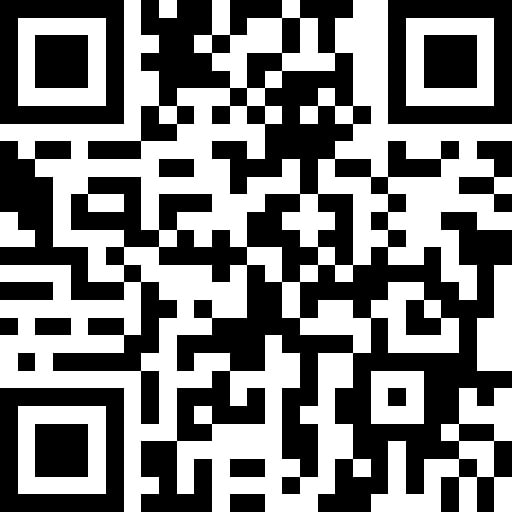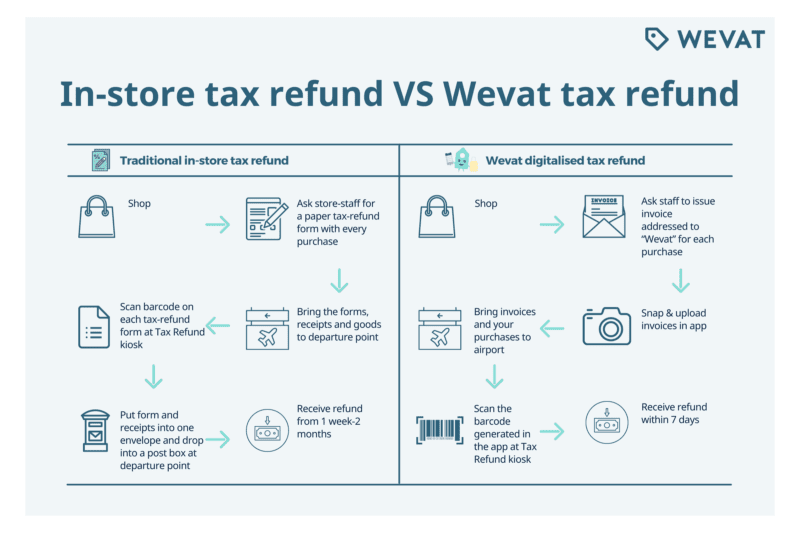 Haggling in France
Should you haggle in France? In general, haggling isn't really a thing in France – but there are exceptions. Just like in the UK, it depends on the setting.
As a general rule in France, you don't really bargain on prices in shops, department stores, boutiques, farmers markets, or anywhere else that seems to have fixed prices. If the price is written down, that's what you can expect to pay. Some independent boutiques may offer a discount, especially if you're purchasing numerous items, but use your best judgement before asking!
The main exception is at flea markets (marchés aux puces), where haggling and bartering is more commonly accepted. Read this guide to haggling at Paris flea market for some tips.
Useful French Phrases for Shopping in France
Hello – bonjour
Goodbye – au revior
I would like – je voudrais
Please – s'il vous plaît
Thank you (very much) – Merci (beaucoup)
Excuse Me – Excusez-moi
How Much is it? – Combien ça coûte? (You can also simply ask "c'est combien" – "how much")
Do you have …? – Avez-vous …?
I'm just looking, thanks – Je regarde seulement, merci.
That's too expensive – C'est trop cher
The Sales – les soldes
Opening Hours – heures d'ouverture
Click here for more useful shopping phrases, with pronunciations.
The Shops (Les Magasins)
Department store – grand magasin
Market – marché
Supermarket – supermarché
Hpyermarket – hypermarché
Small grocery shop – epicerie
Flea market– marché aux puces
Pharmacy – pharmacie
Butcher – boucher
Fishmonger – poissonnerie
Bakery – boulangerie / patisserie
Tobacconist– tabac
Wine Shop – cave à vins
Cheese shop – fromagerie
Do you have any more great tips for shopping in France? Scroll down to leave a comment!