Some posts on this site contain affiliate links. If you book or buy something through these links, I earn a small commission (at no extra cost to you). Take a look at my privacy policy for more information.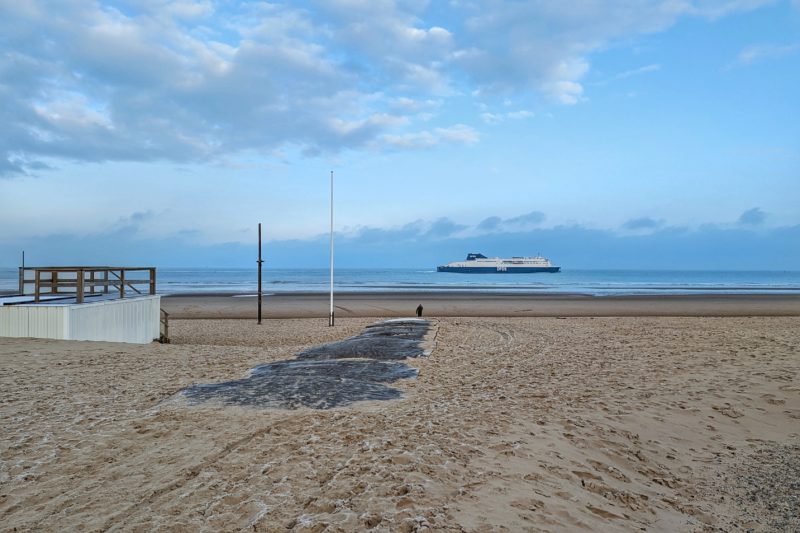 Why DFDS are the best choice for a duty free shopping trip to France, and a guide to help you plan your own trip…
As a travel blogger, I'm lucky enough to travel a lot, which means I often get a chance to pick up a bargain in the airport duty free shops. But I'm always very limited about how much I can carry or fit into my hand luggage. So when I took a ferry to France this month for an overnight Christmas trip, I was very excited about loading my car up with duty free bargains!
When it comes to duty free shopping, DFDS are one of the top choices. They have a huge array of goods, lots of fantastic special offers, and a brilliant Reserve and Collect service to help you make the most of your shopping trip.
This December, I took the ferry to Calais with my dad for a festive father-daughter getaway. We had a great time checking out the Christmas markets, eating far too much, and looking around the city. And on the way home, we filled my boot with Christmas presents and party drinks courtesy of the onboard duty free shop.
Below, I've shared my experiences of taking a duty free shopping trip to France with DFDS, including exactly how much I saved. I've also rounded up my tips for planning your own shopping trip. Bon voyage!
My trip to France was part of a collaboration with DFDS in order to showcase their duty free shopping experience. All words and opinions are my own and unbiased.
Why Take a Duty Free Shopping Trip to France
Duty free shopping has always been a fun perk of travel. Whether it's at the airport or onboard a ferry, you can pick up some amazing bargains on tech goods, perfumes, beauty products, designer wear, cigarettes, alcohol, and more.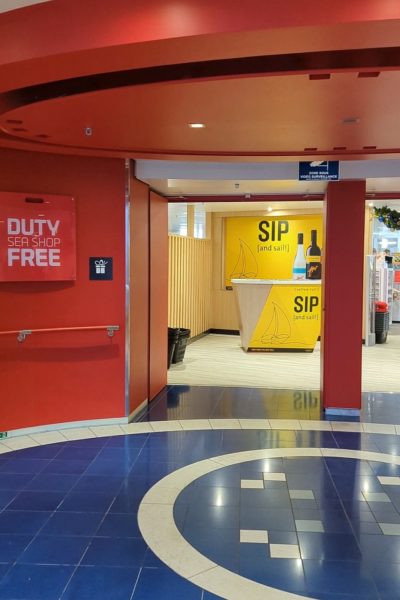 But travelling to France by ferry from the UK opens up a whole new duty free shopping experience. Especially if you're taking your car with you. You can fill up the boot with all your purchases and not worry about how you're going to carry it all!
Plus, you generally have a lot longer to browse onboard a ferry than you do at the airport. And thanks to DFDS's huge portside shops and awesome Reserve and Collect service, you get even longer to shop – as well as access to an even bigger catalogue of goods.
And don't forget, if you do any shopping in the EU (outside of the duty free stores at the port and on the ferry), you can also claim the VAT back. Read my post about Tax Free Shopping for more details.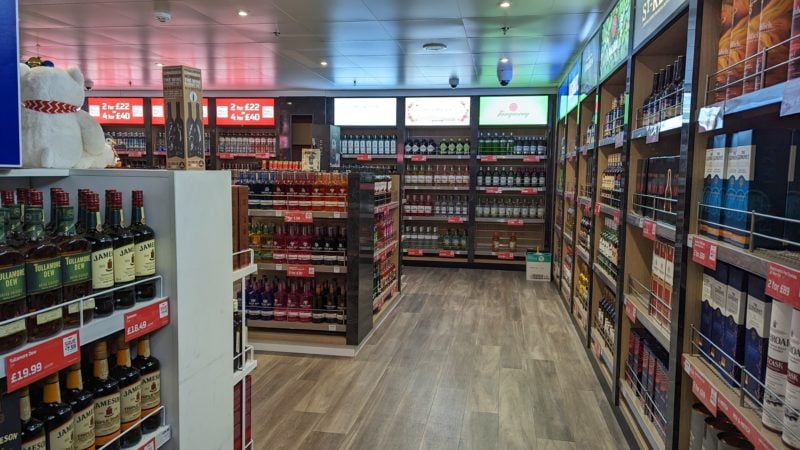 My DFDS Duty Free Shopping Trip
OK, so duty free shopping wasn't my ONLY reason for travelling with DFDS this winter – but it was a pretty big perk!
In early December, I hopped on a ferry from Dover to Calais with my dad for an overnight trip. The plan was to explore the Christmas markets, do a little Christmas shopping, eat as many pastries as possible in the space of 24 hours… and stock up on party drinks for Christmas with some duty free bargains! And we managed to tick off all those boxes.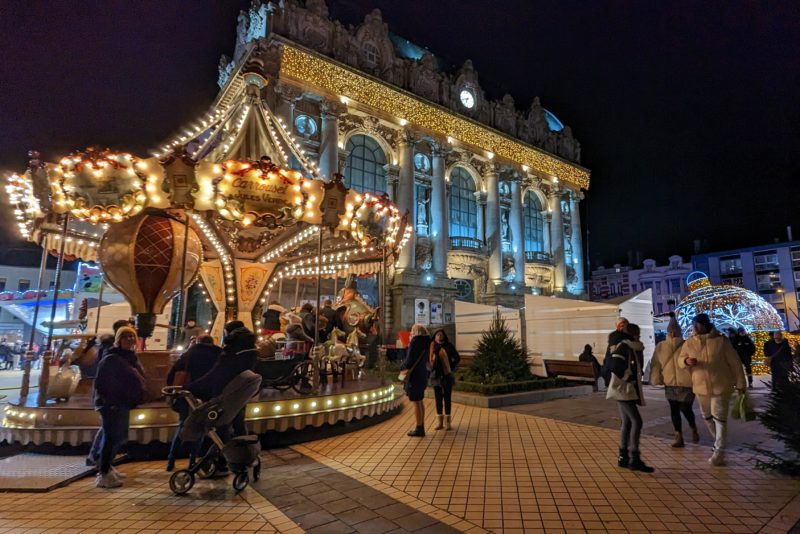 We had a fantastic experience with DFDS from start to finish. Check-in and customs were such a breeze (especially compared with the usual queues and crowds at airports). We'd upgraded to Priority Boarding, too, which meant that we were first on the ferry – and first off on the other side!
Even without that, the DFDS team seemed to have boarding and offloading down to an art: the whole thing was super efficient.
It might just have been the Christmas spirit in the air, but every member of staff we met was absolutely lovely, both in the port and on the ferry. Especially in the onboard duty free shop, where everyone was incredibly helpful and friendly. The shop was much bigger than I was expecting and had a huge range – I've written about it in a bit more detail further down this post.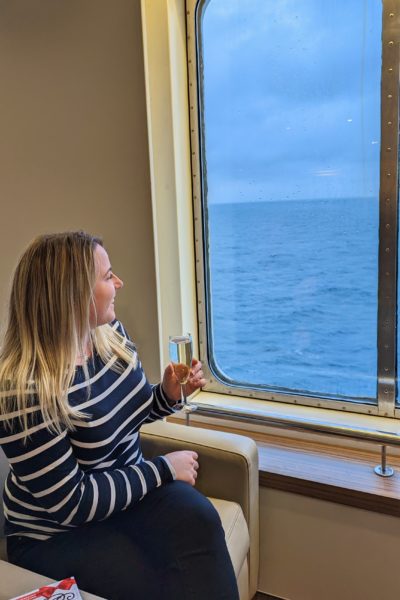 How Much I Saved with DFDS Duty Free
Here's what we bought, how much we spent, and how much it would have cost if we bought it in a UK supermarket. For comparison purposes, I've used the current price of each item at Tesco* (not counting any discounts).
| Item | Price | Supermarket Price | Saving vs Supermarket |
| --- | --- | --- | --- |
| Bombay Sapphire Gin 1L (2X) | £14.99 (each) | £27.50 | £12.51 (each) |
| Kraken Rum 1L | £12.69 | £32 | £19.31 |
| Bacardi Gold Carta Ora 1L | £10 | £22 | £12 |
| 24 Pack Birra Moretti | £16.99 | £30 | £13.01 |
| Lanson Black Label Brut Champagne | £19.99 | £36 | £16.01 |
| Yellow Tail Bubbles Sparkling Wine (2X) | £5.99 (each) | £10 | £4.01 (each) |
| | | | |
| | | TOTAL SAVINGS | £93.37 |
*Prices correct as of December 2022
In total, we spent £101.63 on spirits, beer and sparkling wines – and saved £93.37 vs buying that whole haul in Tesco… BARGAIN!
Obviously, if you're travelling with DFDS solely to do duty free shopping, then you'd also have to take into account the cost of the ferry and petrol against how much you're saving. That said, it can still work out cheaper if you need to buy a lot – and makes for a pretty fun day trip!
If you're travelling to France anyway, the duty free shopping is just an added bonus and makes the ferry trip home that much more exciting.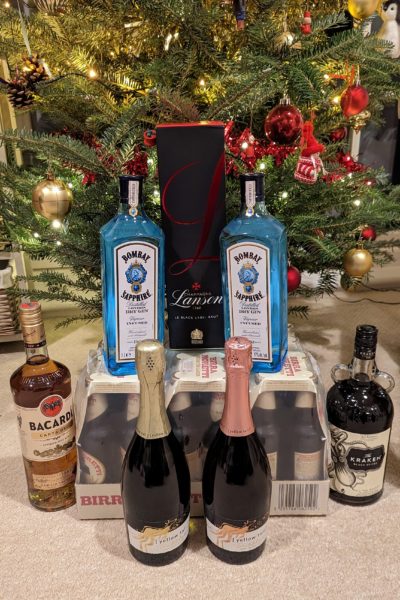 Duty Free Allowances into the UK from France
If you're specifically travelling to France in order to make the most of the duty free shopping, you'll probably want to bring back as much as possible. This means you need to be aware of exactly how much you're allowed bring into the UK.
The duty free allowances for entering the UK are pretty extensive, but there are limits, so be sure you don't go over them. The current allowances are outlined below.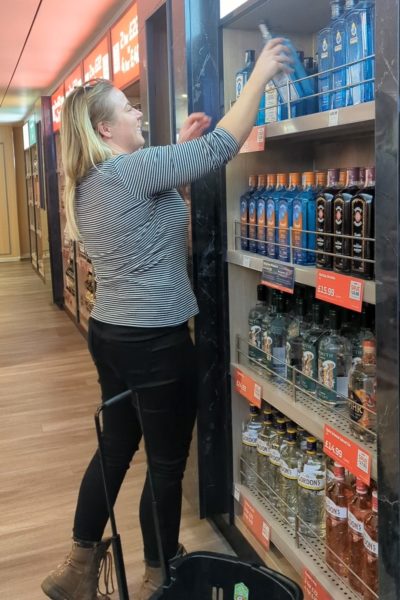 Remember – these allowances are per person. So if there are two of you in one car, you can bring double the amount back into the UK. Ideal if you're throwing a big party (a couple of my friends did this to buy the wine for their wedding!).
Alcohol Duty Free Allowances
42 litres of beer
+
24 75cl bottles of wine (18L)
+
4 litres of spirits (over 22% ABV)
OR 9 L of sparkling wine, fortified wine, or other alcoholic beverages less than 22% ABV
OR an equivalent combination, eg 2L of spirits and 4.5L sparkling wine.
Cigarettes Duty Free Allowances
200 cigarettes OR
100 cigarillos OR
50 cigars OR
250g tobacco OR
200 sticks of tobacco for electronic heated tobacco devices
OR equivalent combination, eg 100 cigarettes and 25 cigars (half of each allowance).
Other Duty Free Allowances
Up to £390 worth of any other goods.
If you're bringing more than these allowances, you need to declare the goods and pay tax or duty on them. Find out more here. Thesea llowances were correct as of December 2022, but it's always worth checking the latest info at gov.uk before you travel.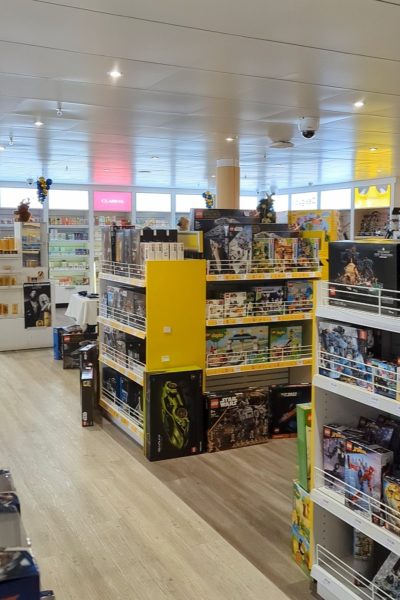 Why Choose DFDS for your France Shopping Trip
This was my first trip to France with DFDS and I was really impressed. Not only with the duty free shopping, but with the whole travel experience altogether.
DFDS have multiple ferry crossings a day between Dover and France, serving both Calais and Dunkerque. These are fast, frequent and super convenient. I travelled on a snowy weekend in December, when trains and flights were being cancelled across the UK – but the ferry crossing still ran, and it ran on time!
The drive-through check-in and customs booths mean you don't even have to get out of your car till you're on the ferry – so much easier than flying. All the staff I encountered were absolutely lovely, and the whole process was impressively efficient when I travelled.
Crossings to France start from just £68 for a car + up to 4 people, so ferry can be a much more cost-effective way to travel to northern France than flying – and a lot more comfortable! Day trips start from £39 (car + 4) – so a short shopping trip can be pretty cost effective!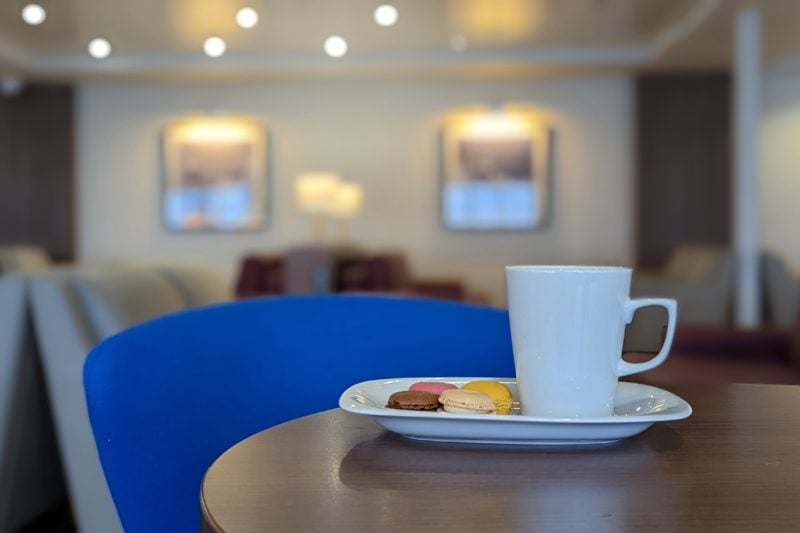 DFDS Duty Free Shops
For duty free shopping, DFDS really are one of the best options. The onboard shop is huge – and really well stocked with a massive range of drinks, cigarettes, electronics, toys, beauty products, and more.
Last time I travelled by ferry (with a different company), the onboard shop was a tiny little space and only really stocked the most popular high street brands. The shop on DFDS felt more like the ones you see at airports: very big and really well stocked.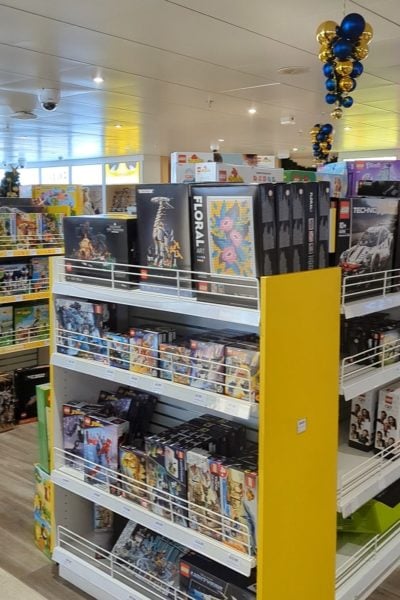 But as well as this fab onboard shop, DFDS also have duty free shops at the Calais and Dunkerque ports. These are even bigger and have a wider range of products to choose from – the one in Calais is 1,000sqm!
If you're not sure you'll have time to visit the shop before your return ferry, you can also make the most of the Reserve and Collect service. You simply select all the goods you want online, then pay and collect at the port side shop before boarding the ferry. The service is really easy to use, as it's essentially online shopping, and could save you a lot of time.
More Reasons to Choose DFDS
Unlimited baggage allowance
Up to 50% savings vs the UK high street
Park right outside the Duty Free shops in Dunkerque and Calais to fill up your boot!
Use the Reserve and Collect service to save time.
Tips for Planning your DFDS Duty Free Shopping Trip
Make it a day trip
If duty free shopping is your only reason for taking the trip to France, then cut costs by booking a day trip. Same-day return crossings are cheaper – and you won't have to pay for accommodation!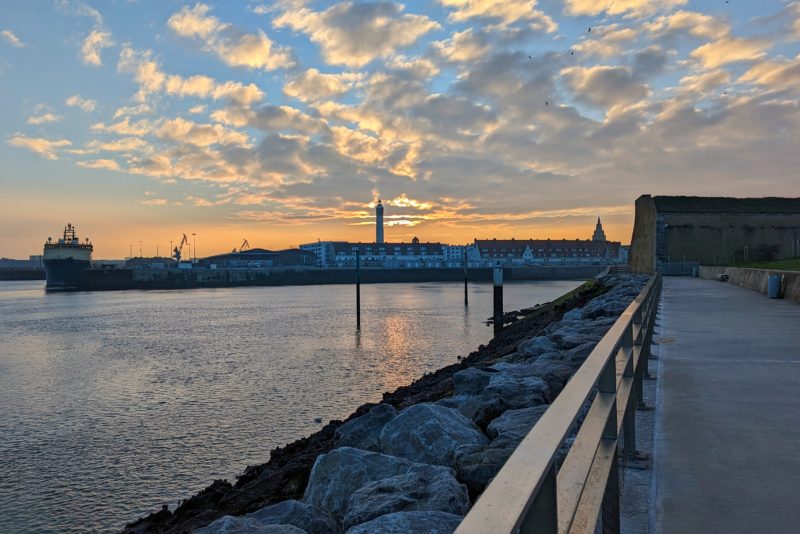 Cut travel costs
Book as far in advance as you can, as this will generally get you the best deal. And if you can, avoid travelling at peak times like summer, British and French public holidays, and weekends.
Save time with Reserve and Collect
I've already mentioned this above, but the DFDS Reserve and Collect service is a great way to save time with your duty free shopping.
Simply go online and order everything you want in advance, then pay and collect at the shop in the port before boarding the ferry. It's also a really easy
FYI – you need to have a ferry crossing booked in order to make a reservation. You also need to do this at least one day before you travel. I stupidly left it to the last morning and missed my chance – so make sure you order your reserve and collect.
Don't miss the shops at the port
I mentioned the portside duty shops above. These huge stores are right before you board the ferry at Calais and Dunkerque and are super convenient. They also have much more stock and a wider range to choose from. So if you want to get the best bargains, be sure to schedule time to visit the shops.
Get to the port early
If you haven't used the Reserve and Collect service, I recommend arriving at the ferry terminal as early as possible to have some time in the Duty Free Shop before boarding the ferry.
We arrived about an hour before our crossing, and even though there was no queue at check in or customs the process took around 15 minutes. By the time we were through, they were already boarding – so I missed my chance to browse the portside shop. Next time!
Plan in advance
Plan in advance and make a shopping list to make sure you stay within your allowance, save as much money as possible, and pick up the best bargains. Browse online to see what offers are currently on, in order to work out how to get the most for your money, then make a list ready for when you visit the shop.
Make the Most of your Trip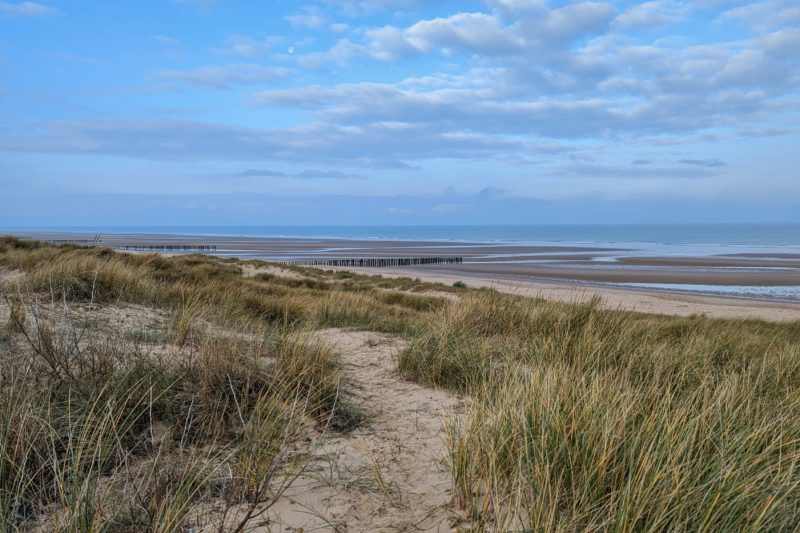 Even if you're planning a quick day trip for some duty free shopping, you can still make the most of your trip to France and make it a really fun day out!
Spend a bit of time exploring Calais. On a fairly short walking tour of the city you can visit the beautiful Hotel de Ville (Town Hill) and neighbouring Beffroi (Belfry), Fort Risban near the water's edge, Calais Lighthouse and the impressive Tour du Guet – a 13th-century watchtower in the Place d'Armes.
If you have time, take a walk on Calais Beach as far as the historic Fort Lapin battery and the surrounding sand dunes. The long, sweeping expanse of white sand at Calais is a great spot for a walk at any time of year, even when I visited on a frosty winter morning.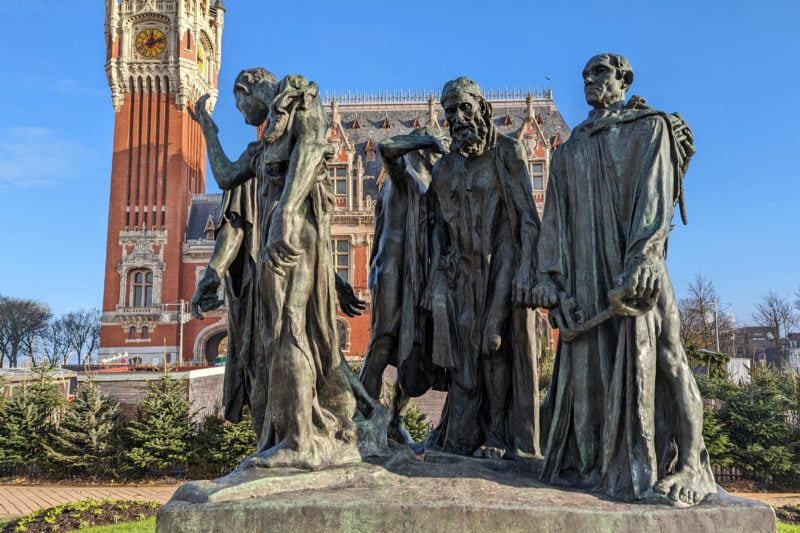 Even if you're pressed for time, you could squeeze in lunch or dinner at a local restaurant to make the most of your shopping trip to France. Speaking of shopping, be sure to swing by a supermarket and some of the smaller local food shops and patisseries to pick up some yummy French food to take home!
Finally, if you're travelling around the festive season in order do your Christmas shopping or pick up the party drinks, be sure to check out the lights and Christmas markets in Calais while you're in town.
Read More
Best Places to Visit in Northern France
A Brit's Guide to Shopping in France
If you take a duty free shopping trip to France with DFDS, let me know how you get on in the comments below. I'd love to hear about it!