Some posts on this site contain affiliate links. If you book or buy something through these links, I earn a small commission (at no extra cost to you). Take a look at my privacy policy for more information.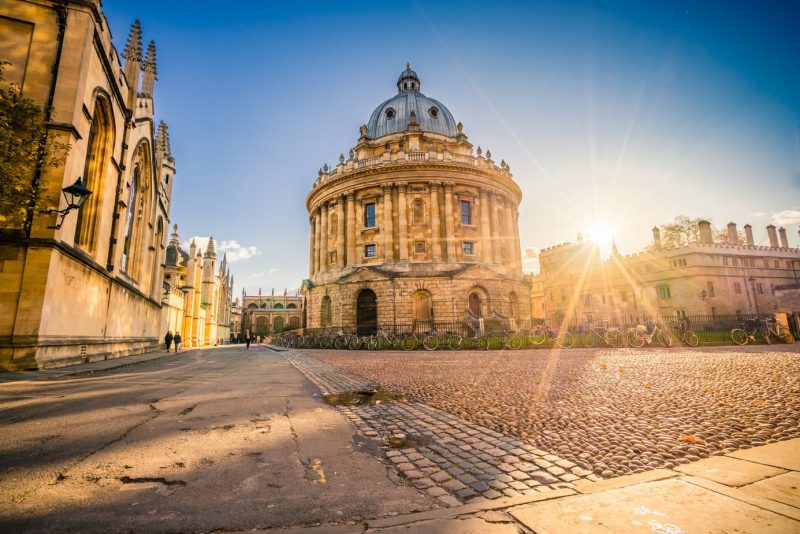 Perhaps I'm a bit biased because I grew up and live here, but I really love the South of England. Epic coastline, quintessentially English countryside, quaint villages, and historic cities… there's just so much to discover! So I decided to put together this post, all about the best places to visit in the south of England.
From cute villages and idyllic countryside escapes to lively cities and brilliant beaches, this list features some of the best sights and spots in southern England. Perfect if you're planning a day trip or a UK staycation this summer!
I've included a bunch of my personal favourite places, as well as recommendations from some amazing bloggers from around the country. So all the places on this list are tried, tested, and genuinely recommended.
I've excluded London, as that enormous city is really a destination unto itself! But the rest of the lower third of England is all here.
So get ready to fall in love with the south of England as you plan some escapes to these dreamy places…
Best Places to Visit in the South of England: Map
Places to Visit in the South West of England
1. Dorset Jurassic Coast
For beautiful beaches, rugged coastal walks, and picturesque seaside towns, you just can't beat the Dorset Jurassic Coast.
I grew up here, so I'm a little biased! But this stretch of coastline is famous for its geological and historical significance – because the rock formations and fossils date back some 185 million years! So there are a LOT of reasons to visit this part of England's south coast.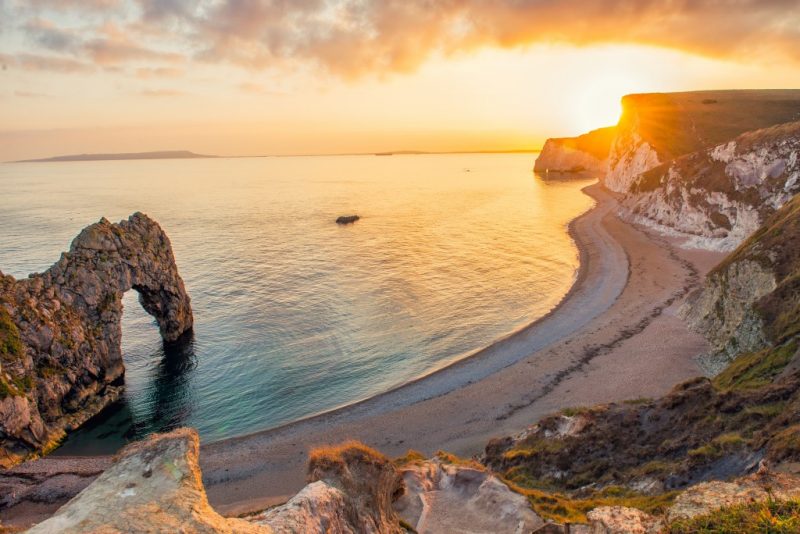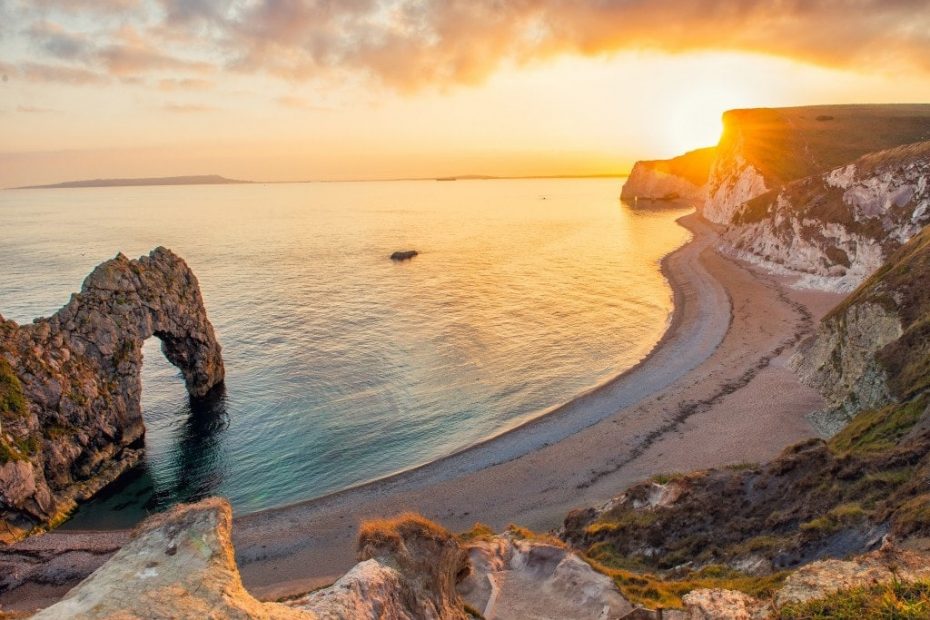 There are so many things to do along the Jurassic Coast. Hit the beaches, explore cute seaside towns like Lyme Regis and Weymouth, or head to the cliffs for some hiking. One of the most famous sites is the rocky archway of Durdle Door, and there are several cliff walks which afford some great views of this iconic landmark. But with a whole 95 miles of coastline to explore, you're truly spoilt for choice!
RECOMMENDED TOUR: 2-Hour Jurassic Coast Cruise
2. Bath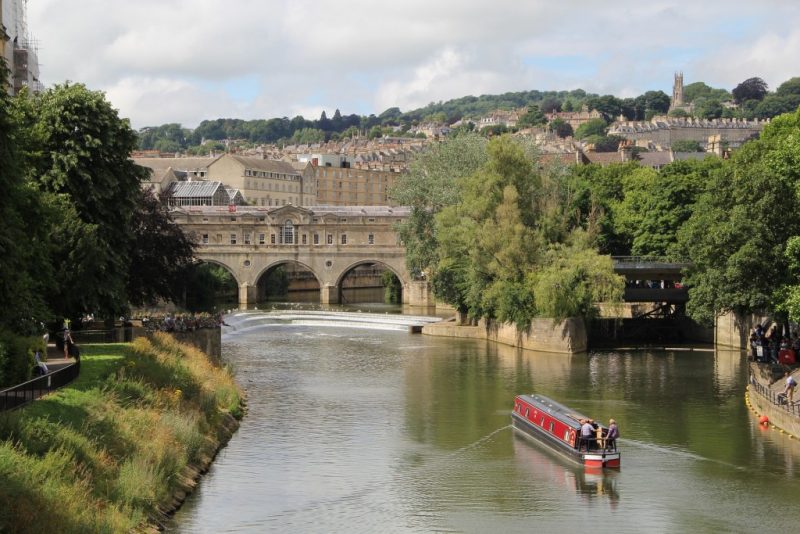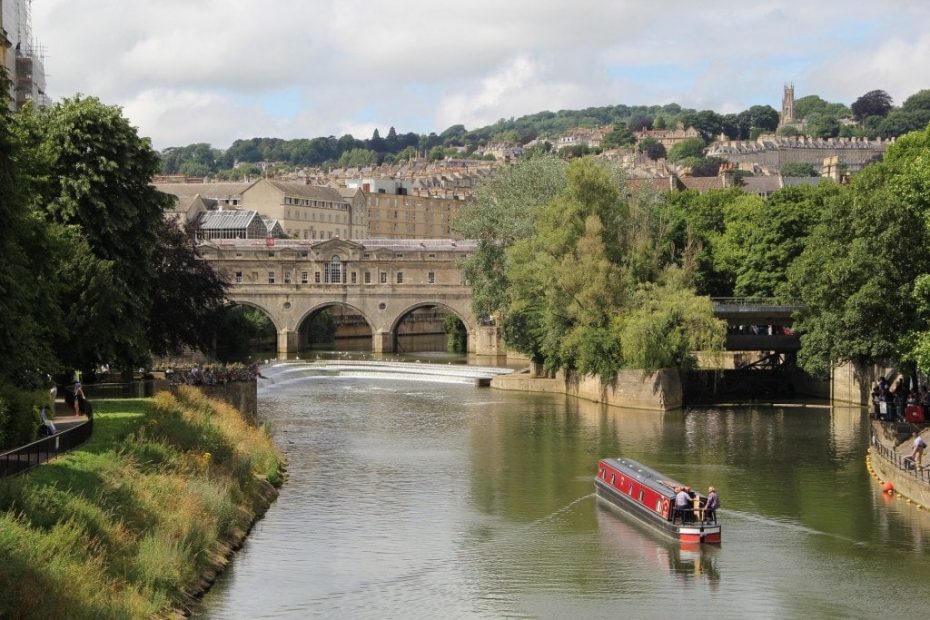 Bath is one of the most beautiful cities in the south of England, and definitely one of the top places to visit. The UNESCO-protected skyline is filled with gorgeous Georgian buildings. And it's almost all exclusively built from honey-coloured Bath stone, so the overall effect is really breathtaking.
The city is packed with history, especially the ancient Roman Baths which are fed by local hot springs.
You can also soak up these hot spring waters for yourself at the UK's only natural thermal spa. The rooftop pool at Thermae Bath Spa is a particular highlight. Or you can simply soak up the history of the city as you wander through the stunning town centre. Bath is also a great place to enjoy an afternoon tea, as there seems to be a tearoom on every corner!
RECOMMENDED TOUR: 1.5 Hour Walking Tour of the City from £15pp
3. Cotswolds
Recommended by: Roshni from The Wanderlust Within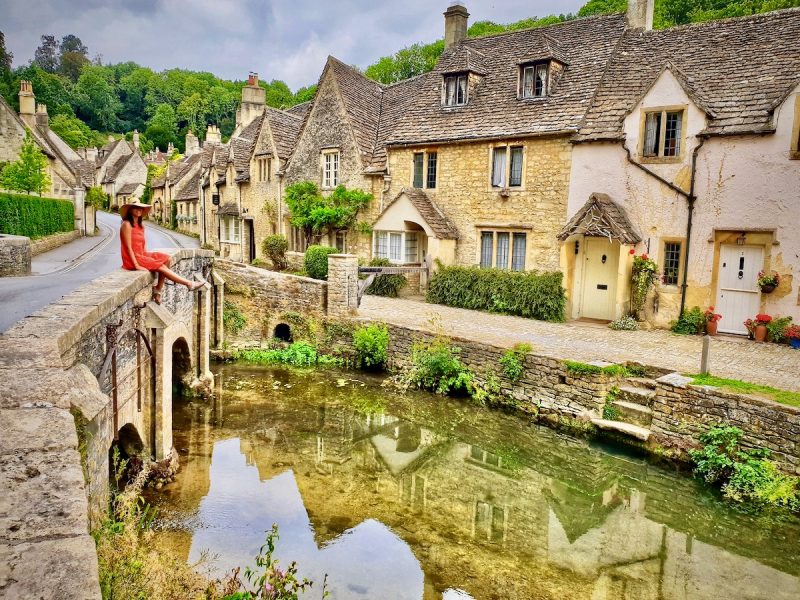 Home to some of the most unspoilt villages in England, the Cotswolds are one of the best places to visit in the South of England. Known for their honey-coloured stone, cosy cottages and traditional tea rooms, there is nowhere as charming and historic as the picture-perfect towns and villages in the Cotswolds. The most popular choices are Castle Combe, Bibury, Burford and Broadway. But there are some beautiful hidden gems too, such as Minster Lovell.
If you'd like to explore more of the countryside, you can hike the Cotswolds Way, which extends over 100 miles from Chipping Campden to Bath. Or you could take part in the water sports on offer at the Cotswolds Water Park.
4. Newquay
Recommended by: Victoria, Bridges and Balloons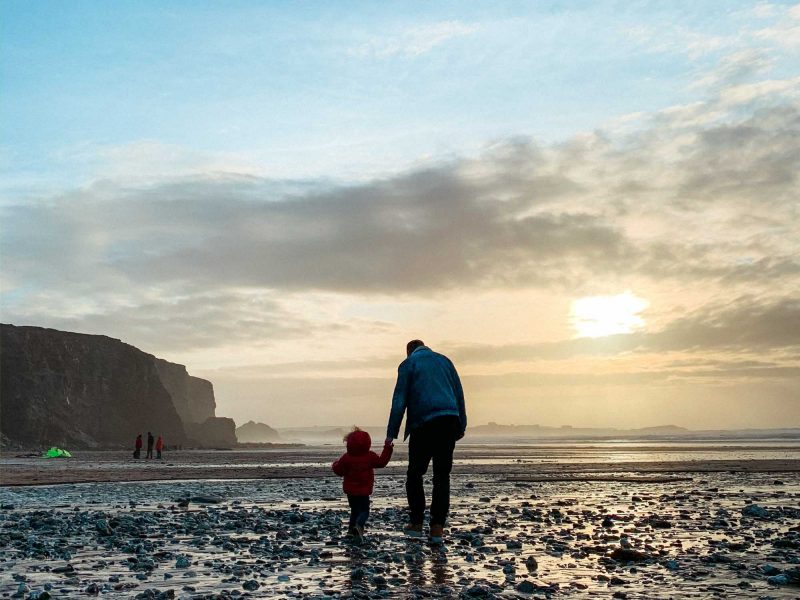 Newquay is one of Cornwall's most popular beach towns, perched on the Atlantic cliffs and famous for its surf. It sometimes gets marred by its reputation as a party town, popular for stag and hen dos. But the area offers much more than bars and nightclubs! It's also very well suited to families, especially with its bounty of Blue Flag beaches.
It's also a destination which is much more than the town itself. Newquay is surrounded by many charming villages and beaches, like St Agnes, Perranporth, and Holywell.
Don't miss a trip to Padstow, the fishing village famous for being the home of Rick Stein and his restaurants. A favourite beach in the area is Watergate Bay, home to one of the most stylish family hotels in Cornwall. Watergate Bay is also the perfect place to learn different watersports at the beach's Extreme Academy.
RECOMMENDED TOUR: Introduction to Surfing Lesson in Newquay – from £35pp
5. Stonehenge and Salisbury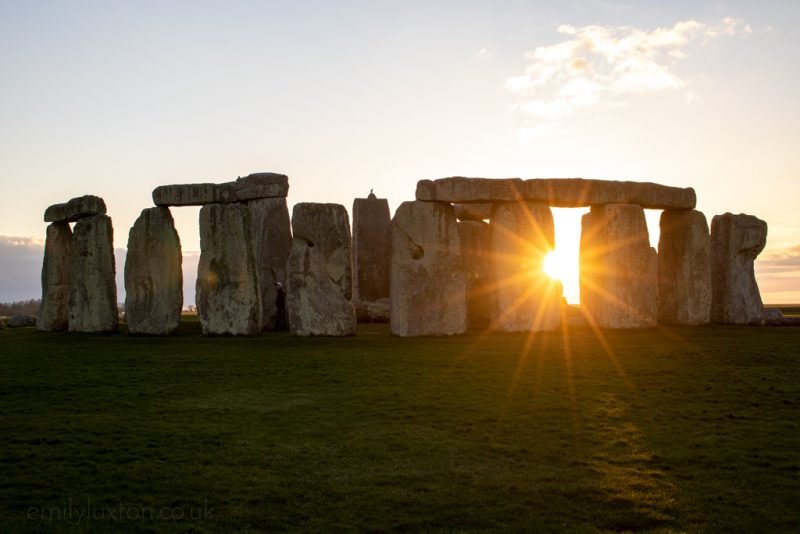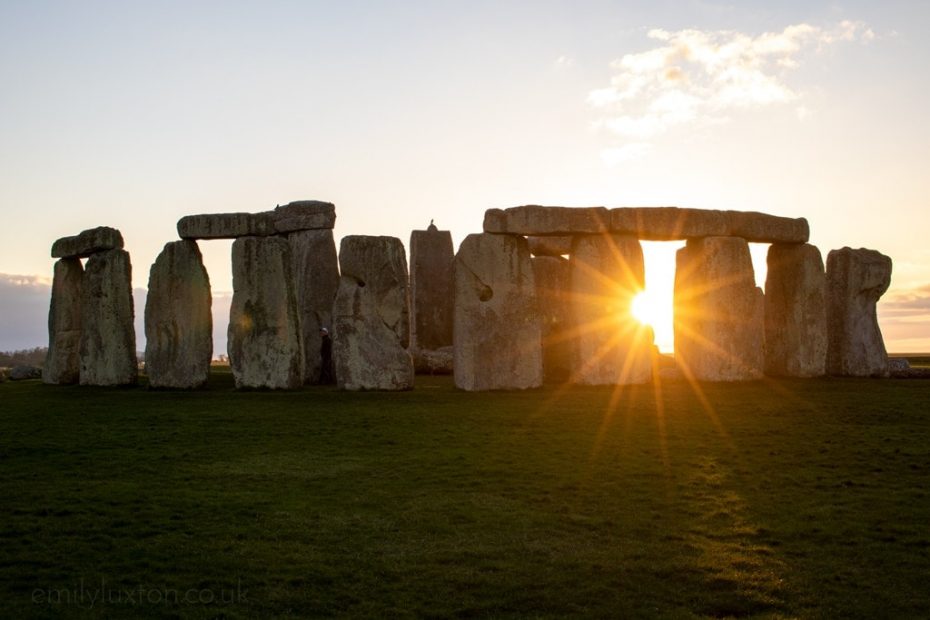 One of the most visited places in the south of England is Stonehenge in Wiltshire. This ancient stone circle remains one of the country's greatest mysteries. Although we know when – and even how – it was built, some 5,000 years ago, we still don't really know why! That mystery only adds to the appeal, so it's no surprise that this is such a popular attraction in southern England.
The nearest town is Salisbury, which is also well worth a visit. This medieval city boasts a 13th-century cathedral and a charming, historic high street. There are plenty of boutique shops to explore, as well as independent eateries and bars. So this is the perfect base if you want to explore Stonehenge and the rest of Wiltshire.
RECOMMENDED TOUR: Stonehenge Half-Day Tour from London with Audio Guide
6. English Riviera
Recommended by: Steph & Lewis from Book it Let's Go!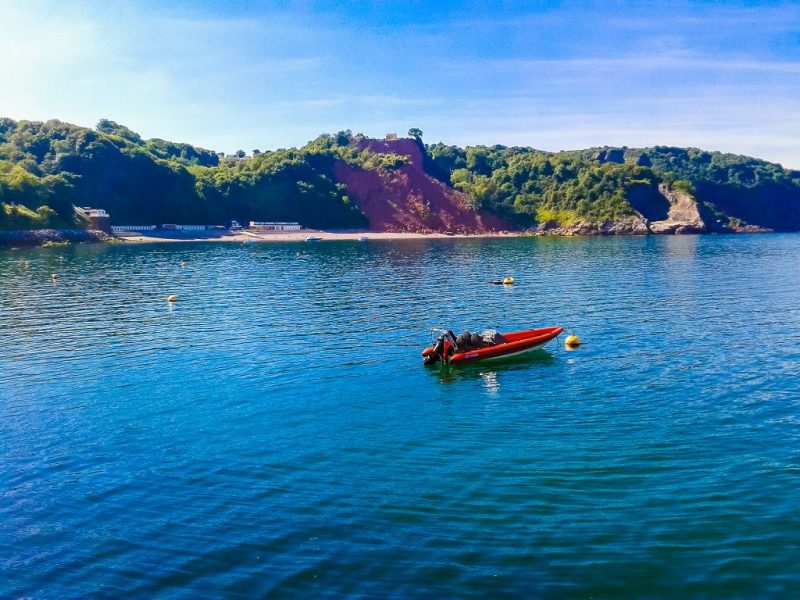 The English Riviera is located on the south coast of Devon. It comprises three key seaside resorts: Torquay, Paignton, and Brixham, as well as the smaller village of Babbacombe. Sometimes referred to as Torbay, the area holds the UNESCO Global Geopark status, one of only seven in the UK and 140 in the world.
The English Riviera has a distinctly continental feel. With golden sandy beaches, clear calm waters and swaying palm trees, it's easy to imagine you are abroad. There are plenty of accommodation options from budget camping to luxury boutique hotels. The area offers so many diverse things to do including Britain's largest model village in Babbacombe, outdoor adventures along the Jurassic coast, historic museums and prehistoric caves to explore.
7. Exmoor National Park
Recommended by: Heather, Conversant Traveller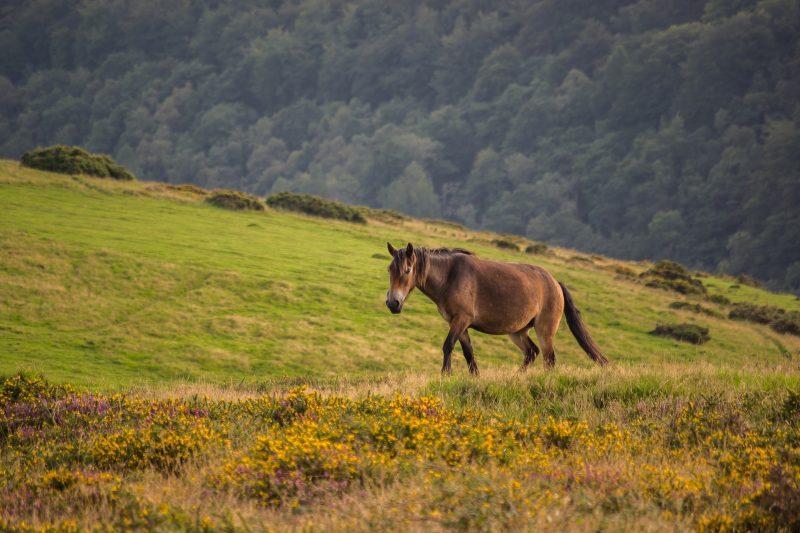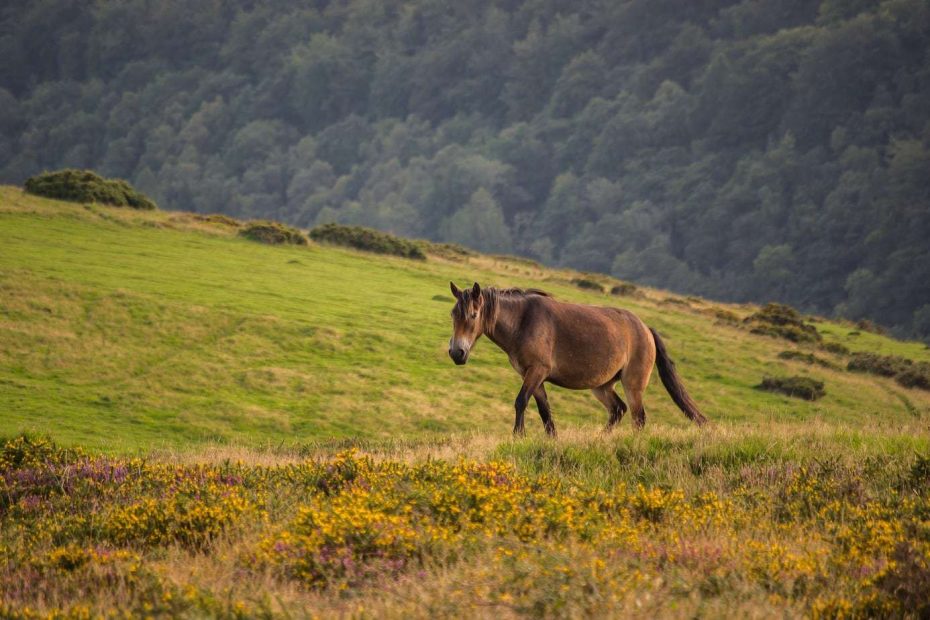 Located in North Devon and West Somerset, Exmoor National Park is an area of hilly moorland famous for its unique landscapes and wilderness habitats. There are miles of hiking trails to explore, coastal cliffs to scramble over, and deep wooded valleys with quaint tea shops hidden at the bottom.
Renowned for its wildlife, Exmoor is the place to go if you want to spot red deer, as well as otters and rare butterflies. The iconic Exmoor ponies are a common sight too, grazing in large wild-roaming herds close to the road. The area feels remote but is easily accessible by car. And there are plenty of places to stay in the picturesque villages dotted about the moors.
8. Penzance
Recommended by: Stella, Around the World in 24 Hours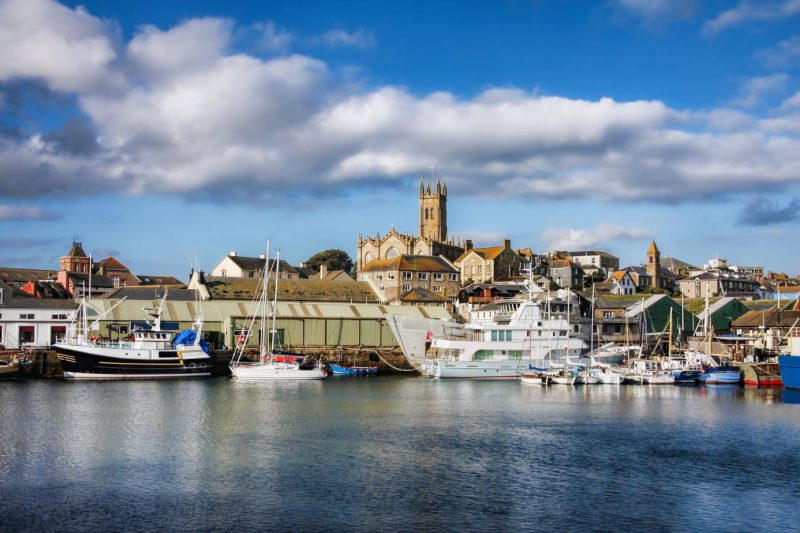 Penzance, a town in western Cornwall, is most famous to some people for the musical The Pirates of Penzance. But Penzance also deserves to be known for its beautiful architecture, fascinating museums, delicious food, and charming residents. You can easily spend an enjoyable day or two in Penzance by itself, or you can use it as a base for exploring other places in Cornwall.
Visit the port and the Admiral Benbow Inn to learn about Penzance's maritime history. Explore 19th and 20th-century Cornish art at the Penlee House Gallery and Museum or more contemporary works at The Exchange. Finally, don't miss dining on the local seafood at excellent restaurants like The Shore.
9. Cranborne Chase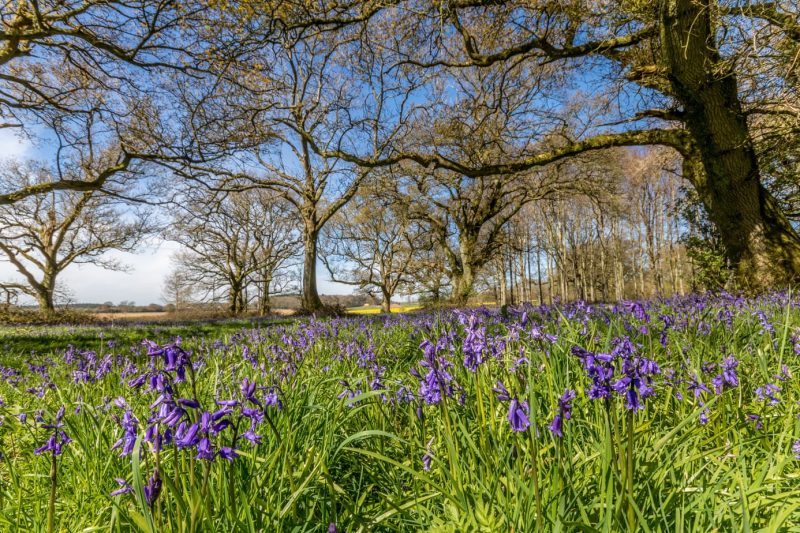 One of my new favourite places to visit in the south of England is Cranborne Chase. This Area of Natural Beauty (AONB) lies on a chalk plateau straddling the counties of Dorset, Hampshire and Wiltshire. It's not very well known, which is one of the real selling points. Because unlike more popular national parks and AONB's in England, Cranborne Chase is often incredibly empty!
Rolling chalk grassland, ancient woodlands, and river valleys await you, lined with walking trails and nature reserves. In summer, the grasslands are covered with wildflowers, making them even more picture-perfect. And with idyllic countryside villages to give the Cotswolds a run for their money, there are so many reasons to add Cranborne Chase to your England bucket list!
10. Cheddar
Recommended by: Darek and Gosia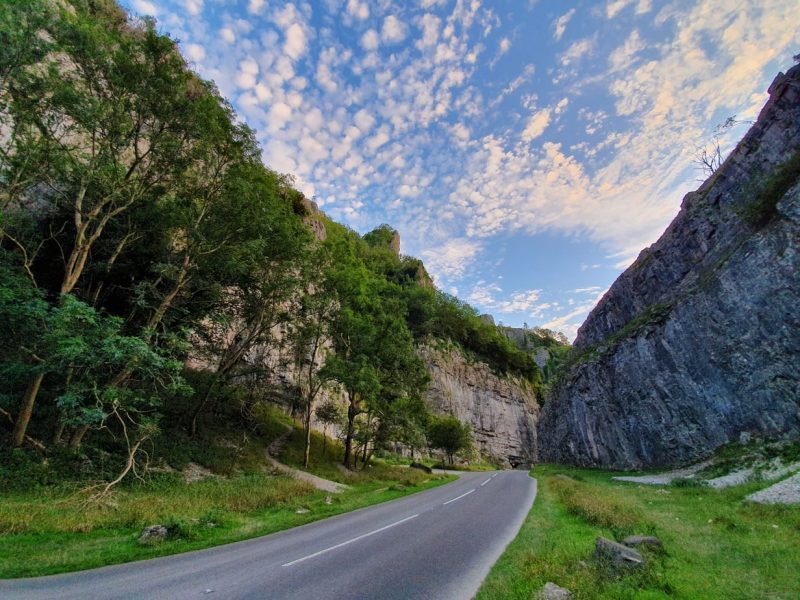 Cheddar village is definitely one of the best places you can visit in the south of England. Located in the southern part of the Mendip Massif, in the county of Somerset, Cheddar is famous mainly for two things.
First is the amazing Cheddar Gorge – the largest limestone gorge in England which attracts 1000s of people every year. You can go for a walk above the gorge, then explore the beautiful caves which it's full of.
In one of them, you'll have the opportunity to see how the yummy attraction of the region is made, which is the second famous thing – Cheddar Cheese! There are also a few great pubs and small shops selling local products.
RECOMMENDED TOUR: Glastonbury and Cheddar Gorge Guided Day Trip from London
If you want to stay a bit longer, check out these 6 Beautiful Places to go Glamping in Somerset
11. The Lizard Peninsula
Recommended by: Annabel, Smudged Postcard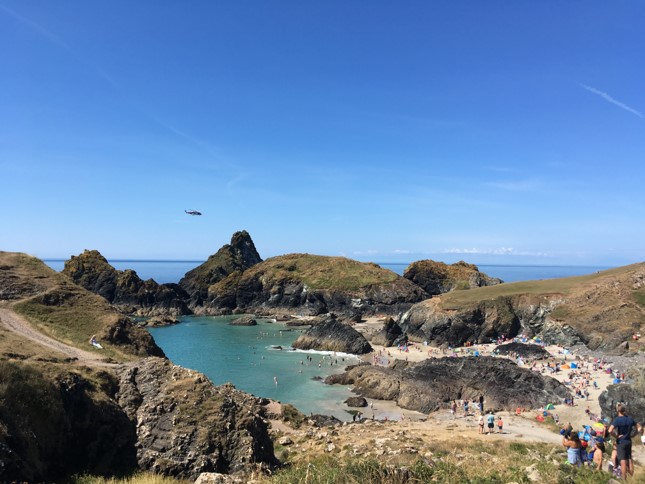 The Lizard Peninsula is a peaceful corner of southwest Cornwall. The Lizard has an incredible coastline dotted with lively fishing villages. One of the most popular beaches on the Lizard is Kynance Cove with its smooth sand, sea caves and rocky backdrop.
There are plenty of great places to eat and drink, including Roskilly Farm, which has delicious ice cream. One of the most scenic places to stop for a Cornish cream tea is Lizard Point, the most southerly place in England.
Although the beaches draw most of the crowds, it's worth heading inland a little for a day on the Helford River, perfect for kayaking and stand-up paddle-boarding. The river also has some excellent pubs close to its banks.
12. Avebury
Recommended by: Wandering Carol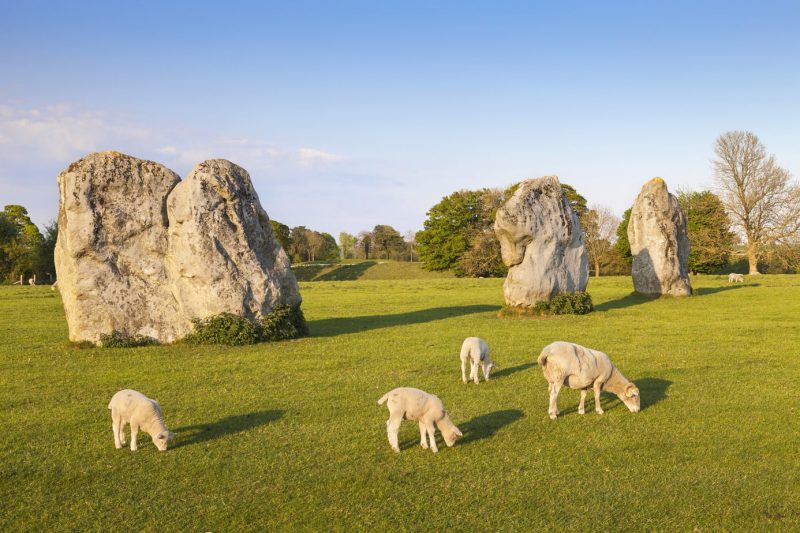 For fans of the Neolithic, the village of Avebury is an absolute find. While its main draw, the henge that contains the Avebury stone circles, is not as famous as Stonehenge, it's larger and even more ancient. However, you'll find it very different in look and feel.
Containing 'male' and 'female' stones, represented by rectangle- and diamond-shaped standing stones respectively, the henge is so intertwined with the village that you'll find a couple of shops and roads right inside, not to mention a few grazing sheep. Within walking distance are other sacred sites such as Silbury Hill, a 4,000-year-old monumental mound, as well as the burial chamber of West Kennet Long Barrow. Avebury is truly a step into the past!
13. Lacock
Recommended by: Laura, What's Hot Blog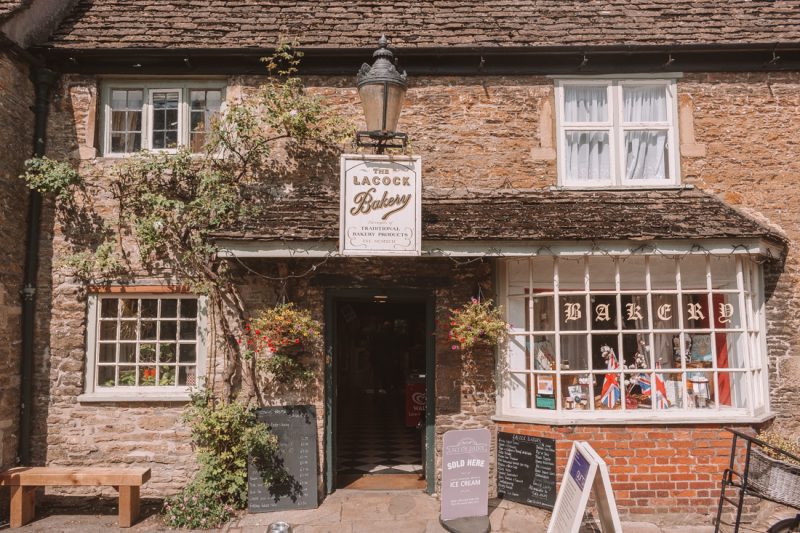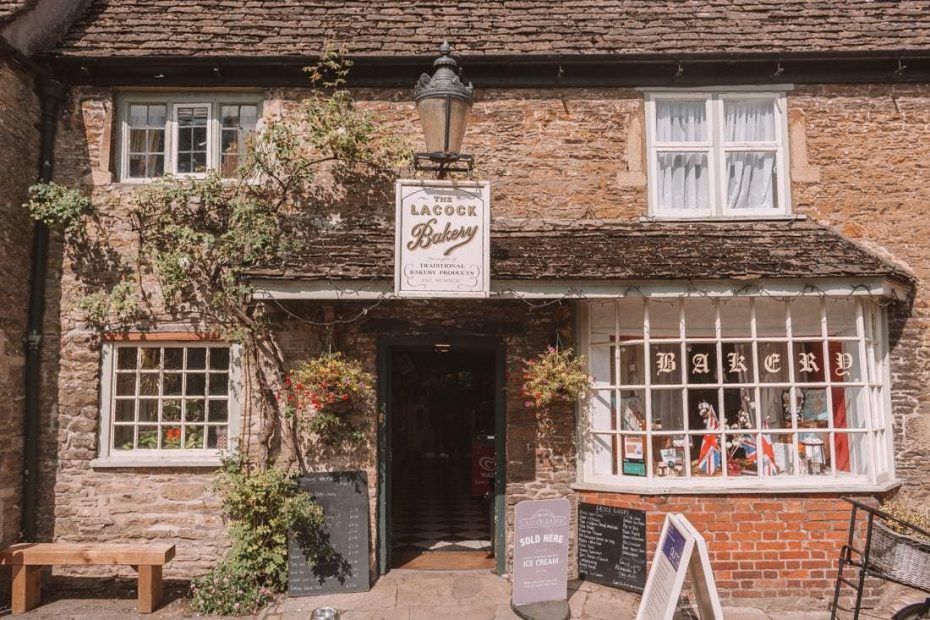 Lacock is a tiny village in the south of England, known for its quintessential British charm. It has managed to retain its medieval architecture meaning that upon arrival in Lacock you could be forgiven for thinking that you had walked straight onto the set of a period drama.
In fact, Lacock is a popular location for filmmakers and you can find many Harry Potter locations in Lacock, as well as those for Downton Abbey, The Other Boleyn Girl and Cranford.
For day-trippers, Lacock has a number of small and charming independent establishments where you can stop for afternoon tea or a pint. Lacock Bakery is a must!
14. Bristol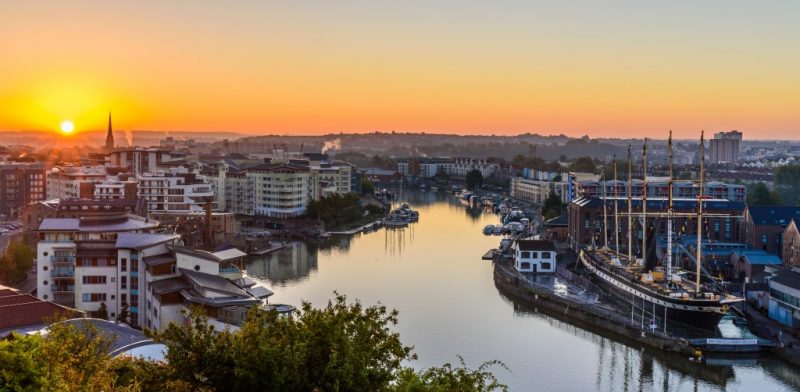 Get ready to meet one of the coolest cities in the south of England: Bristol. This vibrant, bustling city boasts a fascinating maritime history, as well as plenty of more modern temptations.
Among them is the much-loved street art culture. Banksy was born and started painting in Bristol, and there are several of his works around the city.
Bristol also boasts an amazing foodie scene. Don't miss Wapping Wharf, the trendy new dining and shopping hub just off the historic Bristol Harbourside. And if you fancy a challenge, you can also try abseiling Avon Gorge on the outskirts of the city. I did a few years ago and loved the experience!
RECOMMENDED TOUR: Bristol Hop-On Hop-Off Bus from £14pp
15. Dartmoor National Park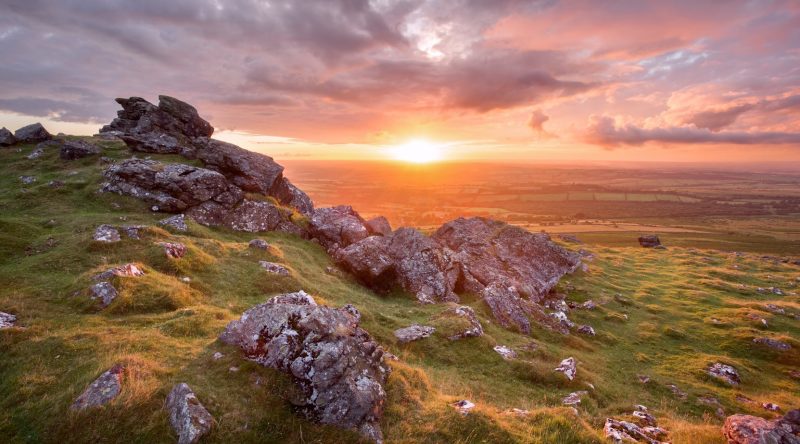 Dartmoor National Park holds a special place in my heart, as I spent my teenage years taking school camping trips here! This vast moorland in Devon is known for its craggy landscapes, wild ponies, and dramatic tors (rock formations).
Camping, hiking, and mountain biking all await if you want to indulge your adventurous side. Or you can tour the pretty villages, stopping for a cream tea or a slap-up pub lunch! One of my favourite sights is the stunning Burrator Reservoir, which is circuited by a walking and cycling path for epic views.
READ MORE: My Wet and Wild Dartmoor Road Trip
Places to Visit in the East and South East of England
16. Windsor
Recommended by: Jade, Two Tall Travellers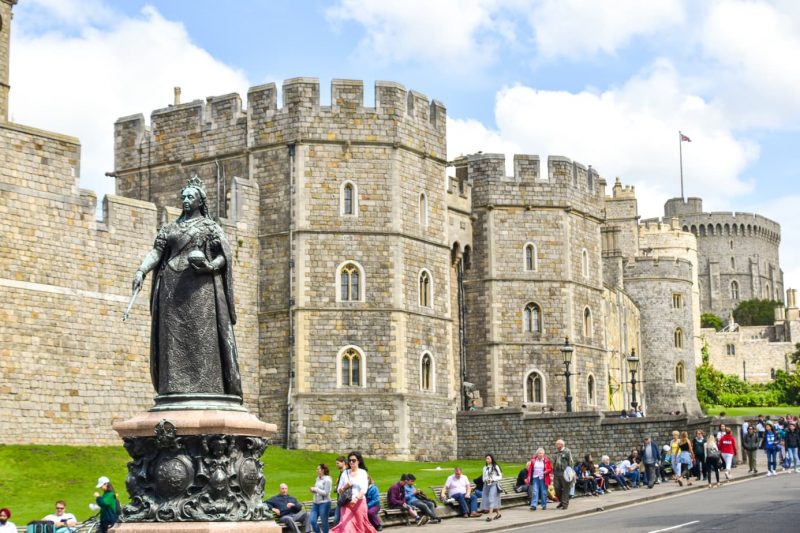 Whether you're interested in the town's royal history, want to release your inner child at Legoland, or you fancy treating yourself to the perfect afternoon tea, Windsor is a great place to spend a weekend.
Windsor Castle is a stunning maze of towers, apartments, gardens, and chapels. You can explore inside with a guided tour and get a glimpse of royal living. Be sure to book your ticket in advance for ease – click here to check prices and availability.
The town itself offers plenty to do at only a short train ride from London. Enjoy a day of water sports on the Thames, or something a little more relaxing like a boat ride on the river. You can also walk over the bridge and spend some time exploring Eton, the home of the historic college.
17. Brighton
Recommended by: Teresa, Brogan Abroad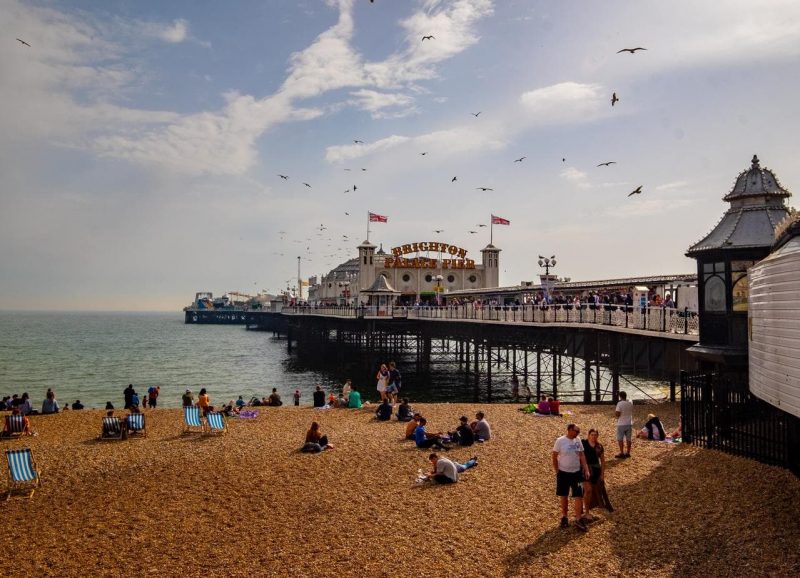 Brighton is one of the most popular seaside resorts in the South of England, particularly with Londoners looking to spend a day on the coast. However, Brighton is more than a day trip destination.
Once the playground of the Prince Regent, Brighton is a diverse city with a vibrant cultural and arts scene that offers something for everyone. It's also one of the best cities in the UK for nightlife, with a fab party scene and a brilliant Gay Village. For those looking for a bit of fun and excitement, the historic Palace Pier is a local institution.
If history is more your thing, head to the Royal Pavilion, where you can admire its Indian-inspired architecture and Chinese-inspired interior. And for shopaholics, getting lost in The Lanes, a maze of narrow alleyways full of independent shops with traditional shop fronts, is a must.
18. Winchester
Recommended by: Devashree Sanghvi, Thecrazyindianfoodie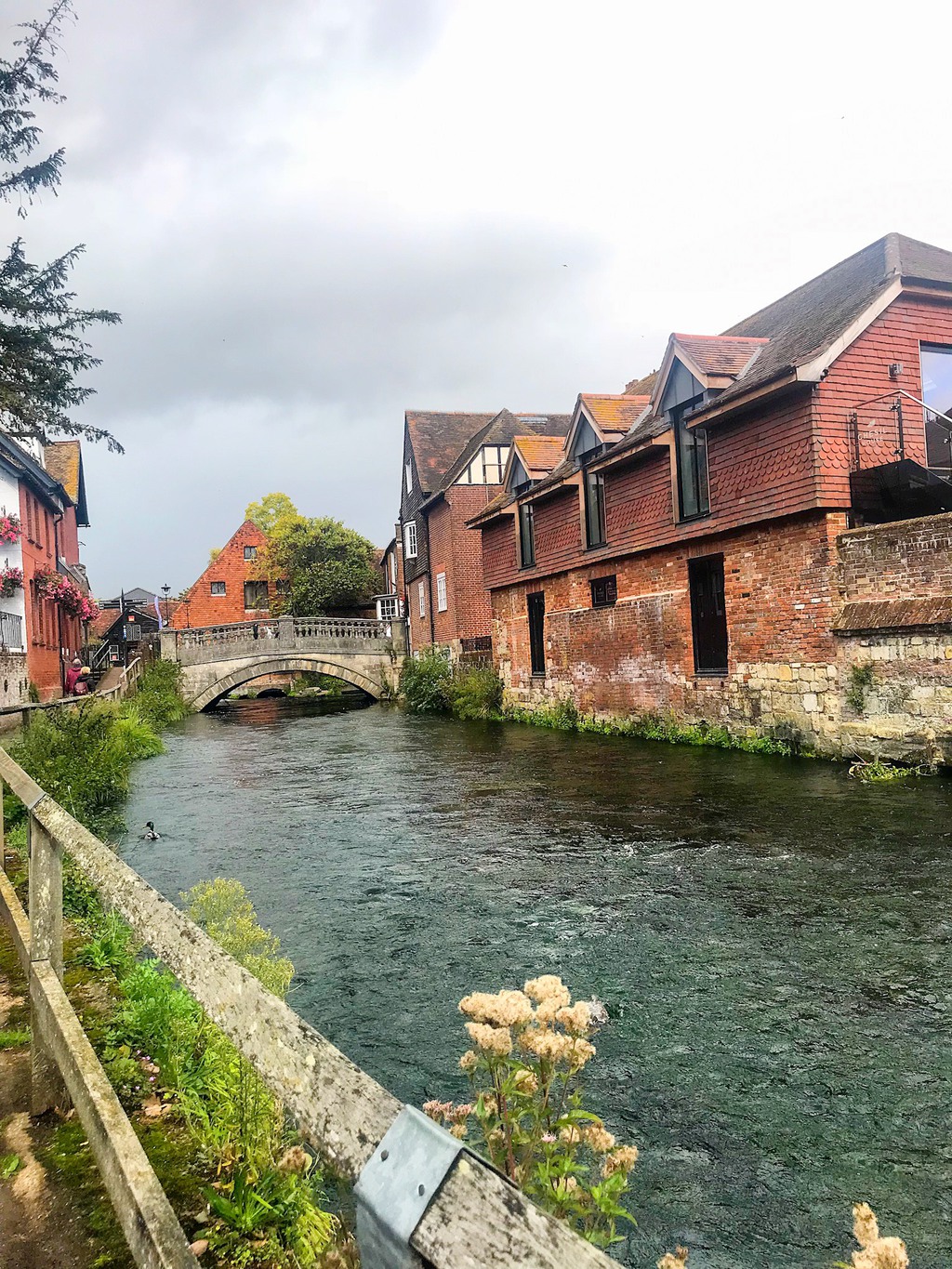 Located in Hampshire, Winchester is a spectacular, historical city. You can spend hours exploring its gorgeous alleys, churches, libraries and stunning beauty on foot. Winchester Cathedral is a popular tourist spot here and you must visit this magnificent medieval structure.
One of the largest cathedrals in all of Europe, the sheer grandeur of its incredible architecture will mesmerise you. The cathedral houses a 17th-century Morley Library, the Winchester Bible and a Norman crypt.
Apart from the cathedral, Winchester is also home to the Great Hall of Winchester Castle, the city mill and many other beautiful monuments. Don't forget to dine at Chesil Rectory, an award-winning, exemplary restaurant situated in a 600-year-old medieval house offering incredible food made with fresh local produce.
19. Norfolk Broads
Recommended by: Kristin, Adventures with En Suite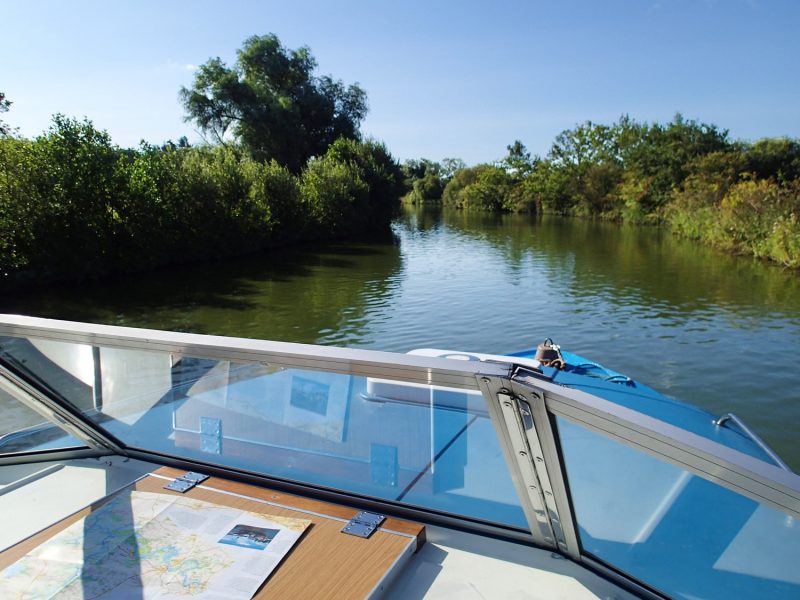 The Broads is a national park with over 125 miles of lock-free waterways located close to Norwich. The man-made area can be explored by bike or on foot, but the best way to see the region is by boat. No prior experience is required to rent a boat and you will be given a short demonstration before you set off.
Sailing through the quiet wetlands landscape on a sunny day is incredibly relaxing. Along the canals, you will find luxurious waterside holiday homes, picturesque villages, and riverside pubs where boats can be moored – typically a few boats wide on busy summer days.
20. Chichester
Recommended by: Kat, Wandering Bird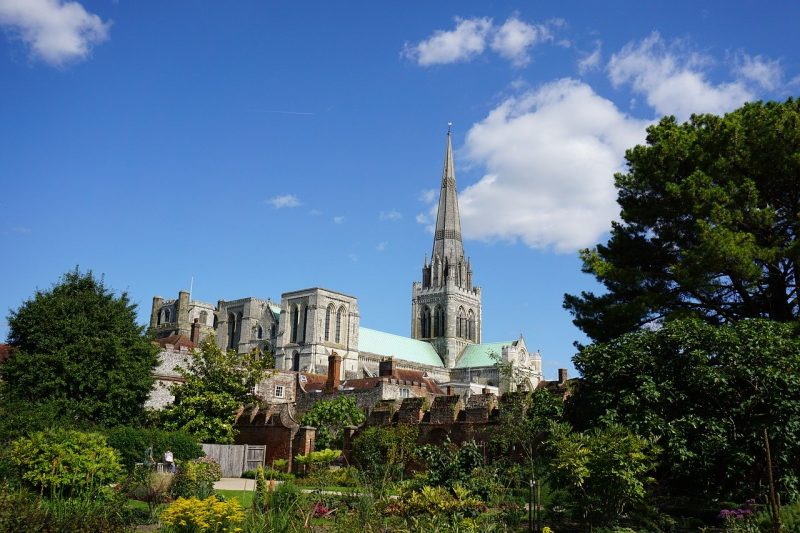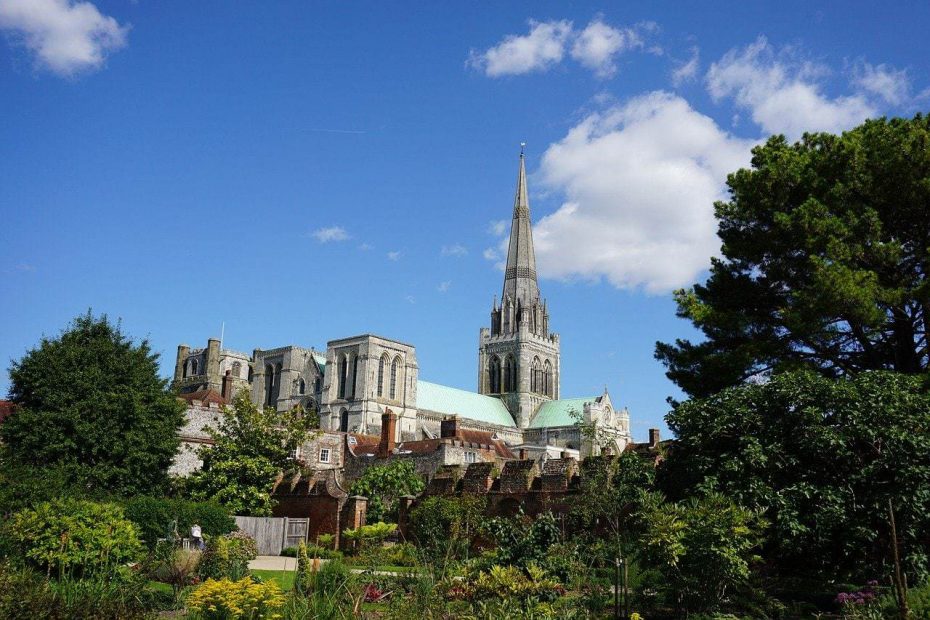 Chichester has everything an English city should have: history, a beautiful cathedral, and a mixture of modern and quirky shops.
Chichester was built in Roman times and there is still plenty of Roman history to enjoy, from the layout of the streets to the Roman walls surrounding the inner city. While you're in the area, be sure to visit the Roman Palace at Fishbourne – the largest roman residence found in Britain.
Chichester is not a large city, and it's perfectly possible to explore it in a day. Why not combine your trip with a visit to the South Downs just north of Chichester, or the fantastic beach of West Wittering to the south.
21. New Forest
Recommended by: Stuart Forster of Go Eat Do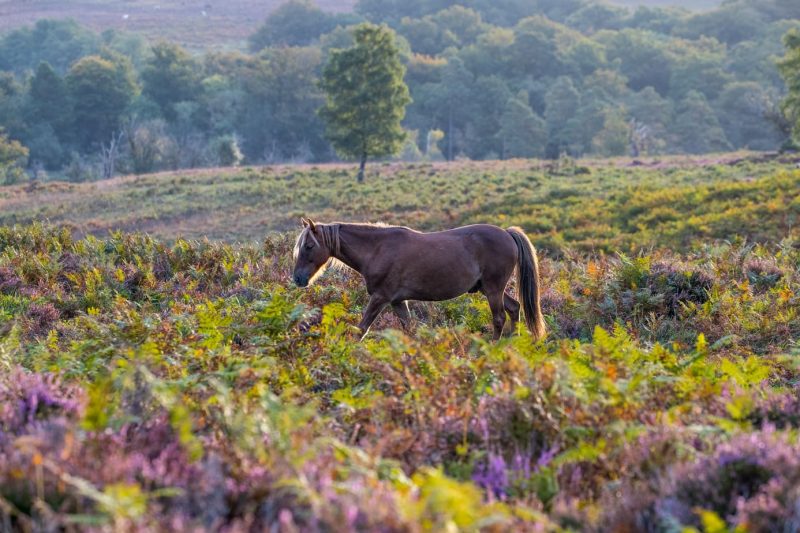 England's New Forest National Park lies approximately 90 minutes' train journey south-west of London. The area was formerly a royal hunting ground, established during the reign of William the Conqueror and much of it is still crown land. Around 5,000 ponies roam the scenic countryside.
Walking and cycling are popular ways of exploring the New Forest's woodland and meadow trails. Bicycles, including electric bikes, are available for hire next to the railway station at Lyndhurst, meaning you don't need to transport your own.
Thatched buildings hint at the region's long heritage. Those that are now country pubs prove enjoyable spots to visit for liquid refreshment and dinner. The National Motor Museum at Beaulieu is a must-visit attraction for petrolheads.
22. Dorchester-on-Thames
Recommended by: Rose, Where Rose Goes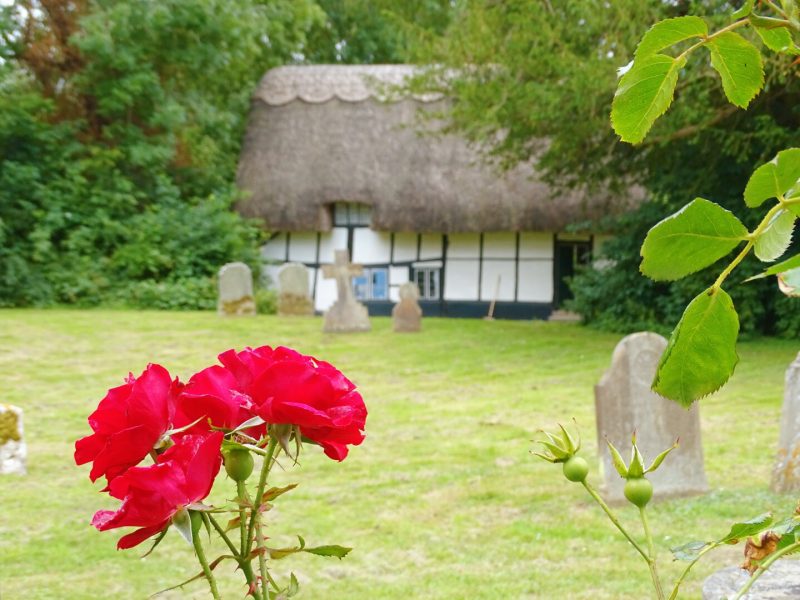 The gorgeous Oxfordshire village of Dorchester-on-Thames is the perfect place to escape city life and get lost in the Oxfordshire countryside. This picture-perfect village is known for its pretty thatched cottages and Dorchester Abbey, one of the oldest Christian sites in England, which stands on the remains of a 7th-century Saxon cathedral.
One of the highlights is the walk to nearby Wittenham Clumps, two 120m chalk hills offering views out across Oxfordshire from the top. This four-mile circular walk runs along the banks of the Thames and passes over Days Lock, where scenic steamboat rides begin. Once you've explored the scenery, you can return to Dorchester and enjoy a typical English meal or cream tea at The George Hotel, a 15th-century coaching inn in the heart of Dorchester.
23. Colchester, Essex
Recommended by: Kylie from Essex Explored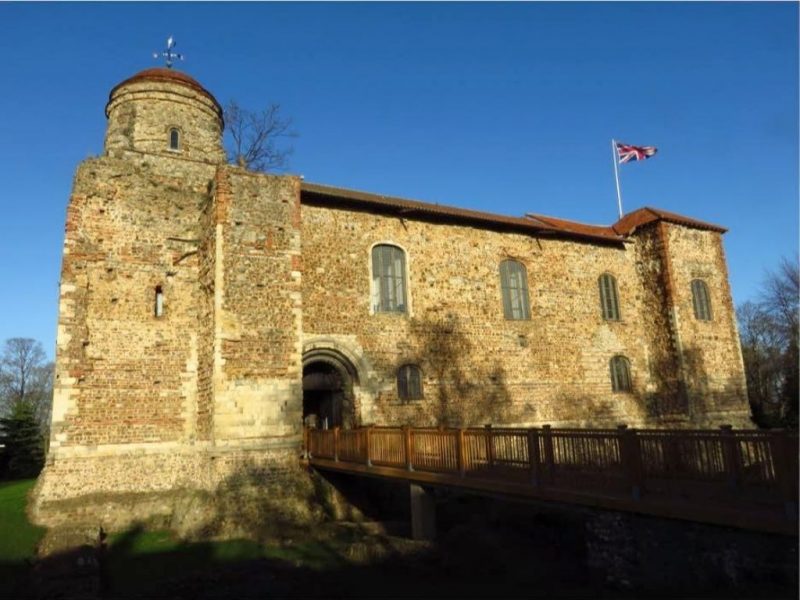 A great place to visit in the South of England is Colchester in Essex, which is the oldest recorded town in the UK! Originally it was known as Camulodunum and for a while, it was the Roman capital of Britain.
There are lots of things to do in Colchester, with Colchester Castle museum being one of the main attractions. The underground vaults were built around 50A.D., while the main structure is Norman, dating back 900 years. Castle Park is also a lovely outdoor space. Another major attraction is Colchester Zoo. It's one of the best zoos in the UK with over 220 animal species. The Kingdom of the Wild enclosure has rhinos, zebras, giraffes, ostriches, and greater kudu, all living together!
24. Arundel
Recommended by: Tracy, UK Travel Planning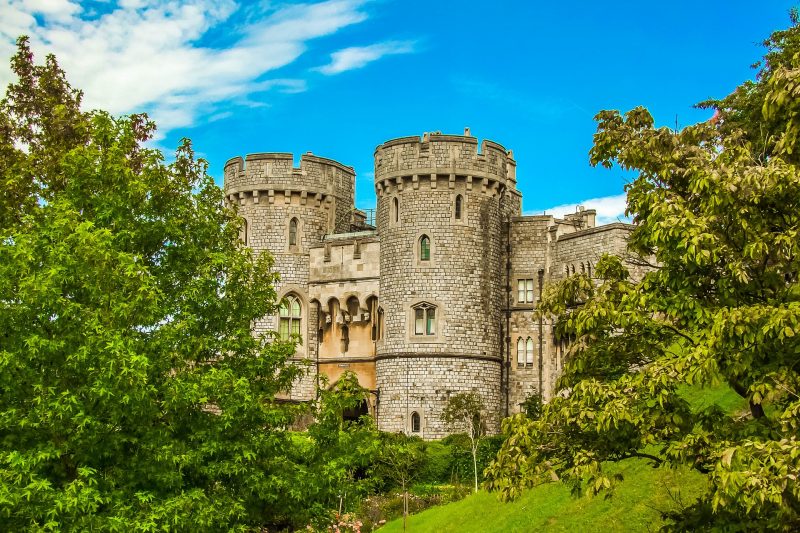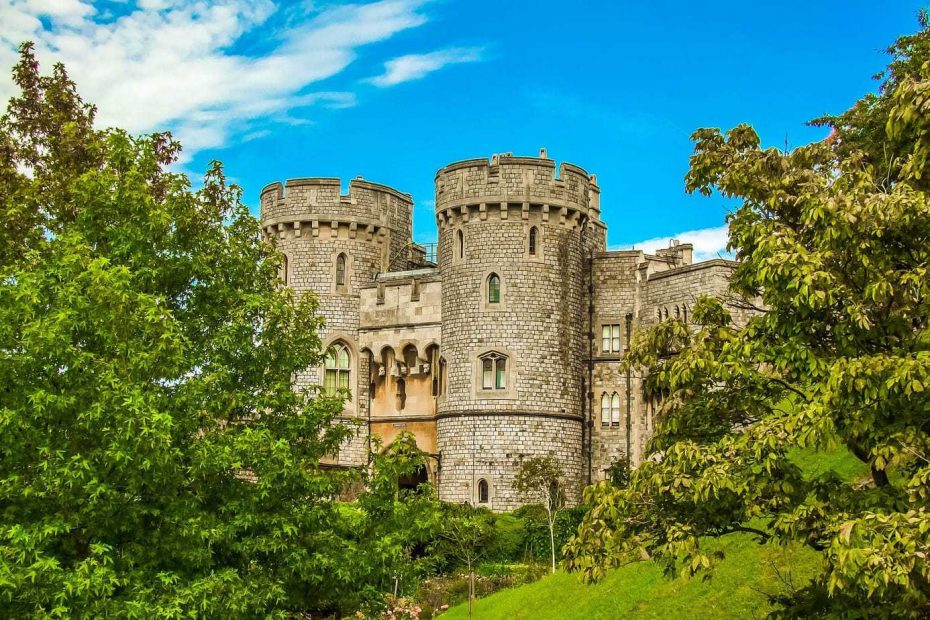 Located in the county of East Sussex in England, the town of Arundel has a number of attractions that make it a great place to visit.
The medieval castle (which is England's second-largest) is inhabited by the Howard family and dates back to the days of the Norman Conquest of 1066. The beautiful gardens shouldn't be missed – nor the Gothic Church which is located on the grounds.
Take a walk along Arundel's main street and pop into some of the many cafes, tea rooms, antique shops, art galleries and restaurants along the way. At the top of the street, you will find another place of note – Arundel Cathedral, which was built in the late 19th century.
Throughout the year many popular events and festivals are held in this market town, so do check before you visit and plan accordingly.
25. Oxford
Recommended by: Sima, the Curious Pixie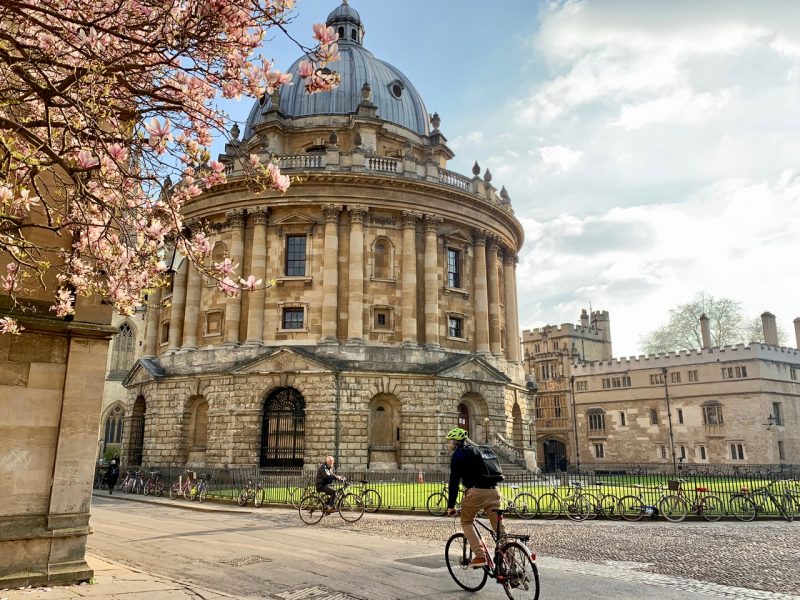 Oxford, the "City of Dreaming Spires", is home to academics, literary greats and magic. Visitors can explore its 800-year-old history, wandering picturesque streets dotted with beautiful honey-coloured architecture.
Find where Lewis Carroll took the real Alice in Wonderland, and which colleges CS Lewis and JRR Tolkien taught at. Relive the Harry Potter films as you marvel at New College, Bodleian Library and the Great Hall at Christ Church college. This last was the inspiration for Hogwarts Great Hall – so be sure to book a Harry Potter tour like this one to explore the sights!
To round off a trip in true Oxford style, indulge in a tradition from before the 1880s and cruise down the river in a punt. All the sights are easily accessible by foot so you can enjoy Oxford in 24 hours – or stay longer. A guaranteed feast for the eyes!
26. Box Hill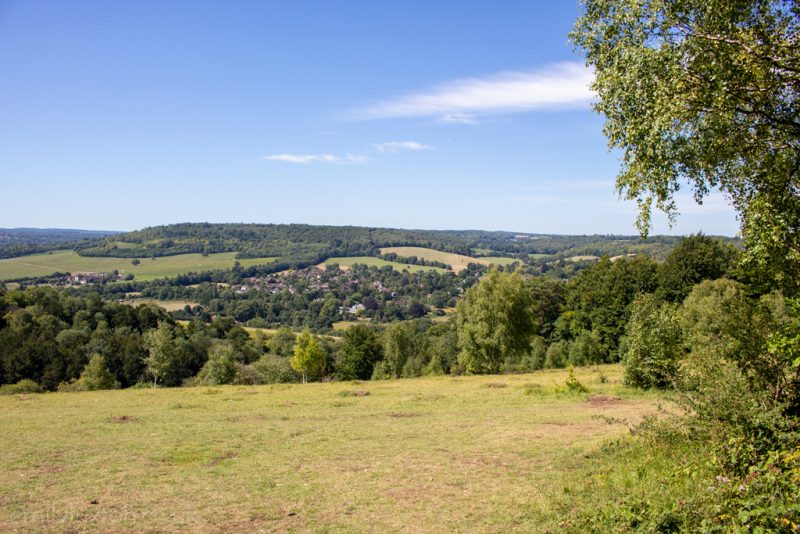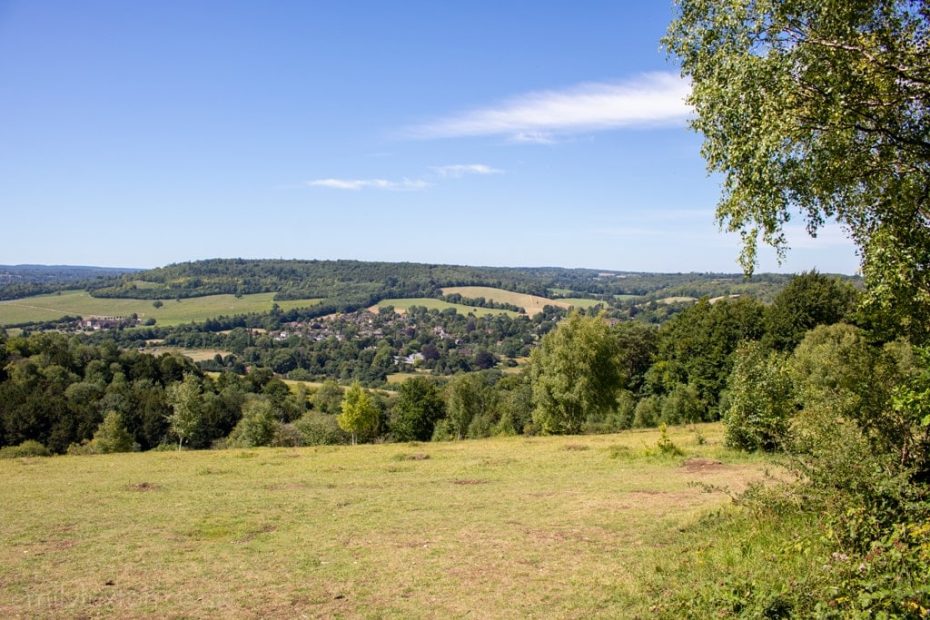 Recently, I discovered Box Hill in the Surrey North Downs, and I can safely say this is one of the best places to visit in the south of England. Especially because it's within such easy reach of London! The viewpoint at the "front" of the hill offers one of the best vistas of green English countryside I've ever witnessed.
If you fancy a challenge, the 15km Box Hill Hike is a great way to explore the rolling countryside. But it's also pretty hilly, so if you'd rather keep things simple there are several shorter and easier routes. With lots of cute villages and cosy country pubs to explore, this is the perfect countryside day out in southern England!
27. Seven Sisters
Recommended by: Alexei, Travel Lexx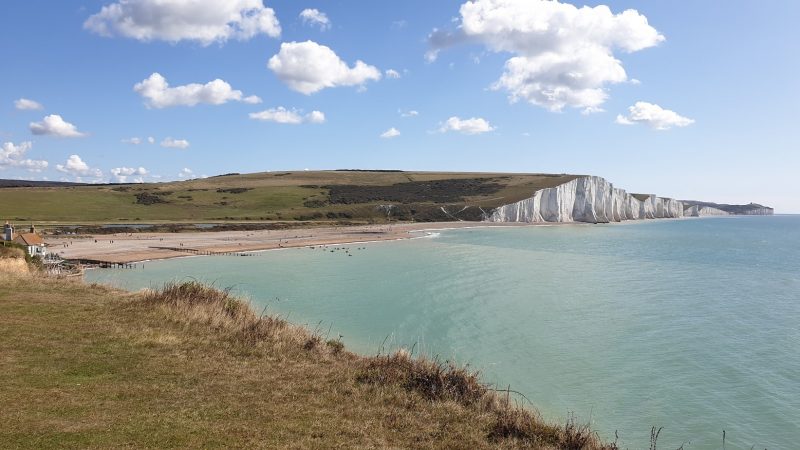 A visit to the Seven Sisters chalk cliffs is an epic day out in beautiful East Sussex. As well as the iconic cliffs, there's plenty to see and do.
Abundant trails will keep even the fussiest walkers happy. A part of the South Downs Way runs through here and can be followed over the cliffs themselves. Climbing to famous Beachy Head allows for sweeping views of the coastline as well as an offshore lighthouse below.
If all that exercise sounds like hard work, hit the beach, and explore the rock pools at Birling Gap before fuelling up on coffee and cakes from the café. End your visit at Eastbourne with its Victorian pier, 1930s bandstand and good pubs and restaurants.
RECOMMENDED TOUR: Seven Sisters and South Downs Day Trip from London
28. Cambridge
Recommended by: Paul – Anywhere we Roam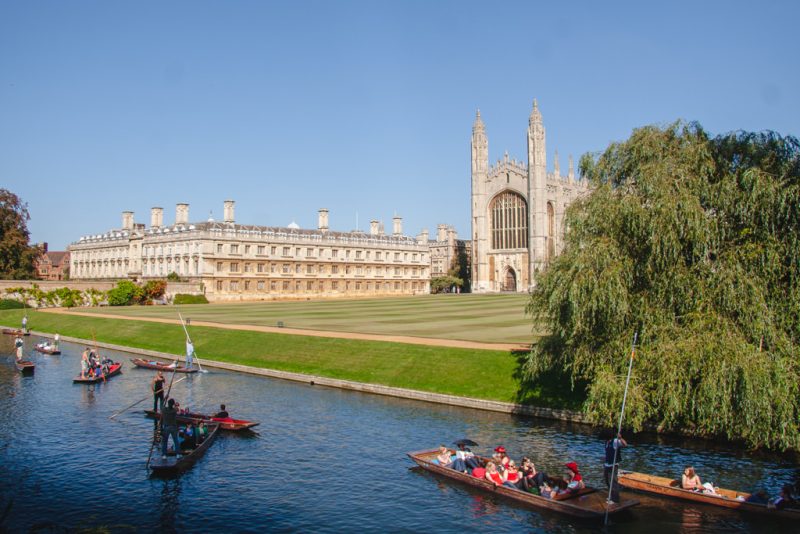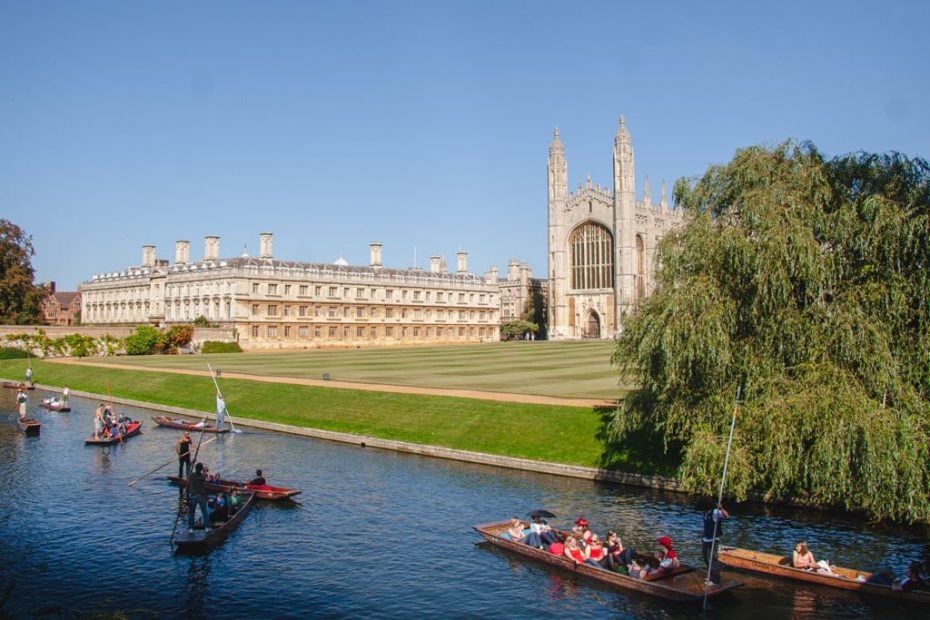 With the wonky laneways of Cambridge housing handsome facades of exquisite gothic architecture, it's easy to see why this gorgeous university town is often regarded as one of the best places to visit in the south of England. But the real spellbinding nature of Cambridge is in The Backs – a large swathe of green, cut by the River Cam, with sublime views of the iconic buildings that make up the old colleges.
Cambridge is an experience to savour. Be awe-struck by the fan-vaulted ceiling of Kings College Chapel; inspect the intricate design of the Bridge of Sighs; go punting on the river; and stroll around the independent traders and craft stalls on the very atmospheric Market Square.
29. Hastings
Recommended by: Caroline and Neil, CK Travels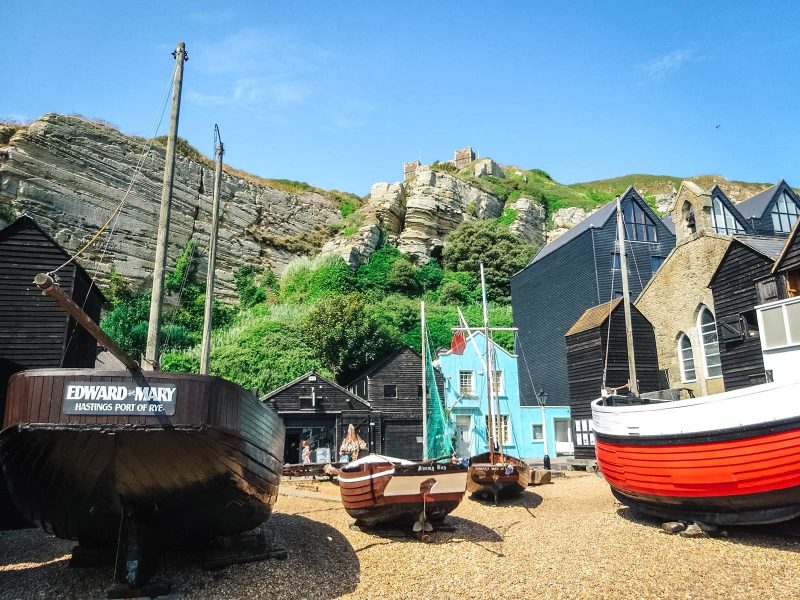 Historic Hastings is a stunning seaside resort in East Sussex on the south coast of England. Boasting a beautiful beach and picture-perfect pier that stretches into the sea, Hastings is a classic coastal town that has all the traditional trappings including a cobbled high street, numerous old inns and pubs, plus several rather delicious fish and chip shops to choose from.
You will also find the UK's steepest cliff railway, which allows you to quickly get to the top of the cliffs for stunning views looking down on the resort as well as the nearby protected coastal parks.
The surrounding countryside and coastline, known as 1066 Country, are full of historic sights and epic adventures. Be sure to take a day trip to nearby Battle to learn all about the famous Battle of Hastings.
GLAMPING NEARBY: Read my review of Starcroft Farm Cabins, the most beautiful place to stay near Hastings!
30. Norwich
Recommended by: Jeremy of Cultura Obscura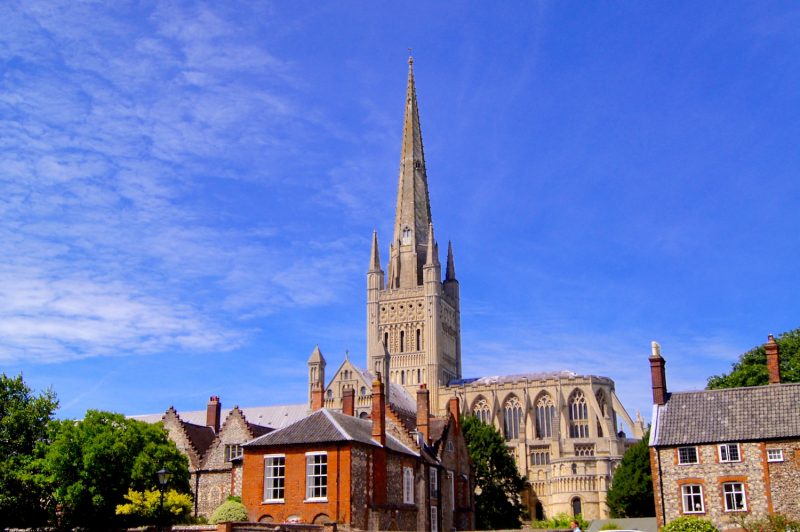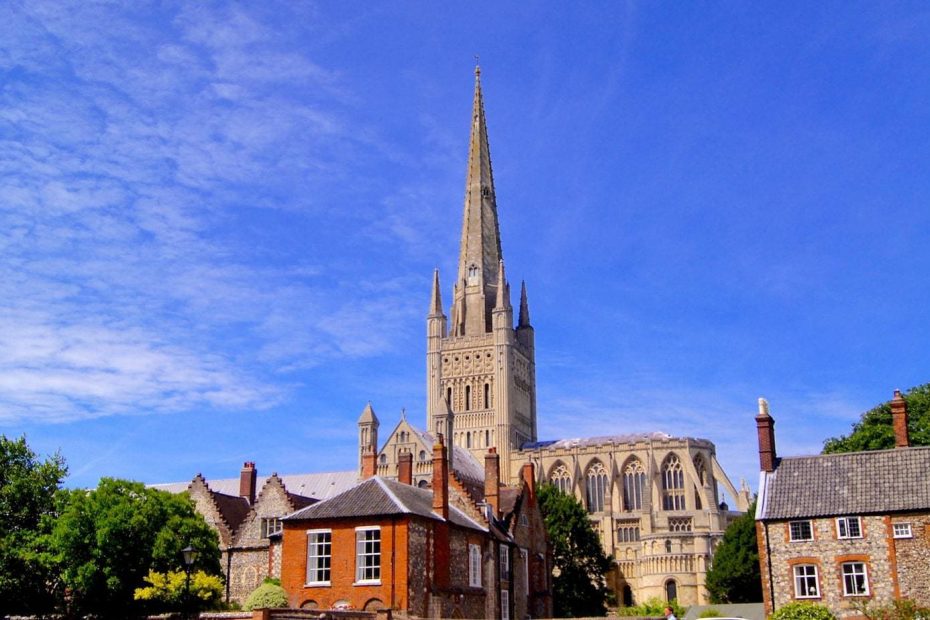 As the central commercial and social hub of East Anglia, Norwich has everything you could want from a city, from high street shopping to museums, entertainment venues, historical buildings, restaurants and bespoke cafes – with some unique additions.
The central marketplace was established by the Normans almost a thousand years ago, and still thrives to this day.
Due to its literary background, and the high number of graduates from the local University of East Anglia's creative writing courses, Norwich was listed as England's first UNESCO City of Literature in 2012. There are also a notably large number of pubs in Norwich – including the Adam and Eve, which has served local patrons for over 750 years.
RECOMMENDED TOUR: Norwich Hop-On Hop-Off Bus Tour from £14pp
31. Mersea Island, Essex
Recommended by: Sarah Carter, A Social Nomad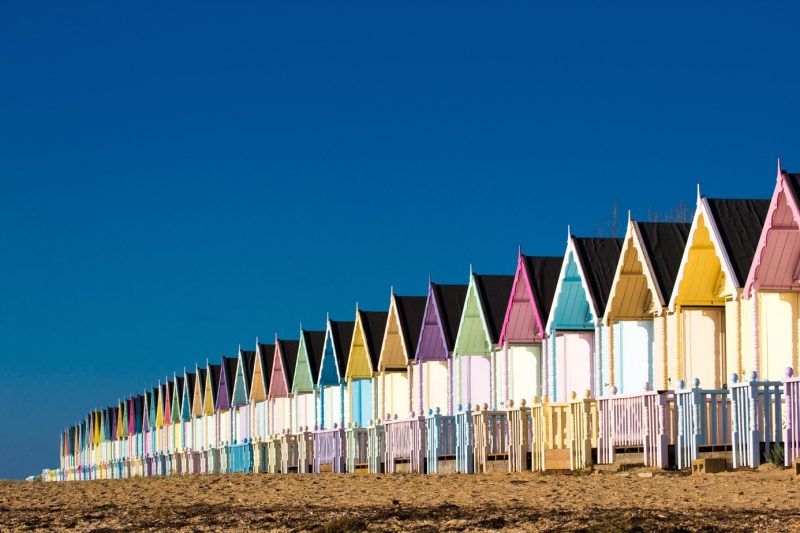 Reached by a tidal causeway that was built by the Romans, Mersea Island is a glorious escape from the everyday. Stay in a gorgeous cottage, stunning sea view apartment, or on one of the small friendly holiday parks, and enjoy a proper British seaside holiday.
Mersea has it's own vineyard and brewery and is famous for her seafood. The fabulous Company Shed restaurant or neighbouring West Mersea Oyster Bar are great options for seafood platters which include the famous Colchester Native Oyster. Complete your British seaside break by renting a beach hut for the day, going crabbing on the pontoon and enjoying a local wine or beer to savour the sunset.
32. Canterbury
Recommended by: David from Your Ireland Vacation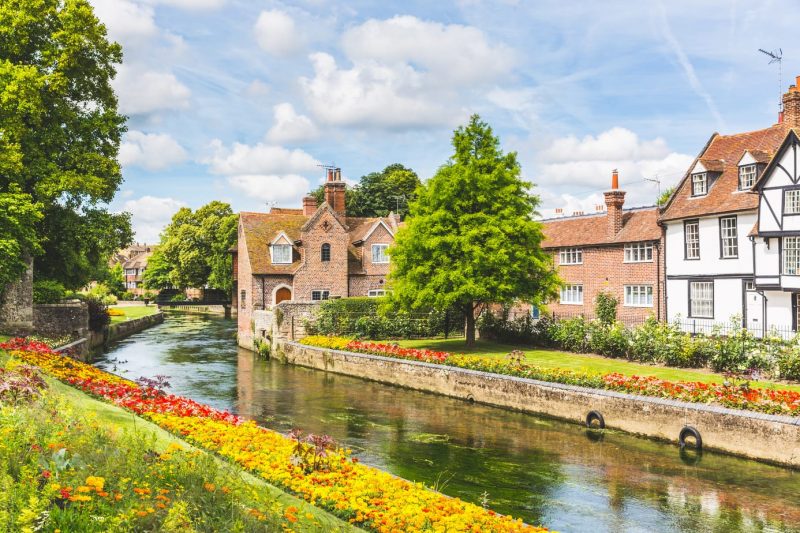 Steeped in history, Canterbury is a charming city in southeast England. Its most famous landmark is Canterbury Cathedral, a UNESCO World Heritage Site which was built over 1,400 years ago and is the headquarters of the Church of England.
Part of the city is still enclosed by ancient Roman walls and is protected by Westgate, a 14th Century medieval gatehouse. Quaint cobbled streets lead past Canterbury's distinctive black and white timber frame houses and delightful tea houses.
The city is the setting for one of the most important works in medieval literature, Geoffrey Chaucer's 'The Canterbury Tales'. Other popular sights include the ruins of St Augustine's Abbey and Canterbury Castle and punt rides along the River Stout.
33. South Downs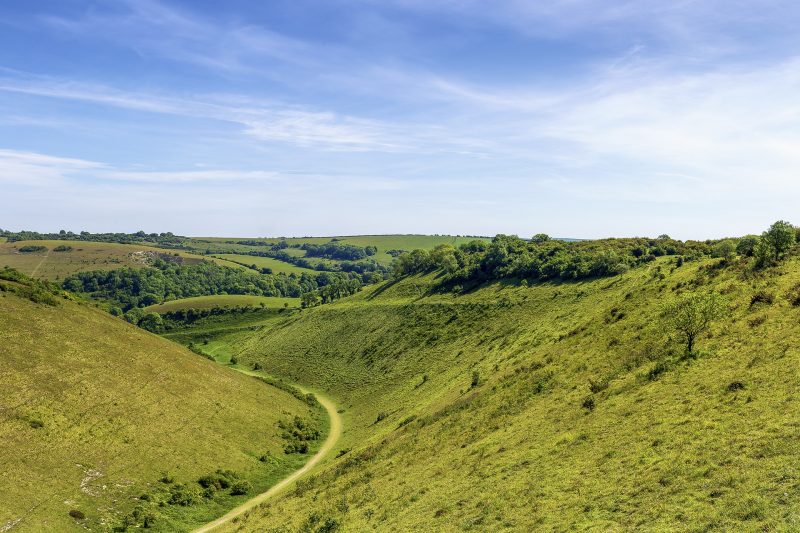 Last, but by no means least, the South Downs is definitely one of the best places to visit in the South of England. This sprawling national park is England's newest, stretching all the way from Winchester in the west to Eastbourne and the coast in the east.
With rolling countryside, rich wildlife, and the iconic white cliffs at East Sussex, there's plenty to discover. Visit Virginia Woolf's country retreat at Monk's House, or tour some of the English vineyards dotted amongst the hills. And, of course, there's the 160km long hiking and biking trail, the South Downs Way. Hike a portion, or the whole thing, for some of the best views in southern England!
RECOMMENDED TOUR: Seven Sisters and South Downs from Brighton
Read More
I hope you've found some inspiration for your next trip to England! There's so much to see around the south, from gorgeous coastal locations to cities rich in history and culture
If you're visiting from overseas, I strongly recommend the English Heritage Attractions Pass, which allows for unlimited free entry to over 100 places including Stonehenge and Dover Castle. Click here to check the price and find out more.
26 Places to Visit in the Midlands, England
40 of the Most Romantic Places in Britain
30 of the Best Places to Visit in the North of England
23 of the Best Destinations to Enjoy England in Autumn
What are your favourite places to visit in the South of England? Share in the comments!
Pin this Post